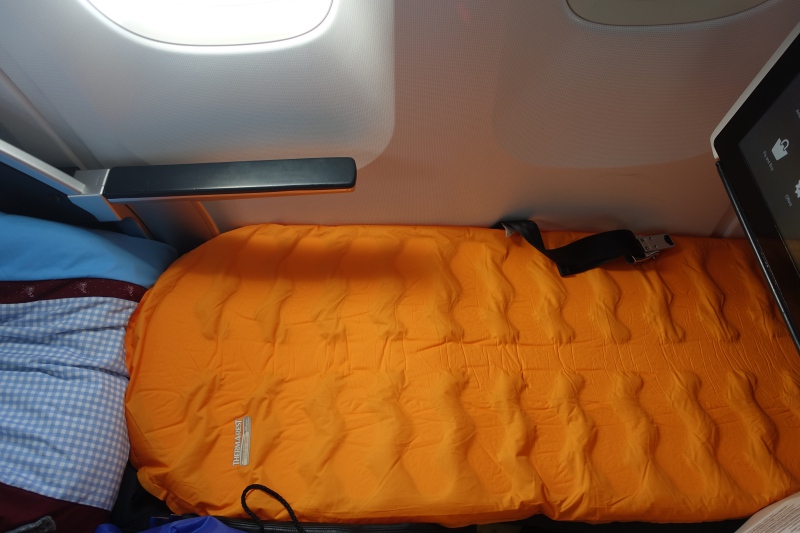 I always wish I could sleep better on flights, so I was very interested when one of my clients told me about Therm-a-Rest mattress pads (see Client Tip: How to Make Airline Business Class Beds More Comfortable). I bought the same version he suggested, an EvoLite, in the regular size, which is 20 inches wide and 72 inches long when inflated.
Therm-a-Rest mattress pads are designed to take camping, to be placed under a sleeping bag, but their light design make them a logical choice to improve the comfort of airline flat bed seats, especially in business class. JAL Business Class is the only airline business class I know of that provides a comfortable mattress pad, since usually only first class offers a mattress pad.
First we took it on a picnic in Central Park, where my husband pronounced it very comfortable.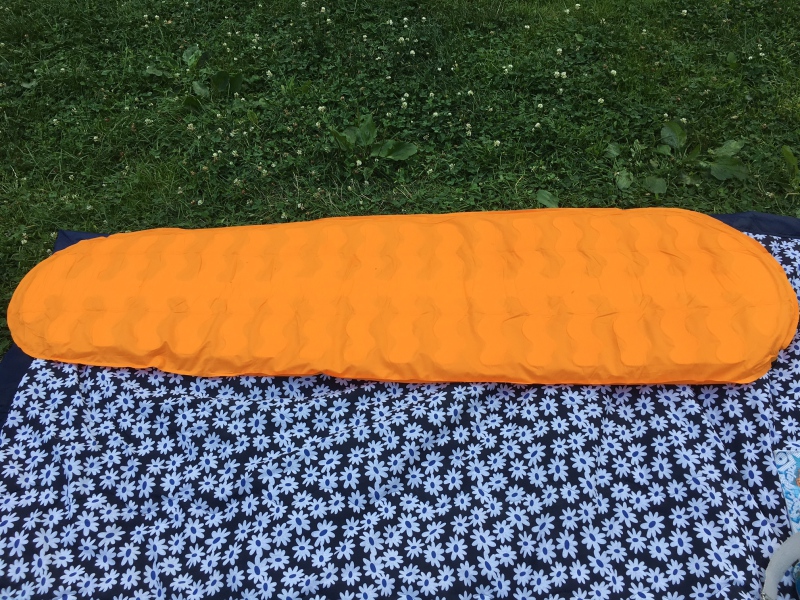 But the real test came last night, when I tried it out on an overnight flight to Europe. Flights from the East Coast to Europe are so short to begin with, and if you have a meal you're left with very little time to sleep, so those few hours really count.
Therm-a-Rest Inflation and Deflation
As at the park, it took less than a minute to inflate via a black valve near the head of the mattress, which you turn clockwise to close. Deflation was also easier than expected. In Central Park, I had plenty of space and a perfectly flat surface to work on, but even in the more cramped quarters of my business class seat it was quite easy to deflate.
After opening the valve, I've found it easiest to gently fold the mattress in half, and, starting from the foot of the mattress pad, roll it up, gently pressing out the air as I go. It then fits into its own stuff sack.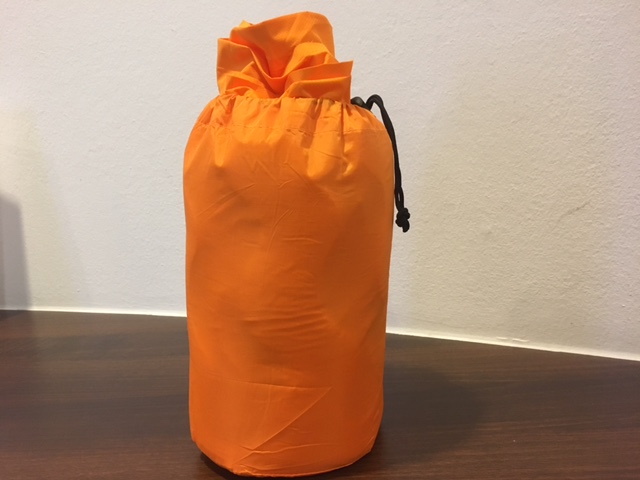 Therm-a-Rest Comfort
The Austrian Airlines Business Class seat that I was in (review forthcoming) was actually quite decently padded as airline business class seats go, but the Therm-a-Rest still made a huge difference, providing much better cushioning and eliminating the gaps in the seat.
I put the airlines duvet on it, sleeping bag fashion, so that it was both under and over me, but even if you sleep directly on the surface of the EvoLite so as to have the entire duvet over you, the surface is a durable fabric, and not the sticky plastic you may associate with some cheap inflatable mattresses.
While I still didn't get to sleep right away, that was a function of our early evening flight, as it was earlier than the normal time I go to sleep, and also the dry cabin air. I did ultimately sleep a few hours, which is better than I expected.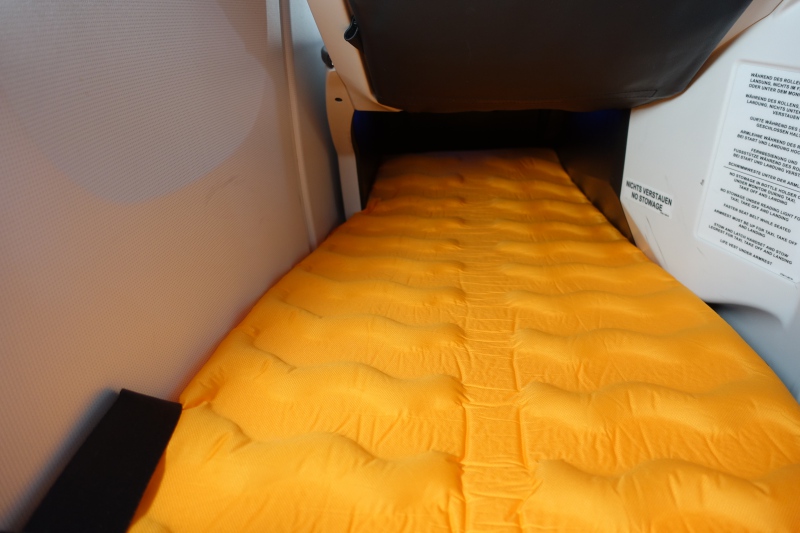 The Verdict
The EvoLite I bought cost $102 on Amazon. While that may seem expensive compared to cheap inflatables, the design is quite unique, given the foam "skeleton," the ease of inflation and deflation, and the comfort provided for the light weight. And for me, it's a small price to pay for improved sleep on airplanes, and potentially even hotel rooms, when the beds are too hard.
Have you taken a Therm-a-Rest or other portable mattress pad on a flight to make the bed more comfortable?
Recommended Posts
Swiss Business Class: Pay $149-$199 to Select a Good Seat
JetBlue Mint Expands Seattle and Boston Routes
LOT Polish Adds Nonstop Flights to Budapest from NYC and Chicago
Best First Class Airline Seats for Couples
Flat Bed Business Class to Tahiti and Bora Bora?
Need Award Booking Help? Our fee is as low as $75 per ticket if you book your hotel or cruise with us.
If you enjoyed this, join 200,000+ readers: please follow TravelSort on Twitter or  like us on Facebook to be alerted to new posts. 
Become a TravelSort Client and Book your Luxury Hotel with Virtuoso or Preferred Partner Benefits!