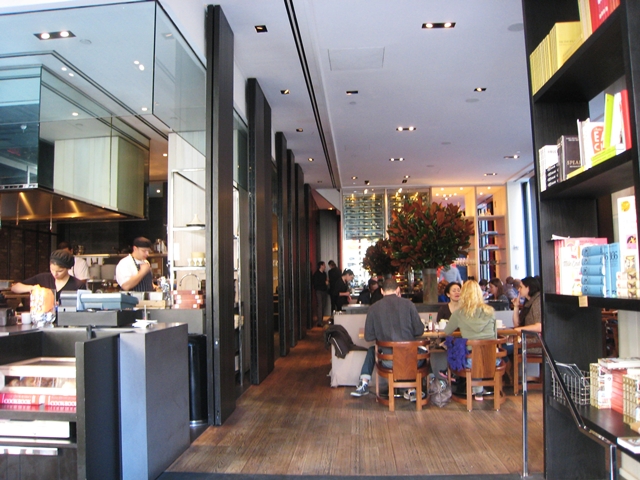 The Shop at Andaz 5th Avenue is our latest review in our quest for the best pancakes in New York. Normally I shy away from hotel restaurants, but our delicious ricotta pancakes at Maialino, at the Gramercy Park Hotel, emboldened me to try weekend brunch at Andaz 5th Avenue. And since it's north of 39th Street, on 41st Street, I don't think it was affected at all by Storm Sandy.
I made a reservation the night before on OpenTable, and the munchkin and I arrived promptly for our 11:30am reservation. We entered The Shop to find a communal table and the chalkboard menu for takeaway pastries and espresso drinks, but there wasn't a hostess stand at all, making me wonder if we should have entered from the hotel lobby. I mentioned to the cashier for the communal table and takeaway section that we had an 11:30am reservation for the seated area, gesturing towards the dining room, and she insisted "we don't take reservations." I told her that I had reserved on OpenTable, and she went to check with one of the servers, before returning, and leading us to a table. A little weird that she was unaware that the dining room takes reservations, but we were seated at a booth table, as I'd requested, so no complaints.
The munchkin and I sat down, and since we were at a table with a couch on one side and chair on the other, we were able to sit next to each other on the couch which is convenient for reading stories. The dining room was pretty full, so I was glad I'd made reservations. The place has high ceilings and plenty of natural light, which I enjoyed, but is also incredibly noisy, which wasn't so agreeable. I don't need a place to be dead quiet, but I do wish more NYC restaurants would put in sound absorbent panels to reduce the noise level somewhat, especially if they're going to have a lot of glass and live surfaces, as The Shop does.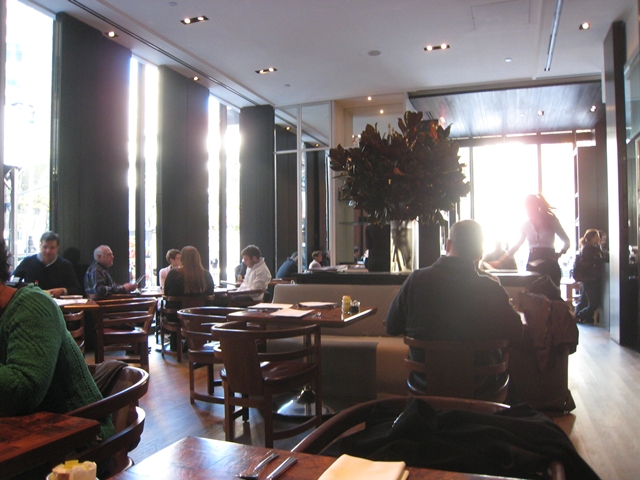 Soon our server introduced himself, provided menus, and asked what we'd like to drink. I caught sight of a Dutch Pancake on the menu, and asked him if it was possible to get that with some of the apple compote that normally comes with the Brioche French Toast, instead of the usual fruit and yogurt. He promised to check, and returned soon to say it would be fine. So I ordered the Lemon Souffle Pancakes with Oranges and Poppyseed Syrup and the Dutch Pancake with Seasonal Fruit for the munchkin and I to share. Here's the brunch menu; as you can see, it's pretty pricey, with most egg dishes $20. Obviously if you're a Hyatt Diamond member staying at The Andaz 5th Avenue you get complimentary breakfast, but for anyone else paying their own way, you're definitely paying for the prime midtown location.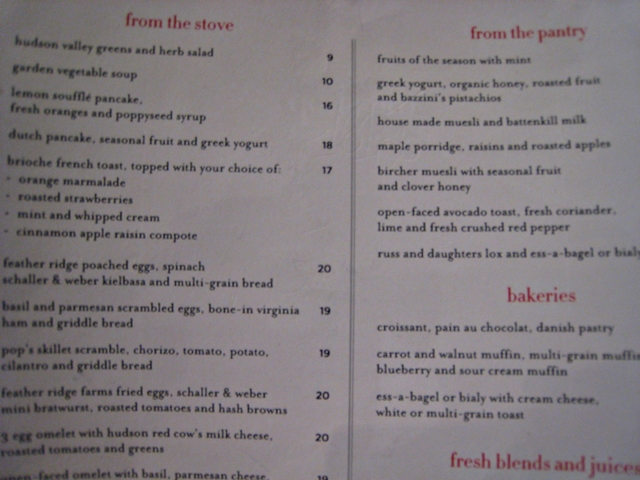 After about 15-20 minutes, our pancakes arrived. The lemon souffle pancake with oranges and poppyseed syrup was definitely the better of the two, but it wasn't very light or souffle-like, and I didn't like the fact that there were still seeds in the orange slices. It wouldn't matter if the orange was purely a garnish, but these orange slices were right on top of the pancake and clearly meant to be eaten, so deseeding these would have been appreciated. Some of the orange slices were also pretty burnt. The munchkin was suspicious of the poppy seeds, but was hungry enough to eat them anyway. The lemon poppyseed combination was good of course, but a bit of candied ginger and a more souffle-like texture would have kicked it up a notch.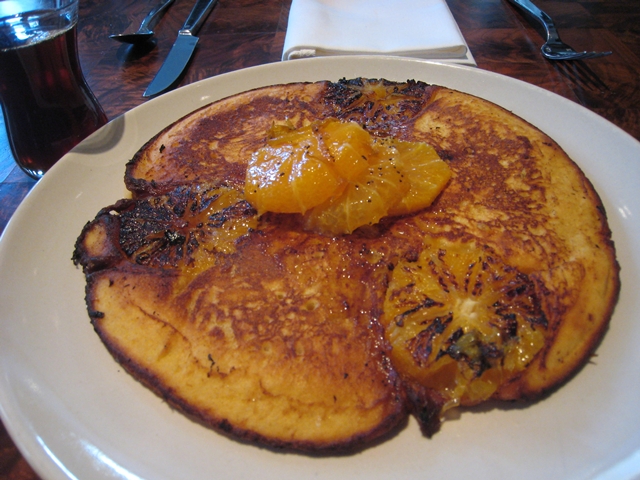 The Dutch Pancake, however, was a disaster, burnt around the edges and raw inside. Whoever put this on the menu should really go to The Original Pancake House (a national chain; see our review in Best Pancakes in Honolulu, Hawaii) to have the Dutch Baby and oven-baked apple pancake, which are much tastier and better cooked than this awful concoction. Ironically, the only part of it worth eating was the apple compote I'd requested, which normally comes with the French Toast. Not worth $1, let alone $18. Fortunately the server agreed to take it off the bill.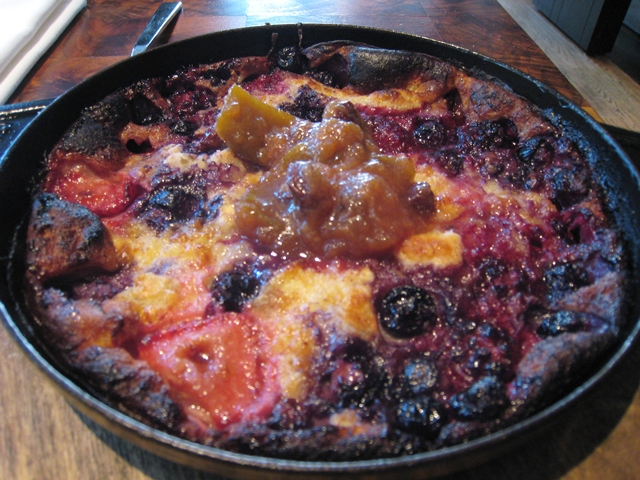 I considered ordering another lemon souffle pancake, but while it was good, it wasn't great, so instead I just ordered a cappuccino. It was foamed perfectly, and almost as good as the one at Maialino.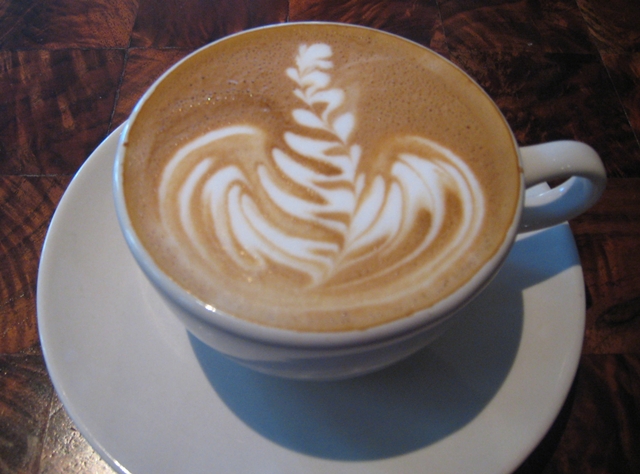 I paid with the Hyatt Visa since it has my membership number on it and as a Hyatt Platinum Member I earn 5 Hyatt points per $1 for Hyatt spend + the 15% Platinum bonus. If it hadn't been a Hyatt restaurant, I'd have gotten 2 Hyatt points per $1 thanks to the new Hyatt bonuses and elite status benefits, but the Sapphire Preferred is actually better for non-Hyatt restaurants as it effectively gives 2.14 points per $1 taking into account the 7% annual dividend bonus, not to mention Ultimate Rewards points are worth a bit more than Hyatt points thanks to their various transfer partner options.
The Verdict: The Shop at Andaz 5th Avenue, based on our orders, is a 3/5. The Lemon Souffle Pancake is solid, but not spectacular. I still prefer the pancakes at Zoe and Maialino and even the ricotta pancakes I make at home over it, and it's about tied with the oven baked pancake you get at Prune and that you used to be able to get at Traif (which no longer serves brunch). The Dutch Pancake should be removed from the menu and not served to any customers in its current state. And while some of the other dishes might be good, with a menu this uneven and $20 egg dishes, I'm not inspired to roll the dice again. Service was also about a 3.5/5–not bad, but not great either–I had to flag our server down about our burnt Dutch Pancake (perhaps he'd noticed how burnt it was and purposely didn't ask how everything was) and my water glass ran empty without being refilled. If you must have a pancake in midtown and don't mind pricey (or are expensing) The Shop at Andaz 5th Avenue will fit the bill, but otherwise, unless you're getting a free breakfast as a Hyatt Diamond, I wouldn't bother. Manhattan has better.
Related Posts
Restaurant Review: Wall & Water, Andaz Wall Street NYC
Maialino NYC Restaurant Review
Zoe NYC Brunch Review: Best Pancakes in New York?
Where to Go for the Best Brunches in New York
What Are the Best Cafes in New York for Coffee and Delicious Pastries?
Check out and apply for the Best Travel Credit Cards.
If you enjoyed this, please follow TravelSort on Twitter or like us on Facebook to be alerted to new posts.
Become a Member to find your perfect luxury or boutique hotel at up to 50% off: TravelSort Hotels