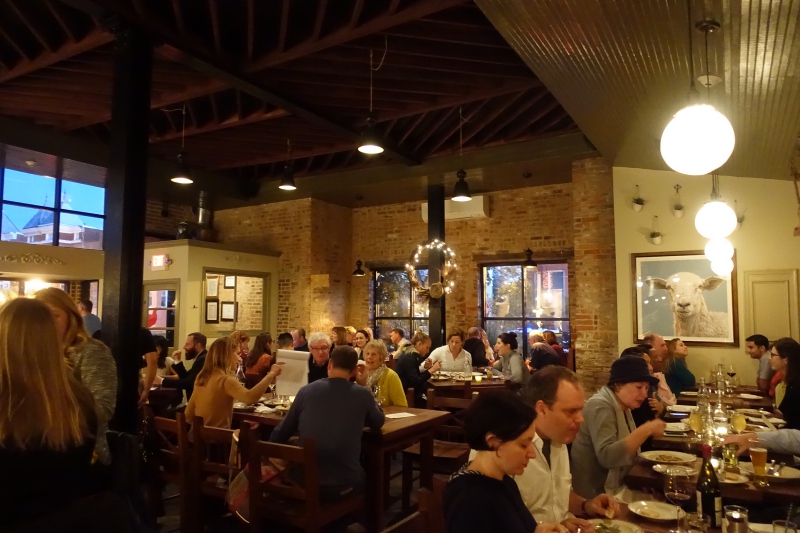 This Red Hen, Washington, DC Restaurant Review is part of a Washington, DC trip report. For the prior post, please see my Four Seasons Washington DC Hotel Review. We were excited to try the Red Hen, which I'd heard from some clients is one of their favorites in DC. It's also a Bib Gourmand selection by the Michelin inpectors (which some locals view as a snub, since Bib Gourmand restaurants don't receive a Michelin star).
Getting to The Red Hen in Washington, DC
The Red Hen is located at 1822 1st Avenue, NW, in Washington, DC's Bloomingdale neighborhood. It's not the easiest place to get to by public transportation. Originally we were hoping to use the Four Seasons Washington, DC's courtesy car, but as it was out, we instead started off in a taxi, which was a mistake given the slow rush hour traffic. So we instead took the Metro to L'Enfant Plaza, where we switched to a Green Line Metro train to Shaw-Howard University, and walked the 15 minutes to the restaurant.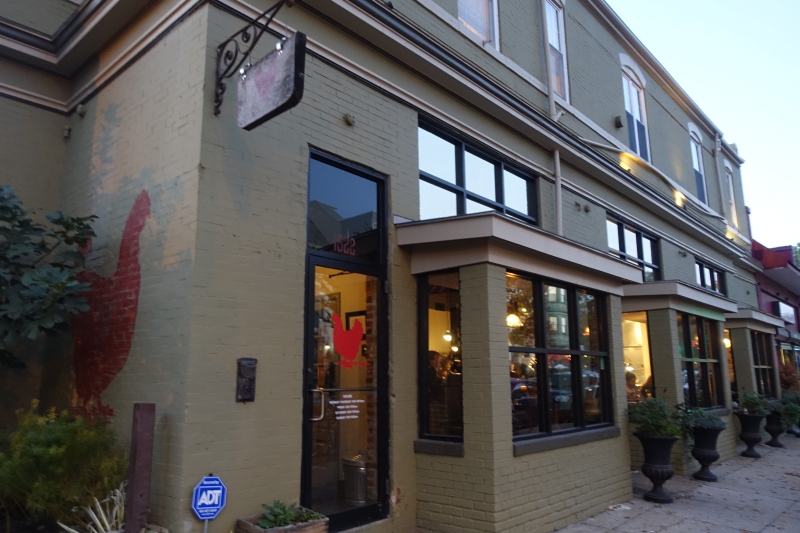 The Scene
The Red Hen is incredibly popular with locals as well as visitors, so it was packed when we arrived a little before 7pm, even though it was a Monday night, with couples and small groups of friends. I didn't see any other kids there, although it probably attracts more families on weekends. Note that the restaurant allots about half its seats to advance reservations and the other half for walk-ins. I'd only thought about going there about 2 weeks before our visit, and the advance reservations were completely booked out. So plan well ahead if you want to secure an advance reservation, which is recommended.
When we arrived, we were told that the wait for a table was 1.5 hours, but we were welcome to try to find a seat at the bar. I found one seat, but just as I was thinking our trek to get there might have been in vain, the hostess was kind enough to give us a bar table off to the side for the two of us, which was perfect.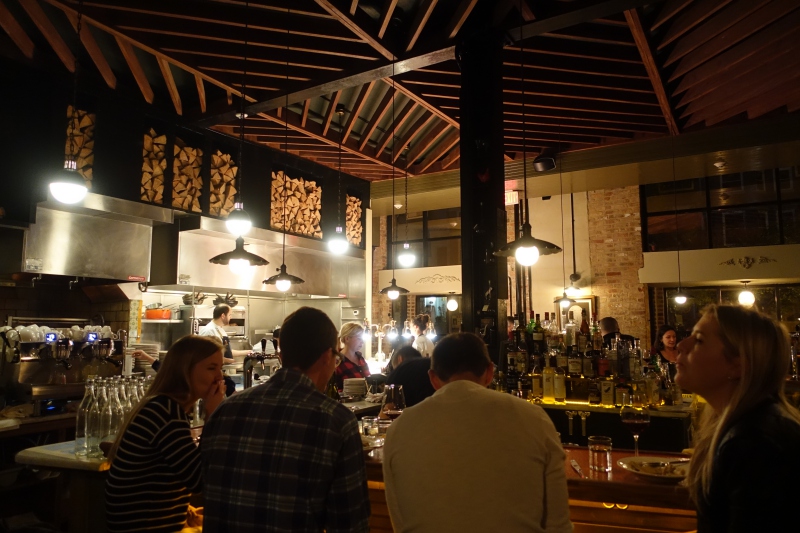 The Red Hen Menu and Food
I love the fact that The Red Hen menu isn't overwhelming–it changes seasonally and during our fall visit, offered 8 choices for starters and appetizers, 5 homemade pastas, and 4 mains: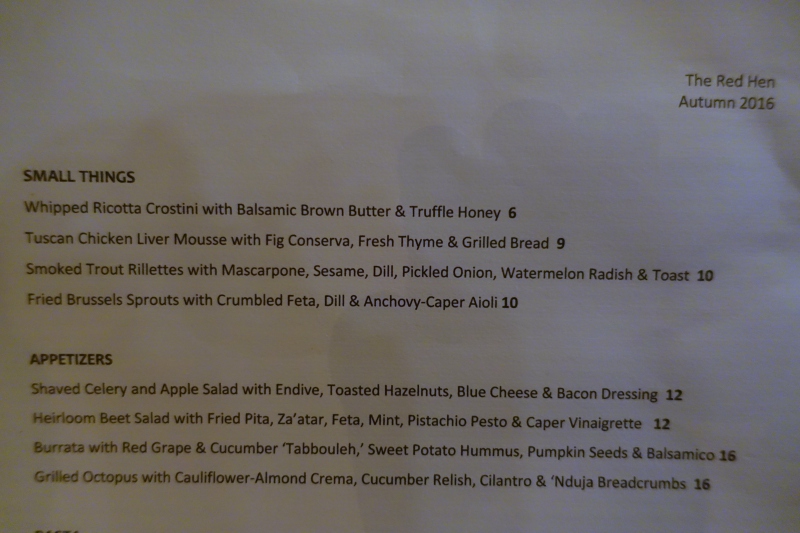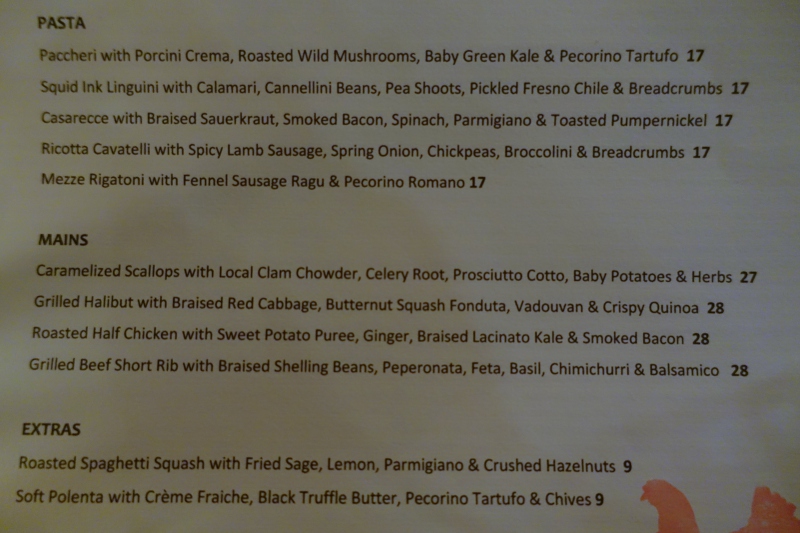 Even with this curated selection, it was hard to decide what to order. We settled on a three starters/appetizers and a pasta. Our friendly server started us off with some fresh bread and olive tapenade, which my son loved, to my surprise. He doesn't normally eat olives, but the tapenade was especially good.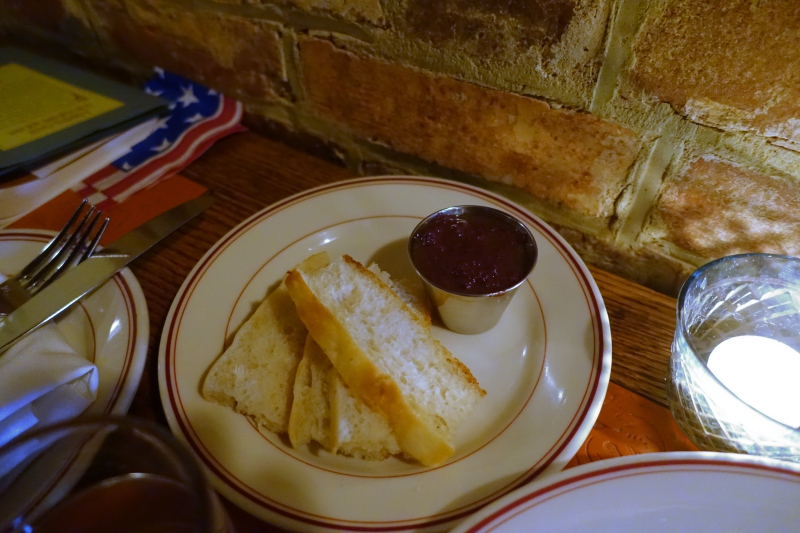 First to arrive were the Fried Brussels Sprouts with Crumbled Feta, Dill & Anchovy-Caper Aioli. Although under the "Small Things" heading, it was a very generous portion, so great for sharing. I didn't think my son would eat any, since he vehemently hates brussels sprouts, but even he was happy to eat about 10 of them. And personally, I thought this was the best brussels sprouts dish I've ever tasted, with perfectly crisp fried brussels sprouts with some nice caramelization, complemented by the salty and creamy feta and anchovy-caper aioli.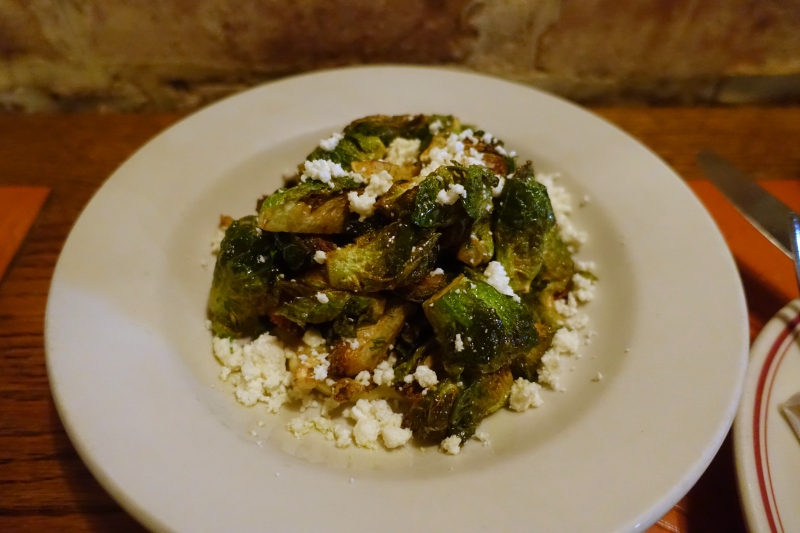 The Burrata was also excellent, with the red grape & cucumber "tabbouleh" providing a fresh foil to the rich creaminess of the cheese, crunchy pumpkin seeds lending textural interest, and balsamico tying it all together.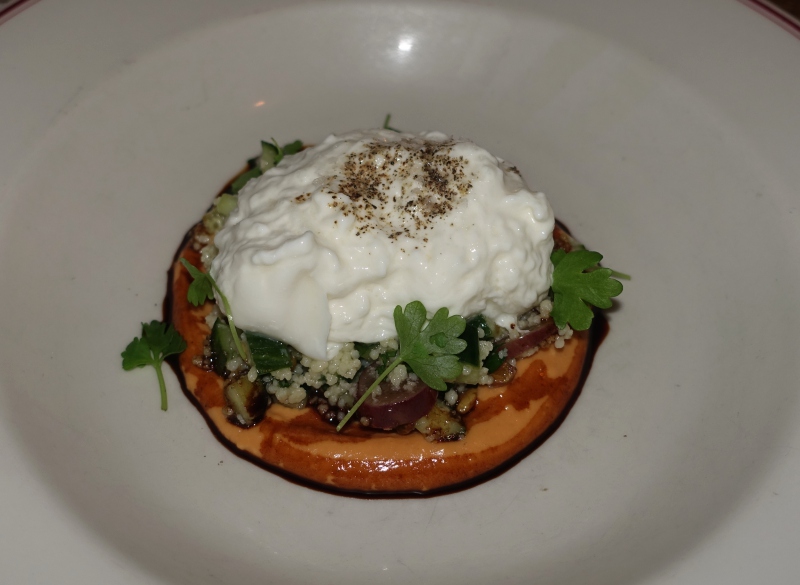 The third appetizer we tried was the Grilled Octopus with Cauliflower-Almond Crema, Cucumber Relish, Cilantro and 'Nduja Breadcrumbs. I can't decide if this or the Brussels Sprout appetizer was my favorite dish, as this was superb as well, with octopus perfectly grilled and very tender, and another great flavor combination. Once again my son surprised me by enjoying several bites of this dish.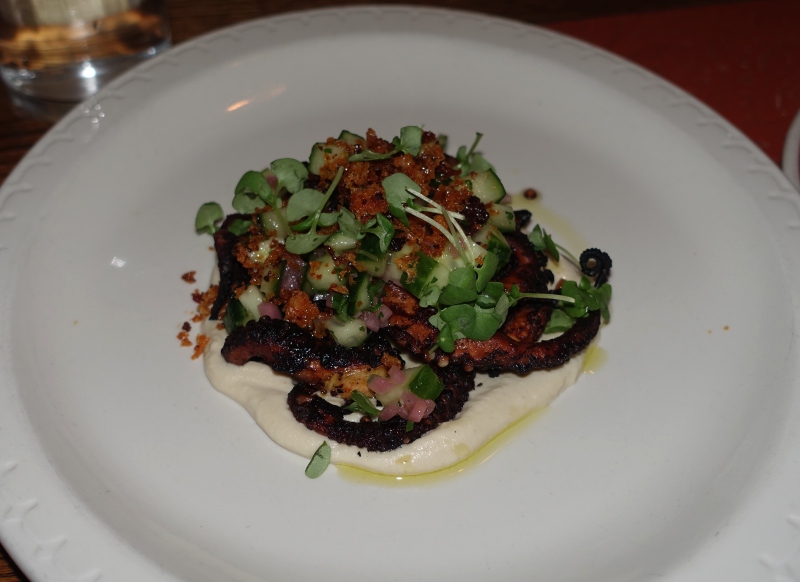 Since I hadn't thought my son would like either the brussels sprouts or the octopus, I played it safe by ordering the Mezze Rigatoni with Fennel Sausage Ragu & Pecorino Romano for him. It was very good and he enjoyed it, although in my mind it wasn't as distinctive and unique as the other dishes we ordered. It was still delicious enough though that we asked to take the half of the dish that we couldn't finish with us.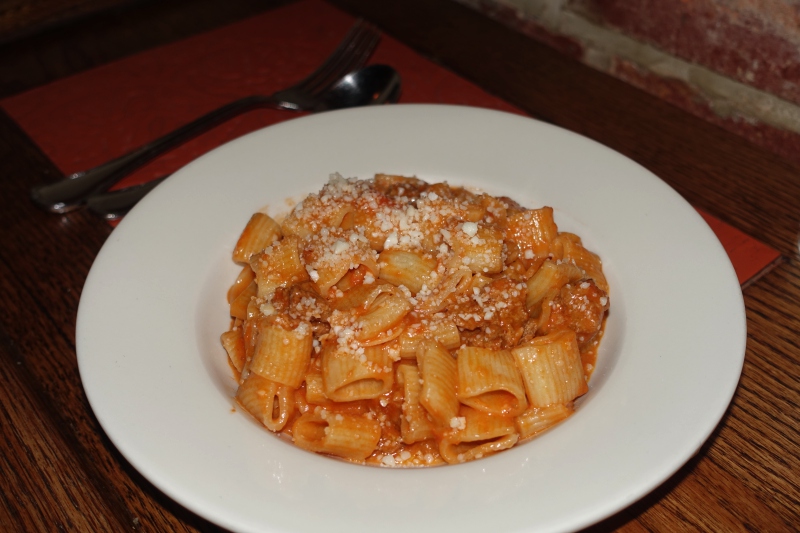 The Verdict
While I almost decided against going to The Red Hen, given its relative distance from Georgetown and inconvenience of getting there, not to mention the fact that we didn't manage to secure a reservation in advance, I'm glad we visited, as it was our best meal in DC and one of my favorite recent meals out, period. Since DC doesn't have quite as extensive a food scene as NYC, I'm not surprised that The Red Hen is incredibly popular. So if you do plan on going, be sure to reserve well in advance.
Related Posts
Four Seasons Washington DC Hotel Review
Need Award Booking Help? Our fee is as low as $75 per ticket if you book your hotel through us.
If you enjoyed this, join 200,000+ readers: please follow TravelSort on Twitter or like us on Facebook to be alerted to new posts.
Become a TravelSort Client and Book your Hong Kong Luxury Hotel with Virtuoso or Preferred Partner Benefits!