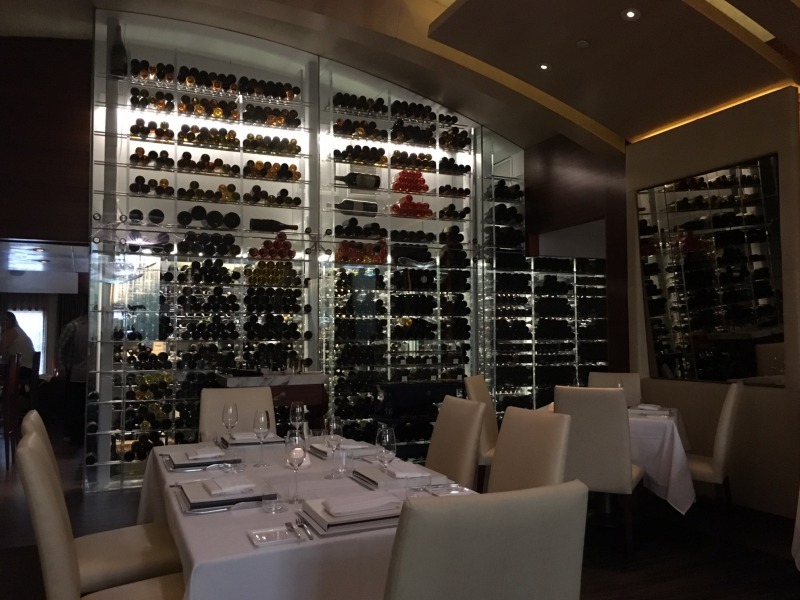 This review of the Plumed Horse Restaurant in Saratoga, California is from our recent dinner there on a brief visit to the Bay Area for my law school reunion. I'll have a full review soon of our Virgin America First Class flight and hotel reviews. Visiting the San Francisco Bay Area? See all our posts tagged San Francisco.
Due to the recent fires in Santa Rosa and poor air quality in the San Francisco area (not only was visibility poor in SFO when we arrived on Thursday, the air smelt acrid) we spent that night in Cupertino rather than in San Francisco or even Palo Alto.
The Plumed Horse Location and Hours
The Plumed Horse is located at 14555 Big Basin Way in Saratoga, an easy 15 minute drive from the Aloft Cupertino where we were staying. If you're in Palo Alto, it's a 25-35 minute drive, depending on traffic. The restaurant is open nightly for dinner starting at 5:30pm, and reservations are recommended, particularly for peak dining times and weekends.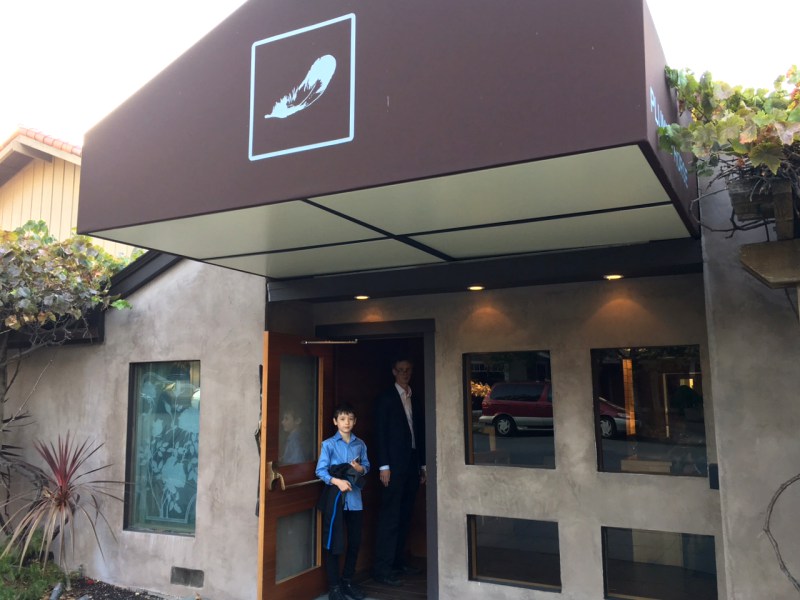 The Scene
Since we'd flown in that day from NYC and wanted to get to bed early, we had an early reservation on Thursday evening for 6pm and arrived even a bit before that. At that early hour, there were a number of folks in the bar area, but just one solo diner in the restaurant. During our dinner, however, three other tables were seated (all of them couples), and I noticed a private party at the Chef's Table as we departed.
The dining room itself is tasteful, in whites and greys, with orchids in the center of the room, although it's a tad disconcerting to have the light change colors, from white to pink to purple. Our son really liked it, but somehow I suspect he's not the target demographic.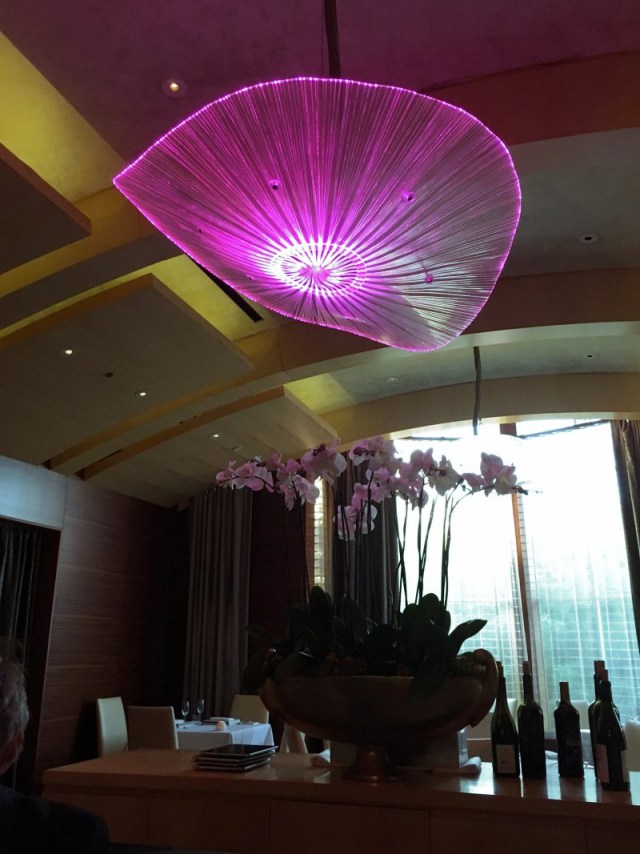 The Plumed Horse Menu and Food
The Plumed Horse offers a Chef's Tasting Menu of 8 courses for $158, with a vegetarian version for $135. A wine pairing is offered for an additional $98, and a premium wine pairing for an additional $250.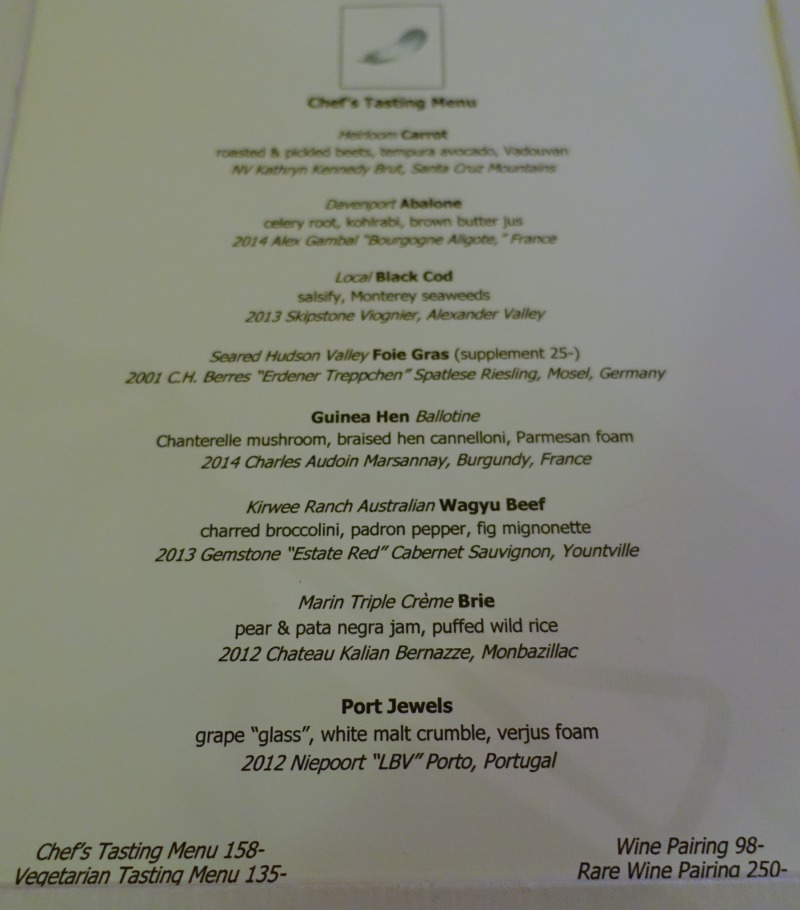 Fortunately, if you're not up for such a protracted meal, as we weren't (especially given our son's bed-time) an a la carte menu is also offered. There are more choices for the appetizers, and since the restaurant is particularly known for its Black Pepper and Parmesan Souffle with Crab and Uni Fondue, I decided to order it for my main, with my husband and son also sharing it as one of our three appetizers.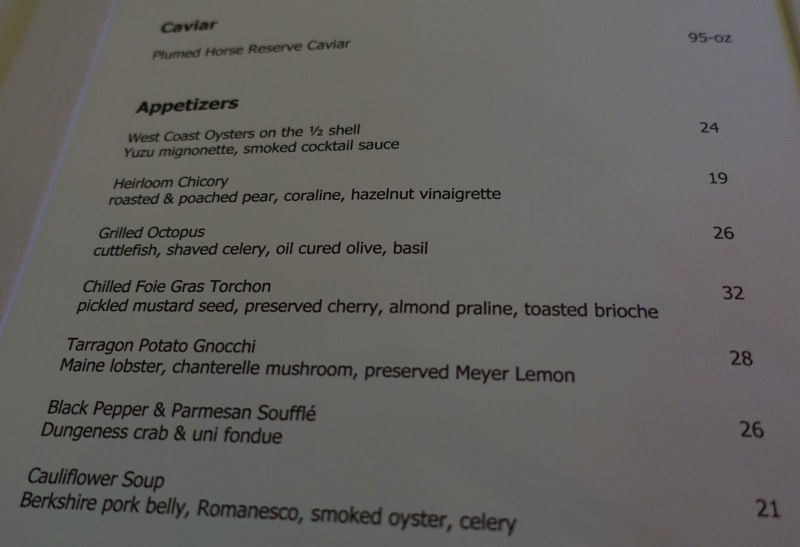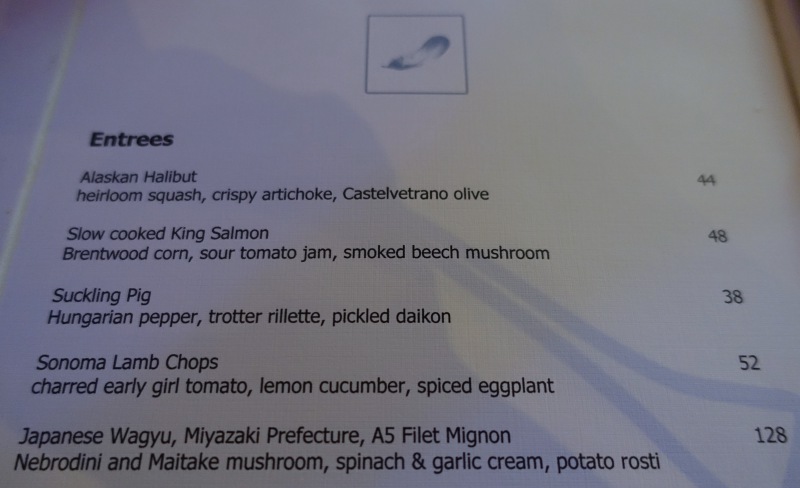 The Plumed Horse is known for its extensive wine cellar, and the selections are conveniently displayed on a tablet.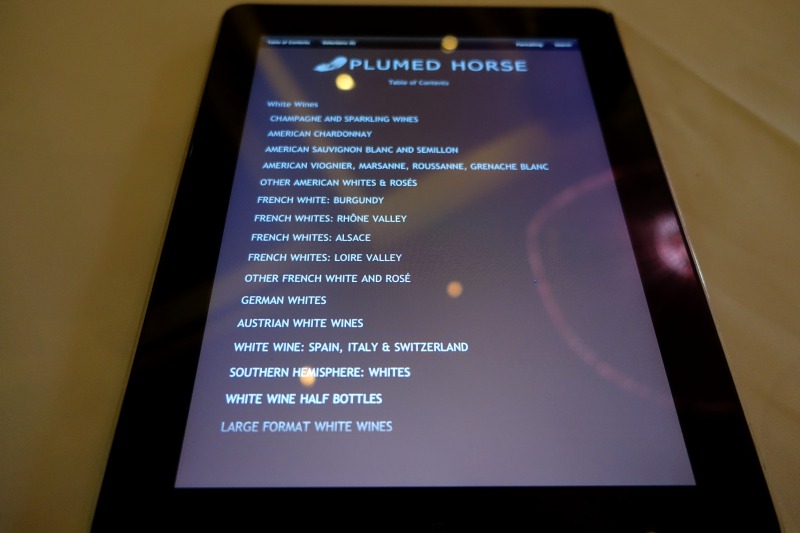 Since wines by the glass were on the pricey side, with most at $20 or more, we opted for a half bottle of Viognier, for $45. The sommelier attentively asked if we'd like the wine cellar temperature or a bit more chilled, and was happy to put it on ice for us until it was our preferred temperature.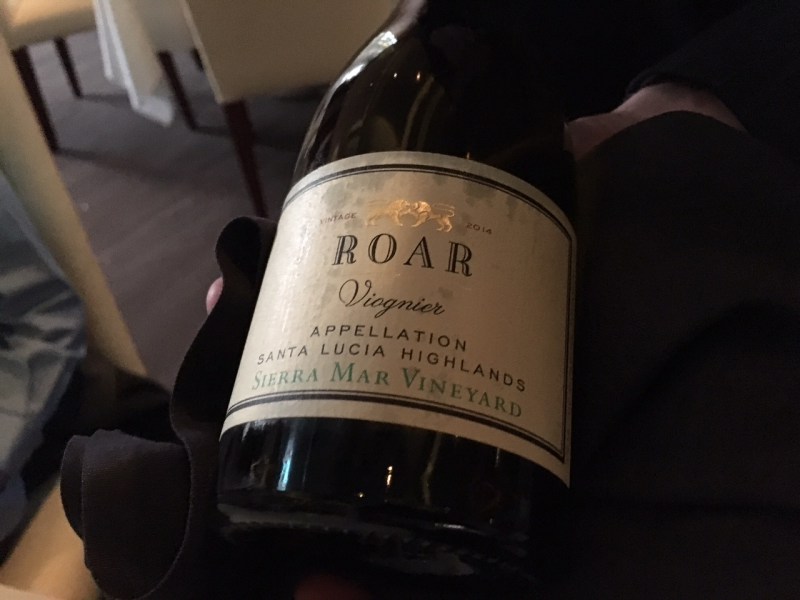 We were offered a couple of amuse bouches to start, the first a little bite of toasted brioche with pate, which was so tasty even our son liked it. He never eats pate at home when I serve it, but if a kid likes something they never liked before, no reason to remind him of that.
We enjoyed the second bite even more, some suckling pig with potato puree: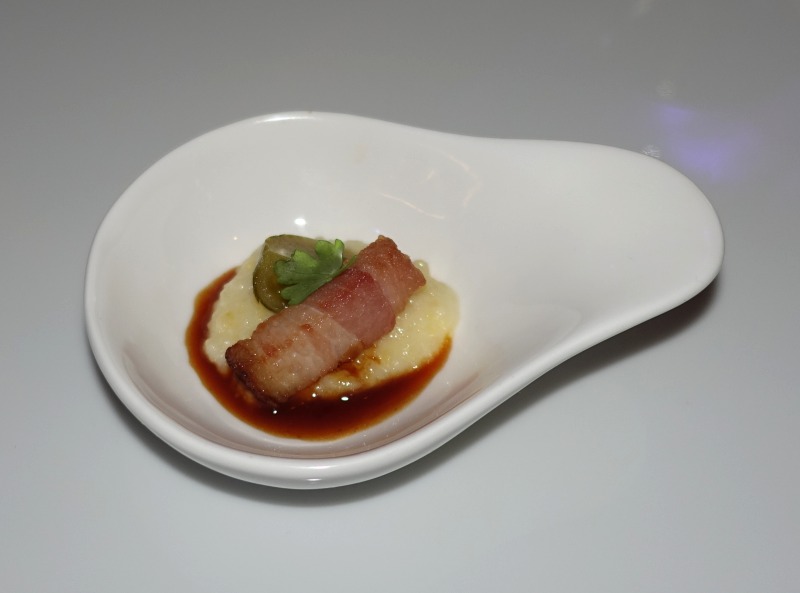 The homemade bread selection was excellent, with 5 different choices, including the focaccia that I chose and the Parker House rolls that my husband and son picked out. Both were served warm, and were delicious (I do give a slight edge to the Parker House rolls at The Clam in NYC, but it should be noted that those must be ordered from the menu, and aren't complimentary).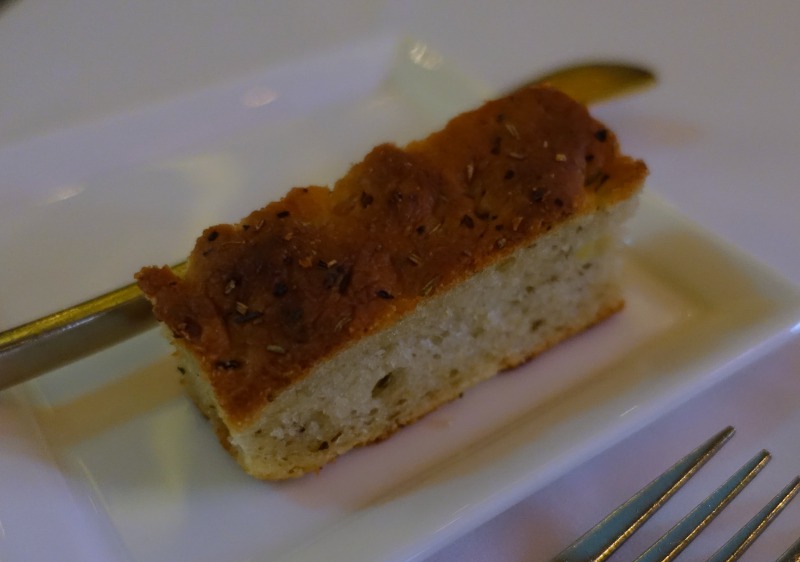 The Grilled Octopus appetizer was very tasty, and the octopus was tender–I just wished there'd been another couple of pieces, given the $26 price.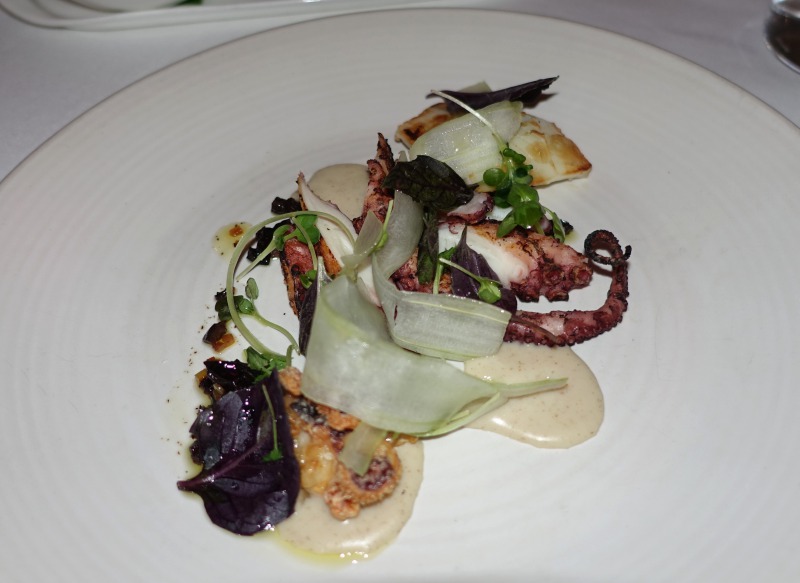 All of us loved the Tarragon Potato Gnocchi with Lobster, Chanterelle Mushrooms, and preserved Meyer Lemon–this is the dish I'd most want to replicate at home, if I had the time to make homemade gnocchi.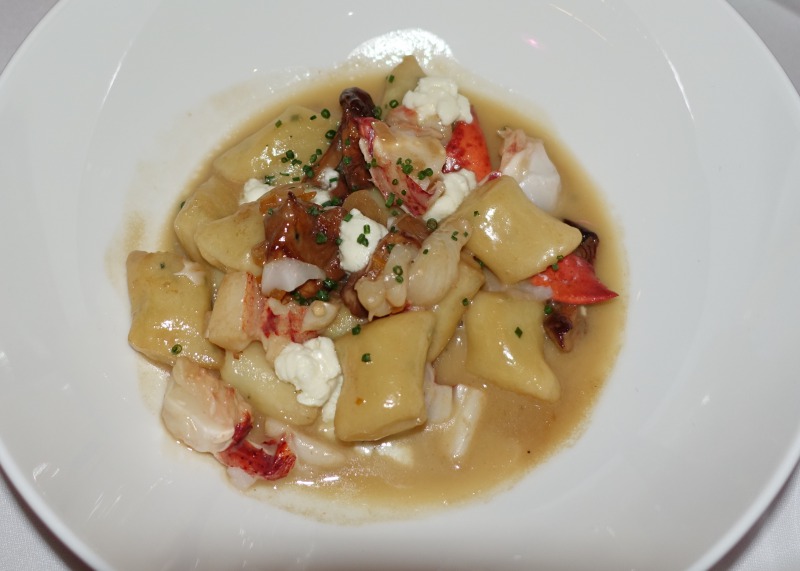 Our other favorite dish of the evening was the Black Pepper Parmesan Souffle with Crab and Uni Fondue, which my husband and son split as an appetizer, and which I also ordered for my main course. It's a rich dish, so I highly recommend sharing it if also ordering a main dish, or having it for your main course as I did. While the souffle itself is not overly remarkable, the addition of the crab and uni fondue really elevates it.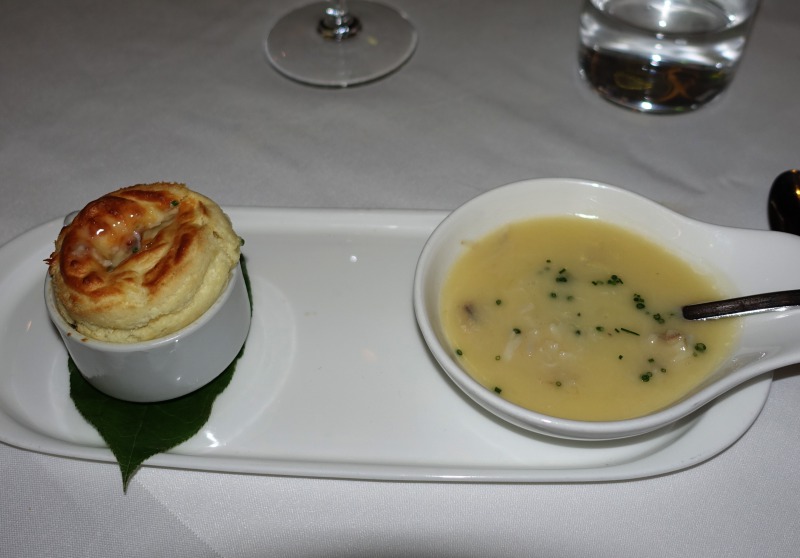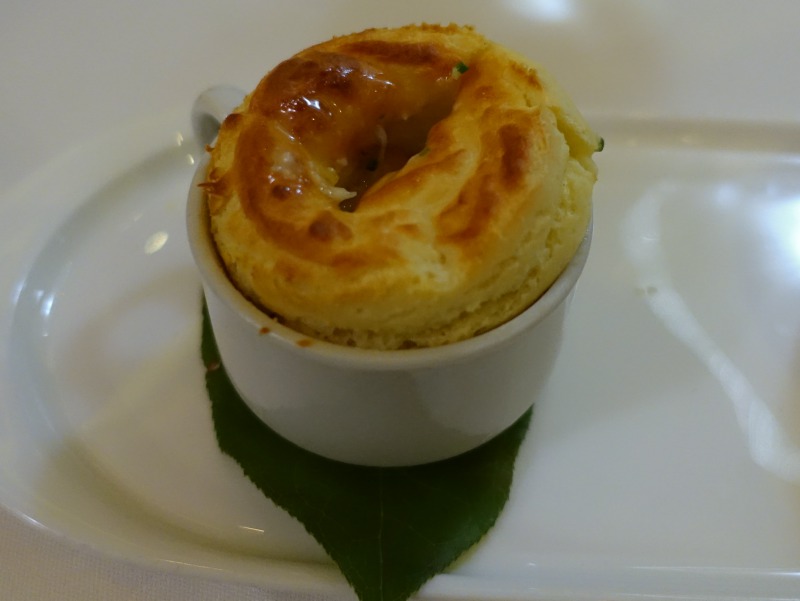 My husband chose the Suckling Pig with Hungarian Pepper for his main course, and I thought this was the weakest dish. I'd have expected to see a crisp skin, but instead this was served roulade style, and I didn't think much of the accompanying sauce. The real surprise, however, was when one of the peppers turned out to be extremely spicy. It was strange, since all the other green peppers on the plate were mild (I tried one), but somehow one of them was off the charts spicy. Something to be aware of, but even apart from that, I don't recommend this dish.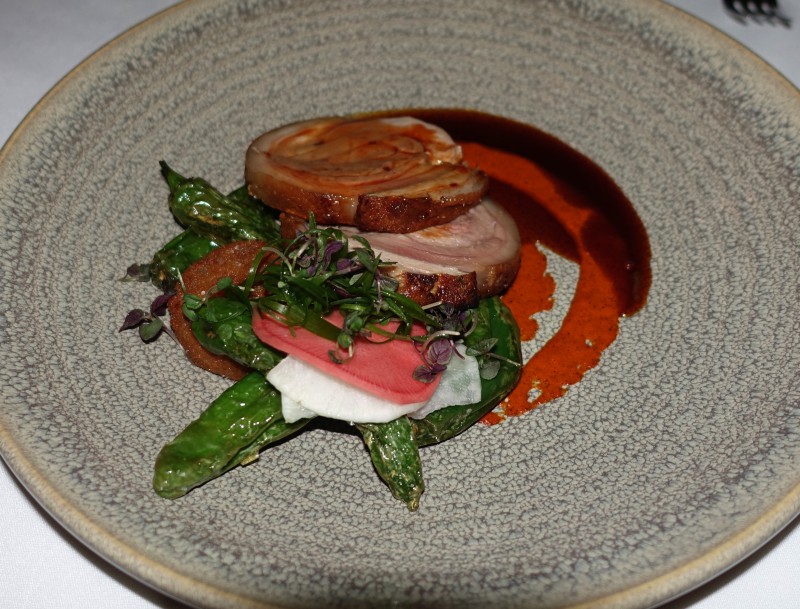 Our son chose the Slow Roasted King Salmon, and this was flavorful and well executed, if not that exciting.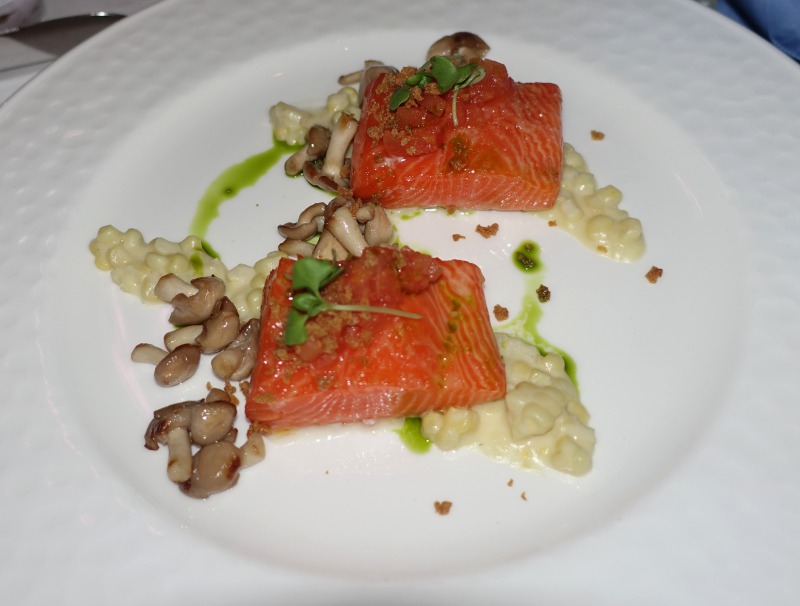 I'd saved room for dessert, but looking at the three choices on the dessert menu, none of them seemed that interesting. It's not clear to me that the restaurant has a pastry chef, as I would have expected a few more choices, and more appealing ones.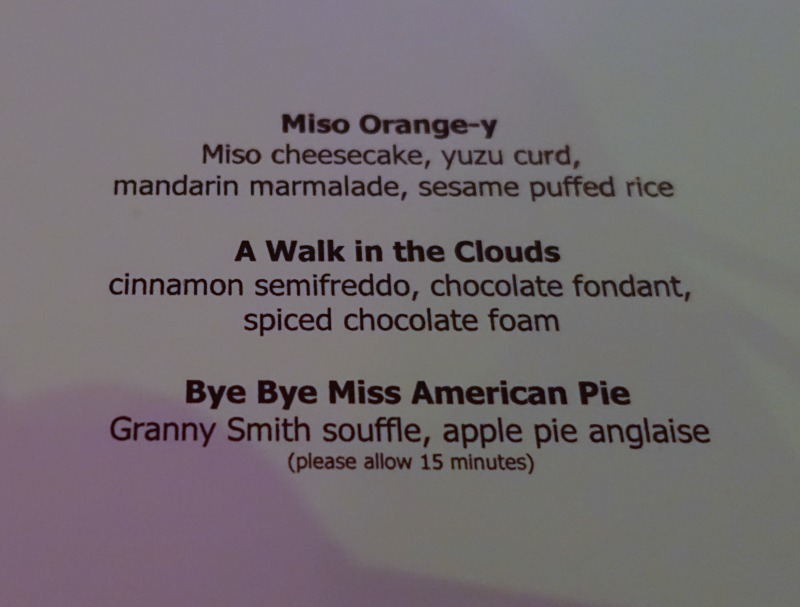 That said, since we were belatedly celebrating a birthday, the restaurant was kind enough to provide complimentary mignardises, a nice array of madeleines, fruit jellies and pistachio financiers. My absolute favorites were the pistachio financiers and raspberry pate de fruits. The thing that looked like a mini macaron was disappointing, as was the other pate de fruits, and the madeleine was average.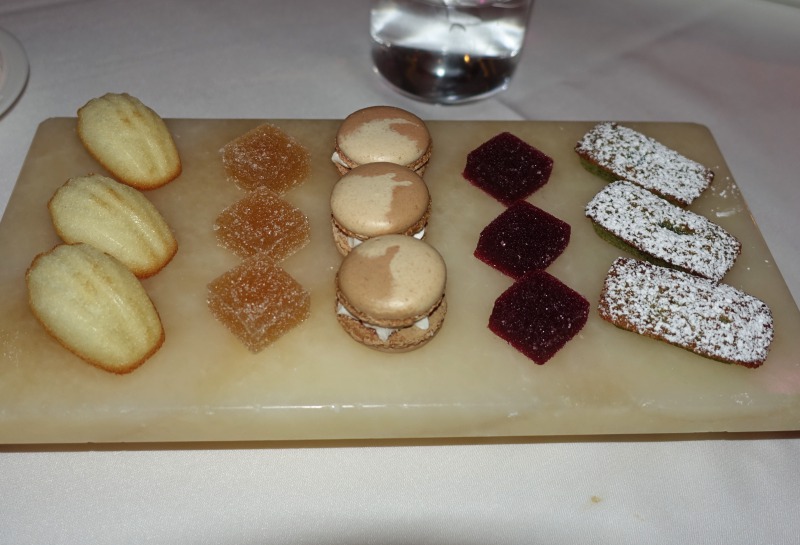 The Verdict
We enjoyed our evening at The Plumed Horse, particularly the Tarragon Gnocchi with Lobster and the Parmesan Souffles with Crab and Uni Fondue. I'm not completely sold on the entrees, and while unorthodox, I'd suggest sharing a selection of appetizers, perhaps with the souffle or another appetizer as a main course. Service was friendly and excellent throughout, from the hostess who brought us to the table to our server, the sommelier, and the associate who noticed we'd left the table without our son's fleece and brought it to us.
I will say that in terms of Michelin 1 Star restaurants in the Bay Area, I still prefer Restaurant Gary Danko in San Francisco, but that's a good 1 hour 20 minutes away, so The Plumed Horse is a solid choice in the South Bay, particularly if you want a restaurant with a comprehensive wine list.
If you've dined at The Plumed Horse, what was your experience?
Recommended Posts
Gary Danko San Francisco Restaurant Review, 1 Michelin Star
2017 Review: St. Regis San Francisco
Hotel Review: Ritz-Carlton San Francisco
Ritz-Carlton San Francisco Club Lounge Review, 2017
Disappointing: No More Day Beds at AMEX Centurion Lounge SFO
Disclosure: I paid the regular price for our a la carte dinner, which came to about $230 + tax and gratuity for three, including a half bottle of wine.
Need Award Booking Help? Our fee is as low as $75 per ticket if you book your hotel or cruise through us.
If you enjoyed this, join 200,000+ readers: please follow TravelSort on Twitter or  like us on Facebook to be alerted to new posts. 
Become a TravelSort Client and Book Your Hotel with Virtuoso or Four Seasons Preferred Partner Benefits!