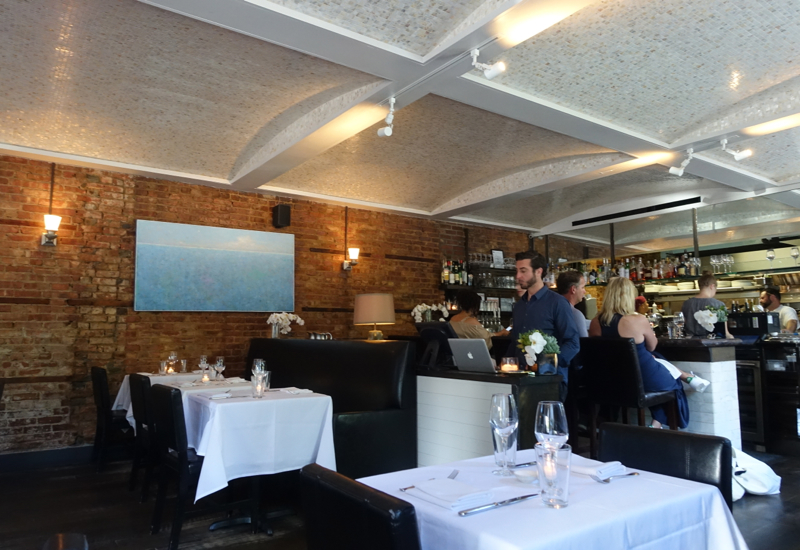 The Clam is one of the best NYC restaurants we've reviewed, although since it's not in our neighborhood it's been months since we were last there. We had a chance to revisit it last night, so here's our updated review of The Clam. Visiting New York? See all of our posts tagged NYC.
Getting to The Clam
The Clam is located at 420 Hudson Street, in NYC's West Village. If coming by subway, the closest stops are West 4th Street (A, B, C, D, E, F and M trains) and Houston Street (1, 2 trains). If coming by PATH train, the closest stop is Christopher Street.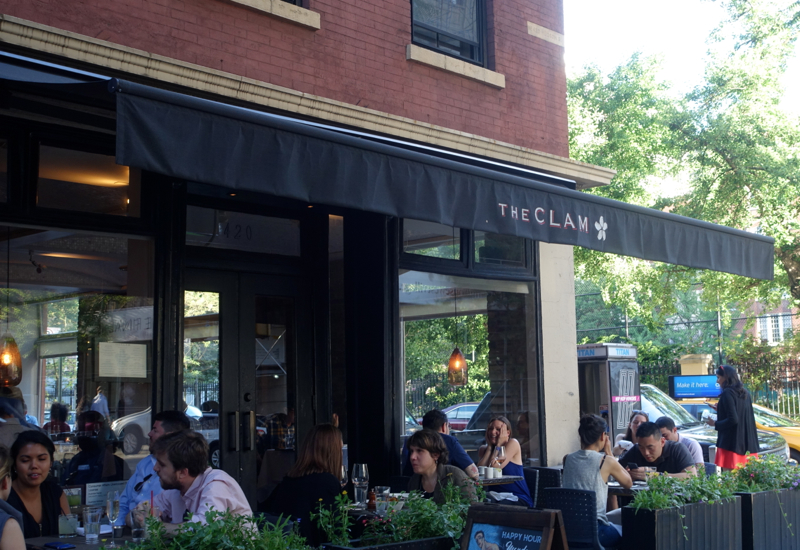 The Scene
The restaurant is quite small, so I definitely recommend making reservations in advance, particularly for peak dining times. We decided to get there early, at 5:45pm, to take advantage of half price oysters (Happy Hour is 5-6pm) and even at that hour all the outdoor tables were occupied and there were several other guests inside both at tables and the bar.
We had a babysitter and were there sans kid, and I noticed no other kids were there. Most couples were either our age or younger, and were either in business attire, having come straight from work, or had a vaguely hipster look.
The Clam Happy Hour Menu, Dinner Menu and Food
The half price oysters are the main attraction on The Clam's Happy Hour Menu, in my view, since the alcohol selections didn't seem that compelling for the price. And since The Clam is a clam, oyster and seafood specialist, you can bet these oysters will be top notch.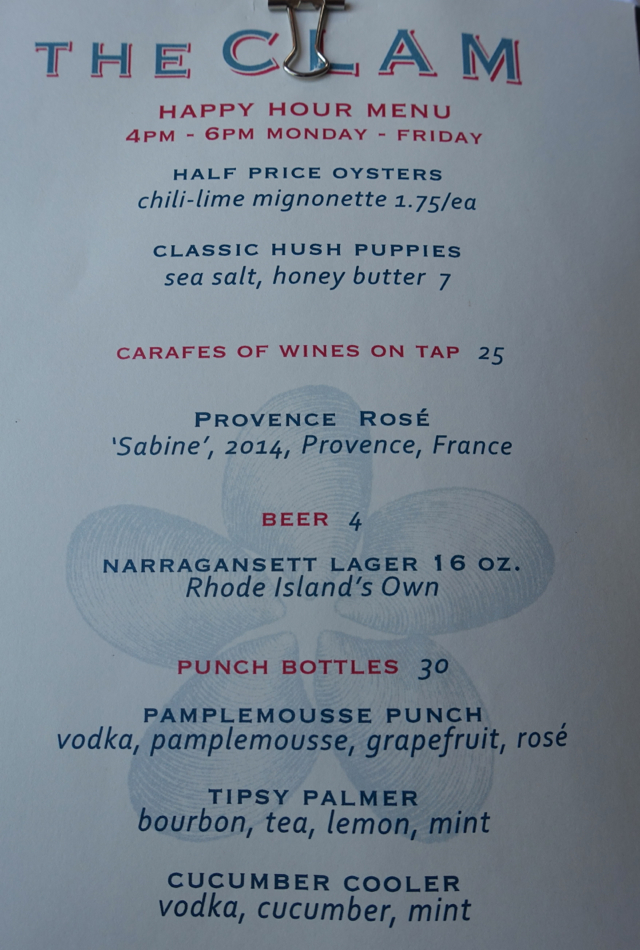 The regular dinner menu thankfully still had our favorite must order items, such as The Clam Dip and Clam Chowder, although as to be expected, prices have increased since I last photographed the menu 2 years ago, in 2014: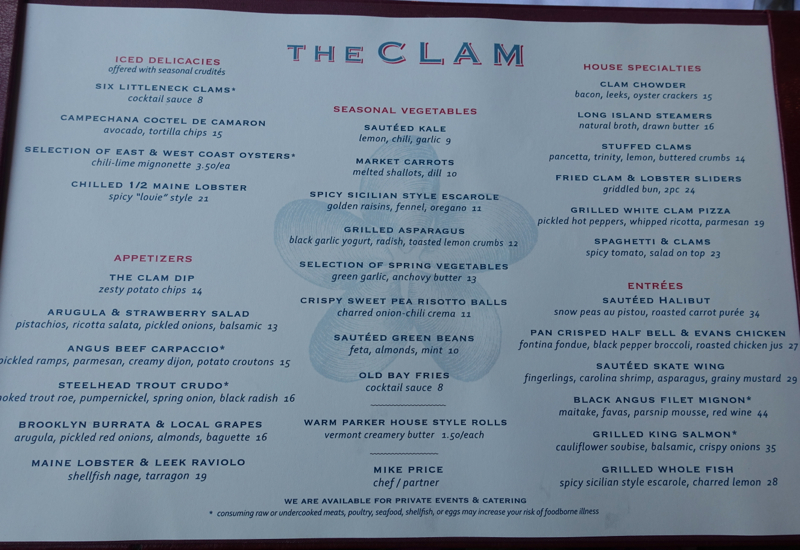 The addictively warm Parker House Rolls are no longer complimentary, but we gladly paid the $1.50 per roll for them as they're fantastic. Freshly baked, buttery and tender, with some fleur de sel atop. It would be all too easy to fill up on these, so just as well that they have to be ordered.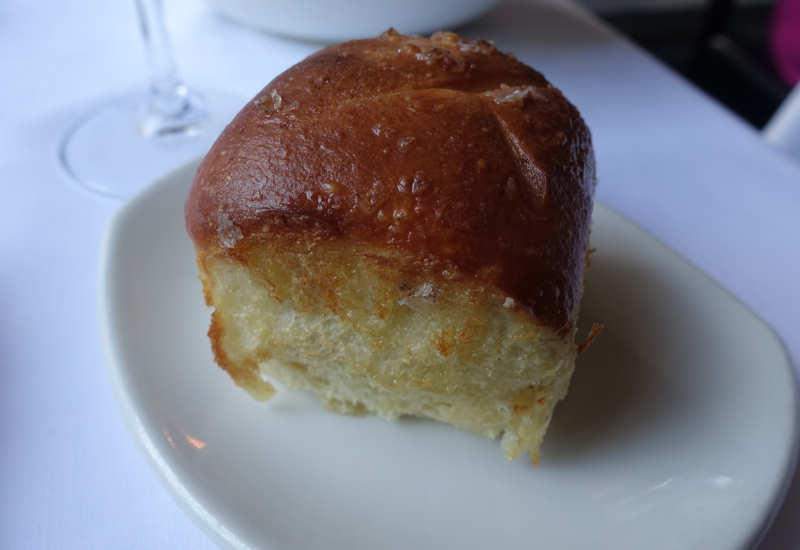 Since the carafe of rose didn't appeal to us, we opted for white wine by the glass. Our server was kind enough to give us tastes of both the Domaine de Villargeau 2014 Loire Valley Sauvignon Blanc and the Ronchi di Cialla 2015 Ribolla Gialla; we preferred the Loire Valley Sauvignon Blanc, although honestly I prefer New Zealand Sauvignon Blancs, which strangely were not offered at all, not even by the bottle.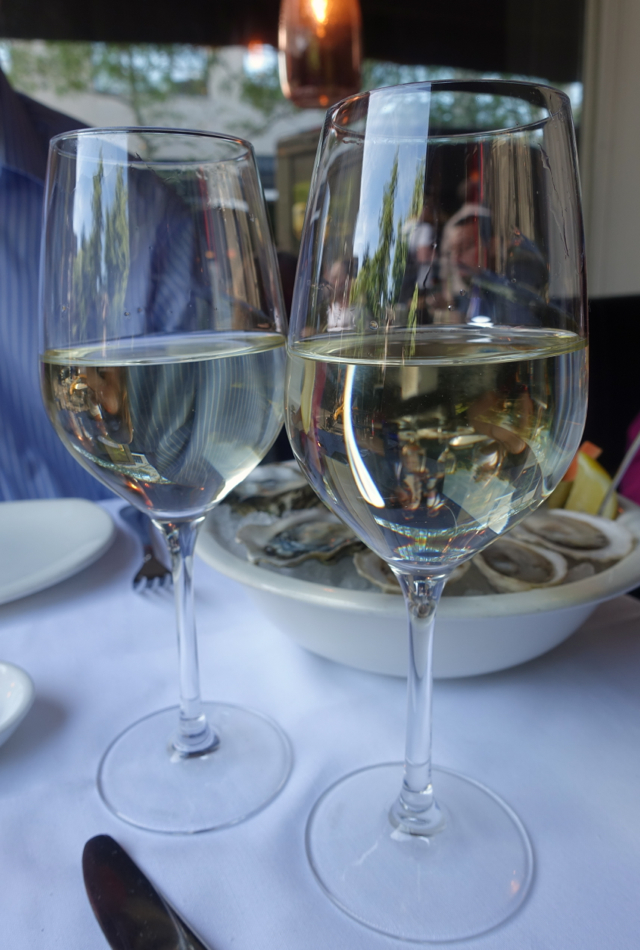 For our Happy Hour oysters, we chose half East Coast oysters and half West Coast. The West Coast ones are the larger ones, with very jagged and deep shells, and they were also a bit sweeter, whereas the East Coast oysters have rounder shells. Both though were deliciously fresh, as if they'd just been plucked from the sea.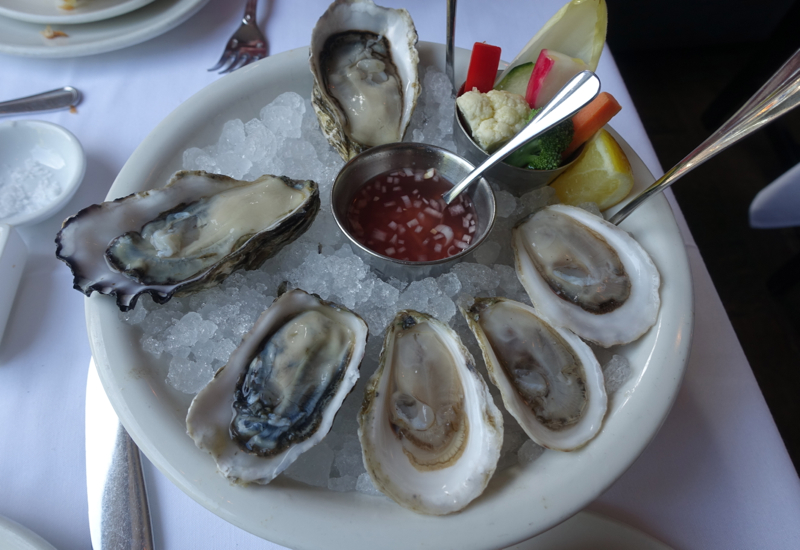 The Clam Dip was just as good as we remembered it, creamy and very generous with the clams. My husband grew up in the Boston area, home to plenty of seafood, and says this is the best clam dip he's ever had. The crisp and zesty potato chips are the perfect dipping partner.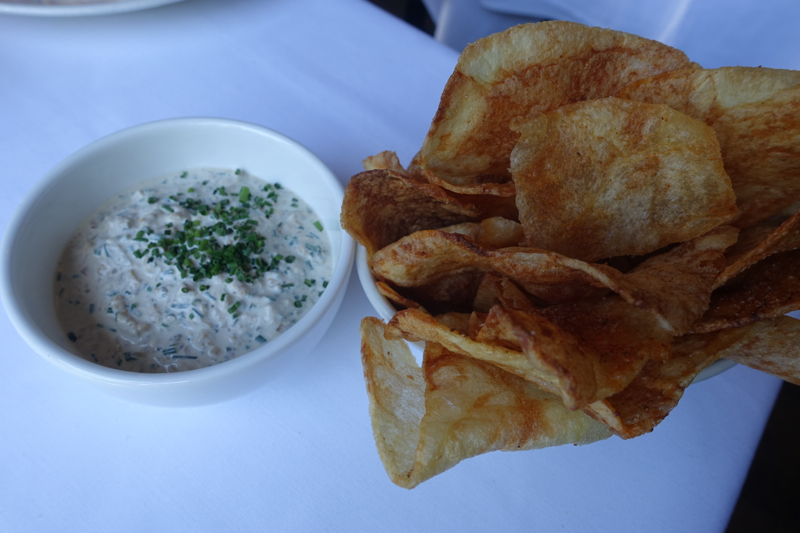 One of the specials for the evening was Soft-Shell Crab, which we both enjoy, so we ordered one and split. It was on the pricey side at $19 for just one soft shell crab, but fortunately it was a jumbo one and the presentation is easily the nicest I've seen for a soft-shell crab dish. It was fried so that it was perfectly intact, and accompanied with some crunchy veggies and creamy dip. Well worth the cost.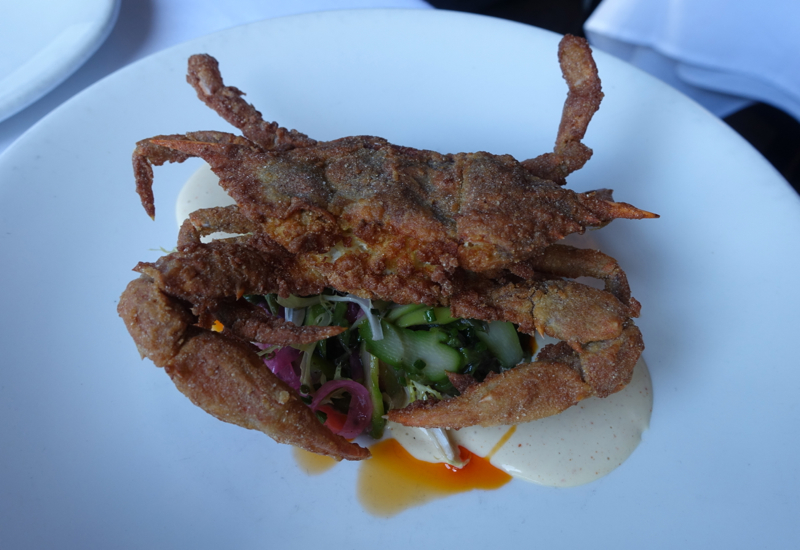 Since we were in tasting mode, we ordered one clam chowder and one order of the fried clam and lobster sliders, which the kitchen was kind enough to split, giving us each half of the chowder and one slider. The clam chowder was pure comfort food, enriched with bacon and leeks and adorned with clams in the shell and oyster crackers.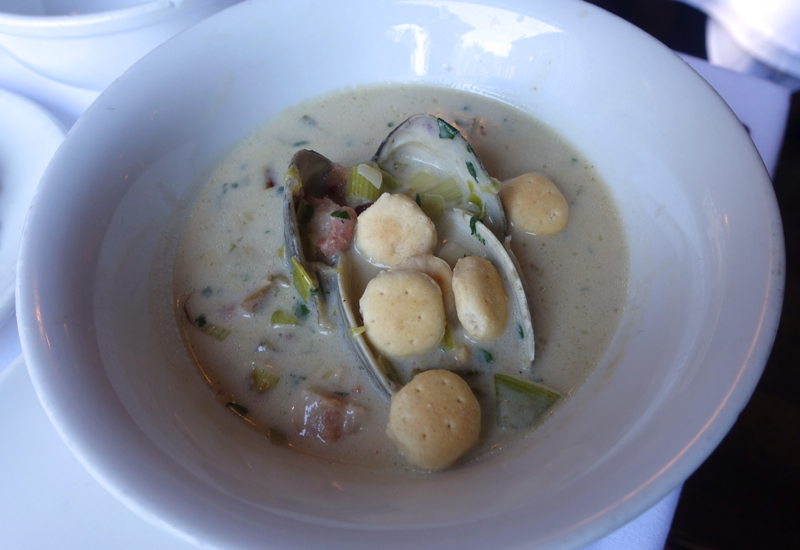 The fried clam and lobster slider, meanwhile, was tied with the soft-shell crab as my favorite dish of the evening. While I don't get as excited about fried clams as my husband does, they're perfect when accompanied in the slider with the best lobster salad you've probably had.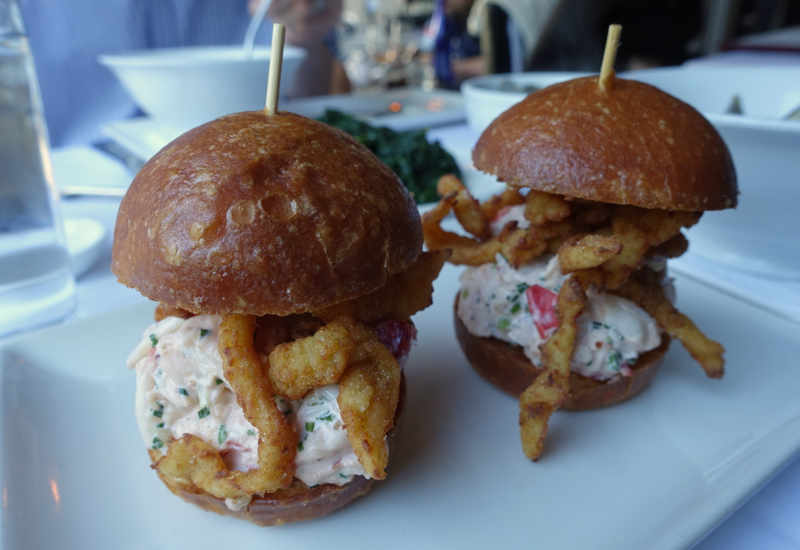 As a vegetable, we ordered the sauteed kale, enlivened with lemon, chili and garlic, though subtly. It was still mild enough that our son happily finished the leftover kale we brought home with us (and how many 8 year olds do you know who will willingly eat a big serving of kale?)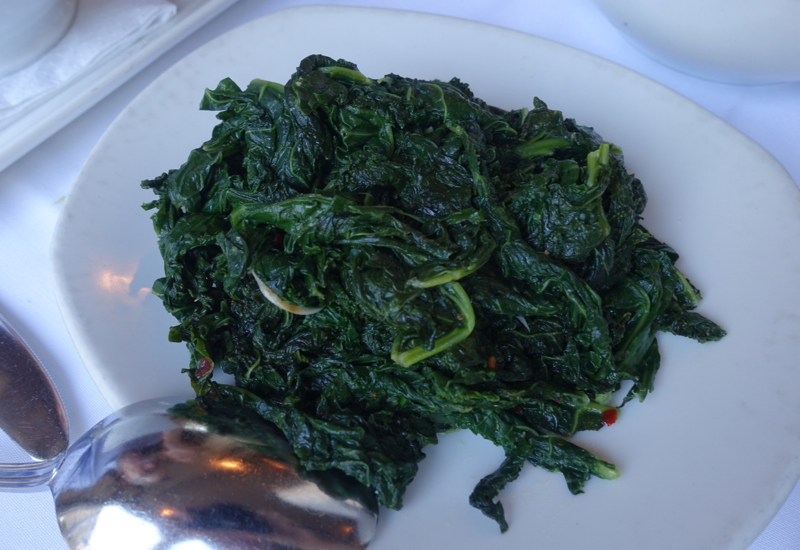 The Verdict
The Clam remains our favorite seafood restaurant in its price range in NYC. One of the hallmarks of a great restaurant, I believe, is consistency, and we've had consistently great meals here, always ordering a couple of favorites plus new dishes as well. While it's a small space, the ambience is cosy, with many candles, which recalls Scandinavian places. Whether you're in the West Village or not, if you enjoy seafood, particularly clams, oysters and lobster, I highly recommend a visit.
Related Posts
Top 5 Best Value NYC Michelin Star Restaurants
Review: Clinton Street Baking Company, NYC
Uncle Boons NYC Restaurant Review
Need Award Booking Help? Our fee is as low as $75 per ticket if you book your hotel through us.
If you enjoyed this, join 200,000+ readers: please follow TravelSort on Twitter or like us on Facebook to be alerted to new posts.
Become a TravelSort Client and Book Your Hotel with Virtuoso or Four Seasons Preferred VIP Amenities!