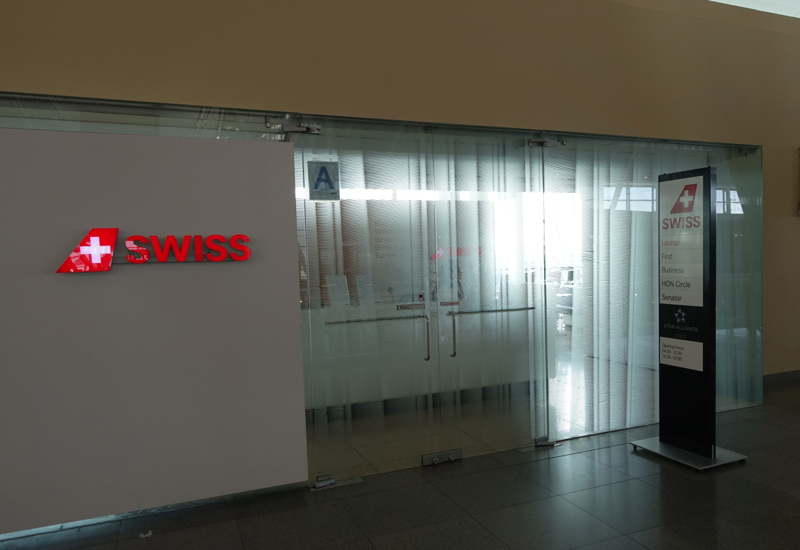 This SWISS Lounge at JFK Terminal 4 Review is part of a trip report covering Asiana First Class and luxury travel in northern Thailand and Siem Reap, Cambodia.
I was looking forward to another flight in Asiana First Class, although Asiana's ground services leave something to be desired (even in Seoul Incheon–see my Review of Asiana First Class Lounge in Seoul Incheon). At New York's JFK, Asiana departs from Terminal 4, so lounge access is provided at the SWISS Lounge.
Location and Access to SWISS Lounge at JFK Terminal 4
The SWISS Lounge at JFK Terminal 4 is located after security, on the 2nd floor. Here's the map of its location: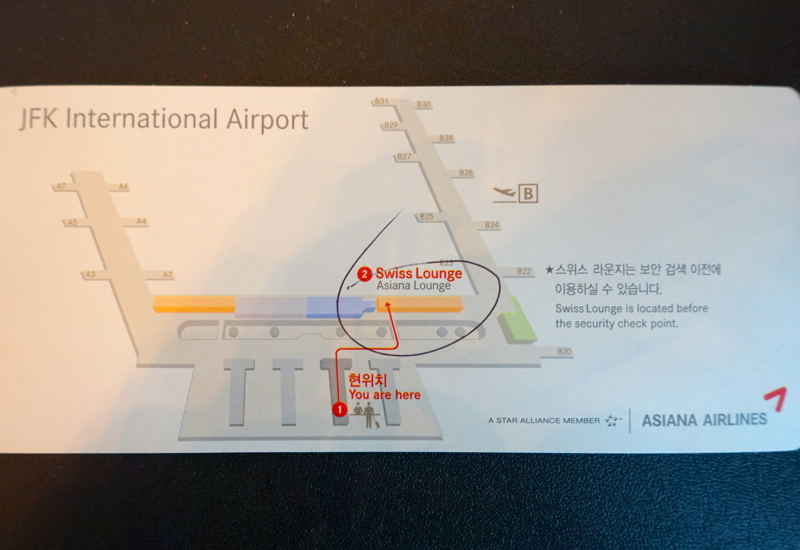 Asiana and other Star Alliance airlines use it for its first class and business class passengers (note that only the business class part of the lounge is open, even if you're flying Asiana first class). Lounge access is also for:
Star Alliance Gold members
HON Circle

Miles & More Senator

Miles & More Frequent Traveller
SWISS Lounge Amenities and Seating
The SWISS Lounge isn't huge, and offers just the basics in a simple, spare design: seating, including a relaxation room, WiFi (password is at the reception desk), and some basic food options.
Since the food options were in the front part of the lounge, closest to reception, that part was more crowded. The back part of the lounge, where electrical outlets were also more scarce, was less crowded. There was good natural light from the large windows, with views of the tarmac: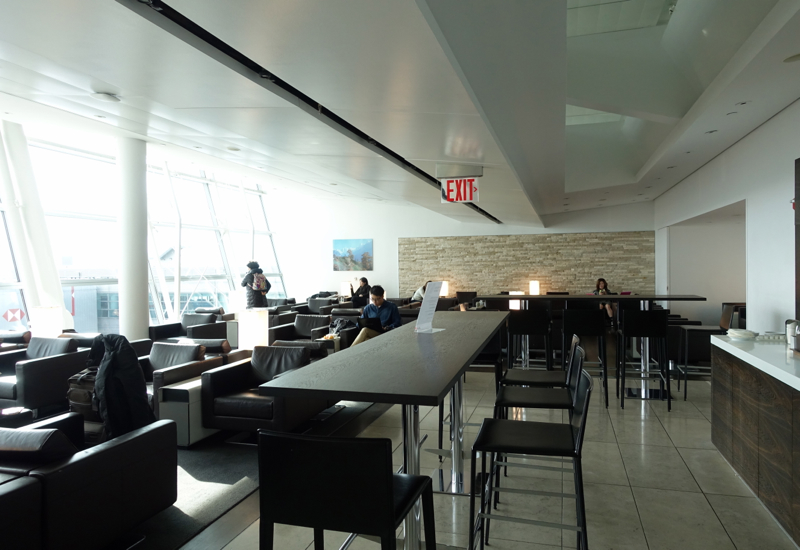 The bar in this area was completely bare at the time I was there, late morning: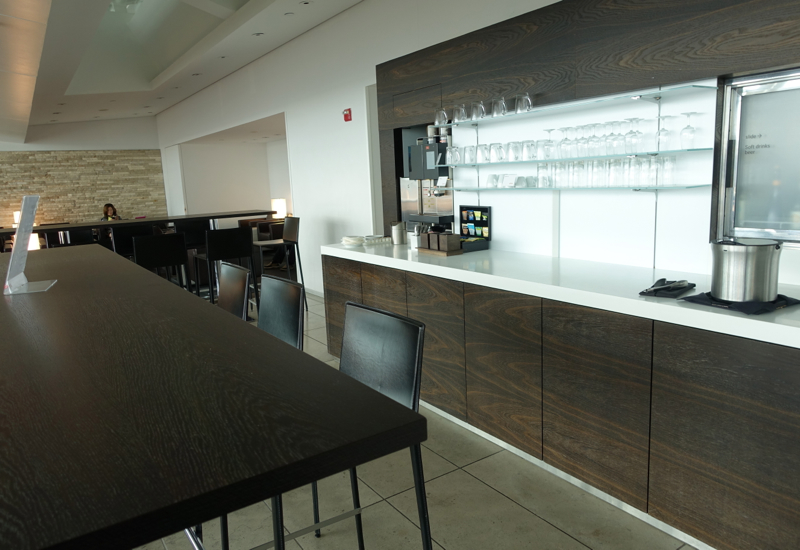 The relaxation room was also quite empty, with just one person there, although as the chairs are fairly close together, it wouldn't be all that relaxing if each was occupied.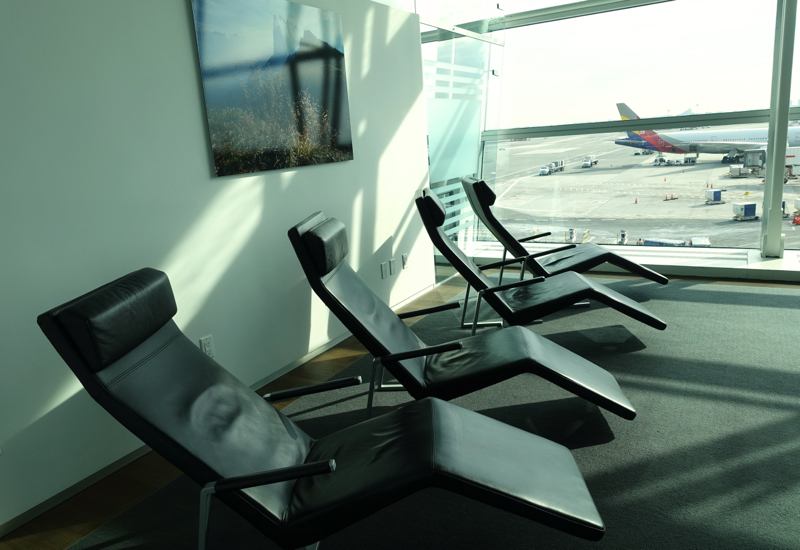 WiFi worked, although it was on the slow side when it came to uploads.
SWISS Lounge Food and Drinks
Perhaps it was the late morning time I was there, but the food options were very sparse and unappetizing looking. The muffins and pastries looked like the packaged type you get from low end supermarkets: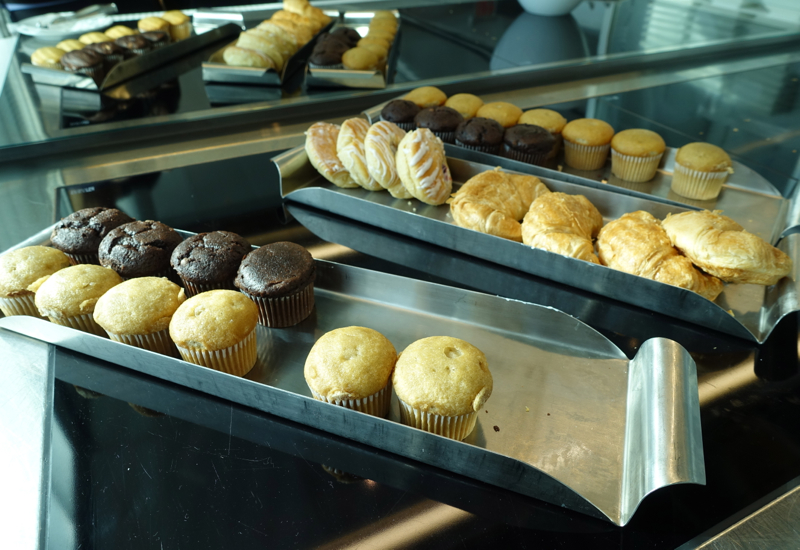 The bagels seemed fine, though it's pretty hard to mess up a bagel: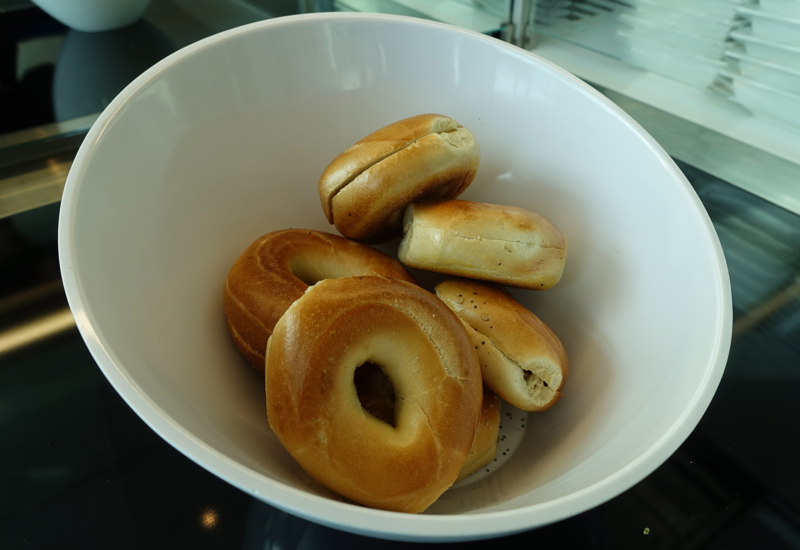 There was also bread, a toaster, and Smuckers jam–a pity SWISS can't be bothered to serve better Swiss made jams such as Hero preserves.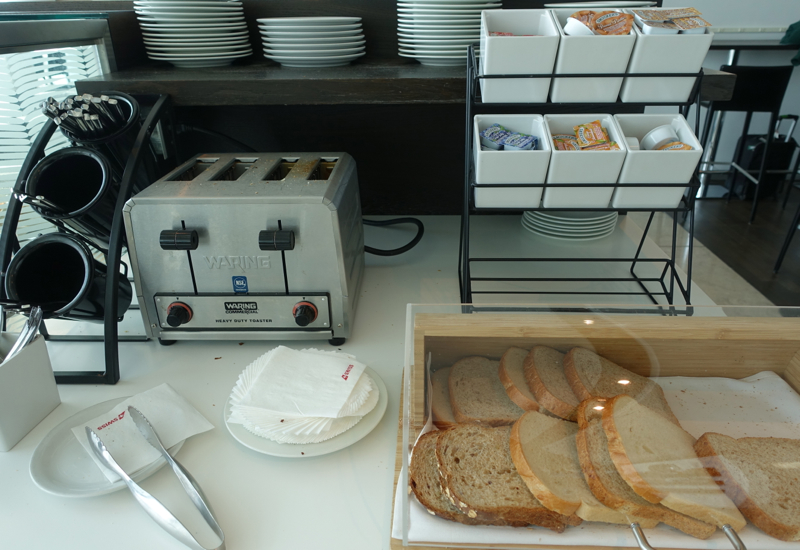 There was also some picked over pineapple and watermelon, along with some granola and milk–these were probably the best bets of the food on offer.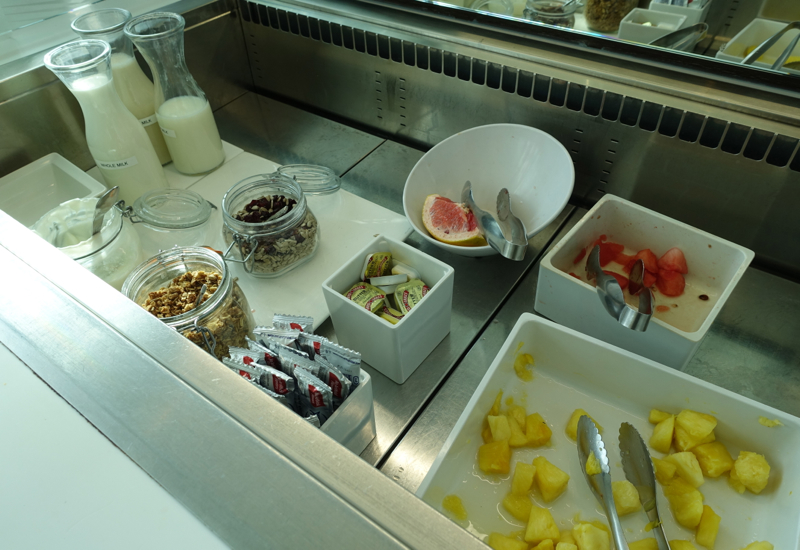 The Verdict
The best thing that can be said for the SWISS Lounge is that, at least during the late morning time I was there, it wasn't too crowded, so there was ample seating and bar seating where you could charge your devices. Otherwise, this was a very unimpressive lounge, with rather slow WiFi, poor food options (although marginally better than U.S. domestic lounges) and no showers.
If you've been to the SWISS Lounge in JFK Terminal 4, what was your experience?
Related Posts
Swiss Airlines Business Class Review: Bangkok-Zurich
Swiss Arrivals Lounge in Zurich Airport: Photos and Review
Best Miles for Europe in First Class and Business Class
Best Ways to Use Lufthansa Miles and More Award Chart
Need Award Booking Help? Our fee is as low as $75 per ticket if you book your hotel through us.
If you enjoyed this, join 150,000+ readers: please follow TravelSort on Twitter or like us on Facebook to be alerted to new posts.
Become a TravelSort Client and Book Luxury Hotels with Virtuoso or Preferred Partner Amenities!