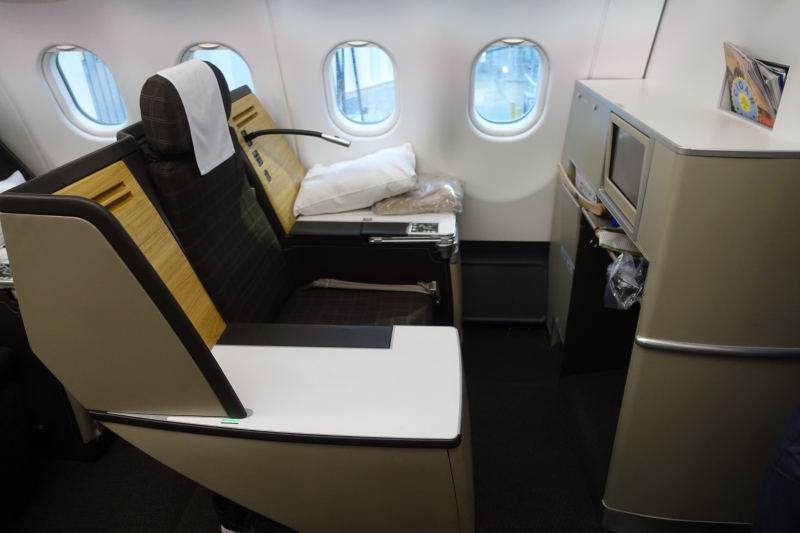 This SWISS A330 Business Class Review is from my recent flight from New York JFK to Geneva GVA, Switzerland. It's been several years since I've flown SWISS International Airlines Business Class, so I was curious to see what my flight experience would be, especially since I'd quite recently flown another Lufthansa group airline, Austrian Airlines Business Class.
SWISS A330 Business Class and Seat Selection
My flight was on the A330, which as you can see below in the seat map has a mini cabin of rows 4-5, separated by the galley and lavatories from the main business class cabin of rows 6-14. As I mentioned in SWISS Business Class: Pay $149-$199 to select a good seat, the desirable "throne" seats that are on the left hand side and have extra personal space around them, such as 4A, 6A, 8A, 10A and 12A cost $149-$199 to select, even if you've already paid for a business class seat with money or miles. And on the right hand side, the solo window seats, marked with stars, are reserved for Miles & More elite frequent flyer members.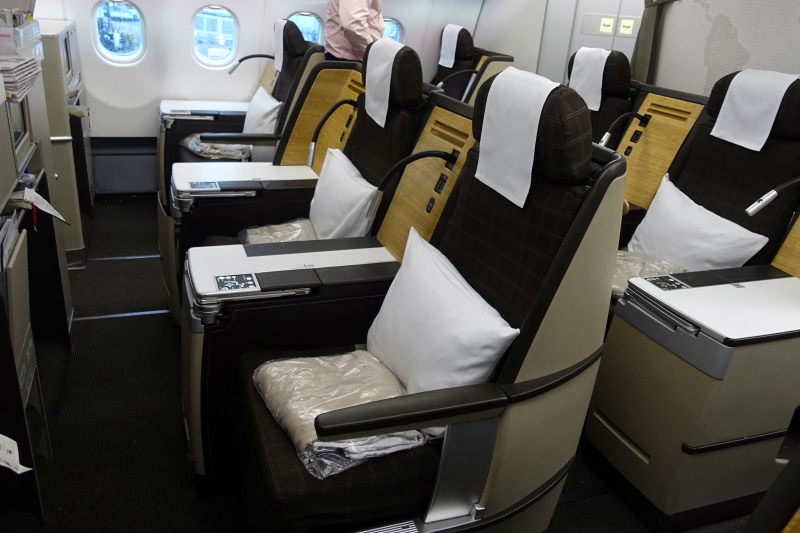 Here's a quick video of the SWISS Business Class mini cabin, rows 4-5:
SWISS Business Class Seat and Amenity Kit
Since it was a night flight and I had a busy day of meetings the next day in Geneva and Zurich, I opted to pay $149 to select seat 4A, and was happy I did, since the mini cabin seemed more peaceful than the main business class cabin. I wouldn't pay for it on a daytime flight, but the relatively more quiet cabin was more conducive to sleep.
The other benefit of the throne seat, as I mentioned, is more personal space–you have a good size area on either side of you, and this came in handy during breakfast service. You can have your laptop on the left, charging, and have your tablecloth and meal set up on the right. That way you can easily get in and out of your chair, without being blocked by the table, which swivels out from the side.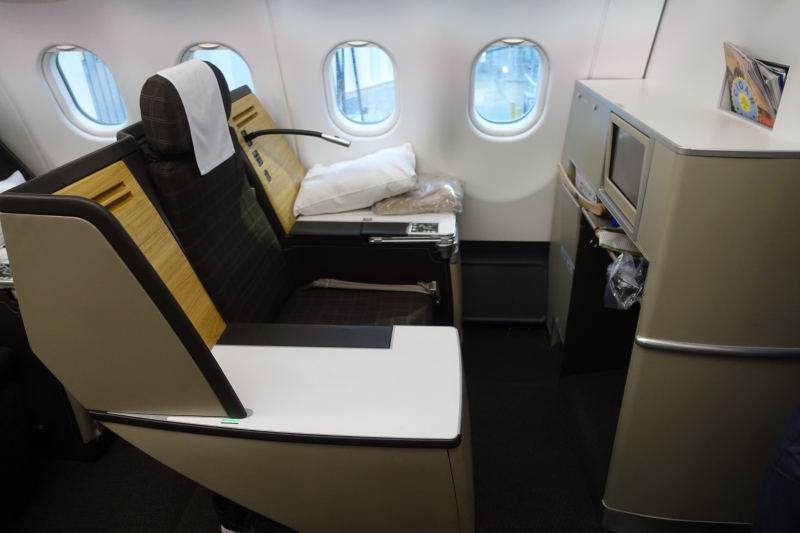 The seats themselves are the same throughout the business class cabin, and are 20.5 inches wide (a bit wider than Austrian, which is 19 inches wide) although the pitch is the same, at 60 inches.
The seat controls are easy to use, but as usual, don't expect too much from the massage function. It's not very strong, nor does it last long, and any decent NYC nail salon will provide a better chair massage in one of its pedicure chairs.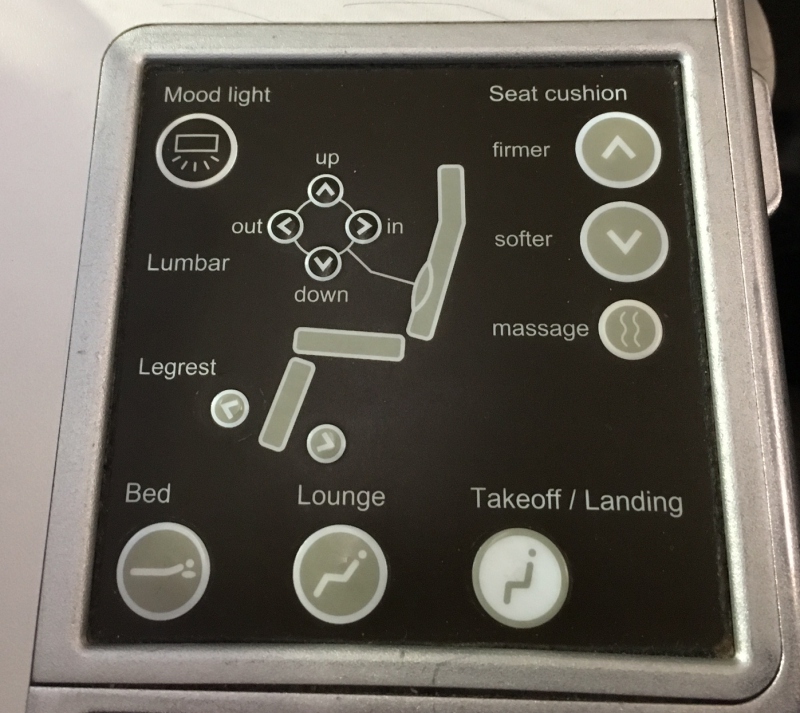 The lounging position is quite comfortable, but it's inconvenient for the occupant of a window seat, such as 5A, 7A, etc. to climb over the aisle passenger when in lounge position, let alone when the aisle passenger has turned his/her seat into a bed.
I liked the cute packaging of SWISS' Business Class amenity kit in a reuseable tote, which comes in different colors. The contents cover the basics: compression socks, sleep mask, earplugs, dental kit, lip balm. My main quibble is that the sleep mask, while it does have two straps that fasten with velcro, which would seem to make it adjustable and comfortable, has straps that are too short. To fasten it securely, the whole mask is too tight, at least for me. No doubt it works well for kids or those with smaller heads, but it didn't work for me, nor would it work for my husband, whose head is a bit larger than mine. I ended up simply using the socks draped over my eyes–funny looking for sure, but more comfortable than using the provided sleep mask.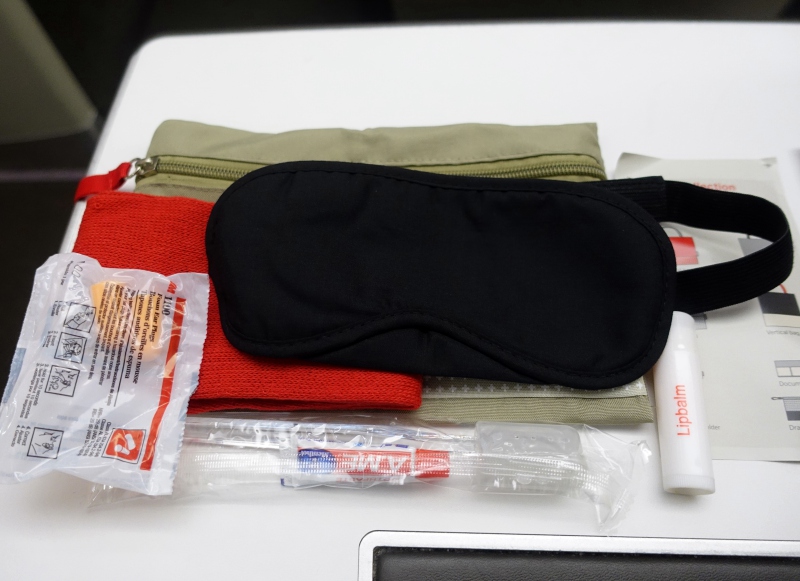 SWISS Business Class Menu and Food
Before we pushed back, we were offered a pre-flight drink. As usual, I chose water: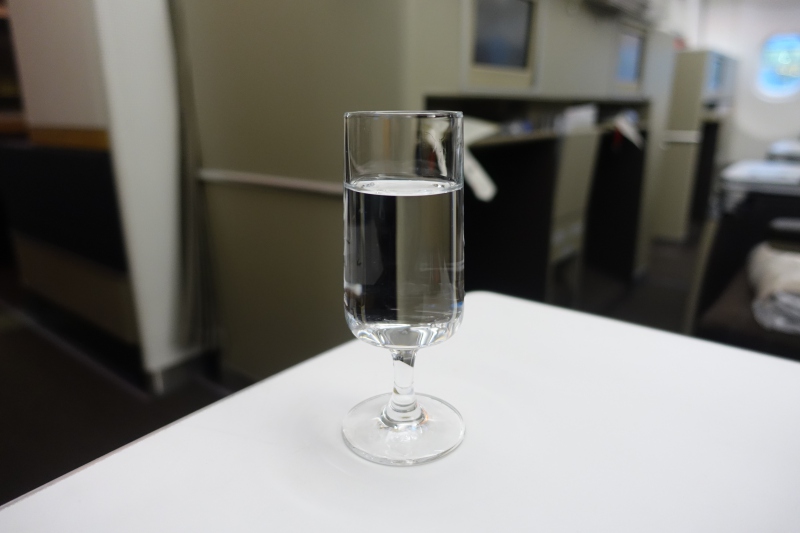 We were also invited to complete a breakfast card, which consisted of continental breakfast offerings, given the relatively short transatlantic flight: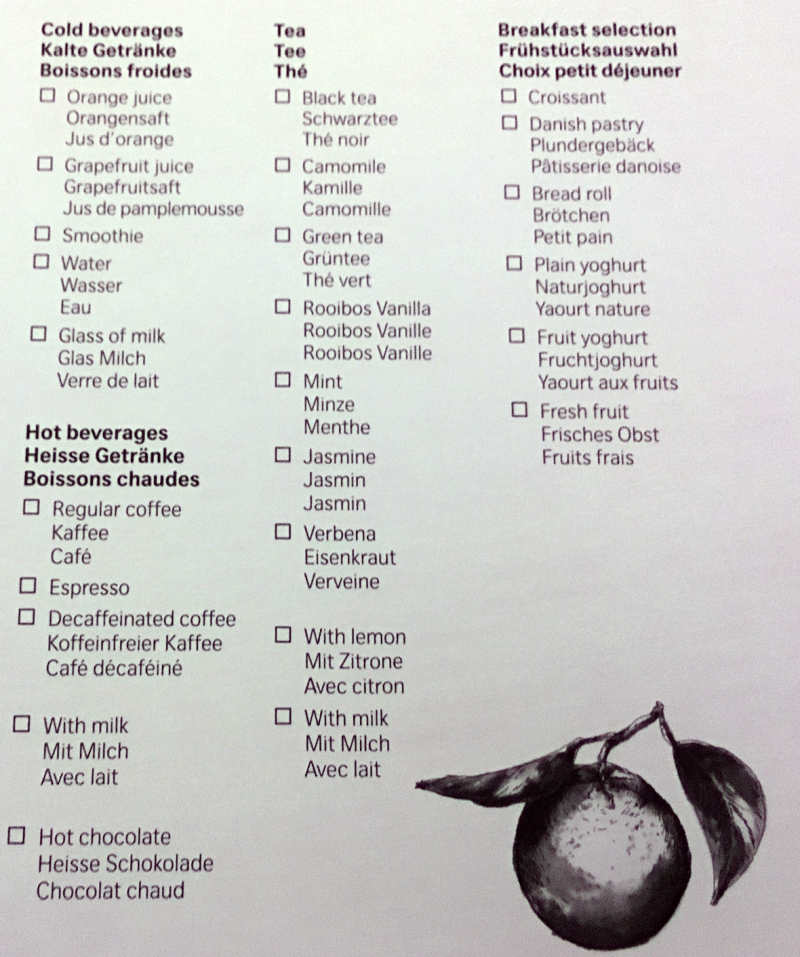 Since I wanted to maximize sleep, I didn't order any dinner, not even the available cold meal, but here is the menu for those interested, along with the champagne/white wine list: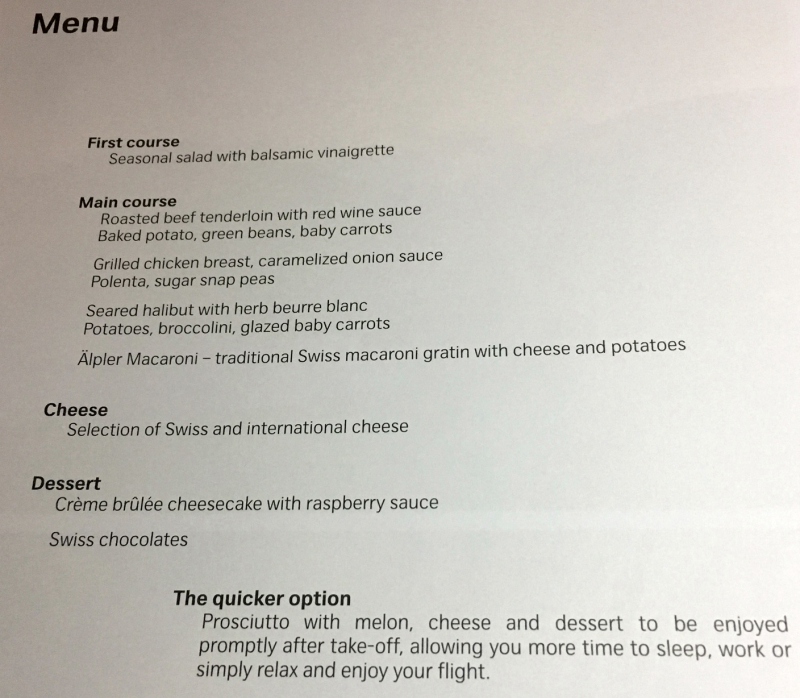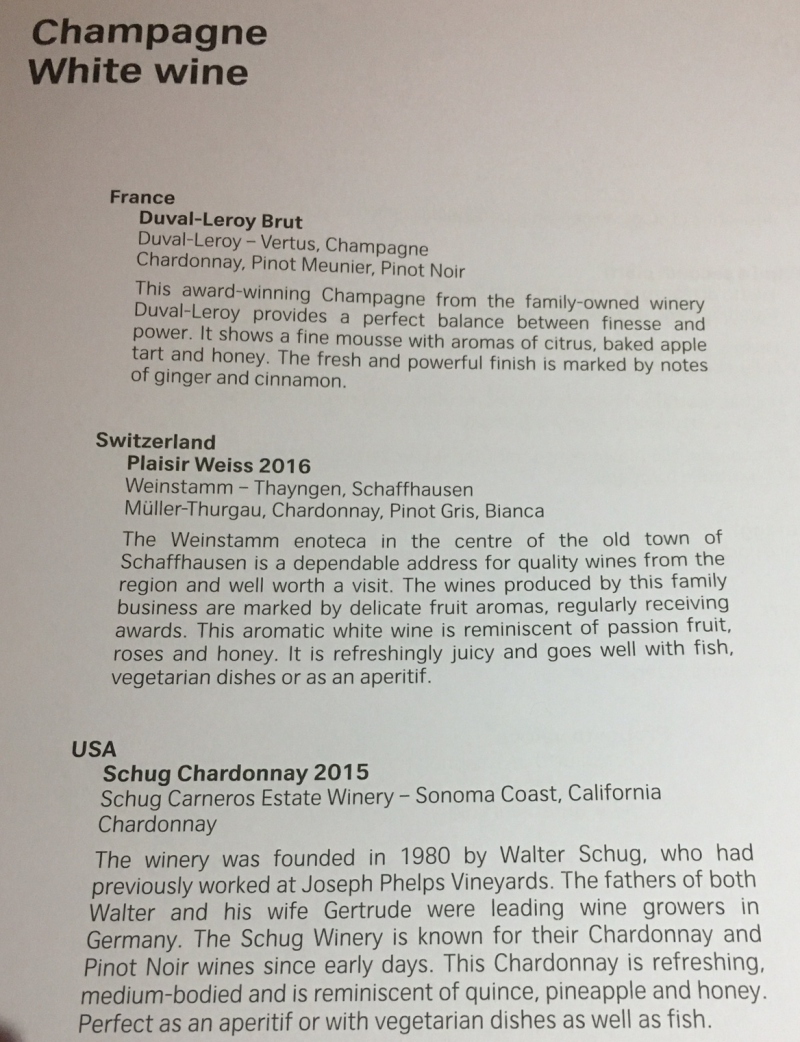 I did have the breakfast I'd chosen on the breakfast card. The fruit plate turned out to be two types of melon (which I don't like) and pineapple, which I ate. The smoothie was good, but the glass was miniscule, so I asked for some more smoothie.
Yogurt is a staple for me, but I like to mix plain and fruit yogurt, so I ordered both. The hot chocolate was from a poor quality mix, so I ended up asking for a decaf coffee instead.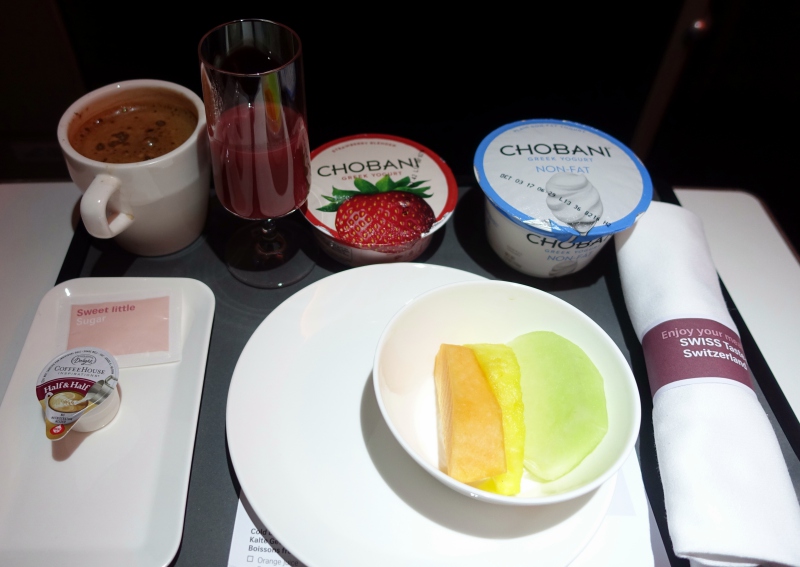 SWISS Business Class Sleep Quality
Ostensibly the SWISS flat bed seat becomes a bed 2 meters long, which is 78 inches or 6 feet 6 inches, but it's hard for me to believe, since I'm only 5'7″ and even with my head almost flush with the headboard, I could reach the wall with my toes pointed (and my foot isn't 12 inches long). Typically tall people also have long feet, so I suspect many will find the footwell confining, especially if they want to change position.
For me, the flat bed would have been uncomfortably hard without my Therm-a-rest mattress pad, but with it inflated, and with a sleep aid, I slept quite well for about 4-5 hours, which is very good for me on a transatlantic night flight.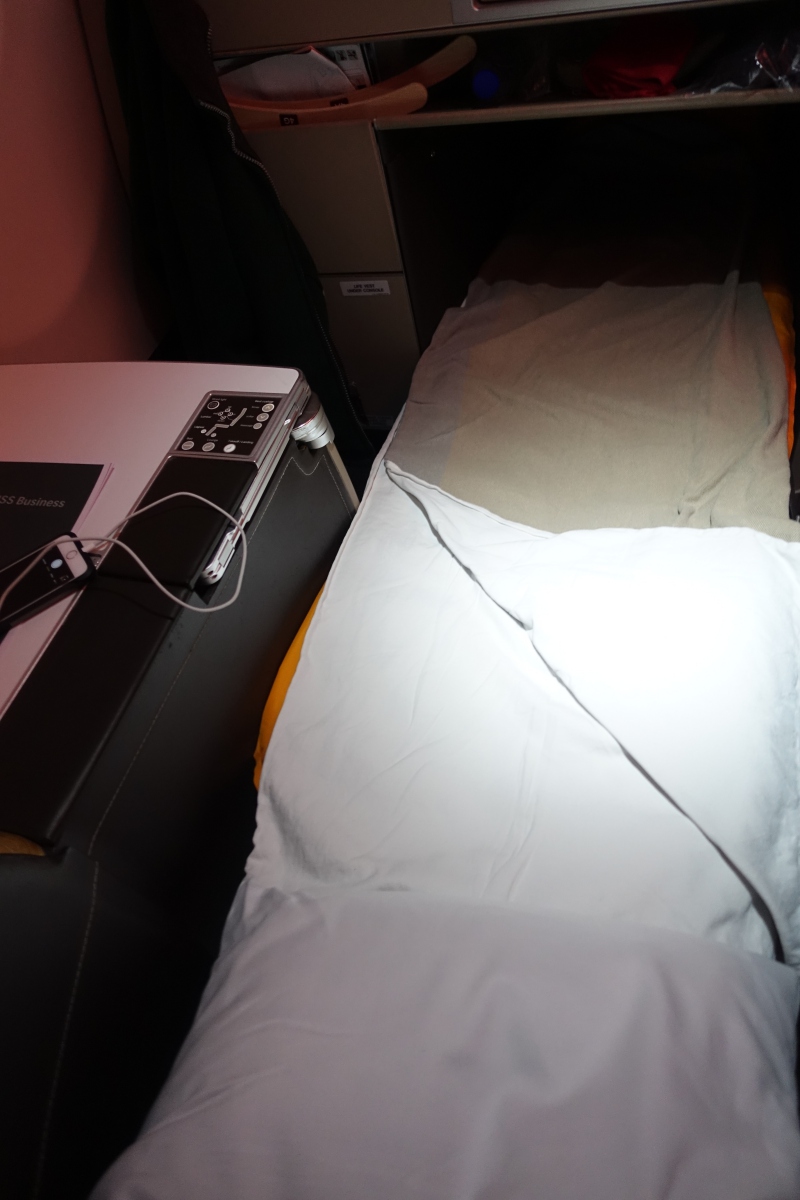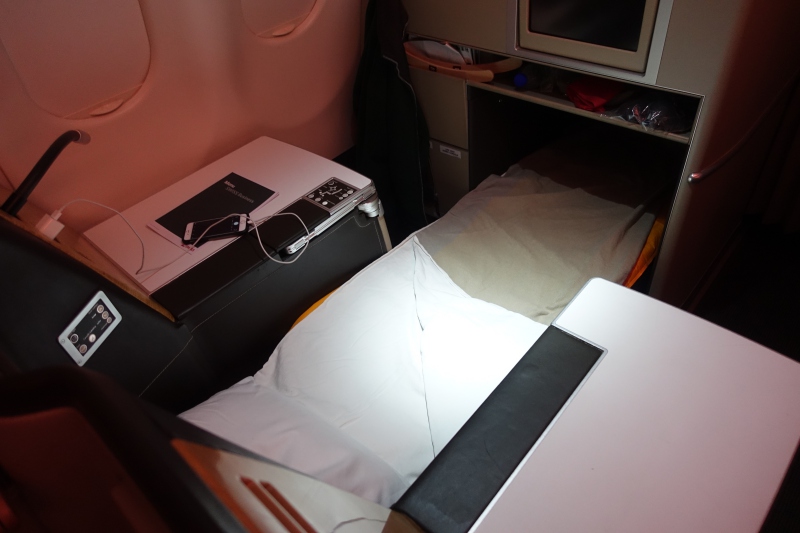 The Verdict
On this flight I appreciated the SWISS hard product, particularly seat 4A, since it's in the quiet mini cabin, with no immediate neighbor and extra space. I slept quite well using my own mattress pad, which was the goal of the flight. Perhaps the dinner was very good–I don't know, since I wanted to sleep–but I wasn't too impressed with the breakfast fruit or the hot chocolate, although I liked that the yogurt was greek style and thick (although I'd have preferred it to be organic). Service was so-so–the female cabin attendant was very perfunctory, but once I managed to wave down her male colleague and used my high school French, service improved. As I'll report in a future post, my service on a return flight in SWISS, from Zurich, was excellent, however.
Recommended Posts
JFK: SWISS Business Class Lounge Review
Aeroplan: SWISS Awards Bookable Again
Swiss Business Class: Pay $149-$199 to Select a Good Seat
Review: Austrian Airlines 767-300 Business Class
8 Things I Love About Switzerland
Need Award Booking Help? Our fee is as low as $75 per ticket if you book your hotel or cruise with us.
If you enjoyed this, join 200,000+ readers: please follow TravelSort on Twitter or  like us on Facebook to be alerted to new posts. 
Become a TravelSort Client and Book luxury hotels with Virtuoso or Four Seasons Preferred Partner Amenities!