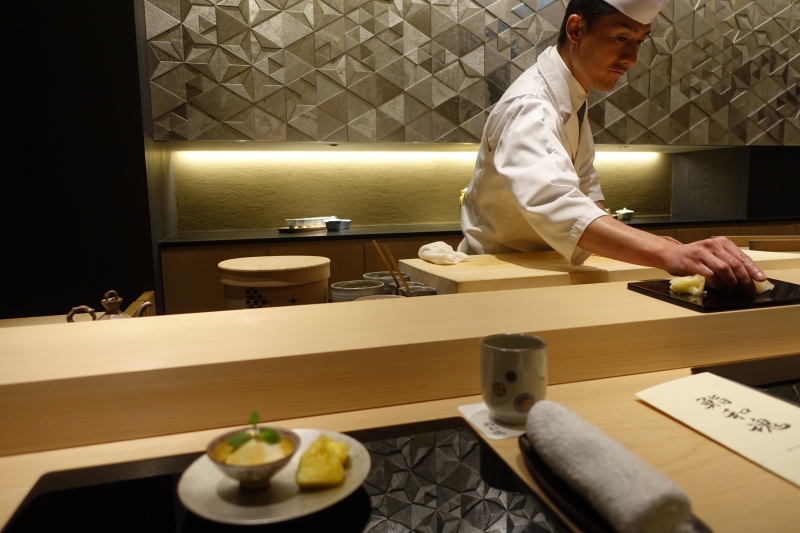 Sushi Wakon is the sushi bar at the Four Seasons Kyoto, and created by Chef Rei Masuda, who earned 2 Michelin stars for his 6 seat sushi bar Sushi Masuda in Tokyo, which he opened in 2015 after working 9 years at Sukiyabashi Jiro. Sushi Wakon opened, along with Four Seasons Kyoto, in 2016.
Visiting Japan? See all our posts tagged Japan.
Sushi Wakon Location, Hours, Reservations and Cost
Sushi Wakon is located on the same level as the entrance level of the Four Seasons Kyoto (the third floor), which is at 445-3 Myohoin Maekawa-cho in Higashiyama-ku. The sushi bar is open daily for lunch 11:30-2:30pm, and for dinner for two seatings: 5:30-8:15pm for the first seating, and 8:30-10:30pm for the 2nd seating. This doesn't mean you have to make a reservation for the very beginning of the first seating; instead, most people tend to make a reservation for 6pm, and at least at my seating, I was the only one who arrived at precisely 6pm. At dinner, the only option is omakase (chef's choice) which costs JPY 23,000 (~$200) + 8% tax and 13% service charge per person. At lunch, the omakase cost is the same, although there is also the option of a smaller nigiri meal of nigiri sushi, soup and dessert, for JPY 18,000 (~$160) + tax/service per person.
The Scene
I was the very first guest to arrive, not surprisingly since I'd made an early 6pm dinner reservation, so as to be able to put my son to bed at his usual time. Soon after, however, an American couple and Japanese couple arrived, and towards the end of my meal, another Japanese couple.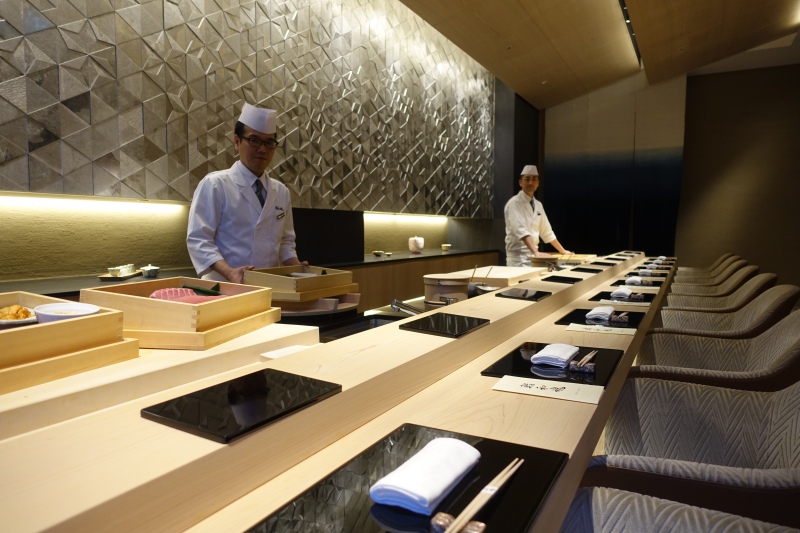 Sushi Wakon Menu and Omakase
The nice aspect of Sushi Wakon being in the Four Seasons Kyoto is that along with the stellar quality, it's also friendly and not intimidating in the least for foreigners. In fact, the omakase was helpfully provided in an English version, the sushi chef who made all of my sushi spoke a fair amount of English, and when he needed help translating something, the kind and pleasant young woman who had ushered me to my seat was able to translate both my questions and the chef's responses. Here's the omakase menu the evening of my visit, which was March 24:
The first appetizer was a luxurious horsehair crab with caviar, a scrumptious bite: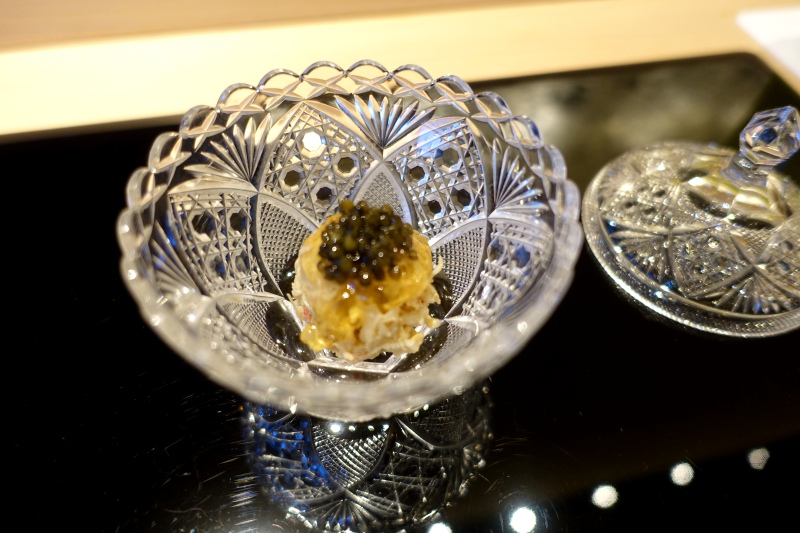 Next came a striped jack caught off Koshima, that had been aged 3 days and straw smoked, then accented with Japanese mustard.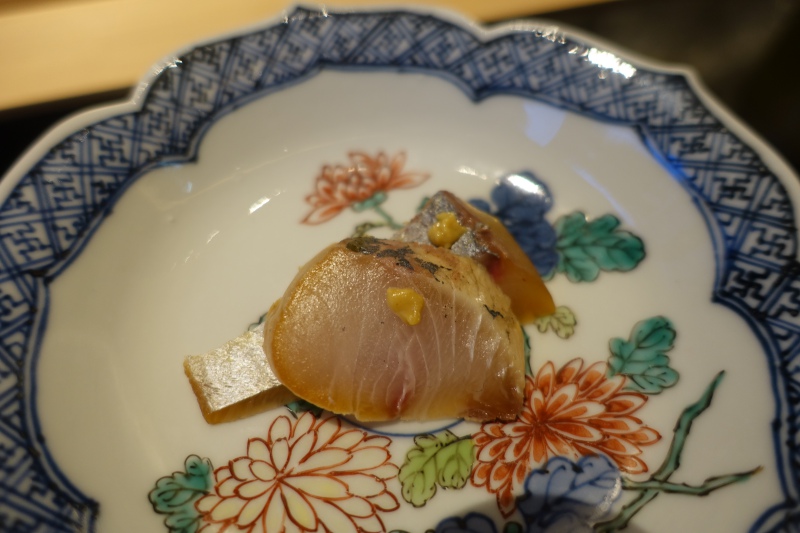 The sea bream, first salted and aged 1 day to concentrate its flavor, then steamed with sake, was silky, and the sake it had been poached in was also delicious in its own right.
One of my favorites of the omakase was this salt grilled belt fish. Normally belt fish is quite thin, but this was a nice thick piece, top quality, from Chiba, and utterly delicious.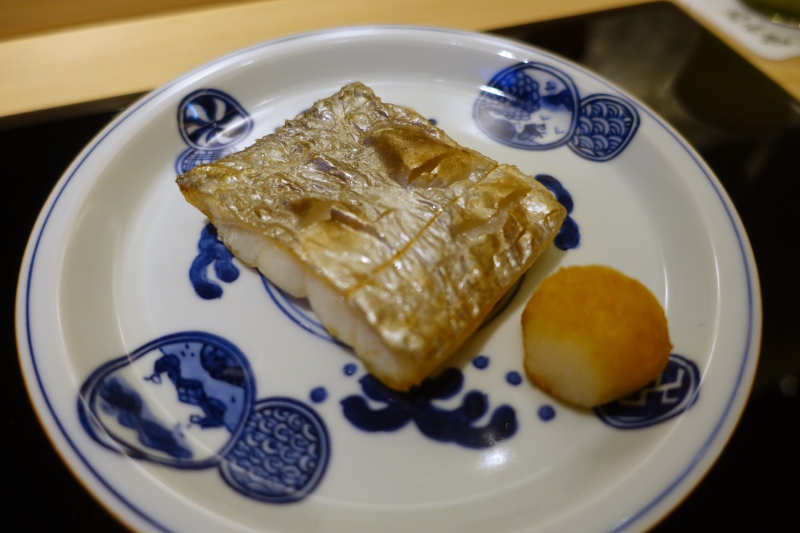 We then moved on to sushi, with a piece of hirame, Japanese flounder. Good, but outshone by some of the other dishes.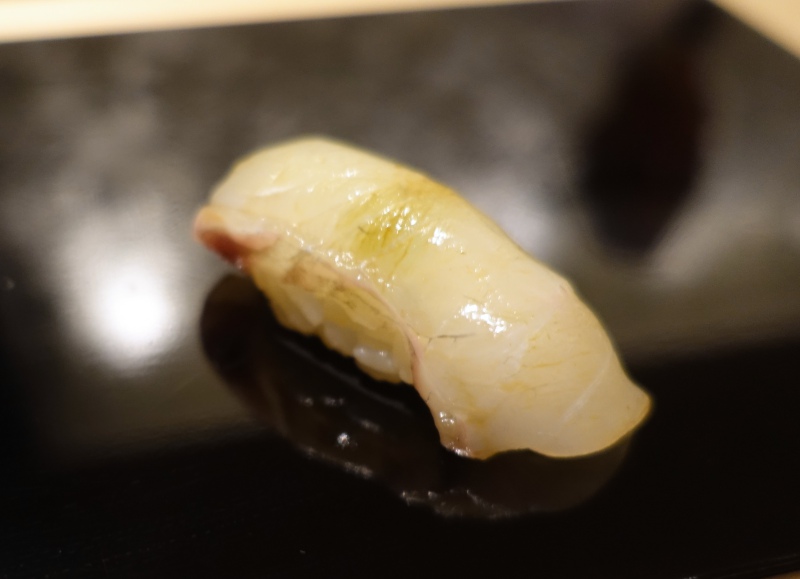 My least favorite, as expected, was the squid. I'm sure it was an excellent specimen, but I just don't care for the chewy texture of even very fresh raw squid.
The Sayori (Needle fish), from Wakayama prefecture, was sweeter than I expected, and another highlight of the evening.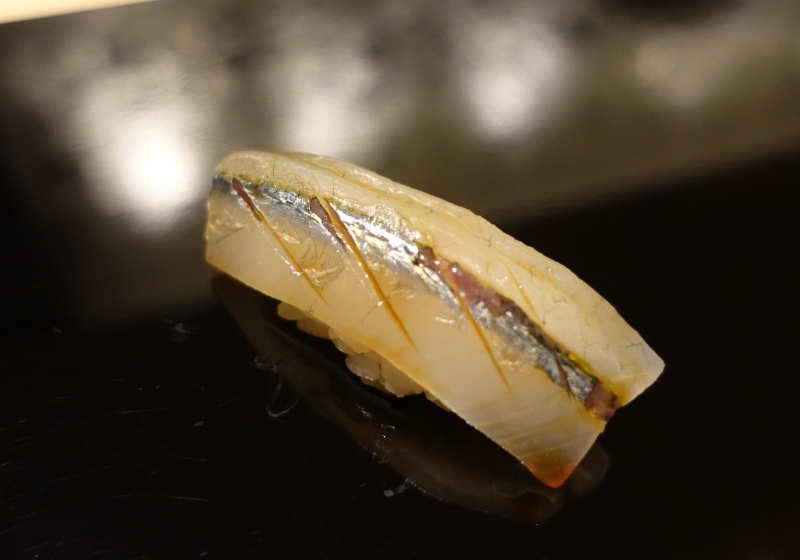 My second least favorite, again due to the chewy texture, was the Red Clam.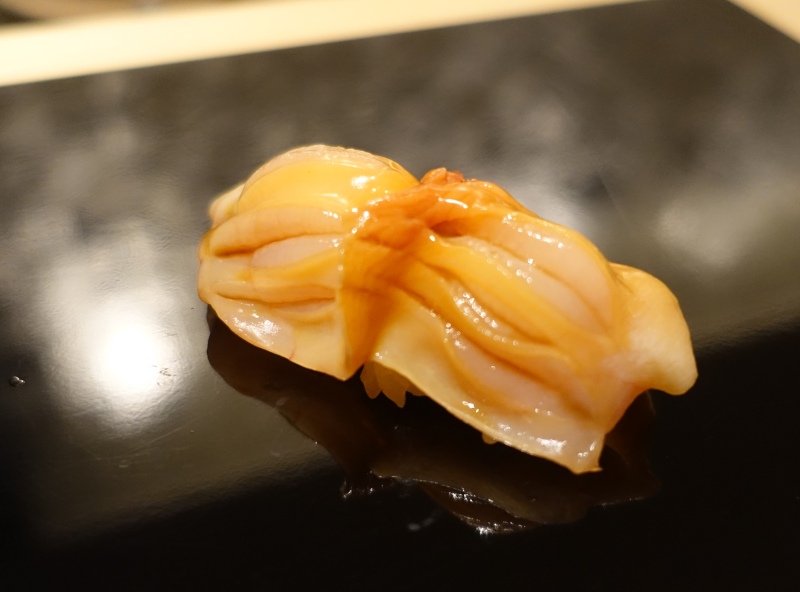 For the Otsumami (snack) the Grilled Mehikari was fantastic, with a crispy skin reminiscent of hamachi kama. I learned that it had been sourced from Tohoku, in Northern Honshu.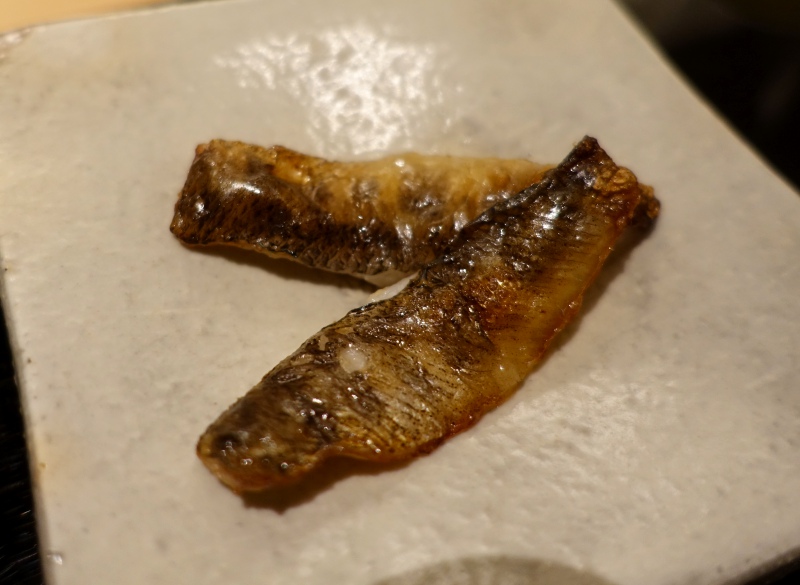 We then returned to sushi, with a lovely trio of Maguro (Bluefin Tuna), starting with lean tuna (Akami):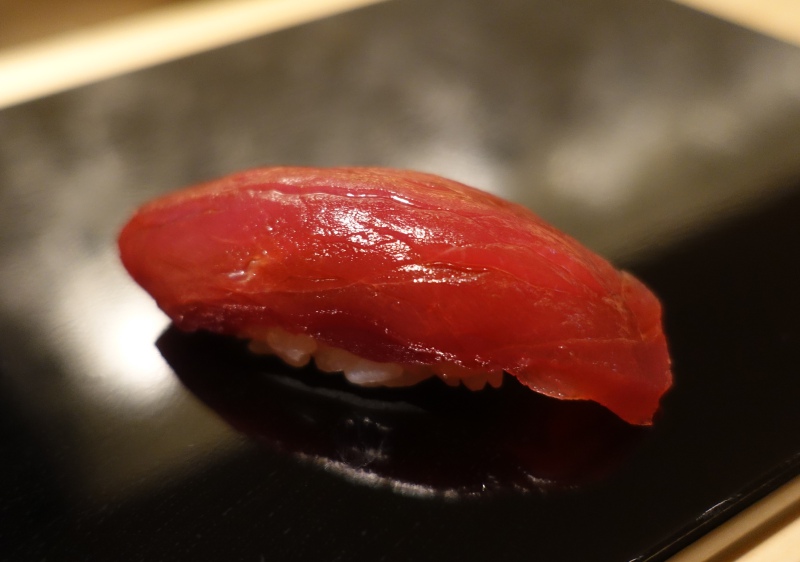 The Chutoro (medium fatty tuna) that followed was my favorite of the three: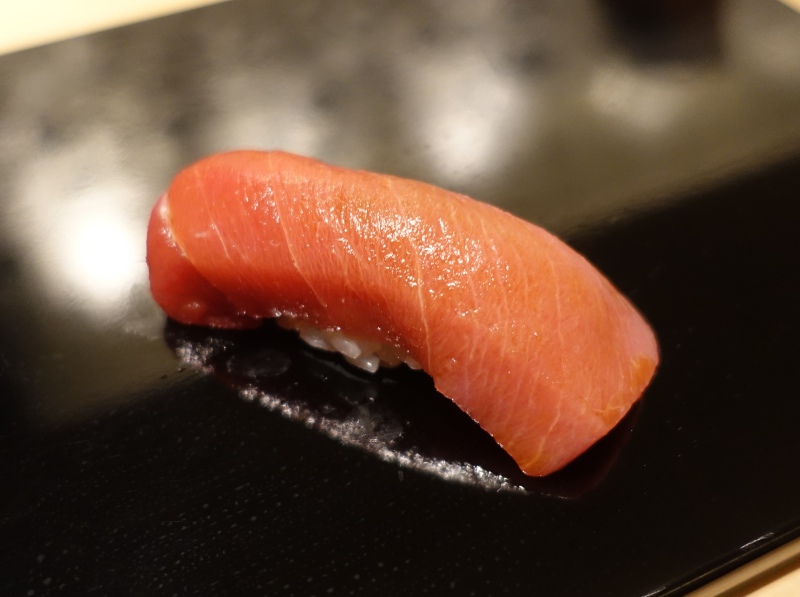 Finally the Otoro (fatty tuna) from the tuna belly–good, but I felt the Chutoro was the perfect balance of tuna flavor and richness, and this Otoro was too rich and one-dimensional in flavor for me.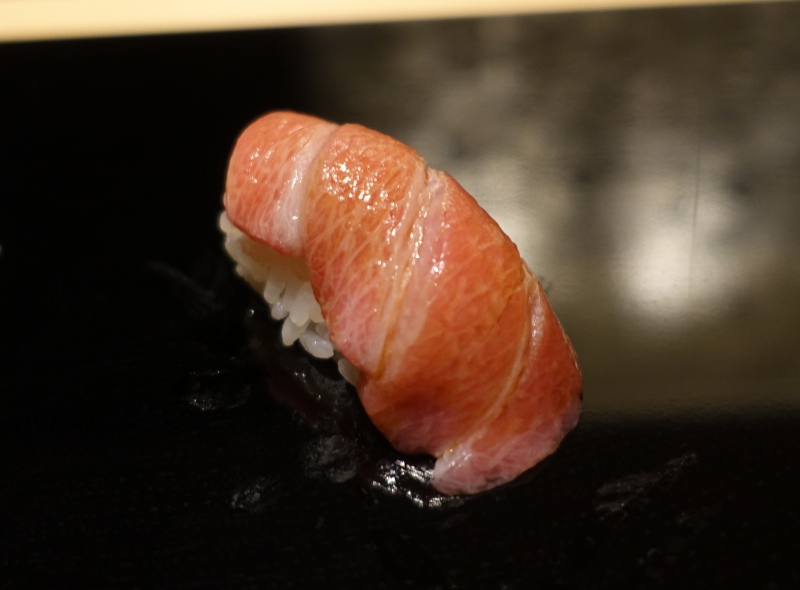 Kohada (Gizzard Shad), with vinegar, is the perfect follow-up to rich Otoro, and always reminds me of the marinated herring that's a favorite in Denmark and elsewhere in Scandinavia.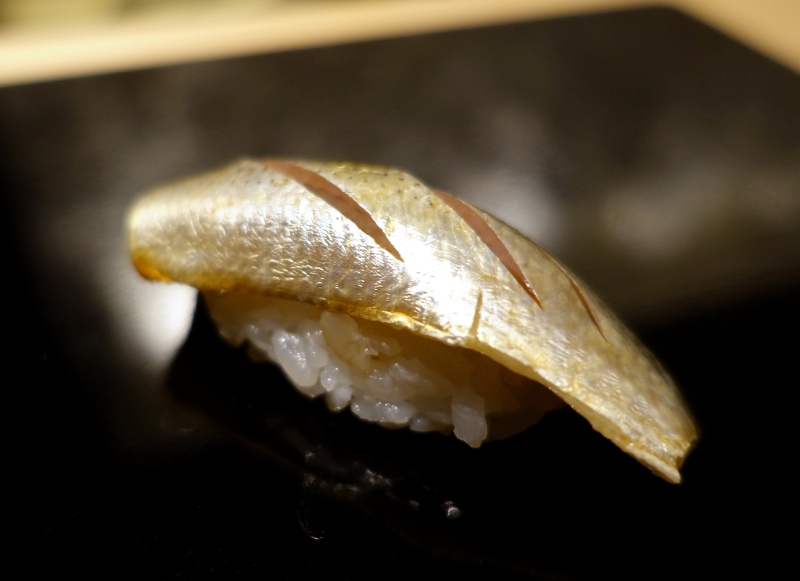 Tiger Prawn may not seem terribly exciting, but this was sweeter than most other I've eaten: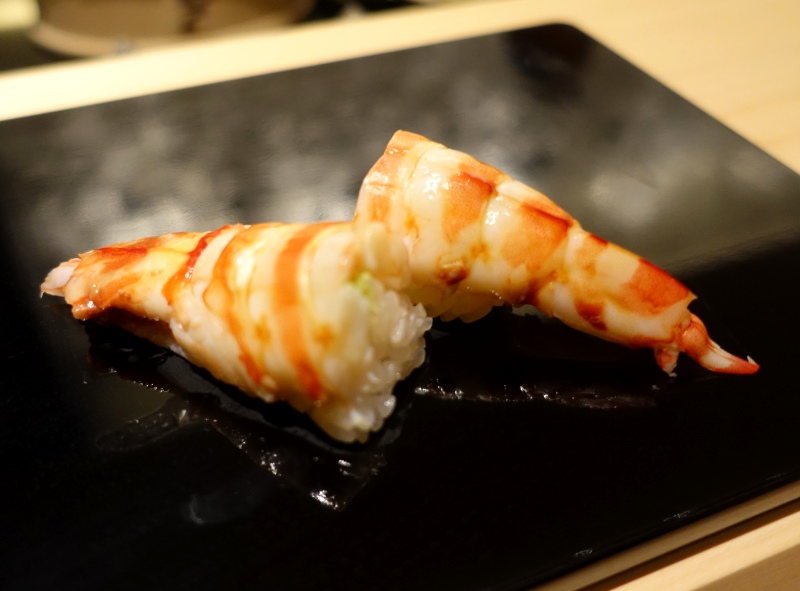 Lovely flavor, but not a big fan of the Hamaguri (boiled clam) that followed.
I did like the baby scallops sushi, however–so fresh and sweet: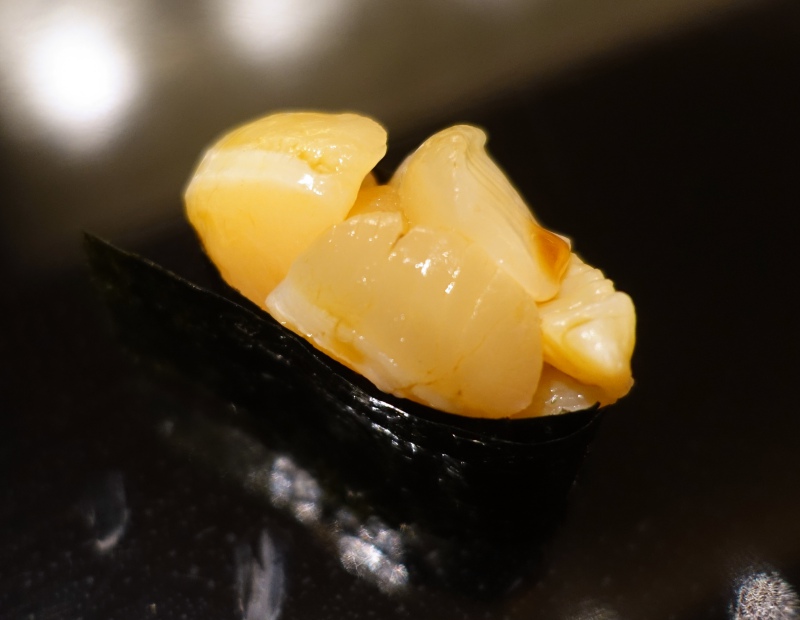 And the Uni (sea urchin) was excellent, sourced from Hokkaido: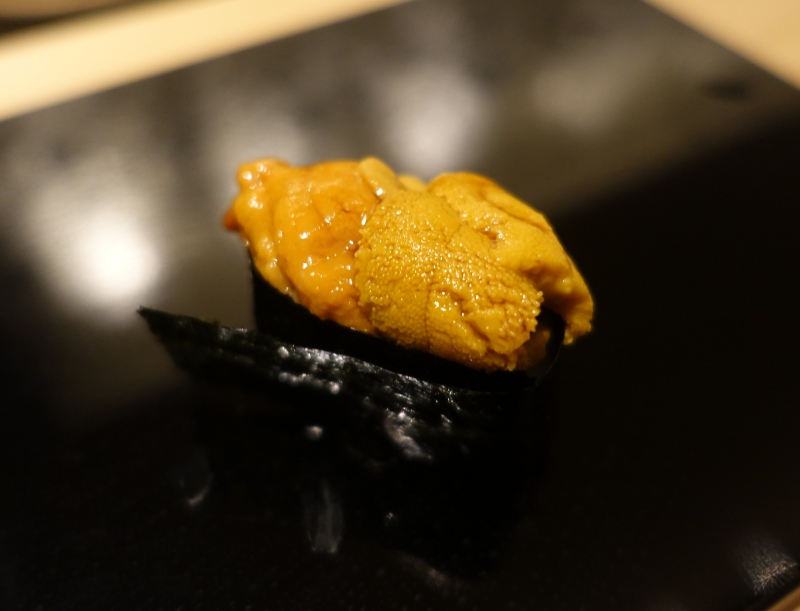 I've always enjoyed Anago (sea eel), and this version was excellent: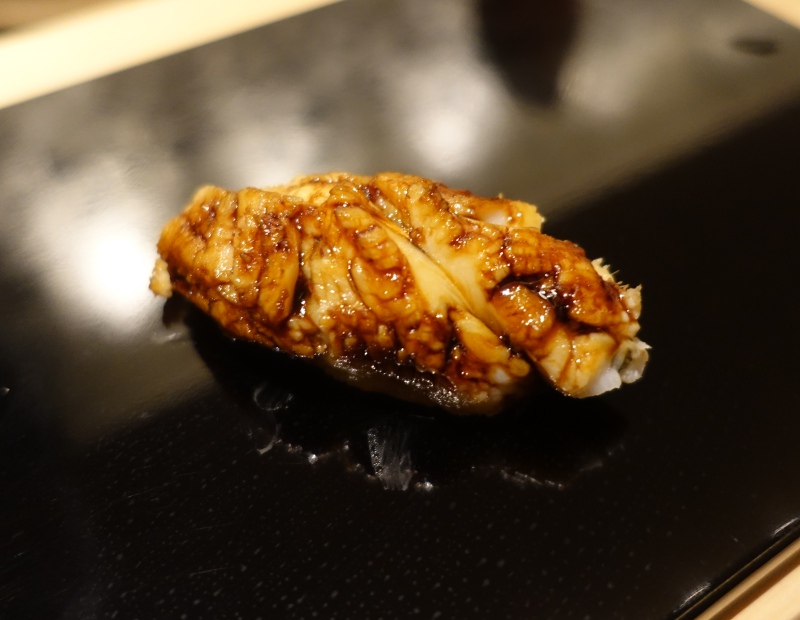 The roll of the day was tuna with Japanese pickles and shiso leaf, and I really enjoyed the minty flavor of the shiso in this.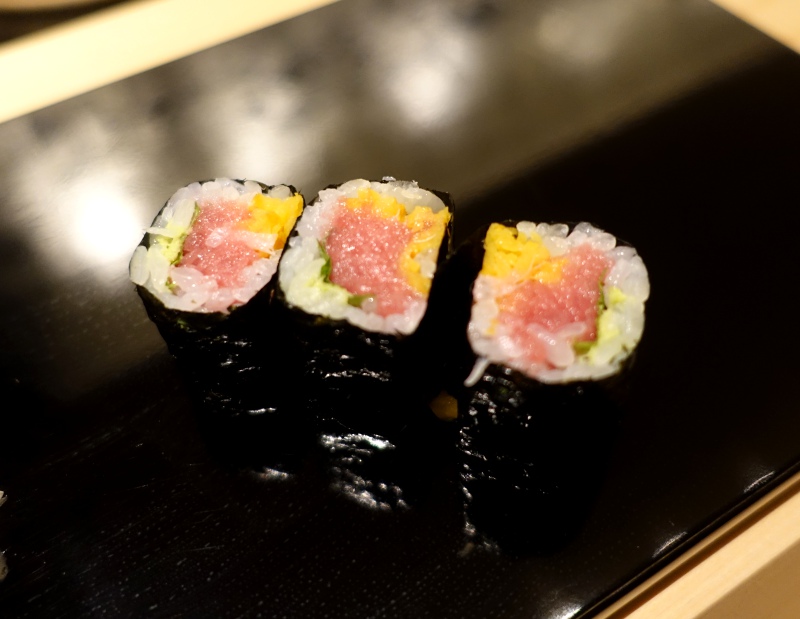 The meal began to conclude, with this owan (clear soup):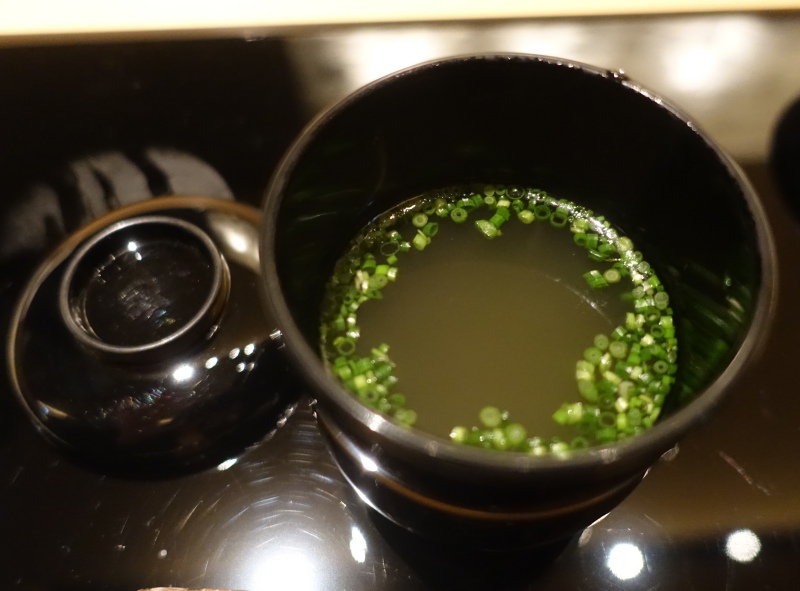 I actually preferred the tamago, which was very light and cake-like, to the dessert:
The dessert was fresh pineapple (which I ate) and panna cotta, which I didn't feel guilty about barely eating, since it's not Japanese, and not what you go to a sushi bar for. Honestly I think a traditional Japanese mochi sweet would have been a better choice.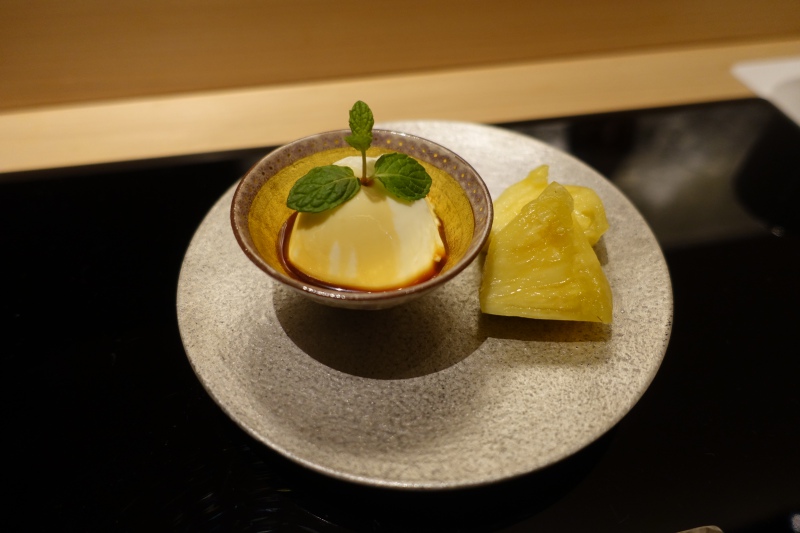 The Verdict
This was by far the most interactive of my sushi bar meals in Japan, aided by the chef's relative comfort in English, supplemented by the excellent English of the young women assisting guests with drink orders. That, in addition to the indisputedly excellent quality of the fish (as you'd expect, given Chef Rei Masuda's Tsukiji connections) made for a very satisfying experience. I was happy for this to be my one sushi bar experience in Kyoto, even though it is in fact Edo-mae (Tokyo style) sushi. That said, for the variety of fish and interesting comparisons of fresh vs. cooked or smoked versions of the same fish, I preferred Sushisho Masa in Tokyo.
If you've been to Sushi Wakon, what was your experience?
Recommended Posts
Hotel Review: Four Seasons Kyoto with Preferred Partner Upgrade and Benefits
Sushisho Masa, Tokyo Review: Our Favorite Sushi Bar in Tokyo
Sushi Sora Review, Mandarin Oriental Tokyo
Disclosure: I paid for my own meal at Sushi Wakon.
Need Award Booking Help? Our fee is as low as $75 per ticket if you book your hotel through us.
If you enjoyed this, join 200,000+ readers: please follow TravelSort on Twitter or like us on Facebook to be alerted to new posts.
Become a TravelSort Client and Book the Four Seasons Kyoto with Four Seasons Preferred Partner Benefits!