This Review of Singapore Airlines A380 Business Class is from my recent JFK to Frankfurt flight. I hadn't flown Singapore Business Class for over 4 years, and knew not to  expect anything close to the service and accommodations of Singapore Suites. But even so I was surprised at the overall mediocre quality of this product.
Note that Singapore Airlines departs New York JFK from Terminal 4, so Business Class passengers have access to the Swiss Business Class Lounge at JFK Terminal 4, which my wife recently reviewed prior to her Swiss Business Class flight.
Singapore Airlines A380 Business Class Cabin and Seat Selection
There are two Business Class cabins, with 42 and 18 seats, respectively, which are generally in a 1-2- 1
seat configuration. I sat in in the smaller front Business Class Cabin, and was in window seat 14K. My
cabin was about half full.
The flight boarded about an hour late because the flight crew was late to the airport. After I found my
seat, I was offered a choice of water or orange juice, and a newspaper or magazine. I was offered a hot
towel, and enjoyed the calming classical piano played throughout the cabin.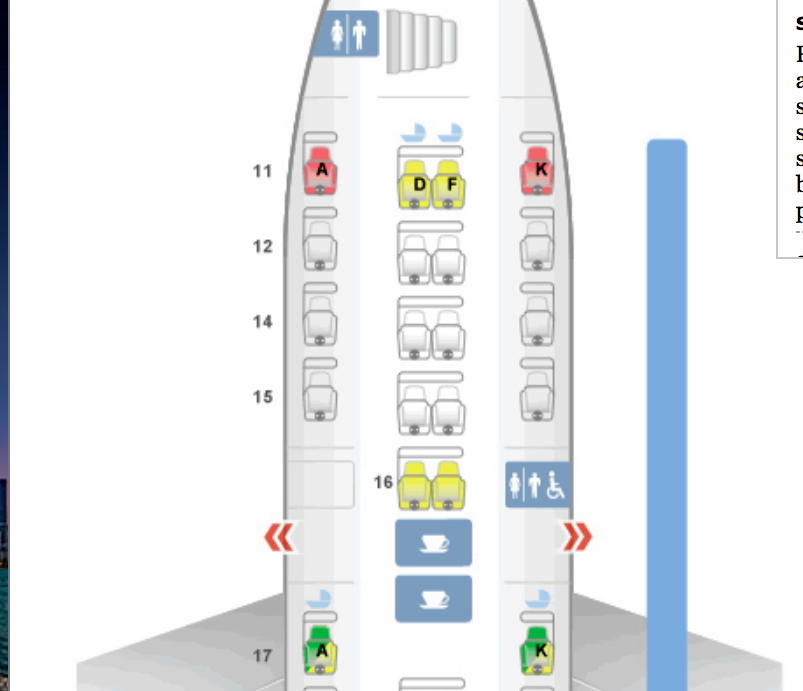 Singapore A380 Business Class Seat Map, Image courtesy of SeatGuru
Singapore Airlines A380 Business Class Seat
The seat itself was very wide and comfortable. I especially liked that the seat is relatively flat, and does
not attempt to guess my height or body type by building in "ergonomic" contours which invariably fail to
accommodate my 6'5" frame.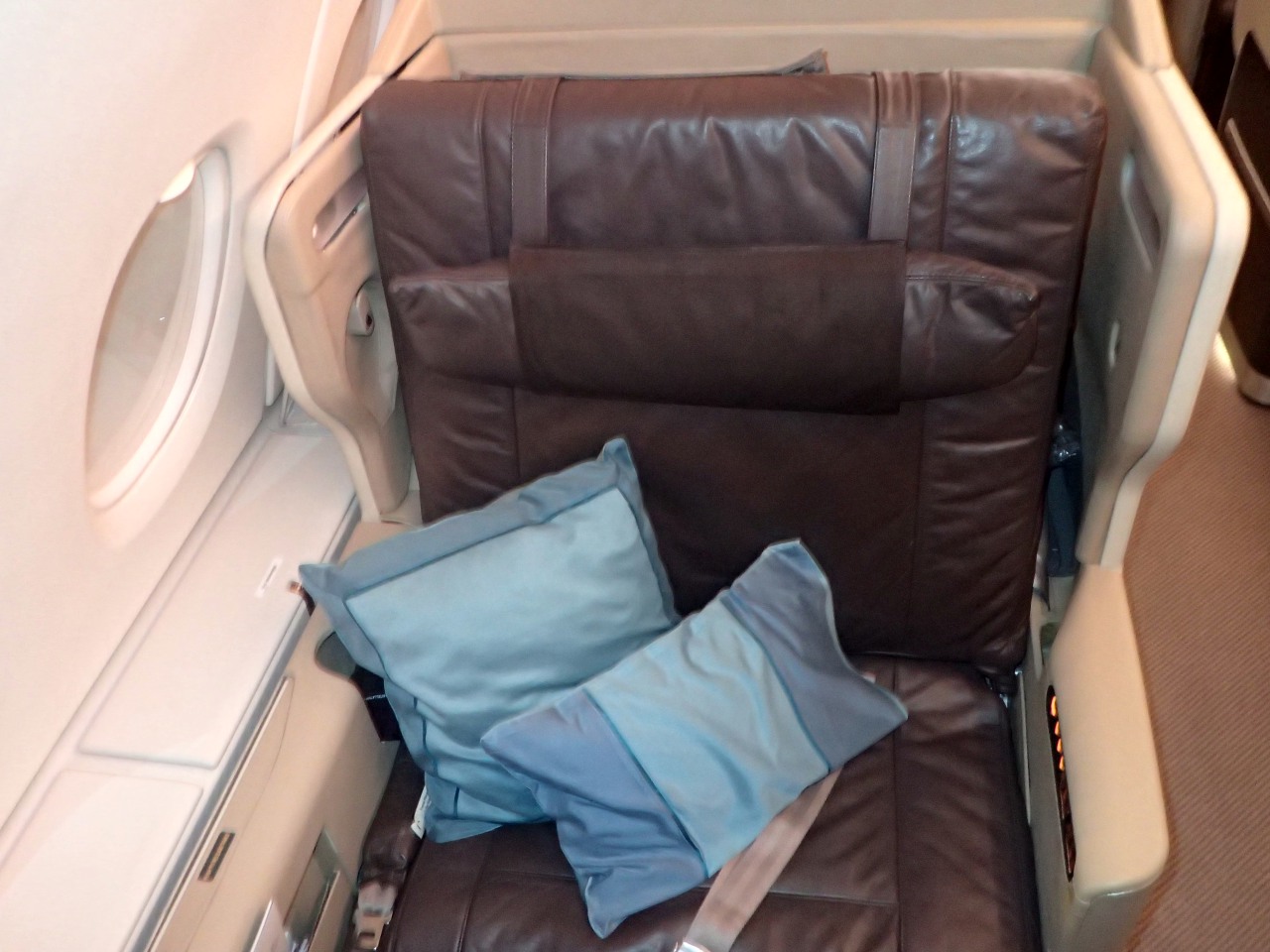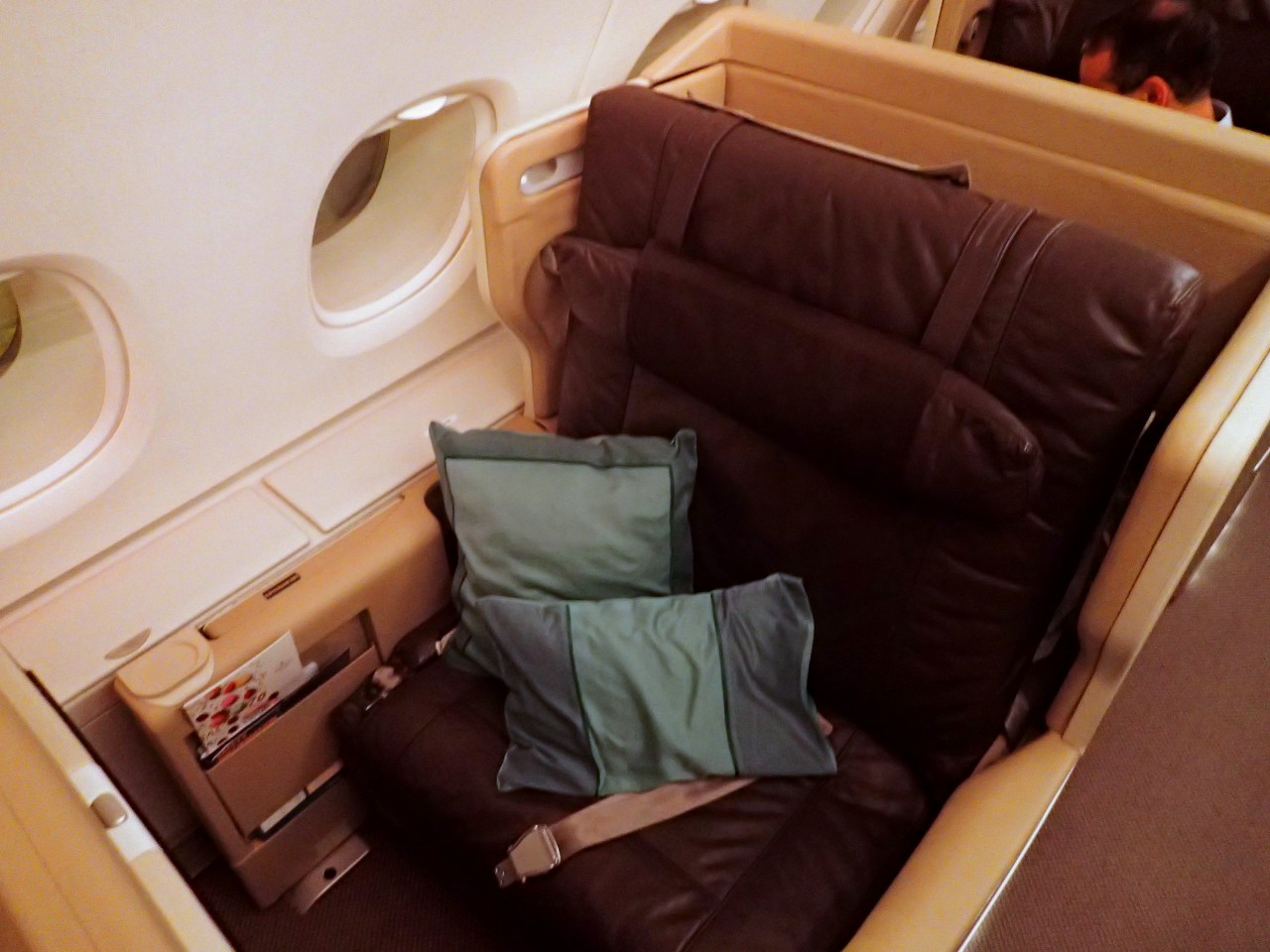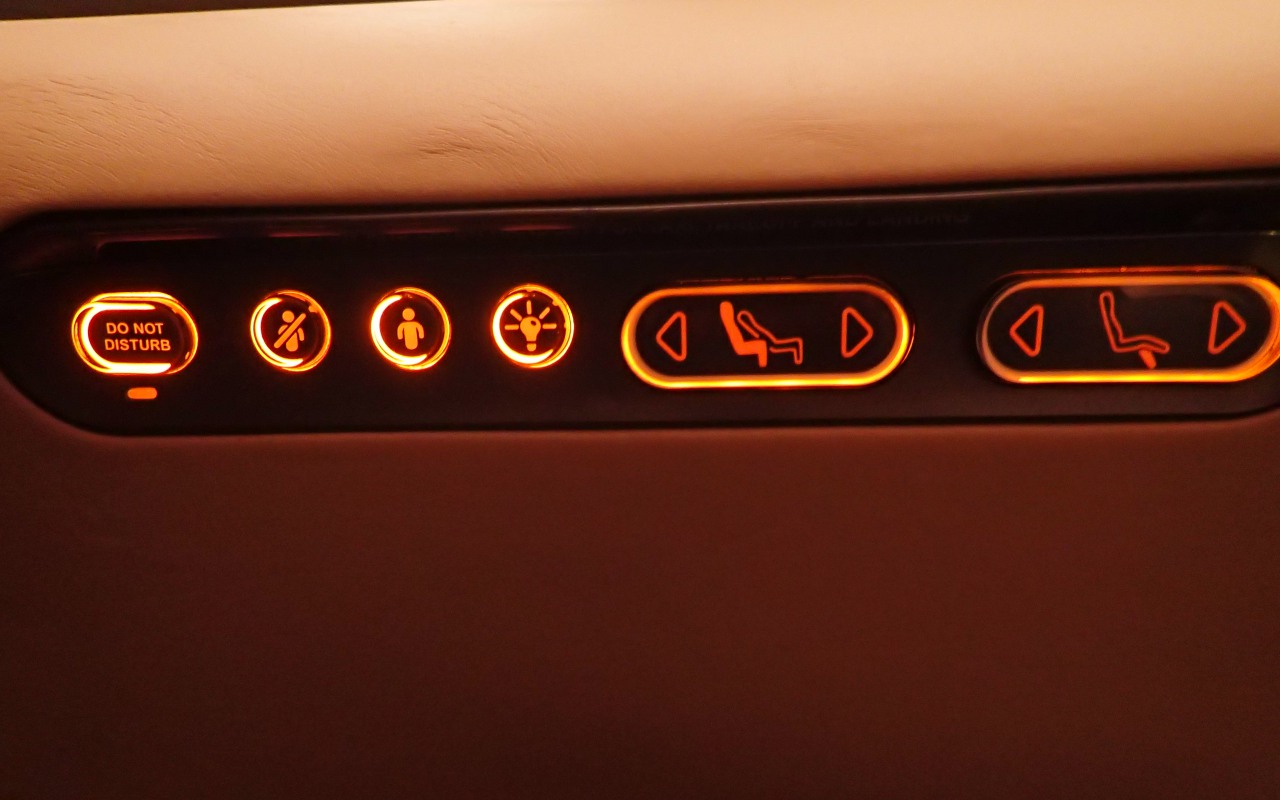 Of course, the seat space itself is nothing comparable to a Singapore Suites and the A380, but still the wide seat with its two pillows, together with the storage space on the side, and the ample leg room, make for a very reasonably-sized and comfortable compartment.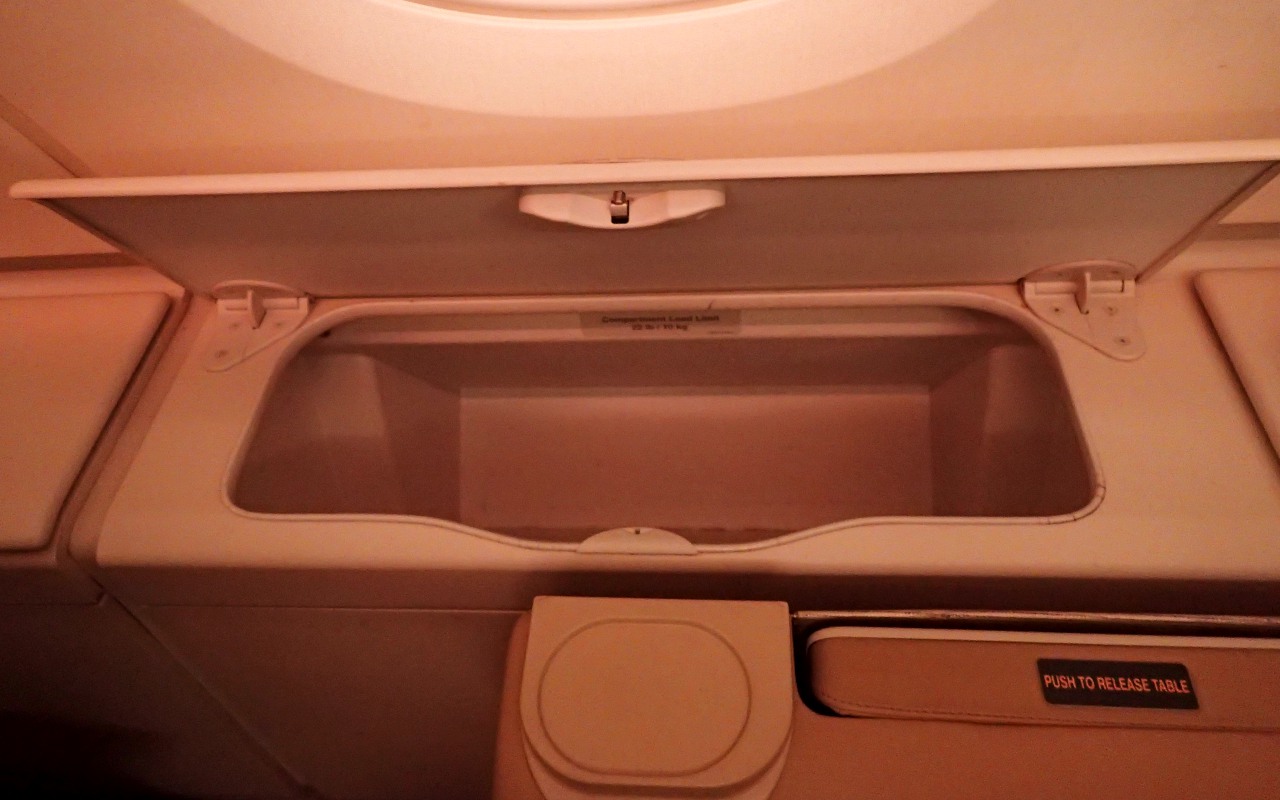 There is a small vanity to the left side of the entertainment screen.
A power outlet, USB ports and another small storage compartment are on the right side of the IFE screen.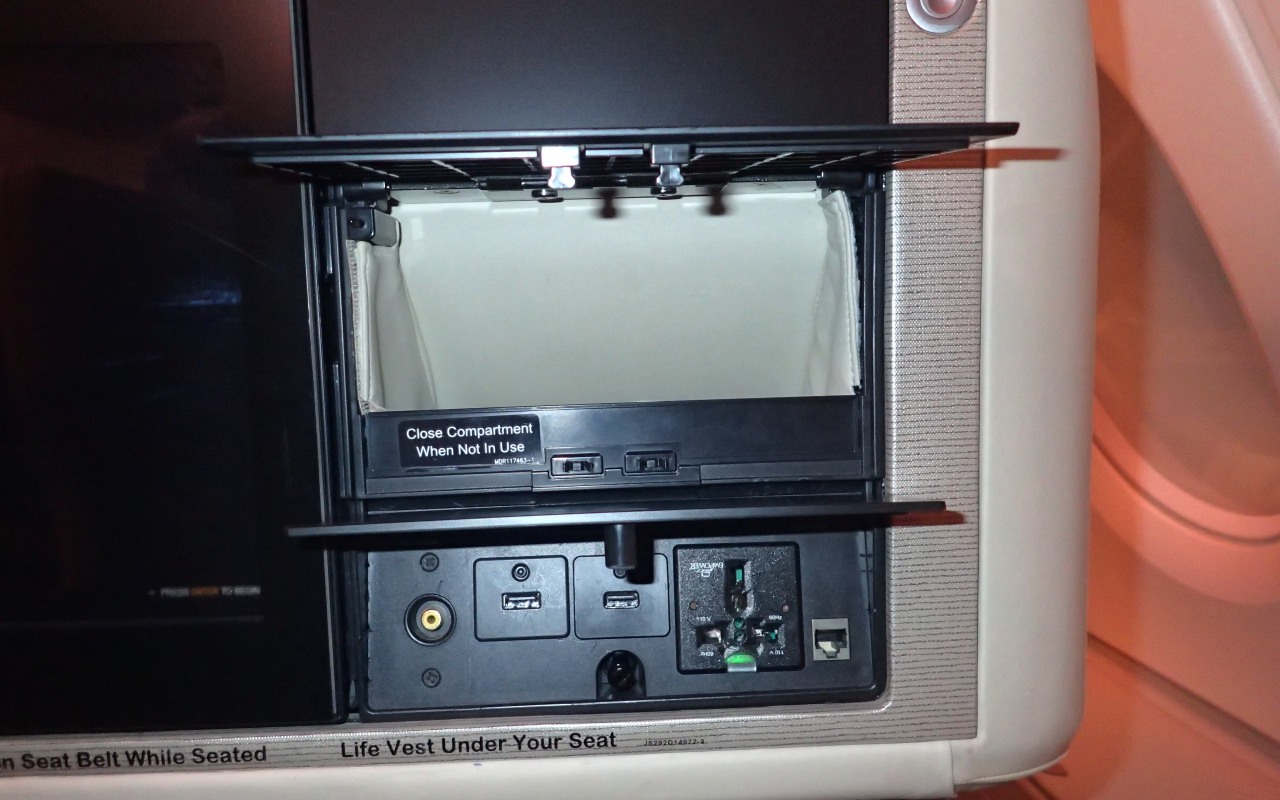 Singapore Airlines doesn't provide amenity kits in Business Class, but slippers and socks are provided: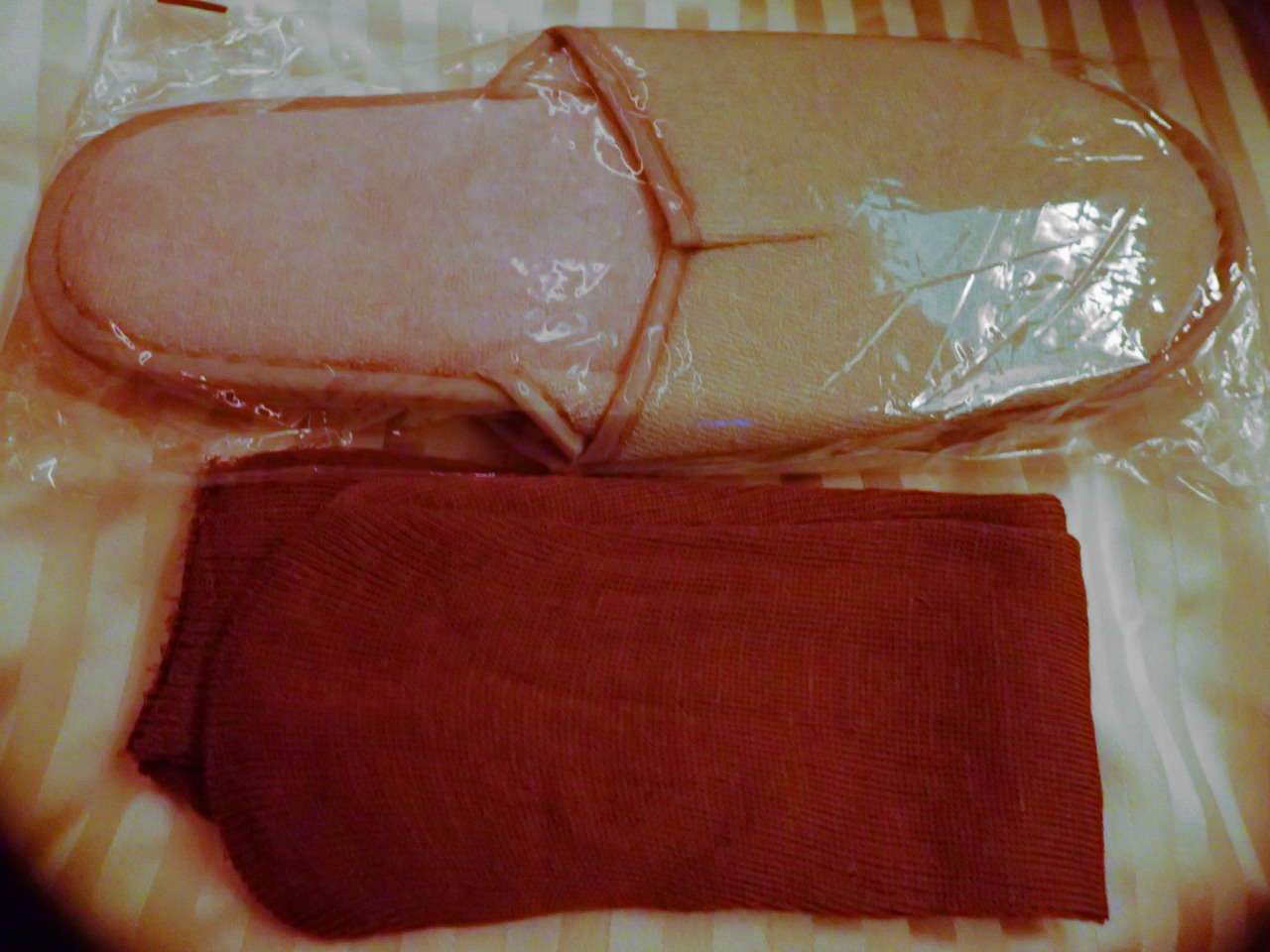 Singapore Airlines A380 Business Class Bathroom
If you don't have a toothbrush handy, there are dental kits in the bathroom, along with Miller Harris bath products.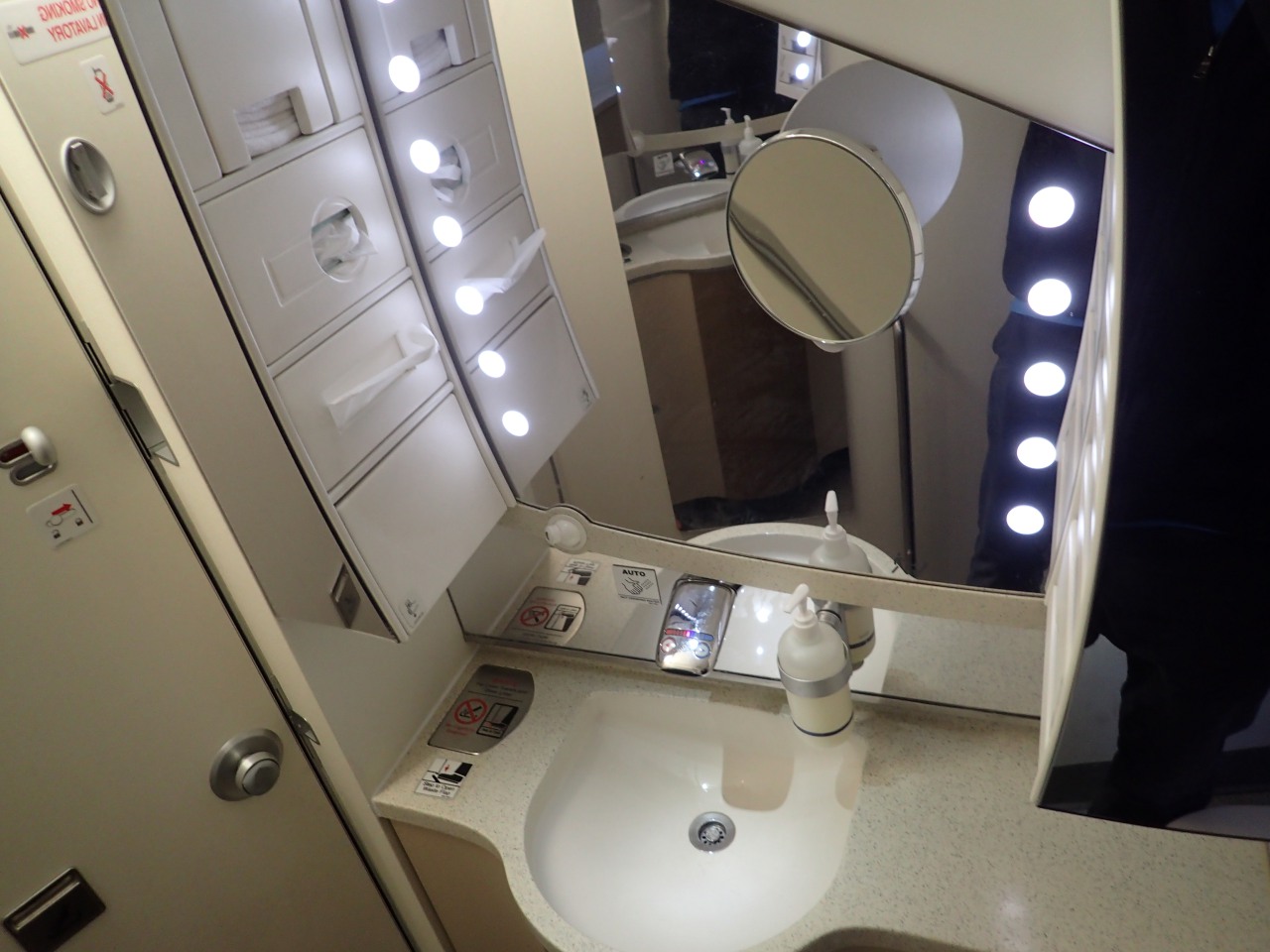 Singapore Airlines A380 Business Class Service
For the entire flight, the flight attendants were virtually non-existent. I knew this would be nothing like Singapore Suites, and it was a night flight, but still the service was considerably lacking compared to every other Business Class product I have flown.
My seat was located on the right aisle. The left aisle seemed to be the main route used by the attendants for moving up and down the plane, so at least the passengers seated on the left aisle of the plane could try to grab an attendant as she passed by. For the most part, if I needed anything, I had to get up and go find someone. In addition, when I did manage to find someone, the tone of the exchange was very brusque and perfunctory, about the same or worse than what you
would expect in economy.
Singapore Airlines KrisWorld In-Flight Entertainment
The in-flight entertainment system was on a large screen accessible by means of an easy-to- use
handheld device next to the seat. The selection of films was fantastic. I was a little annoyed that my
headphones did not work, and that I had to request a new set.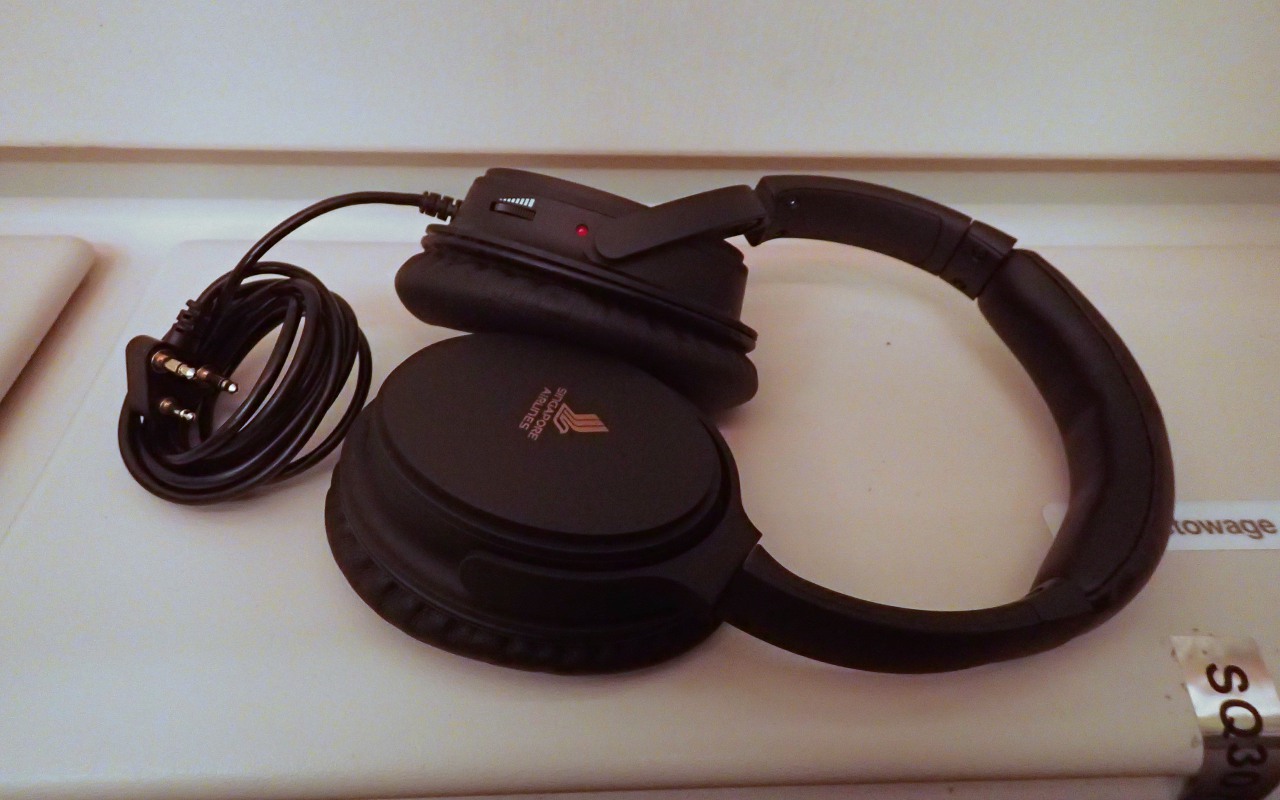 I made a serious error of selecting The Mummy (Tom Cruise version, not the infinitely preferable Brendan Fraser version) to watch. It was probably the worst film I have seen in quite some time. But I was going to sleep soon for this relatively
short, international flight.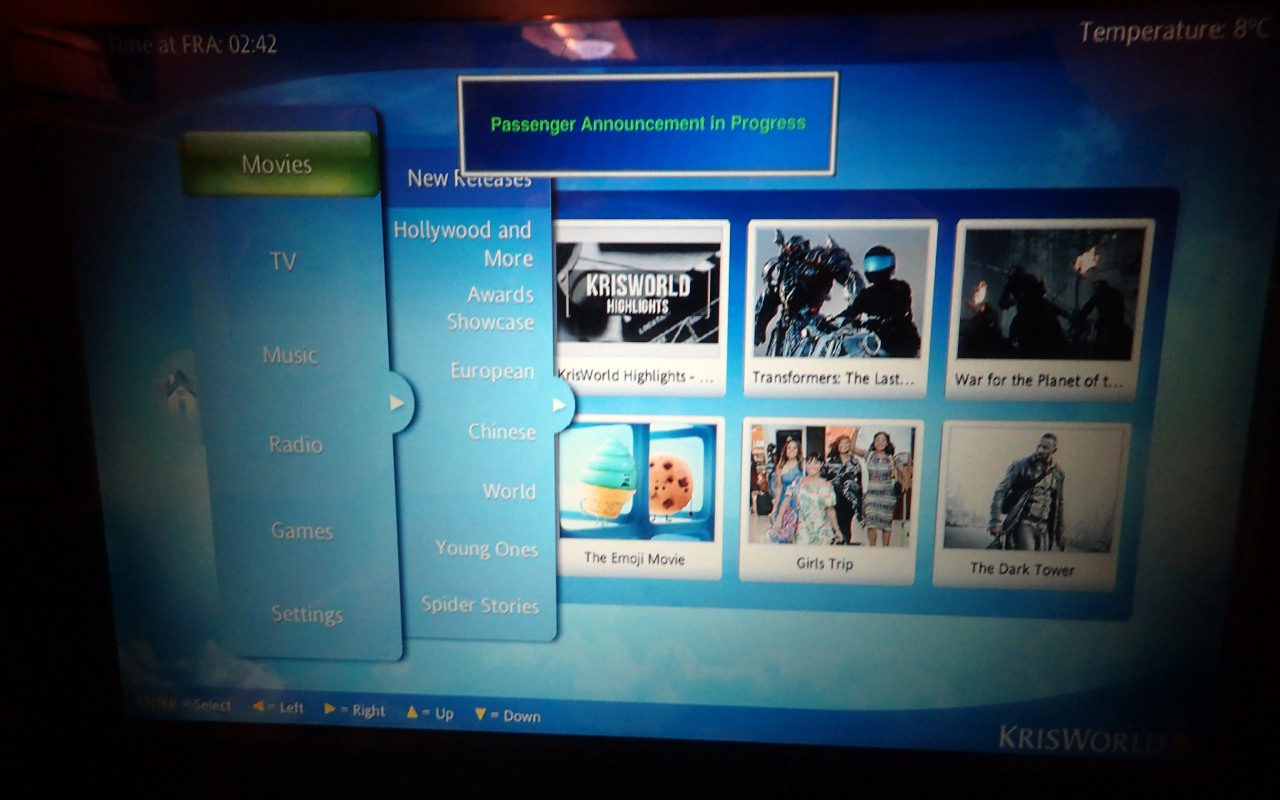 Singapore Airlines Business Class Bed and Sleep Quality
The flat bed had a rather interesting design. The duvet, bedsheet, and pillow are already stowed as part
of the seat. So to open the flatbed, you simply pull a lever behind the head of your seat, and pull the
entire seat down.
The flat bed was relatively comfortable for Business Class, and was made even more comfortable thanks to the inflatable Therm-a-Rest mattress that I had brought with me. This device, when deflated, easily fit in my small carry-on suitcase, but made my sleep much more comfortable so I could actually get some rest. I highly recommend this for any business and first class flights where there isn't a thick mattress pad (i.e., all flights except Singapore Suites, JAL First Class and JAL Sky Suite Business Class).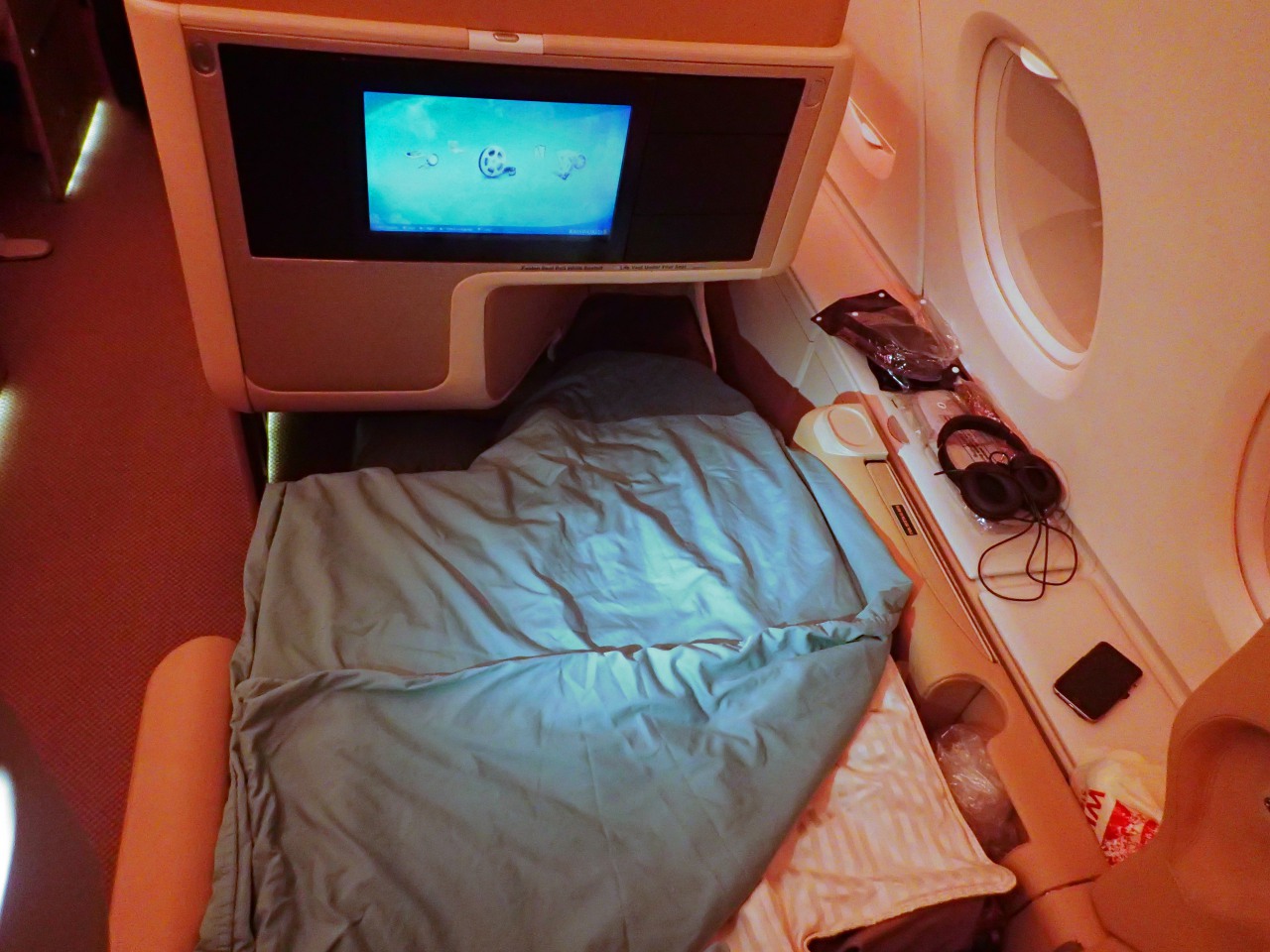 .
Singapore Business Class Menu, Book the Cook, and Food
Singapore's New York JFK to Frankfurt flight is one where you can prebook your meal, via Singapore's Book the Cook meal selection. Even if you don't preselect your meal, there's a menu, which was already at each seat when we boarded: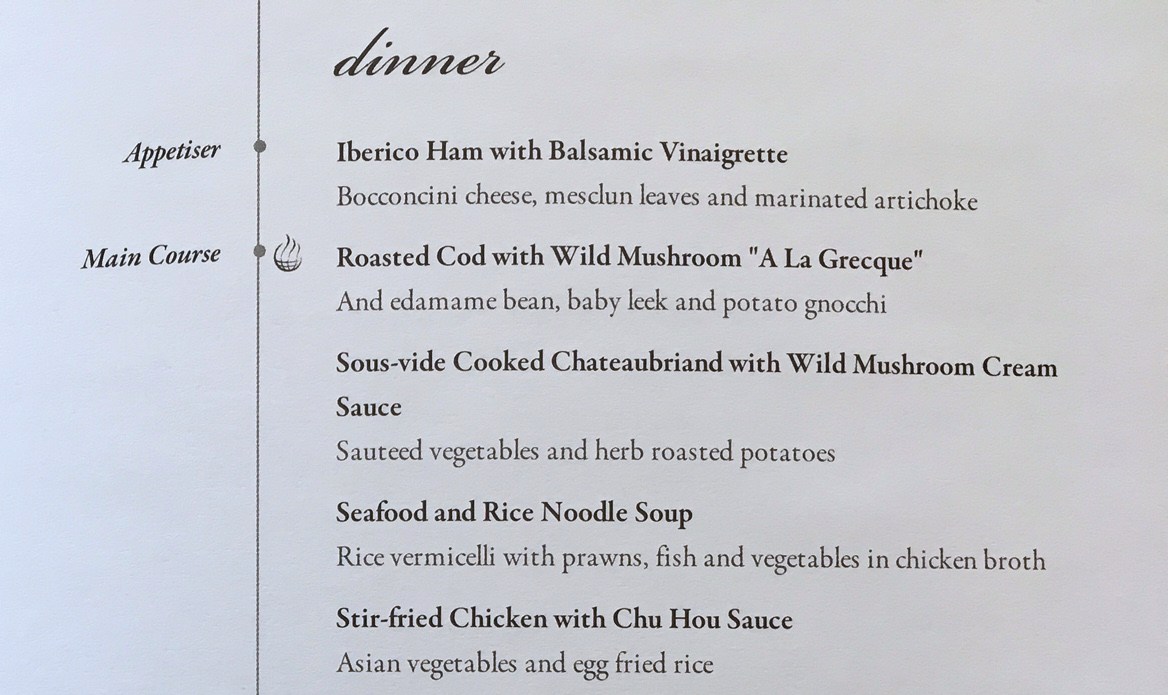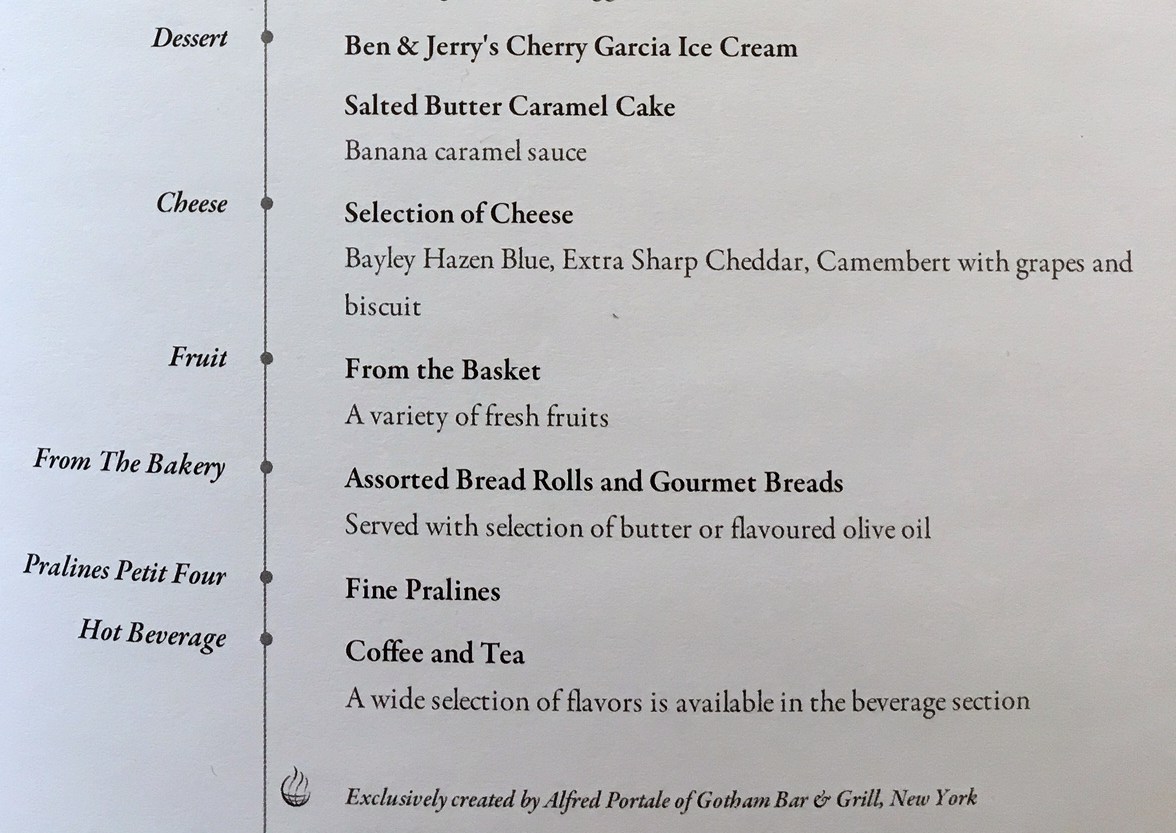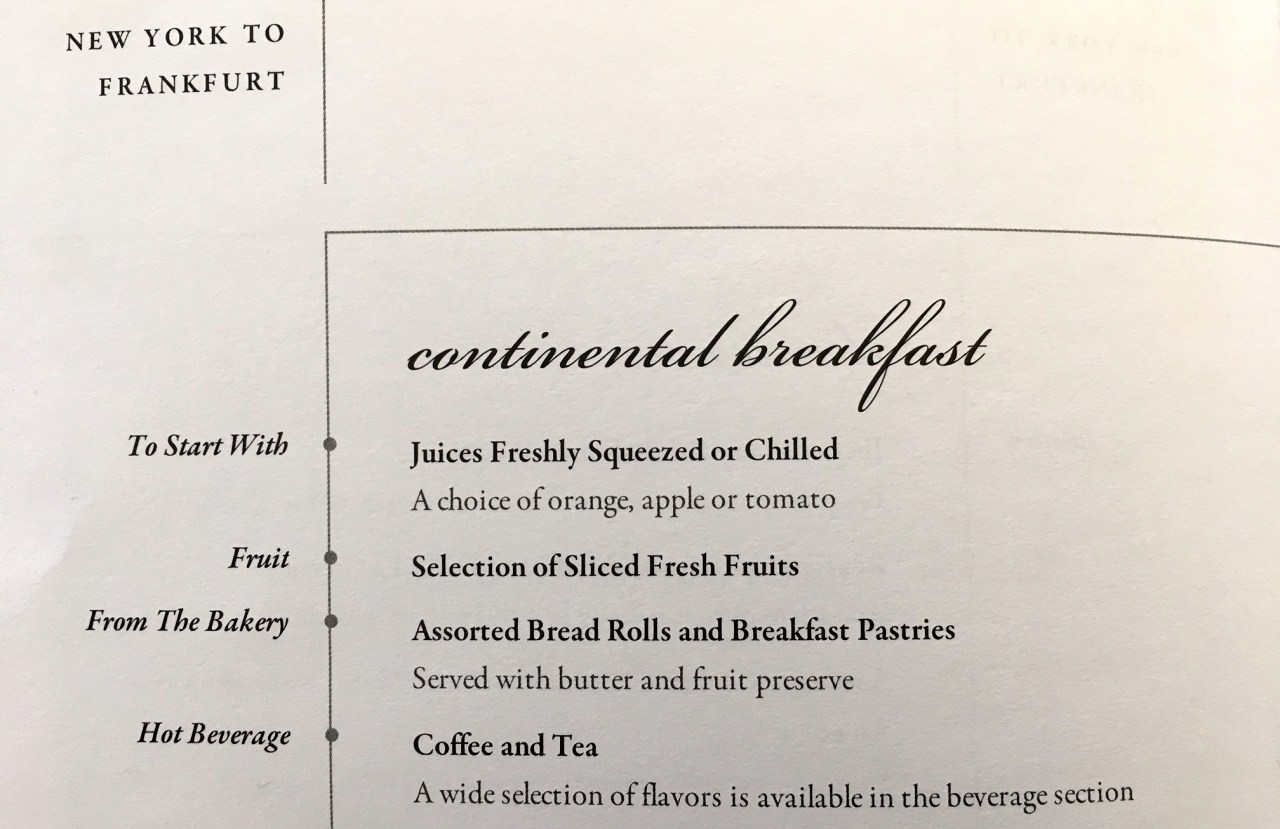 After take-off, we were offered hot towels before drink service.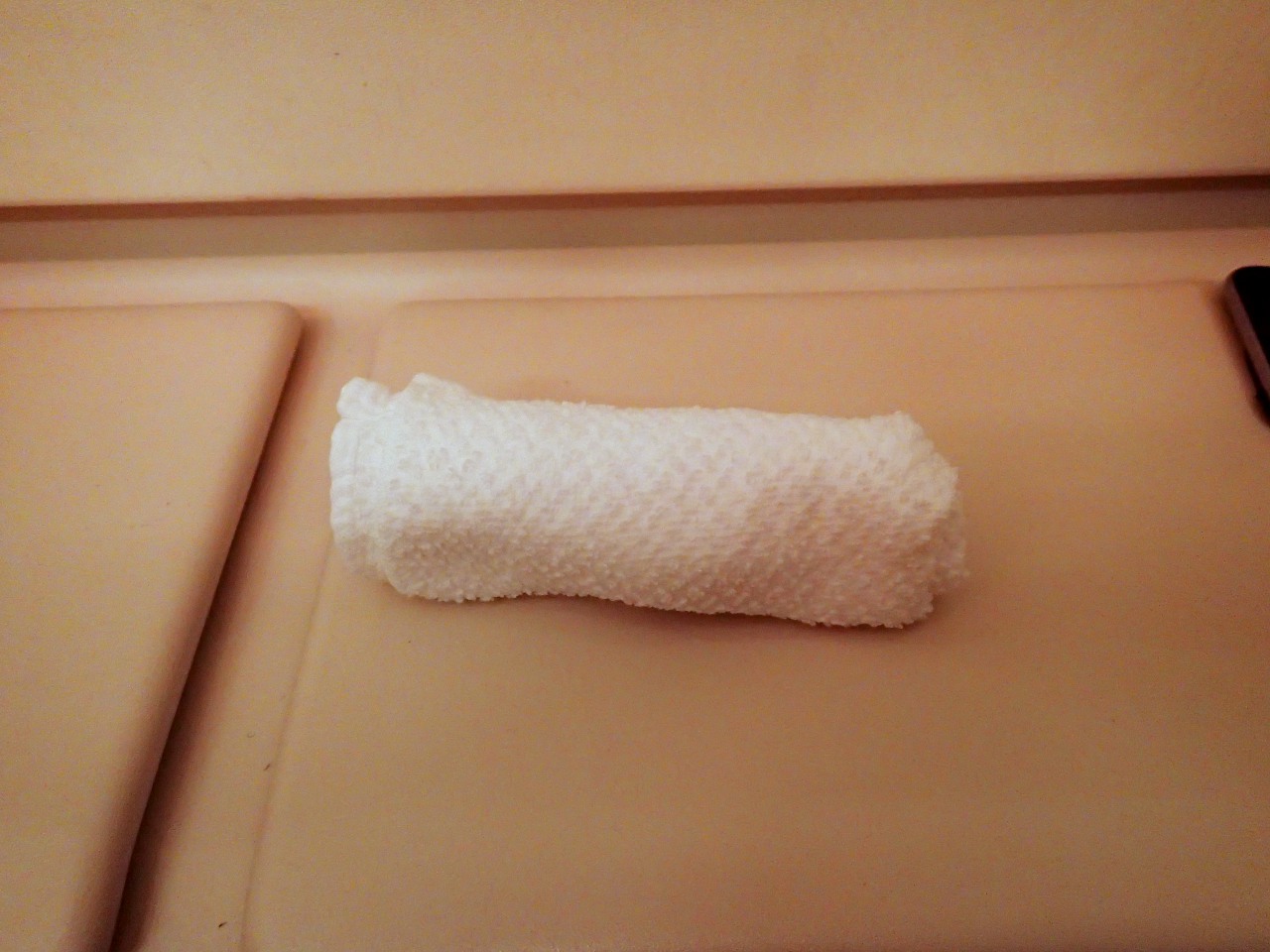 I chose a 2014 Wild Horse Chardonnay to go with the mixed nuts, although there were also a couple of German Rieslings on offer, both from the Mosel Valley.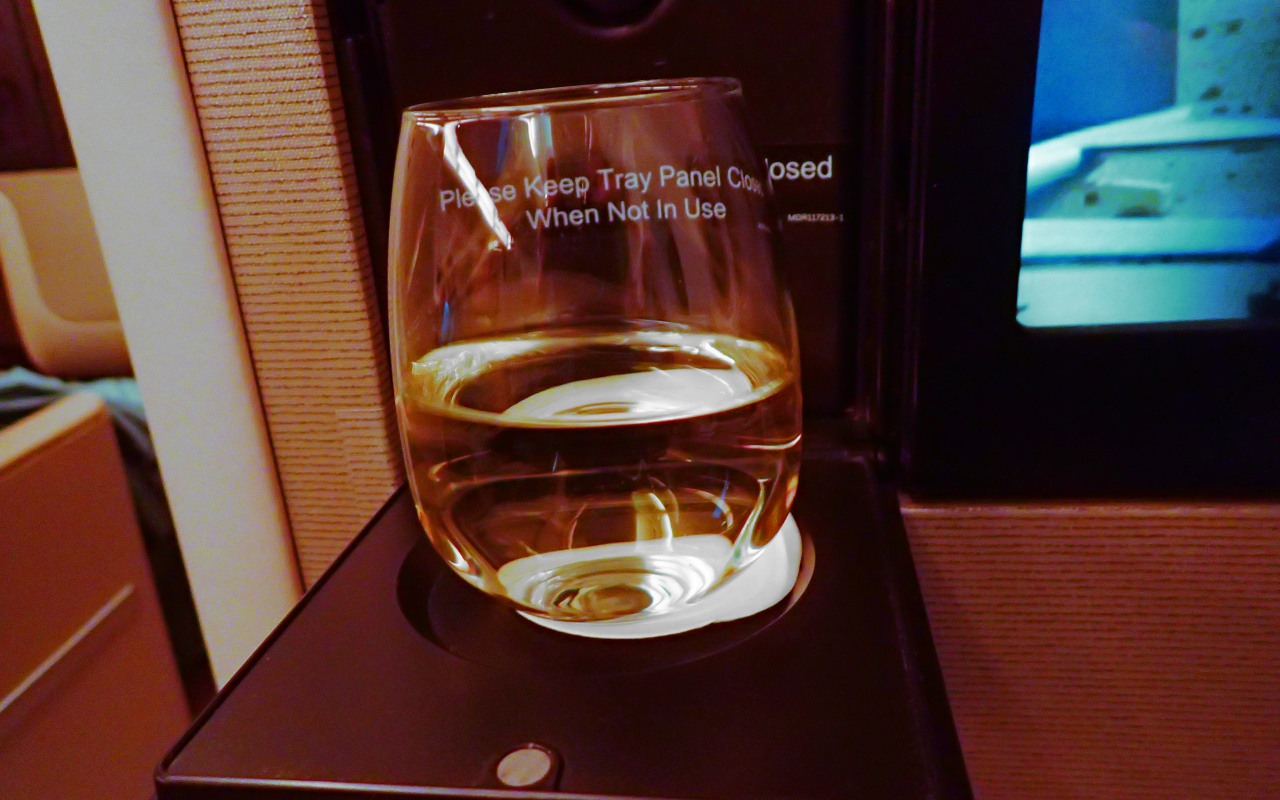 The prosciutto salad with mozzarella balls was truly delicious: fresh, zingy, and with a nice texture of
flavors.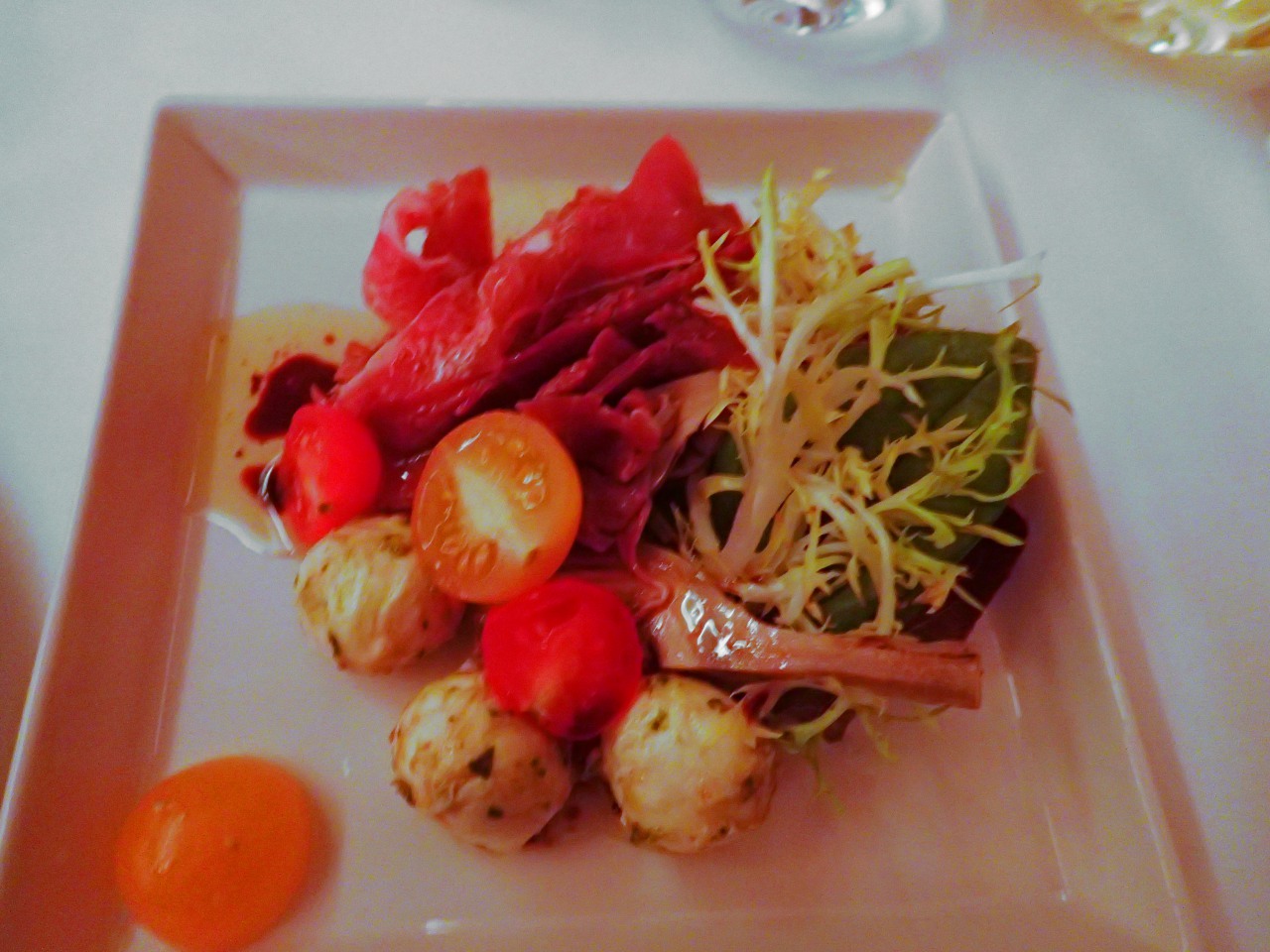 For my main, I had pre-ordered, via Singapore's Book the Cook, the roasted sea bass. It came with fresh
spinach. The fish was tasty and moist, not at all overcooked, and was very pleasing.
I did not order dessert, but there was a cheese and dessert cart from which one could choose a variety
of delectable options.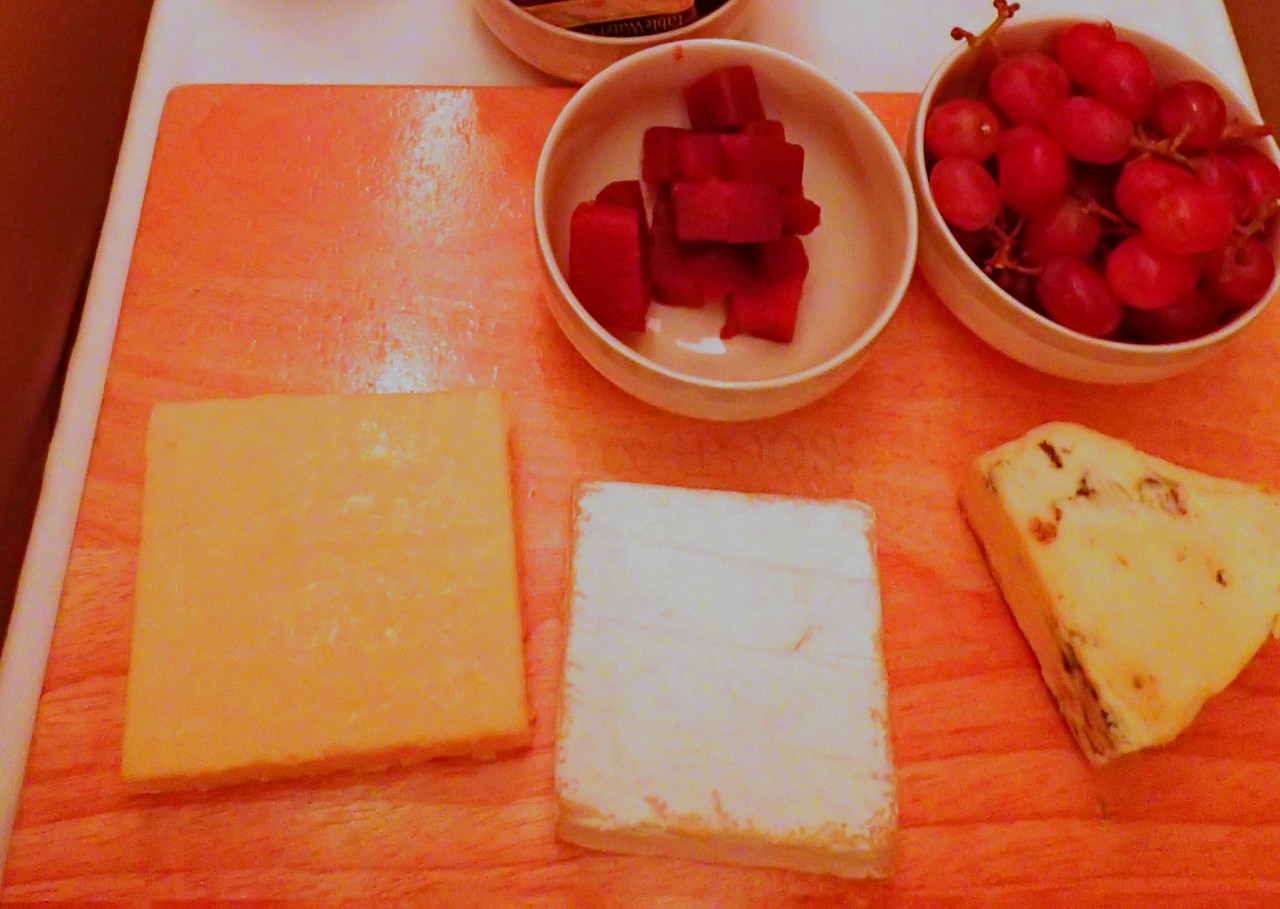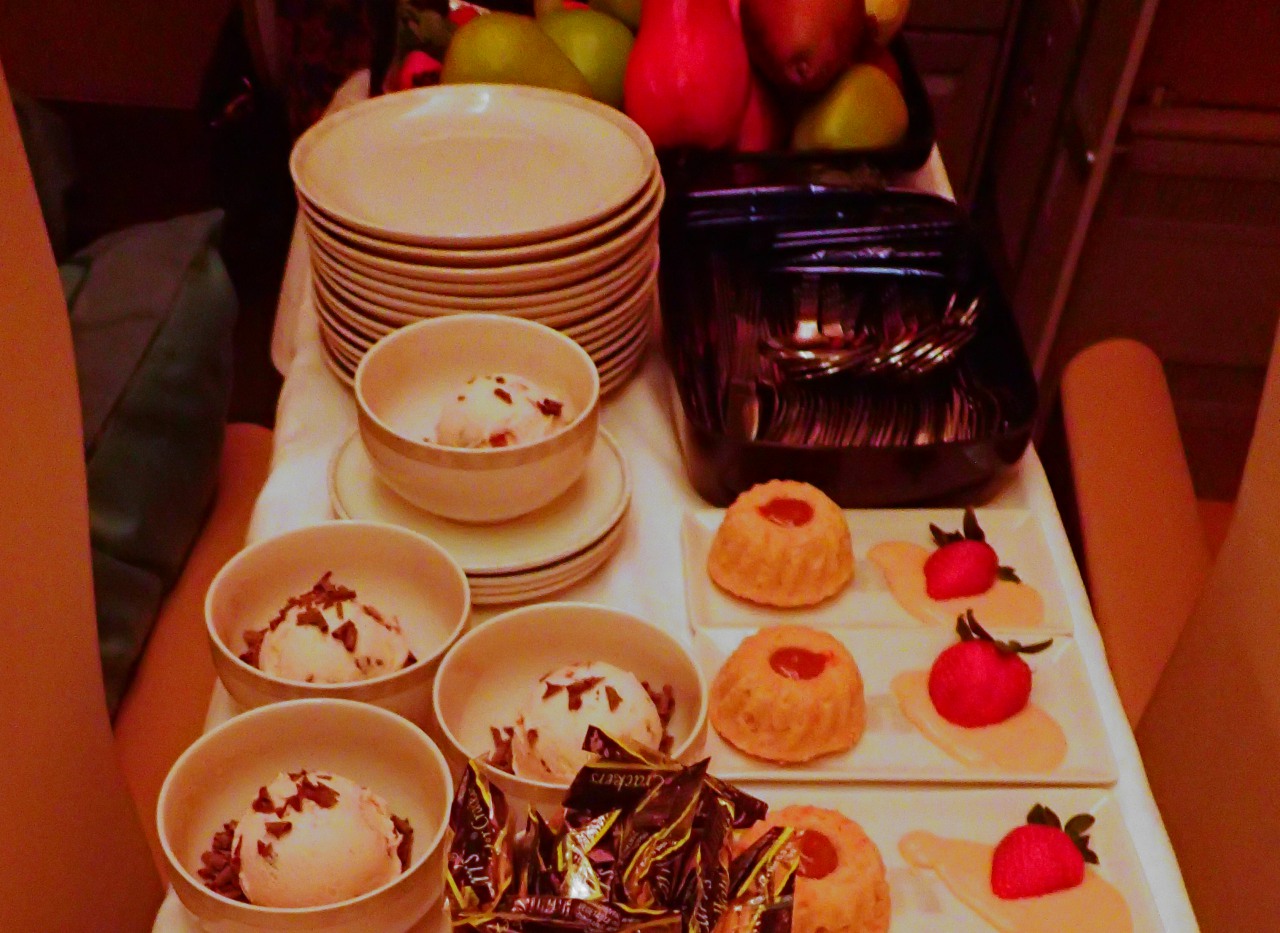 For my breakfast, the orange juice was quite good, while the coffee was just passable. The croissant and
breakfast pastries were just ok, and the pineapple was a bit hard. Overall, this was just a midling continental
breakfast.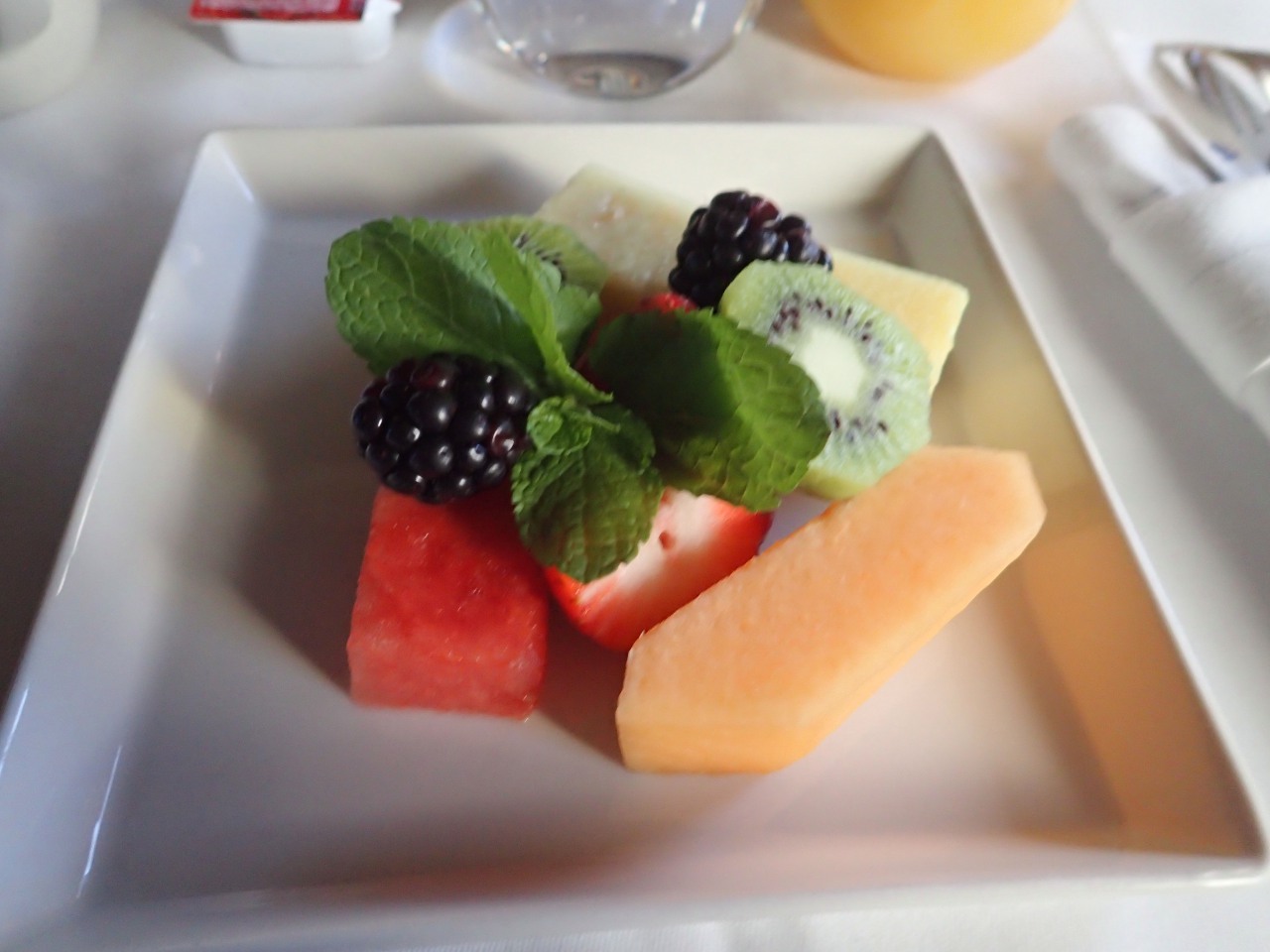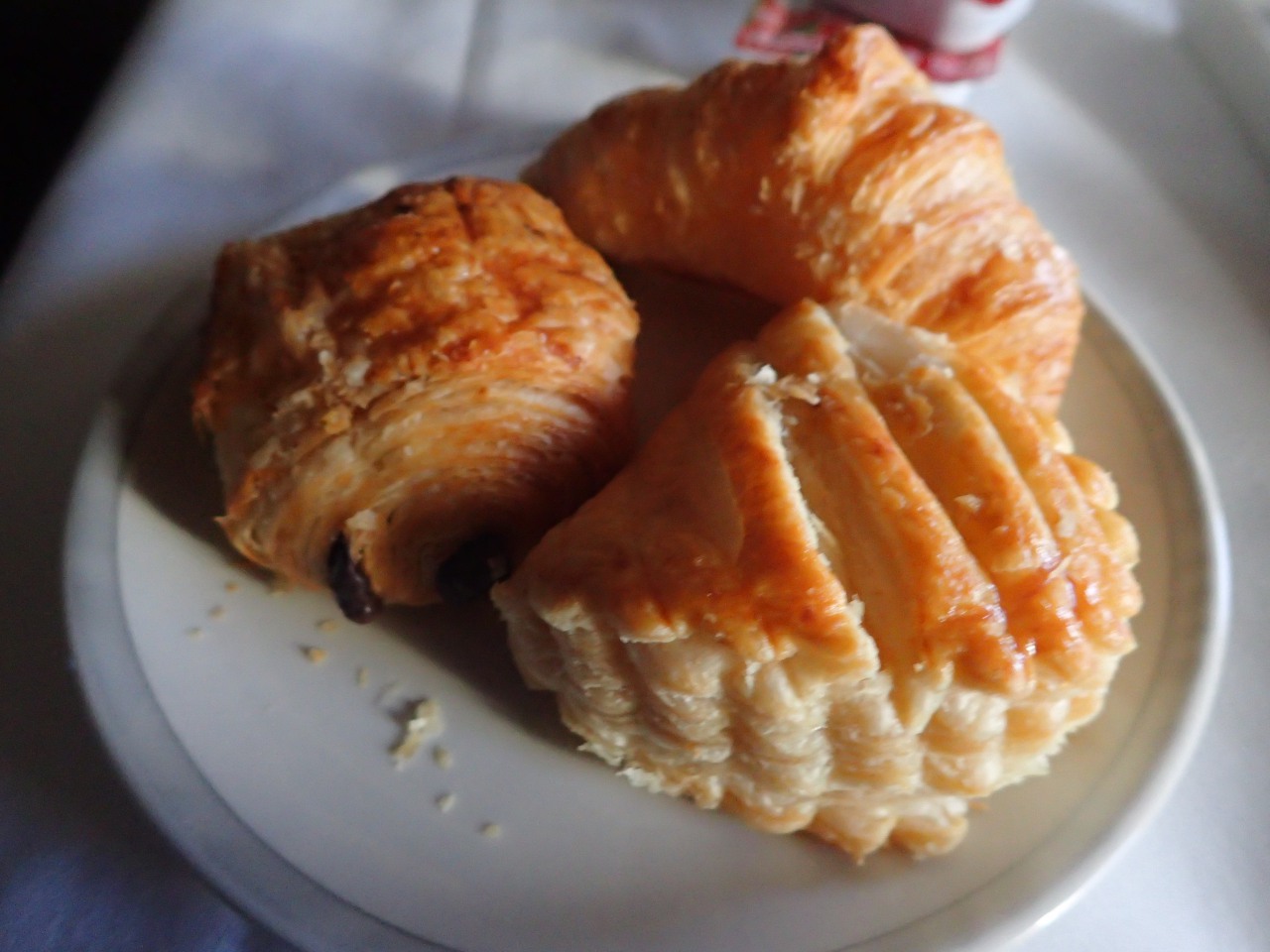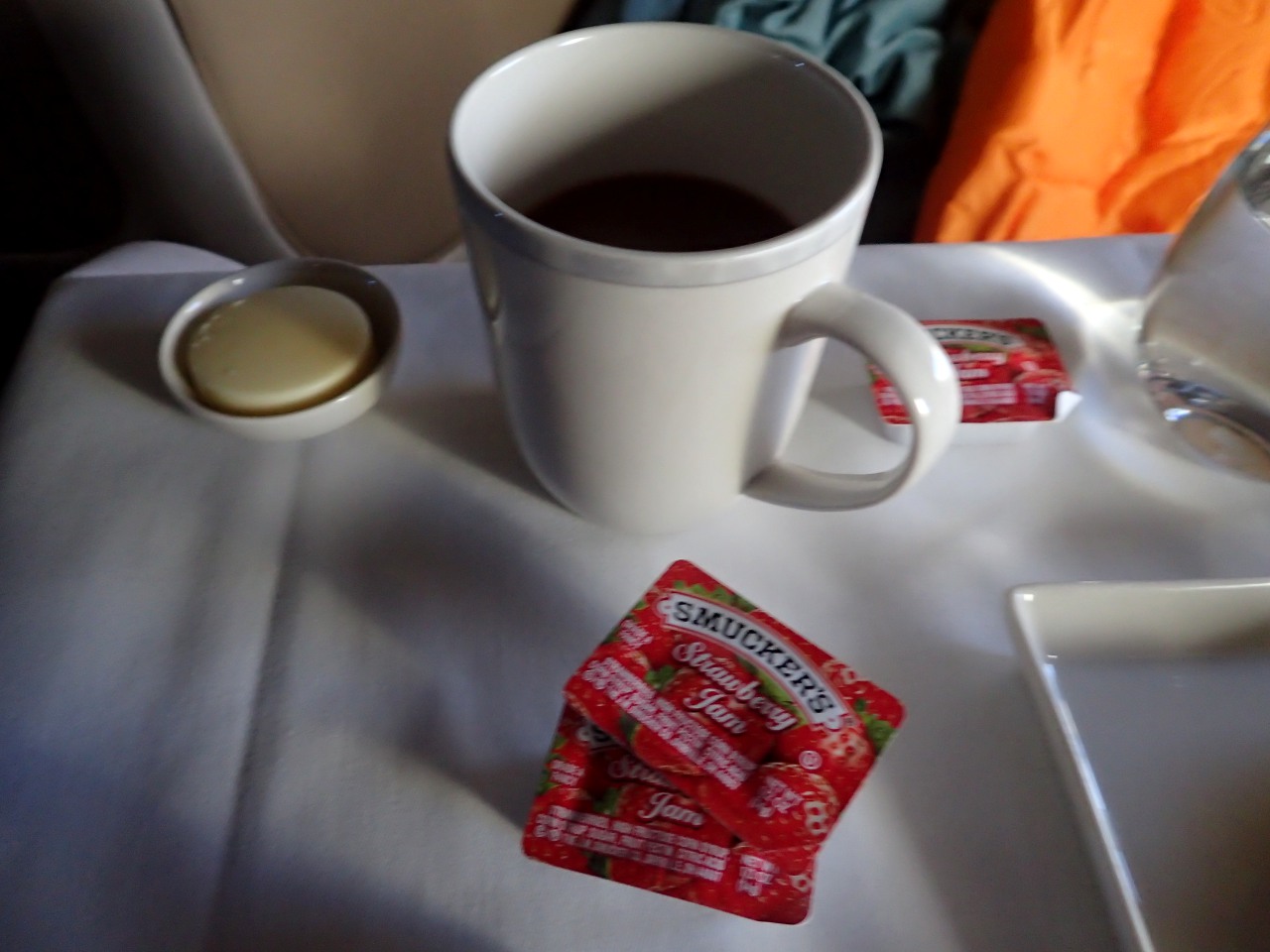 The Verdict
This would be one of my favorite Business Class products, if you just focus on the width of the seats. The seat was large and it almost feels as if you have a little compartment. The flatbed (with my inflatable mattress) was excellent for Business Class, as long as you don't need to stretch out your legs. But the service was really terrible, and the food, even with Book the Cook, was good, but not great. With better service, I would have really liked Singapore Business Class.
Recommended Posts
Singapore KrisFlyer: Higher Fees for Changes, Redeposits and No Shows