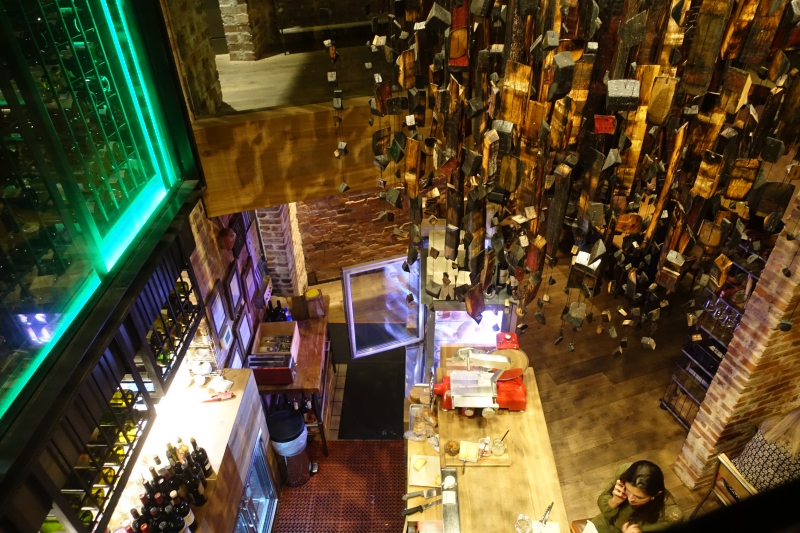 This review of Seasons and ENO Wine Bar at Four Seasons Washington DC is part of a Washington DC trip report. For prior posts, please see:
Four Seasons Washington DC Hotel Review
Review: The Red Hen, Washington, DC
Four Seasons Washington, DC is bookable with Four Seasons Preferred Partner benefits, so so TravelSort Clients enjoy complimentary daily breakfast for two, served either at Seasons Restaurant or in the comfort of their guest room or suite, in addition to a $100 credit that may be spent on food and beverage at ENO Wine Bar or BOURBON STEAK, or alternatively, a $100 spa credit.
Getting to Seasons Restaurant and ENO Wine Bar in Georgetown and Hours
Seasons and ENO Wine Bar are located at the Four Seasons Hotel Washington, DC in Georgetown, at 2800 Pennsylvania Ave. NW. If taking public transit, the hotel is only a 10-12 minute walk from the Foggy Bottom Metro Station. Seasons Restaurant is located on the lower floor of the hotel; go through the lobby towards BOURBON STEAK, then take the stairway to the left down to Seasons. Seasons is only open for breakfast daily, 6:30-11am Monday-Friday and 7-10:30am Saturday and Sunday; Saturday lunch 10:30am-2:30pm; and Sunday brunch 10:30am-2:30pm (which is known as one of the best in DC).
ENO Wine Bar is located adjacent to the hotel, just off to the right when facing the entrance. It's closed on Monday, and is open Tuesday-Thursday 5-11pm; Friday-Saturday 4pm-12 midnight; and Sunday 4-10:30pm.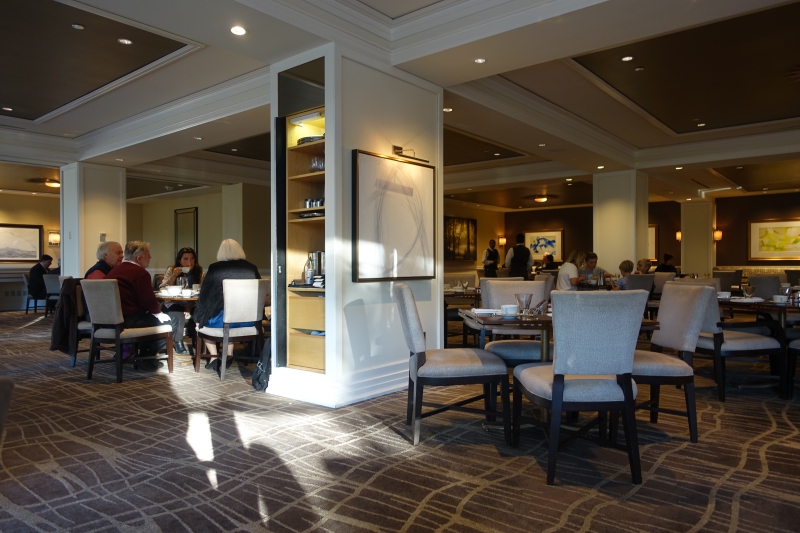 The Scene at Seasons and ENO Wine Bar
At our weekday breakfast at Seasons, other diners were primarily business diners in suits, although there were a couple of tables that appeared to be couples on leisure visits. I'm sure during regular school vacations and for Sunday brunch there are more families, however.
At ENO Wine Bar, by contrast, the scene was twenty and thirty somethings, both couples and small groups of friends enjoying wine and small plates.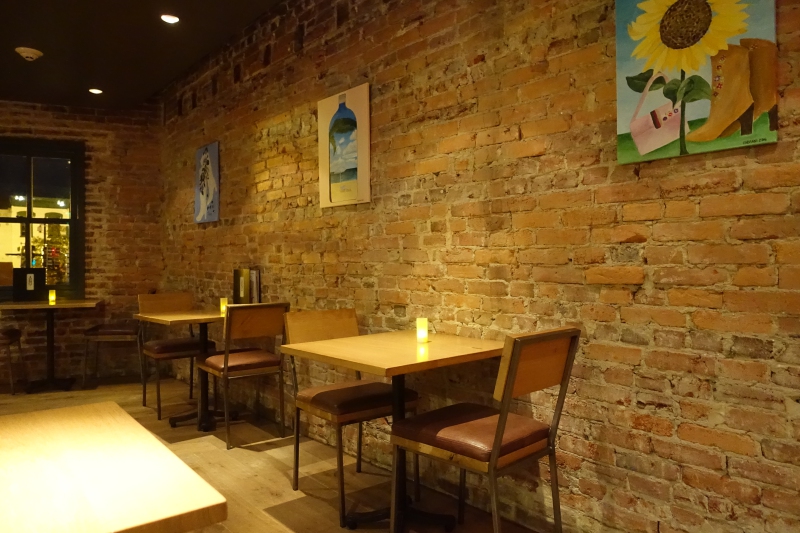 Seasons Breakfast Menu and Food
Seasons' breakfast menu includes all of the classics, so whether you're craving an egg dish, pancakes, waffles or healthy choices the restaurant has you covered: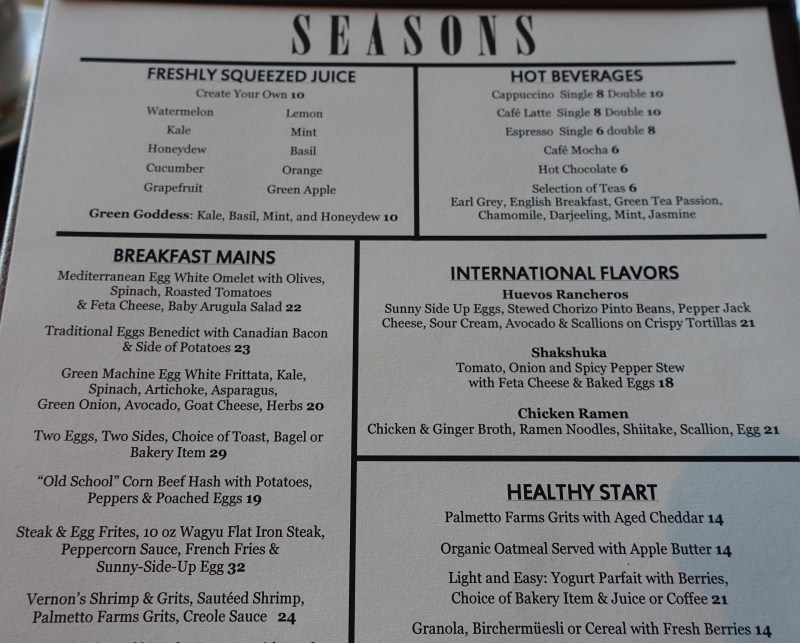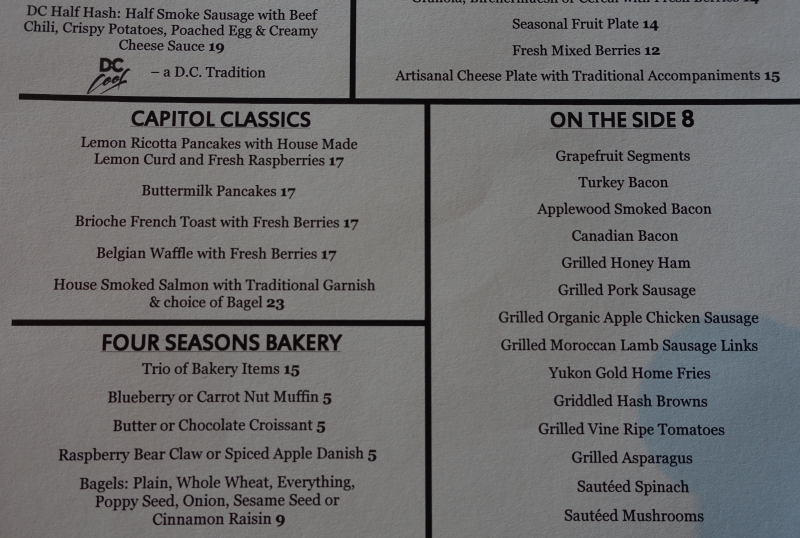 There's also a reasonably priced kids' menu: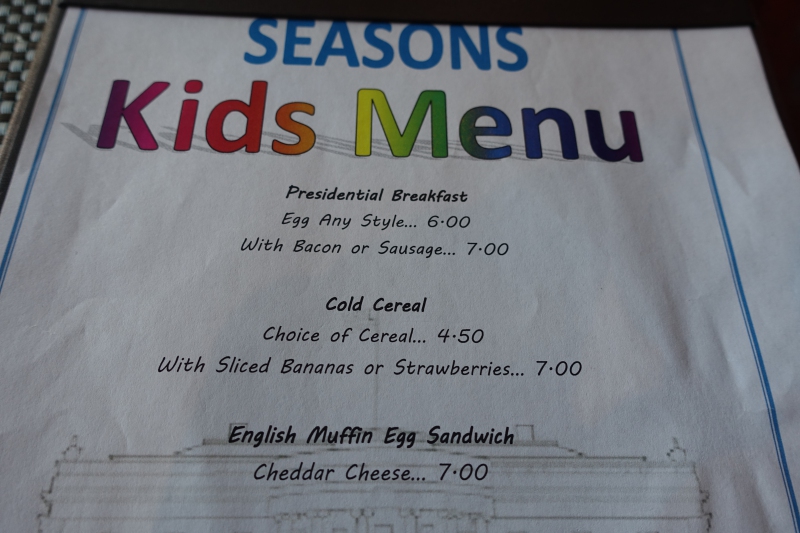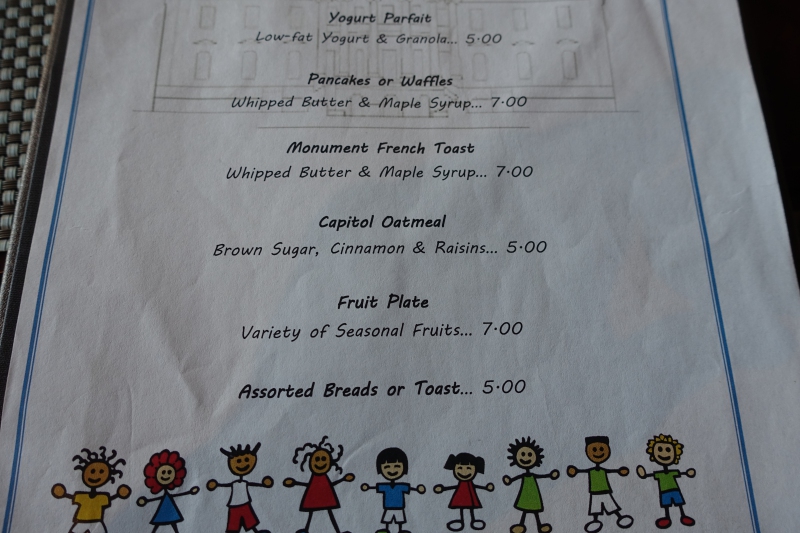 Although on a prior visit a few years back (see Four Seasons Washington, DC Seasons "Power Breakfast" Review) I enjoyed a lump crab and boursin cheese omelet, this time I decided to go with one of my favorite breakfast dishes, ricotta pancakes. I have to admit I was disappointed to see small, very thin pancakes since my preference is for large, very light and fluffy ricotta pancakes similar to the kind we make at home (see my ricotta pancakes recipe if curious) but I will say that the housemade lemon curd was delicious; all that would have been needed was a more generous serving of fresh raspberries.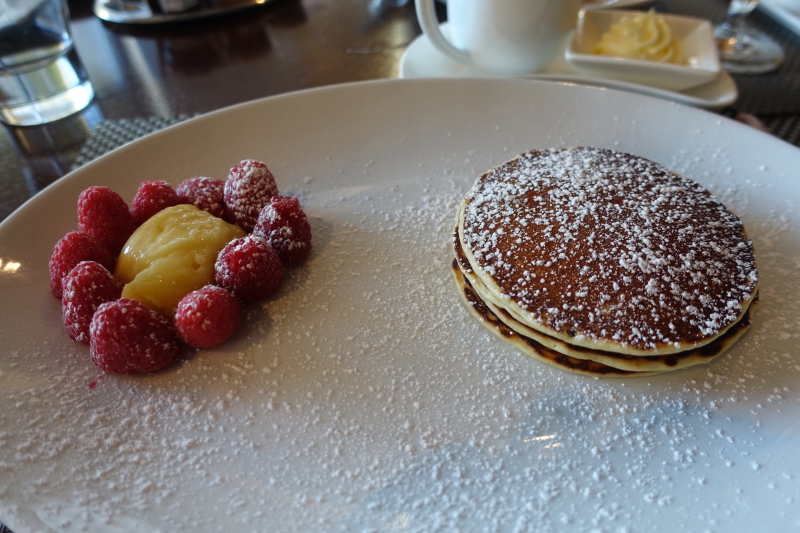 My son enjoyed his kid's oatmeal, which was especially tasty with the accompanying apple butter (which, notwithstanding the name, has no butter in it; think of it as a concentrated, spiced applesauce).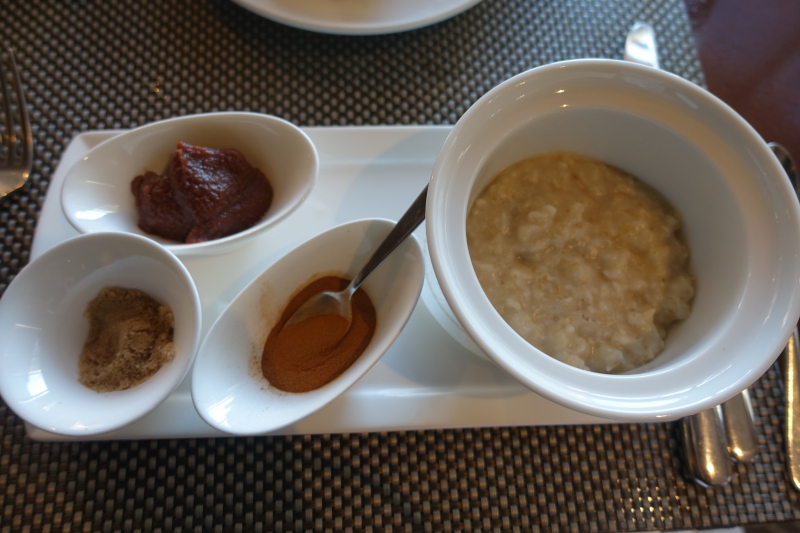 He liked the egg and cheese part of his English Muffin egg sandwich, but not the muffin, although that's just him–he'd never had an English Muffin before, and found he doesn't care for it.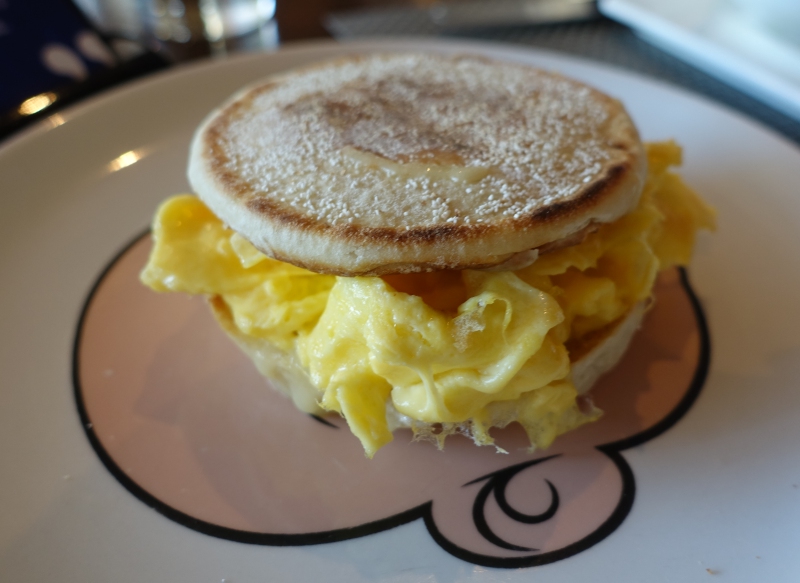 Our server accommodated our request for a mix of freshly squeezed watermelon and orange juice, which was very refreshing. Kudos to Seasons for offering a variety of freshly squeezed juices, since often the only fresh squeezed juice available at many U.S. hotels is orange and sometimes grapefruit.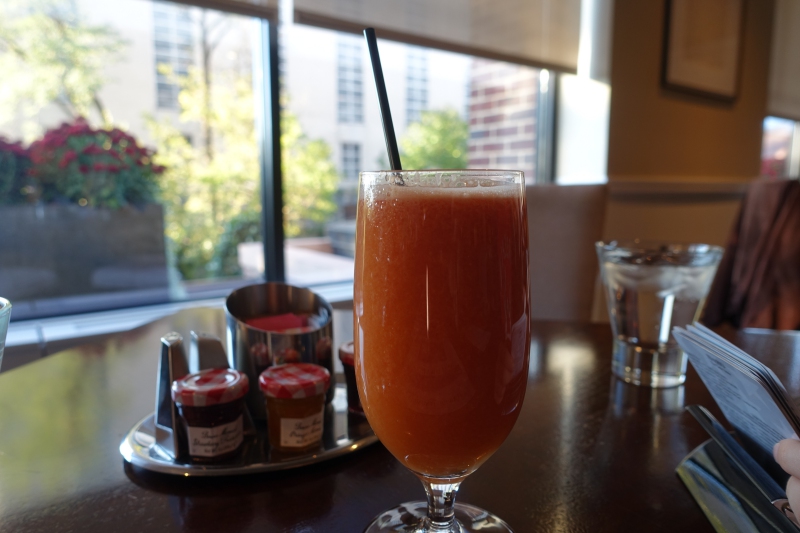 ENO Wine Bar Menu and Food
My travel professional rate included a wine flight, cheese plate and charcuterie plate at ENO Wine Bar, so we tried it for dinner on a Tuesday night. Arriving at just before 7pm we found the entire first floor packed, so we took a seat upstairs, which was deserted except for a couple of business colleagues having a drink.
Here are the wine flights offered: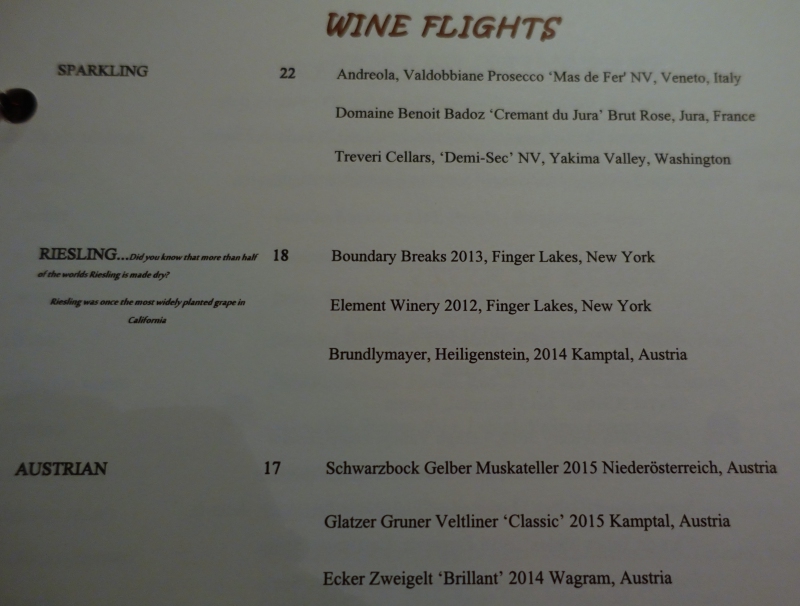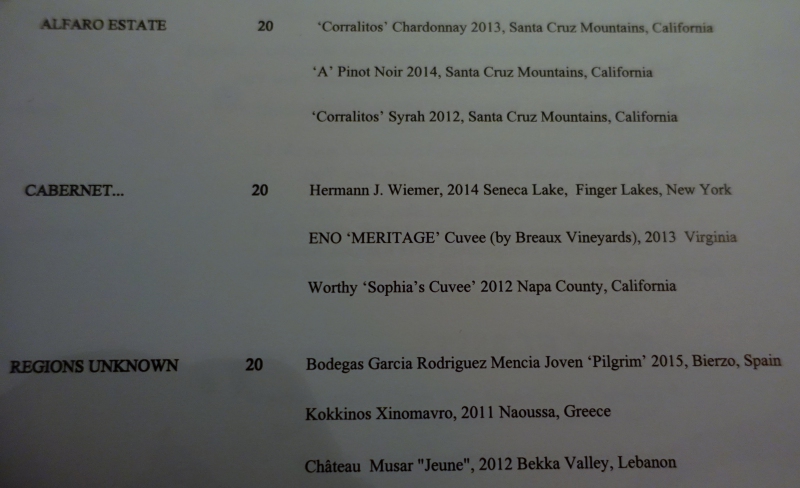 And here's the menu: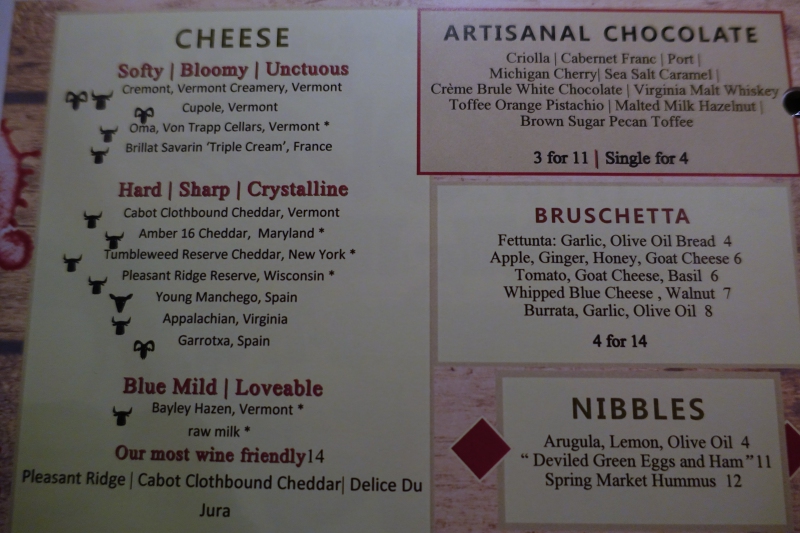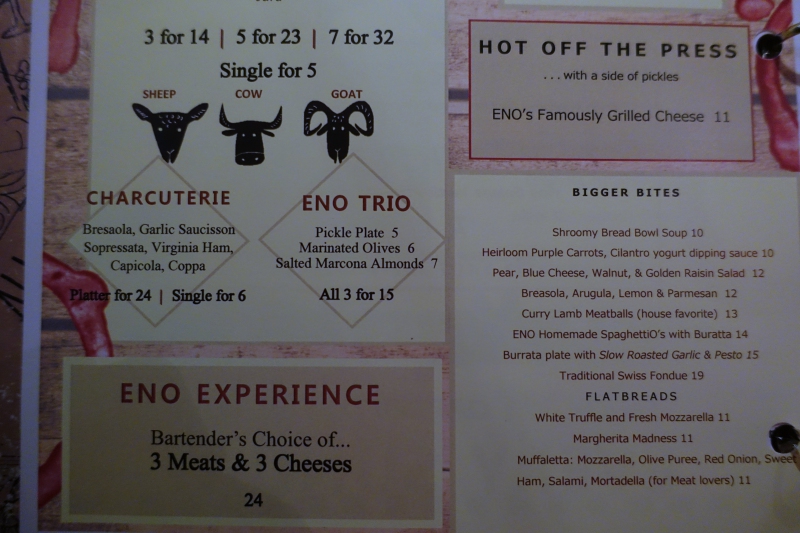 Since we only had about an hour before my son's usual bedtime, we ordered right away. My Austrian wine flight came quite quickly, but I wanted to drink it in conjunction with the food, so I only had a couple sips while waiting. My favorite of the three by far was the Gruner Veltliner. I liked that the wine flight was accompanied by brief descriptions of each wine.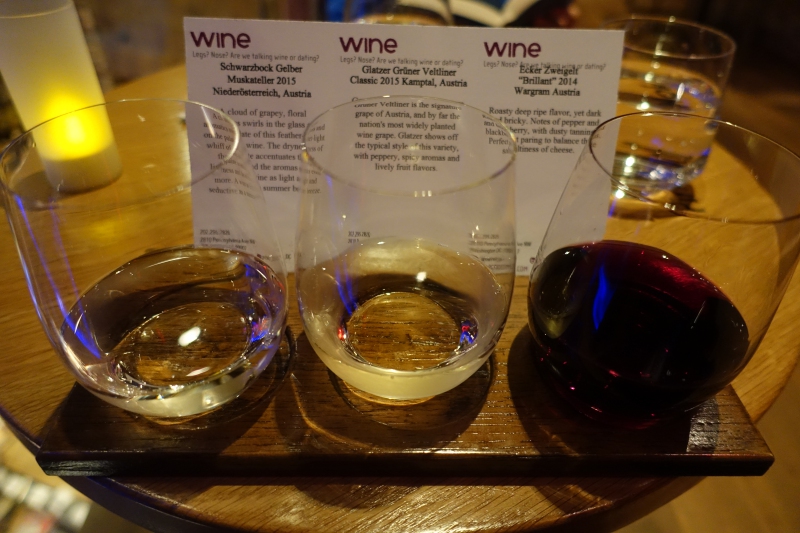 Although it's not as if cheese plates or charcuterie plates require any cooking, and I'd expected these to come out fairly quickly, it was a good 25 minutes until we were served them, which I found disappointing. The cheeses were good, but the portions, in my view, were stingy for the price, and I found the selection underwhelming. I suppose we're a bit spoiled in NYC, with great selections even at my local Whole Foods, to say nothing of the range at Murray's Cheese Shop or independents such as Lucy's Whey on the UES.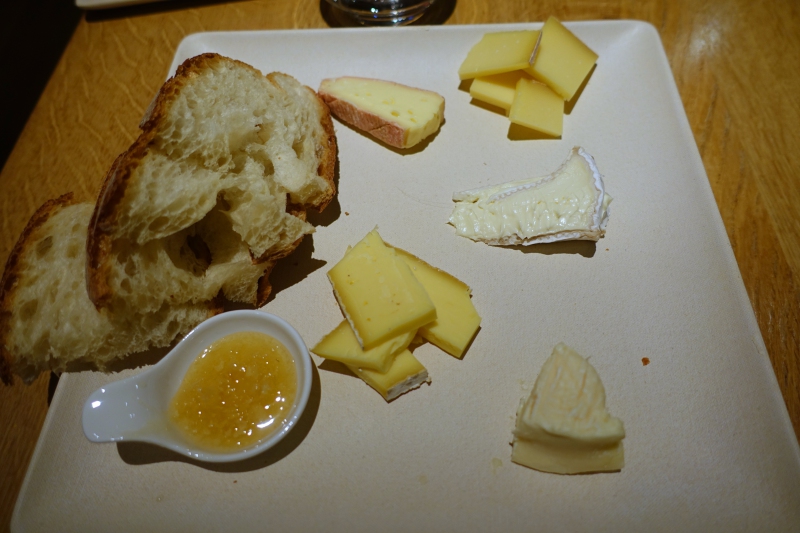 The charcuterie plate, on the other hand, had far more cured meat than we wanted or could finish. I would have preferred this generosity with the cheese plate.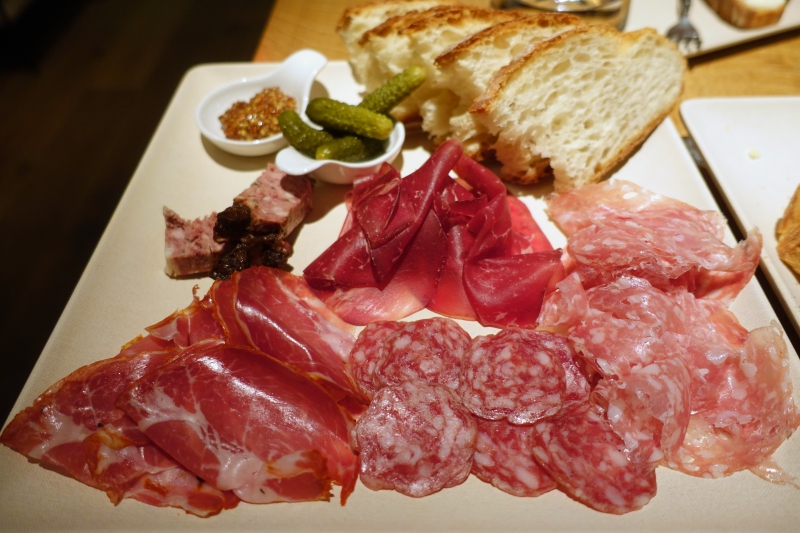 The highlight turned out to be the admittedly odd looking Purple Carrots (so dark they appear black in the photo) with Cilantro Yogurt Dipping Sauce. This was very tasty, and I recommend it if you visit and it's still on the menu.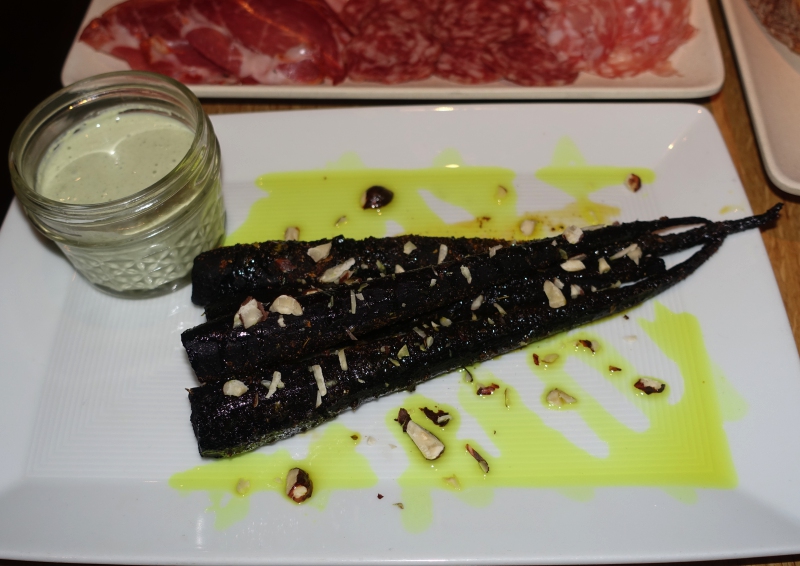 We didn't order dessert, but our server brought us a couple complimentary chocolates, which we appreciated, and these were very good, especially the dark chocolate one.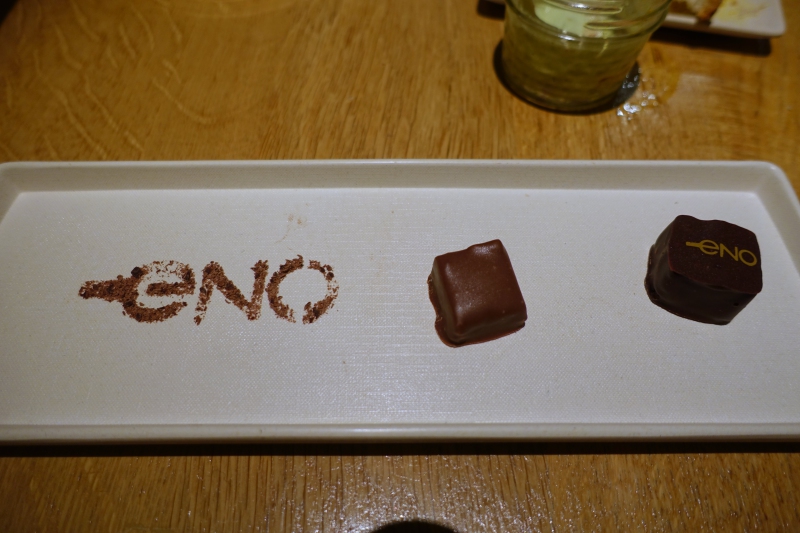 The Verdict
We liked but didn't love our dining experiences at Seasons and ENO Wine Bar. It's personal preference, but I prefer lighter, fluffier ricotta pancakes rather than the thin ones I was served, although the housemade lemon curd was delicious. We really liked that the kid's oatmeal was served with apple butter, and the kid's menu was good value. The fresh squeezed jucie was also excellent. Service was good but somewhat perfunctory.
At ENO Wine Bar, our favorite by far was the dish of Heirloom Purple Carrots with Cilantro yogurt dipping sauce. Perhaps if we'd tried other dishes we'd have been more impressed with our experience. As it was, the cheese plate seemed stingy in terms of the portions, especially compared with the charcuterie plate, which had an abundance of cured meats that we didn't really enjoy. The Austrian wine flight was nice, however, particularly the Glatzer Gruner Veitliner, and the complimentary chocolates as mignardises was a welcome touch. The food took an inordinately long time to arrive, so I'd definitely advise going on the early side and securing a table downstairs, which has more atmosphere.
Disclosure: I paid for my own breakfast at Seasons, and my ENO Wine Bar dining was included in the travel professional rate I paid for my second night. The views expressed in this post are my own.