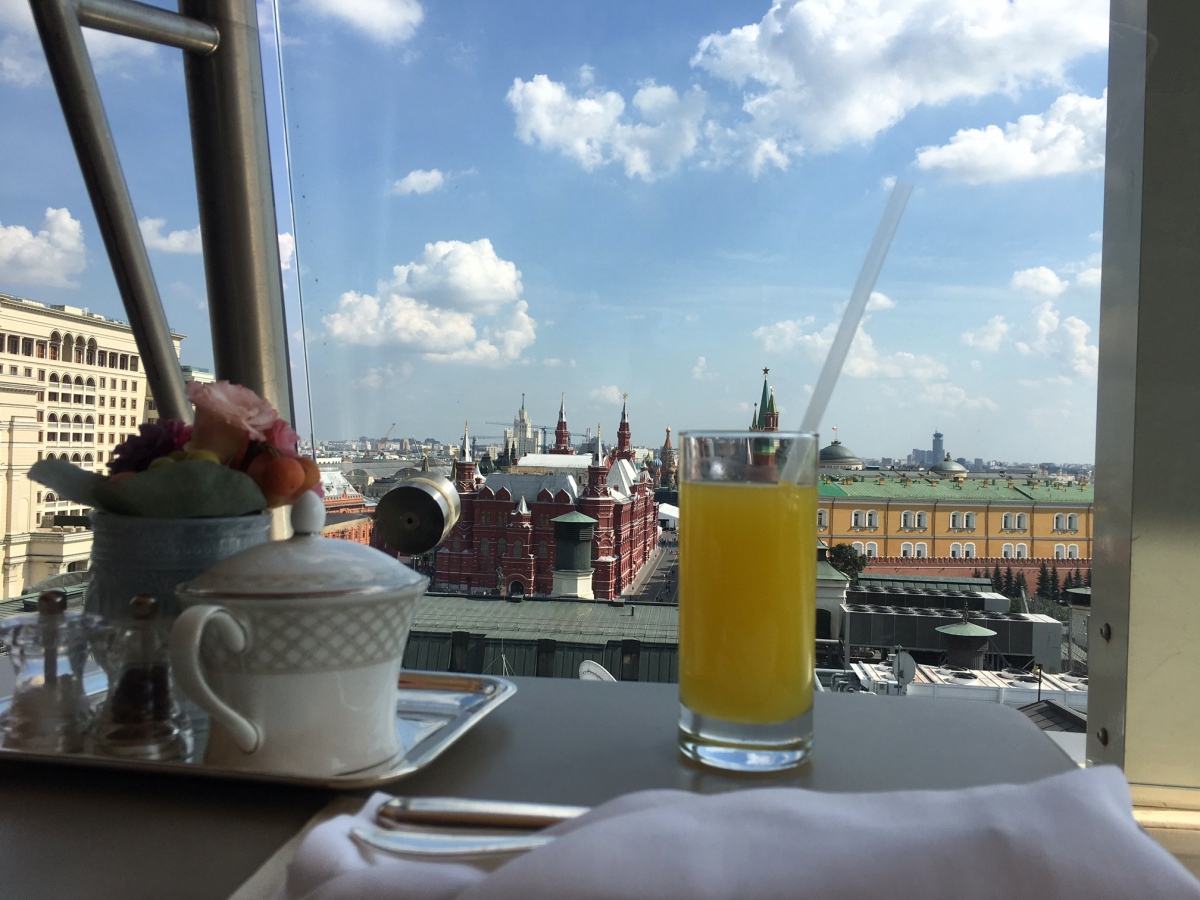 This Ritz-Carlton Moscow Review is from our recent stay, at the end of several weeks in St. Petersburg. The Ritz-Carlton Moscow is one of the early Moscow true 5-star luxury hotels, opened in 2007, and celebrated its 10th anniversary this year. Since then, new additions include the Four Seasons Moscow and the St. Regis Moscow, although neither has a Club Lounge.
Visiting Russia? See our posts tagged St. Petersburg and Moscow.
Ritz-Carlton STARS sometimes does have attractive offers exclusively combinable with STARS benefits, which TravelSort Clients may reserve. In the absence of any STARS or AMEX FHR offers the best way to reserve the Ritz-Carlton Moscow is with Virtuoso benefits, as you can use any card, including the Chase Sapphire Reserve, which earns 3X on all travel, including hotels.
2018 Virtuoso Benefits for The Ritz-Carlton Moscow
Upgrade on arrival, subject to availability
Buffet breakfast daily for up to 2 in-room guests in restaurant
$100 USD equivalent Food & Beverage credit to be utilized during stay (credit not applicable to Novikov Restaurant, not combinable, not valid on room rate, no cash value if not redeemed in full)
Early check-in/late check-out, subject to availability
Complimentary Wi-Fi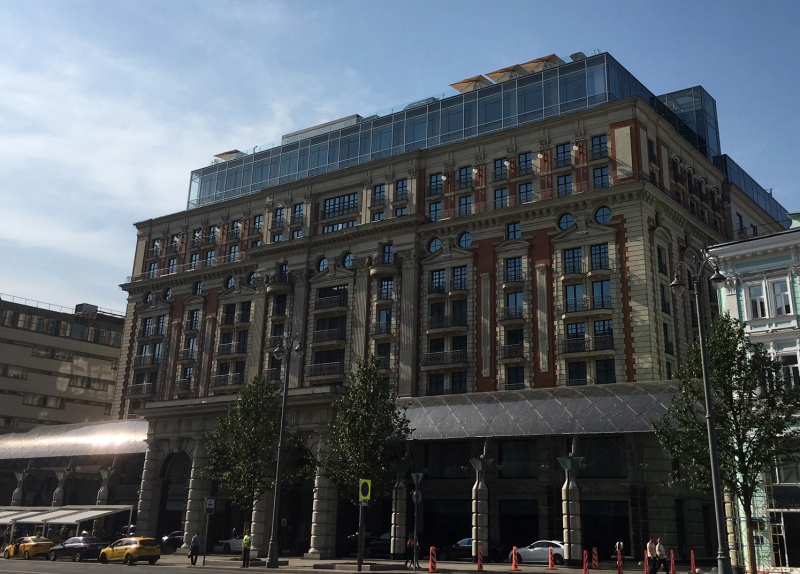 Ritz-Carlton Moscow Location, Lobby and Club Lounge Check-in 
Located at Tverskaya, 3, the Ritz-Carlton Moscow is just a short walk from Red Square, which is visible from select rooms and suites as well as the O2 Lounge and the Club Lounge. The lobby is large, although if you're on the Club Lounge you can ask at reception to be escorted up to the Club Lounge for check-in, which is what we did.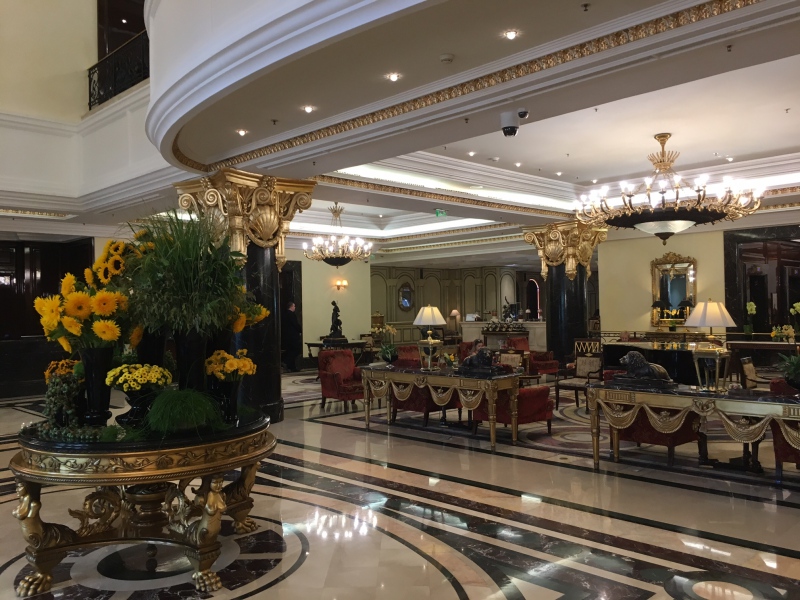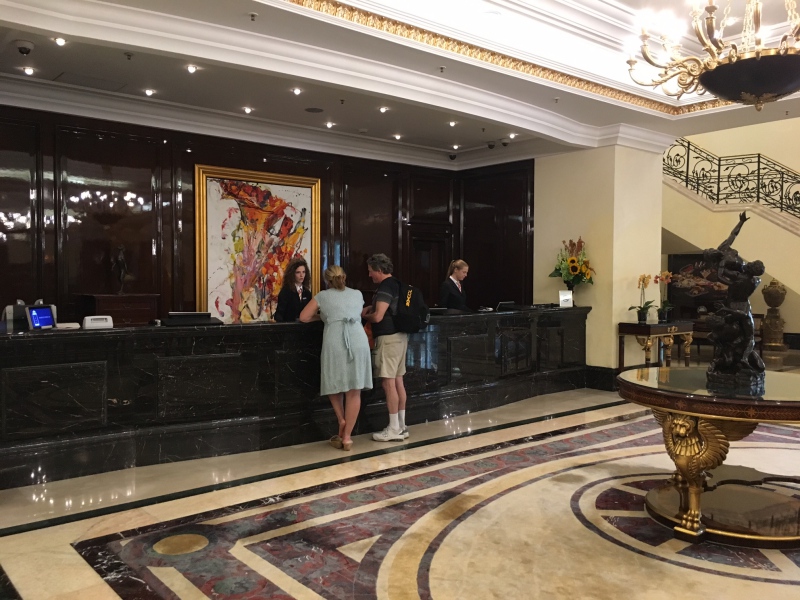 The glass elevators that whisk you up to the Club Lounge have a view of the interior courtyard.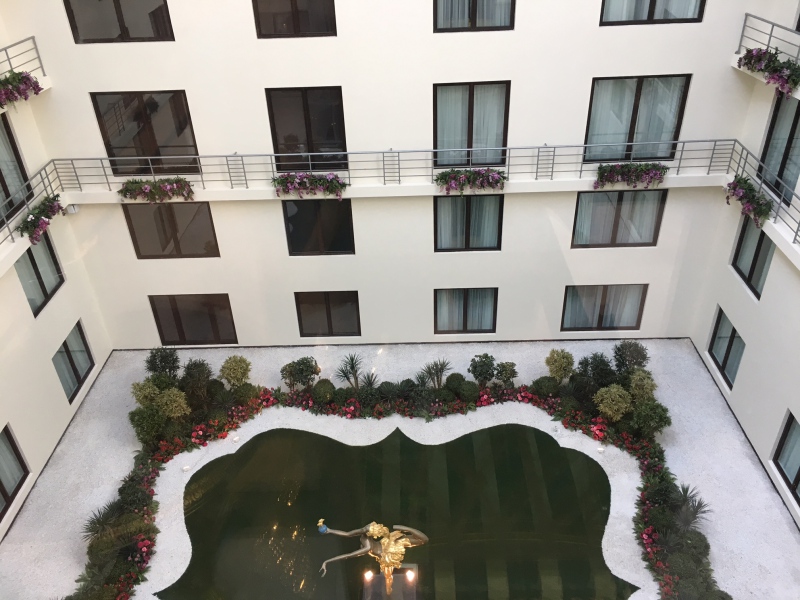 At the Club Lounge, as we arrived around noon, well before regular check-in time, they assured us they would expedite our room, and invited us to relax in the lounge in the meantime. We ventured out to the terrace to take in the view, and enjoyed some freshly squeezed orange juice while gazing at Red Square.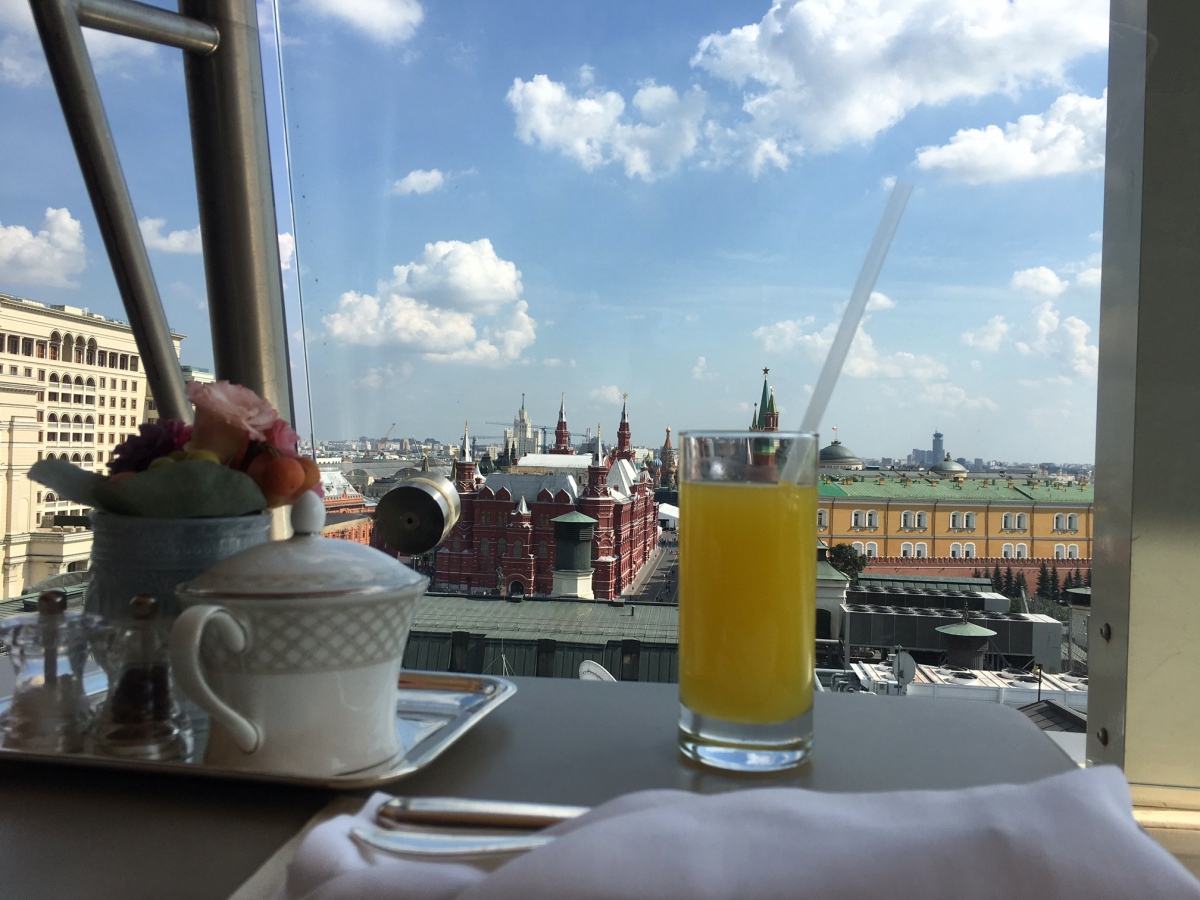 Ritz-Carlton Moscow Club Room
All rooms at the Ritz-Carlton Moscow are about the same size, 450 square feet; the only difference is their view and the floor they're located on. Superior Rooms are on lower floors, while Deluxe Rooms are on higher floors. Club Rooms are on the highest floors, and this was the room type we were in. Our view was of the city skyline: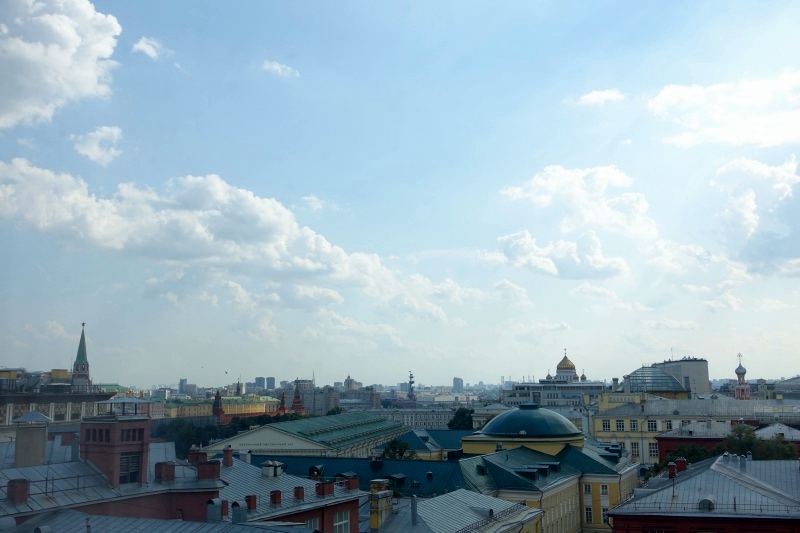 If you want a room with a view of Red Square, be sure to reserve a Club Room, Red Square View (or you enjoy a Virtuoso upgrade to this room type if booking a Club Room). We were fine not having this view, since you also enjoy a great view from the Club Lounge.
We'd asked for a room with 2 beds, and the beds were very comfortable. They're not customizable as with the Four Seasons beds, but they're plusher and were much more comfortable for me than the hard beds at the Park Hyatt Moscow.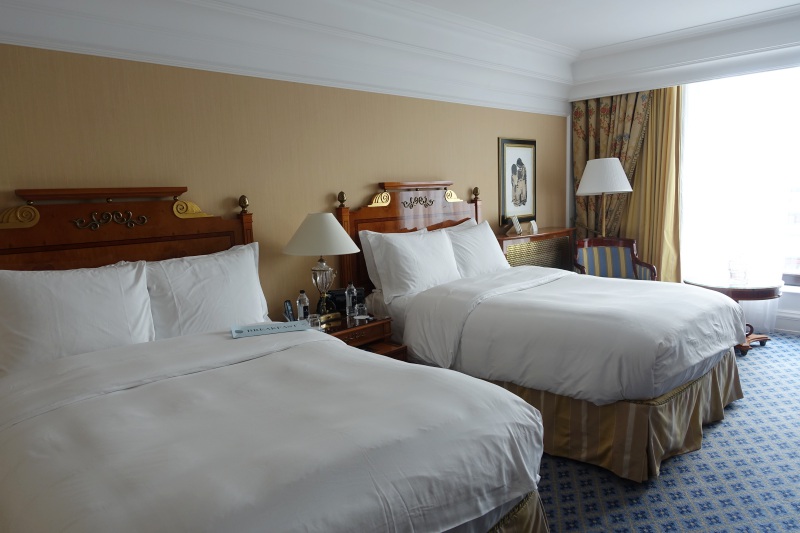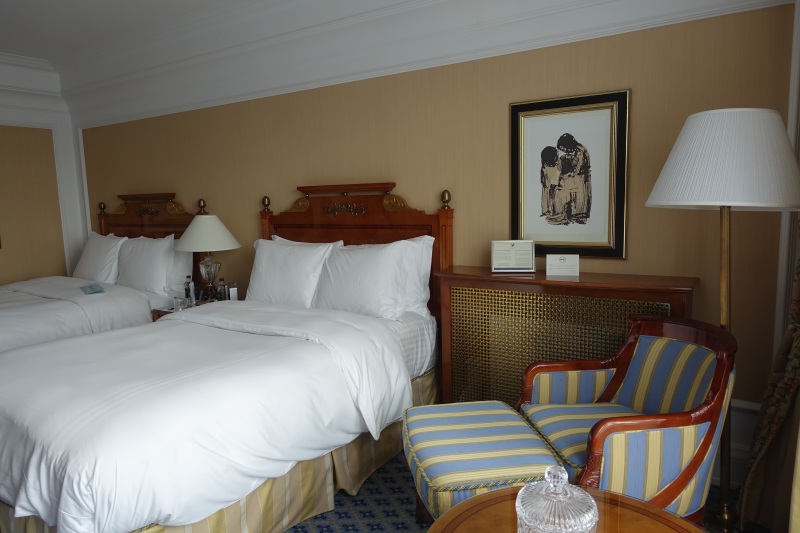 Something to be aware of, if you're not also booking a connecting room, is that the rooms with two beds do tend to connect to another room. Obviously the connecting door is locked if you haven't booked the connecting room, but something to be aware of. Fortunately, either no one was in the neighboring room or the rooms are well sound-proofed, as we heard nothing during our stay and our room was always quiet.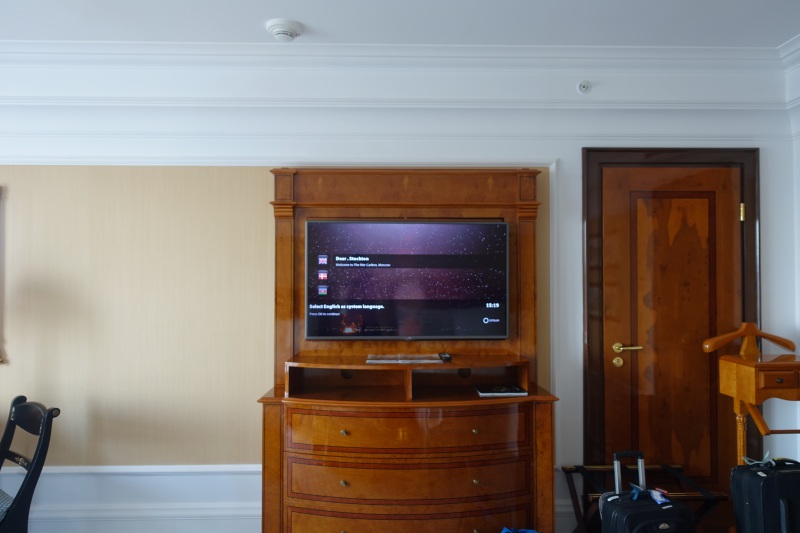 I also made use of the digital "Do Not Disturb" sign during our stay, and we were never bothered.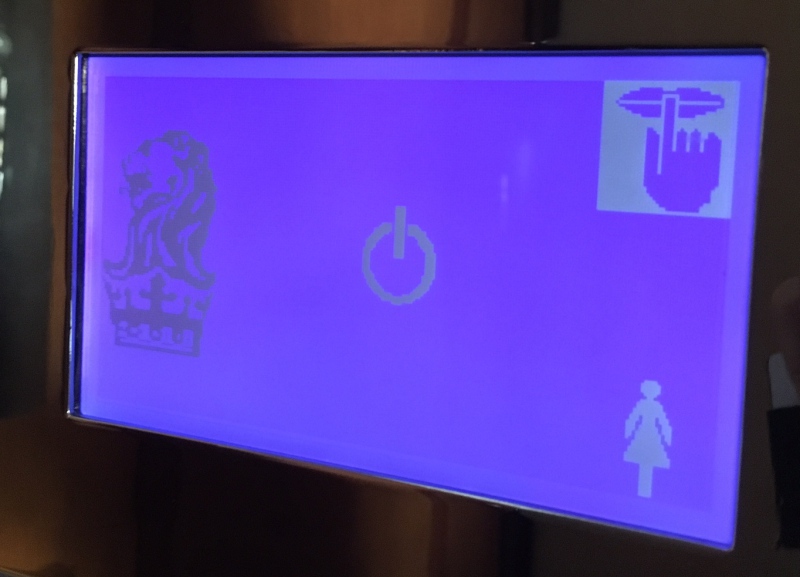 The bathroom had double sinks, which in my view every true luxury hotel should have, at least if it's not constrained by being a landmark building.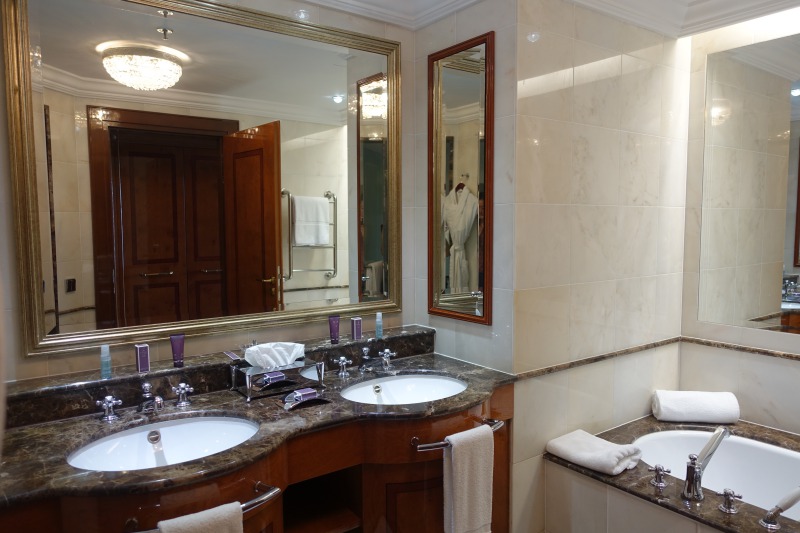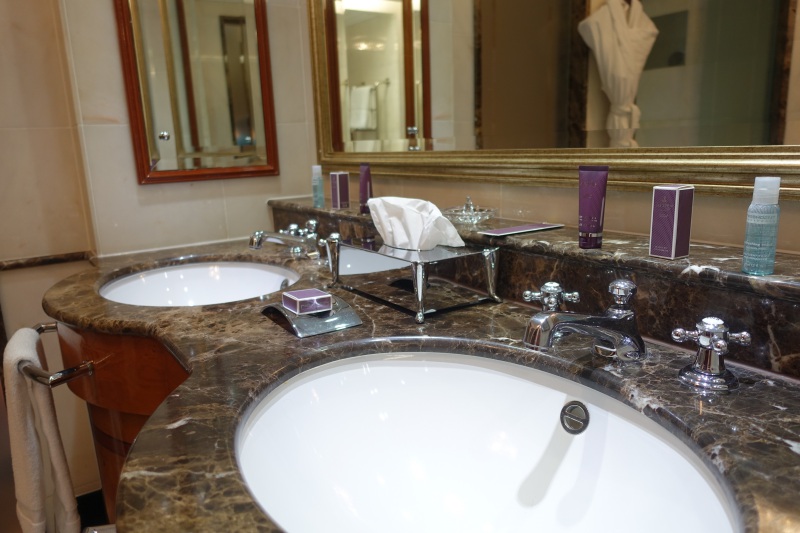 There was a deep soaking tub that my son enjoyed bubble baths in, after swimming, and there was also a separate rain shower. Bath products are Asprey's Purple Rain–not my favorite, but fine.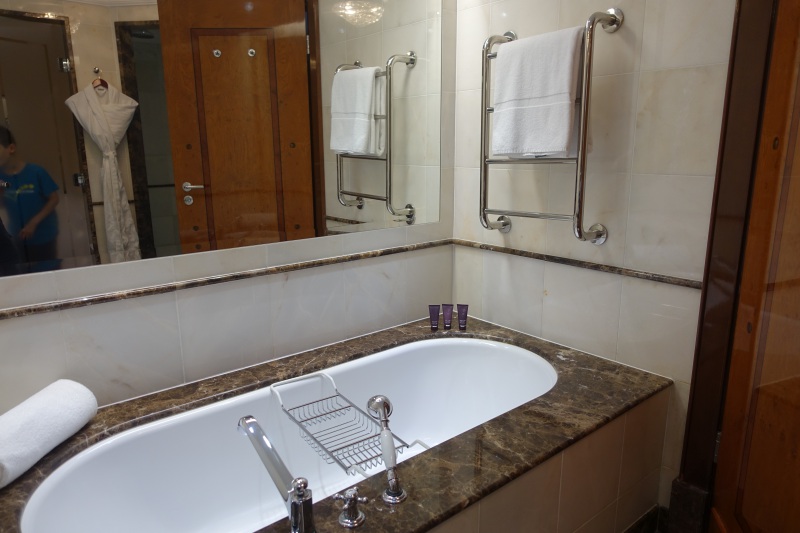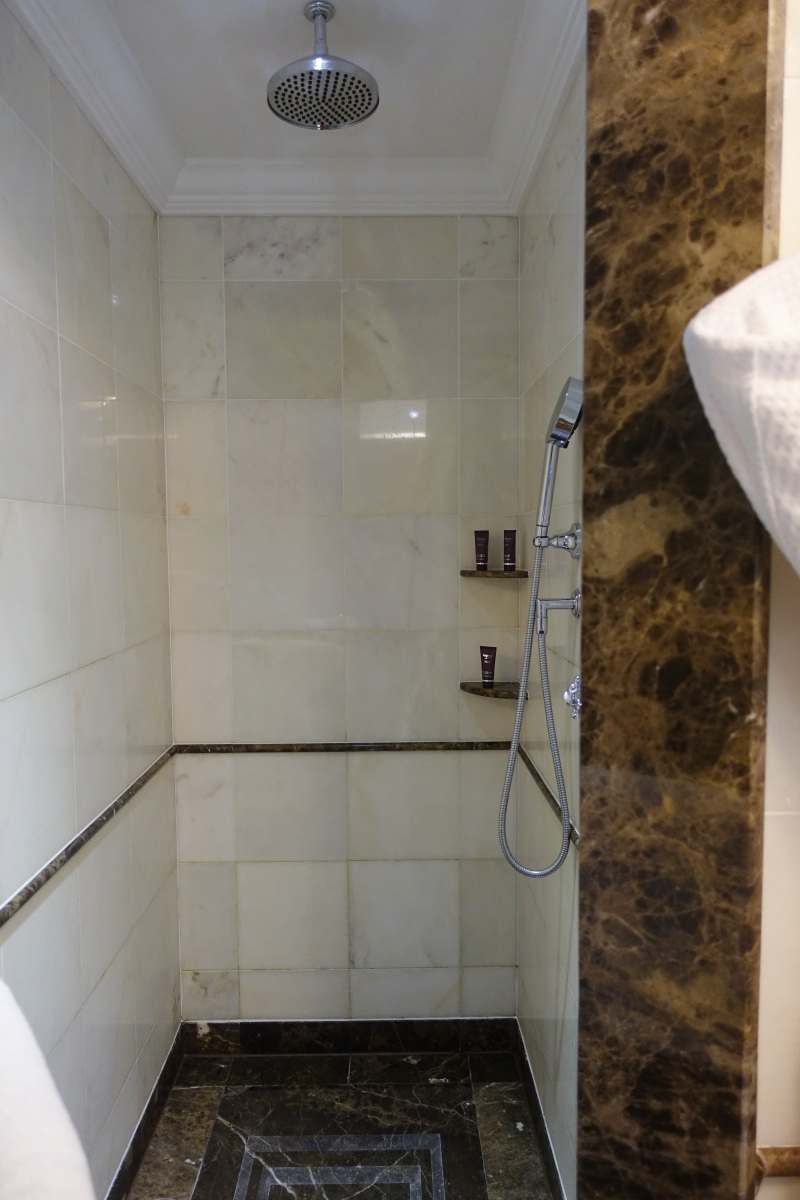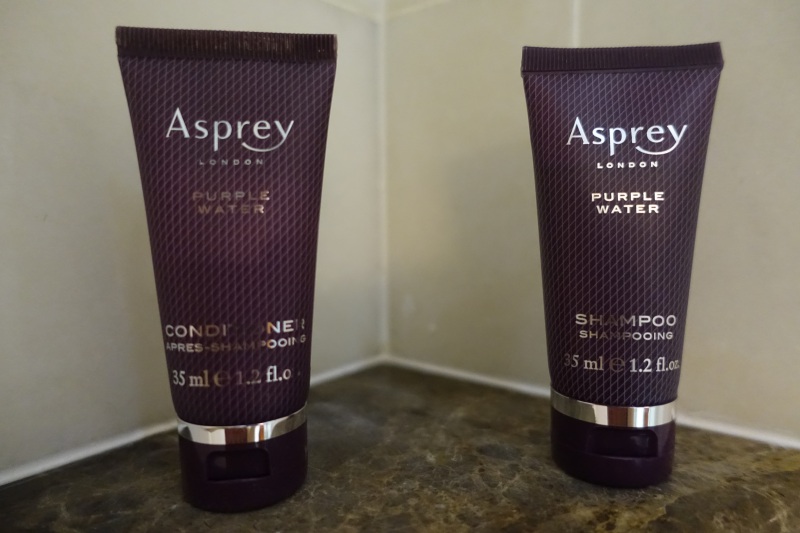 Bottled water was already in the room on our arrival, and there was also a Nespresso machine, although I ended up drinking all my coffee in the Club Lounge.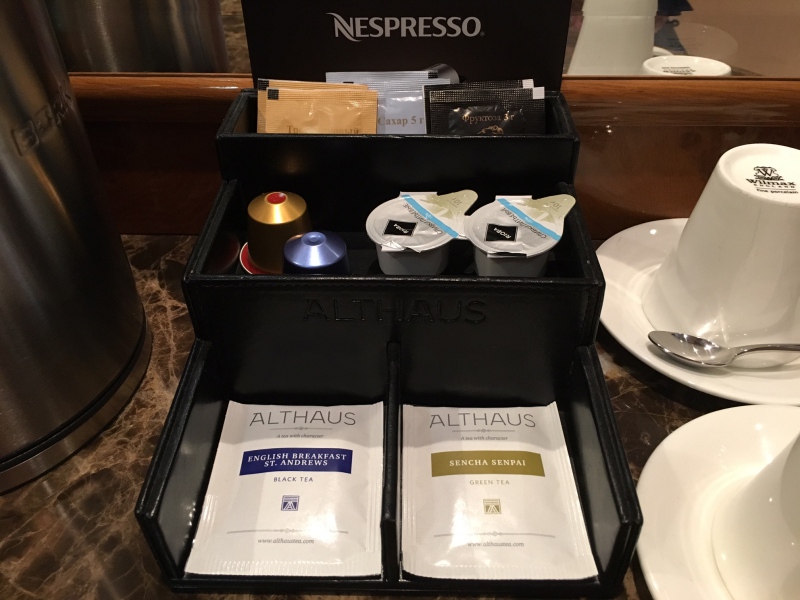 Ritz-Carlton Moscow Spa and Swimming Pool
The Spa is located below ground level, and you sign in at reception the first time you visit.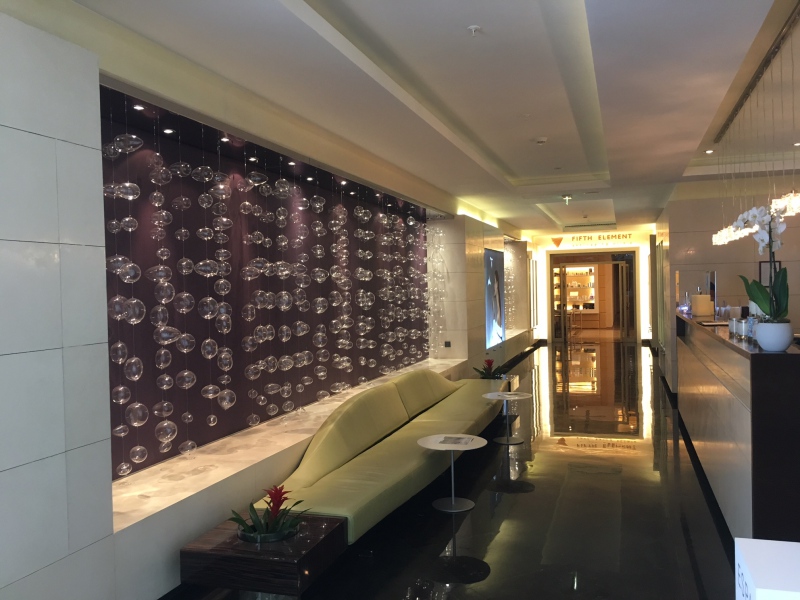 The swimming pool is a major plus, both for couples and families traveling with kids.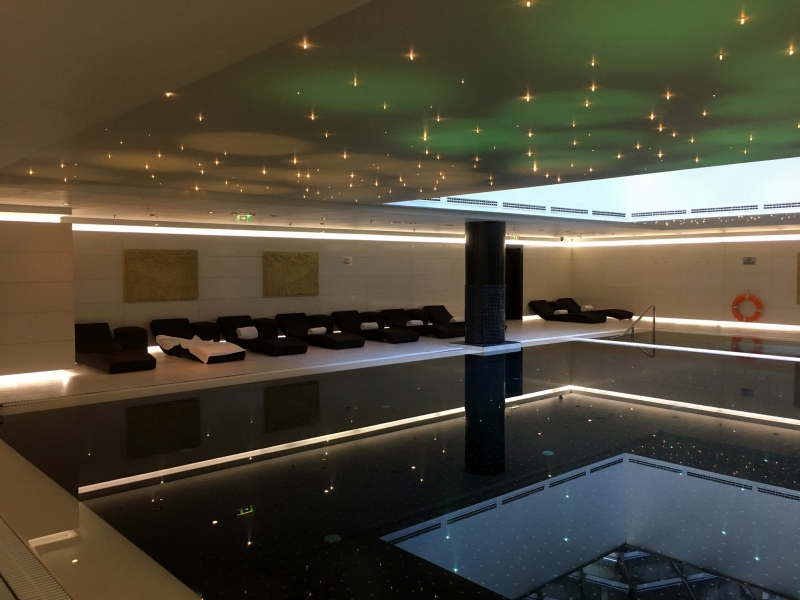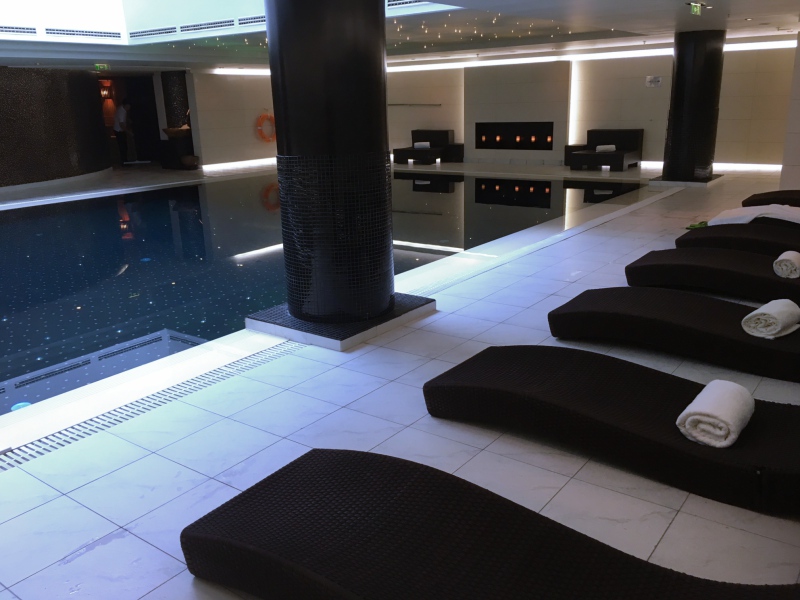 For both of our visits, we saw only 1-2 other guests, so it was a very tranquil environment. Keep in mind that Russia has some strict laws governing the temperature of jacuzzis, so for all hotel jacuzzis, expect them to be warm but not hot. If you want more heat, there's always the sauna, which can get very hot indeed.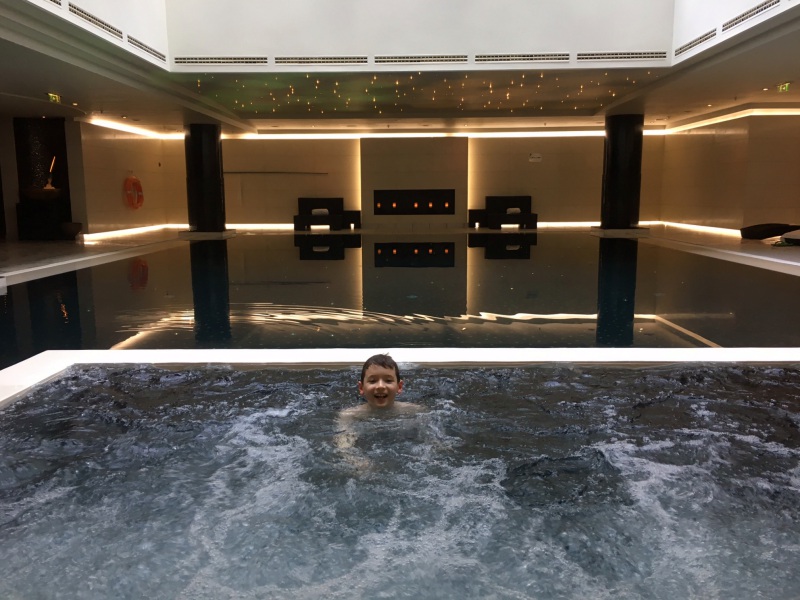 There's also an Experience Shower near the pool: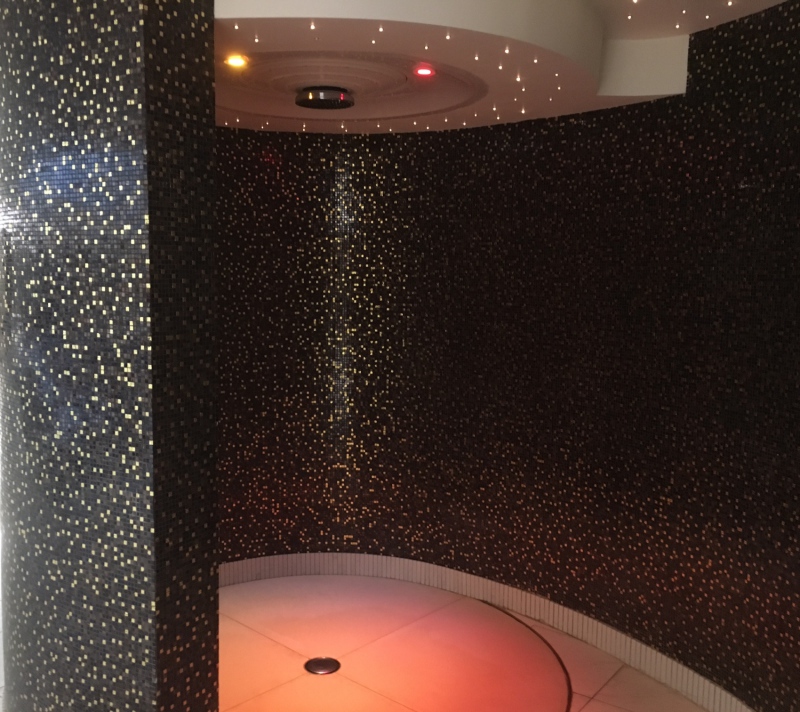 The Ritz-Carlton Moscow Club Lounge
The primary benefit to staying in a Club Room is access to the Club Lounge, with its culinary offerings throughout the day. I'll cover the Club Lounge food and drinks in a future post.
The Verdict
While not as new as the Four Seasons Moscow, where I do prefer the rooms for their more modern decor, I do really enjoy the Ritz-Carlton Moscow Club Level, particularly when working and/or traveling with my son. It makes dining so much easier to have a high quality buffet that you can select from at meal time, and fresh squeezed juice available anytime during the day. The views are beautiful, and service was superb as well. And while we've been to Moscow before and weren't sightseeing this time, the location is very convenient, both for Red Square and for taking the Moscow Metro (closest station: Okhotny Ryad, Line 1, which is also connected to Ploschad Revolyutsii, Line 3, and to Teatralnaya, Line 2, which goes to Paveletskaya, where you can take the Domodedovo Express train to the airport).
Recommended Posts
Disclosure: I paid a travel professional rate for our stay at The Ritz-Carlton Moscow. The views expressed in the post are mine.