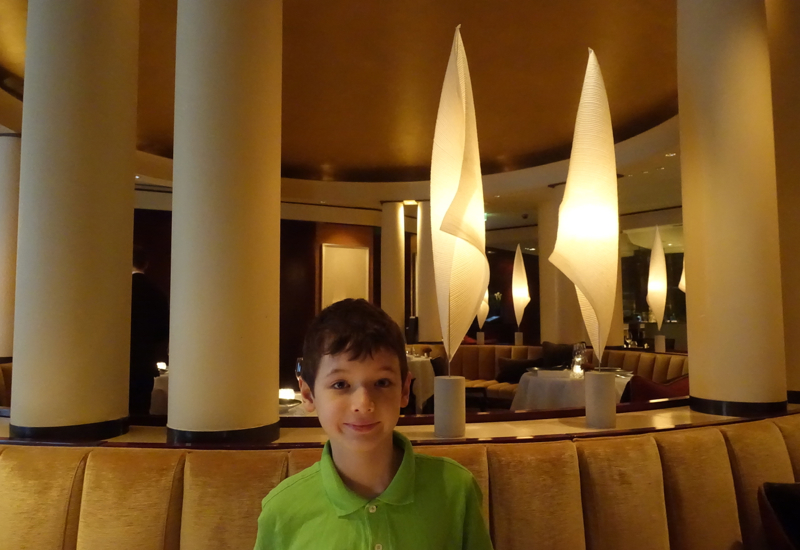 This Pur' Paris Restaurant Review at the Park Hyatt Paris is part of a trip report including luxury hotel stays and Michelin star dining in Paris and London.
For the previous posts, please see:
Review: Lufthansa First Class Lounge JFK Airport Terminal 1
Review: Lufthansa First Class 747-8 NYC to Frankfurt
Lufthansa First Class Terminal, Frankfurt: 6 Things I Love
Getting to Pur' Restaurant at The Park Hyatt Paris
Pur' Restaurant, headed by Chef Jean-Francois Rouquette (Taillevent, Le Crillon, Les Muses) is the fine dining restaurant of the Park Hyatt Paris, located at 5 Rue de la Paix, about a 5 minute walk from Paris Metro Station Opera (Metro lines 7 and 8 and RER A stop). The Park Hyatt Paris / Pur' is also an easy 8-10 minute walk from Madeleine (Metro lines 8, 12 and 14).
The Scene
Originally I figured we'd dine at the more casual Les Orchidees restaurant at The Park Hyatt Paris (in-house guests currently receive a 20% discount at dinner) but the restaurant was completely full for our 8pm dining time, so we decided to have dinner at Pur' instead, and were the very first guests since the restaurant opens at 8pm. Because of its 8pm opening time and fine dining nature, there were no families at Pur' the evening we dined, although there were many at Les Orchidees.
Still, we were graciously welcomed, even without a reservation, and seated at a comfortable banquette, which is distincitvely shaped in a central circle.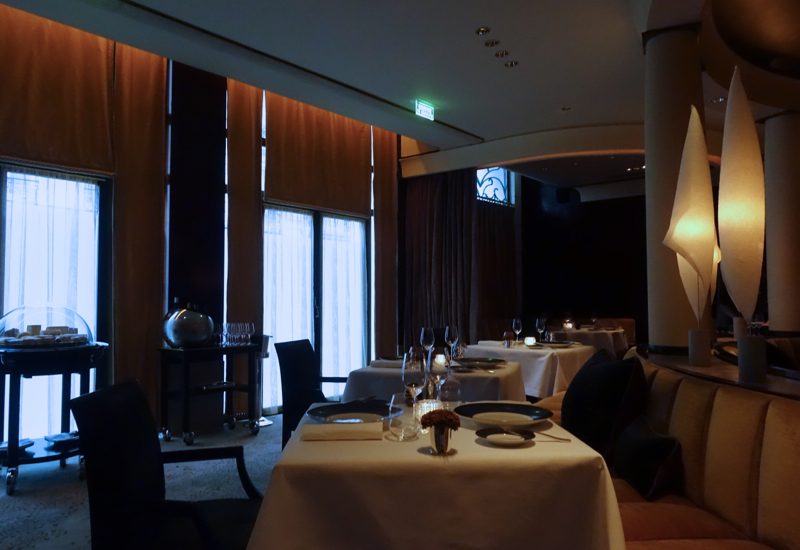 Pur' Restaurant Menu and Food
Pur is a 1 Michelin star restaurant, and its menu changes seasonally. At the time of our visit, there was a 6 course "As Time Goes By" tasting menu offered for EUR 135 per person, or EUR 195 with wine pairings, as well as an 8 course "Trip Diary" tasting menu for EUR 175, or EUR 255 with wine pairings. Here's the 6 course tasting menu: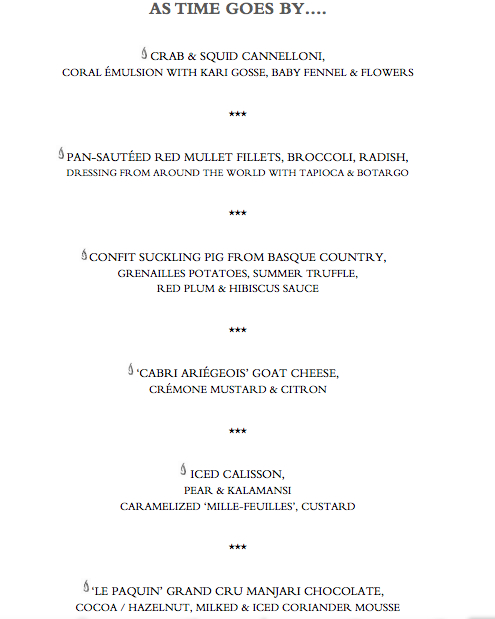 Since I wanted both my son and I to get to bed at a decent hour, we ordered from the a la carte menu. I ordered a main course from this menu: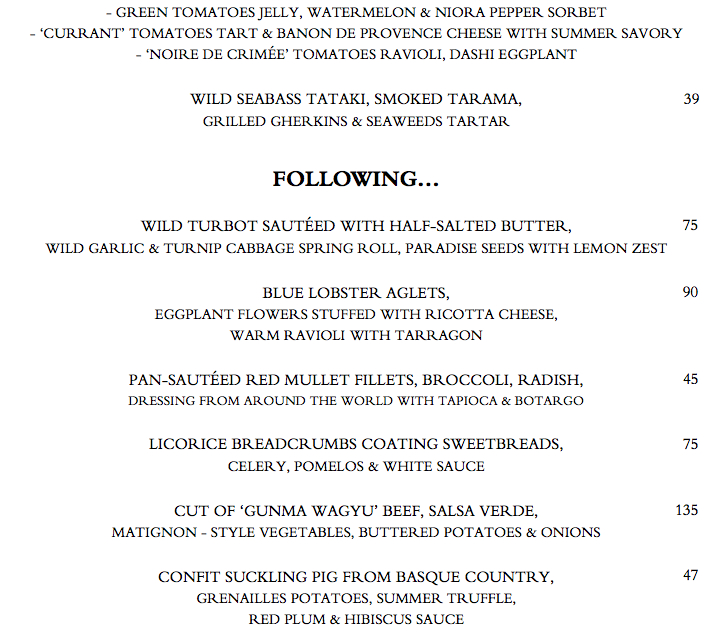 And my son ordered spaghetti from the Kids' Menu: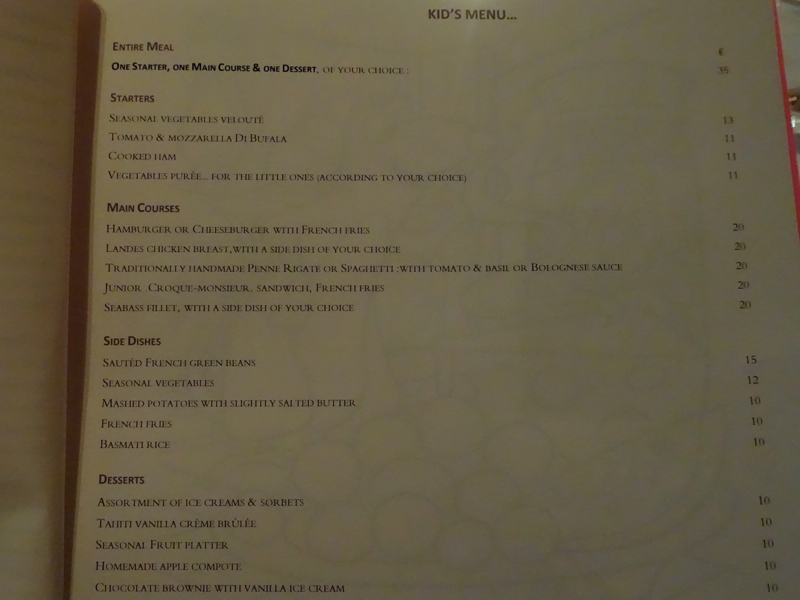 The bread was fresh but unremarkable for a Michelin star restaurant–I neglected to even get a photo of it. I would have expected a greater variety and more interesting bread for a Michelin star restaurant.
The amuse bouche was simple but very good: a crispy olive with goat cheese roulette and a layered avocado-mushroom skewer. It's a testatment to how good they were that my son, who dislikes both olives and mushrooms, happily ate both of his amuses bouches.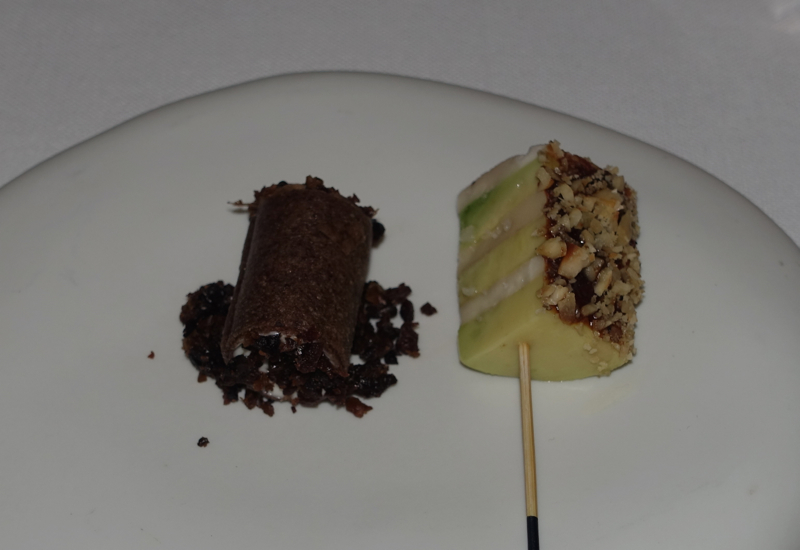 Although neither of us ordered an appetizer, the kitchen was kind enough to send out a complimentary seafood crudo appetizer enlivened with a dusting of French Espelette pepper. My son took a small bite but I ended up eating his portion.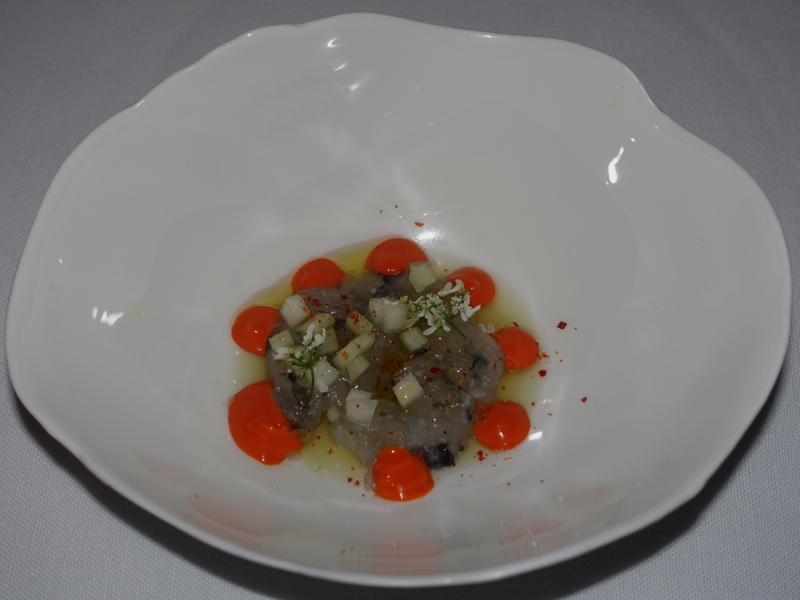 Since I enjoy suckling pork and had seen it featured on the 6 course tasting menu I ordered it as my main. It was very nearly perfect, with fantastic flavor (from the Basque country, where many pigs, such as those used for the famous Iberico pork, free range on acorns and grass) and luxuriously accented with fresh black summer truffles. My only criticism was that some of the skin was not very crispy, as it usually is and should be, but apart from that the dish was fantastic and just the right size portion.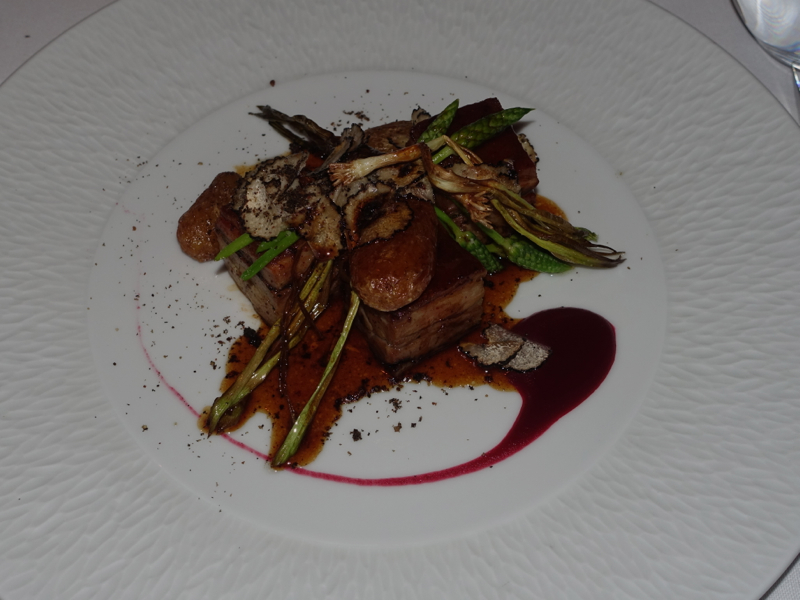 My son's spaghetti bolognese was a very generous portion–it would easily have fed a very hungry adult, and came with an additional pot of meat sauce plus freshly shaved parmesan. While there may not be many kids dining at Pur' parents should not worry about finding something their kids will eat or it being too small a portion.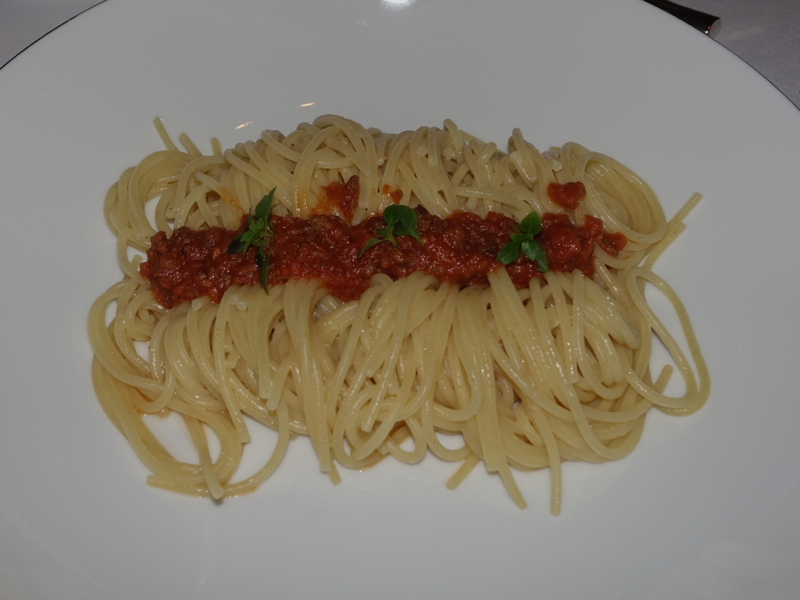 While I do have a sweet tooth, I also adore great cheese, and when I saw that Marie Quatrehomme was the affineur of the cheeses on Pur's cheese trolley, I made sure to save room for them. Whether you prefer cow's milk or sheep's milk, mild or strong flavored cheeses, you're in good hands here.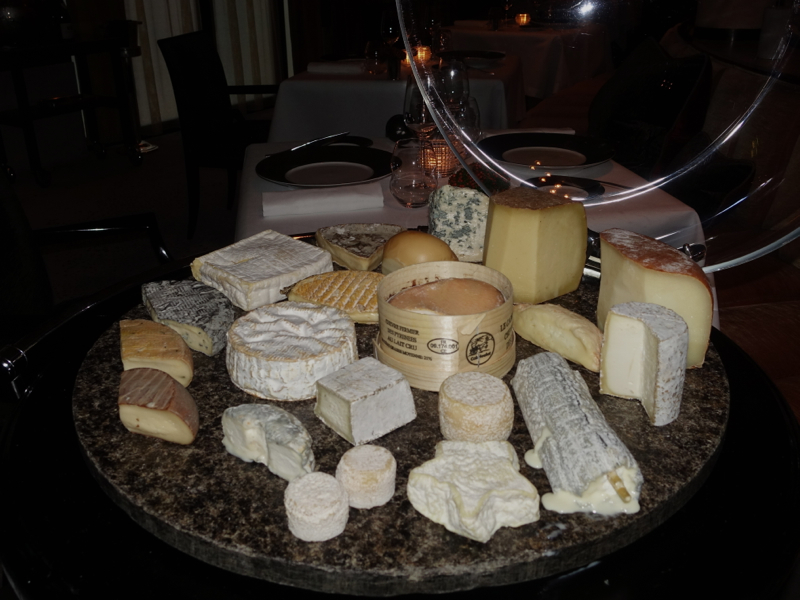 Our server generously did not charge extra for my son to have some cheeses from the cheese trolley, so my son's cheeses were on the milder side: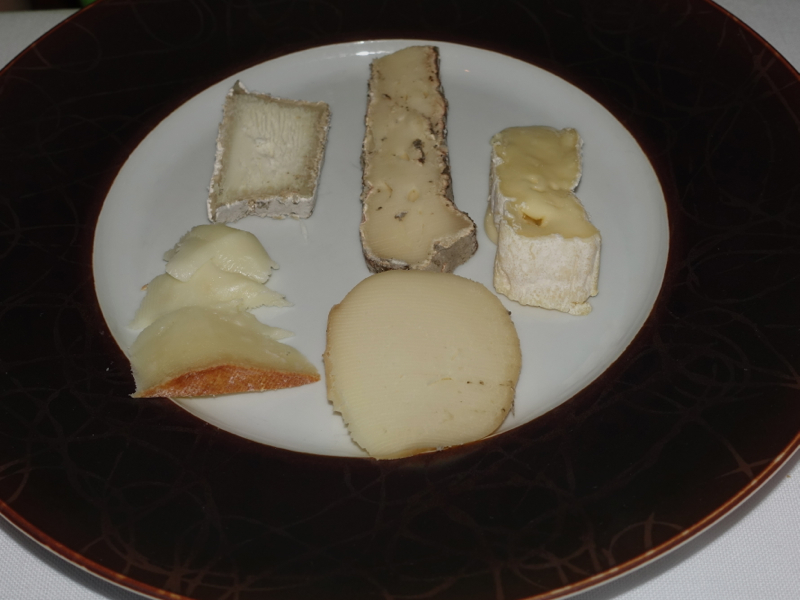 I enjoyed trying a variety of the stronger flavored cheeses, especially sheep's milk cheeses.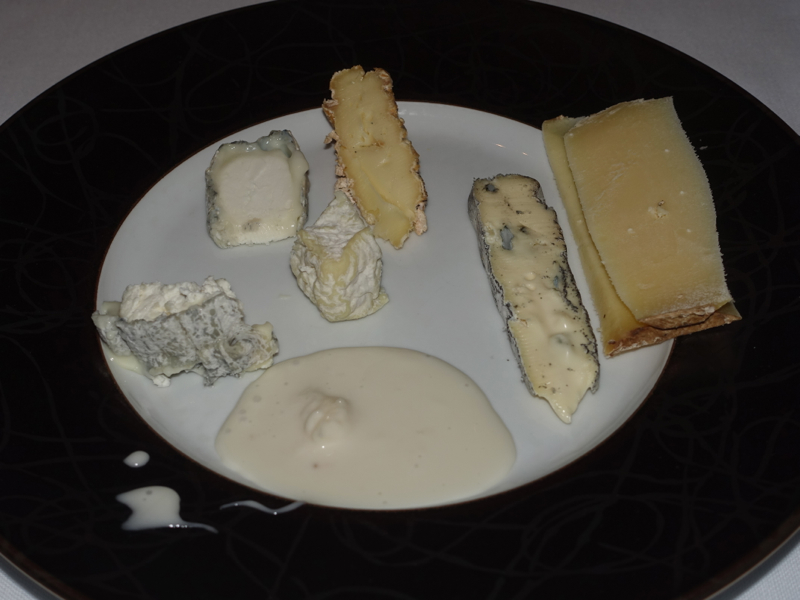 Originally I asked if we could perhaps take some mignardises with us to our room, but our server said that unfortunately it wasn't possible. When I saw how they were served I understood–they were quite fragile and probably already pre-plated. The raspberry one in the center was my favorite–very intense raspberry flavor–with the chocolate on the right my second favorite, followed by the gold specked chocolate truffles. I took a small bite of what I'm guessing was a coconut flavored sweet on the left, but decided it wasn't worth the calories.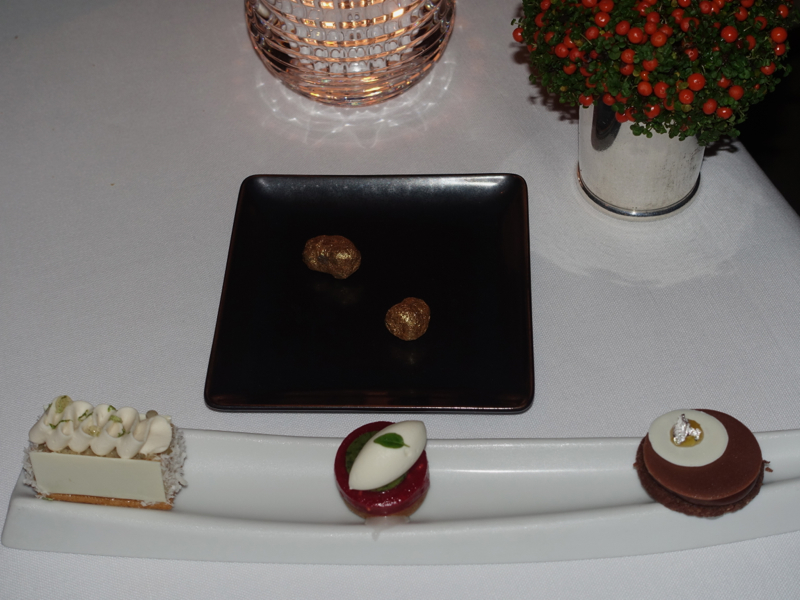 We were also each given a parting gift of chocolate covered shortbread like cookies with "Pur'" on them by the hostess, as we left the restaurant.
The Verdict
I was pleasantly impressed with Pur' as a 1 Michelin Star restaurant. I had no particular expectations, and was only staying at the Park Hyatt Paris Vendome as a quick overnight because I could do so on points during an otherwise busy and pricey time in Paris. Long-time readers may recall that I had quite a mixed / mediocre stay last time. But Pur' was very good and I thought very fairly priced, at least our a la carte selections. Service was excellent: polished but friendly, which to me is the hallmark of the best Michelin restaurants. I also appreciated the generousity of our server in not charging me for my son's cheese tasting, and bringing him the same amuse bouche, complimentary appetizer and mignardises. I would place Pur' among the best 1 Michelin star French restaurants I've dined at.
If you've dined at Pur' recently, what was your experience?
Related Posts
Le Cinq Restaurant Review, Four Seasons George V Paris
Park Hyatt Paris Breakfast Buffet Review
La Regalade Conservatoire Paris Restaurant Review
Epicure at Le Bristol Paris Restaurant Review
Disclosure: I paid for our meal at Pur' Restaurant.
Need Award Booking Help? Our fee is as low as $75 per ticket if you book your hotel through us.
If you enjoyed this, join 200,000+ readers: please follow TravelSort on Twitter or like us on Facebook to be alerted to new posts.
Become a TravelSort Client and Book Your Hotel with Virtuoso or Four Seasons Preferred Partner Amenities!