This Private Tours of Pompeii Review and Photos post is part of a trip report featuring Singapore Suites, Air Berlin Business Class, and luxury hotel stays, dining and activities in Berlin and Italy.
For the prior posts, please see:
Review: Air Berlin Business Class A330 JFK to Berlin
One of Europe's Best Hidden Secrets: Guess the Place
Review: Virgin Atlantic Clubhouse, New York JFK Airport
Review: Singapore Suites A380 New York JFK to Frankfurt with a Kid
Katz Orange Berlin Restaurant Review
Marzapane Rome Restaurant Review
Emma Pizzeria Rome Review: Great Pizza in Rome
Getting to Pompeii
The Pompeii ruins were a site we didn't want to miss while briefly in the Amalfi Coast area. And since it's only about a 30 minute drive from the Naples train station (Napoli Centrale) where we arrive from Rome via Frecciarossa (Italy's high speed train), we decided to visit it en route to our Amalfi Coast hotel.
While it's possible to take the local commuter train, the Circumvesuviana train, from Naples train station, we ultimately decided against this due to the hot summer weather and the periodic problems with theft on this train. Instead, we opted to pay more to have our driver pick us up at Naples train station and wait for us while we visited Pompeii–much more comfortable and less stressful.
Private Tours of Pompeii Options and Cost
We knew we wanted a private guide rather than a large group tour for our visit, and chose Private Tours of Pompeii, telling them that we had with us a 7 year old. Private Tours of Pompeii offers half and full day private tours of Pompeii and Herculaneum, as well as a full day 6 hour tours that include a visit to either Pompeii or Herculaneum, followed by a visit to a local winemaker, lunch, and a visit to Vesuvius National Park.
Since we just wanted to see Pompeii before getting to our hotel, we opted for the 2.5 hour half day tour of Pompeii, which was quoted to us at EUR 135 for the three of us. This is just for the guide, and does not include the EUR 11 per person entrance fee, for adults (everyone under the age of 18 is free, with official documentation of age).
Email communication with Private Tours of Pompeii was always prompt, and we were promised a guide who would be good with kids; her name was Loretta.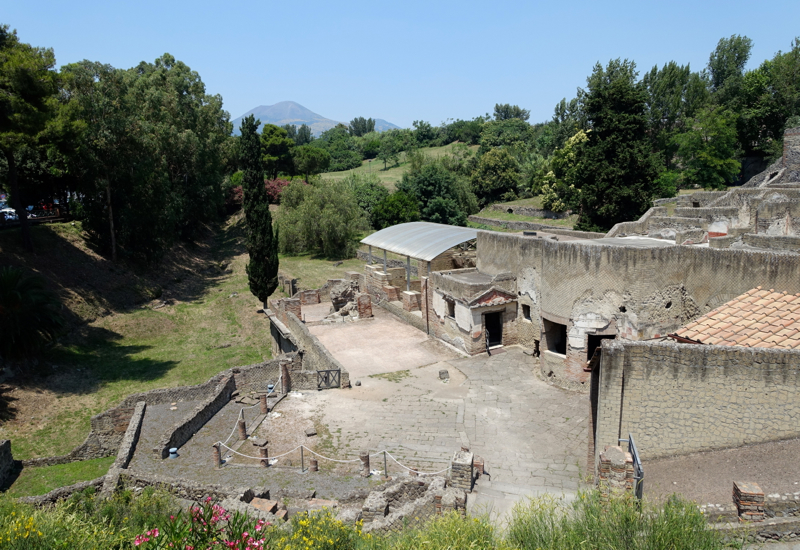 Preparing for Your Visit to Pompeii
Note that there are 3 entrances to Pompeii, so be sure you know where you'll be meeting your guide. Also be aware that for both Pompeii and Herculaneum, you are not allowed to bring in suitcases, handbags, backpacks or anything else that is larger than 30x30x15 cm. Instead, there is a free, guarded locker room where you can check these items.
Pompeii's cobblestone streets are uneven, so I do not recommend the site for anyone who is in a wheelchair or stroller or has mobility challenges. Our 7 year old was fine, but even he was flagging towards the end of our visit, so a 2.5 hour visit in the summer heat is around the maximum I would recommend for kids about his age.
Also note that the Pompeii site is enormous and has limited shade, so I highly recommend:
Cool, breathable clothing
A sun hat and plenty of sunscreen
Buying a bottle of cold water before you enter, to bring with you
Using the bathroom before you enter, due to the limited facilities once you've entered the archeological site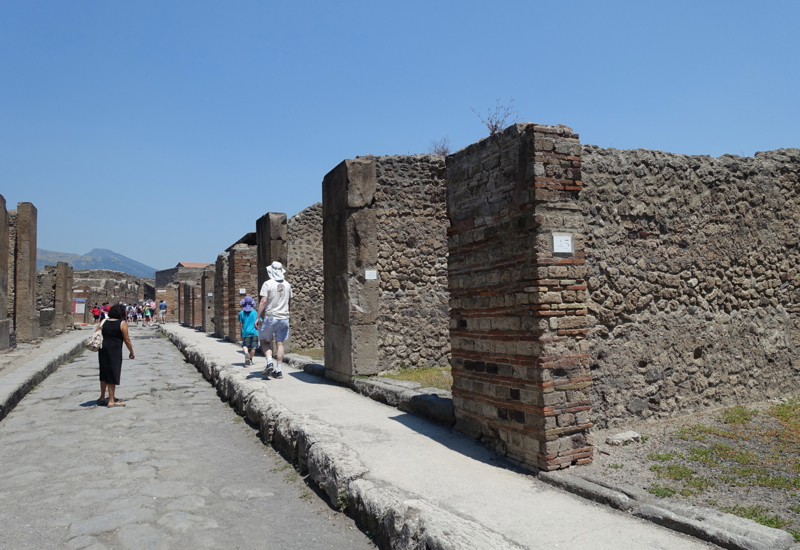 Highlights of Our Visit to Pompeii
Pompeii, as well as nearby Herculaneum, were buried by ash and volcanic pebbles (lapilli) in AD 79 by Mount Vesuvius' catastrophic eruption. While August 24 is widely given as the date, the more likely time period was in late September or early October, according to Herculaneum expert Professor Andrew Wallace-Hadrill, who notes that ripe pomegranates were discovered near a villa also buried by the eruption. Pomegranates in this part of Italy tend to ripen in late September to early October.
One question we had was why, given the earlier earthquakes, the inhabitants of Pompeii didn't abandon the city earlier. According to our guide, there had been a number of earthquakes (including a major one in 62 or 63 AD that caused significant damage to both towns). But earthquakes were not well understood at the time, and were not connected to a potential future eruption of Mount Vesuvius, which was perceived as just that–a mountain, and not an active volcano that could erupt.
Then, once the eruption actually began that fateful day in late September or October in 79 AD, the pumice stones rained down on Pompeii for 18-20 hours, hindering the escape of inhabitants, and ultimately resulting in the collapse of many roofs of those who stayed behind. Those not killed by the volcanic rocks and collapsing roofs died later, from a subsequent volcanic surge, from the heat, which rose to 570 degrees Fahrenheit or more.
Here were the highlights of our visit:
1. Amphitheater
There's something about a near intact Roman Amphitheater that impresses me every time, especially one with great acoustics such as this one at Pompeii. In fact, there are still sometimes concerts and performances held here.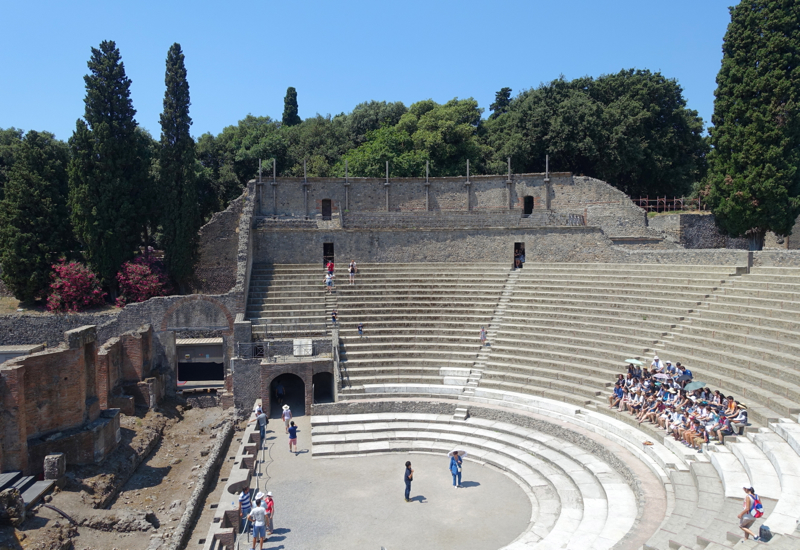 2. Forum with View of Mount Vesuvius in the Background
The Forum was each town's main gathering place, always bustling with activity and surrounded by shops. Mount Vesuvius is visible in the background, a haunting reminder of the impermanence of Pompeii and human settlements in general, in the context of volcanoes and other natural disasters.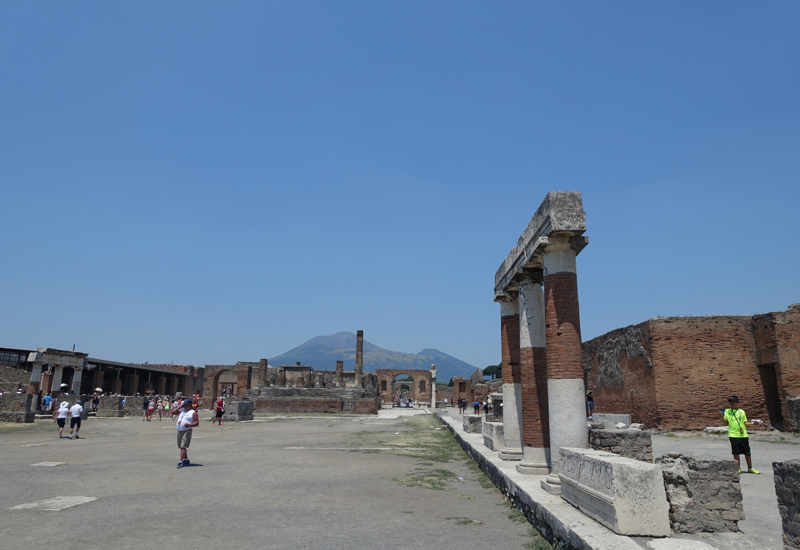 3. Poignant Casts of Bodies
Excavators of Pompeii discovered that the hardened ash around the bodies of victims made it possible to make plaster casts of those who died at Pompeii. Most experts now believe that the poignant poses of the victims are not from their asphyxiation from poisonous volcanic gases, but rather from the extreme heat from one of the last volcanic surges, which caused sudden muscle contractions.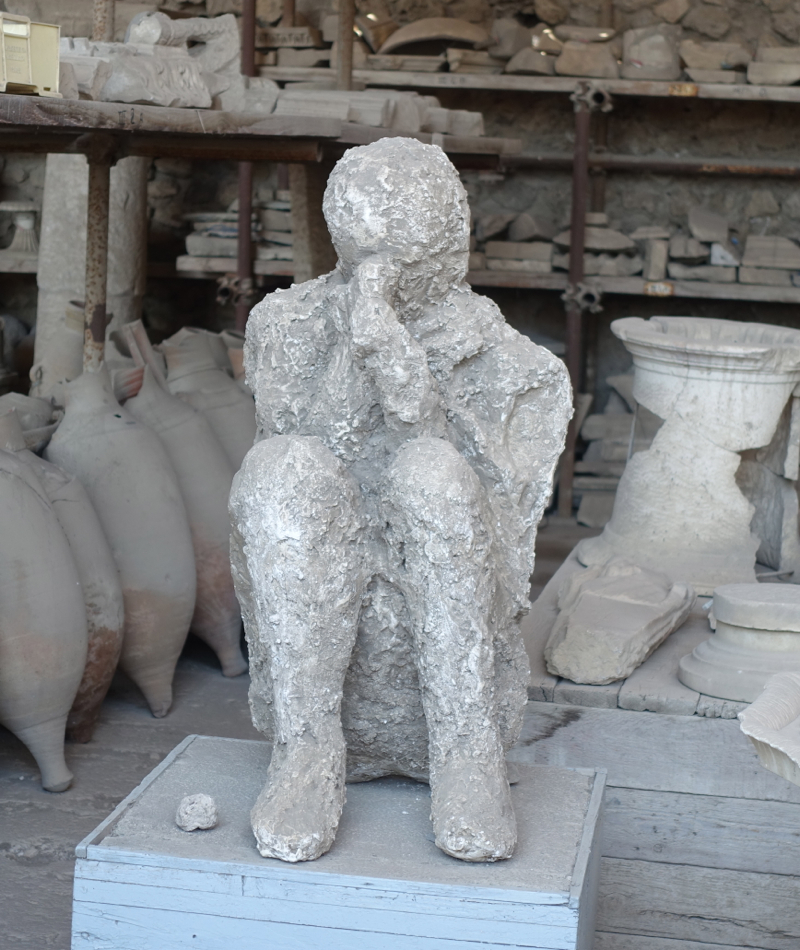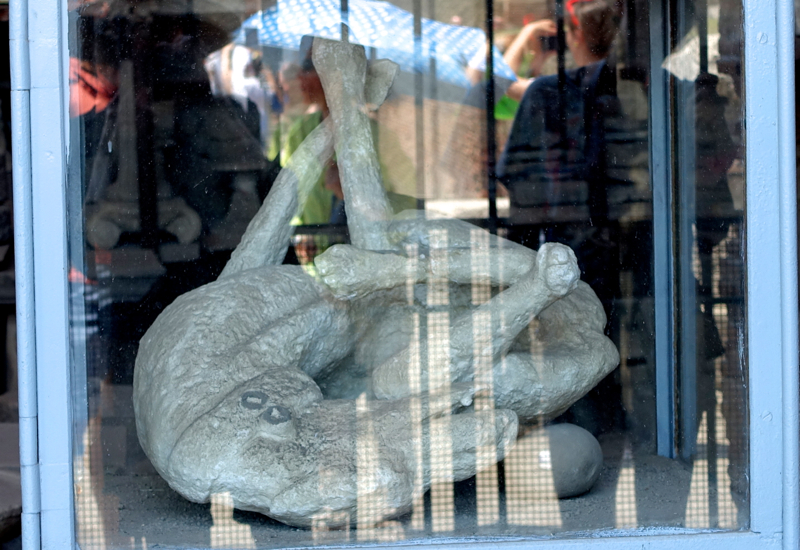 4. Roman Baths
As in all Roman towns, Pompeii had several thermal baths; some wealthy citizens even had their own bath, toilet facilities and running water. There were separate baths for men and women, and some of the ornate ceiling decoration survives, along with "cubby holes" for personal belongings.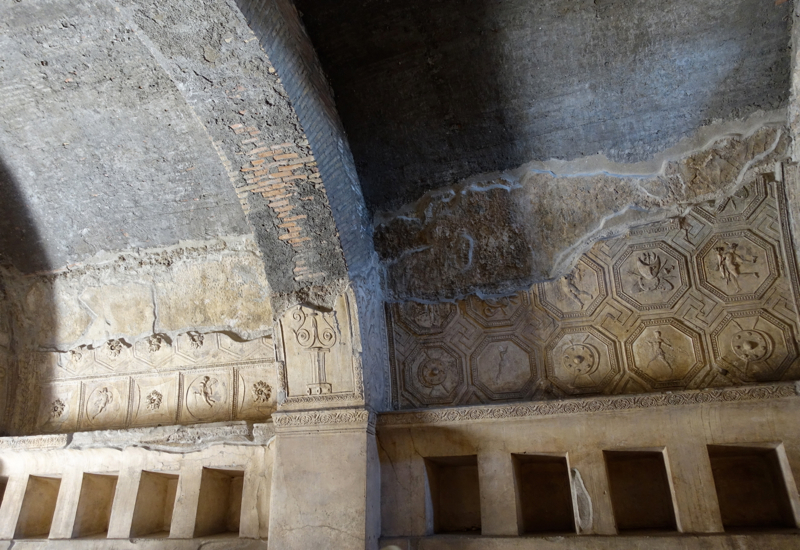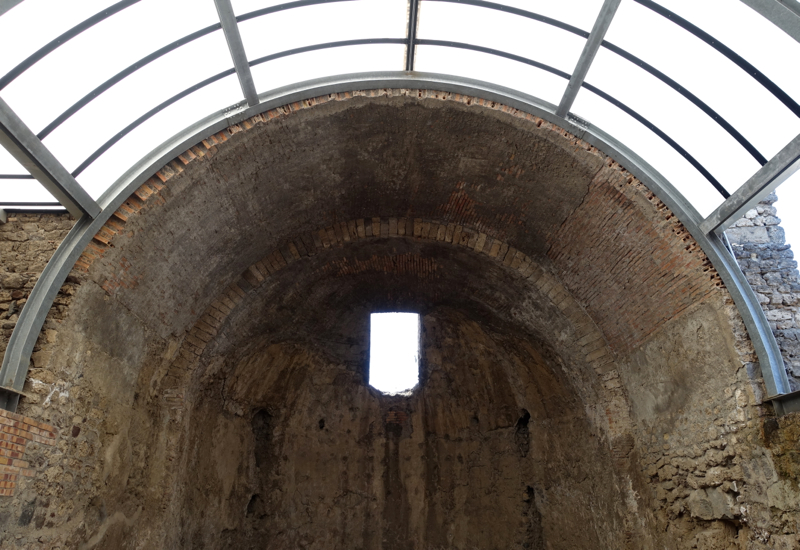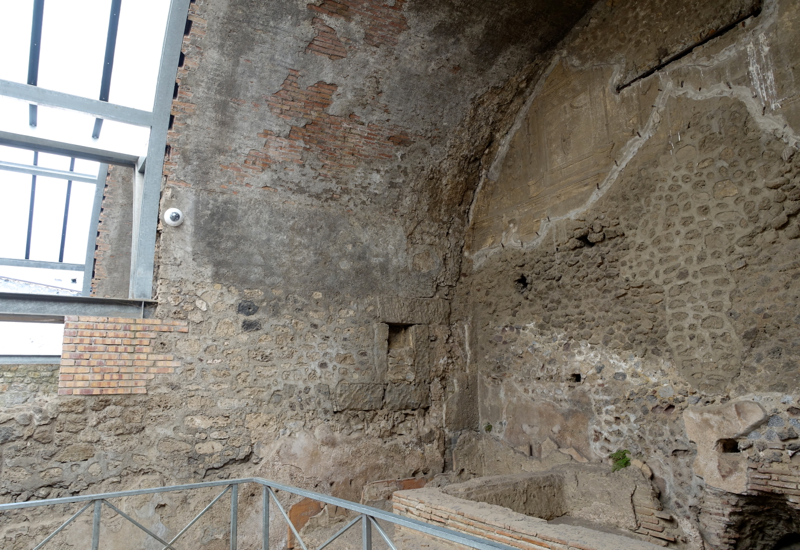 5. Water Fountains and Stepping Stones
Many of Pompeii's fountains still exist, and while new faucets have been added, the basins are the original ones, and they're useful for cooling off on a hot day.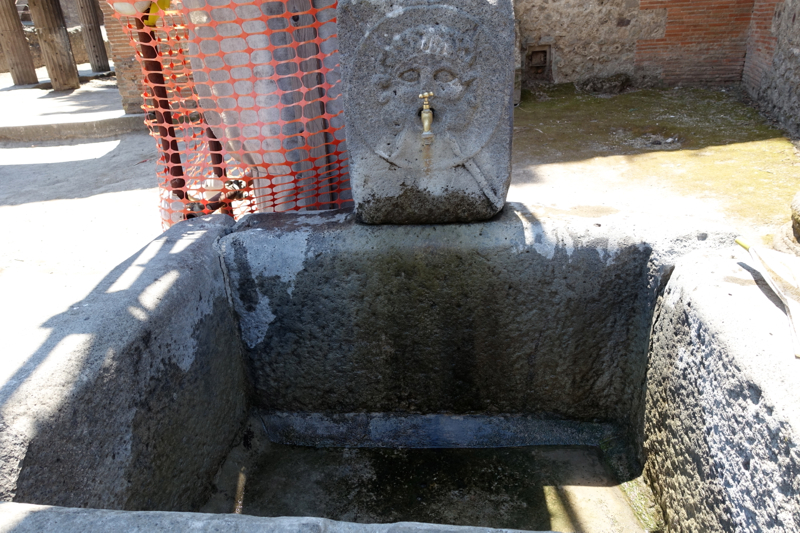 Another aspect our guide pointed out to us were these stepping stones, since Pompeii, unlike Rome or larger cities in the empire, had a good water delivery system but not a developed sewer or waste water system. Instead, overflow from the public fountains was used to wash waste into the gutters, so the streets would have had all kinds of filth on them. These stepping stones served as a means for crossing the street without having to step in the muck.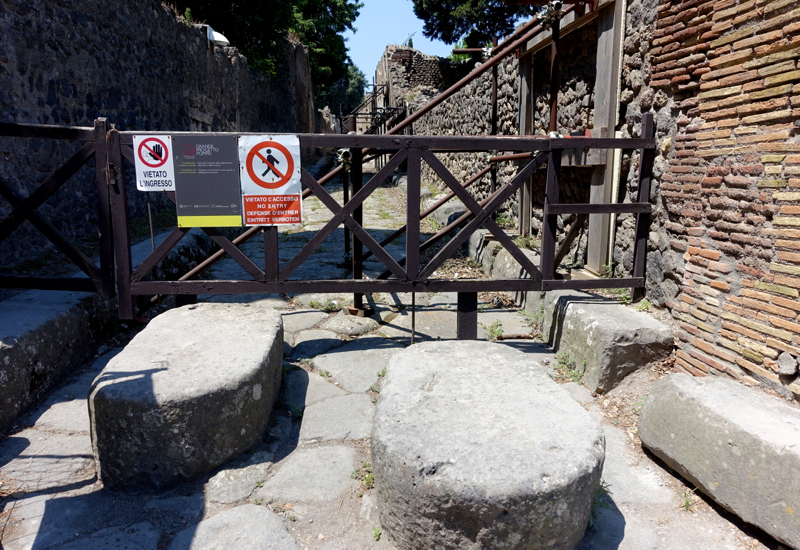 6. Gladiators' Gym
One of the first things we saw at Pompeii, which at first looked like a mini-Forum, is this Gladiators' Gym, where the gladiators practiced and worked out.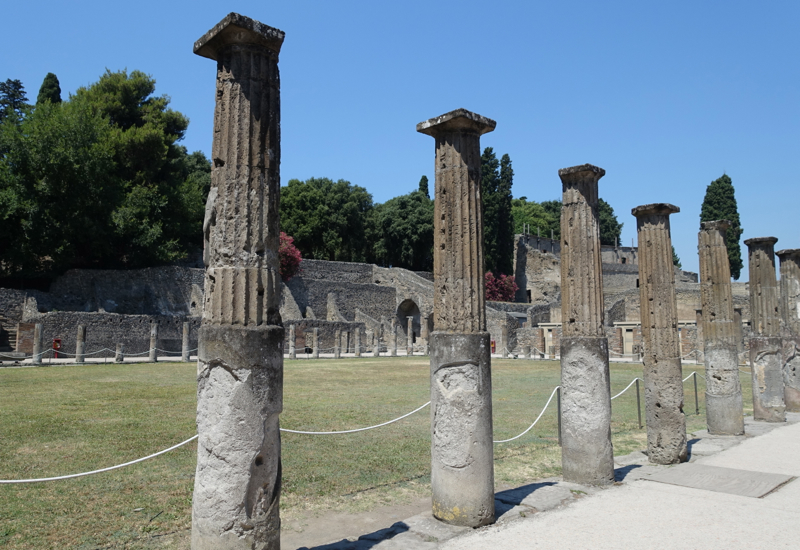 7. Brothel with Surviving Frescos
Both Pompeii and Herculaneum were port cities prior to the Mount Vesuvius eruption, and as you might expect, the constant stream of sailors and itinerant men meant that both cities were well serviced by the world's earliest profession. This obviously is a place we rushed our son through without an explanation. But frescos still survive here, and were a depiction of the services that could be procured.
That said, we learned from our guide that the phallus was not always an indicator of a brothel; it was also used and sometimes worn as a good luck charm, to invite good fortune and prosperity.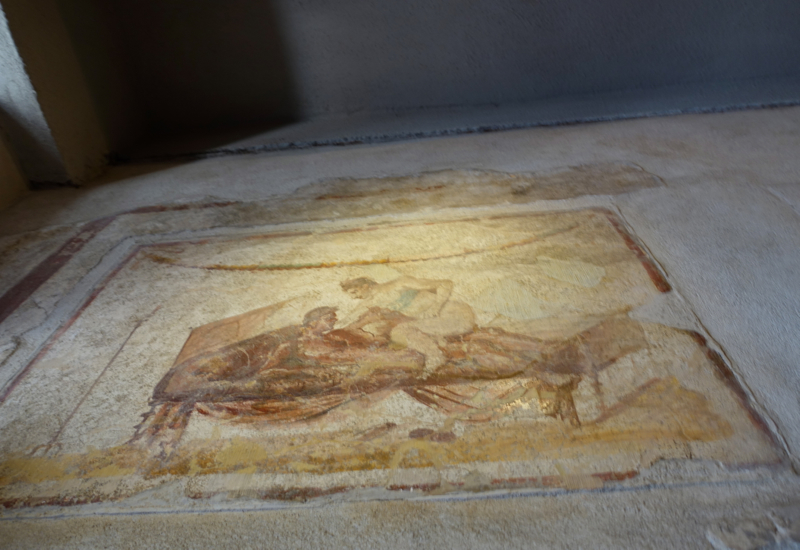 8. Courthouse
The courthouse served an important function in Roman towns, resolving everything from commercial to highly personal disputes. And while there was a great distinction between slaves and free citizens, social mobility was possible–some slaves earned or were granted their freedom by their masters, and once free, had the right to vote (although were not allowed to hold public office), and their children had the full rights of citizenship, including the ability to hold public office.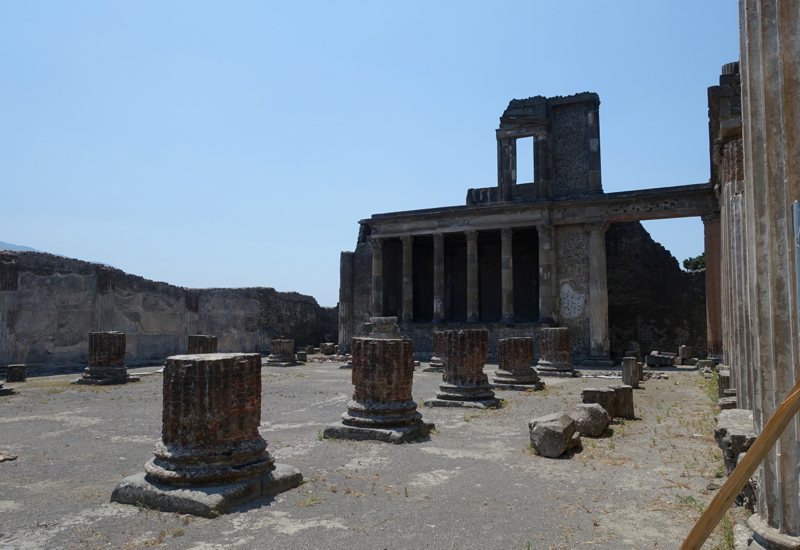 The Verdict: We had a good private tour of Pompeii with Loretta, who, having kids of her own, was quite good at engaging our 7 year old. There's no getting around the fact that the summer heat is pretty brutal, however, so we took advantage of the shade whenever we could, drank plenty of water, and were glad we brought along a banana to feed our son towards the end, when his energy really dissipated. I will say that I was more engaged by the Youtube video of Professor Andrew Wallace-Hadrill on Herculaneum, but it's not fair to compare even a professional guide to such an archaelogical expert. I highly recommend trying to visit both sites, since Pompeii provides a sense of the scale of a larger city (about 20,000 or so inhabitants at the time of the eruption) while Herculaneum is smaller, but better preserved in terms of some of the frescoes, and even carbonized wood.
If you've visited Pompeii, what was your experience?
Related Posts
Herculaneum Photo Tour: Better Preserved Than Pompeii
Alitalia Award Availability on Delta: 100K Skymiles to Italy
Best Milan 5-Star Luxury Hotels
Disclosure: We paid for our own tour with Private Tours of Pompeii
Need Award Booking Help? Our fee is as low as $75 per ticket if you book your hotel through us.
If you enjoyed this, join 200,000+ readers: please follow TravelSort on Twitter or like us on Facebook to be alerted to new posts.
Become a TravelSort Client and Book 5-star hotels with Virtuoso Perks and Four Seasons Preferred Partner Benefits