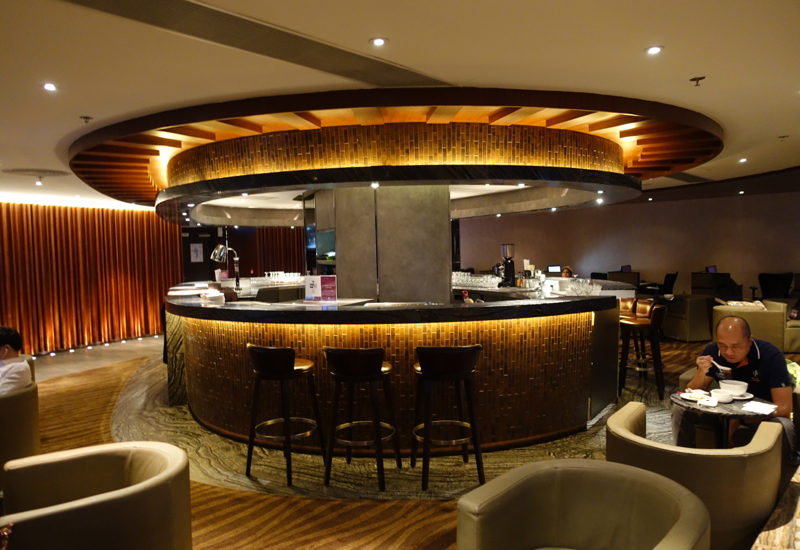 This Plaza Premium Lounge Hong Kong review is part of a round the world trip report including first class and business class flights, luxury hotel stays in London and Asia, and restaurant reviews.
For the prior posts, please see:
Review: British Airways Concorde Room Lounge NYC JFK Terminal 7
Review: British Airways Business Class on the 747-400 JFK-LHR
Best Seats in British Airways New First Class 747-400
Review: British Airways Arrivals Lounge in LHR and Heathrow Express to London
Launceston Place London Restaurant Review
London Tips: British Museum with Kids
Review: Rivea at Bulgari London Hotel
Review: British Airways First Class Lounge London Heathrow Terminal 3
Qantas First Class A380 Review London to Dubai
Review: Atmosphere Lounge at the Burj Khalifa Dubai
Armani Hotel Dubai Photos and Virtuoso Client Review
Dubai Fountain by Burj Khalifa Photos and Video
Review: British Airways Galleries Lounge in Dubai (DXB)
Cathay Pacific Business Class Review A330-300
Review: Lung King Heen at Four Seasons Hong Kong
Review: The Upper House Hong Kong
Review: Cafe Gray Deluxe at The Upper House
Plaza Premium Lounge Hong Kong Locations
There are several Plaza Premium Lounge locations in Hong Kong Airport, and some are better than others. In particular, the new Plaza Premium Lounge West Hall in Terminal 1 near Gate 40 is the newest and the flagship lounge, so if it's convenient for your purposes, I'd recommend you go there.
There's also Plaza Premium Lounge East Hall in Terminal 1 near Gate 1, which we visited briefly before a short Cathay Pacific flight in the morning, mainly because I needed WiFi and lounge access was free with my Ink Plus (note that with the card, you can request a Lounge Club card that gives you 2 free visits; after that you pay ~$27 per visit).
Finally, there's the Plaza Premium Lounge in the Arrival Hall, on Level 3 of Terminal 2, which could be an option if you don't have access to Cathay Pacific's Arrival Lounge.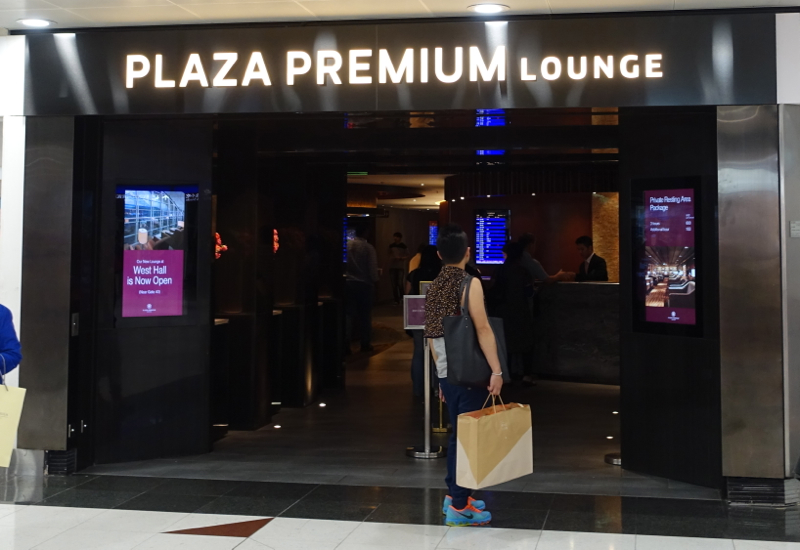 Plaza Premium Lounge Hong Kong Amenities
The usual airport lounge amenities are available: seating, WiFi, food, drinks, newspapers and magazines. There are also showers and private sleeping rooms available for additional fees. Unlike Cathay Pacific's business class and first class lounges, where access includes shower rooms (and relaxation rooms in the case of first class), based on availability, Plaza Premium Lounge shower rooms and nap rooms are for a fee; they are not included with regular lounge access.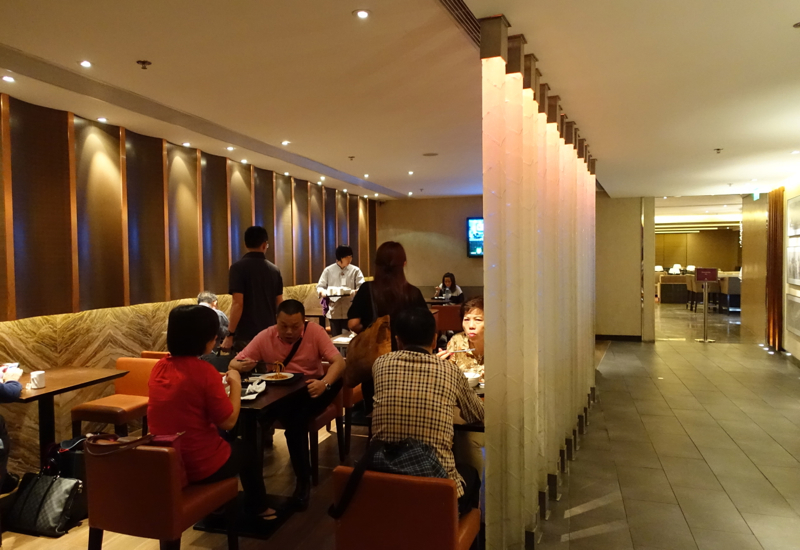 Plaza Premium Lounge Food
Since we had just enjoyed an amazing in-room breakfast at The Upper House, courtesy of Cafe Gray, we weren't tempted by any of the breakfast food offerings at the Plaza Premium Lounge East Hall. In true Asian fashion, however, there were noodle soups made to order, with a variety of garnishes: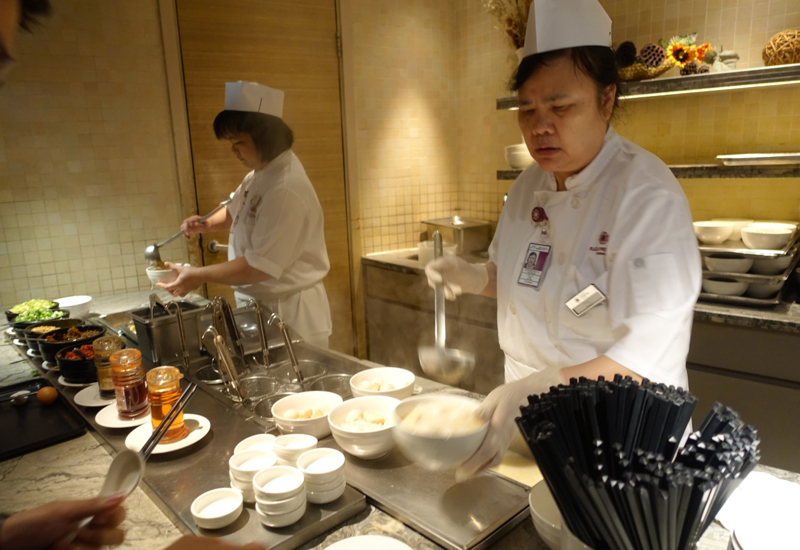 There were also fairly basic Western offerings, such as juice, cereal and toast.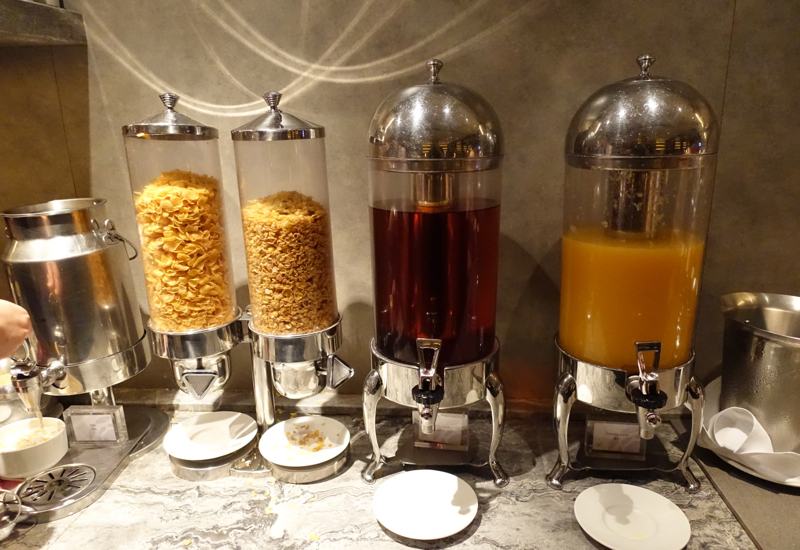 Plaza Premium Lounge West Hall Sleeping Room
On our way back through Hong Kong, we had a very late night flight, so I knew I'd need a place for the munchkin at least to sleep for a few hours. Plaza Premium Lounge West Hall has sleeping rooms, although to my surprise they're not actually located in the Plaza Premium Lounge West Hall main lounge itself. Instead, they're about a 5 minute walk away, in a separate location. Here's the entrance: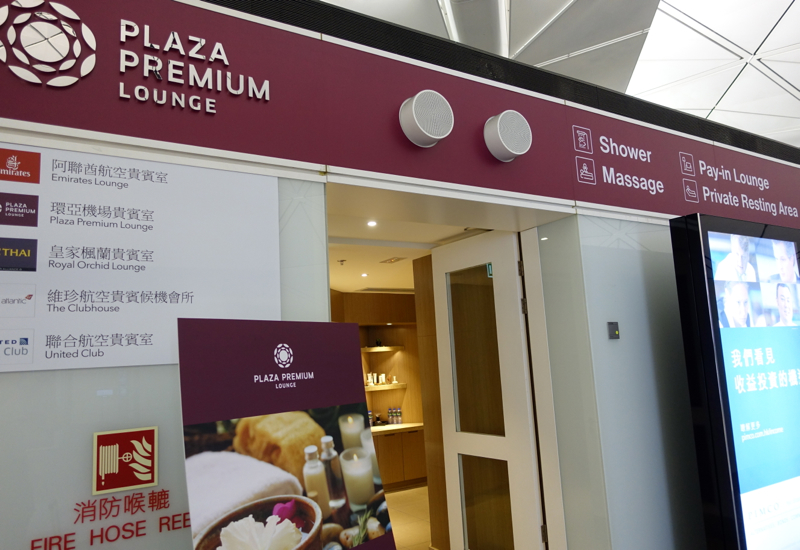 The sleeping room we were shown to had 2 single beds. They were quite firm, but we both managed to sleep for a couple hours, and my son slept so soundly it was hard to wake him.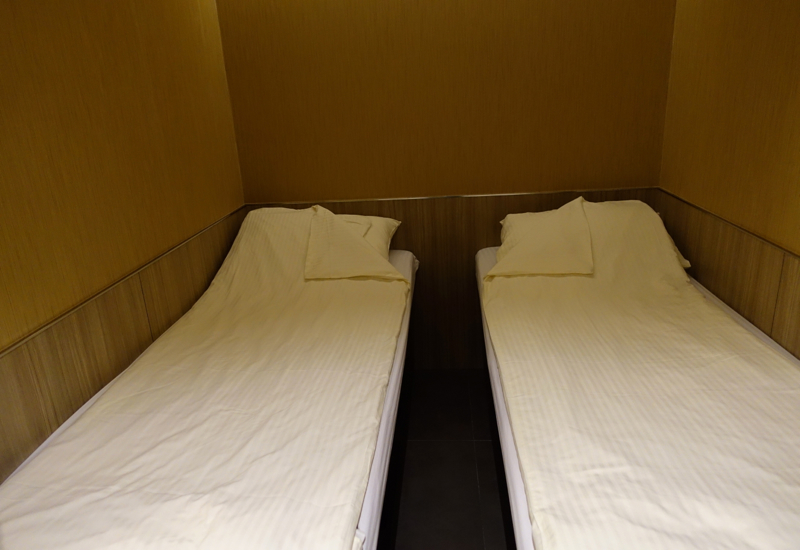 There was also an ensuite bathroom, with a large walk-in shower: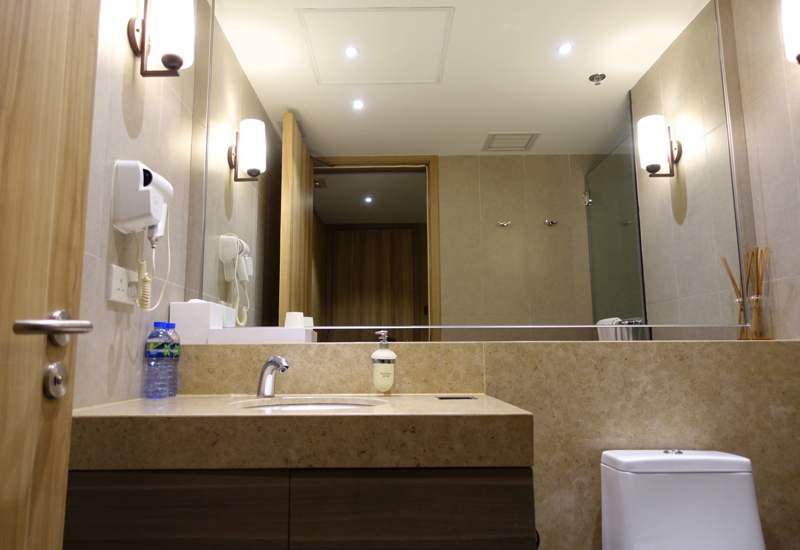 Toiletries were basic, consisting of shower caps, bottled water, and toothbrush/toothpaste kits, but this covered the essentials.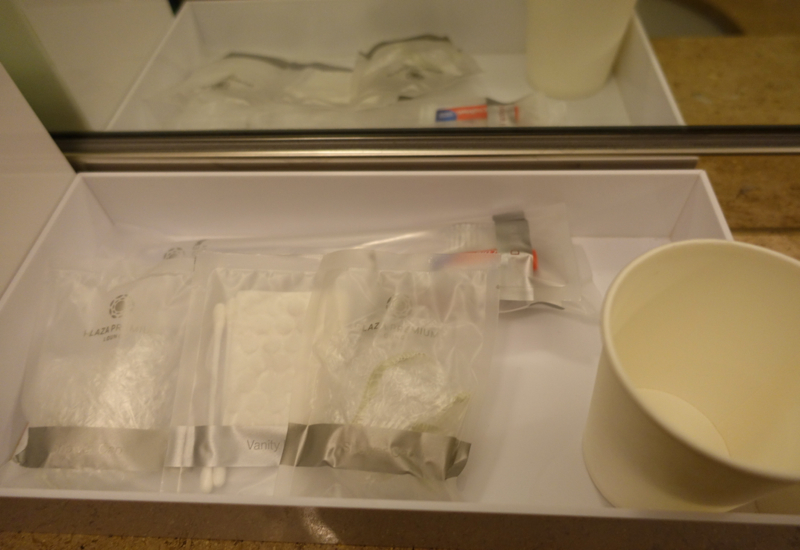 Although there was a bit of noise from people coming and going, it was mostly quiet and completely dark, so we both ended up sleeping quite well for a couple hours, which was just what we needed before our after midnight flight. There's the option of a wake-up call, but we used our own alarm.
The Verdict
While regulars of Cathay Pacific's very good Hong Kong Airport lounges, such as The Wing, will be disappointed by The Plaza Premium Lounge food offerings as well as how crowded the lounges often are, a key benefit is that it's possible to book sleeping rooms, whereas even Cathay's First Class lounge doesn't have dedicated sleeping rooms. You'll pay extra for these, but that can be well worth it depending on how badly you need to sleep in Hong Kong Airport.
If you've used any of the Plaza Premium Lounges in Hong Kong Airport, what was your experience?
Related Posts
Sleeping at Hong Kong Airport: Which Lounges?
Male: Plaza Premium Lounge Review
Needed: More Airport Day Rooms / Sleeping Rooms
Need Award Booking Help? Our fee is as low as $75 per ticket if you book your hotel through us.
If you enjoyed this, join 150,000+ readers: please follow TravelSort on Twitter or like us on Facebook to be alerted to new posts.
Become a TravelSort Client and Book 5-Star Hotels with Virtuoso or Four Seasons Preferred Partner Amenities!