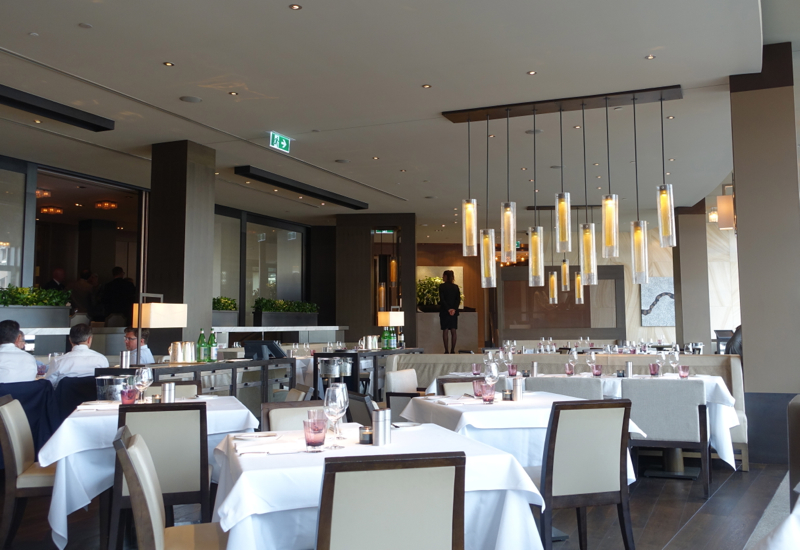 This Park Hyatt Sydney The Dining Room Restaurant Review is from our recent trip to Sydney, Australia. For the prior Australia-related posts, including Etihad First Apartment to Sydney and Qantas First Class to Melbourne, please see:
Review: Qantas First Class A380 London to Dubai
Review: Emirates First Class Lounge Dubai DXB
Review: Qantas First Class A380 Dubai to Melbourne, Australia
Review: Etihad Business Class Lounge Abu Dhabi
Review: Etihad A380 First Class Apartment Abu Dhabi to Sydney
Review: Qantas International Business Class Lounge, Melbourne MEL
Review: Shangri-La Sydney and Horizon Club
Review: Park Hyatt Sydney Opera Deluxe Room
Social Brew Cafe Sydney Review
Review: Featherdale Wildlife Park Near Sydney, Australia
Review: Palm Beach and The Boathouse Palm Beach
The Dining Room at The Park Hyatt Sydney Location and Hours
The Dining Room is The Park Hyatt Sydney's flagship restaurant, located at 7 Hickson Road in The Rocks area of Sydney, right by Circular Quay and with a view of Sydney Opera House from the coveted window tables.
Breakfast is served daily from 6:30am – 10:30am, lunch from 12 noon to 2:30pm (until 3pm on Saturday and Sunday) and dinner is served 6pm – 10pm nightly.
The Scene
When we arrived for an early weekday dinner The Dining Room was empty, save for two tables, one a business dinner, and another couple, also seated at a window table. But as the evening progressed, a number of other tables were seated, primarily couples on the night we dined, although we did see one other family.
At breakfast the following day, there appeared to be mainly in-house guests, as you'd expect–a mixture of couples, business people and families.
The Dining Room Dinner Menu and Food
We were greeted and shown promptly to a table by the window, which we'd requested, as we were celebrating a birthday. Our server, who was clearly German from his slight accent, soon introduced himself, provided menus. As we'd had a big day of sightseeing and rather late lunch, we decided to order lightly.
Here's the dinner menu, with its entree (appetizer) and main course choices: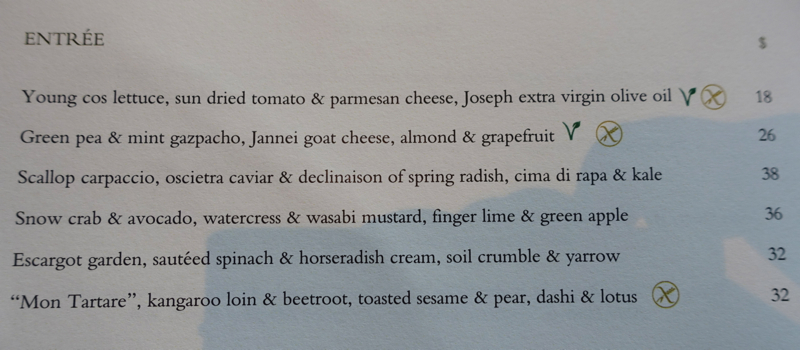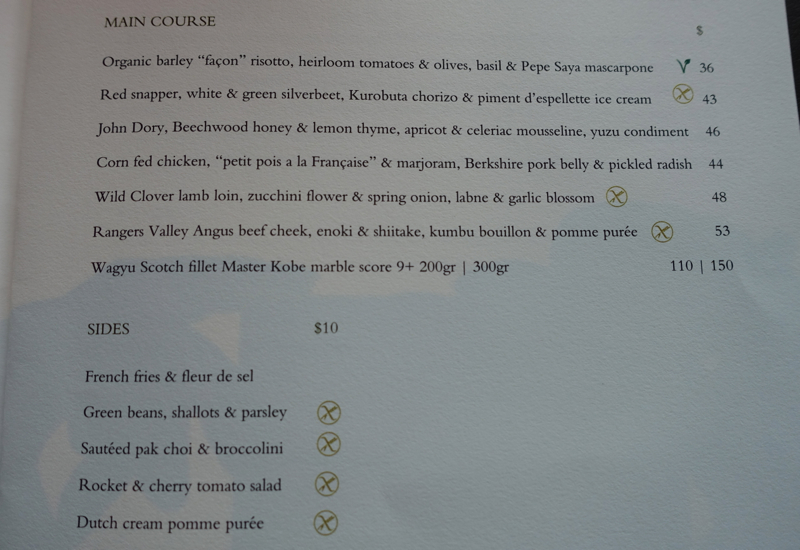 There was a tasting menu, although even if we'd been hungrier, I didn't see the dishes I most wanted to order on the tasting menu, so we'd have ordered a la carte regardless.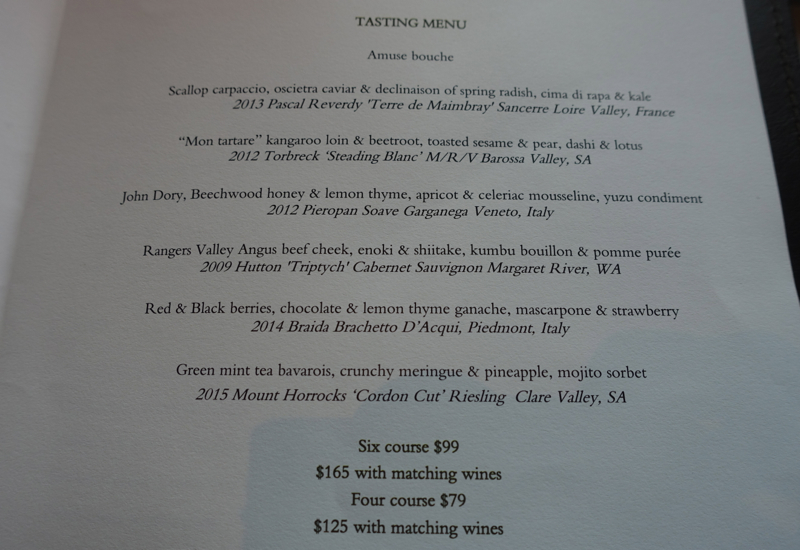 There was also a kids' menu: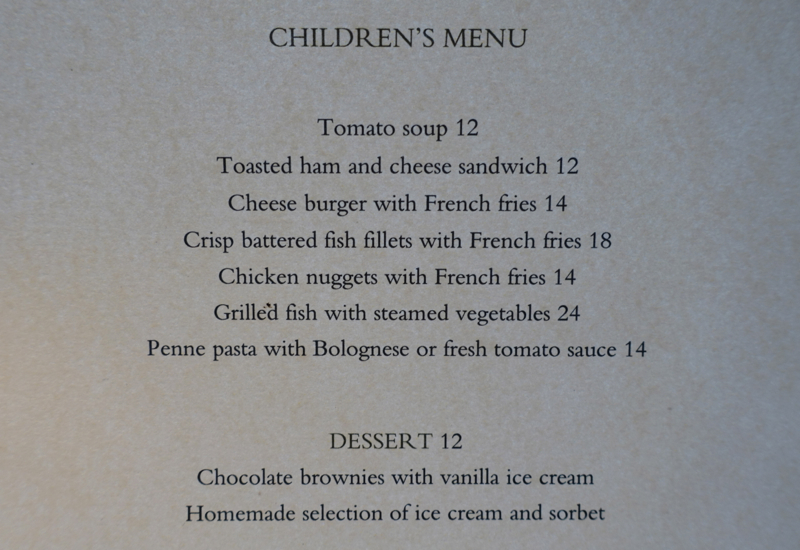 While waiting for our dishes, we nibbled on the provided bread, which was fine, although I do wish fine dining restaurants such as The Dining Room would make their own tasty bread and serve it warm. You don't have to be a Michelin star restaurant such as Le Cinq or Eleven Madison Park to do this–even Park Avenue Winter which I recently visited for NYC Restaurant Week has a nice hot bread offering.
We also enjoyed the view of the Sydney Opera House: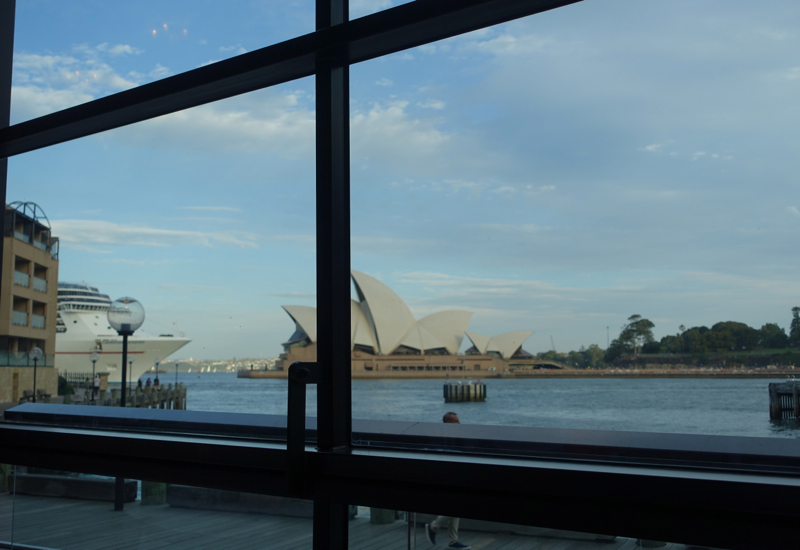 My son had ordered Penne Pasta with Bolognese Sauce, which was straightforward (which you want, where kids' menus are concerned) and good (he reported) although he didn't finish it.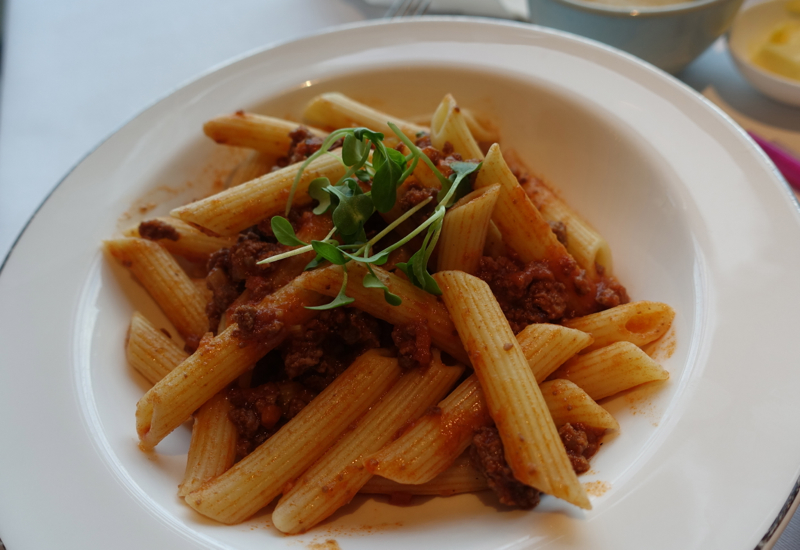 My husband ordered fish, the John Dory with Beechwood honey & lemon thyme, apricots, celeriac mousseline, and yuzu condiment. It was artistically plated and he liked it, although when I showed him the picture he initially drew a complete blank on what he'd dined on.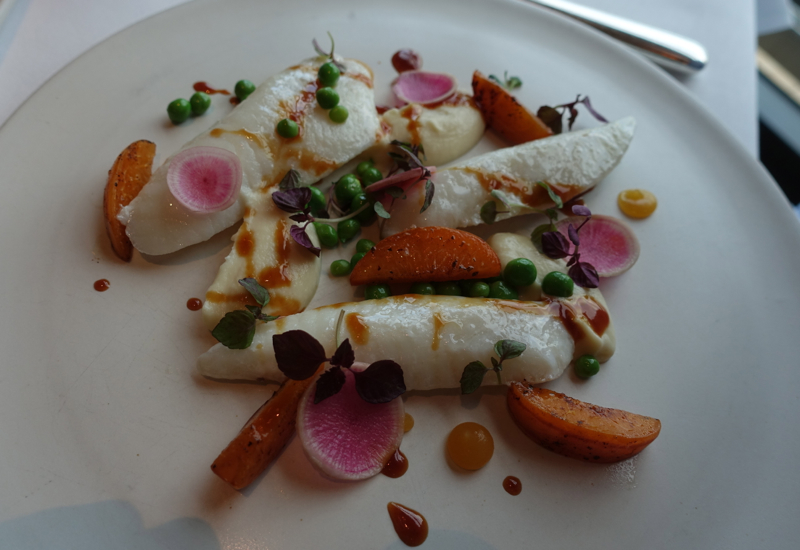 Far and away the star of the evening, in my view, was my Snow Crab & Avocado appetizer, with watercress, wasabi, finger lime and green apple. While I'd balked a bit at AUD 36 for an appetizer, it was a fantastic, fresh combination of flavors with just the right amount of wasabi, making it the perfect light dinner.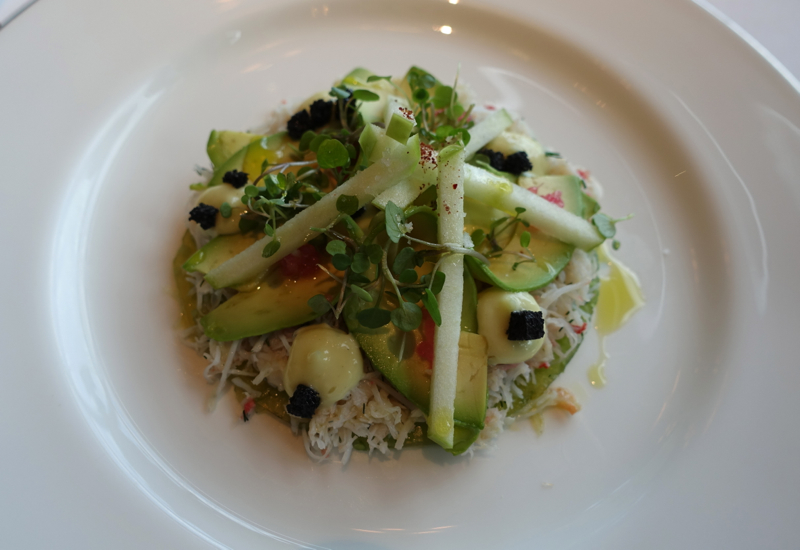 To commemorate the birthday in the family, a chocolate Happy Birthday cake was brought out with a lit candle, a nice touch, even though the cake itself wasn't very good.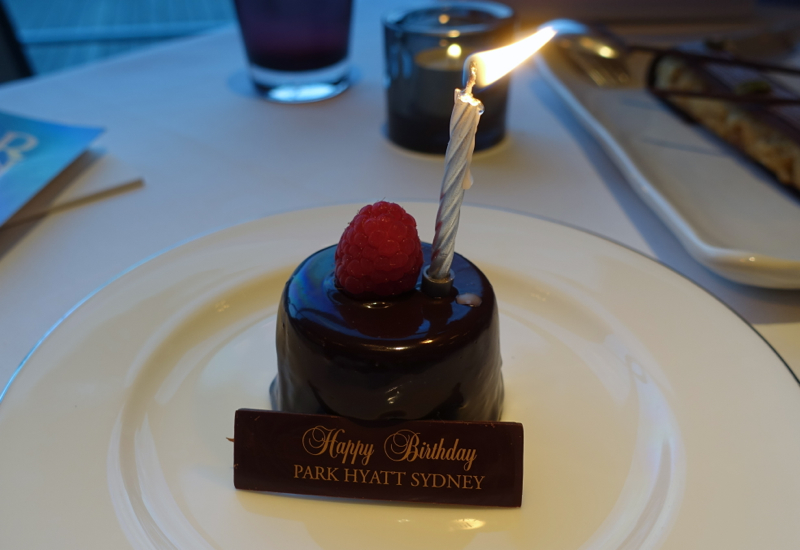 Similarly, the Valrhona Chocolate Eclair that I ordered looked much better than it tasted. It wasn't bad, but it wasn't memorable compared to other eclairs. I'd take an eclair from Tartine Bakery in San Francisco any day over this version.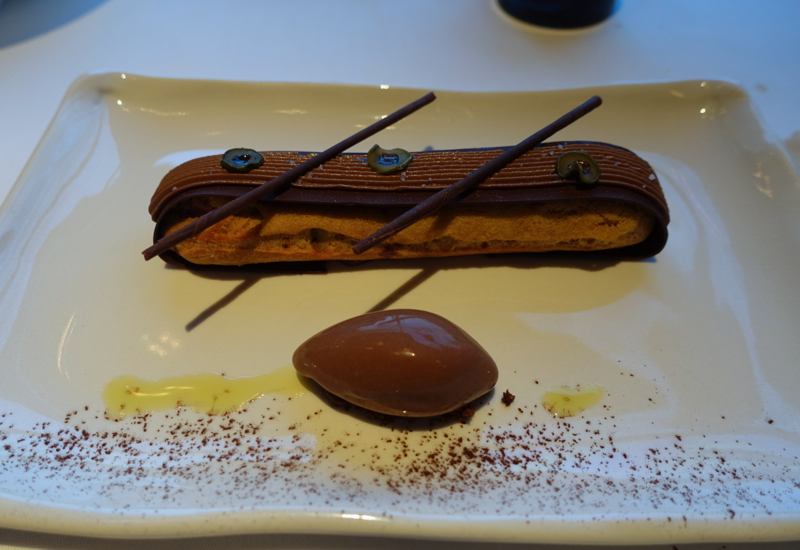 The Dining Room Breakfast Menu and Food
For breakfast the next day, we were the guests of the hotel, courtesy of the Director of Sales, and enjoyed breakfast before my site inspection. Here's the breakfast menu: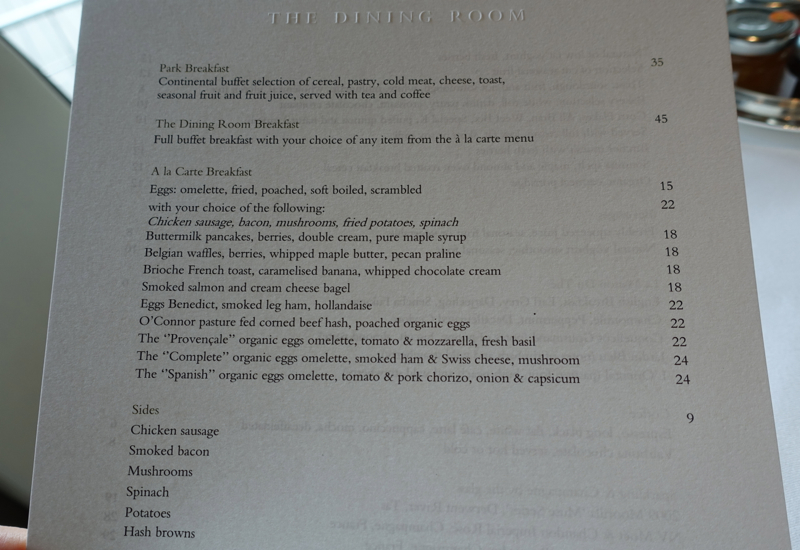 My son, the only true New Yorker in the family, chose the Smoked Salmon and Cream Cheese Bagel, which he enjoyed.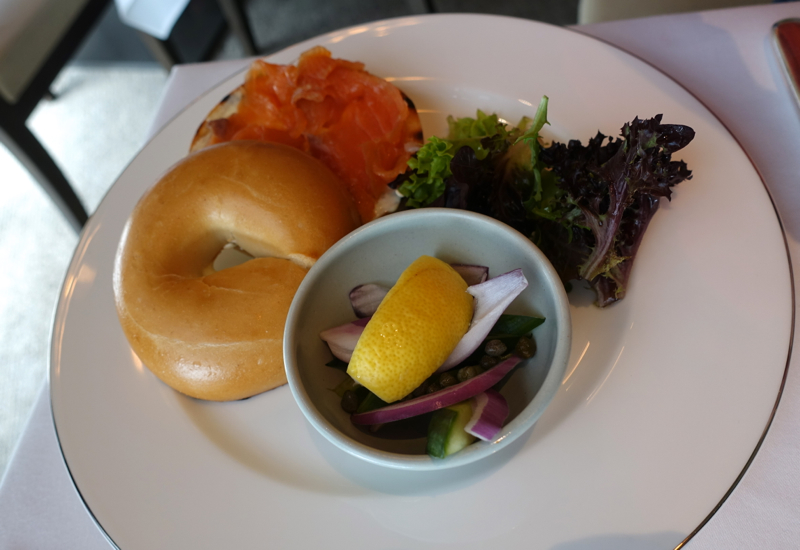 I asked our server for a recommendation between the pancakes, waffles and french toast, and she recommended the Brioche French Toast with caramelized banana and whipped chocolate cream. It was a great recommendation, at least for anyone with a sweet tooth, and for me, the highlight of the breakfast.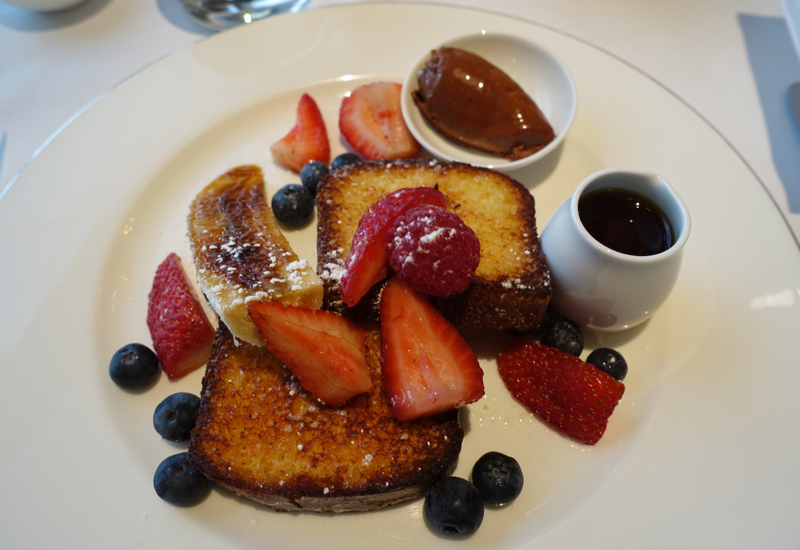 There was also a buffet that had a good amount of choice, including fresh fruit: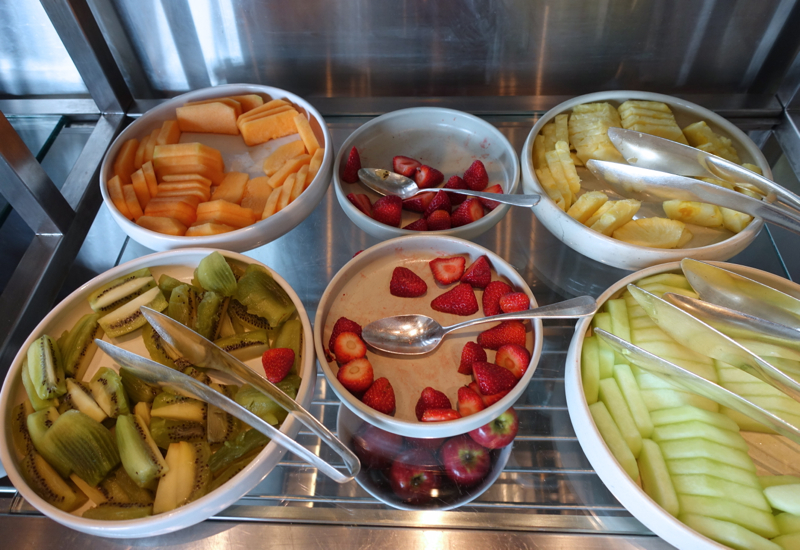 Pastries: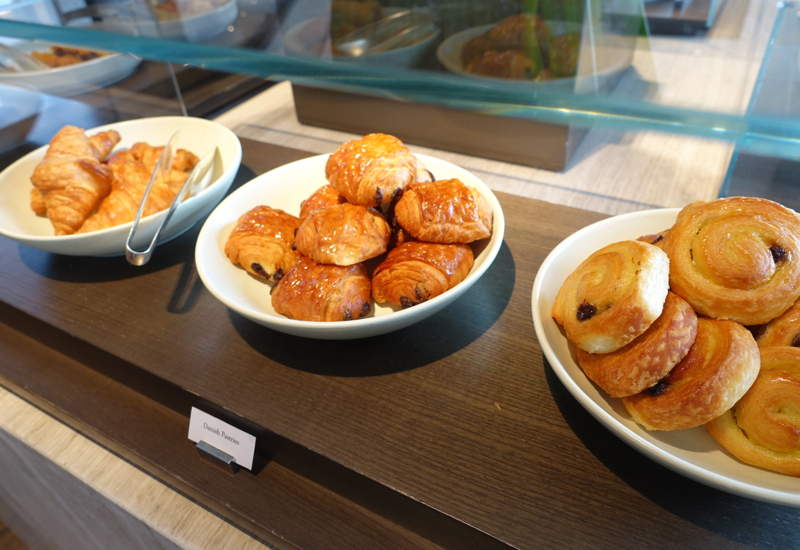 Yogurt, including a passionfruit yogurt that my son enjoyed: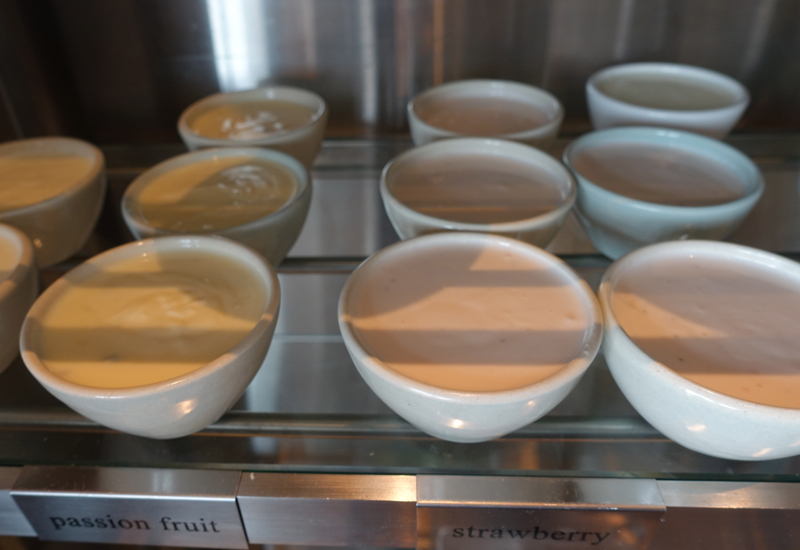 There were also hot items such as scrambled eggs and bacon; the bacon looked nice and crispy, although the scrambled eggs appeared too runny for my taste: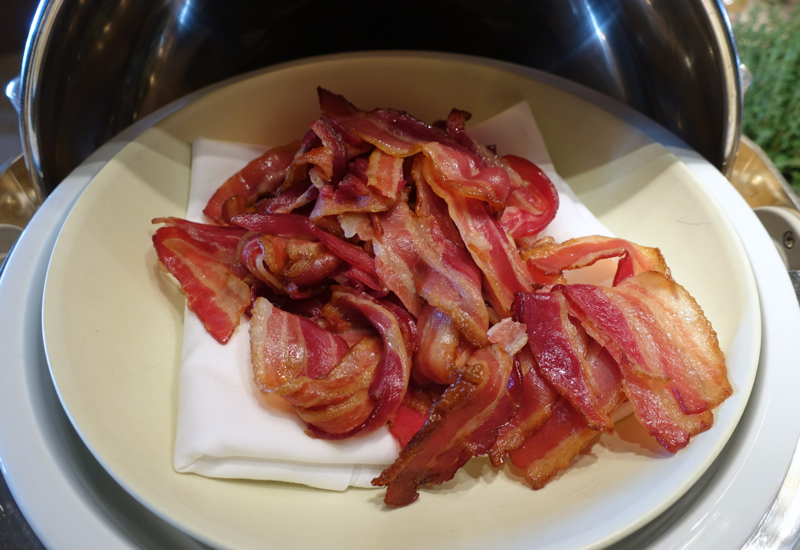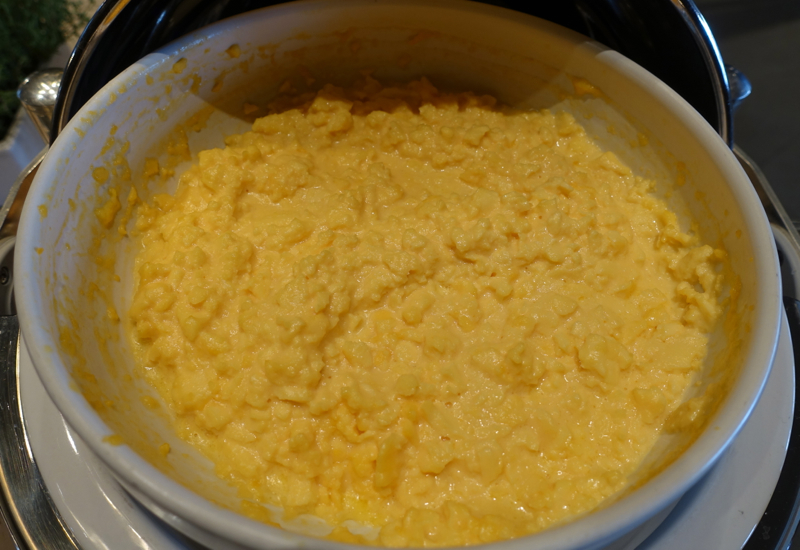 Others have raved about the smoked salmon that is supposed to be similar to the Balik salmon that Cathay Pacific First Class used to offer as part of its caviar service. I tried it, and while it looks similar to Balik salmon in its shape and cut, in my view it wasn't nearly as good as the Balik salmon Cathay used to serve. I don't know whether it's because it's not really Balik salmon, or if it is, perhaps it wasn't stored correctly such that the flavor and texture weren't as good.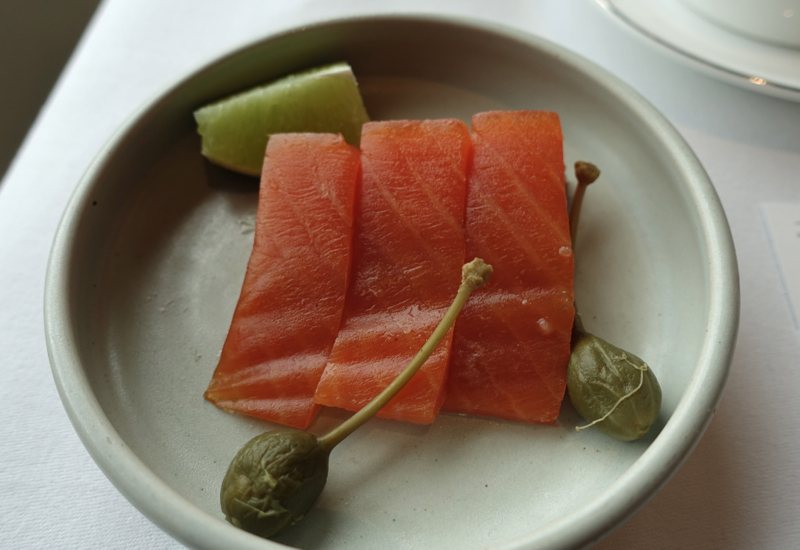 The Verdict
The Dining Room at The Park Hyatt Sydney enjoys a lovely setting right by the water, with a great view of the Sydney Opera House if you're able to secure a window table. I was more impressed with my stellar appetizer than my husband was with his fish main course, but both were beautifully plated. Our server was very professional, although as the night wore on service was less attentive than hoped for.
Breakfast offers the option of a full buffet, but judging by the items I tried, a la carte is the better way to go. I enjoyed my Brioche French Toast, and my son liked his smoked salmon bagel.
If you've dined at the Park Hyatt Sydney's The Dining Room Restaurant, what was your experience?
Related Posts
Review: Park Hyatt Sydney Opera Deluxe Room
Social Brew Cafe Sydney Review
Review: Etihad A380 First Class Apartment Abu Dhabi to Sydney
Virtuoso Hotels: Bookings with Upgrades, Complimentary Breakfast and VIP Perks
Need Award Booking Help? Our fee is as low as $75 per ticket if you book your hotel or cruise with us.
If you enjoyed this, join 200,000+ readers: please follow TravelSort on Twitter or like us on Facebook to be alerted to new posts.
Become a TravelSort Client and Book luxury hotels with Virtuoso or Four Seasons Preferred Partner Amenities!