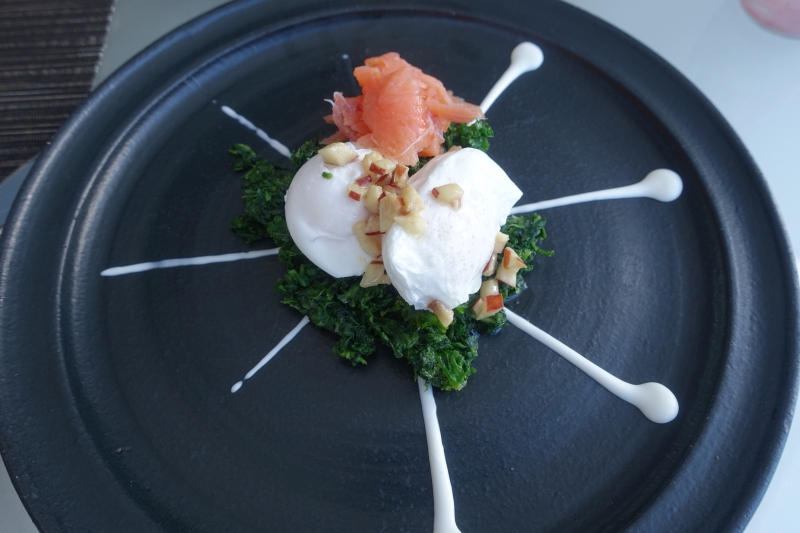 This Park Hyatt Maldives Hadahaa Review of Restaurants and Menus covers our food and dining experiences at the resort during our recent November 2016 stay. Visiting the Maldives? See all our posts tagged Maldives, including our Maldives luxury hotel reviews–we've stayed at 6 different resorts.
For prior posts in this trip report, please see:
Review: Emirates Lounge, JFK Airport, NYC
Review: Emirates First Class A380 New York to Dubai
Review: Emirates Economy Class 777-300
Review: Moonimaa Lounge, Male and Transfer to Park Hyatt Maldives
Park Hyatt Maldives Review 2016
The Park Hyatt Maldives Hadahaa is a Virtuoso hotel, so TravelSort Clients enjoy complimentary daily full breakfast for two, including the buffet and 2 a la carte dishes per person, as well as fresh squeezed juices, and coffee, tea or espresso drinks.
The Dining Room
The Dining Room is at the heart of the Park Hyatt Maldives, facing the main pool. It serves breakfast daily 7am-11am, lunch 12noon to 3:30pm and dinner 7-10:30pm.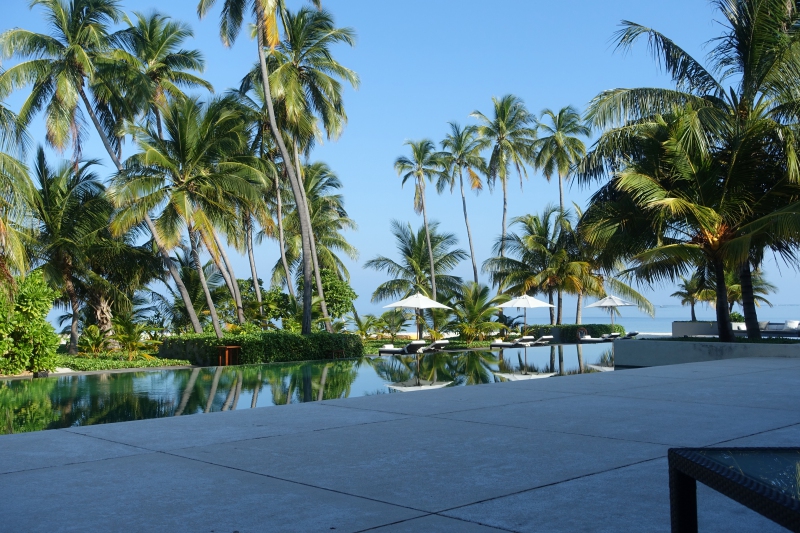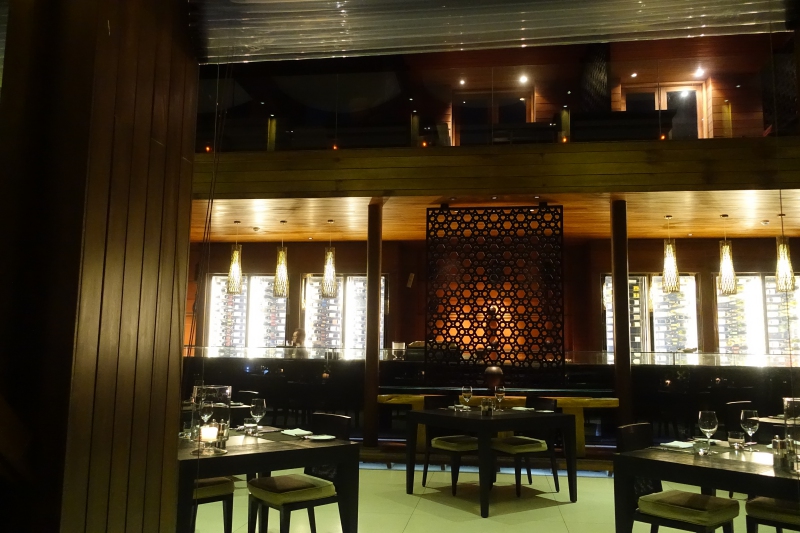 Park Hyatt Maldives Breakfast Menu, Breakfast Buffet, and A La Carte Dishes
Breakfast at the Park Hyatt Maldives was definitely the highlight for us, and better than most of our dinner experiences. Since our last visit to the resort, things have improved from what was already a good breakfast offering. Previously, there was a tiered platter of fruit, tuna mashuni and pastries, and you separately ordered drinks and breakfast entrees. Now there is a cold buffet, priced during our visit at $25 (if you're paying for it and don't have it free as a Virtuoso guest or Hyatt Diamond), that you can help yourself to. This was especially appreciated the day I went scuba diving and neither had time for nor wanted a big a la carte breakfast.
The full breakfast is also complimentary as a Virtuoso or Hyatt Diamond guest, and includes the cold buffet plus a choice of two dishes from the a la carte menu, juices, and tea, coffee or espresso drinks. If you're paying for it, the cost is currently $37 per person.
The cold breakfast buffet features cut fruit, cereals, yogurts, smoked salmon and breakfast meats, and also includes your choice of fresh squeezed juices, coffee and tea.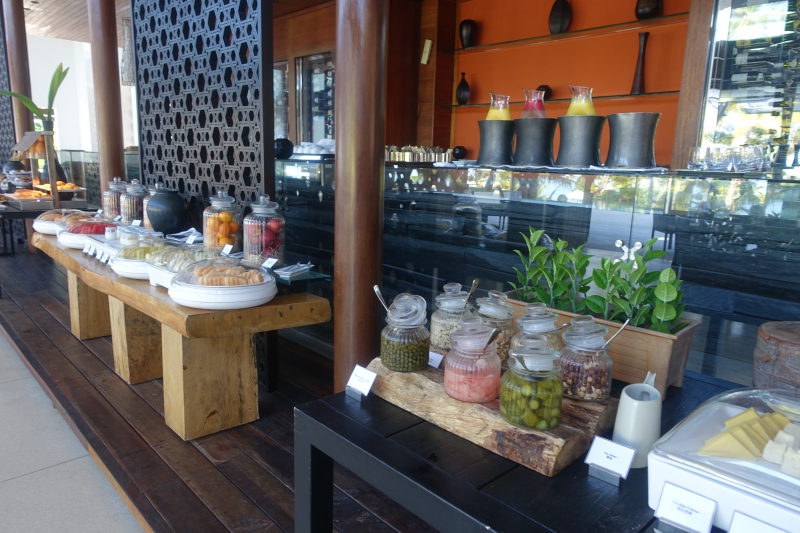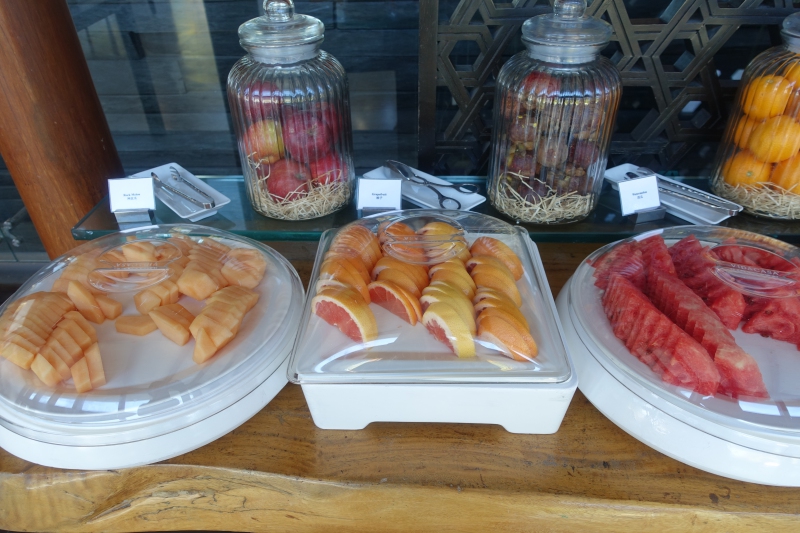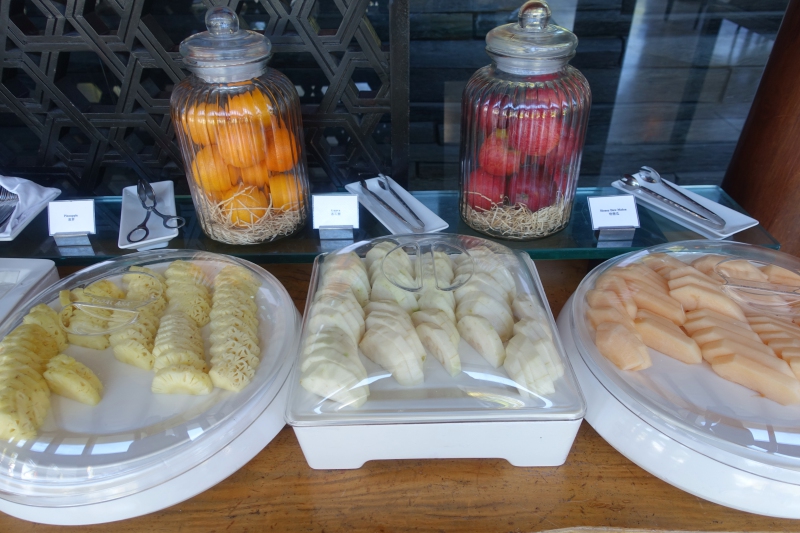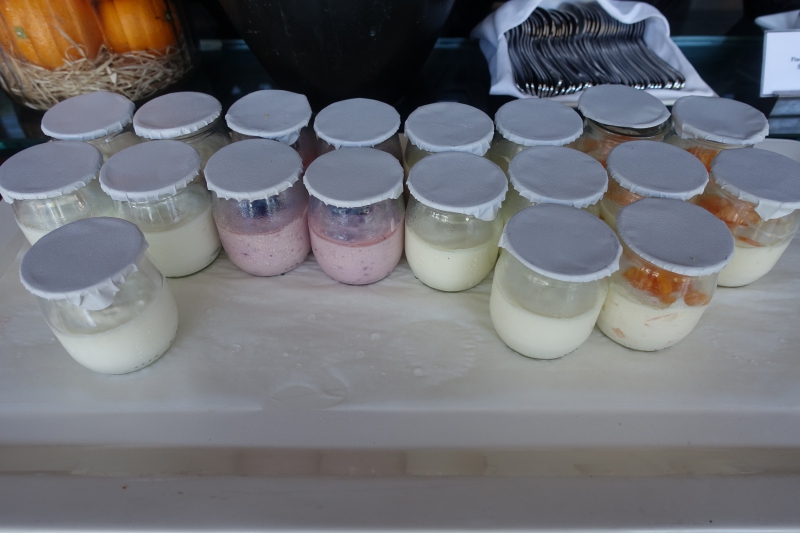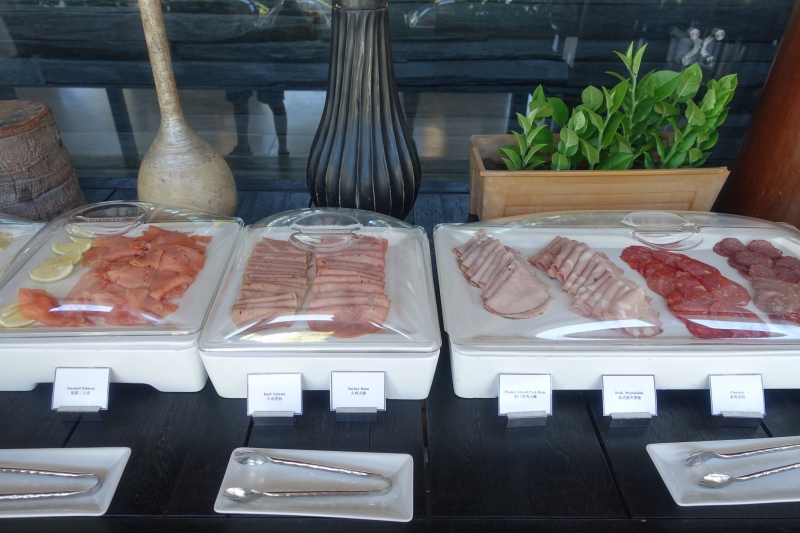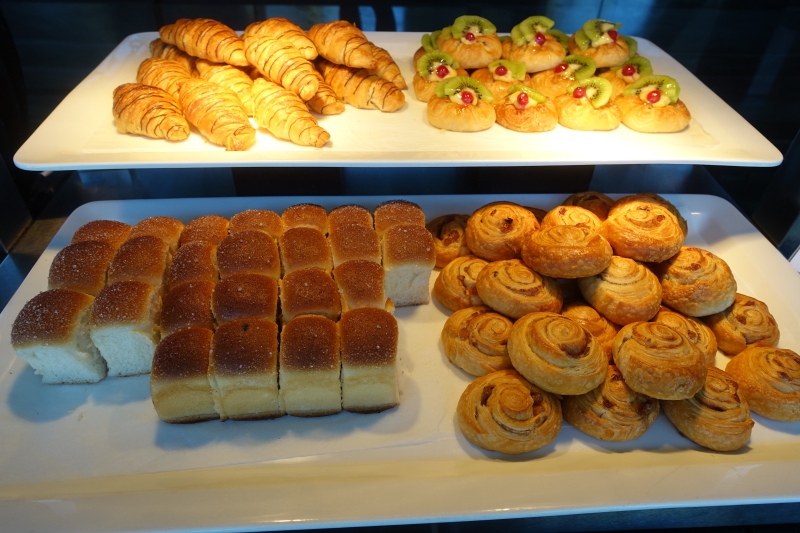 My son's favorite juice was the watermelon juice: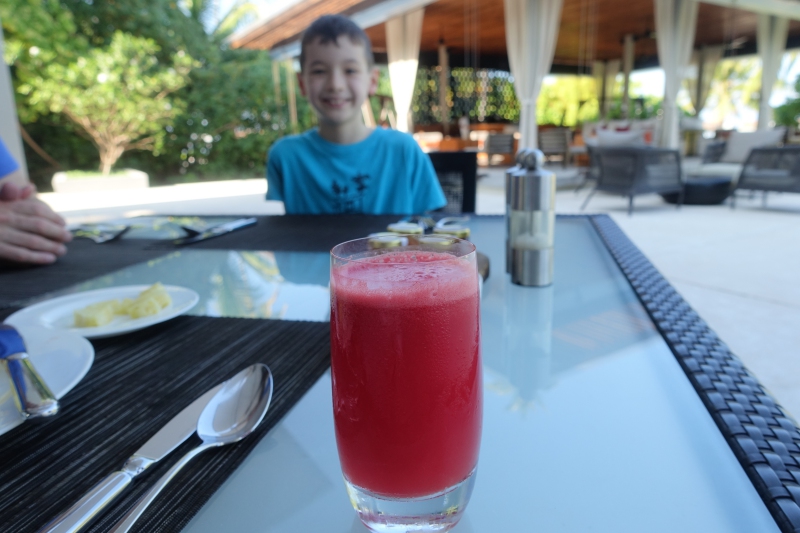 Ours was a mixture of orange and pineapple; we also liked the lattes.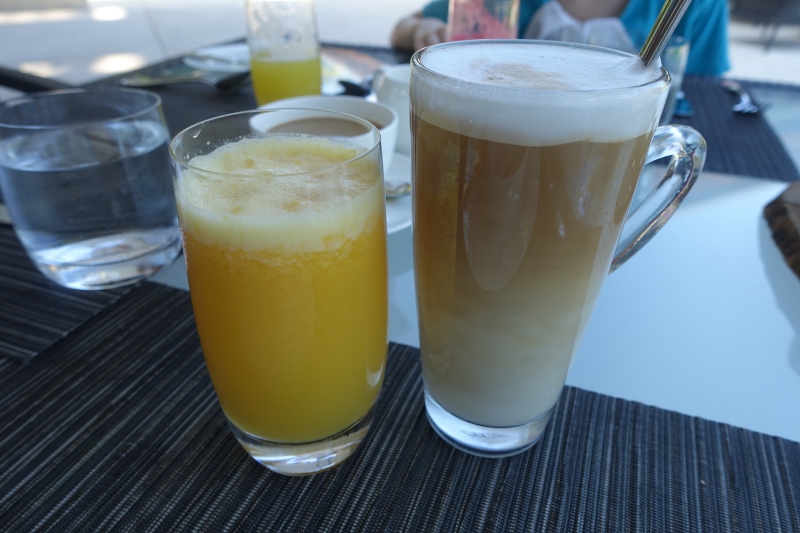 Here's the a la carte menu, with a variety of Western, Maldivian and Asian breakfast dishes: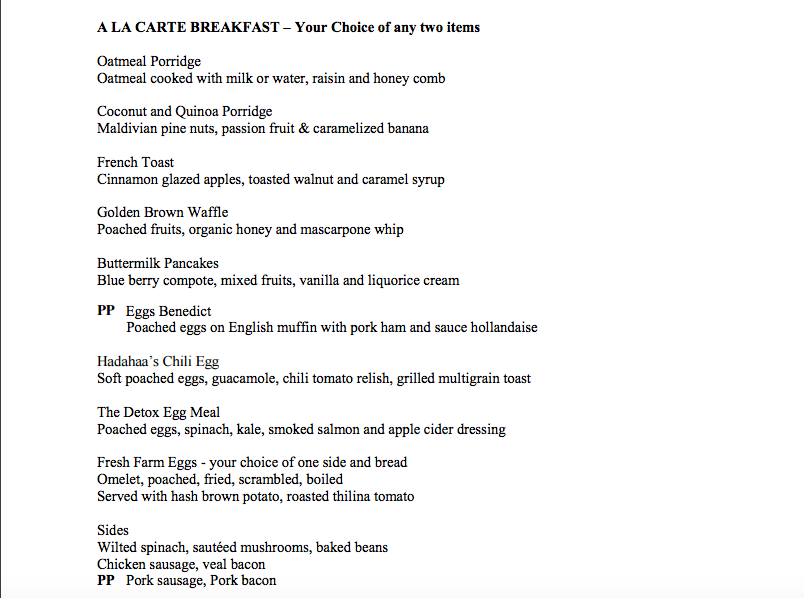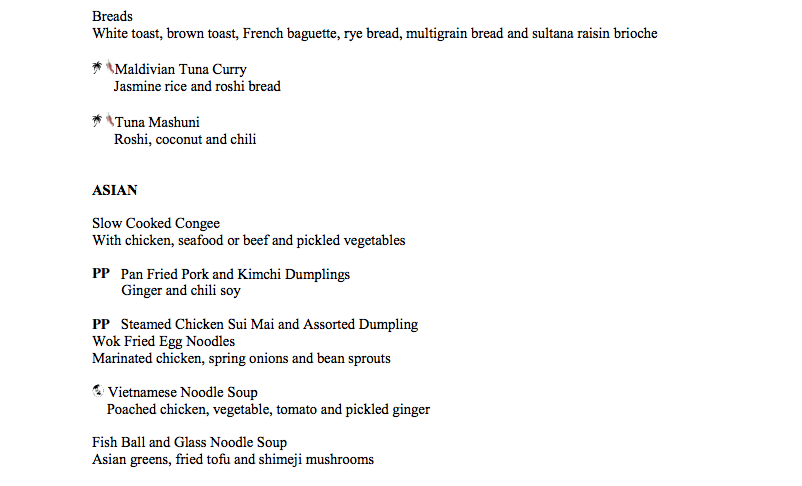 My husband's and son's favorite dish was "The Detox Egg Meal" with poached eggs, spinach, kale, smoked salmon and apple cider dressing. They each ordered it at least twice.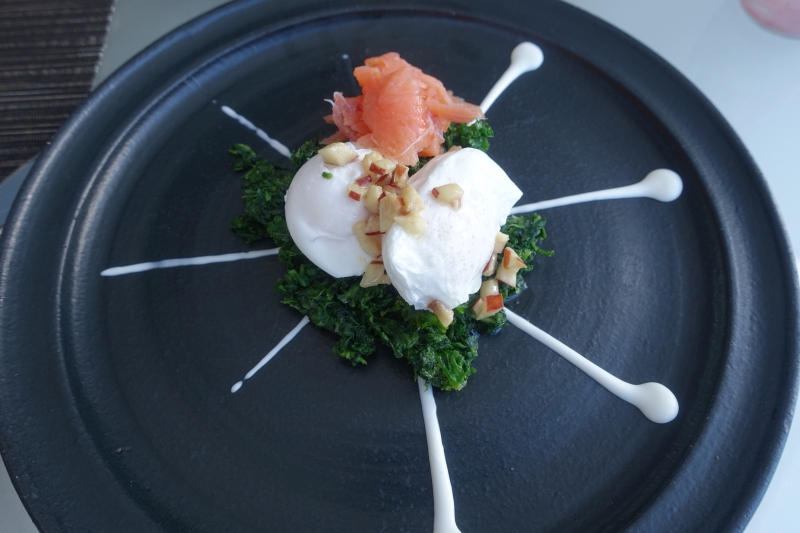 My husband also ordered Hadahaa's Chili Egg once, with soft poached eggs on a bed of guacamole on grilled multigrain toast, accompanied by chili tomato relish. I tried it, and I slightly preferred it to the Detox Egg Meal.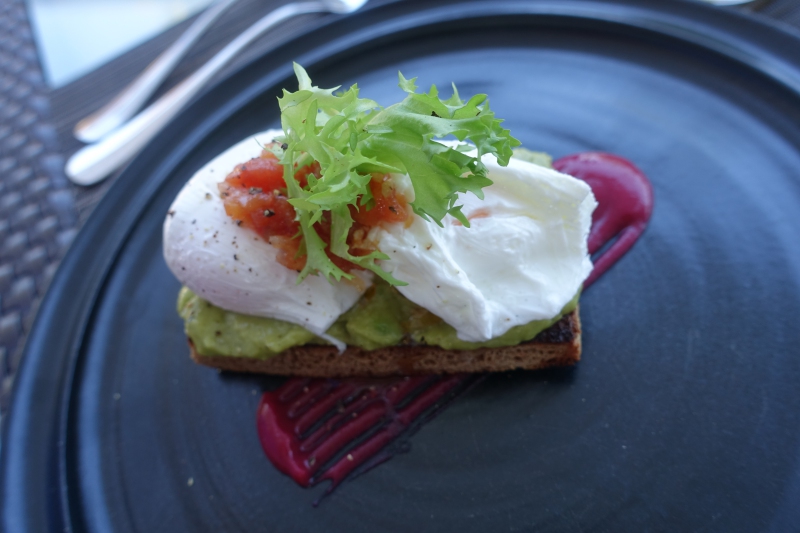 I'm the only one in my family who likes Asian-style savory breakfasts, so I was the only one who tried the Maldivian Tuna Curry, which was one of my favorites from our previous visit. It was every bit as good as I remembered, and I highly recommend it if you enjoy fish curry.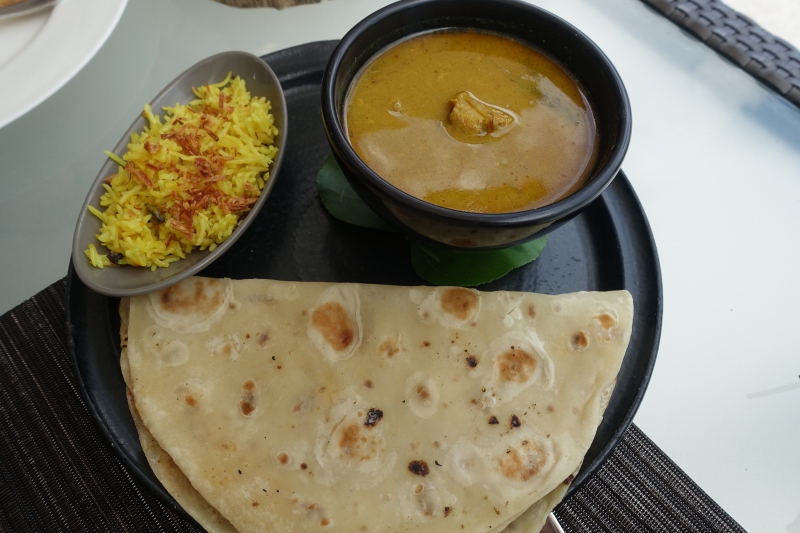 Our last morning I reprised another favorite, the Tuna Mashuni, with flaked tuna mixed with coconut and chili and wrapped in roti. I like it better than most any other sandwich wrap I've had.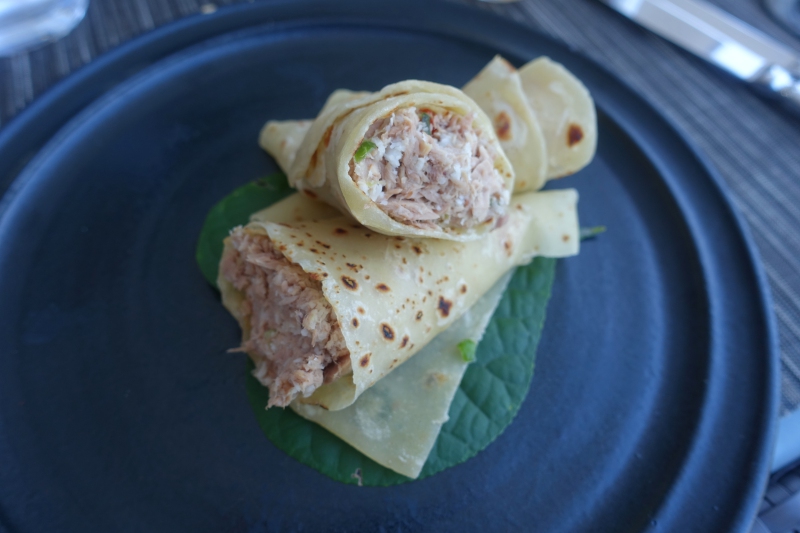 The sweet breakfast entrees were also executed well, particularly the Golden Brown Waffle with poached fruits, honey and mascarpone.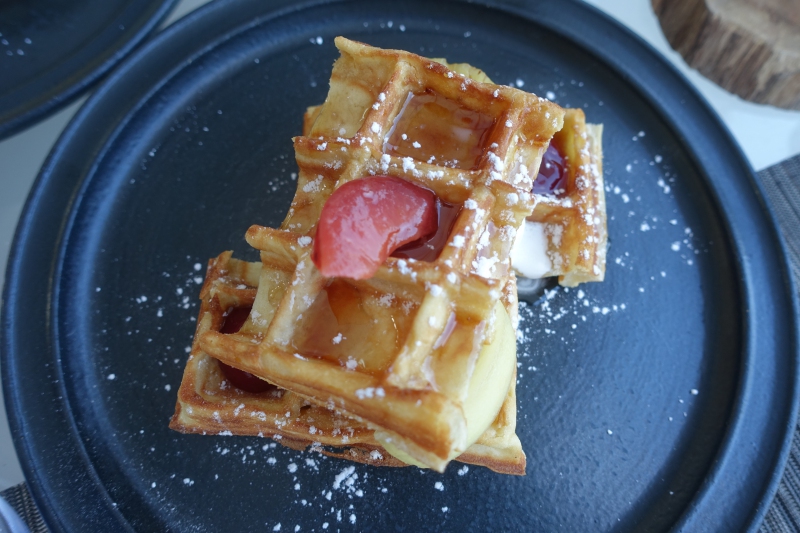 The Buttermilk Pancakes were also good and plated prettily, although none of us like liquorice, so the grey liquorice cream remained untouched.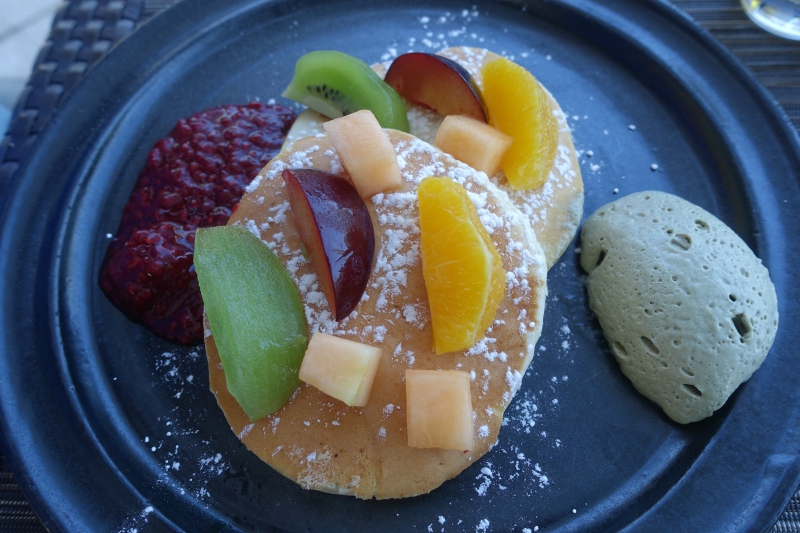 The French Toast was ok, but in my view not as tasty as the waffles or pancakes.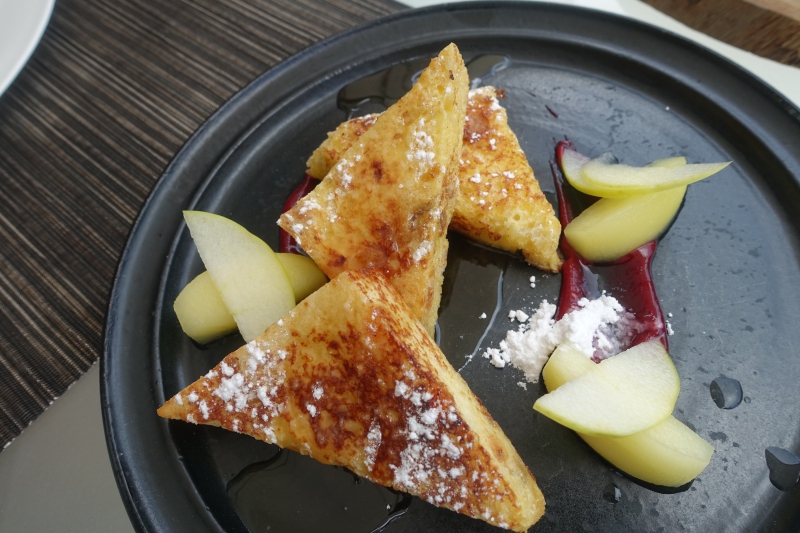 I also tried the Vietnamese Noodle Soup, but because I was expecting something closer to authentic Vietnames Pho I was very disappointed–the broth was pretty tasteless, and I disliked the pickled ginger in the soup. I can't recommend this.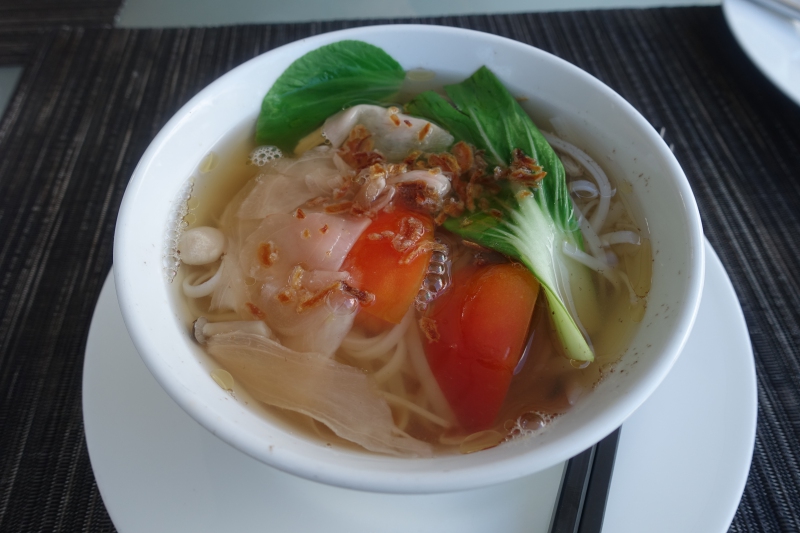 The Dining Room Dinner Menu and Dishes
We dined at The Dining Room for dinner three times. Here's an excerpt from the menu: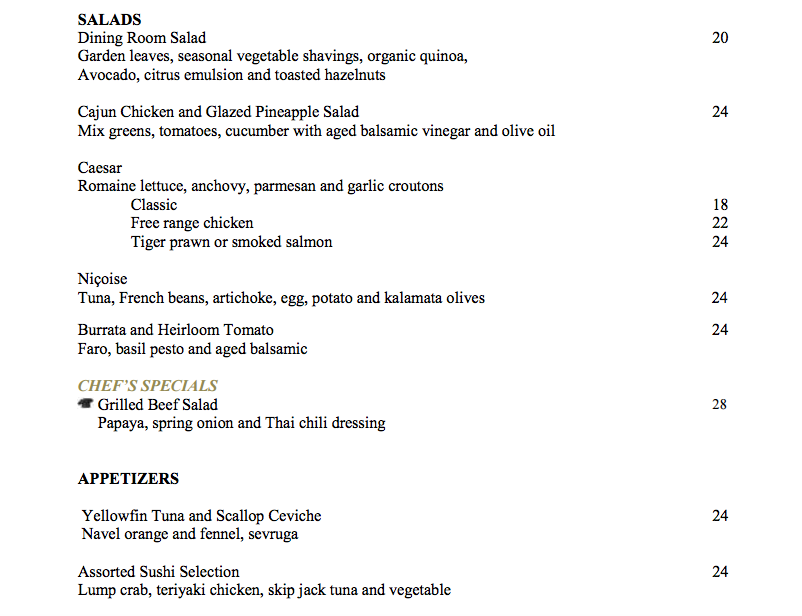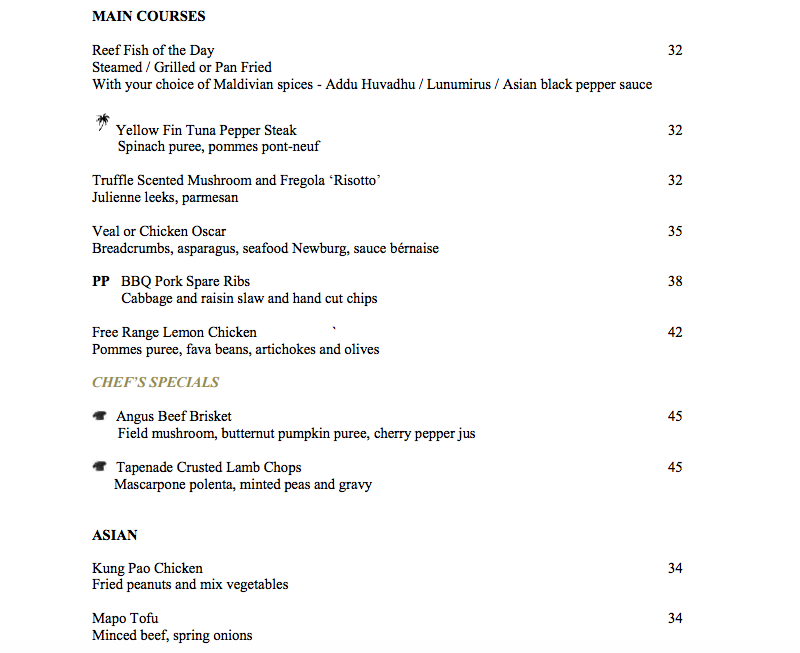 And here's the Kids' Menu: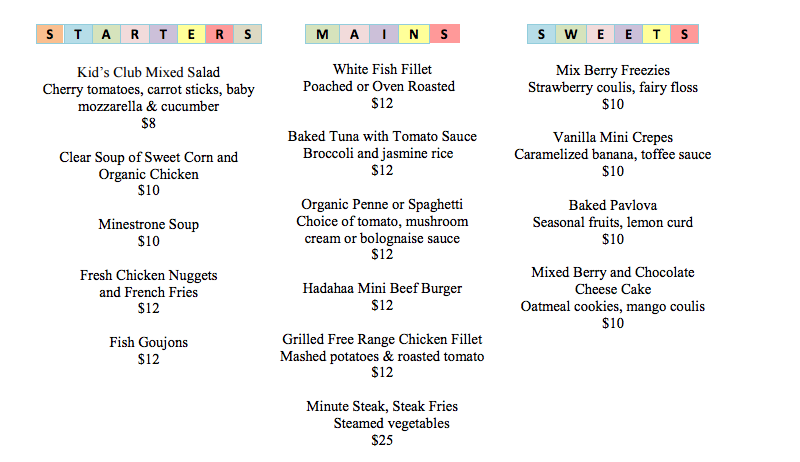 The only thing I really liked that I tried was the Grilled Beef Salad with papaya, spring onion and Thai chili dressing. It wasn't that spicy but it was tasty.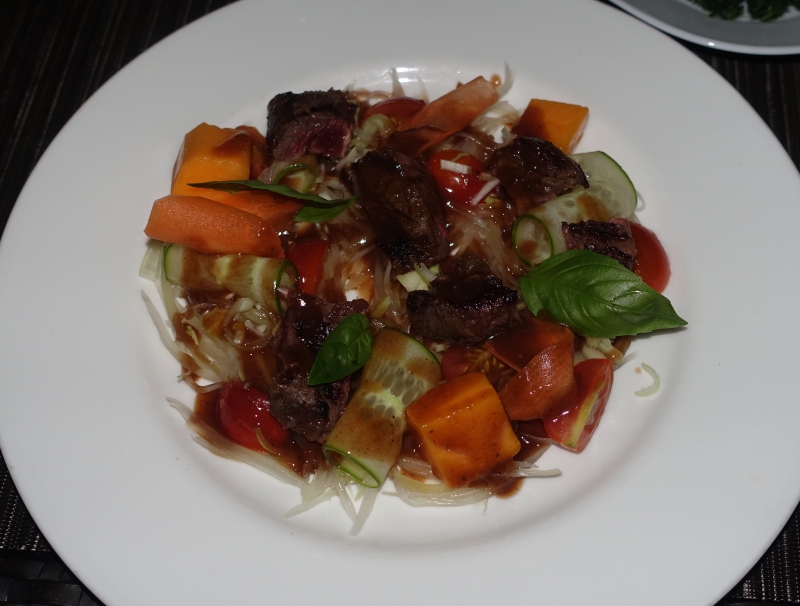 My husband's Mushroom Risotto wasn't bad either, although nothing to write home about: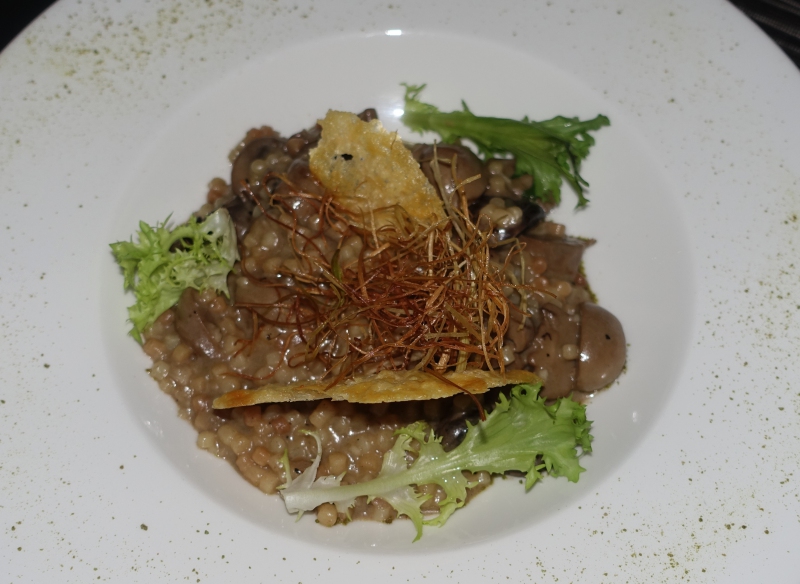 I was quite disappointed with my Saffron Fettuccini with Lobster, since I wasn't able to detect lobster in it. I'm not saying there wasn't any, but the tomato sauce meant that this was the overwhelming taste.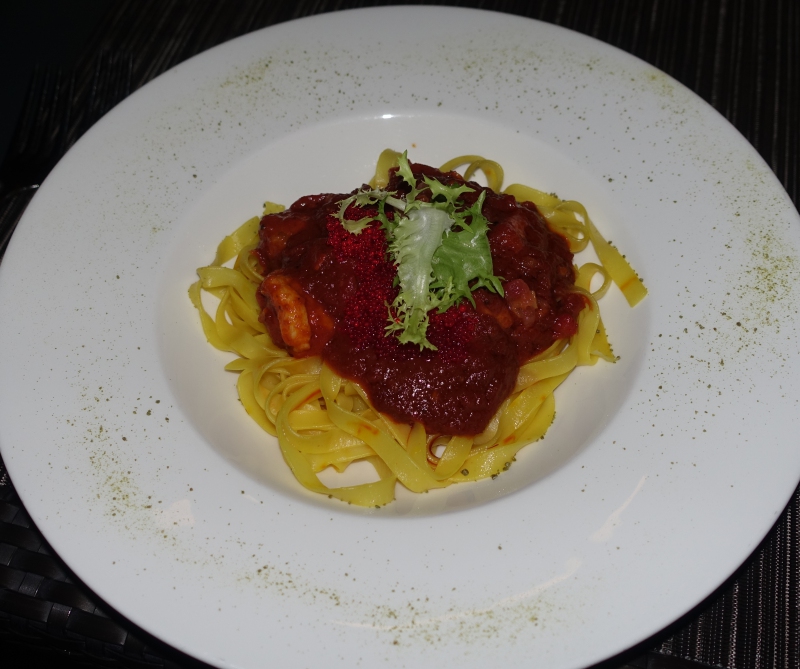 Sadly, my husband's Reef Fish the first night and the fish they and the boat crew caught on a fishing trip (White Snapper and Grouper) were all overcooked. Such a shame, since these were very fresh, but made tough and unappealing by being overcooked.
One evening the very personable chef came out, introduced himself, and was kind enough to give us some dessert on the house. We certainly appreciate his time and the gesture, although I found the dessert itself very ordinary: fudge-like chocolate squares with vanilla ice cream. I realize on such a small island it's probably impossible to justify the expense of a pastry chef, but the desserts could use help.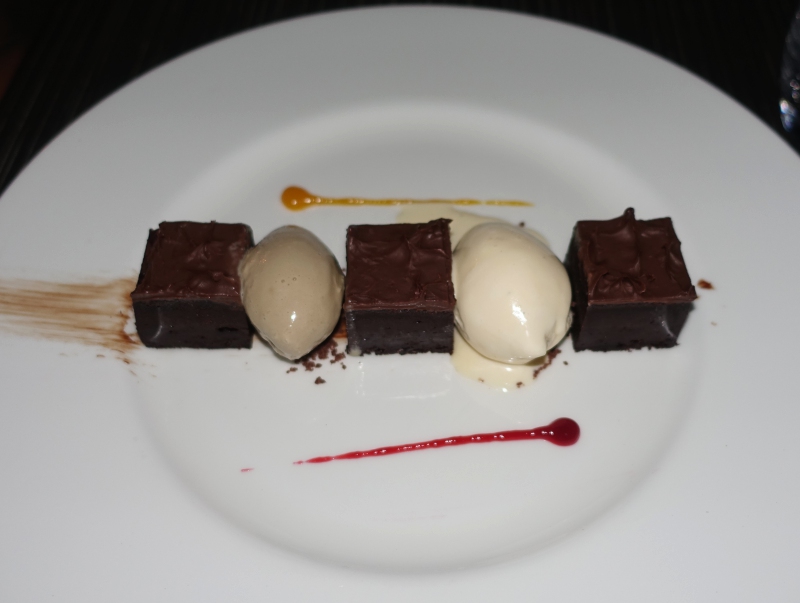 The Island Grill Dinner Menu and Dishes
The Island Grill is only open for dinner Saturday to Thursday (closed Friday) 7pm-10:30pm. This is billed as the Park Hyatt Maldives' signature restaurant, so we saved dinner here for our last night.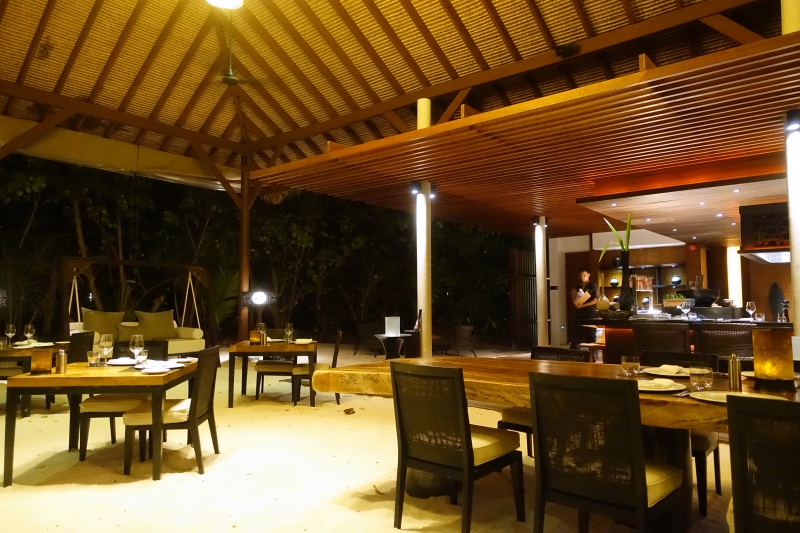 Here's the menu: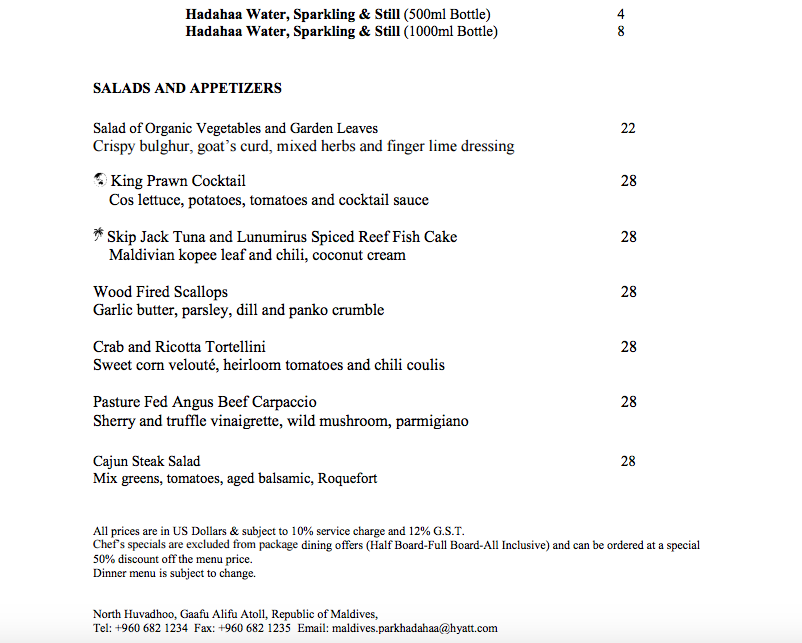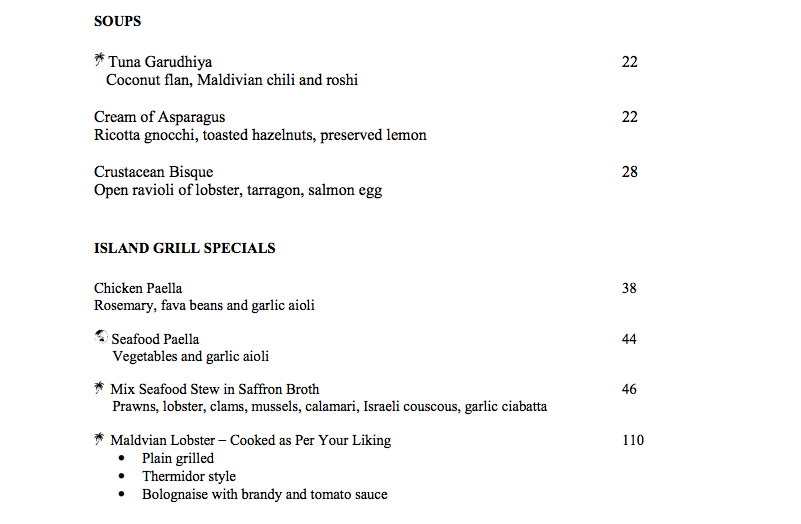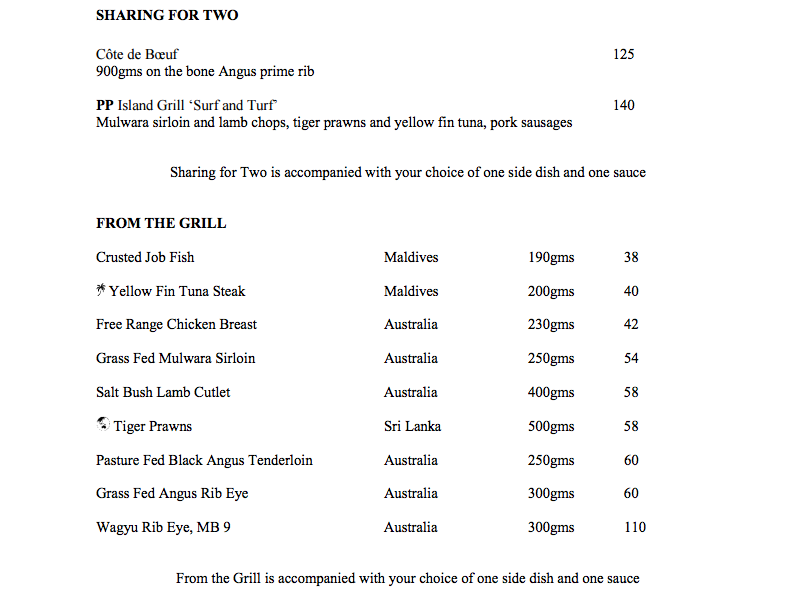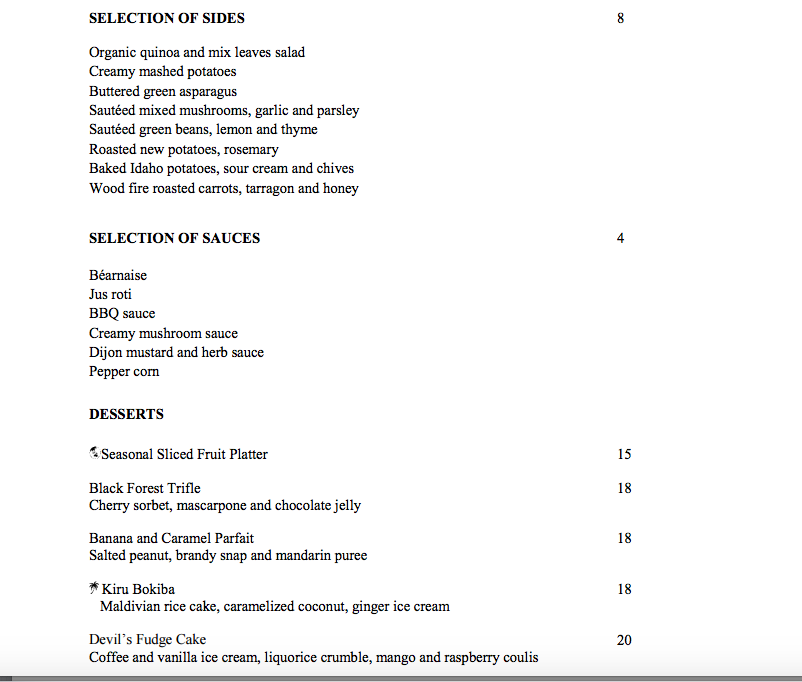 Dinner started well, with a nice warm focaccia bread and dip: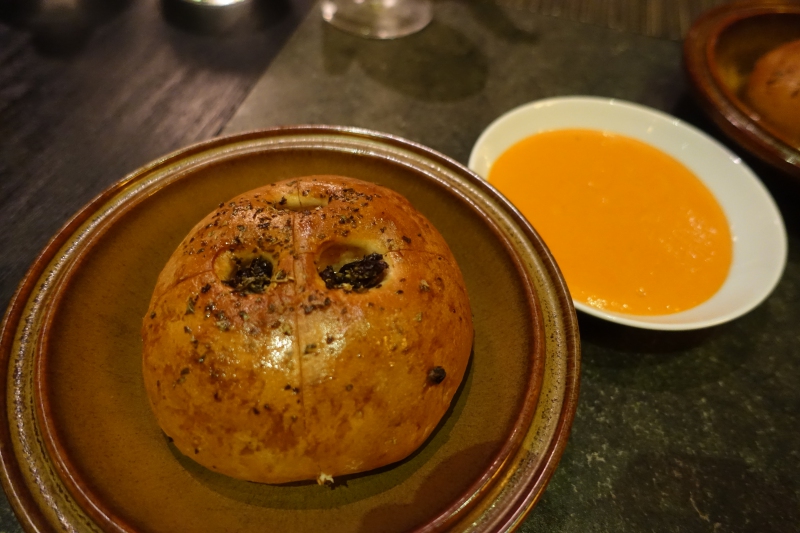 There wasn't any amuse bouche, so the first dishes to come were our son's kid's menu burger (brought over from The Dining Room):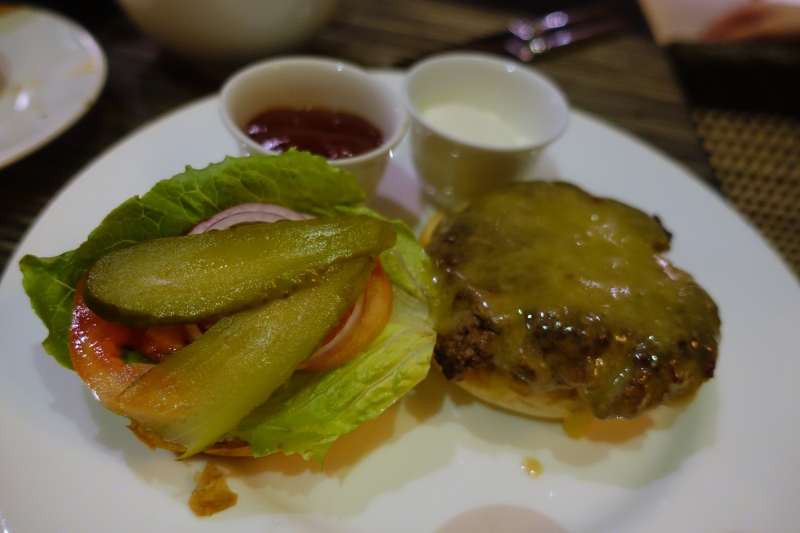 And also the Crab Ricotta Tortellini I'd ordered. This was one of the tastiest things I tried for dinner at the resort, although unfortunately, even as an appetizer, it was a tiny portion: just 2 tortellini. This time at least I could definitely taste the crab though, and the sweet corn sauce accompanied it well without overpowering it.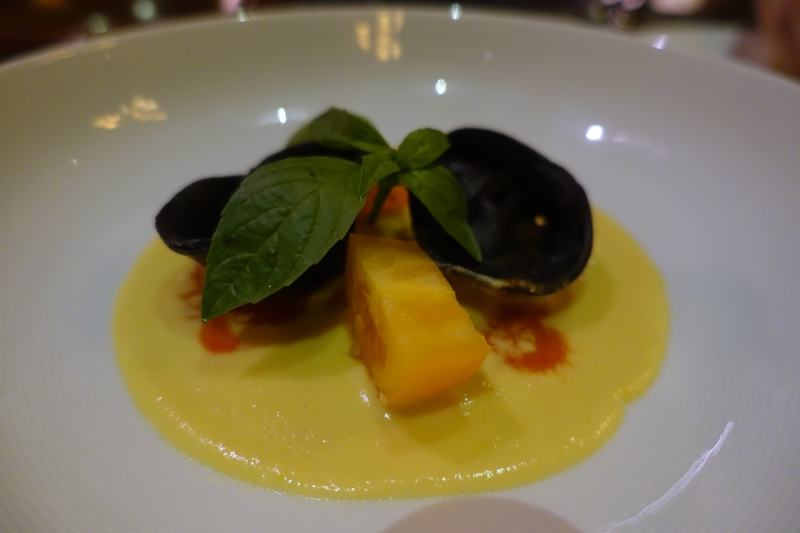 My husband ordered the Seafood Paella, but was instead brought the Chicken Paella. He liked it, although I've definitely had better paella, and it was disappointing that the wrong dish was brought.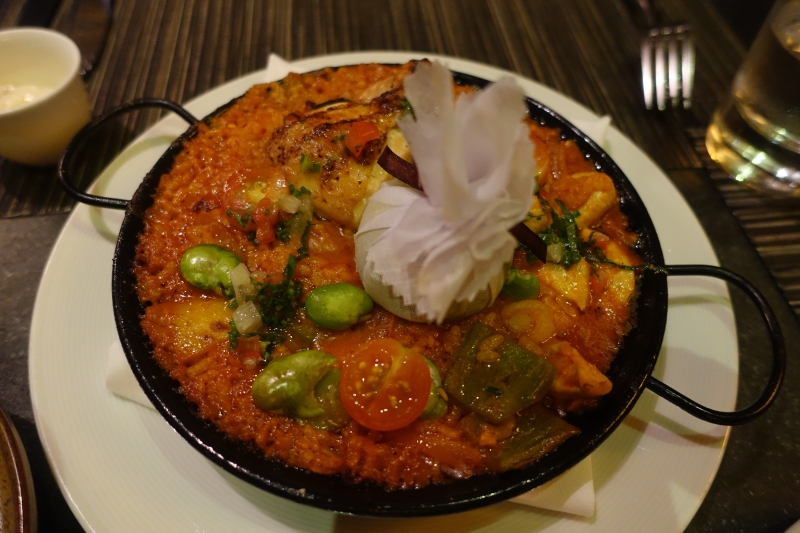 In lieu of a main I ordered a second appetizer, the Skip Jack Tuna and Spiced Reef Fish Cake with Maldivian kopee leaf, chili and coconut cream. Very tasty, and a bit more substantial than the tortellini appetizer, even though both were the same price.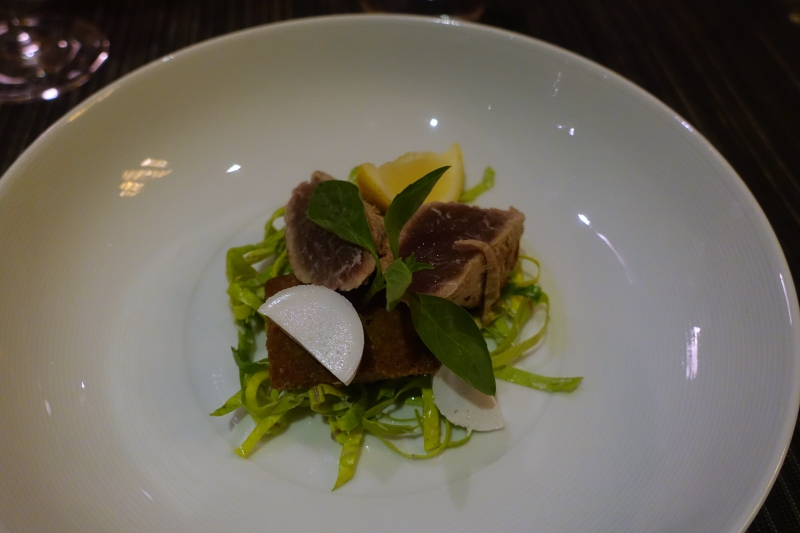 As a vegetable, we ordered the wood fire roasted carrots with tarragon and honey. The pieces that weren't burned were very good, but about one third of the dish was burned too badly to eat.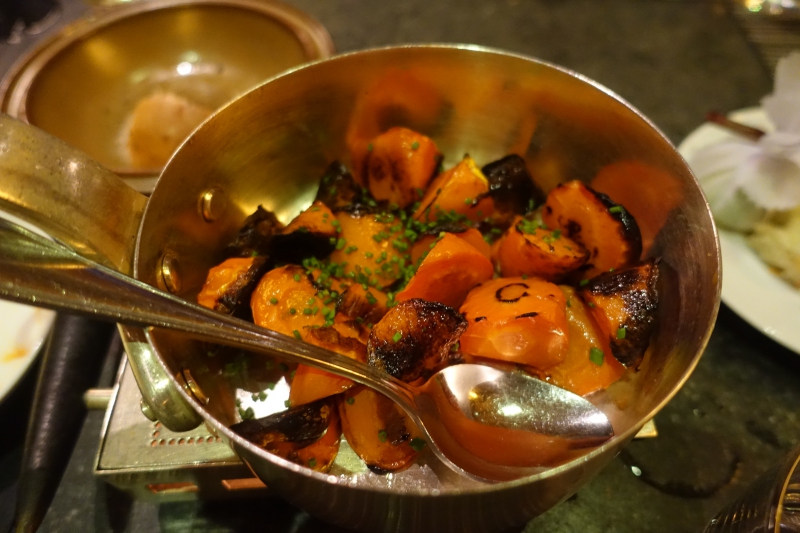 For the desserts, I asked our server if the chocolate orange pudding was served warm and he said yes, so I assumed it would be like a chocolate pudding cake. Not so–it was a cold bland milk chocolate pudding with some mandarin orange slices, and had I known it would be like this, I would never have ordered it. I have my doubts whether it's worth ordering any of the desserts apart from, perhaps, the ice cream and sorbet.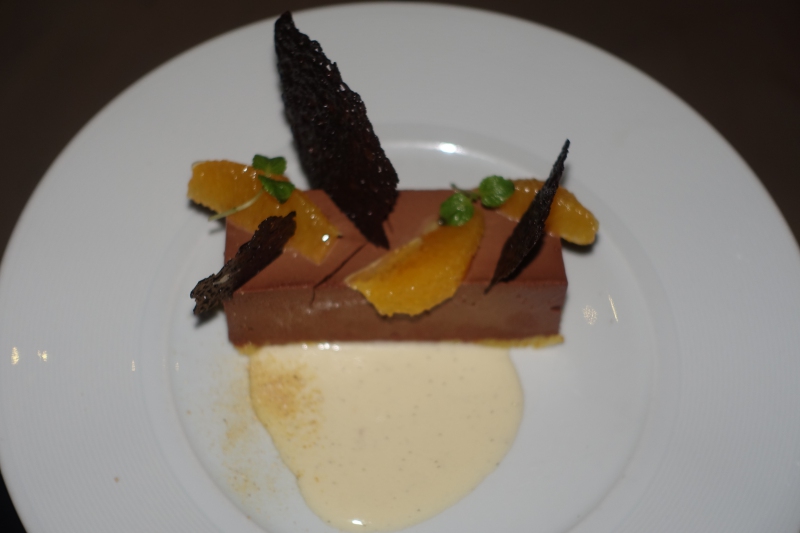 The Verdict
We really enjoyed our breakfasts at Park Hyatt Maldives, and they were the highlight of our dining at the resort. In fact, I would have preferred to eat breakfast again for dinner, instead of the dinner items we tried. Yes, it's possible we were unlucky multiple times with our dinner choices, but at these prices I'd rather just have a repeat of breakfast. In particular, I think the resort should make an effort not to overcook fish and not burn vegetables. And while I'd love to have better desserts, it's not as if anyone needs dessert, so this shortcoming ended up being better for our waistlines anyway.
If you've dined recently at the Park Hyatt Maldives, what was your experience?
Related Posts
Park Hyatt Maldives Water Villa Review
Park Hyatt Maldives Diving and Snorkeling: What to See
Park Hyatt Maldives Back of the House Tour
Honeymoon: Maldives or Bora Bora?
Need Award Booking Help? Our fee is as low as $75 per ticket if you book your hotel through us.
If you enjoyed this, join 200,000+ readers: please follow TravelSort on Twitter or like us on Facebook to be alerted to new posts.
Become a TravelSort Client and Book the Park Hyatt Maldives with Virtuoso Benefits!