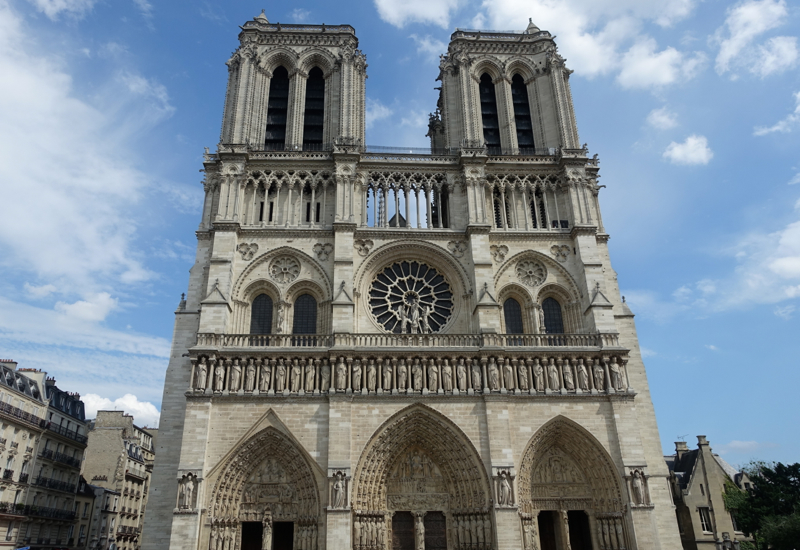 Paris is a great place to explore by foot, and Paris Muse Private Walking Tours include several family-friendly walks including the Paris Discovery Walk, which we were fortunate to be able to experience with Raquel Granda as our guide. Raquel is originally from NYC but is a certified French national tour guide, has lived in France for over 12 years, over 6 of them in Paris, and is married to a Frenchman, so she can speak to cultural questions you may have, beyond her trove of historical and architectural knowledge.
This Paris Muse walking tour review is part of a recent Paris visit. For the prior Paris posts, please see:
Review: Pur' Paris Restaurant, Park Hyatt Paris
Hotel Review: Park Hyatt Paris-Vendome
La Cuisine de Philippe Paris Review
Paris Muse Walking Tour Options and Cost
Paris Muse has several family-friendly walking tour options to select from, depending on your kid's interests:
Paris Muse Clues: A Louvre Family Tour – this is Paris Muse's most popular family tour, lasting 2 hours, as it focuses kids' attention on carefully selected Louvre masterpieces and sharpens their sleuthing skills via a treasure hunt. The EUR 320 cost is for entire family of up to 5 and includes Louvre admission for adults (kids are free) as well as the "treasure," an educational gift. This tour is designed for families with kids ages 6-12.
Louvre Quest is a 3 hour tour designed for either families or small groups of up to 5, all of whom are at least 13 years old. With the guidance of your Paris Muse leader, you explore four major civilizations (Ancient Egypt, Ancient Greece, Ancient Near East, Modern Europe) in the context of an interactive game with a series of challenges that deepen your understanding of each great civilization. The cost for this private tour is EUR 395.
Paris Discovery Walk for Families – this was our tour, although with a modification to include some of the Notre Dame tour, because of some protests that made some of the tour's usual route inaccessible. The 2 hour walk helps kids discover the architecture and history of the Marais, and is EUR 270 for families of up to 5, again focused on kids ages 6-12.
Notre Dame for Families is perfect for helping kids in understanding how and why Notre Dame was built, showing them how to recognize features of Gothic architecture, and engaging them with the many stories of the sculptures both on the cathedrals facade and inside the cathedral, as well as depicted in the stained glass. The 2 hour private tour is EUR 250 for families of up to 5, with kids ages 6-12.
Don't have kids? Paris Muse also offers private walking tours just for adults, such as its Montmartre tour, Historic Heart of Paris Walk, Inventing Modern Paris walk, and Marais walk. And Paris Muse also shines when it comes to in depth private tours at the Louvre or Musee d'Orsay.
Preparing for Your Paris Muse Walk
If you're going on the Paris Muse Discovery Walk outdoors in summer, as we did, make sure to bring water with you, a sun hat, and apply sunscreen or wear sun-protective clothing. It was very sunny and warm, and you're outside for two hours, in our case in the mid-afternoon. And as always with walking tours, make sure that both of you are wearing comfortable shoes or sneakers and that your and child (and you) are well rested and have eaten prior to the walk.
To avoid any stress about getting to your meeting place in time, I recommend leaving plenty of time and taking the Paris Metro. I almost always prefer the subway to a taxi anyway, but particularly in cities such as Paris where traffic can be gridlocked at almost any time of day, the Paris Metro is usually far faster and more reliable.
Highlights of Our Paris Muse Walk
As I mentioned, our Paris Discovery Walk incorporated Notre Dame due to protests and security / bag checks going on in the Marais, where the walk usually takes place. But as it's a private walk, you could likely ask to combine elements of both walks as well.
Here's what we particularly enjoyed:
1. Notre Dame Cathedral Facade and Sculptures
Notre Dame Cathedral is of course gorgeous inside, but the exterior facade is just as impressive. Since my son loves building, we spent some time discussing the flying buttresses that support the cathedral's height while also permitting the large stained glass windows.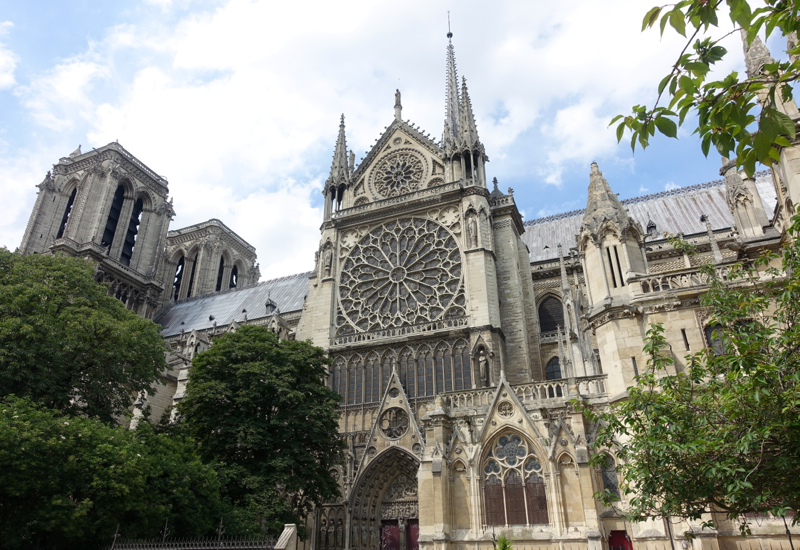 There was a line to enter, but it moved very quickly, allowing us to notice the sculptural detail on the Western facade as we got closer to the entrance.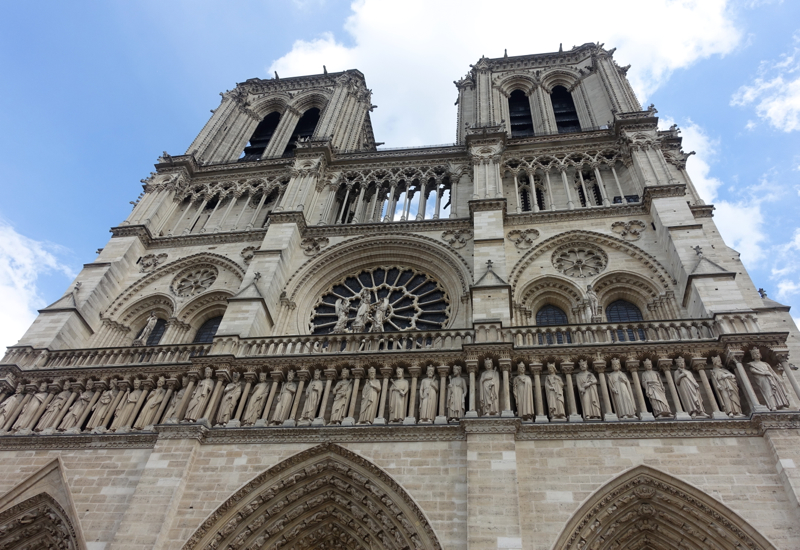 And after our visit inside the cathedral, we returned to look more closely at the sculptures, including the one of Saint Denis carrying his own head–as Raquel explained, legend has it that he was beheaded at the very spot that the Sacre-Coeur now stands, and that he picked up his head and carried it to where the Basilica of St. Denis now stands, and where many kings of France are buried.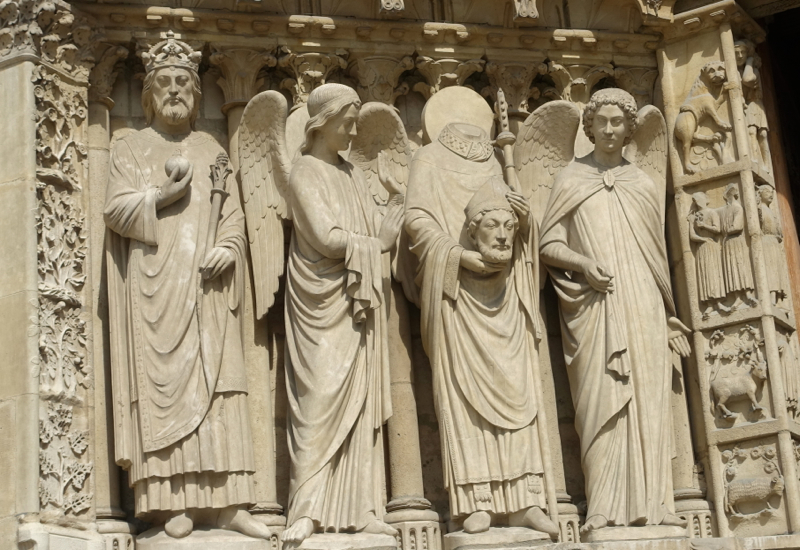 We also searched for St. Peter, whom you can see to Jesus' right, holding a key: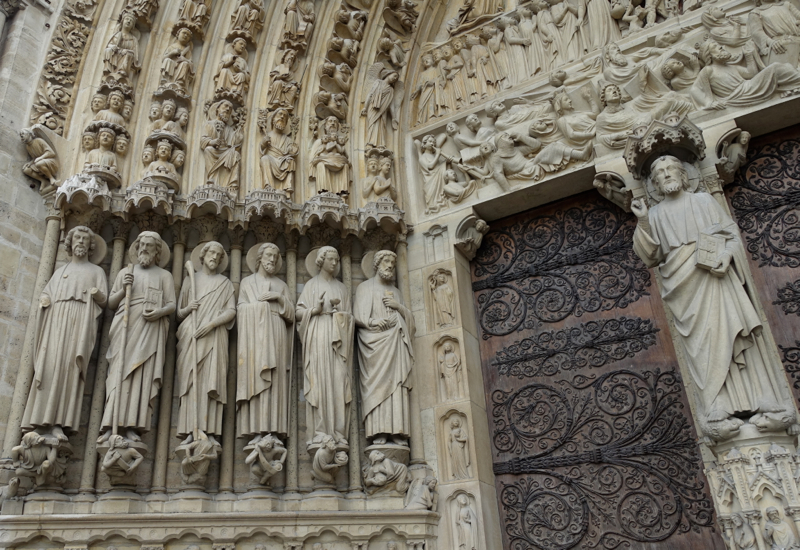 2. Notre Dame Interior and Rose Window Stained Glass
Once we got inside Notre Dame, there was plenty to explain. My husband's ancestors are Quaker, so my son has been in Quaker Meeting Houses, but it's hard to imagine a more different religious venue to a Quaker Meeting House than a Roman Catholic cathedral such as Notre Dame.
He wanted to know what all the lit candles were for, which he saw some visitors lighting: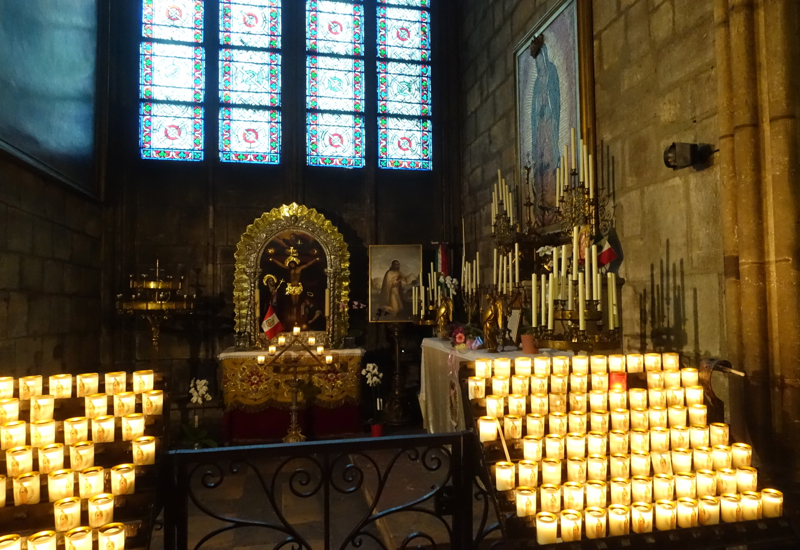 As he's becoming interested in military history, he was also curious about Joan of Arc / Jeanne d'Arc, who is credited with helping lift the Siege of Orleans and leading the French to victories during the Hundred Years' War and the coronation of Charles VII.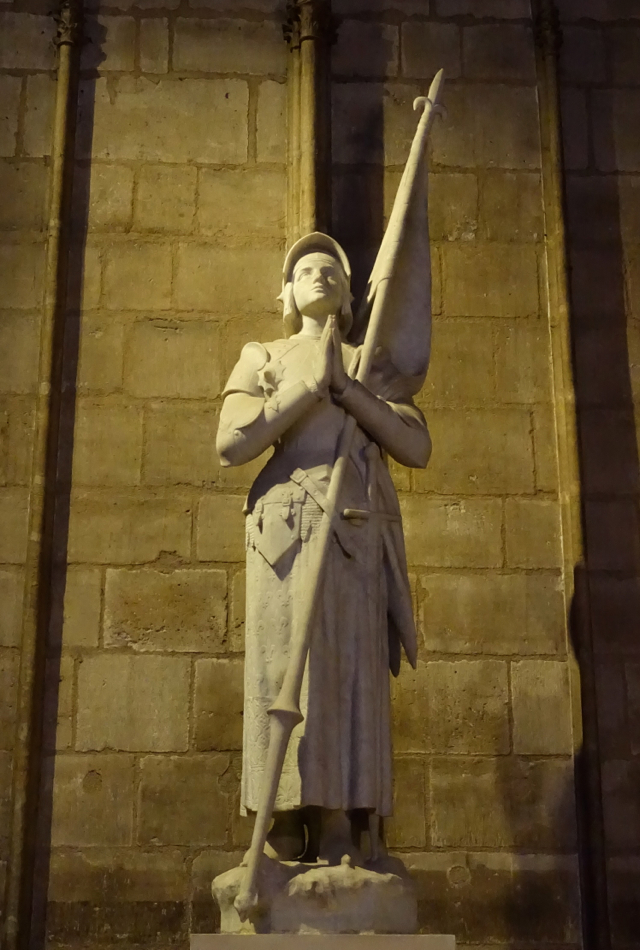 I never tire of the beautiful stained glass, such as the Rose Window: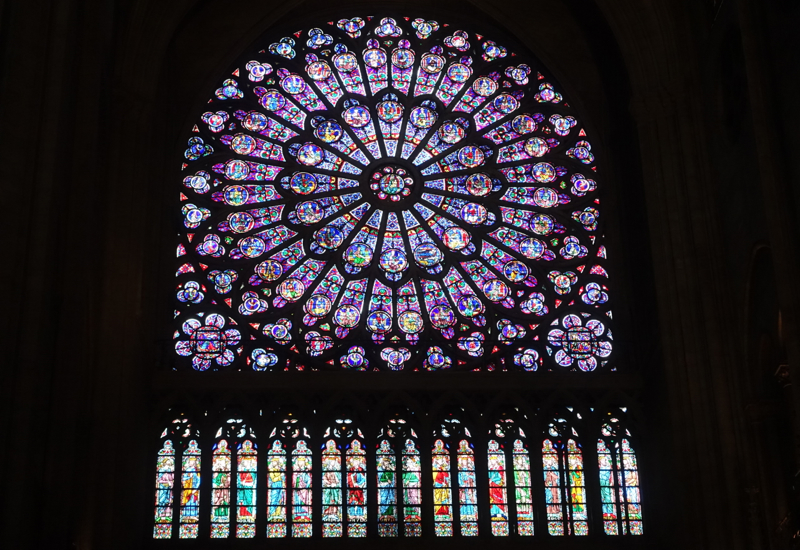 3. Berthillon Ice Cream and Sorbet on Ile St. Louis
On our way walking from the Marais to Notre Dame, we couldn't resist a stop on Ile Saint-Louis for Berthillon ice cream and sorbet. It's hard to think of a tastier way to refresh during a hot day: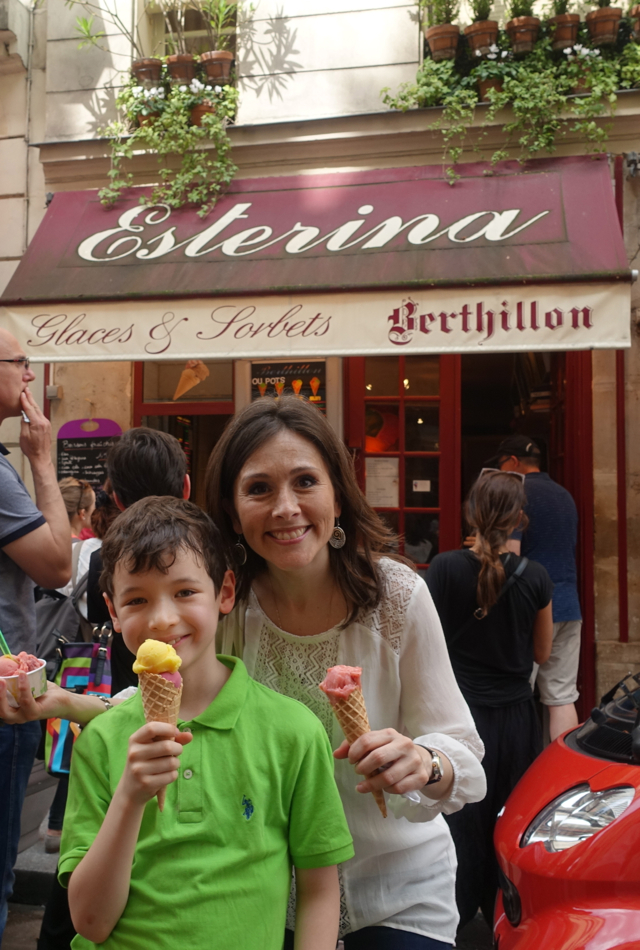 If you enjoy fruit sorbets, my top two recommendations that are unique to France are Fraises des Bois (Wild Strawberry) and Peche de Vigne (French Heirloom Peach).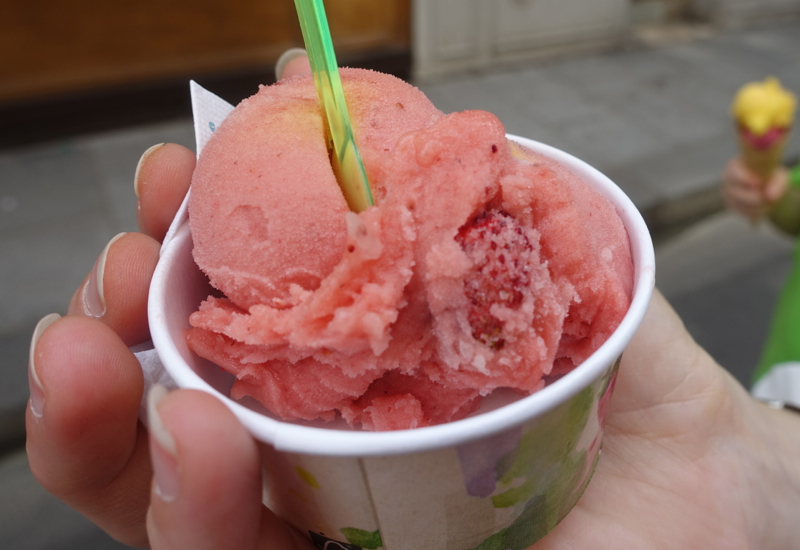 4. Square Jean XXIII Gardens Behind Notre Dame
A great way to approach Notre Dame is from the East, with a stop in Square Jean XXIII. It's a small but peaceful park, and perfect for some shady respite from the heat, as well as a chance to finish our Berthillon sorbet before entering the cathedral.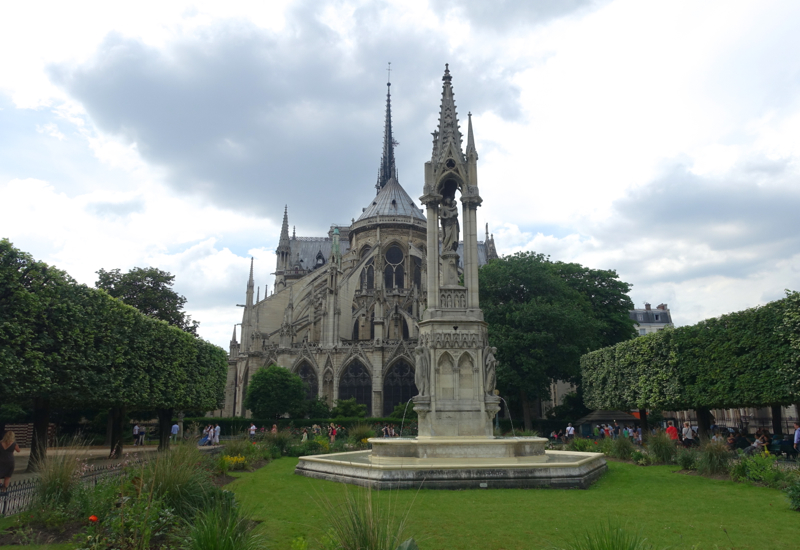 5. Figuring Out the Roman Numerals on a Marais Fountain
Paris Muse provides a fun interactive activity book for kids to engage them in what they're learning about and seeing. My son knows Roman numerals better than I do, thanks to his interest in math, so while he already knew all the Roman numerals except "D" which is 500, I learned both that one and that "L" is 50.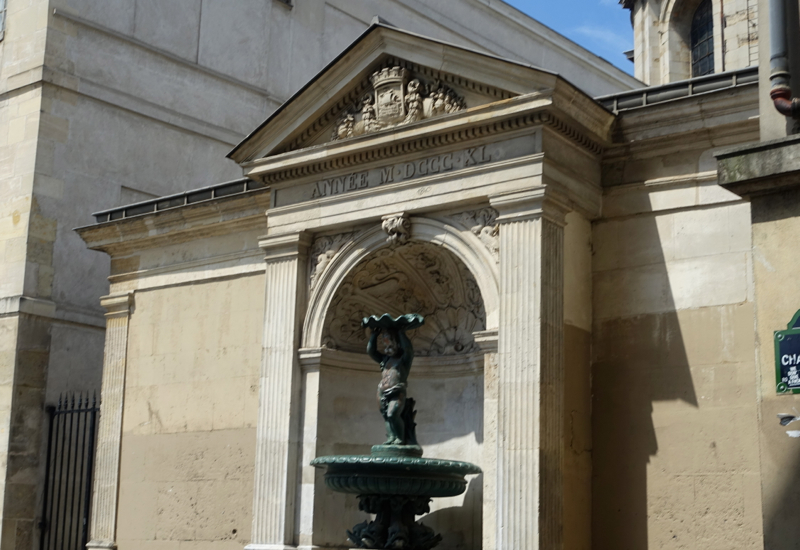 6. Place des Vosges
We met Raquel at Place des Vosges, built by Henri IV for the 1612 wedding celebration of his son, Louis XIII and Anne of Austria (who in fact was Spanish). The southern side is the Pavilon du Roi, or King's Pavilion, and the triple arches are matched on the northern side with the Queen's Pavilion. Many future European grand squares were modelled on Place des Vosges, with its appealing symmetry of all the buildings flanking the square.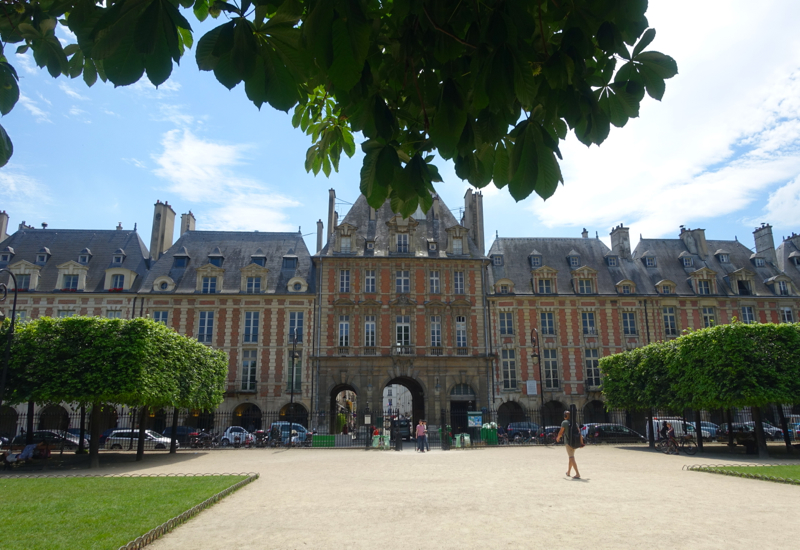 The equestrian statue of Louis XIII dated 1825 in the center is not the bronze original, which was melted down during the French Revolution.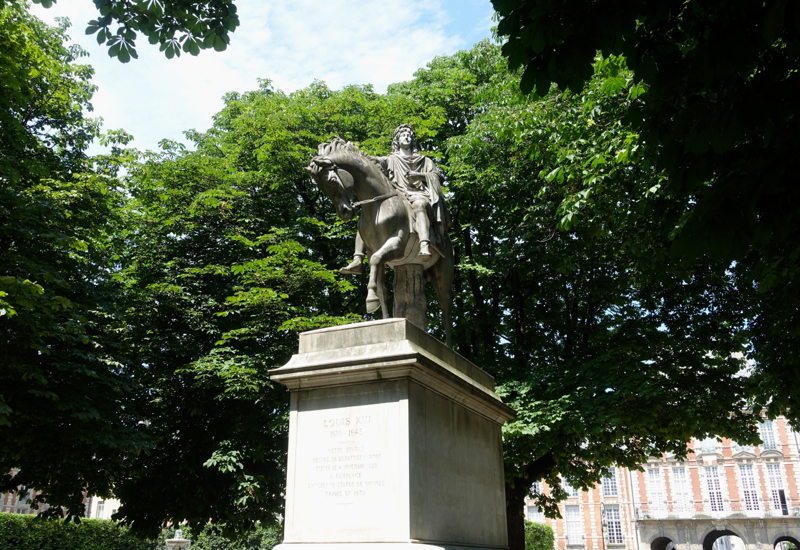 7. The Origin of "Take the High Road"
As we walked along the cobblestone streets, most of which had a lower center portion, Raquel explained how our common expression "take the high road" arose. Before the days of indoor plumbing, all kinds of wastewater were thrown from houses out the window, after a suitable warning was uttered to passers-by below. This waste flowed along the lower middle part of the road, hence the higher parts of the road were desirable, in terms of keeping out of the muck.
8. Seeing the Remains of an Ancient Marais Church
You can often see older buildings right next to modern developments, but it's more unusual to see the remains of an old church that are an integral part of a newer building: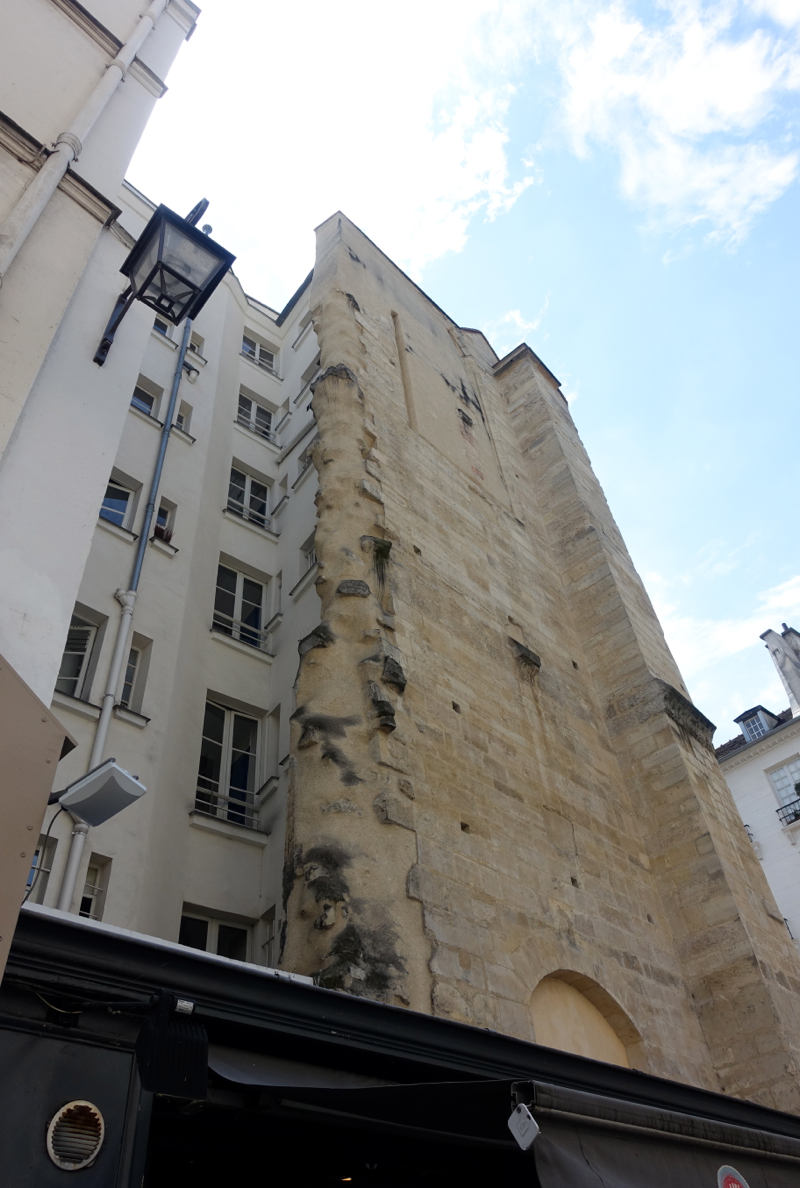 9. Hôtel de Sens
The Hôtel de Sens, which looks like a little castle, is one of just a few surviving medieval private residences in Paris, having been built in the late 1400s for the archbishop of Sens. As with many of Paris' historic buildings, it was later used in a variety of commercial capacities, including for making fig jam (it's located on Rue du Figuier, and you can still see some fig trees nearby). During the French Revolution of 1830 (Trois Glorieuses) when Charles X was overthrown, one of the fired bullets became lodged in the Hôtel de Sens wall and was never extracted, becoming a permanent reminder of its revolutionary journey.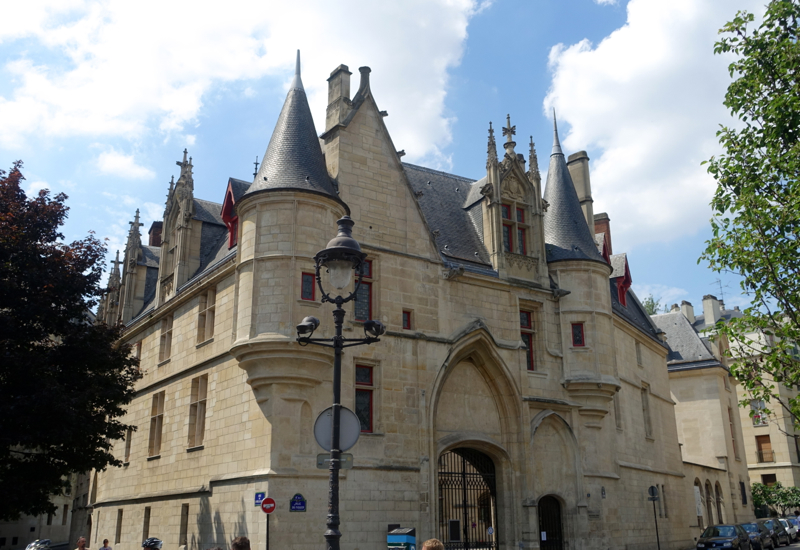 The Verdict
We really enjoyed our Paris Muse walking tour with Raquel, who was great with my 8-year old–she's a mother herself, and has a real passion for sharing her love of French history, art and architecture with kids, encouraging their questions, and patiently discussing their many follow-on queries. She was also very flexible, and as soon as we mentioned Berthillon, she easily guided us there for our refreshing treat, even joking that perhaps Paris Muse should develop a new foodie walking tour.
Private tours are of course more expensive than group tours, but in my experience, having also taken private walking tours in Pompeii and Florence, it's worth it, especially when you're traveling with young kids. In a larger group, your child may tune out, find that the group is walking too fast, start complaining, and force at least one parent if not the whole family to leave the tour, or disrupt the tour for the other guests. The beauty of a private tour with Paris Muse is that you can go at your own pace, spending more time at the places that are most compelling to you and your child. Most parents want to foster in their child a lifelong love of learning and Paris Muse has figured out how to make architecture, art, and history compelling even to kids who might not otherwise be so interested in them.
One thing I would note is that although the activity books are supposed to be for ages 6-12, some of the pages were a bit easy even for my 8 year old, so if you have an older child who is also already interested in art, you may want to go for the Louvre Quest or talk to Paris Muse about something that will be challenging enough for their age/knowledge.
If you've taken a private walking tour with Paris Muse, what was your experience?
Related Posts
Paris with Kids-Jardin du Luxembourg
Four Seasons Paris Kids' Pastry Lesson and Back of the House Tour
Review: Pompeii with Private Tours of Pompeii
Disclosure: We were guests of Paris Muse and enjoyed a complimentary walking tour for review purposes. The views expressed in this post are my own.
Need Award Booking Help? Our fee is as low as $75 per ticket if you book your hotel through us.
If you enjoyed this, join 200,000+ readers: please follow TravelSort on Twitter or like us on Facebook to be alerted to new posts.
Become a TravelSort Client and Book Your Hotel with Virtuoso or Four Seasons Preferred Partner Amenities!