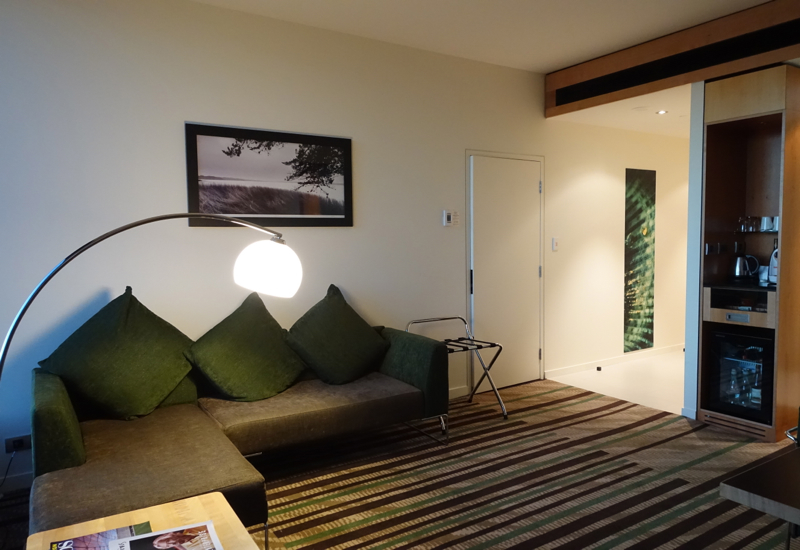 This Novotel Auckland Airport Hotel Review is from a New Zealand trip report. For the prior posts, please see:
Air Tahiti Nui Business Class Review: Papeete to Auckland
Review: The Farm at Cape Kidnappers, Hawkes Bay, New Zealand
Elephant Hill Winery Restaurant Review, Hawke's Bay New Zealand
Best Place to See a Kiwi Bird in the Wild in New Zealand?
The Farm at Cape Kidnappers Dining and Restaurant Review
Novotel is part of Accor Hotels, which also includes the Sofitel hotels as its luxury brand, although Accor is acquiring Fairmont for its luxury hotels, to increase its strength in the premium segment. Novotel is one of Accor's mid-scale brands, with nearly 400 hotels worldwide, but with most of them in Europe. On our prior overnight stay in Auckland last year we stayed at the Sofitel Auckland Viaduct Harbour, but that is about a 30-40 minute drive from the airport. Since we had a morning flight, we decided to keep things simple and stay at the Novotel Auckland Airport Hotel for this quick overnight.
Novotel Auckland Airport Hotel Location and Check-In
The Novotel Auckland Airport is conveniently right next to the International Terminal, on Ray Emery Drive. We arrived at Auckland's Domestic Terminal, which is an easy 7-10 minute walk to the hotel and International Terminal.
It was quite busy when we arrive in the early evening, and even with three check-in associates we waited over 10 minutes in line. Actual check-in once it was our turn was quick, however, and we were soon on our way to our suite on the 11th floor.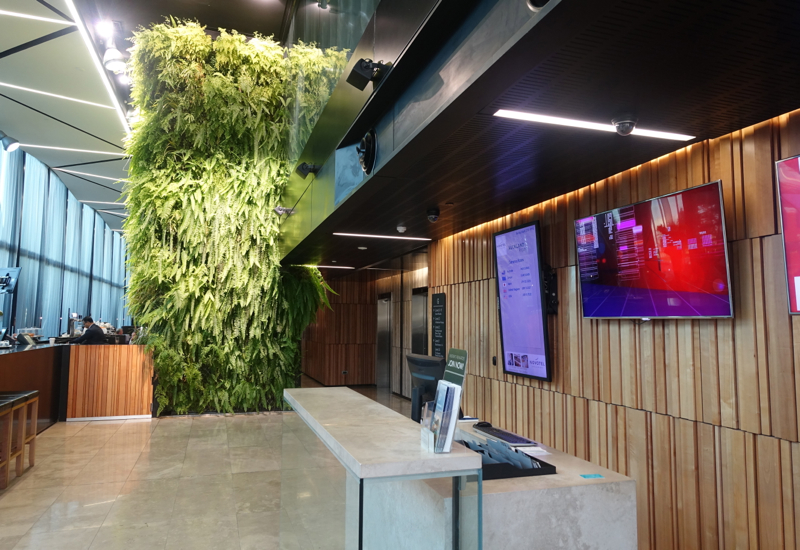 Novotel Auckland Airport Suite
Since Superior and even Executive Rooms are on the small side, at about 300 square feet, we decided to reserve a Suite. Suites are about 580 square feet, with a living room that is separated from the bedroom by frosted glass doors. Here's the entrance to the suite, which leads out to the living room: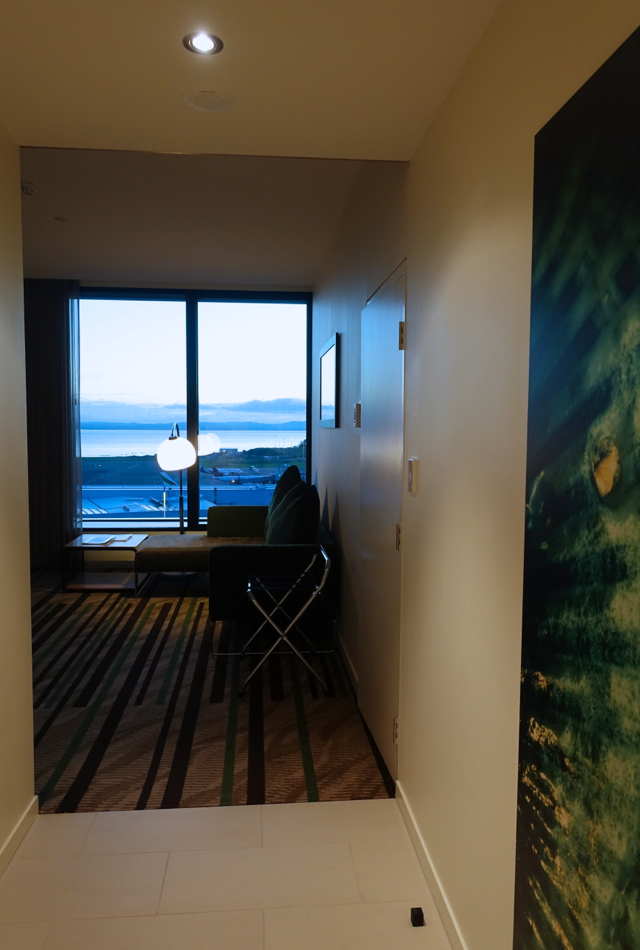 Our airport view wasn't all that interesting, but I was grateful for excellent soundproofing–we didn't hear any plane takeoffs or landings.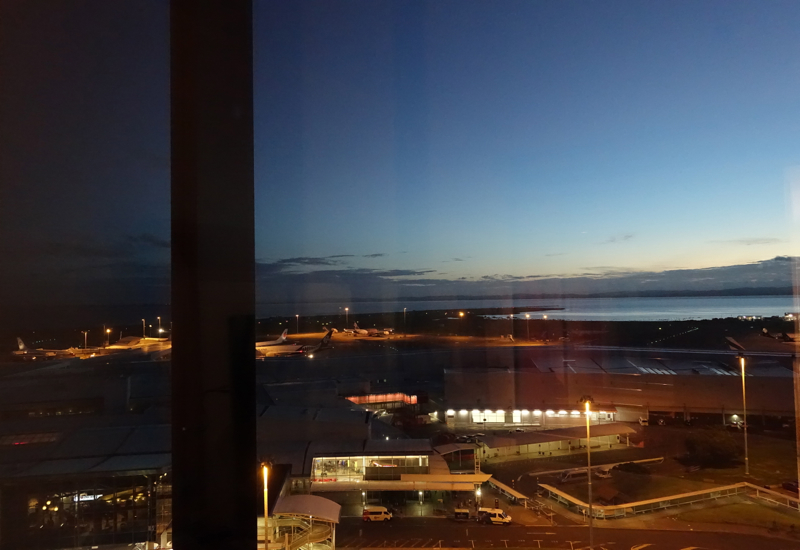 The living room is quite modern and stylish for a Novotel, since the hotel is just 5 years old. There's an L shaped sofa, which we later moved to form a bed for our son, a curved lamp, flat screen TV and a desk with international outlets (something every airport hotel should have).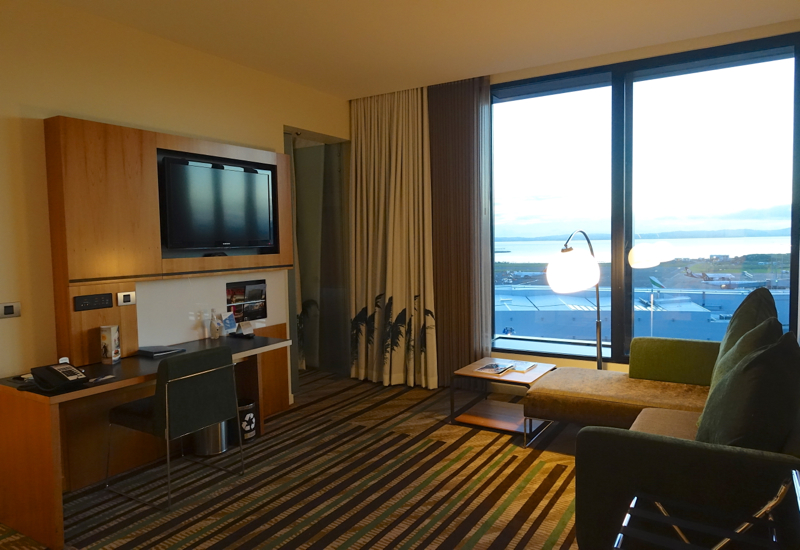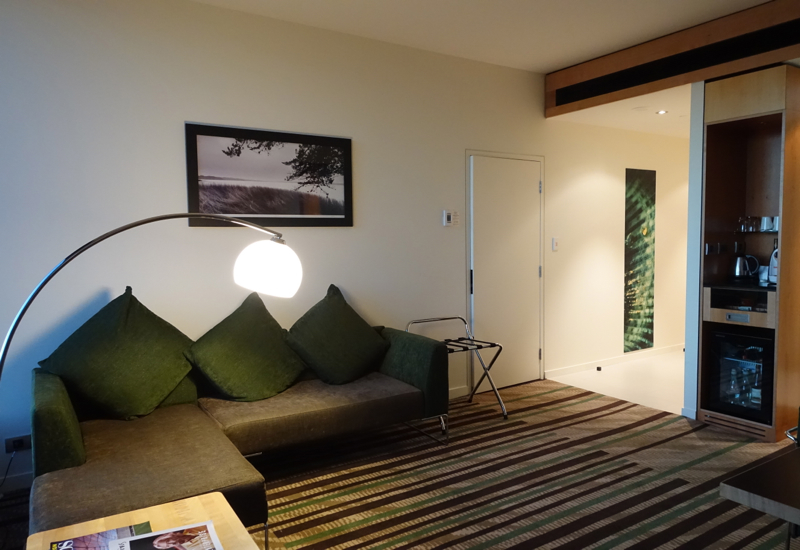 In an alcove there was a mini bar, with a coffee maker and electric tea kettle.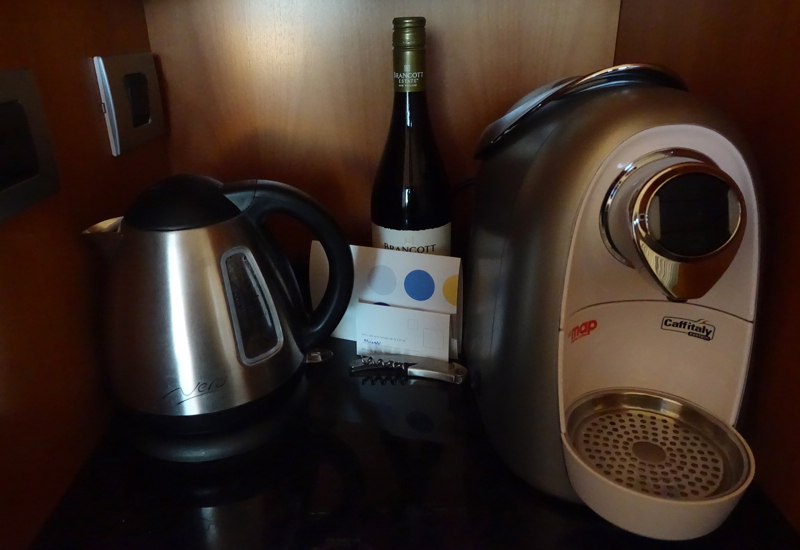 The bedroom featured a King bed which we slept decently on since we were tired, but which wasn't as comfortable as the Sofitel bed at the Sofitel Auckland. Of all the luxury hotels, I find Four Seasons (especially the new Four Seasons bed) and Sofitel's SoBed the most comfortable beds.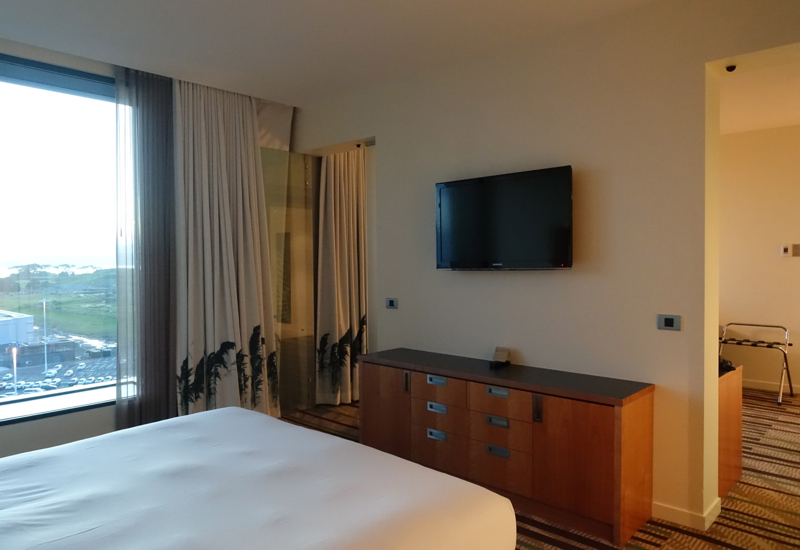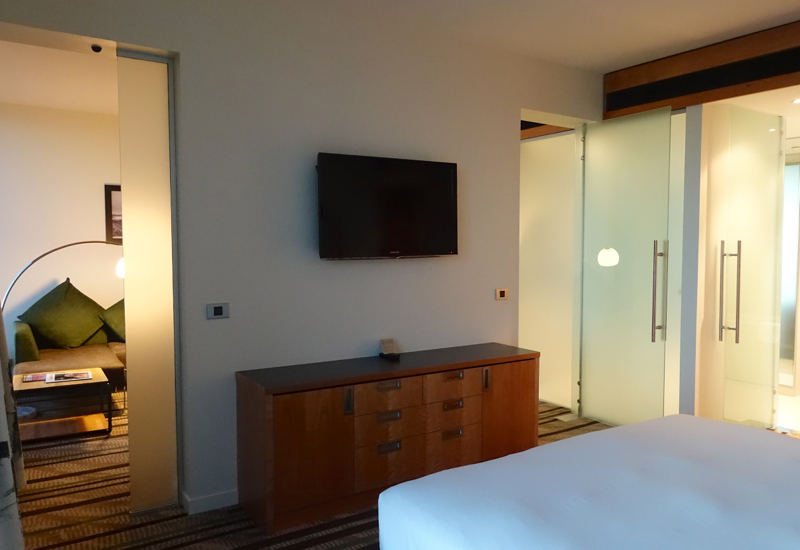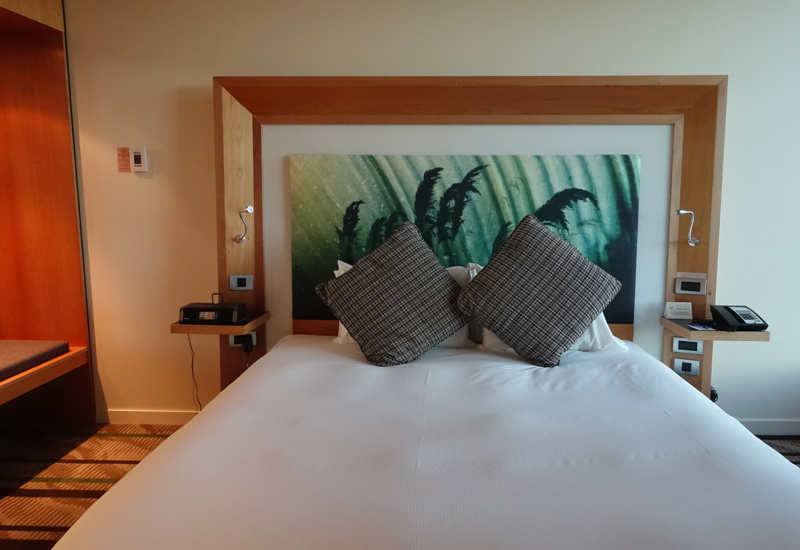 The Novotel Auckland Suite bathroom was interesting. It was a single bathroom, but arranged such that there was a door to it both from the living room and from the bedroom. This is ideal if a child or adult is sleeping in the living room, since they can access the bathroom without traipsing through the bedroom. That said, I didn't care for the glass door in the bathroom itself that separated the area with the toilet chamber from the rest of the bathroom. I'm usually not that clumsy, but somehow managed to walk into the glass door once, and I think my husband did as well.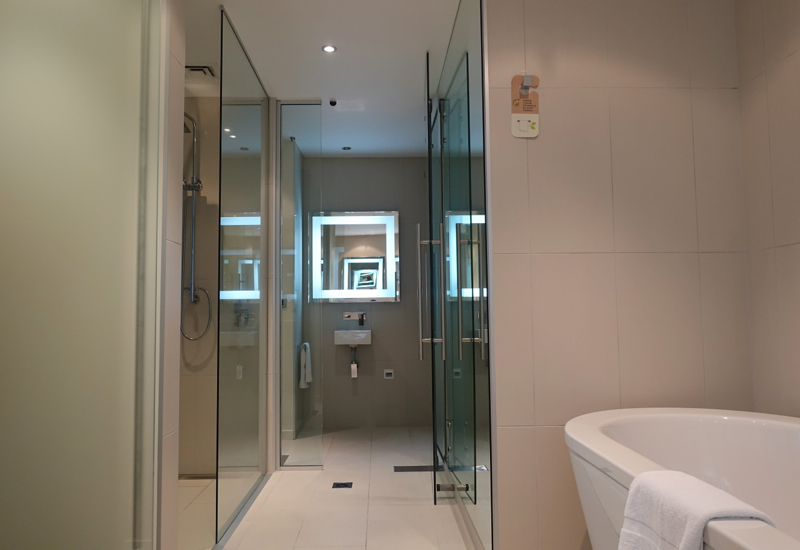 In addition to the small sink right outside the toilet chamber, the main part of the suite featured double his and hers sinks, a standalone bathtub, and a walk-in shower.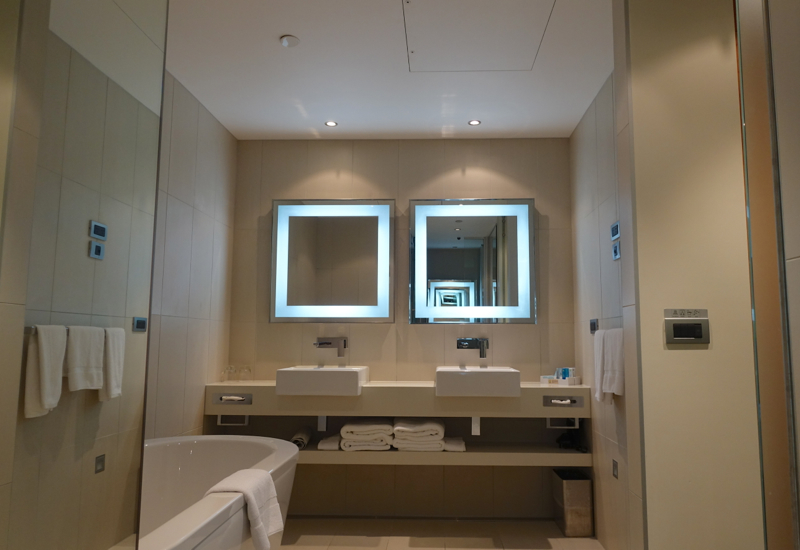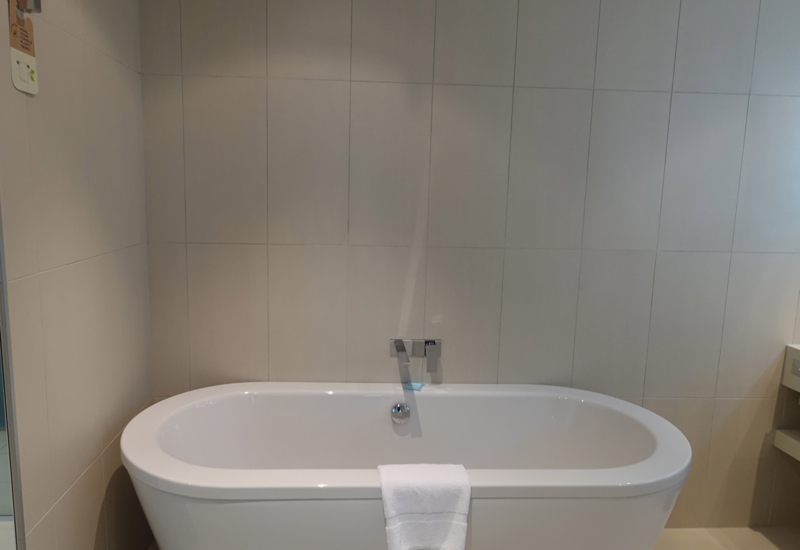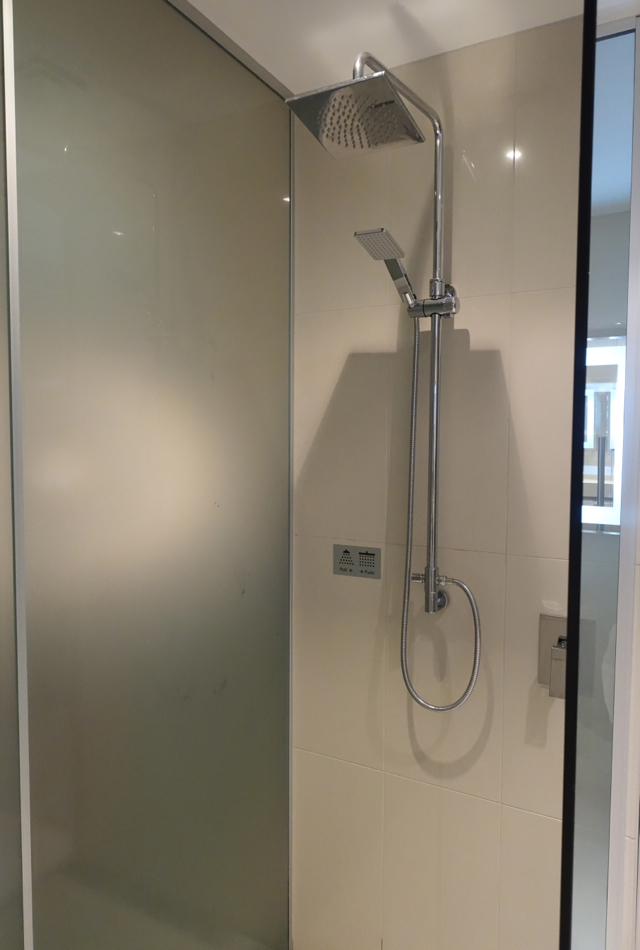 Novotel bath products seem to be the same everywhere, as I instantly recognized the blue bath products we'd used at the Novotel Bangkok Airport.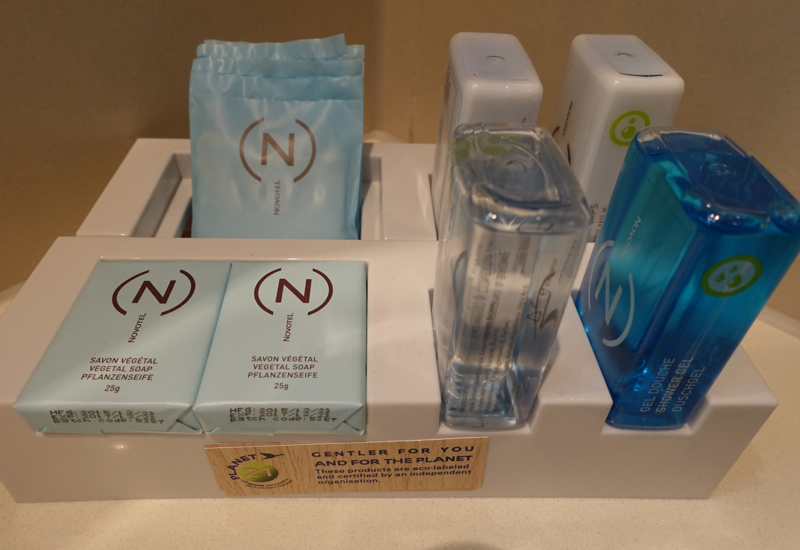 Novotel Auckland Airport Hotel Service and Room Service Dinner
We don't order room service that much, but in the interest of getting our son to bed soon, we ordered a room service dinner at the Novotel Auckland. We nearly regretted it, since it took a lot longer to arrive than they had said–about 50 minutes rather than the promised 30 minutes–but it was quite tasty when it did get to us.
Our son ordered steak with mashed potatoes and vegetables from the kids' menu. I ordered it medium-well, but it was cooked more like medium-rare, so we cut around the rare bits.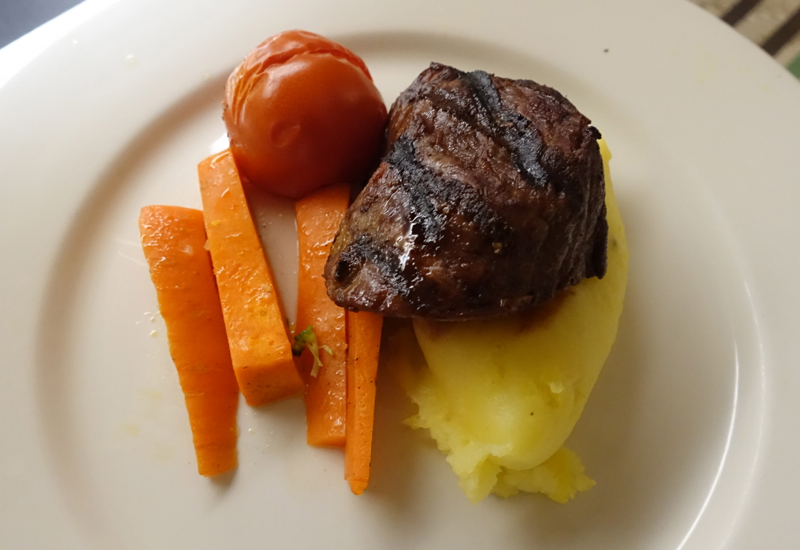 My husband enjoyed his dinner salad, which tasted very fresh and included grilled chicken, bacon and poached egg: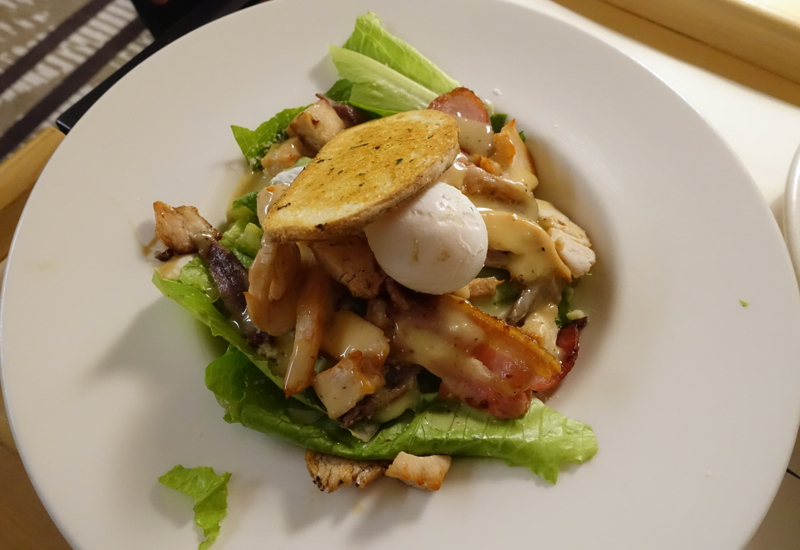 But the hit of the evening turned out to be my Tandoori Chicken Pizza with a smear of guacamole in the center. While it wasn't terribly photogenic, it was very tasty and also a large pizza, so both my son and husband helped me eat it.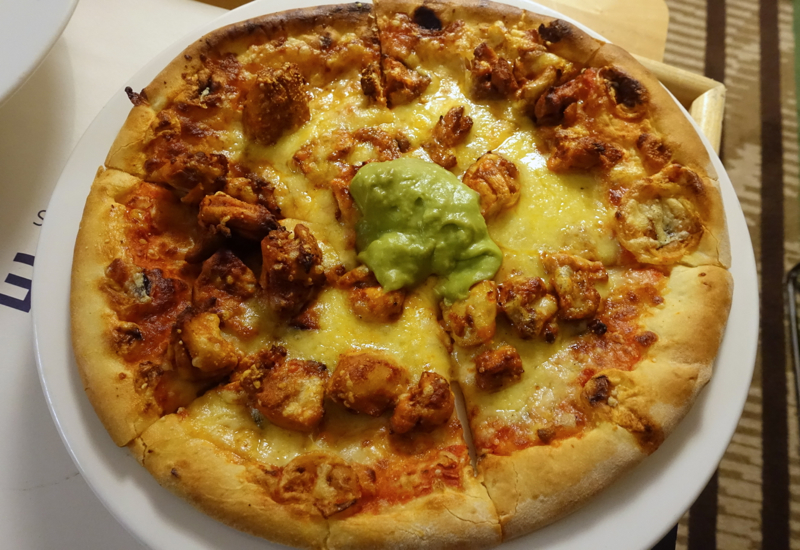 The Verdict
You can't beat the convenient location of the Novotel Auckland Airport, given its location right across from the International Terminal. As a relatively new hotel, built in 2011, we found our suite there modern and very comfortable for the three of us, with just a few issues.
We did have to have an associate help us with the air, since it was too warm in the room and our own attempts to get the air conditioning to work better weren't effective. It also took multiple calls and a long wait to get a bucket of ice to us, since there aren't ice machines anywhere for guests to use.
Be prepared for room service to take longer than anticipated, especially when the hotel is at high occupancy, as it often is.
If you've stayed at the Novotel Auckland Airport Hotel, what was your experience?
Related Posts
Review: Sofitel Auckland Viaduct Harbour, New Zealand
Review: Novotel Bangkok Airport Hotel Suite
Accor Acquires Fairmont for Its Luxury Hotels
New Zealand Award Travel in First Class and Business Class
Disclosure: I paid a travel professional rate. The views expressed in this post are my own.
Need Award Booking Help? Our fee is as low as $75 per ticket if you book your hotel through us.
If you enjoyed this, join 200,000+ readers: please follow TravelSort on Twitter or like us on Facebook to be alerted to new posts.
Become a TravelSort Client and Book Your Hotel with Virtuoso or Four Seasons Preferred Partner Amenities!