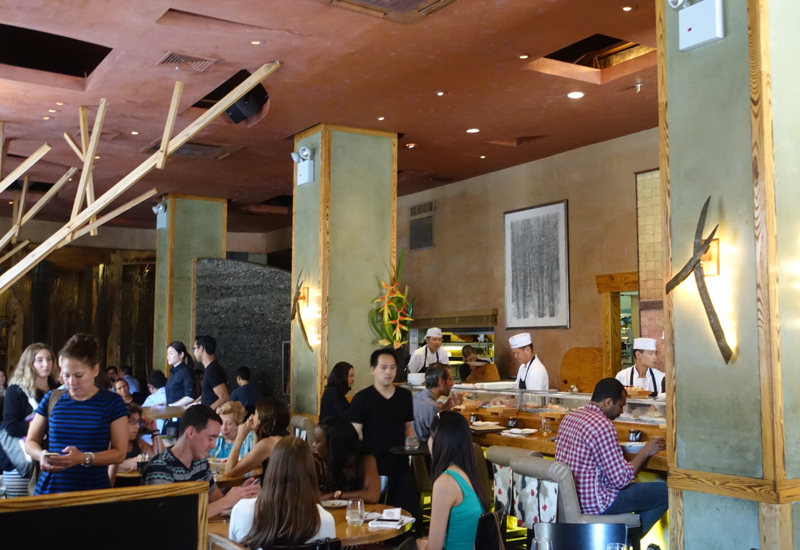 Our Nobu New York Review is from our recent NYC Restaurant Week lunch. Some might argue that it's not fair to judge a restaurant by its NYC Restaurant Week lunch menu. Personally, I think that if a restaurant isn't going to put its best foot forward for NYC Restaurant Week, it probably shouldn't be participating. After all, if the goal is to attract new potential diners, many of whom are trying the restaurant for the first time, the Restaurant Week is a moment of truth. It's not as if there aren't a plethora of other NYC dining options, with new restaurants opening all the time.
Getting to Nobu New York, TriBeCa
Nobu New York is located at 105 Hudson Street in TriBeCa, by Franklin Street. If coming by subway, the closest station is Franklin Street (1 train) followed by Canal Street (A, C, E trains). You could also walk from the East side Canal Street Station (N, R, Q, 6, J, M, Z trains).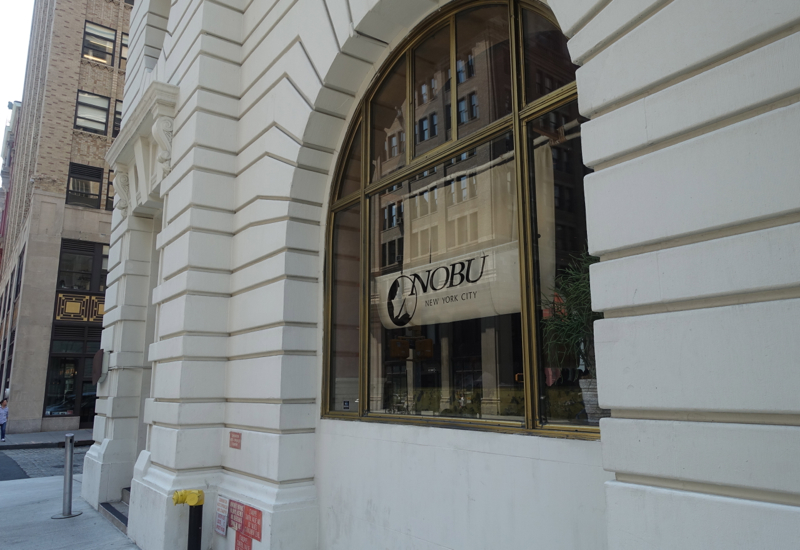 The Scene
Since we were there for a weekday lunch, which is when the Restaurant Week lunch menu is offered, most of the the other diners seemed to be 20-30 somethings, both couples and small groups of friends, although there were a few suits doing business lunches.
The restaurant was packed, as I expected, since Restaurant Week lunch is extremely popular and quickly books up. The downside of this is that the restaurant was extremely loud–don't come here expecting a romantic meal or for a date night, at least if you don't want to be close to shouting back and forth.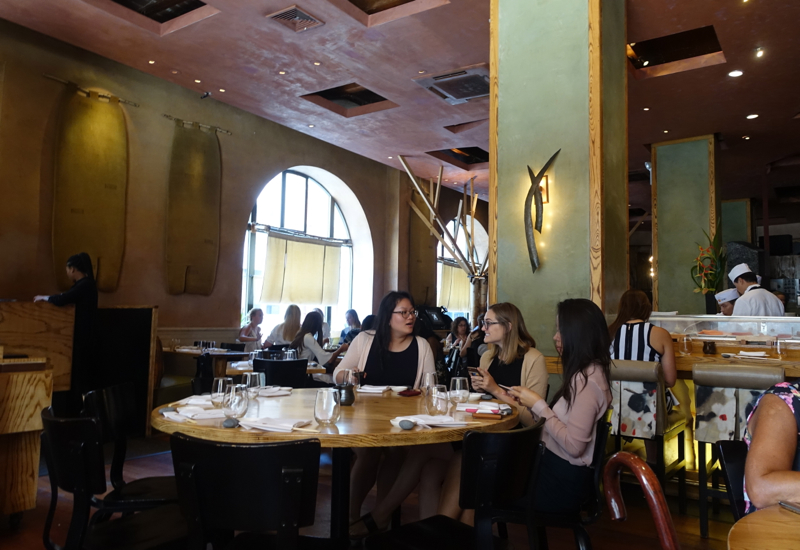 Nobu New York Restaurant Week Menu
Nobu's Restaurant Week Menu offers three choices each for appetizers and entrees, and two choices for dessert.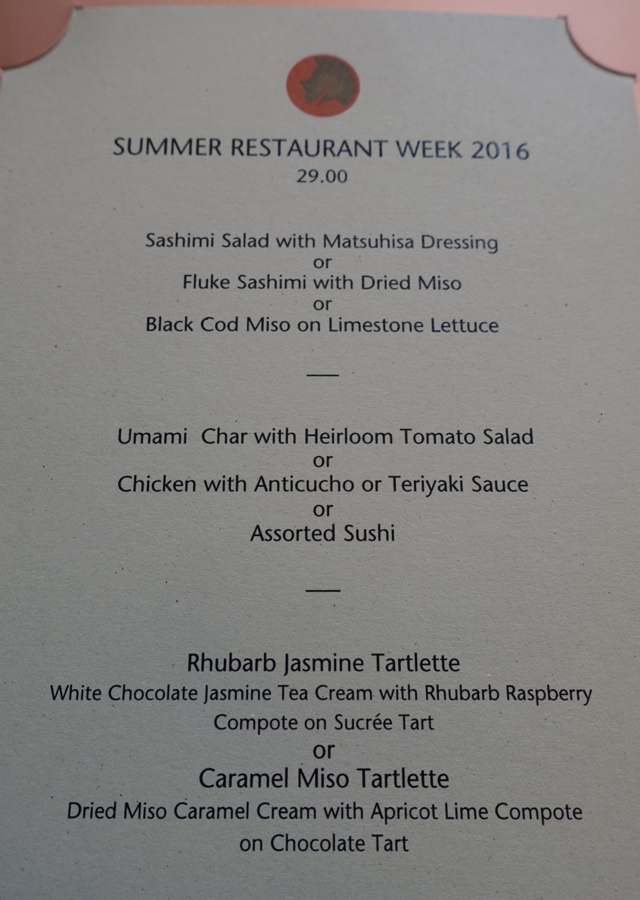 There were also several drink choices, but we both had plenty of work to do in the afternoon and stuck with ice water.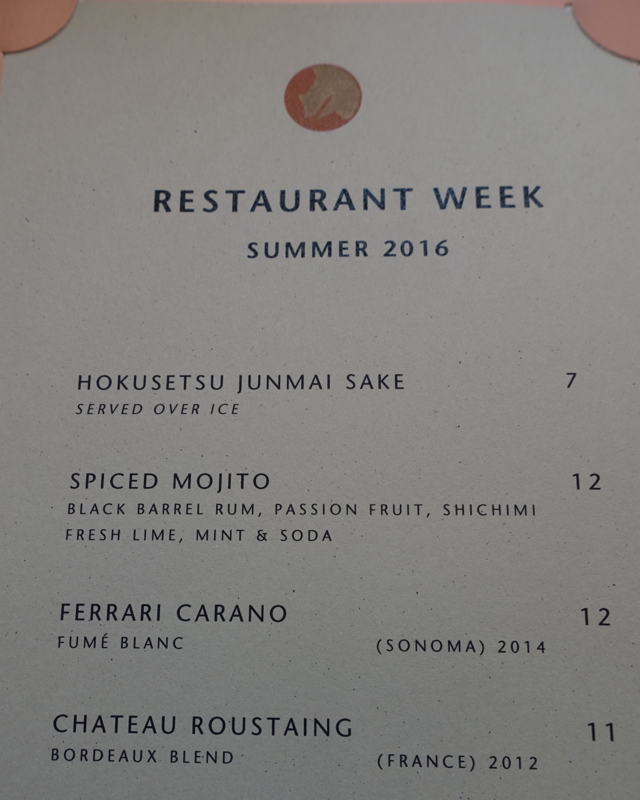 Our appetizers took about 15 minutes, and my favorite was my husband's black cod miso in lettuce cups, which he was kind enough to let me taste. This is a signature dish at Nobu, and deservedly so–for me, it was the highlight of the meal, and I just wish it was an option in a main course portion size.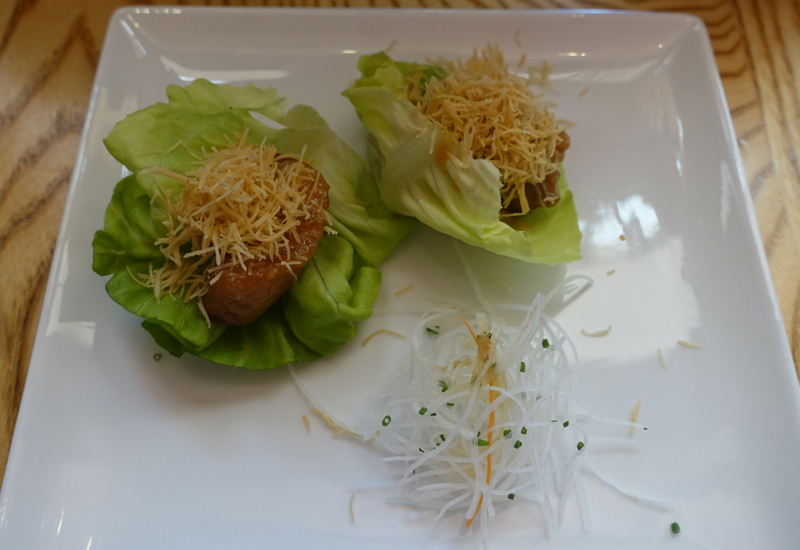 My sashimi salad with Matsuhisa dressing was fine, but nothing special–I found the dressing overly salty, and there were just 3 thin slices of sashimi. Given how thin the slices were, and the amount of lettuce, a fourth piece would have been appreciated.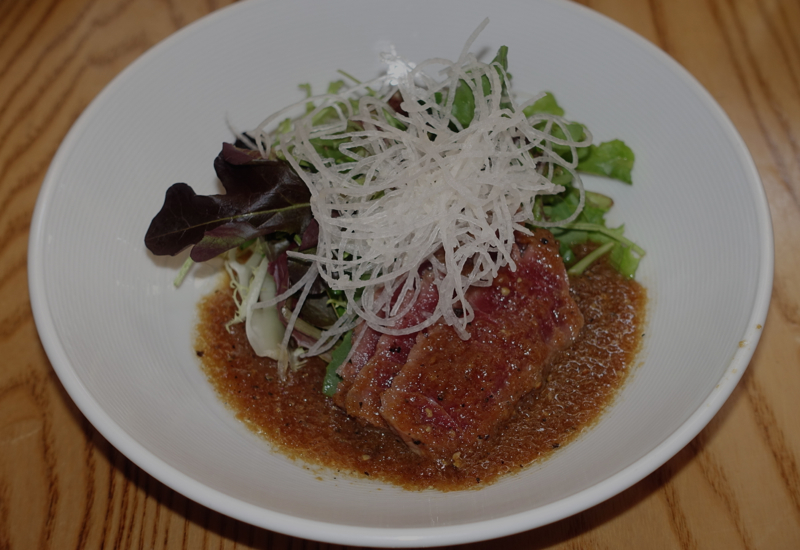 We both decided to get the Assorted Sushi, which included pieces of tuna, yellowtail (hamachi), salmon, fluke, Spanish mackerel and Snow Crab, as well as a tuna roll. My favorite by far was the Snow Crab, which was so fresh and sweet, with the perfect amount of wasabi.
Unfortunately, several of the other pieces had too much wasabi dabbed on the rice, which overpowered the fish. Yes, you could disassemble the sushi and remove some of it, but for a restaurant that purports to have great sushi, I found it a glaring faux pas that the wasabi was so carelessly and inconsistently applied. I haven't run into this issue at my favorite Midtown sushi lunch place, Tsushima.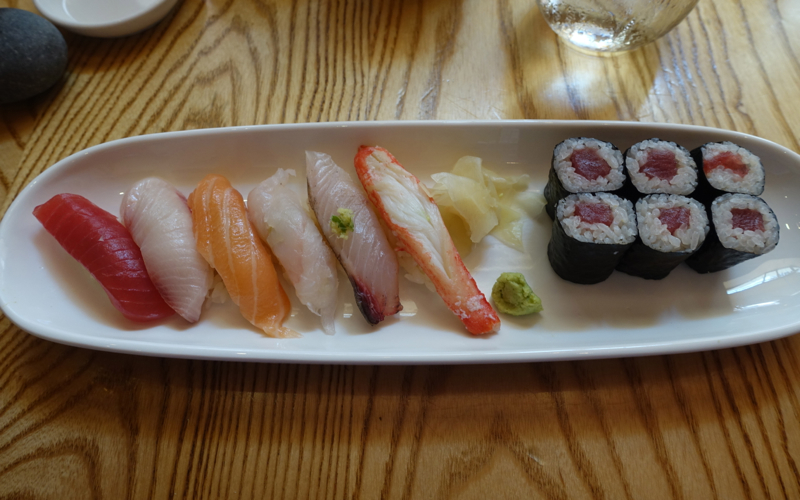 I have low expectations when it comes to dessert at any Asian restaurant, so given that I didn't expect much, I quite liked my Caramel Miso Tartlette, with its dried miso caramel cream and apricot lime compote on a chocolate tart. The flavors went well together, and there was quite a nice piece of apricot as part of the compote.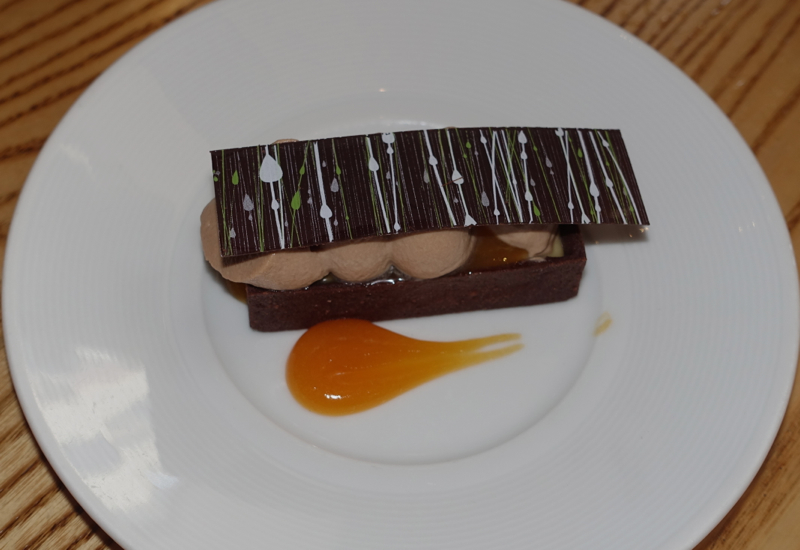 My husband wasn't impressed with his Rhubarb Jasmine Tartlette, which to him sounded better on paper than it tasted. He preferred my dessert, and I have to admit I found his dessert a bit too sweet. The beauty of rhubarb is that it's tart, and it's a shame to lose that tartness by adding so much sugar that it's cloying.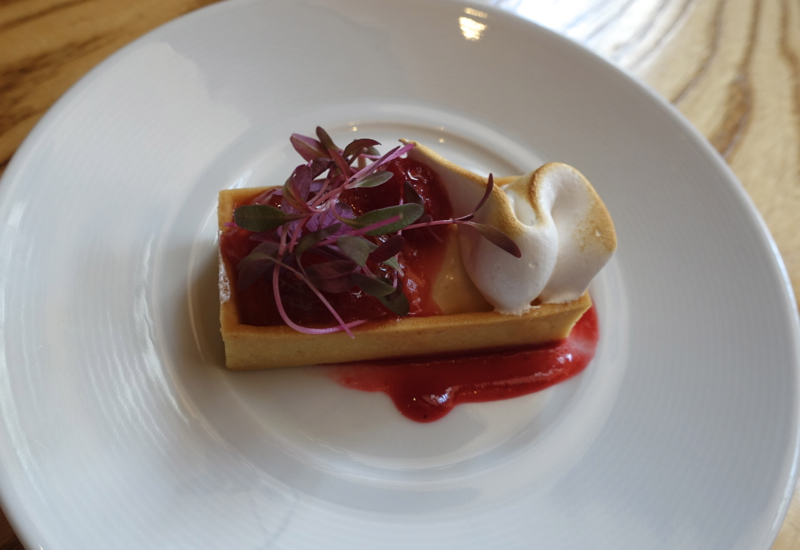 Service
We had several different servers over the course of our lunch, as well as other staff who refilled our waters (and did a great job, I might add–not so easy given the considerable amount of ice water I drink when the weather is as warm as it's been lately in NYC). The hostess who seated us and all servers were polite, and I have no complaints in terms of service.
I did think it curious that the server brought a portable credit card machine to our table, the way it's normally done in Europe, and asked our server about it. He explained that it's being done to protect diners' card details, so that their card is always within sight, and that it would be rolling out to more NYC restaurants over the next month or so.
The Verdict
I'm glad we tried Nobu New York, but I doubt we'd ever go back, in part because of how loud the restaurant is, and in part because for the price, I'd rather go to Tsushima and not have to deal with sushi that has too much wasabi on it (it also makes me wonder about the freshness of the fish, if a restaurant puts a lot of wasabi–excellent fresh fish needs very little adornment). Then again, I did really enjoy the black cod miso, so at the least I may have to check out Chef Nobu Matsuhisa's marinade recipe and get some black cod–that dish is something I'd definitely love to eat again. I just doubt I want to put up with Nobu's acoustics for it.
If you've been to Nobu New York, what was your experience?
Related Posts
NYC Restaurant Week Summer 2016: Where to Go and AMEX Statement Credit
The Clam NYC Restaurant Review
Top 5 Best Value NYC Michelin Star Restaurants
Disclosure: We paid for our own meals at Nobu New York, using an AMEX Business Platinum with the Restaurant Week promo of $5 off $35 or more, and a Chase Freedom on which we earn 5X on restaurants for Q3 2016.
Need Award Booking Help? Our fee is as low as $75 per ticket if you book your hotel through us.
If you enjoyed this, join 200,000+ readers: please follow TravelSort on Twitter or like us on Facebook to be alerted to new posts.
Become a TravelSort Client and Book Your Hotel with Virtuoso or Four Seasons Preferred Partner Benefits!