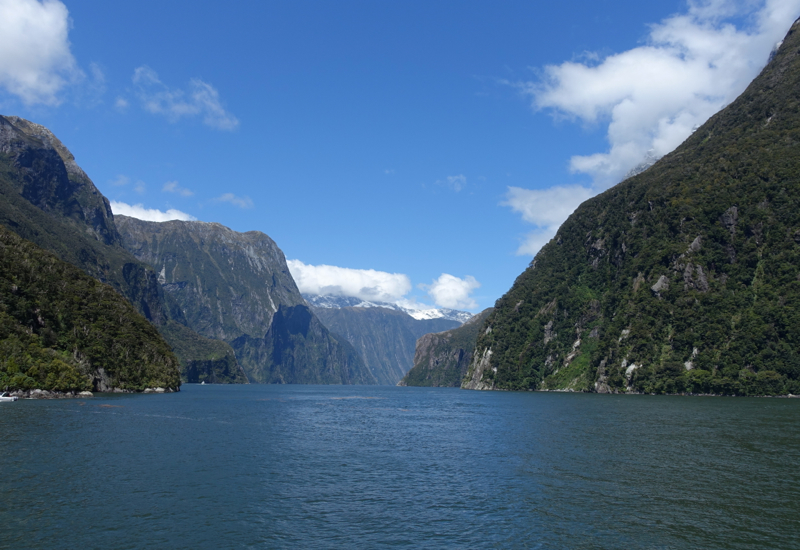 This Review of a Milford Sound Flight and Cruise with Real Journeys, New Zealand is from our recent visit to Queenstown, known as the adventure capital of New Zealand. For prior posts in our trip report on New Zealand, please see:
Review: Eagles Nest, Bay of Islands, New Zealand
Review: Gables Restaurant in Russell, New Zealand
Paihia Dive Review, Bay of Islands, New Zealand
Review: Otahuna Lodge, Christchurch, New Zealand
Otahuna Lodge Dining Review: Best Meal in New Zealand
Things to Do in Akaroa, New Zealand
Review: Matakauri Lodge, Queenstown, New Zealand
Milford Sound Flight and Cruise with Real Journeys Price
Real Journeys offers Milford Sound and Doubtful Sound cruises, as well as visits to Stewart Island, Dusky Sound and Te Anau (where the glowworm caves are). We only had one full day in Queenstown, so with such limited time, we knew a flight to Milford Sound, nature cruise, then flight back to Queenstown was our best option.
At our time of booking the cost was NZD 460 per adult and NZD 299 per child, but the cost per adult has since increased to NZD 475. I still think that for the time saved, this is a great deal, especially since the current exchange rate makes this about USD $315.
Milford Sound Flight with Air Milford
Our flight departed from the Air Milford Hangar just past the Queenstown Airport at about 12noon. There are pickups in Queenstown, but since Matakauri Lodge in Glenorchy is a bit outside the pickup area, we drove ourselves to the hangar. Easy enough, since it was only a 25 minute drive.
Here's our 14 seat Cessna that we flew: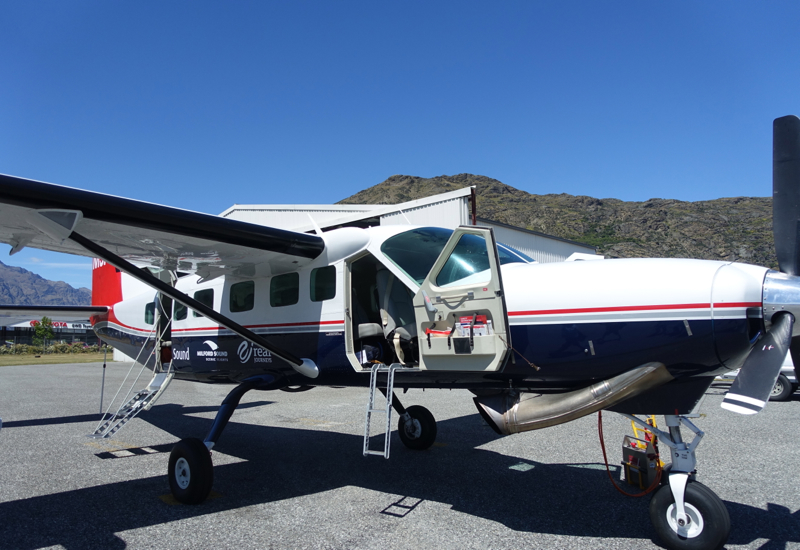 We had a quick takeoff from Queenstown Airport and were soon enjoying great aerial views of Laka Wakatipu:
I have to say, I'm so glad we took the flight to Milford Sound, not just to save time, but also because it offered unique views of the landscape and the snow covered mountains:
Milford Sound Cruise
The Milford Sound landing strip is large enough for several planes: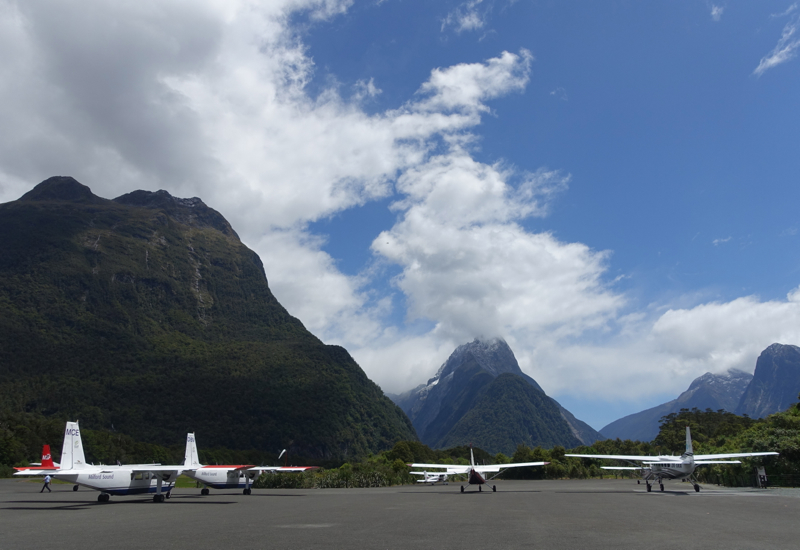 There's a complimentary shuttle bus that we took for the short ride to where we boarded our cruise: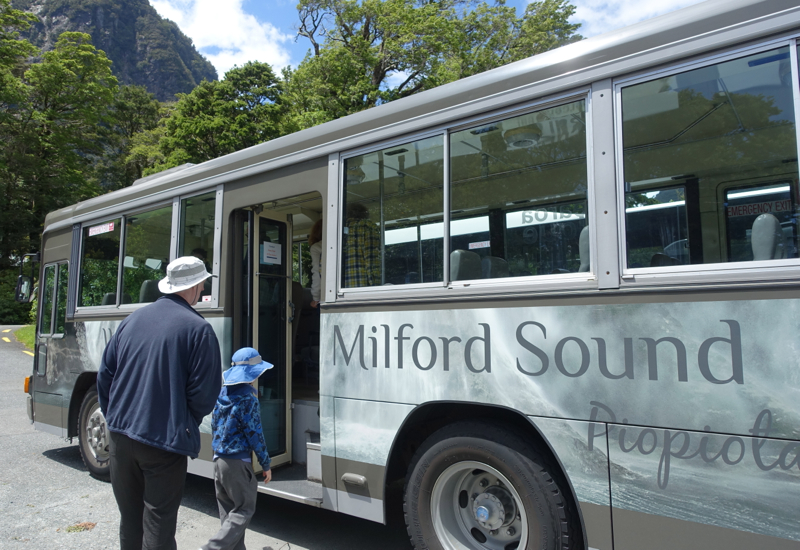 Our ship was the Milford Mariner: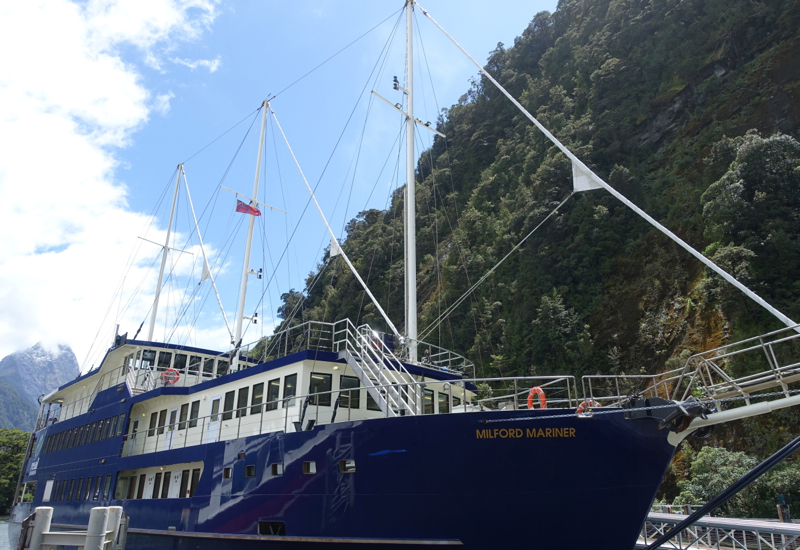 The ship itself was fine inside, but nothing special. We sat in one of the booths on the right.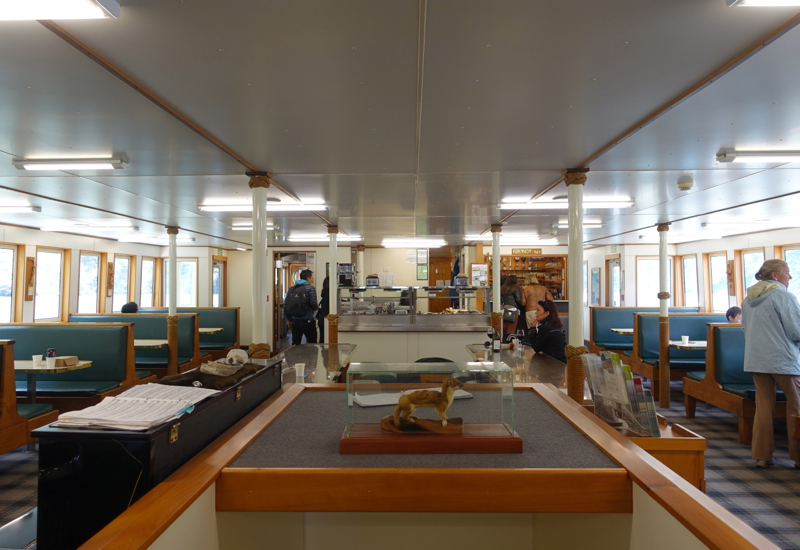 The most disappointing aspect of the cruise was the included picnic lunch–it was easily the worst food we had in New Zealand. I honestly think it would be better to not advertise an "included picnic lunch" and instead either tell passengers to bring their own food or provide just the apple and some higher quality bread and cheese, since the overly processed packaged snacks and sandwich were of such poor quality. Fortunately I'd brought some Trader Joe's Marcona almonds with me, so I ate that, the apple and the cheddar cheese and threw the rest away.
The cruise itself was nice when you were outside on the boat, as long as you found a less crowded place to enjoy the views and take photos. Early on in the cruise we spotted these seals sunning themselves: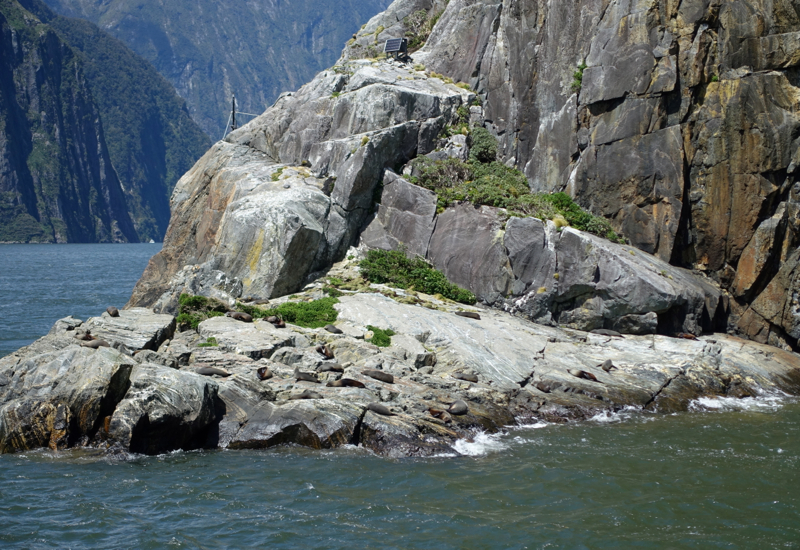 And of course a highlight were the many waterfalls, such as this one: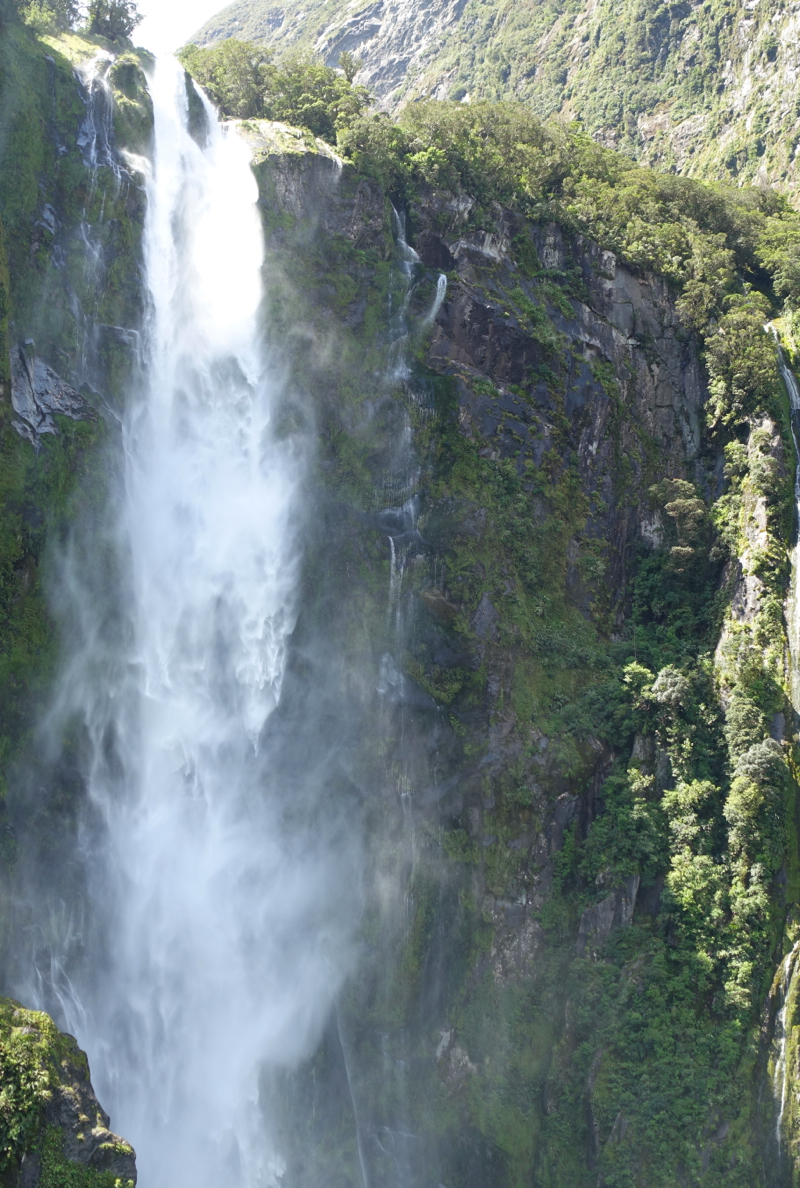 The mist even created rainbows: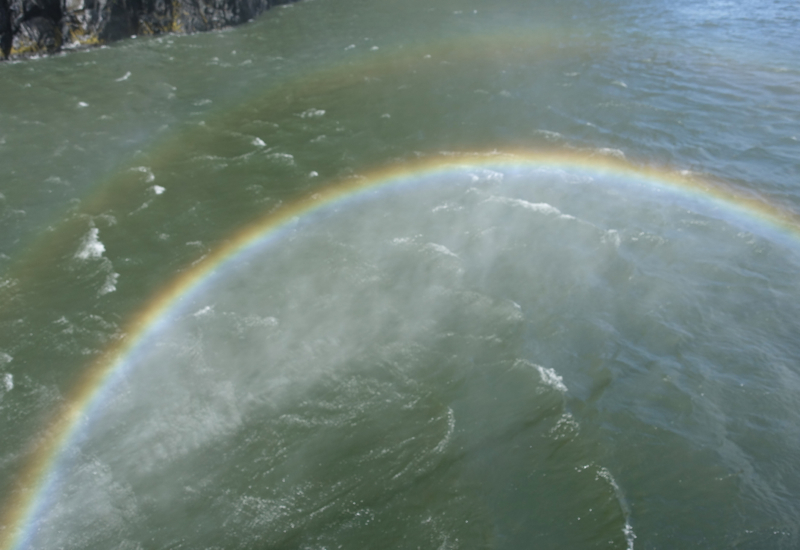 Milford Sound, the mountains, and waterfalls were beautiful: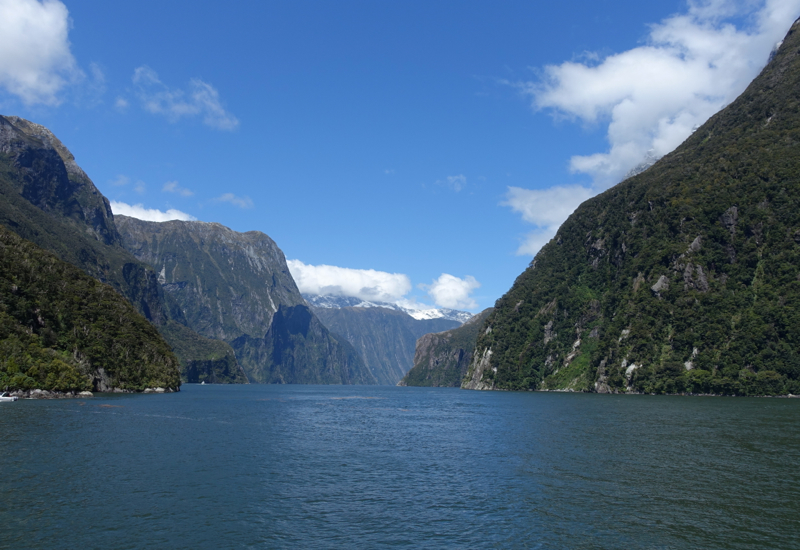 I must say that I found the scenery on the flights just as beautiful, if not even more spectacular, however, particularly the aerial views of the glacial lakes: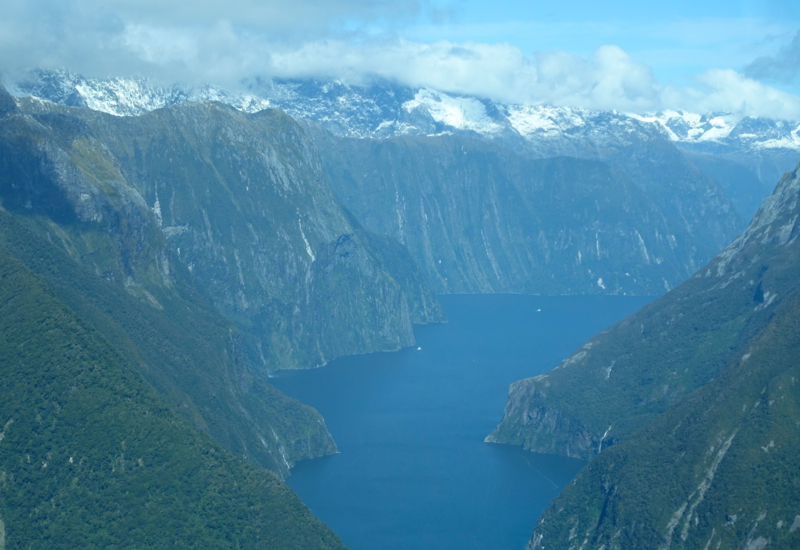 And the snowcapped mountains, including Mitres Peak.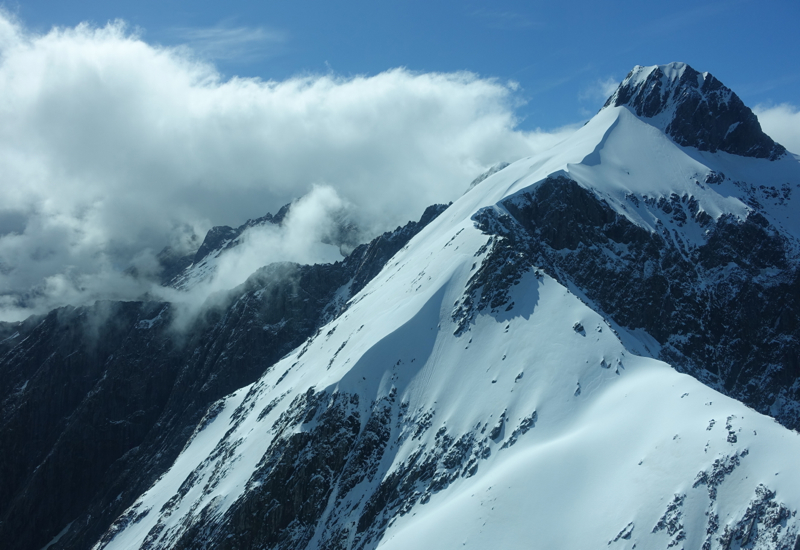 The Verdict
Don't miss Milford Sound if you have a sunny, clear day to enjoy it. We lucked out, since this area does actually see a great deal of rain, and it had been raining when we arrived in Queenstown, although fortunately not on the following day on our flight and cruise in Milford Sound. I highly recommend a flight at least one way, and both ways if you don't care for a long bus or car journey. Oh, and be sure to bring your own food–it's bound to be better than the included lunch.
If you've flown to Milford Sound and taken a cruise, what was your experience?
Related Posts
Review: Matakauri Lodge, Queenstown, New Zealand
Review: Otahuna Lodge, Christchurch, New Zealand
Otahuna Lodge Dining Review: Best Meal in New Zealand
Disclosure: I received a travel professional rate for my flight and cruise, and paid the regular retail rate for my husband and son's flight/cruise. The views expressed in this post are my own.
Need Award Booking Help? Our fee is as low as $75 per ticket if you book your hotel or cruise with us.
If you enjoyed this, join 200,000+ readers: please follow TravelSort on Twitter or like us on Facebook to be alerted to new posts.
Become a TravelSort Client and Book Your Hotel with Virtuoso or Preferred Partner Amenities!