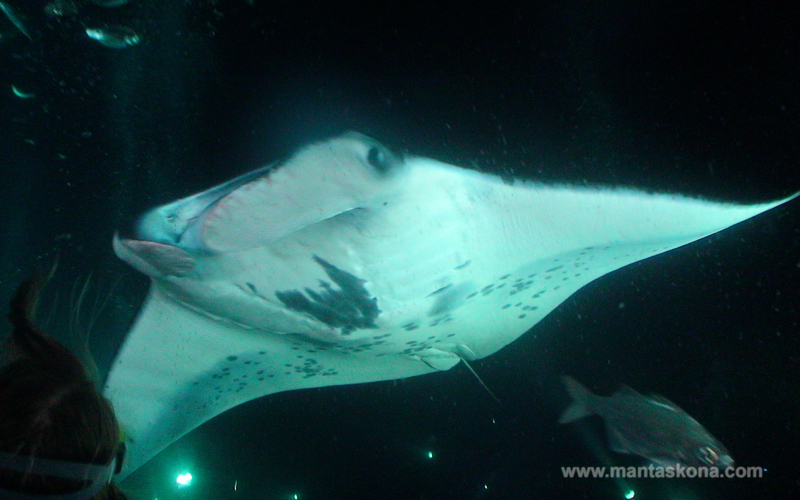 This Manta Ray Night Dive in Kona, Hawaii review is from a diving trip with Kona Diving Company. The Kona Manta Ray Night Dive is often considered among the top dives in the world, but even if you don't scuba dive, you can come along as a snorkeler. I'll detail my experience and provide a FAQ to help you decide if this dive or snorkel experience is for you.
Visiting Hawaii? This post is part of a trip report on the Big Island of Hawaii and Maui, including stays at the Four Seasons Hualalai and Four Seasons Maui at Wailea.
For prior posts in this trip report, please see:
Alaska Airlines First Class Review
Alaska Airlines Board Room Seattle Lounge Review
Alaska Airlines First Class to Hawaii
Hyatt Place Waikiki Beach Review
Andaz Maui at Wailea Suite Review
Ka'ana Kitchen Review and Andaz Maui at Wailea Dining
Mama's Fish House Review in Paia, Maui
Four Seasons Resort Maui at Wailea Review
Breakfast at DUO at Four Seasons Maui at Wailea
Hawaii Volcano Treehouse Review
Hawaii Volcanoes National Park Review
Kilauea Lodge Restaurant Review
Punalu'u Black Sand Beach Photo Tour
Four Seasons Resort Hualalai Review: Best Luxury Hotel in Hawaii
'ULU Ocean Grill Review and Four Seasons Hualalai Dining
Manta rays are one of my favorite marine creatures to snorkel and dive with, so, while I wasn't initially keen on a night dive, I was excited by the prospect of seeing graceful manta rays swoop over me. I'd heard great things about Kona Diving Company, so after checking their pricing (more on this in the FAQ) and exchanging a couple emails, I finalized my reservation.
On the afternoon of my reservation, I checked in at the Kona Diving Company shop at 74-7515 Luhia Street (helpfully indicated by the huge red dive flag) before 3:30pm to present my dive certification card and pay. A super friendly and young crew checked me in, and, when I mentioned that I was prone to seasickness, drew me a map to the nearest Longs Drugs so that I could pick up some anti-nausea acupressure wrist bands, as well as a towel, since I'd forgotten to bring one from the hotel.
I had ample time to pick up the towel and acupressure wrist bands and get to the Honokohau Marina, where the boat departed from at about 4:30pm. We were asked to put our shoes/slippers in a basket, and everyone went barefoot onboard.
Interestingly, most on board for the night dive were snorkelers; I was one of just 5 divers. Once we were moving, I was very glad I had on the acupressure bands, because the ride was *very* rough, and it was about 40 minutes long. Fortunately, even though I'm pretty suceptible to motion sickness, the acupressure bands were really effective. Since I only dive about once a year, I opted to go with a guide (note there is an additional charge for this), and on the way there we went over the dive gear and the marine life we were likely to see.
Once we got there, everyone donned their snorkel or dive gear and we were soon in the water, exploring the reef before sunset. It was a fairly rough entry, which I found a bit tough given that I needed to adjust my mask, etc., simply because I don't dive all that much and prior dives have been in calmer waters. Once my mask was adjusted and I was under the surface, however, everything improved markedly.
While I didn't see quite as much variety here as I have on dives off Nusa Lembongan near Bali, or of course in the Maldives, I did enjoy the several moray eels that we sighted, in addition to a variety of common tropical fish such as Yellow Tangs, Parrotfish, Hawaiian Sergeant and long slender Needlefish. The Blue Fin Trevally were especially pretty, with their iridescent blue markings.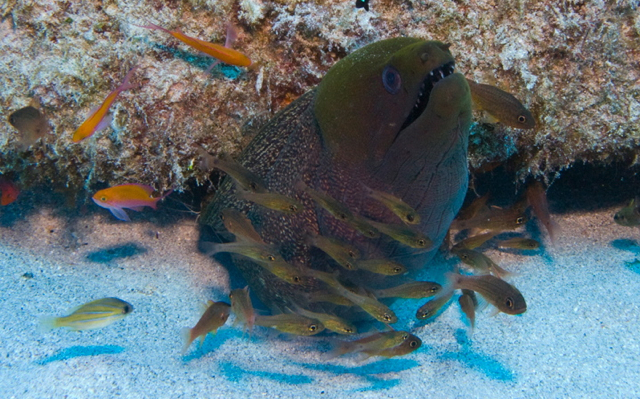 After the dive, we came back onto the boat as night fell, for our manta ray briefing and dinner, for those who wanted to eat. Since there was still a fair amount of motion on the boat, I opted for ginger tea (very grateful that this was provided as an option!) and didn't eat anything.
While humorously given by one of the Kona Diving Company crewmembers, the manta ray briefing was thorough and very comprehensive. We learned that manta rays can grow to be up to 12 feet wide from wing tip to wing tip, and in the wild can live up to 80 years or more. Manta Rays feed on plankton, and the dive lights that are set up for the night dive, along with the flashlights that the divers hold, attract the plankton which the Manta Rays come to feed on.
After it was dark, many of the snorkelers and divers from the other boats at the site got in the water. Kona Diving Company cleverly waits, however, and we got in a bit later, after the Manta Rays were already at the site, so that we got to be the last ones there, with just the Manta Rays and no crowds. Fantastic!
Ready to experience it? Below is part of the video footage taken by E. Ryan Leinbach of
Ocean Wings Hawaii
:
FAQ
Do You Have to Dive?
No–snorkelers as well as divers go on the Manta Ray Night Dive. Snorkelers float on top and look down at the Manta Rays, and divers stay on the bottom, looking up.
What is the Cost?
The cost for scuba divers is $140 for the 2 tank dive (one tank for diving the reef before sunset, and the other tank for the manta ray night dive) and the cost for snorkelers on the same trip is $115. If diving with Kona Diving Company, a shorter 1 tank dive is offered about once a week, for $120 per diver and $100 per snorkeler.
How Long is the Trip?
The 2 tank dive is about 5.5 hours, and the shorter dive is about 3.5 hours. Keep in mind that getting to and from the site is about 40 minutes each way.
Is the Water Choppy Enough for an Average Person to Need Anti-Nausea Medication?
While I'm more sensitive than the average person to motion sickness, I still highly recommend your favorite anti-nausea medication or, for those like me that prefer not to take a pill unless they have to, try the anti-nausea acupressure wrist bands.
Can You Touch the Manta Rays?
No–it's very important not to touch the mantas, not only because they don't like it, but just as importantly because it removes a protective film from them that helps keep them healthy and prevent disease.
Do You Need a Wet Suit?
Not really–it's usually pretty warm, around 76-81 degrees Farenheit. That said, most people wear them for the activity, and I at least recommend a dive skin, to protect your skin from scratches when on the ocean floor.
Will We Definitely See Manta Rays?
Most times that are suitable for diving, yes. We were told that over 90% of the time Manta Rays are there. On my dive there were 4 Manta Rays, although with all of their swooping and loops, it felt like more!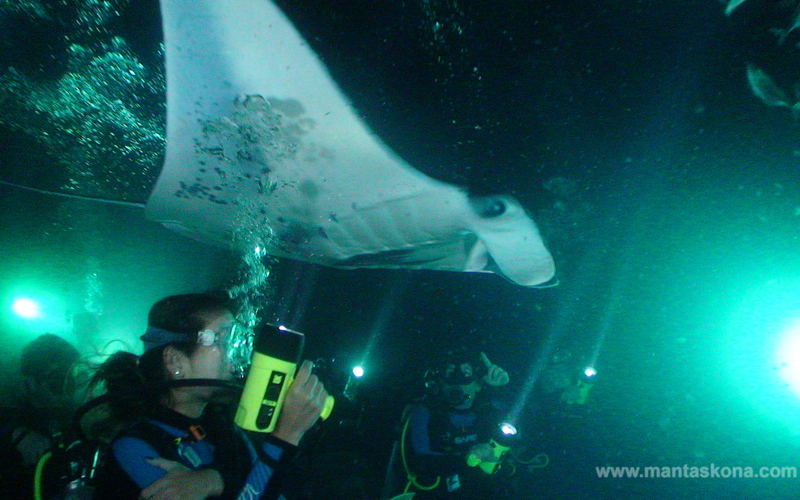 Do You Recommend Kona Diving Company?
Yes–I highly recommend Kona Diving Company, although I have no affiliation with them other than having dived with them. Top-notch operators who are very safety-minded and also have a great sense of humor. Even if you opt to dive with another operator, please at least check that they are a member of the Manta Ray Green List.
What Is the Manta Ray Green List?
The Manta Ray Green List was set up to help ensure better protection of the Manta Rays as well as divers and snorkelers. Operators must meet several criteria to be included:
Operator does not allow touching of the Manta Rays
Operator does not allow free diving onto the Manta Rays
Operator does not use Hull Lighting
Operator does not anchor on coral
Operator participates in "campfire setup" avoiding fragmentation
Operator uses professional in-water guides, with Emergency First Responder training
Operator operates vessel(s) under US Coast Guard regulations with licensed captains
Have you experienced the Manta Ray Night Dive in Kona, Hawaii?
Related Posts
Manta Ray Photos and Video:  Ocean Wings Hawaii
Photo of Moray Eel: Kona Diving Company