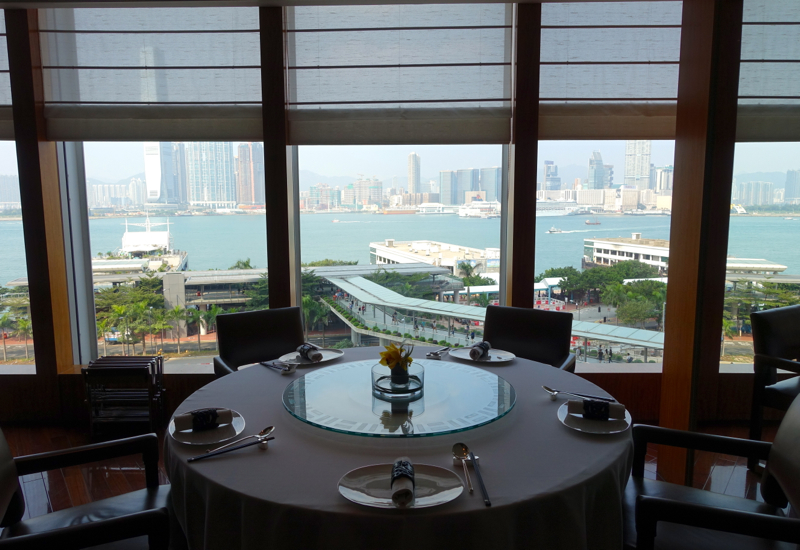 This Lung King Heen at the Four Seasons Hong Kong Review is part of a round the world trip report including first class and business class flights, luxury hotel stays in London and Asia, and restaurant reviews.
For the prior posts, please see:
Review: British Airways Concorde Room Lounge NYC JFK Terminal 7
Review: British Airways Business Class on the 747-400 JFK-LHR
Best Seats in British Airways New First Class 747-400
Review: British Airways Arrivals Lounge in LHR and Heathrow Express to London
Launceston Place London Restaurant Review
London Tips: British Museum with Kids
Review: Rivea at Bulgari London Hotel
Review: British Airways First Class Lounge London Heathrow Terminal 3
Qantas First Class A380 Review London to Dubai
Review: Atmosphere Lounge at the Burj Khalifa Dubai
Armani Hotel Dubai Photos and Virtuoso Client Review
Dubai Fountain by Burj Khalifa Photos and Video
Review: British Airways Galleries Lounge in Dubai (DXB)
Cathay Pacific Business Class Review A330-300
I was looking forward to our lunch at Lung King Heen, which I hadn't had a chance to try on prior visits to Hong Kong. Lung King Heen is one of only a handful of 3 Michelin Star restaurants in Hong Kong, and the only 3 Michelin Star Hong Kong restaurant that serves a la carte dim sum.
Plus, Lung King Heen has a great view of Victoria Harbour–an extra treat, if you manage to snag a window table on a nice day: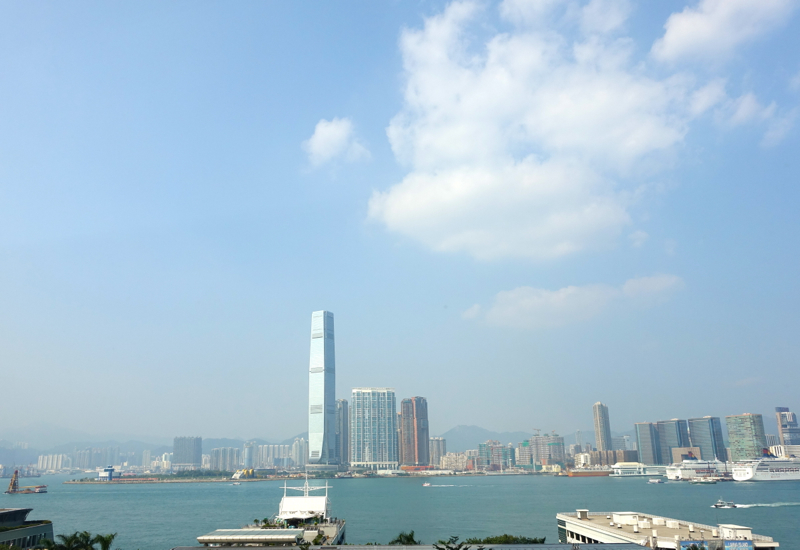 Getting to Lung King Heen at Four Seasons Hong Kong
Lung King Heen and the Four Seasons Hong Kong are very easy to get to, including from Hong Kong Airport. From the airport, just take the Airport Express to its final stop, Hong Kong Station, a 24 minute ride. Hong Kong Station is in the International Finance Center (IFC) shopping mall, which is connected to the Four Seasons Hong Kong on level P2. Follow the signs to the Four Seasons, which is just down a small escalator, with the lobby to the right. Elevators to Lung King Heen will be on your left when entering the Four Seasons Lobby from the hallway connecting it to the IFC Mall. Or, if you enter through the hotel's main entrance, the elevators to Lung King Heen will be on your right.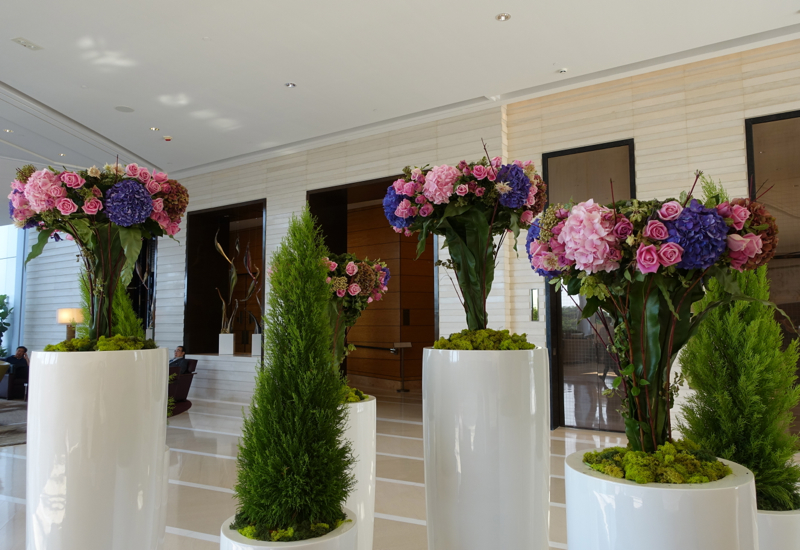 The Scene
We visited Lung King Heen for a weekday dim sum lunch, and it was quite busy, with a nice buzz of animated conversation from tables of business people having working lunches and well-dressed couples. I'd imagine that for its even more popular weekend dim sum brunches that there are more families. As it was, my son seemed to be the only child, but he was warmly welcomed nevertheless.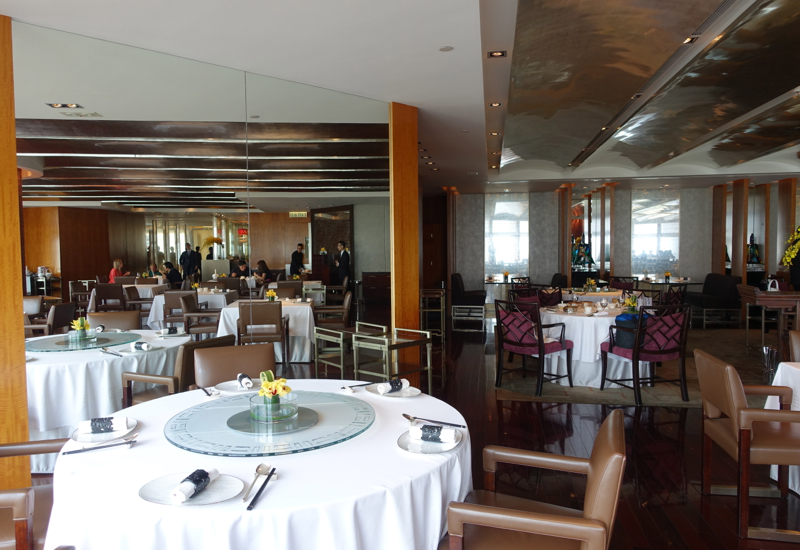 Lung King Heen Menu and Food
The most extensive dim sum selection is available on weekends, but even on weekdays there are delicious a la carte dim sum choices, as well as an Executive Set Lunch option, and delectable barbecued meats and other appetizers: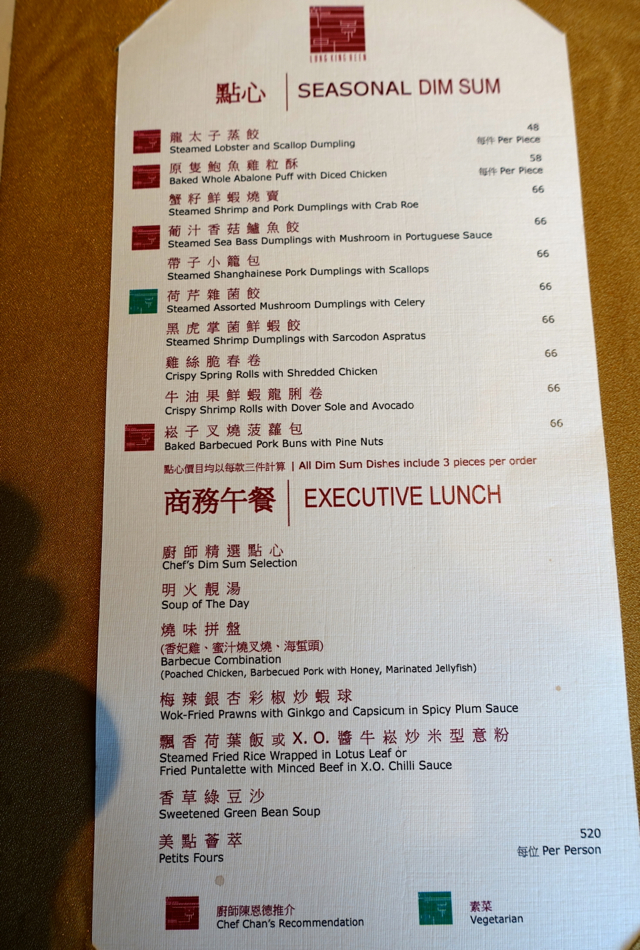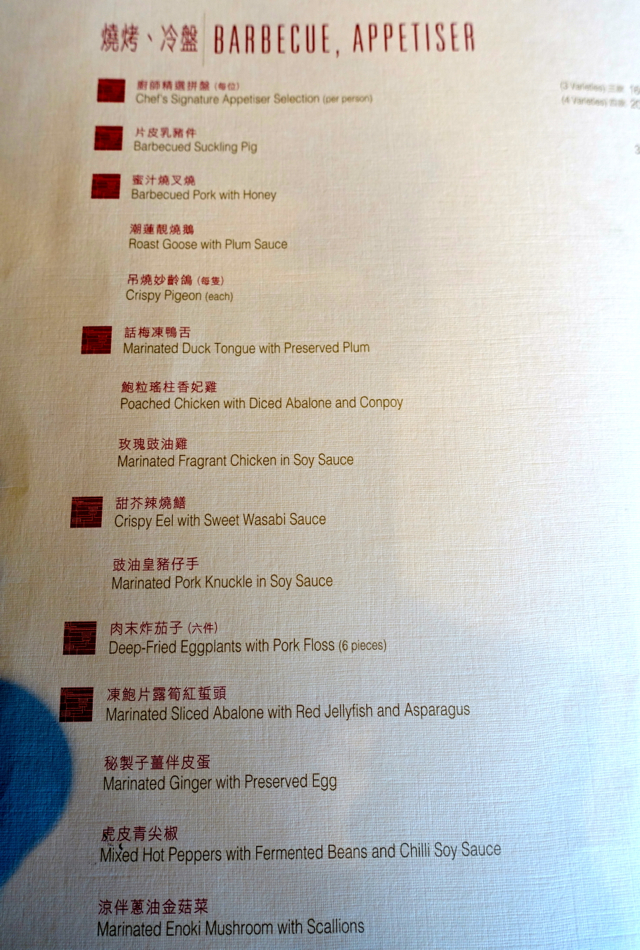 It would have been hard to decide where to begin, with all the tempting choices, but fortunately I was meeting with a Four Seasons colleague, who ordered some of his favorites from the menu for all of us.
A welcome and complimentary treat were the candied sesame walnuts. Now, if only Cathay Pacific or other airlines would serve these candied walnuts in place of their mixed nuts. As addictive as the walnuts were, I tried to save room for the dim sum and was glad I did.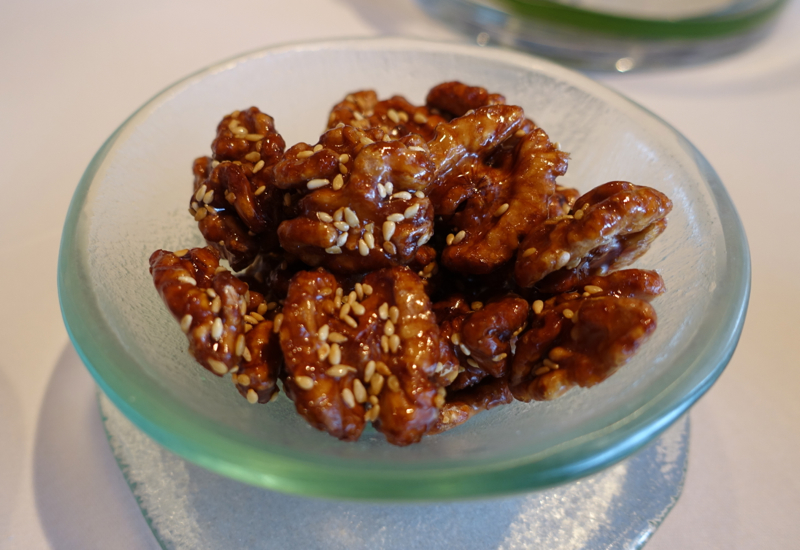 Dim sum at Lung King Heen is ordered by the piece, so don't be surprised to see just one perfect Lobster Scallop dumpling in the bamboo basket. With its fresh, sweet seafood and adorned with a plump, juicy prawn, it made me wish every scallop dim sum I ordered from now on could also have lobster in it and be this delicious.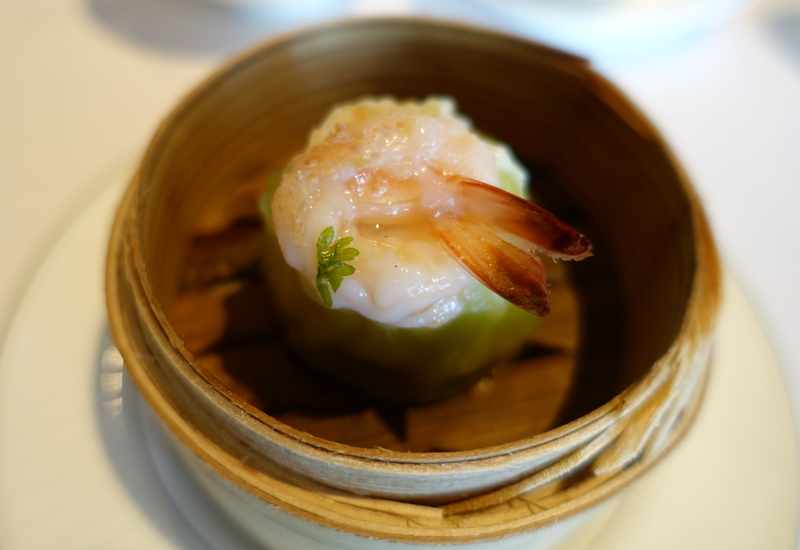 It was wonderful by itself, although I did add a drop of chili paste to my final bite for a nice kick. There was a trio of hot sauces to choose from, with the hottest on the right–seemingly a combination of soy sauce with chopped fresh chilis that resembled the super hot Thai birds eye chilis.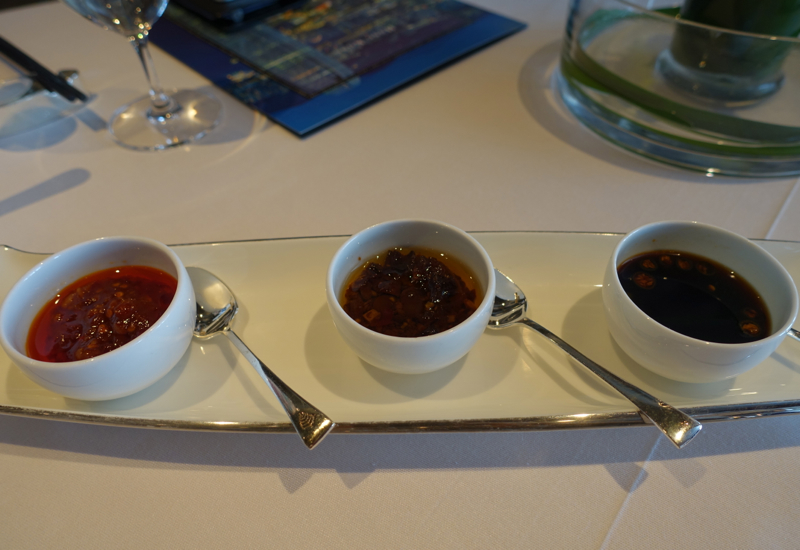 Next, we savored an incredible Baked Whole Abalone Puff with Diced Chicken, as well as a Baked Barbecued Pork Bun. I wouldn't say I'm normally a fan of abalone, as I usually find it too chewy, but somehow it was perfect in this dish, glazed with a light, sweet sauce, and atop a buttery pastry puff.
The Baked Barbecued Pork Bun, with its crunchy butter crust (why can't U.S. dim sum places make them this way?) and savory sweet mixture of char siu pork and pine nuts was just as good if not better than the versions I've had at Tim Ho Wan and Tin Lung Heen.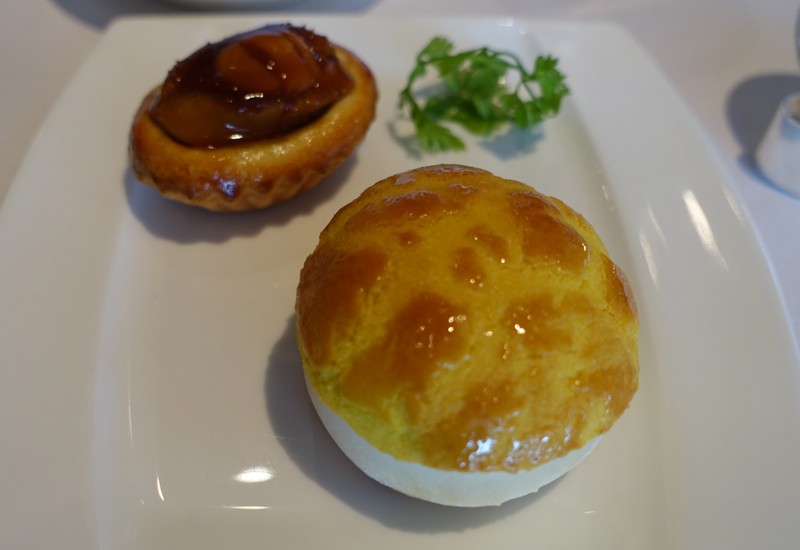 Next up was a magnificent trio of hits, including honey glazed char siu pork, roast goose with plum sauce, and roast suckling pig.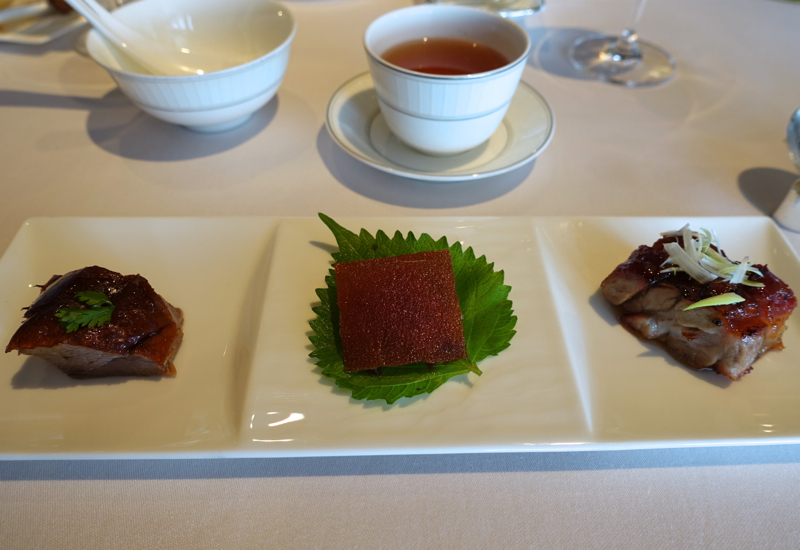 It's hard to pick a favorite, since these were all so good, but I especially enjoyed the succulent roast goose, since it's something I so rarely get to eat.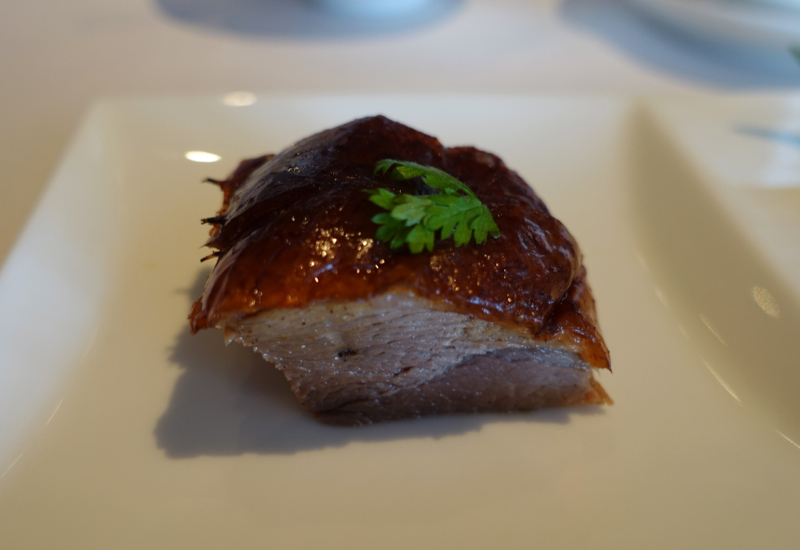 The suckling pig was exquisite in presentation as well as taste, with its crunchy skin cut into a perfect square, under which was meltingly tender meat: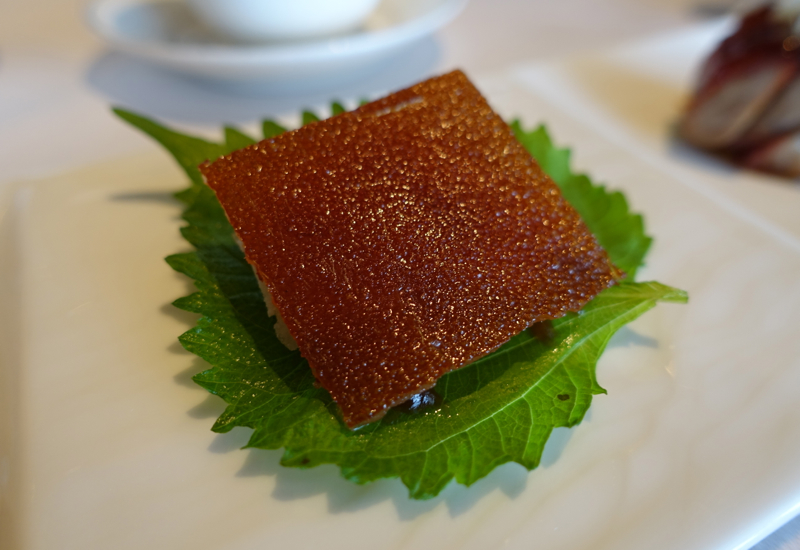 And the honey glazed char siu pork was superb as well. I would love to be able to find a place in NYC that offers char siu of this quality.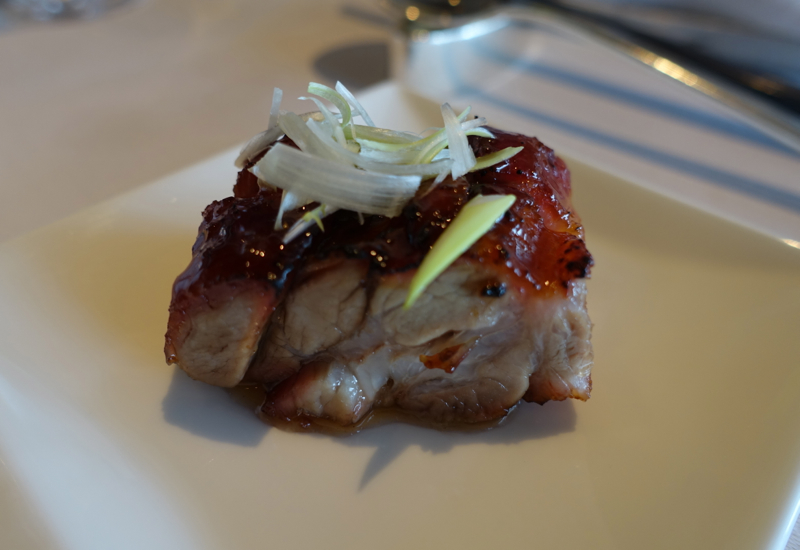 After the richness of the barbecued meats, a course of garoupa, delicately steamed with ginger and spring onions, was a welcome contrast.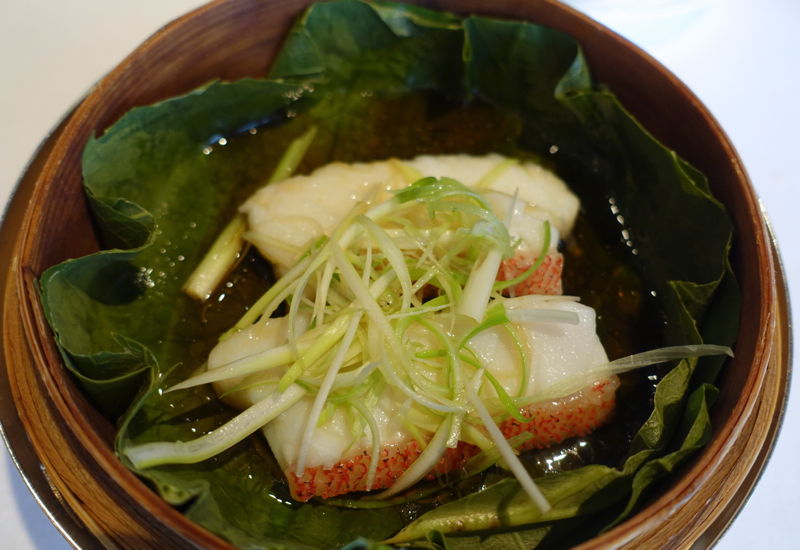 The only course I didn't care for was the one I insisted on ordering–lotus leaf wrapped fried rice. I'd tried this at Tin Lung Heen as well and been disappointed, so it's time for me to recognize that lotus leaf wrapped rice in Hong Kong generally involves fried rice, instead of sticky rice, which I prefer.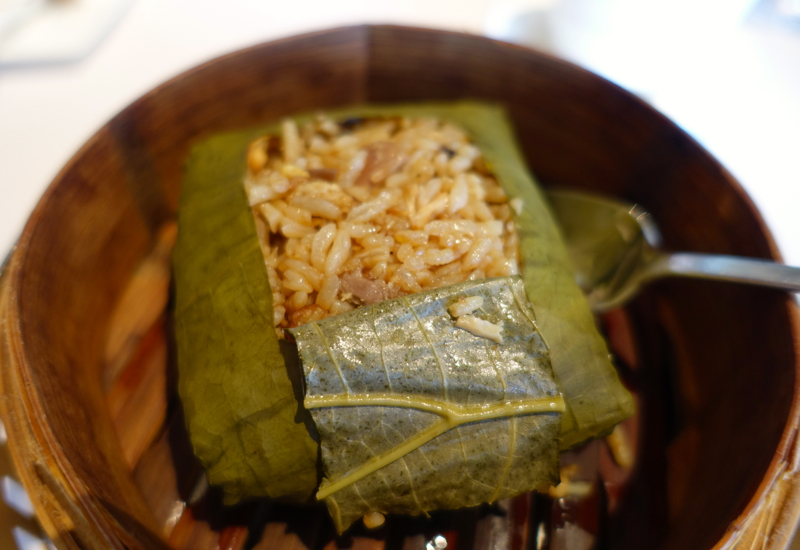 The Service
Service at Lung King Heen was polished yet friendly. My wish for my favorite combination tea (black tea with chrysanthemum) was readily accommodated, and our servers paced the meal nicely, only bringing out the next hot dish when we were finished with the prior course. Usually, for dim sum, there's a mad rush to try to eat the dumplings when they're still hot, with a number of dishes on the table at once.
The Verdict
For superb dim sum in Hong Kong, Lung King Heen is a must. Assuming you have no dietary restrictions, try a selection of steamed dumplings, the Baked Barbecued Pork Bun, Baked Whole Abalone Puff, and the Barbecue Platter including Roast Goose and Suckling Pig. If you want lighter fare, try the Steamed Garoupa, and on the weekend, one of the Steamed Rice Rolls, such as Steamed Rice Rolls with Lobster in Fermented Bean Sauce or Steamed Rice Rolls with Barbecued Pork. Don't forget to make dim sum lunch reservations well in advance, particularly for weekend dim sum.
If you've dined at Lung King Heen at the Four Seasons Hong Kong, what was your experience?
Related Posts
Four Seasons Hong Kong Hotel Review
Tin Lung Heen Hong Kong Dim Sum Review
Tim Ho Wan Hong Kong Dim Sum Review
Cathay Pacific First Class Review NYC JFK to Hong Kong
Disclosure: My family and I were guests and enjoyed a complimentary lunch at Lung King Heen, however the views expressed in this post are my own.
Need Award Booking Help? Our fee is as low as $75 per ticket if you book your hotel through us.
If you enjoyed this, join 150,000+ readers: please follow TravelSort on Twitter or like us on Facebook to be alerted to new posts.
Become a TravelSort Client and Book 5-Star Hotels with Virtuoso or Four Seasons Preferred Partner Amenities!