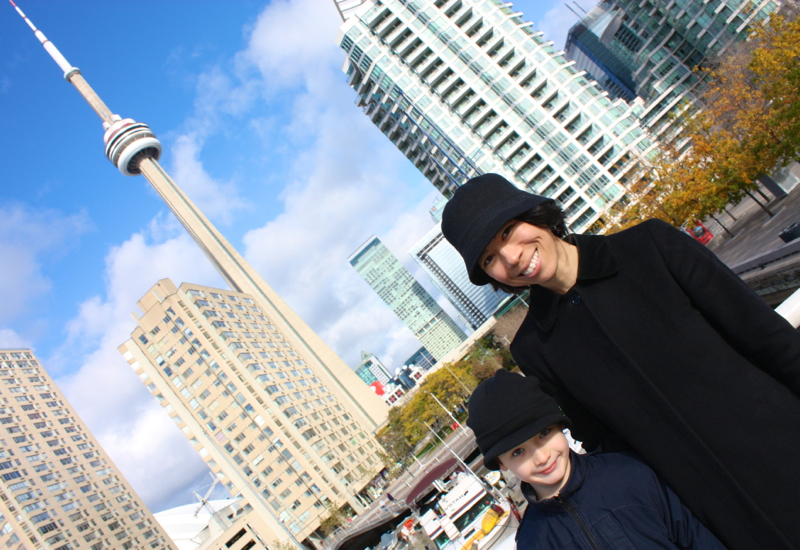 This Review of a LiveToronto Walking Tour, a private walking tour of Toronto with photo shoot, is part of a Toronto trip report. For the prior posts, please see:
TAM Business Class Review JFK-Toronto
Beast Restaurant Toronto Review
LiveToronto Walking Tour Options and Cost
LiveToronto Walking Tours is the brainchild of Dustin Fuhs, who personally conducts all of the walks, taking photographs of you along the way (no need for selfies or for someone to be missing from the photo). Since these are private walks, they're completely customized to your interests, which you specify at time of booking. Please note these prices are correct as of writing, but check with Dustin for current pricing as well as children's rates for the 2 and 3 hour tours.
1 Hour Walking Tour + At Least 45 Photos
1-2 people: $75 per adult or child age 12 and over, $25 per child age 4-11
Additional person: $50 per adult
2 Hour Walking Tour + At Least 75 Photos + 1 Perk + Transit DayPass
1-2 people: $120 per adult or child age 12 and over
Additional person: $75 per adult
3 Hour Walking Tour + At Least 125 Photos + 2 Perks + Transit DayPass
1-2 people: $185 per adult or child age 12 and over
Additional person: $100 per adult
Highlights of Our LiveToronto Walking Tour
1. Fall Colors
I love seeing brilliant fall colors, in part because it's not something I grew up with (Hawaii is in bloom all year round, so no foliage season). It's especially nice seeing the CN Tower framed by fall leaves: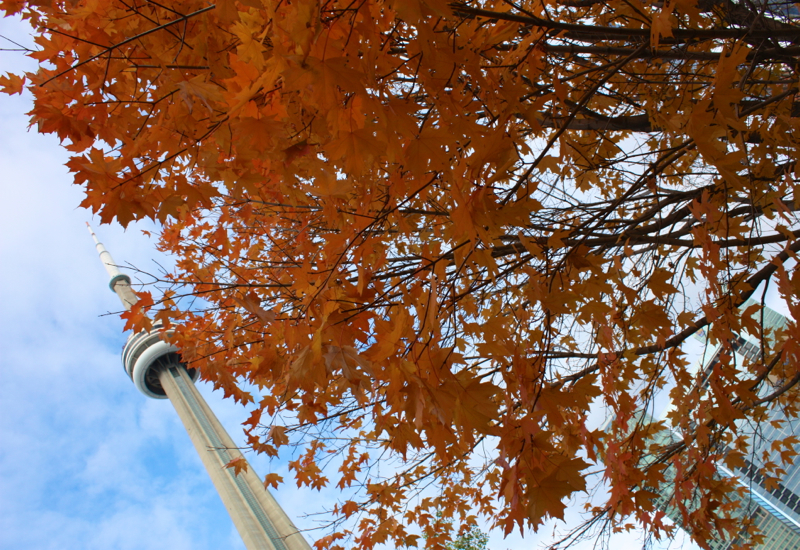 And my son would happily have spent more time playing with all the dry leaves and running around the park:
2. Waterfront
For a city of 2.6 million and greater metropolitan area of over 6 million, it's incredible to me that the waterfront area isn't more crowded. Granted, we were there not during summer but on a Sunday morning in fall which began on a an overcast note, but by the time we were close to our tour ending, there was lovely blue sky and views of the Toronto islands.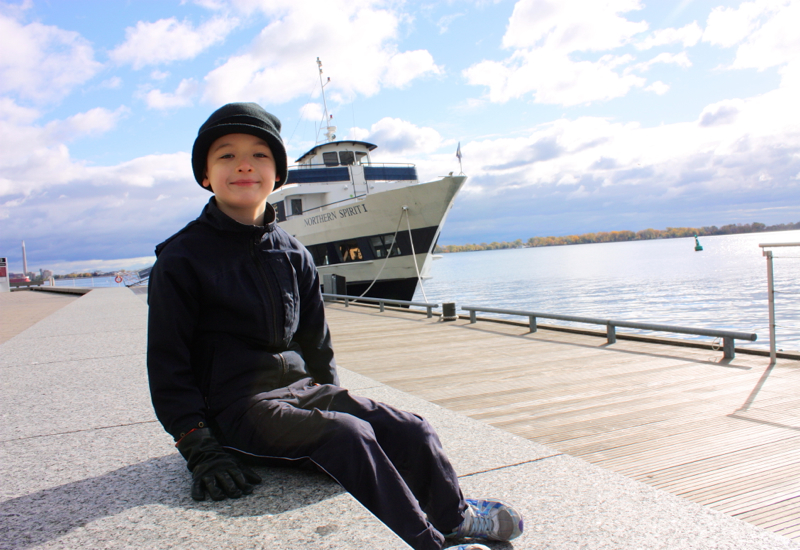 3. Canada Walk of Fame
You probably are familiar with the Hollywood Walk of Fame, but did you know there's also a Canada Walk of Fame in Toronto, with maple leaf stars? My son was fascinated with what the icon for each one symbolized, and we had trouble tearing him away from the walk since he wanted to analyze each one and know who the person was. Here's the one for Director David Cronenberg, whose films include A History of Violence and Eastern Promises.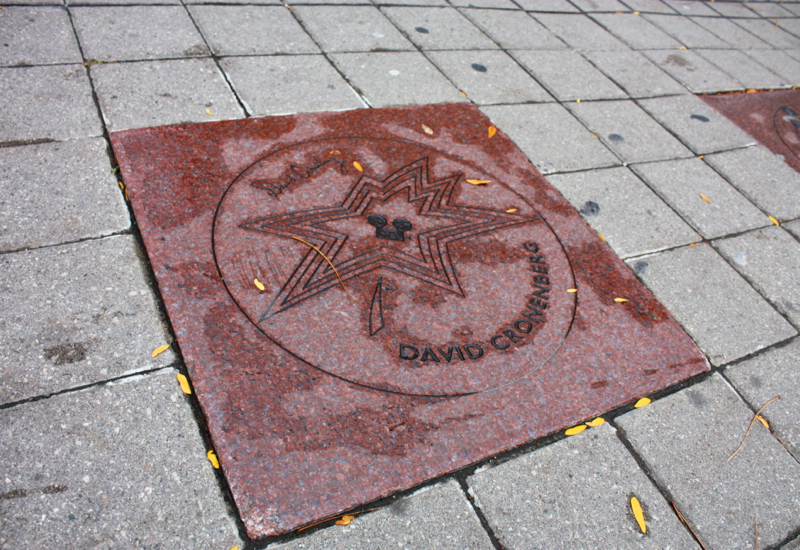 4. Gargoyles on Clock Tower of Old City Hall
You don't often see gargoyles in North America, but look up at the clock tower of Old City Hall and you'll see several: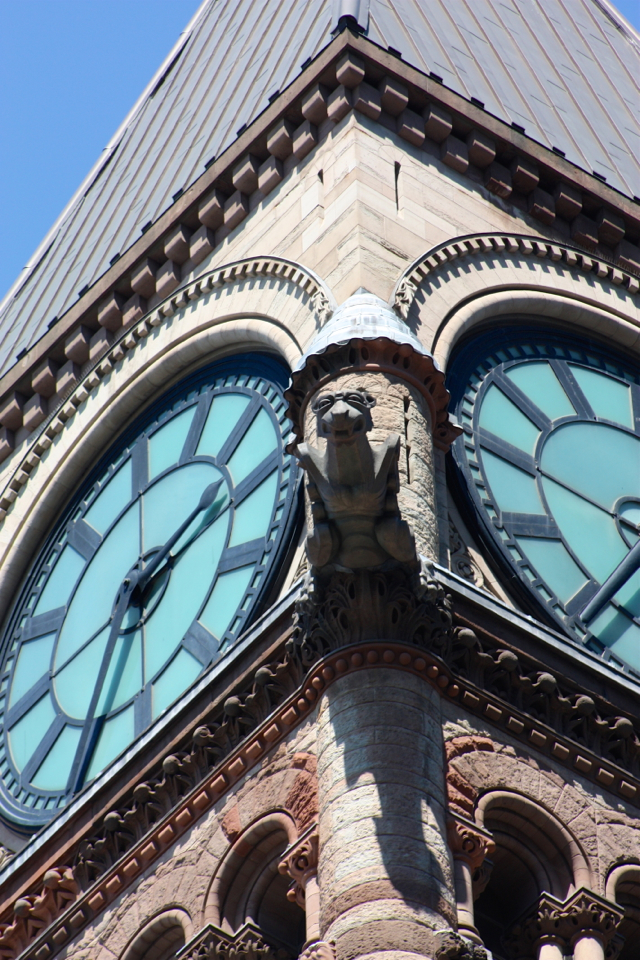 5. Canada Life Building
The Canada Life Building is a landmark Beaux Arts building downtown, and when completed in 1931 was one of the tallest buildings in Toronto at 321 feet, including its weather beacon. We learned that the weather beacon changes color and flashes depending on the weather:
Green: clear
Red: cloudy
Flashing red: rain
Flashing white: snow
There are also white lights that, when illuminated in an upward pattern, indicate the temperature is rising, and when in a downward pattern, that the temperature is falling.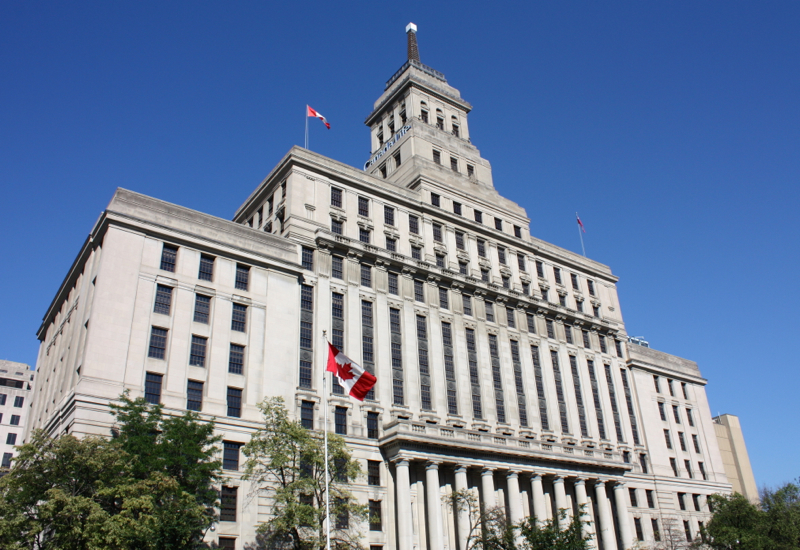 6. Toronto City Hall Design
Toronto City Hall is modern in style, and distinctive looking, with curved twin towers that are asymmetrical: the west tower is shorter, at 260 feet, than the east tower, which is 326 feet tall. This isn't just a random design aesthetic; Finnish architect Viljo Revell specifically designed the towers this way as a way of withstanding the high winds that sweep in off the Great Lakes.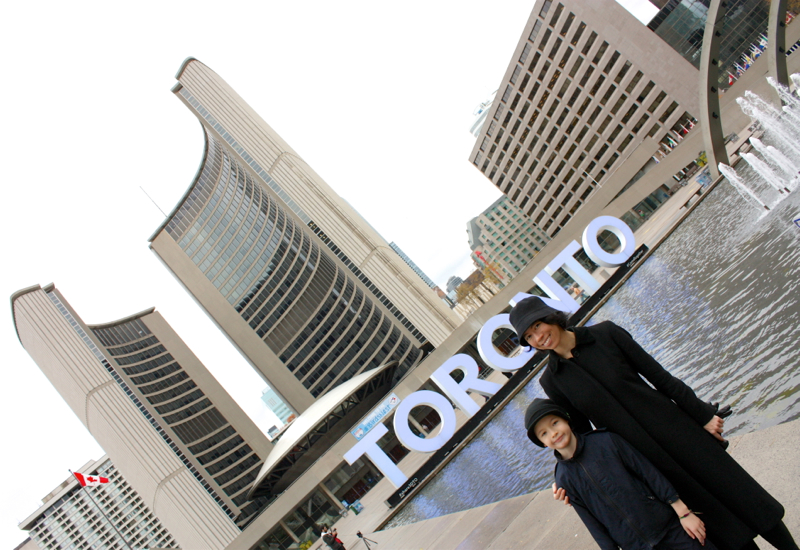 7. Learning About Films Shot in Toronto with Toronto Standing in for NYC
While it's no secret the Canadian dollar is lower vs. the U.S. dollar these days, in light of lower prices for energy and other natural resources that Canada exports, I didn't realize the extent to which so many films and TV shows are shot in Toronto, not just due to the more recent currency benefit, but the huge film and TV tax credits–25% until the recent reduction to 21.3%.
That means that Toronto has frequently been a stand-in for NYC in films and shows, from Americana Psycho and The Incredible Hulk to parts of Serendipity and the series Suits. There's even a fleet of NYC yellow cabs NYPD police cars, MTA Bus, U.S. flags for buildings, etc. in the city, which also typically gets decrepit looking garbage cans, etc. added to look more like grimy old NYC.
Bottom Line
We enjoyed our walking tour of Toronto with Dustin, which as requested focused on the city's landmarks, since it was our very first time in Toronto and my son is fascinated with architecture. I loved that Dustin is a professional photographer and was able to email us a Dropbox link to photos later on the same day as our tour. I also greatly appreciated that we were able to change the time of our walk, since the afternoon that we'd originally scheduled was pouring rain and would have been terrible for photos. And Dustin even helped us navigate the labyrinthine Union Station so we could get an all day transit pass that we needed, which I also appreciated.
I recommend a LiveToronto walk, and would love to see this combination of a private walking tour with photos by a professional photographer offered in other cities.
If you've been on a LiveToronto walk, what was your experience?
Related Posts
TAM Business Class Review JFK-Toronto
Beast Restaurant Toronto Review
Art, Film, and Edgy Underground: Cool Toronto
Review: Walks Inside Florence Private Guided Tour of Florence
Disclosure: I paid the regular rate of $100 for 1 adult and 1 child for a 1 hour tour, although Dustin was kind enough to give us extra time for our tour.
Need Award Booking Help? Our fee is as low as $75 per ticket if you book your hotel through us.
If you enjoyed this, join 200,000+ readers: please follow TravelSort on Twitter or like us on Facebook to be alerted to new posts.
Become a TravelSort Client and Book Your Hotel with Virtuoso or Four Seasons Preferred VIP Amenities!