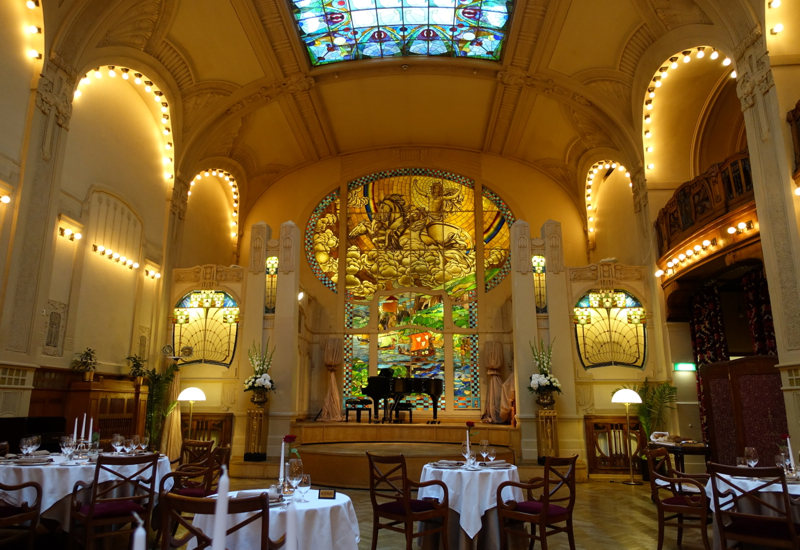 This Review of L'Europe Restaurant and Dining at Grand Hotel Europe in St. Petersburg, Russia is part of a trip report including Vienna and luxury hotels and dining in Moscow and St. Petersburg, Russia. Visiting Russia? See all our posts tagged Russia. For the previous posts please see:
Review: Sofitel Vienna Stephansdom
Labstelle Wien Vienna Restaurant Review
Review: Ararat Park Hyatt Moscow
Moscow Metro Tour with Happy Moscow Tours
Review: Peterhof Fountains and Gardens Near St. Petersburg, Russia
Review: Belmond Grand Hotel Europe, St. Petersburg Russia
TravelSort Clients enjoy $100 of complimentary food and beverages at L'Europe Restaurant or the Grand Hotel Europe's other restaurants, along with daily buffet breakfast, upgrade on arrival subject to availability, and early check-in / late check-out, as Virtuoso benefits.
Grand Hotel Europe Restaurants
Belmond Grand Hotel Europe has several restaurants:
L'Europe Restaurant claims to be Russia's oldest continually operating restaurant. It offers the daily breakfast buffet 7-10:30am, brunch on Sundays 1-4:30pm, and dinner Monday-Saturday 6-11pm
Azia Restaurant offers pan-Asian cuisine: Japanese sushi, Thai curries, Peking duck and dim sum, and even some Indian dishes. Lunch and dinner are served daily, from noon to midnight (noon to 1am Thursday – Saturday)
The Grand Terrace serves Russian classics as well as pizza, sandwiches, salads and soups. It's seasonally open noon-midnight in May, 11am-2am in June and July, 11am-midnight in August and September, and closed October to April.
The Mezzanine Cafe serves a la carte breakfast, lunch, afternoon tea, and desserts and coffee/tea from 8am to 10pm daily.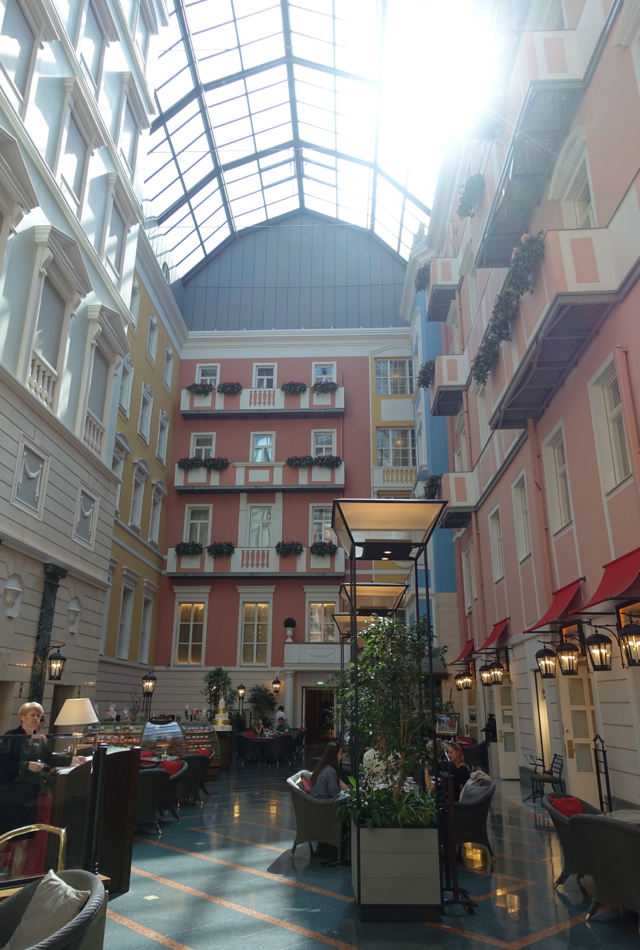 L'Europe Restaurant
L'Europe Restaurant is the most elegant and formal of the Grand Hotel Europe's restaurants, and offers live music most evenings, and even Tchaikovsky night on Fridays with a ballet performance. I booked us for an early dinner, so we were the first guests in the restaurant, and seated at a nice table with a good view of the stage.
We were welcomed, and after the server's initial surprise that we spoke Russian, we were presented menus. I asked for the English menus for the sake of photos for this post. While there is an extensive a la carte menu, I wanted to try the tasting menu, which normally is only available if the entire party orders it. Fortunately, our server was happy to allow my son to order from the kids' menu, as it would otherwise have been too much food, not to mention a couple courses that he wouldn't have eaten.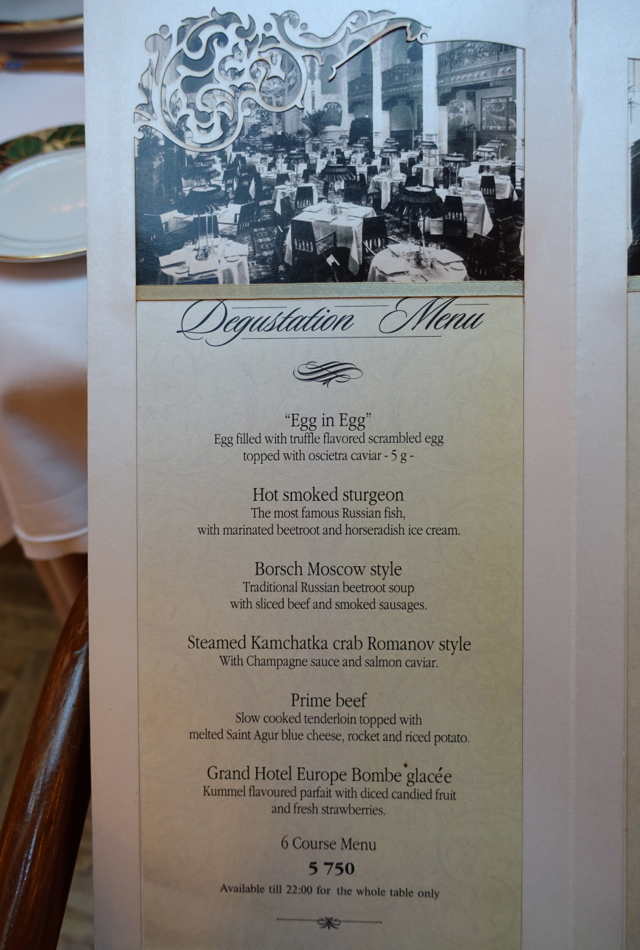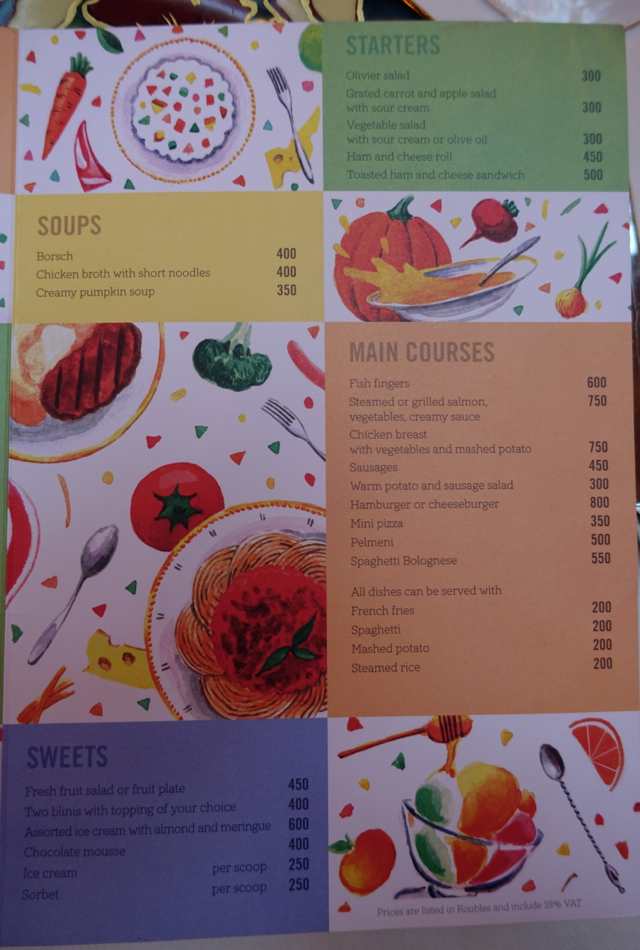 As I had work to do that evening I declined the wine list, but we both were happy to see a bread cart wheeled up to us. My son chose one of the white breads, while I opted for a darker rye bread.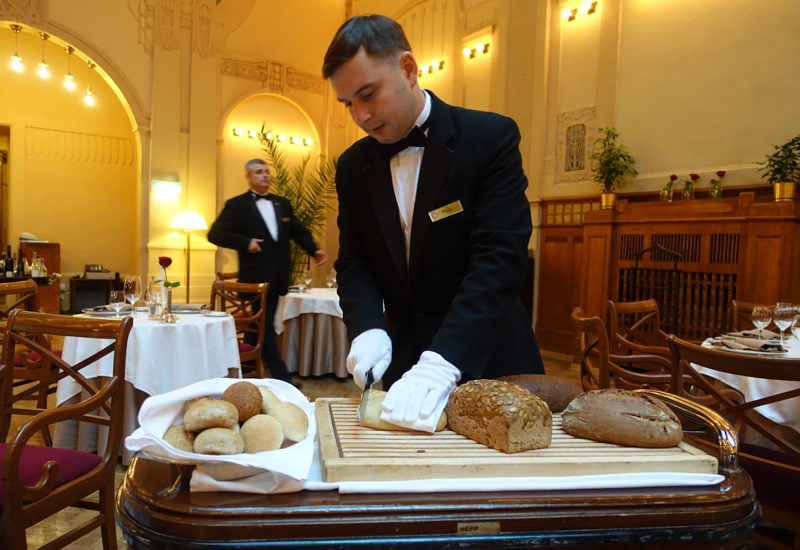 We started off with a baked oyster au gratin amuse bouche, which even my son enjoyed, after initially regarding it suspiciously.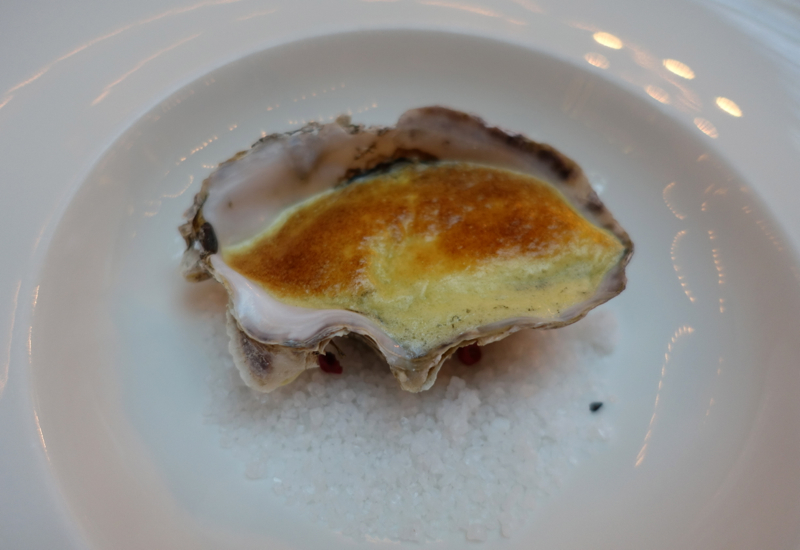 Next, my son's carrot-apple salad arrived. He took a few bites, but didn't care for it–this was more to do with his taste buds than the dish, since I tried it and was perfectly fresh.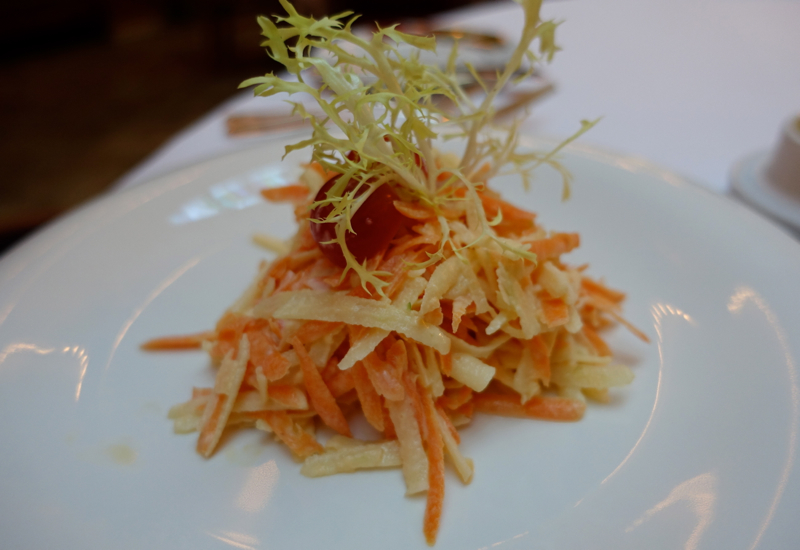 What we both agreed on was that the "Egg in Egg" start to the tasting menu was fantastic: truffled scrambled eggs topped with oscietra caviar-yum! Little wonder that after one bite, the munchkin wanted to know when he could polish off the rest of the egg in egg. Never mind the fact that he used to let me have his caviar when flying first class–alarmingly, he's may be developing a taste for the expensive stuff.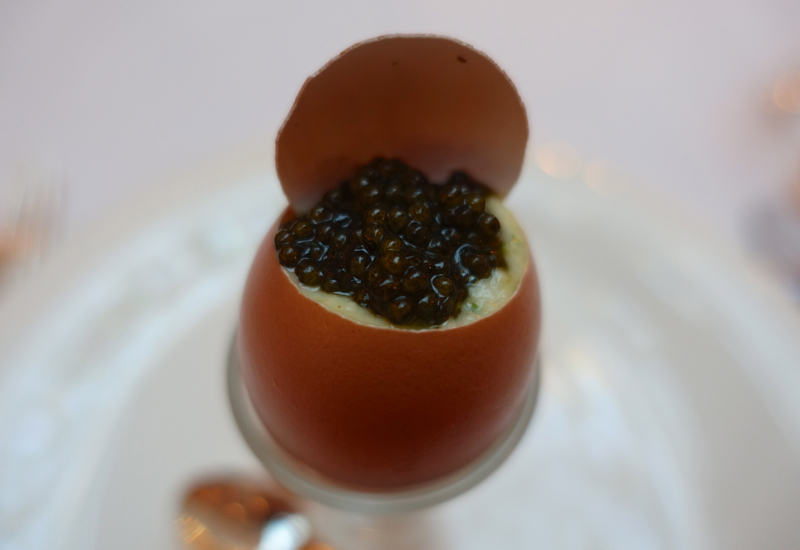 The second course, Smoked Sturgeon, he didn't like at all, and I must say that while I haven't had sturgeon much, the sturgeon we had at an office Christmas party back when I was working in Moscow was better.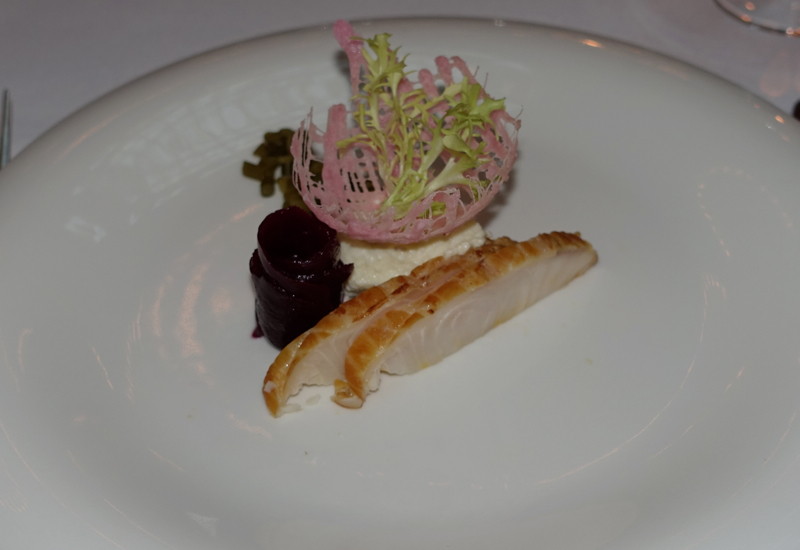 Similarly, I wasn't all that impressed with the Borsch soup course–it appeared to be the same that I'd had at the Grand Terrace the other day, and I felt the broth wasn't as flavorful as other borscht that I've had.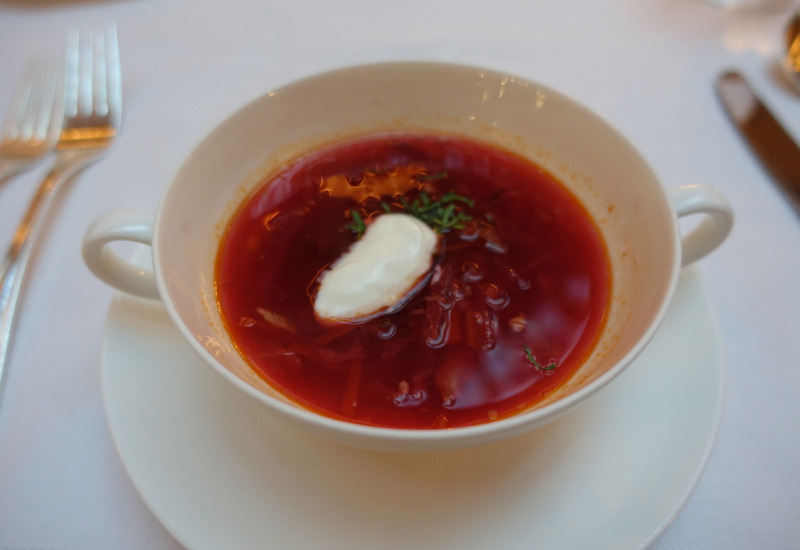 Meanwhile, my son was very happy with his Spaghetti Bolognese from the kids' menu, which he was devouring with gusto.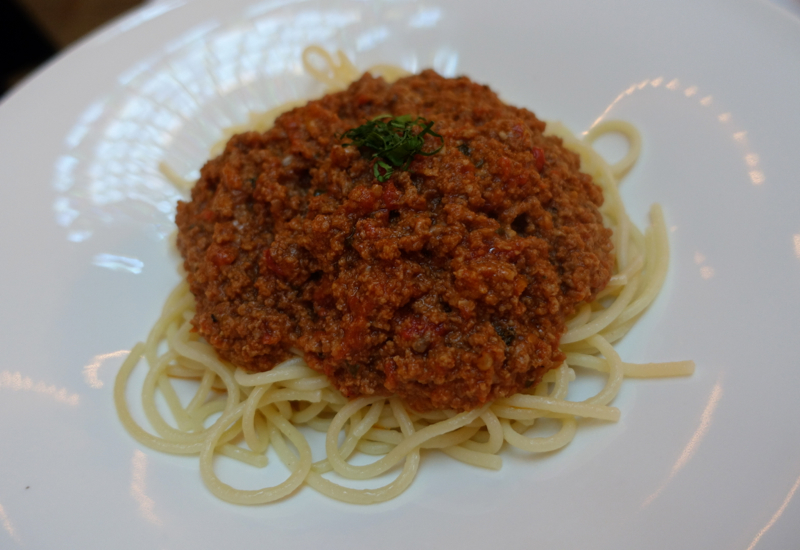 The fourth course of Kamchatka Crab with foamy champagne sauce and salmon caviar was phenomenal, however. I would come back to L'Europe for this dish and Egg in Egg alone. The crab was some of the most flavorful I've ever eaten, and the champagne sauce and caviar complemented it perfectly, while allowing the delicate flavor to shine.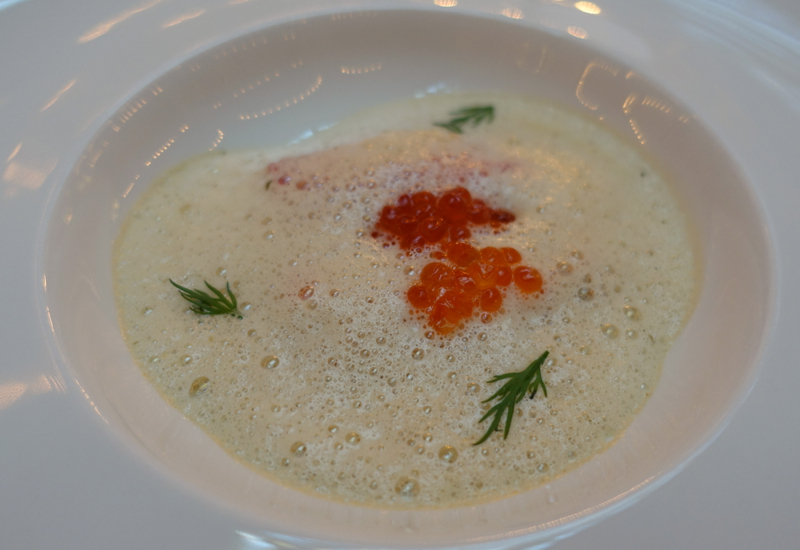 The final savory course was to have been prime beef, but I asked if I could substitute beef stroganoff instead, which our server agreed to. I don't normally order beef stroganoff, but was glad I did here–best version I've ever tasted, with very tender beef (a great cut of meat and cooked separately, to ensure it wasn't tough) and very flavorful sauce, accompanied by silky mashed potatoes.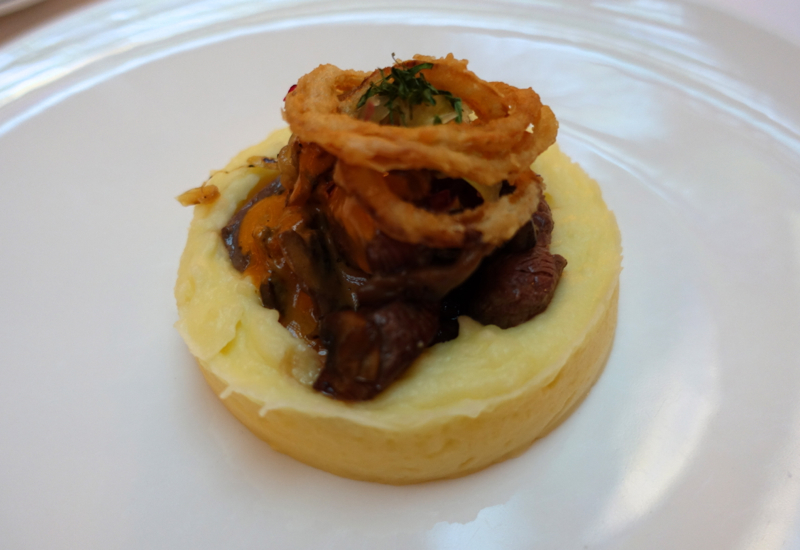 Likewise, I asked if I could substitute the molten chocolate cake for the tasting menu's Bombe Glacee. While it's obviously not Russian, the molten chocolate cake was perfectly executed, with high quality vanilla bean ice cream and berries on the side.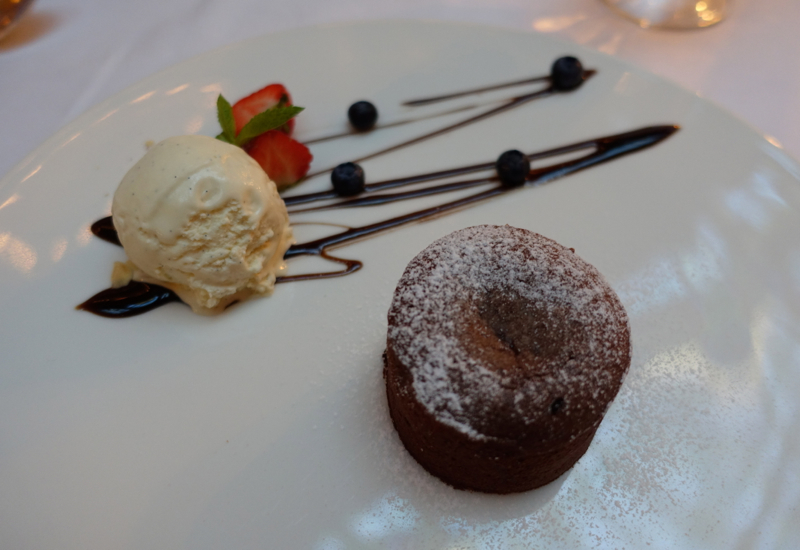 We were served mignardises, but I asked if we could take them with us, since I wanted to get the check and get my son to bed, as he was exhausted. I tried one of the chocolates later, and it was very good.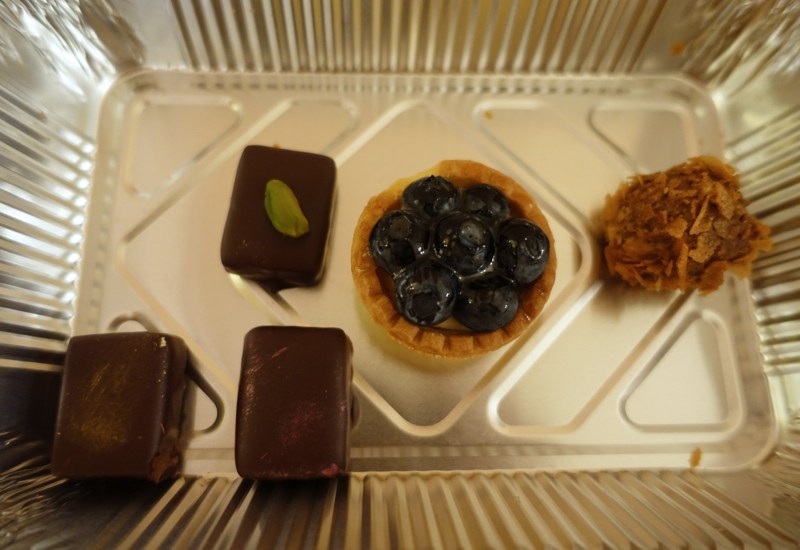 There was live jazz music from around 7:30pm–a saxophone player and a pianist:
Breakfast Buffet at Grand Hotel Europe
The breakfast buffet at L'Europe was extensive by U.S. and European standards. It was also very busy at the time we dined, around 8am.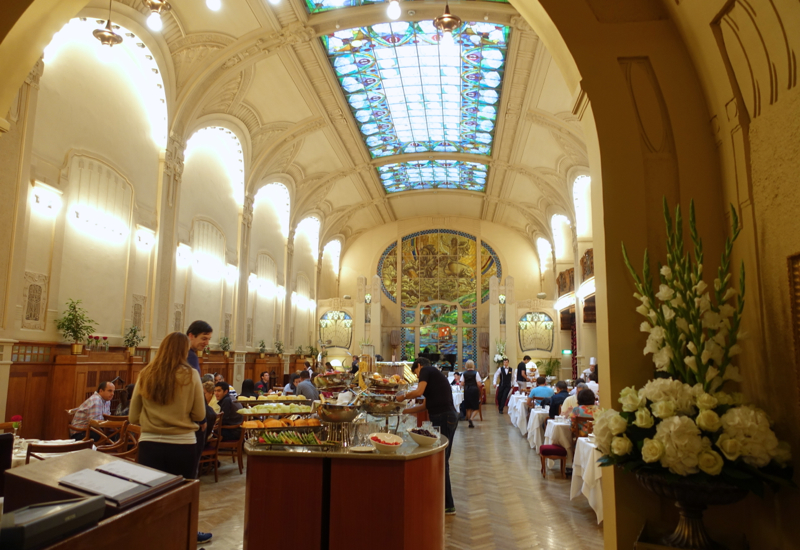 We were asked if we wanted fresh squeezed juice; I chose orange juice, and my son chose green apple.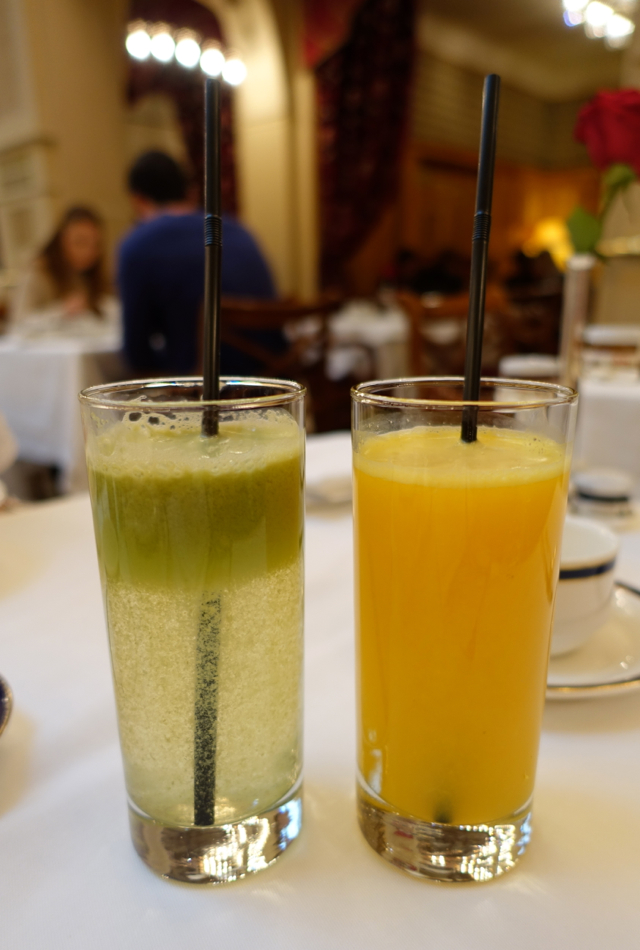 There were plenty of choices for fresh fruit (with sparkling wine also on offer):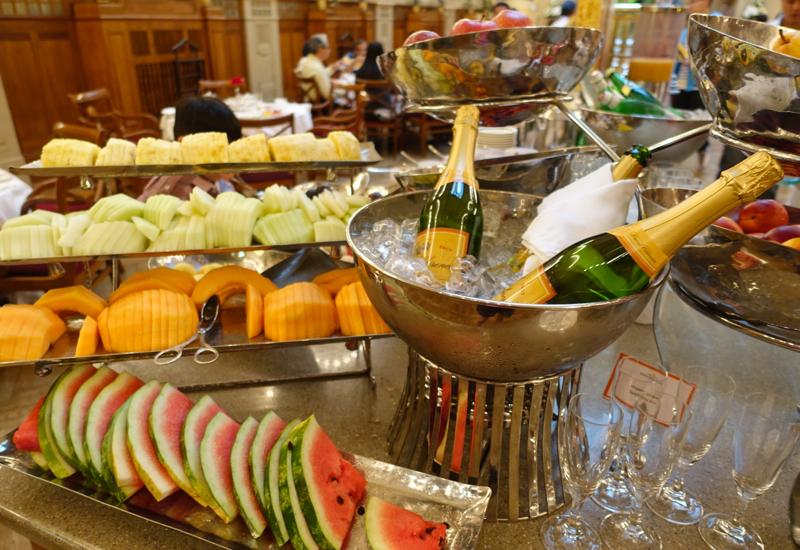 Yogurts, although I would have liked to have seen more varieties than Danone: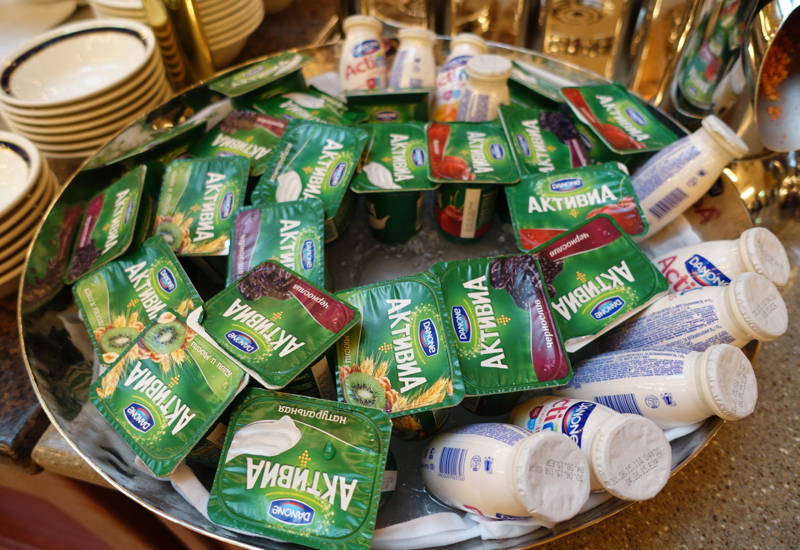 Various cold cuts, smoked salmon and other smoked fish: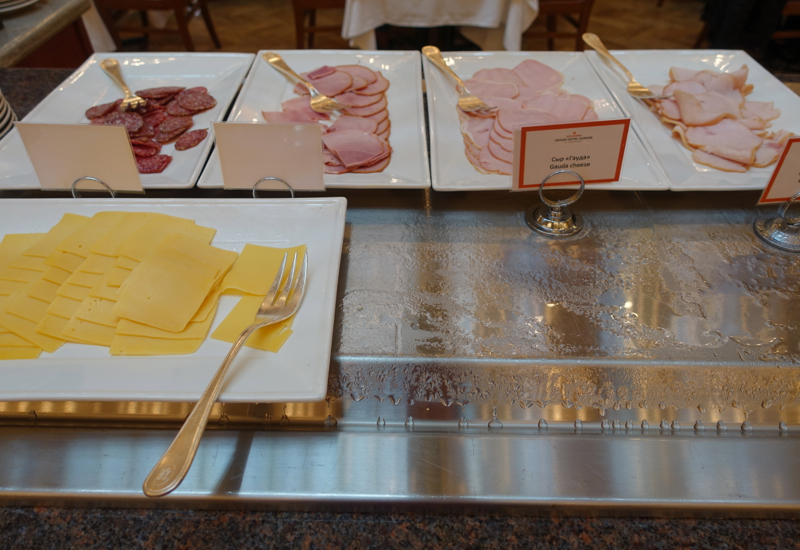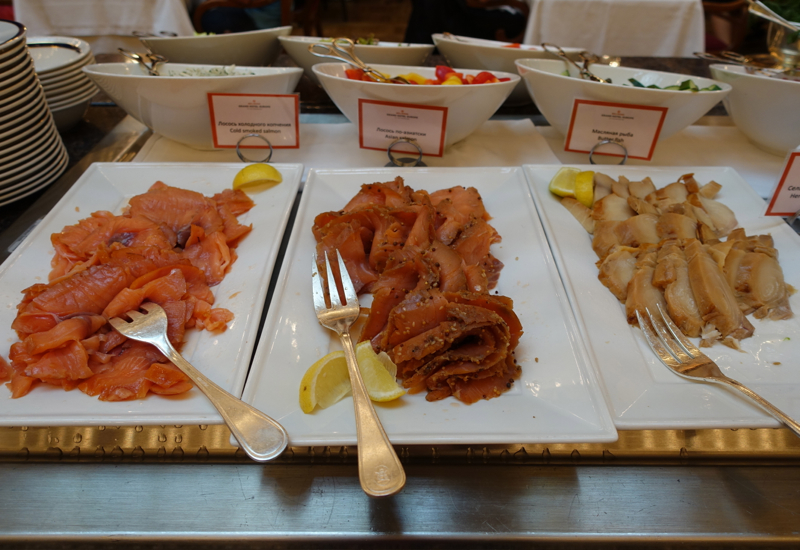 Hot food, including scrambled eggs and baked beans (no doubt there are quite a few British guests):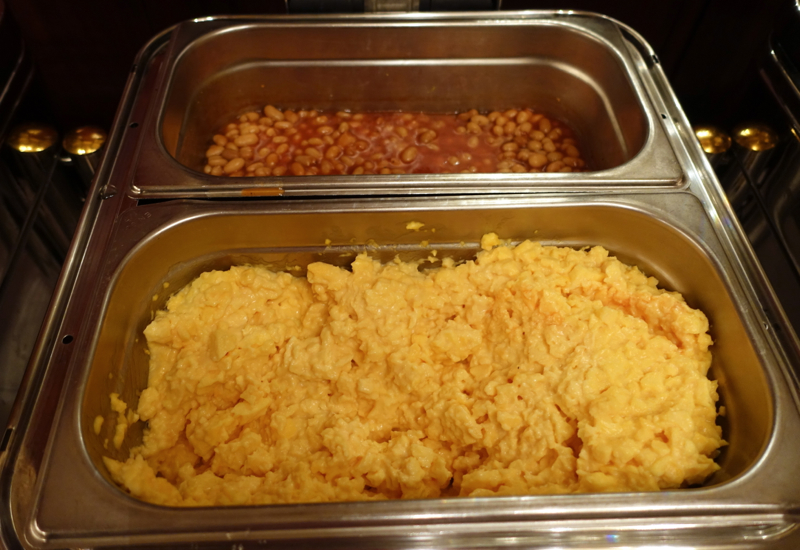 Pastries: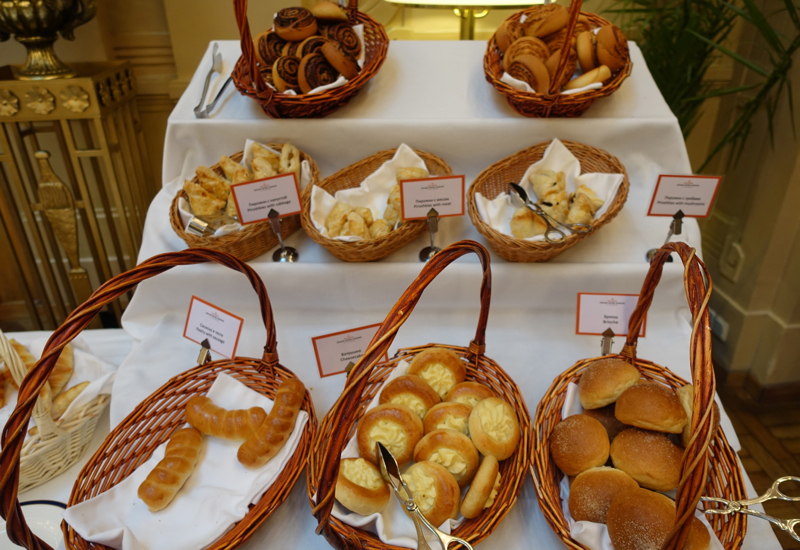 A huge tea selection–you were able to help yourself to loose leaf tea, put it in a teapot, and get boiling water from the nearby samovar: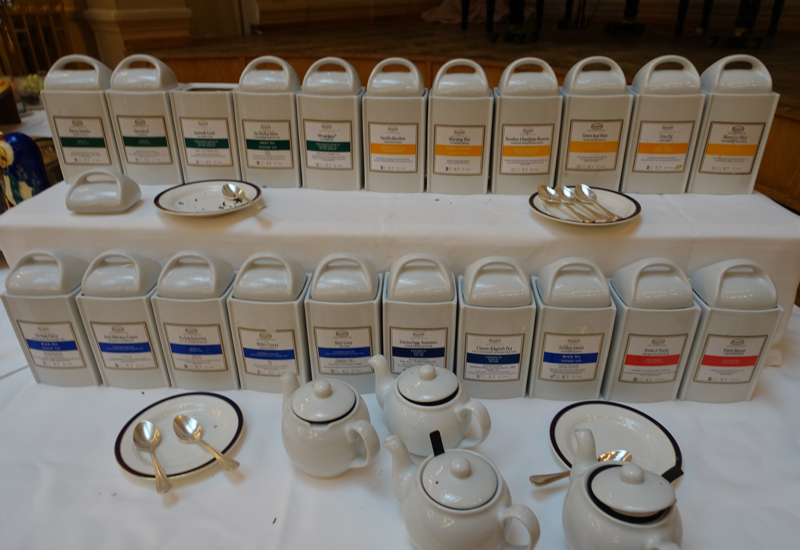 And my personal favorite, the fresh blini station: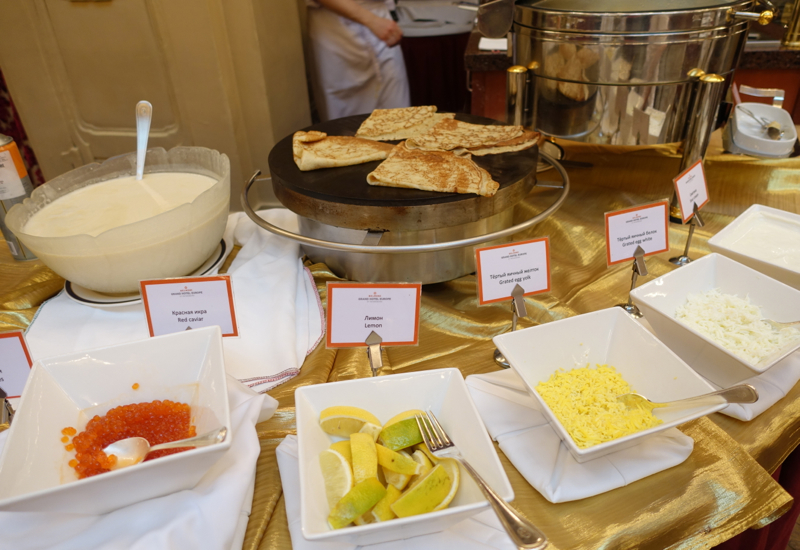 Since I'd had to share my caviar with my son at dinner, I was happy to make up for it with a blini with sour cream and caviar:
The jam and tvorog (farmer's cheese) tart I tried was pretty good, although not exceptional.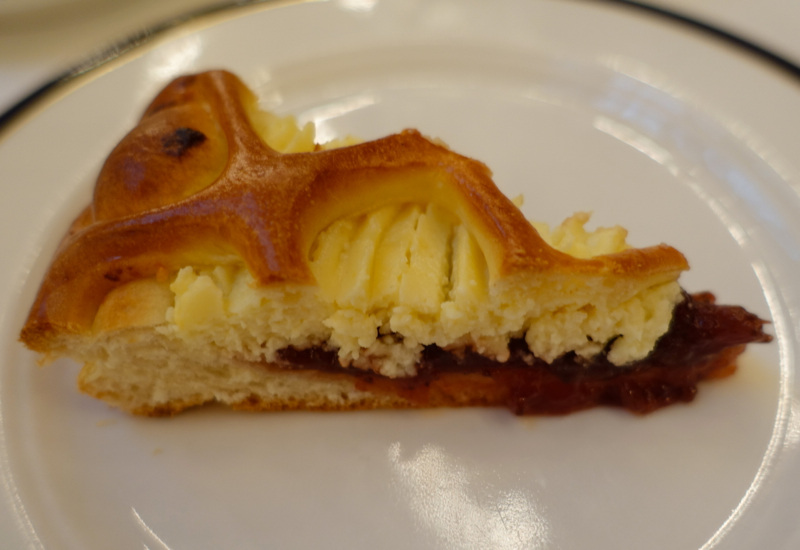 The Verdict
L'Europe Restaurant has a lovely old world ambience, with its stained glass and formal service for dinner. I'm glad we tried it for dinner, since the Egg in Egg, Kamchatka Crab, and Beef Stroganoff were all excellent. Dinner service was very correct and delightfully accommodating of my requests for substitutions. Towards the end, as the restaurant got busier, I felt the service did lag and suffer a bit, with a protracted delay in getting the check, so I recommend dining early for a better service experience.
Breakfast was rather hectic and a bit underwhelming during our visit. There were plenty of choices, but quality wasn't as high as at dinner. Juices squeezed to order, fresh blini and the huge selection of loose leaf teas were highlights, but I felt the quality of the yogurts and hot dishes could be improved.
If you've dined at L'Europe Restaurant, what was your experience?
Related Posts
Review: Belmond Grand Hotel Europe, St. Petersburg Russia
Review: Peterhof Fountains and Gardens Near St. Petersburg, Russia
Devil's Advocate: Russia Travel Deals as Ruble Falls?
Red Arrow (Krasnaya Strela) Night Train St. Petersburg to Moscow Review
Disclosure: I paid a travel industry at Belmond Grand Hotel Europe, which included breakfast, and paid for our dinner at L'Europe Restaurant. The views expressed in this post are mine.
Need Award Booking Help? Our fee is as low as $75 per ticket if you book your hotel or cruise with us.
If you enjoyed this, join 200,000+ readers: please follow TravelSort on Twitter or like us on Facebook to be alerted to new posts.
Become a TravelSort Client and Book 5-star hotels with Virtuoso Perks and Four Seasons Preferred Partner Benefits