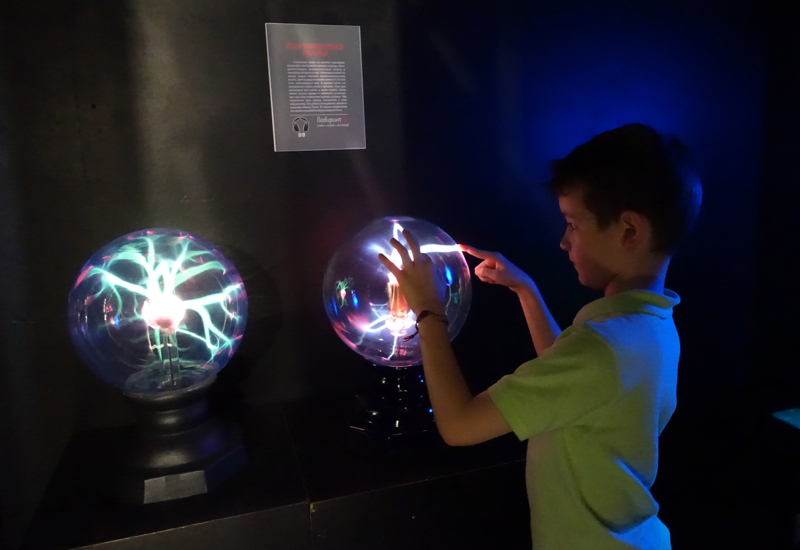 This Review of LabyrinthUm Museum (ЛабиринтУм) St. Petersburg, Russia is part of a trip report including Vienna and luxury hotels and dining in Moscow and St. Petersburg, Russia. The LabyrinthUm Museum is an interactive science museum for kids and adults.
Visiting Russia? See all our posts tagged Russia. For the previous posts please see:
Review: Sofitel Vienna Stephansdom
Labstelle Wien Vienna Restaurant Review
Review: Ararat Park Hyatt Moscow
Moscow Metro Tour with Happy Moscow Tours
Review: Peterhof Fountains and Gardens Near St. Petersburg, Russia
Review: L'Europe Restaurant and Dining at Grand Hotel Europe, St. Petersburg, Russia
Review: Four Seasons St Petersburg, Russia
Review: Four Seasons St. Petersburg Breakfast and Dining
Review of Cat Cafe: Great Georgian Food in St Petersburg, Russia
Getting to LabyrinthUm Museum (ЛабиринтУм) in St. Petersburg, Russia
The LabyrinthUm Museum, or ЛабиринтУм in Russian Cyrillic, is located at Lev Tolstoi Street, 9A (ул. Льва Толстого 9А), about a 6-8 minute walk from Metro Station Petrogradskaya.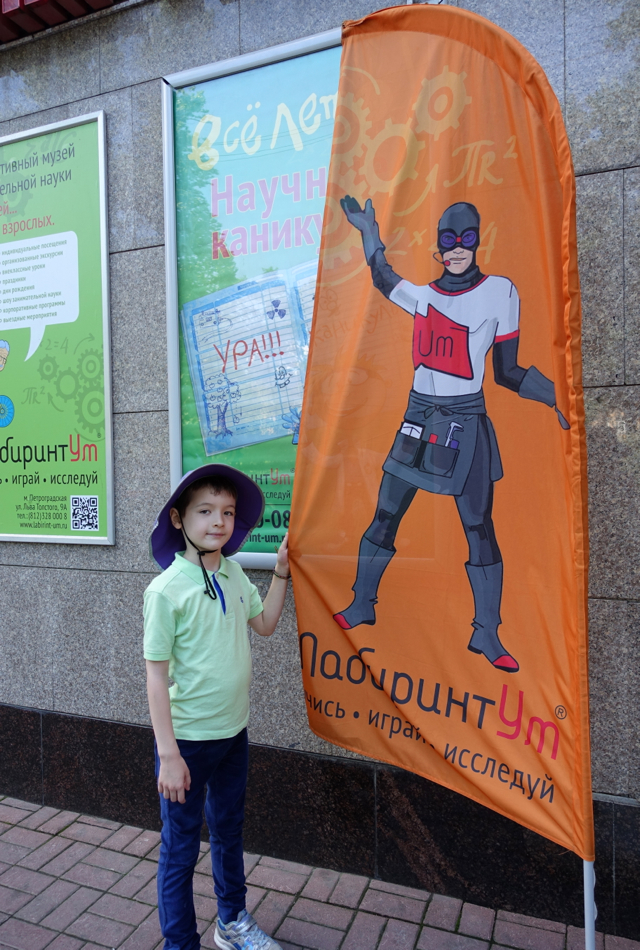 LabyrinthUm Museum (ЛабиринтУм) Hours and Ticket Prices
The museum is open 11am-7pm daily, with tickets available until 6pm. Children under 16 must be accompanied by an adult. Tickets at the time of this post are 450 rubles per adult or child age 2 and older on weekends, and a reduced price of 400 rubles per adult or child on weekdays.
Highlights of Our Visit to ЛабиринтУм
My son came here with his Russian camp, and loved it so much he wanted to return. Some of the exhibits were based on Leonardo da Vinci's inventions, and recalled our visit to the Leonardo da Vinci Museum in Florence, Italy.
Note that all the exhibit descriptions are only in Russian, but even if you don't understand Russian, this is a fun museum for kids and adults, since everything is interactive and I didn't see any of the younger Russian kids reading the explanations anyway.
1. Mirror Maze
The namesake labyrinth at the museum is a mirror maze, which is truly disorienting the first time through. You're given plastic gloves to put on so that you don't leave finger prints on the mirrors, and asked to proceed slowly (there is a place where a mirror is cracked, from someone going headlong into it). It's not a long maze, but still fun without being scary, the way the completely dark Tactile Dome at the San Francisco Exploratorium can be for some kids.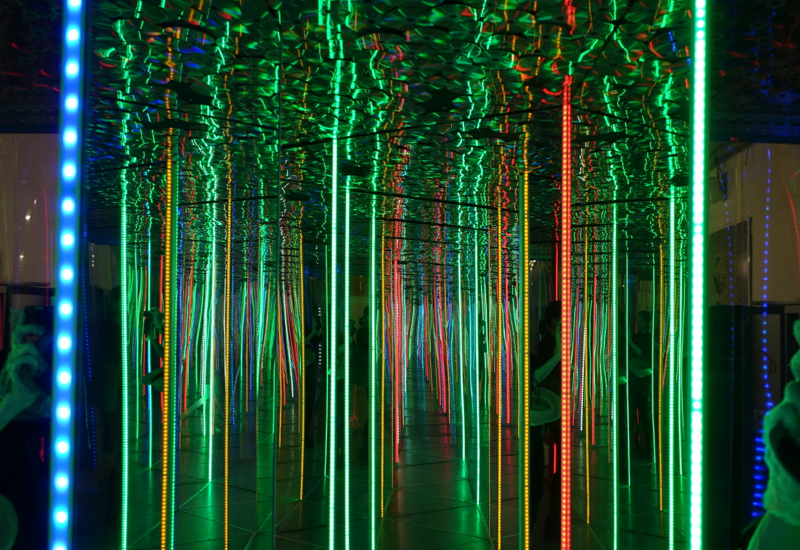 2. Building Dams and Water Chutes
Yes, this is a simple activity that is probably geared for younger kids, but my 7 year old still had a blast building various water flow designs and dams.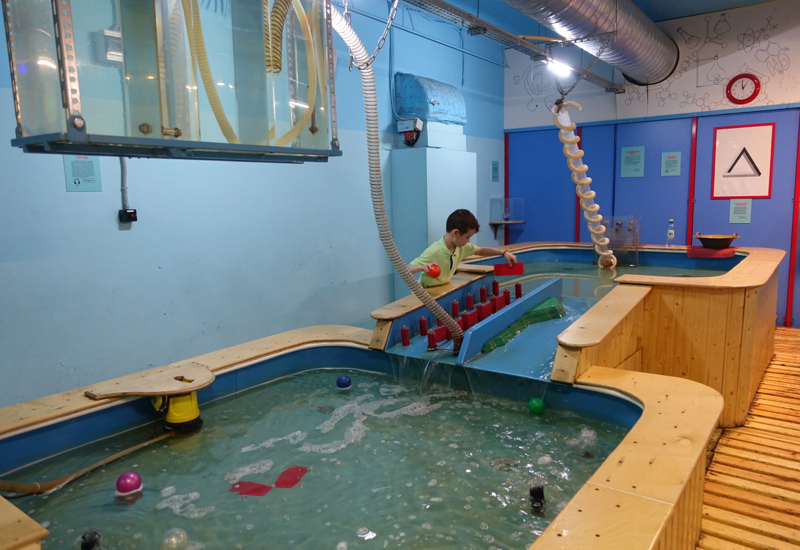 3. Plasma Globes / Domes
This was the first time my son had seen plasma globes (also sometimes called Tesla globes, after their inventor Nikola Tesla), so he was fascinated just by their appearance, let alone the changing flow when he placed his fingers on it. These plasma globes have neon and argon in them, although other noble gases such as xenon and krypton can be used. A high-voltage electrode in the center of the sphere, with the gases, causes plasma filaments to extend to the outer glass, which appears to the viewer as colored beams of light. Touching the surface of the globe causes the energy to flow to the touchpoints, since the human body serves as an energy conductor.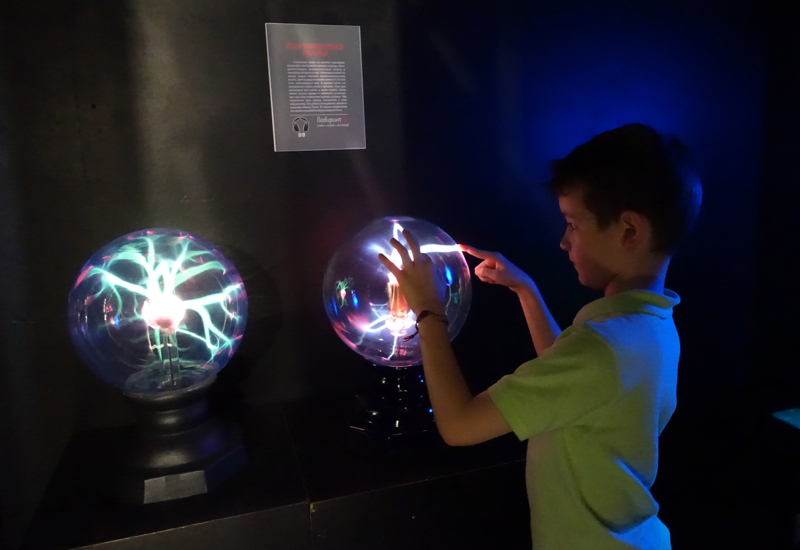 4. Crawling Maze
In addition to the mirror maze, there's also a small crawling maze–a good place for your child to burn off some energy as s/he wriggles in and out of different compartments. Note that shoes must be removed before entering.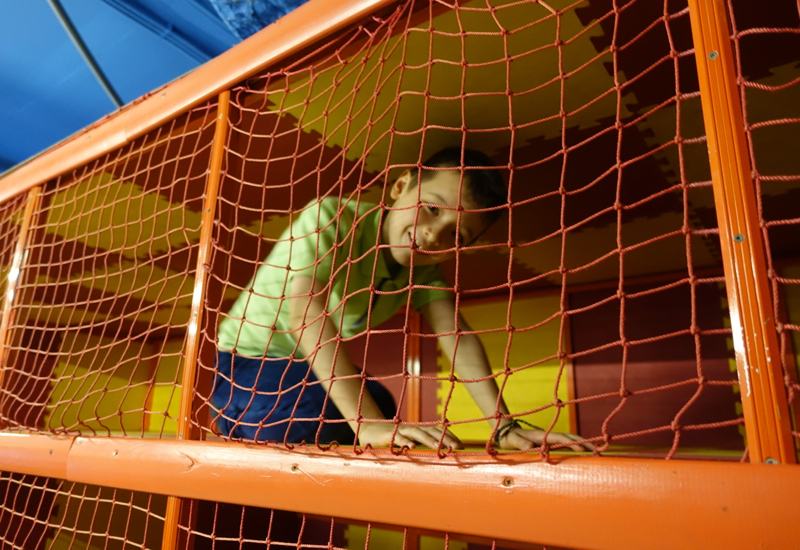 5. Giant Bubbles
Giant bubbles of different shapes, including one that can be raised up around your body–get ready to have your kid age 3-7 not wanting to leave for quite awhile 🙂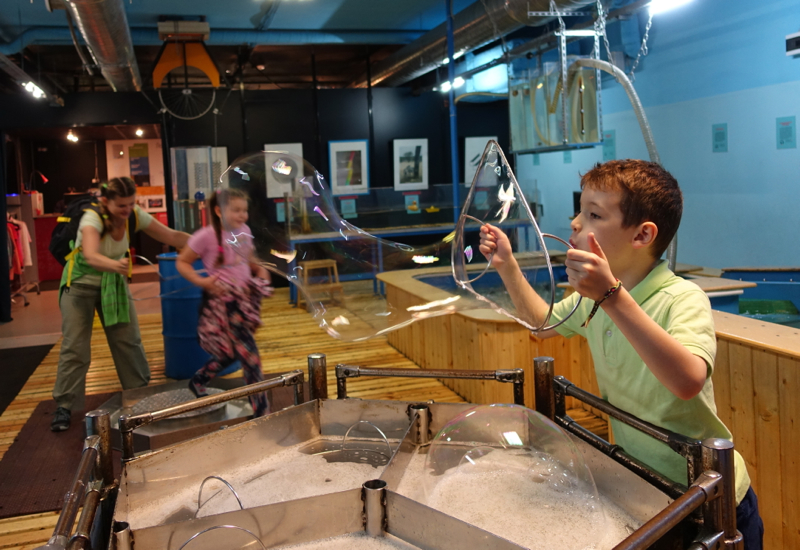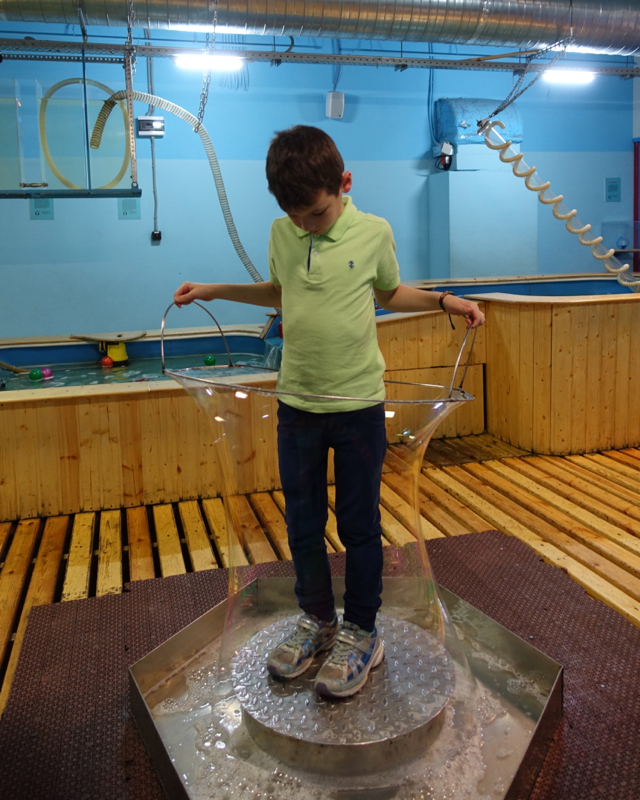 6. Mirror Room
As at the Leonardo da Vinci Museum in Florence, there was a Mirror Room that enables you to not only see each side of yourself without turning your head, but multiple copies due to the angles of the mirrors.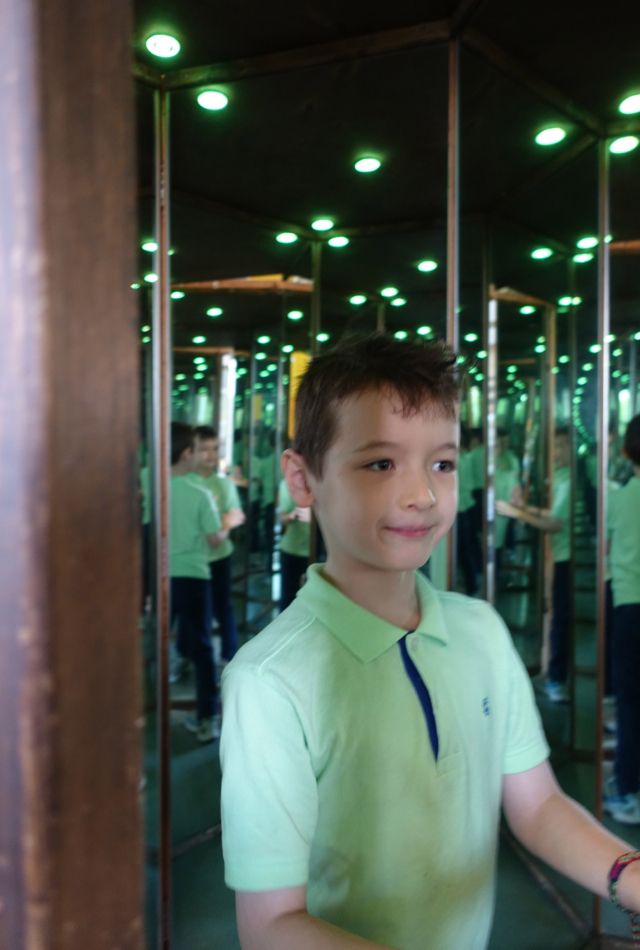 7. Archimedes' Screw
Although the original was attributed to Archimedes, Leonardo da Vinci further improved on the design of Archimedes' Screw, which was used for irrigation and moving water from lower levels to higher ones, for example for decorative fountains.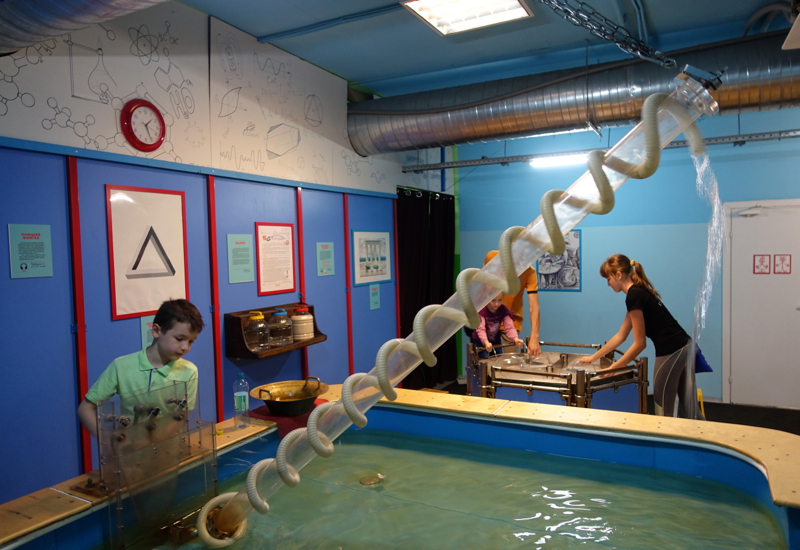 8. Optical Illusions and Holograms
There were a number of optical illusions throughout the museum, but this deceptively simple "Cafe Wall" illusion was one of my favorites. The lines appear to be sloping, but are in fact parallel.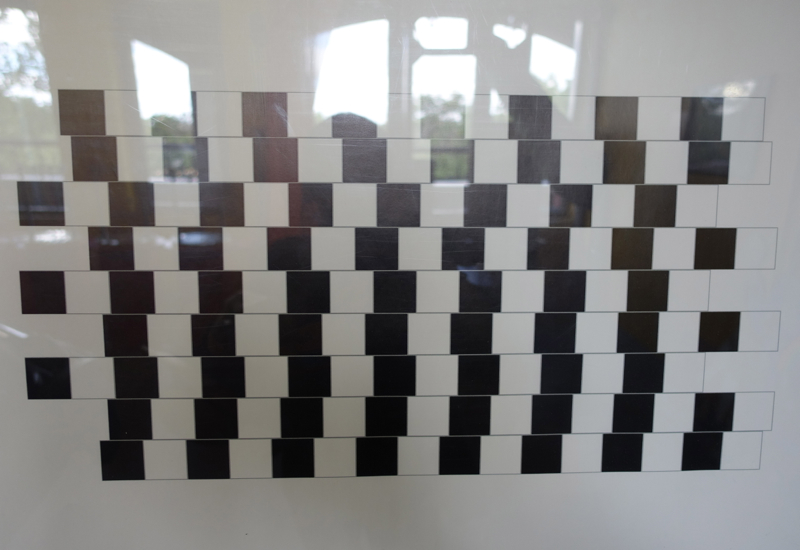 There were also holograms, including this one of a wolf: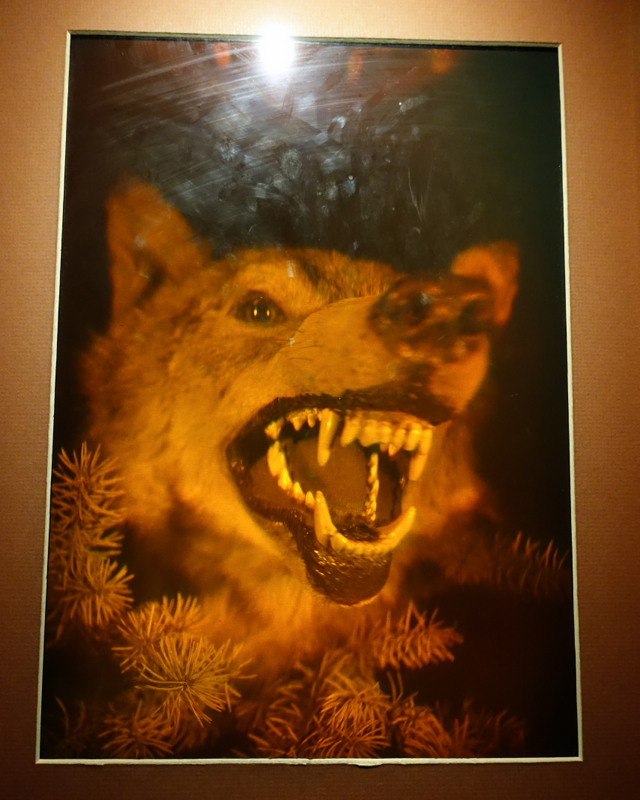 9. Echo Tube
This 24 meter echo tube was a hit with my son and other kids, who loved hearing the echo from their shouts into the tube.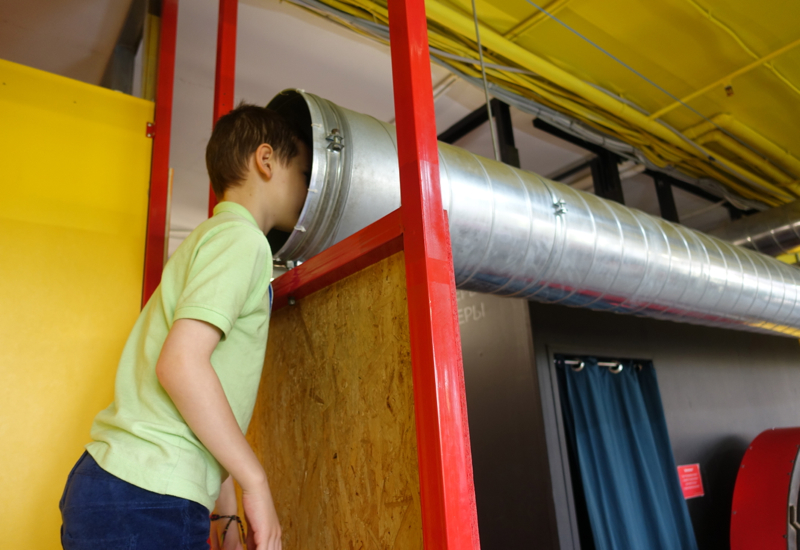 If you've been to ЛабиринтУм, what was your experience?
Related Posts
Review: Leonardo da Vinci Museum, Florence
Review: Four Seasons St Petersburg, Russia
Review: Peterhof Fountains and Gardens Near St. Petersburg, Russia
3-Year Russian Visa Application Requirements and Tips
Sapsan Train Moscow to St. Petersburg Review and Booking Tips
Need Award Booking Help? Our fee is as low as $75 per ticket if you book your hotel or cruise with us.
If you enjoyed this, join 200,000+ readers: please follow TravelSort on Twitter or like us on Facebook to be alerted to new posts.
Become a TravelSort Client and Book 5-star hotels with Virtuoso Perks and Four Seasons Preferred Partner Benefits