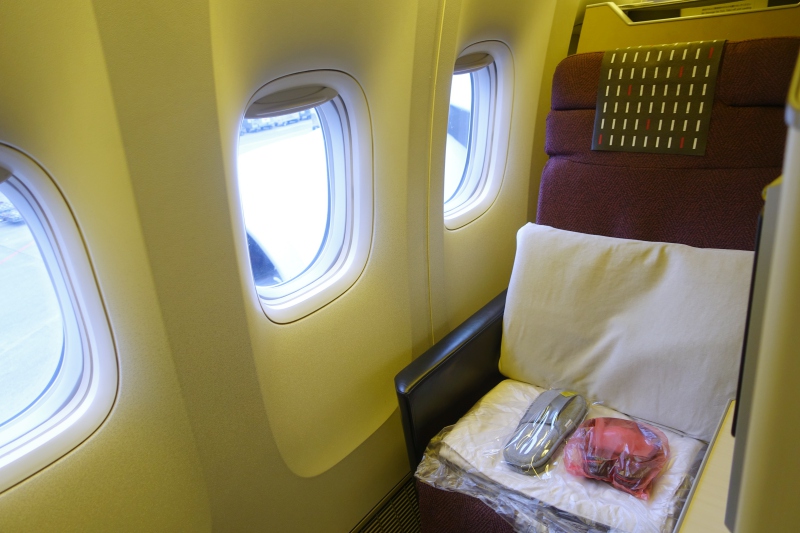 This 2017 review of Japan Airlines 777-300ER Sky Suite Business Class is from my return trip from Tokyo to Los Angeles LAX. My husband and son were on the same flight, in JAL First Class, so they'll write a review of that product. Visiting Japan? See some of our previous posts from this trip report:
Review: ANA First Class 777 New York JFK to Tokyo Narita
Hotel Review: The Peninsula Tokyo
Hotel Review: Mandarin Oriental Tokyo
Japan Rail Pass and Shinkansen Tips
Amanemu Virtuoso Review, Ise-Shima
Review: Four Seasons Tokyo at Marunouchi
Japan Airlines Business Class Cabin and Seat Selection
I've covered seat selection in my prior
JAL Sky Suite Business Class review
, so suffice to say that for maximum privacy, you want to select a window seat, ideally 8A or 8K, 9A or 9K, etc. The only reason *not* to do so is if you would have a hard time moving sideways so as to get into your seat space, because access to the aisle is quite narrow.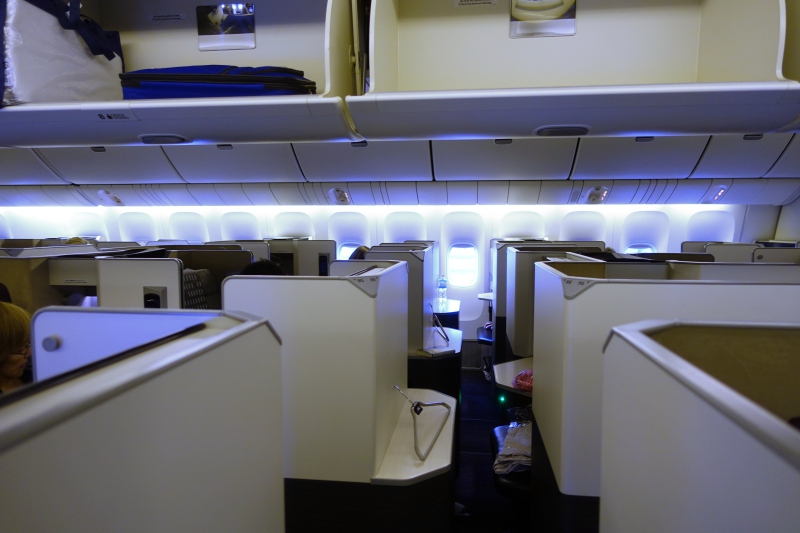 Japan Airlines Business Class Seat
I'd selected window seat 8K, which as with most window seats has 3 windows and feels very private once you're able to raise the divider between it and the aisle seat.
Note that the divider must remain down during take-off and landing, however. The seats are slightly staggered, which is nice as it affords a bit more privacy even when the divider is down, than would be the case without staggered seating.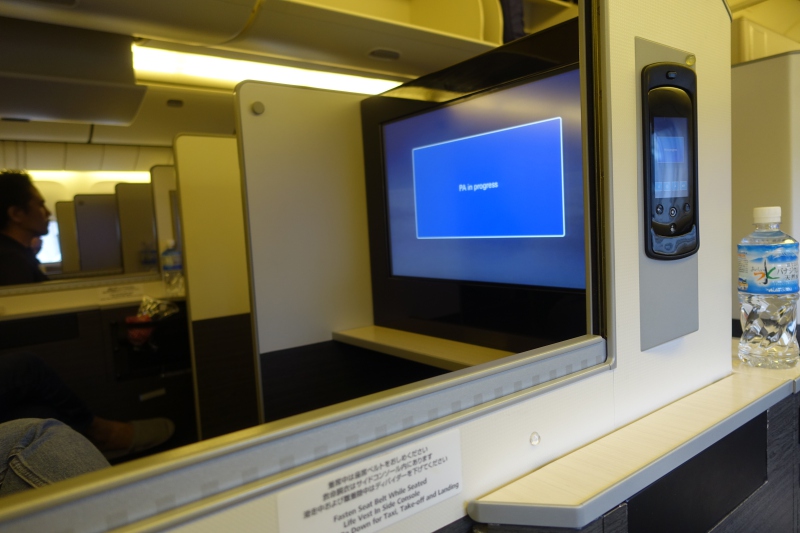 The manual seat controls are easy to use, once aloft, to recline your seat, although there's even a guide to the Sky Suite in case you want more details. There was also a notice that an additional reading lamp could be requested, although I didn't bother with this as my goal after the meal was to sleep.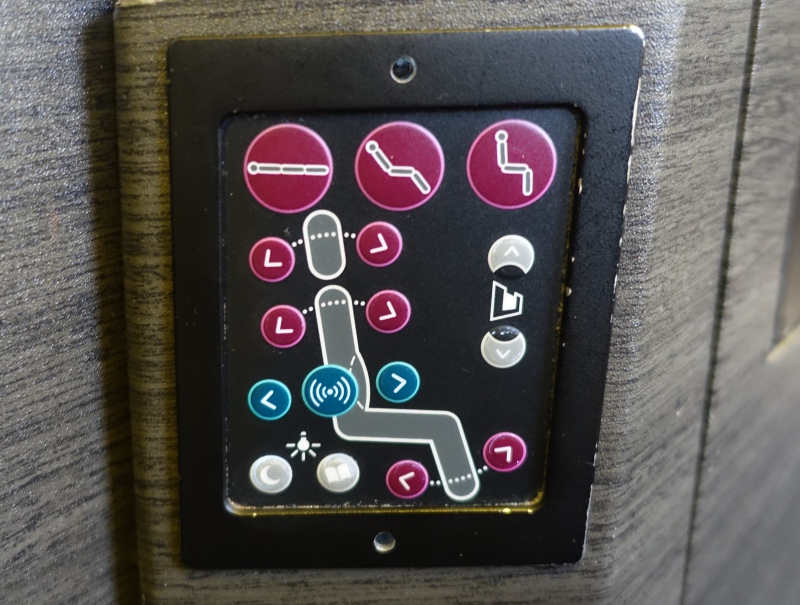 Here's a brief video of the seat:
JAL Business Class Amenity Kit and Slippers
A Business Class amenity kit was placed on the table, in front of the 23 inch flat screen, and contained all the essentials–dental kit with toothbrush and toothpaste, facial tissues, sleepmask, ear plugs, lip balm and even a moisture mask–in a red and black case.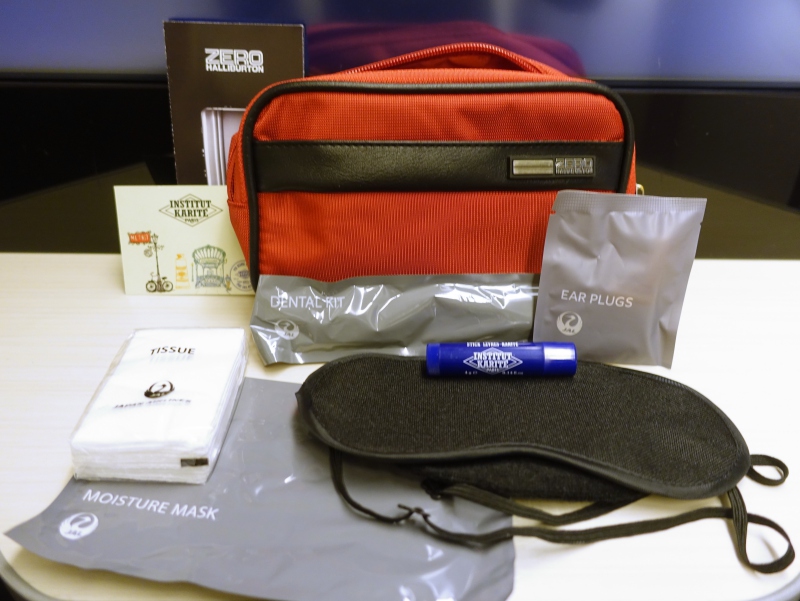 There were also grey slippers provided. That's something I love flying Japanese and some other Asian airlines: slippers in business class, so you don't have to carry your own.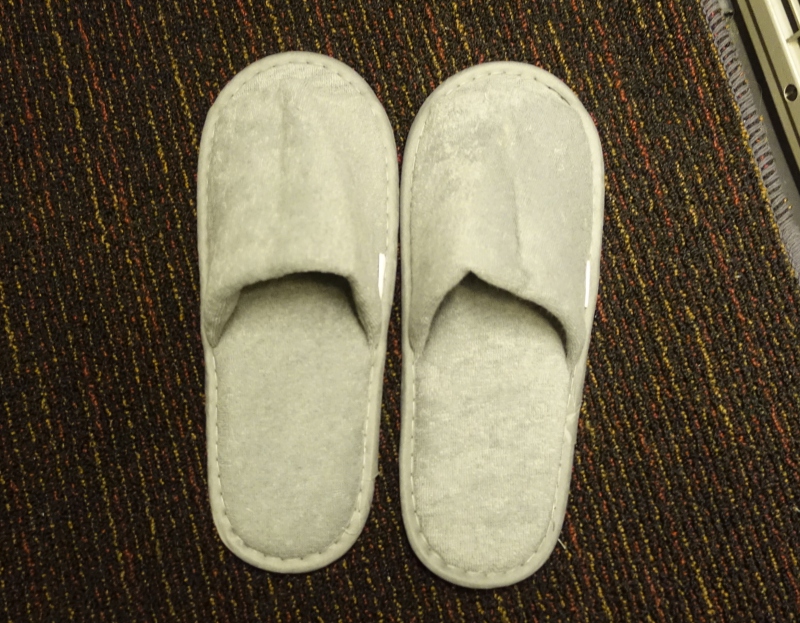 Japan Airlines Business Class Menu and Food
Before we departed, we were offered a pre-flight drink of orange juice or champagne; I chose juice. We were also given bottled water.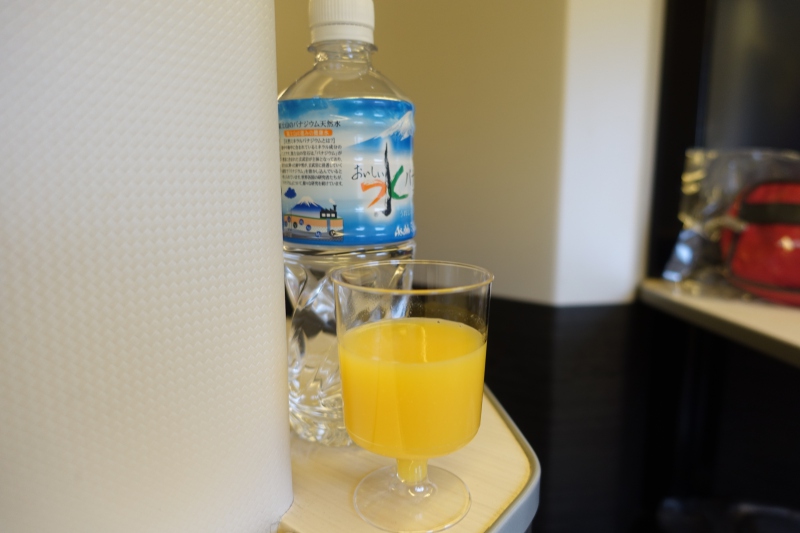 Later, after take-off, a hot towel (oshibori) was provided, and our meal order was taken. I asked for the Japanese meal, although with the Western dessert, and this was no problem.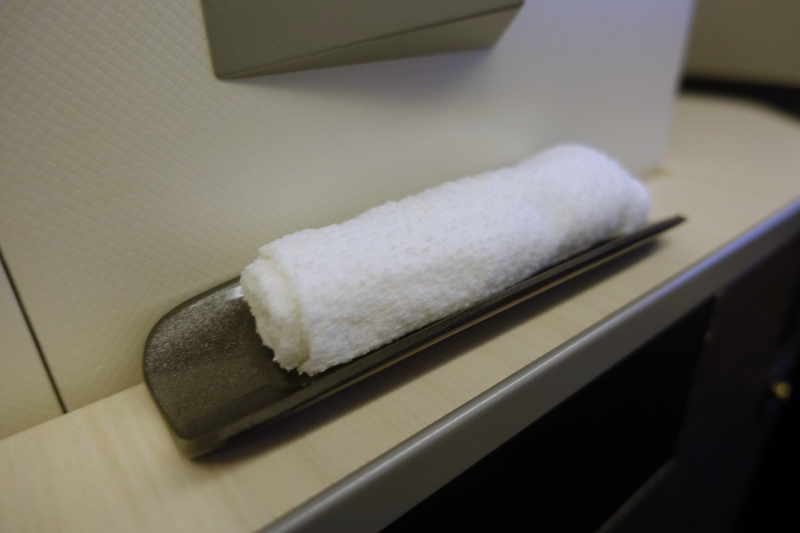 Here are the Japanese and Western menus, as well as light meal and anytime choices.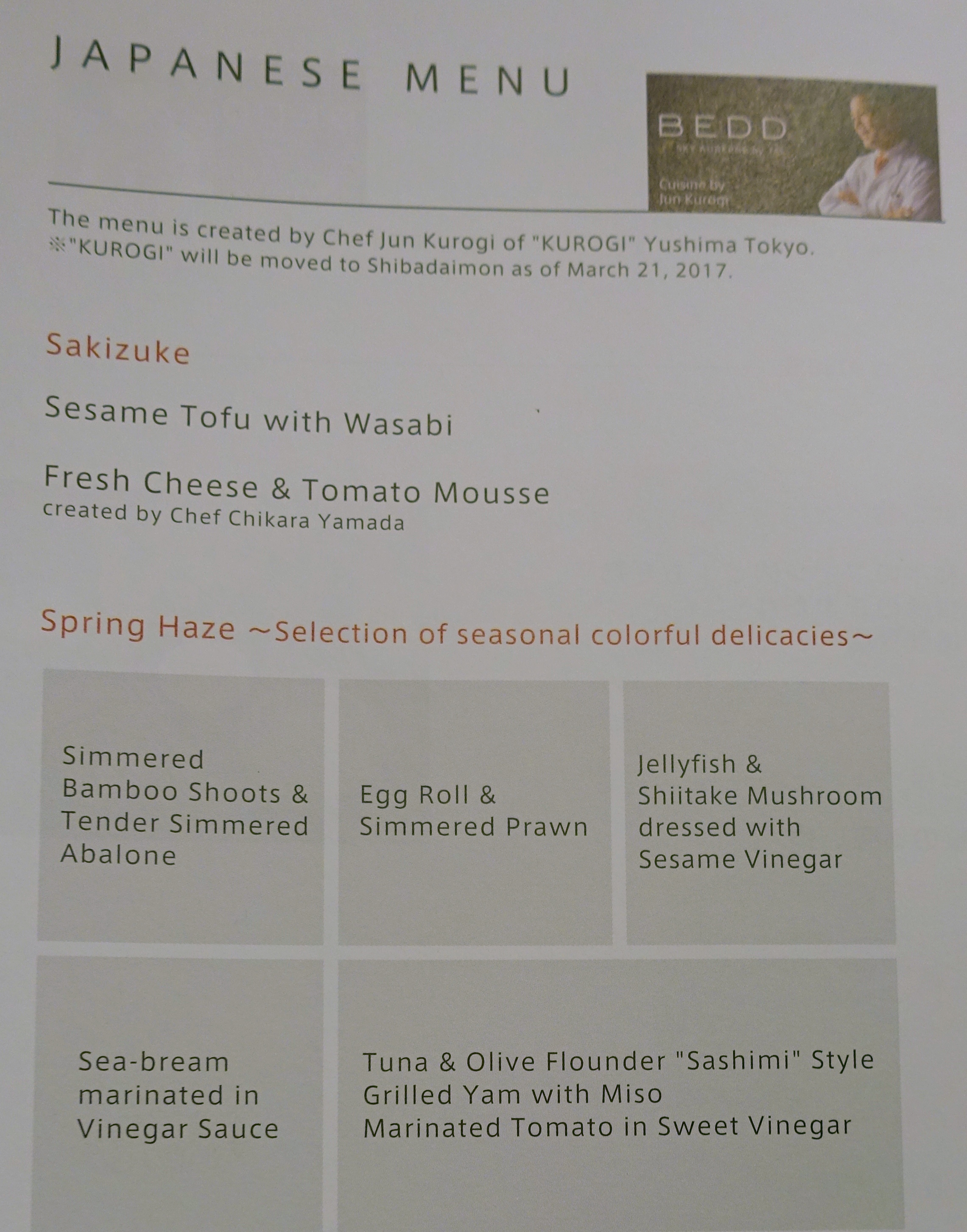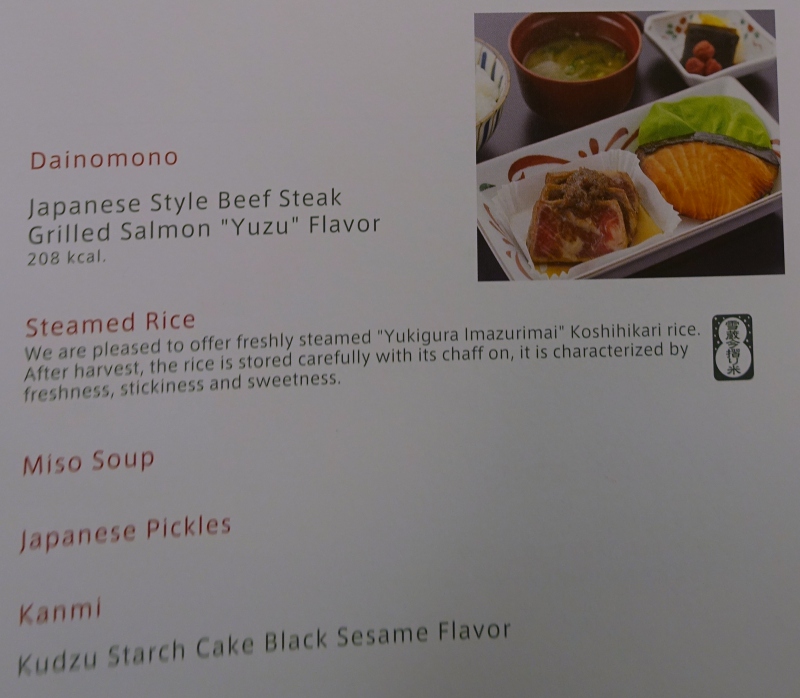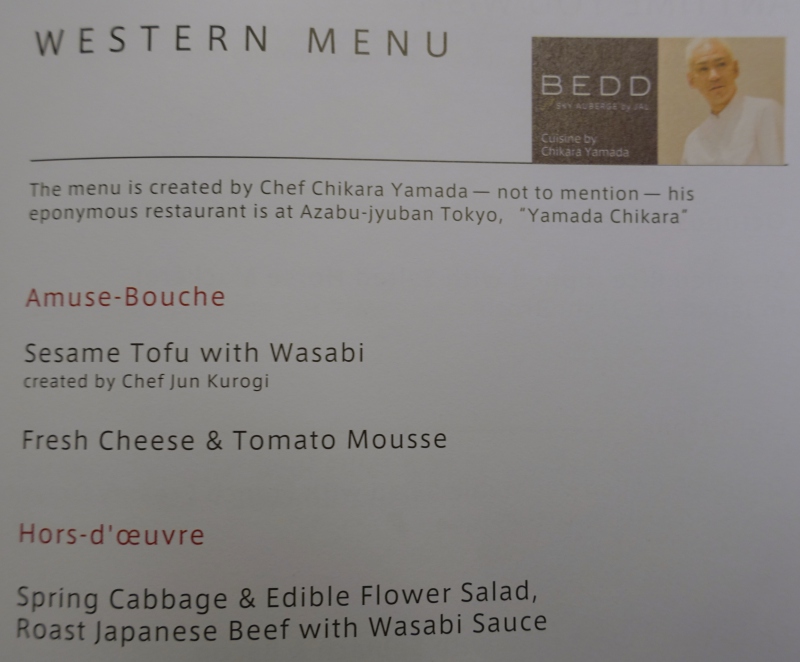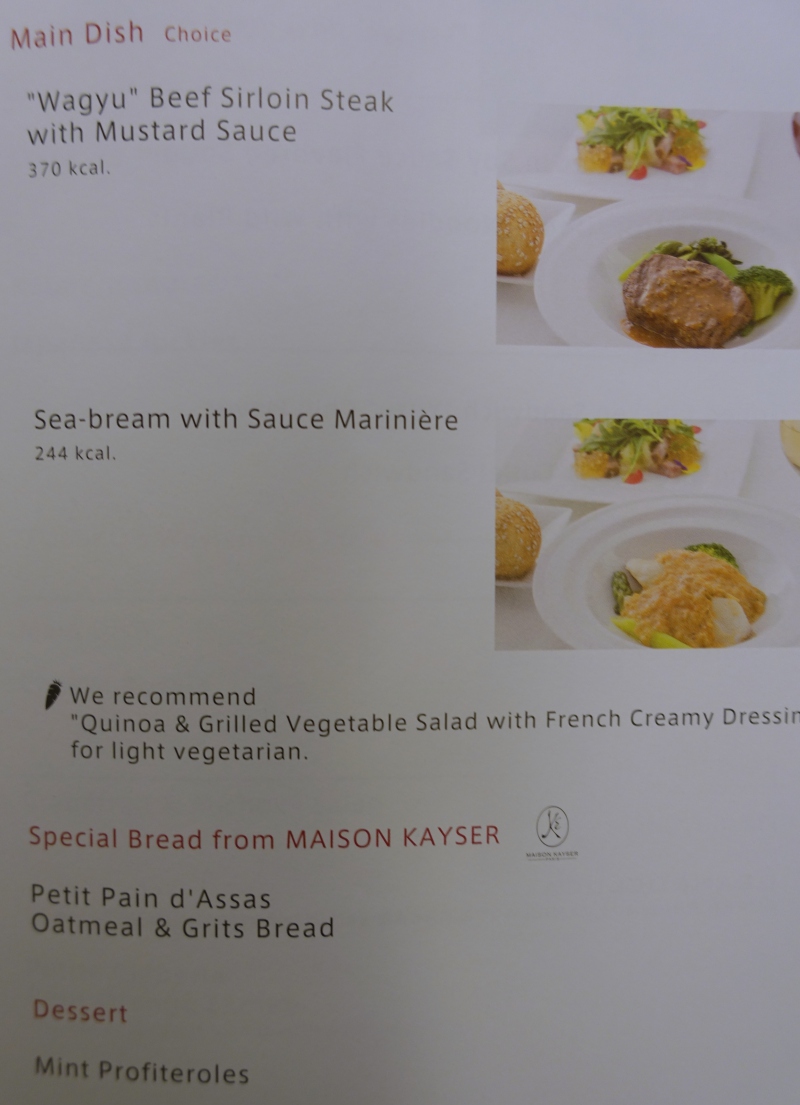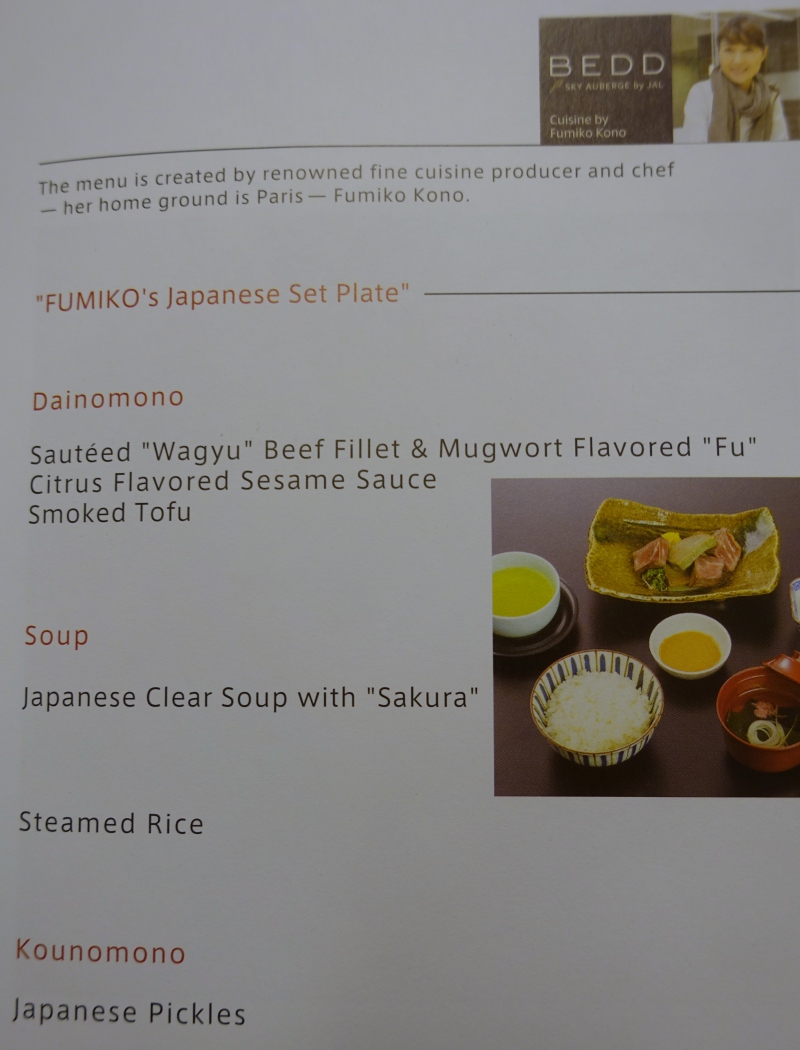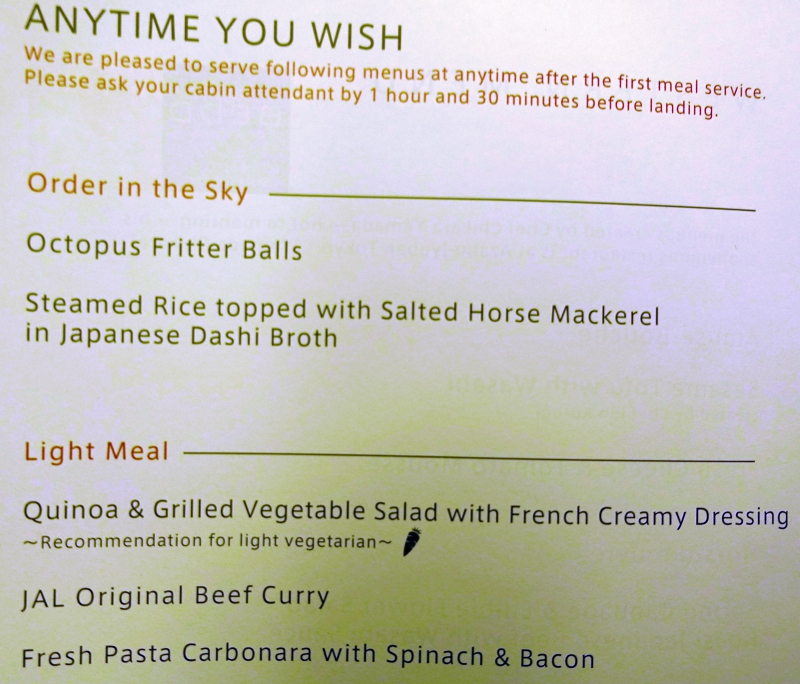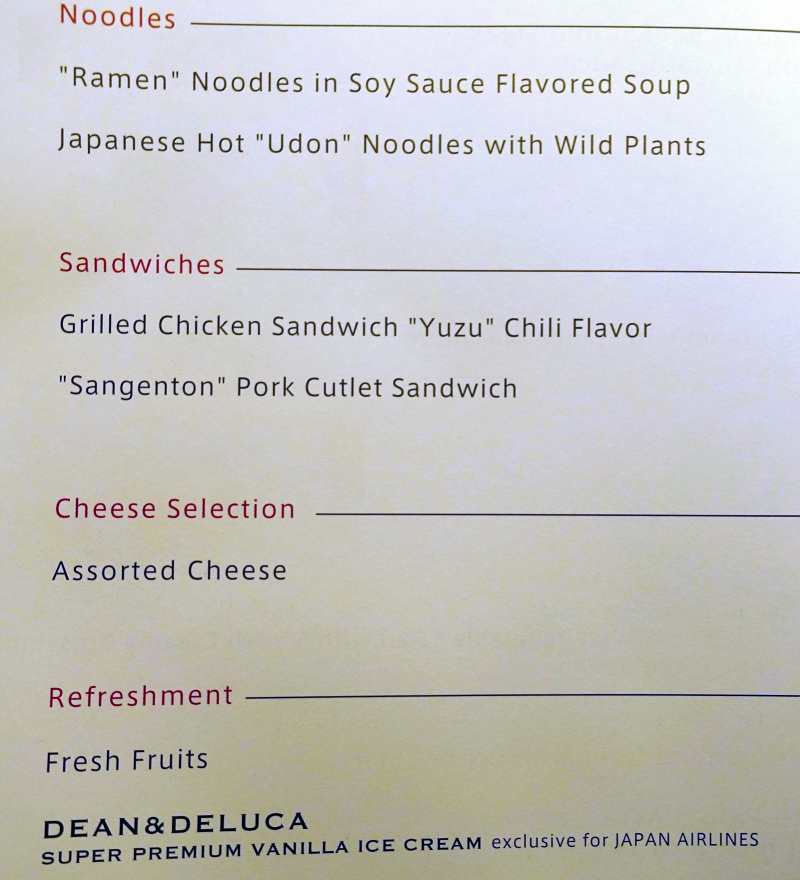 The amuse bouche was the same for both menus, some sesame tofu with soy sauce and a cheese-tomato mousse. I've never been a huge fan of tofu, but I know it's good for you, so I dutifully ate it, although I enjoyed the cheese tomato mousse more. As both items were soft in texture, I think a couple items with contrasting textures would have been a more interesting choice.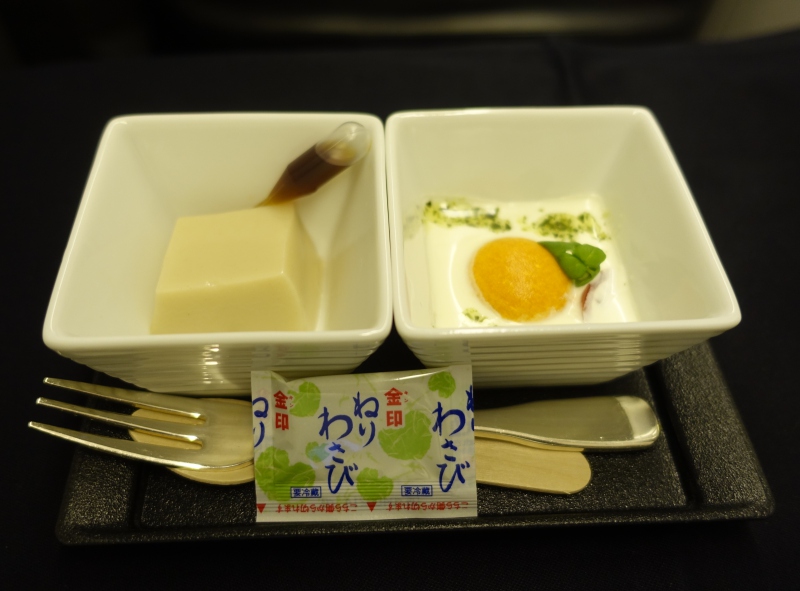 The subsequent seasonal delicacies, presented in a bento box with a red crane chopstick rest, were the highlight of the meal, particularly the sashimi, sea bream and prawn.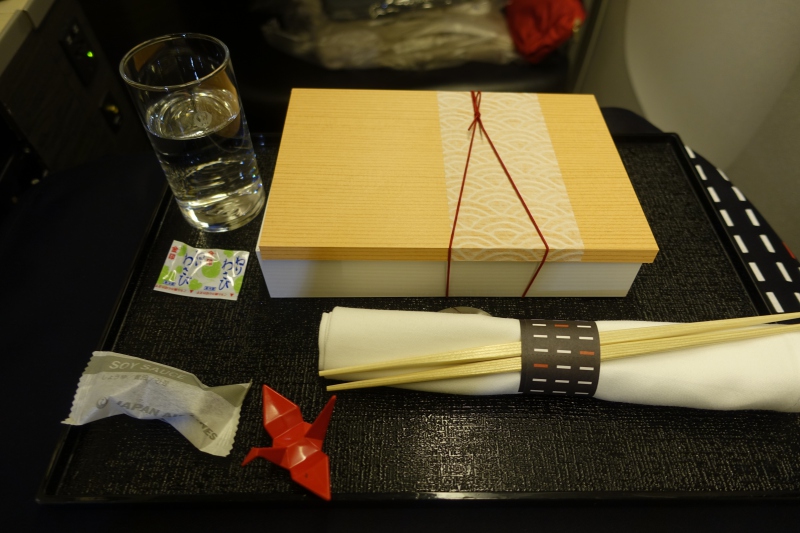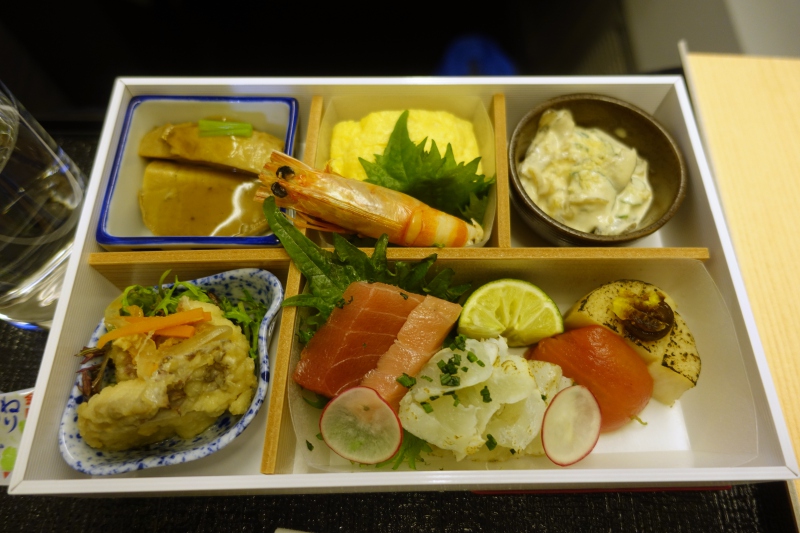 The main course was less interesting; I liked the yuzu flavor of the salmon, although the fish was a bit overcooked, and the beef steak couldn't compare to the amazing Kobe beef we had at our Kyoto cooking class.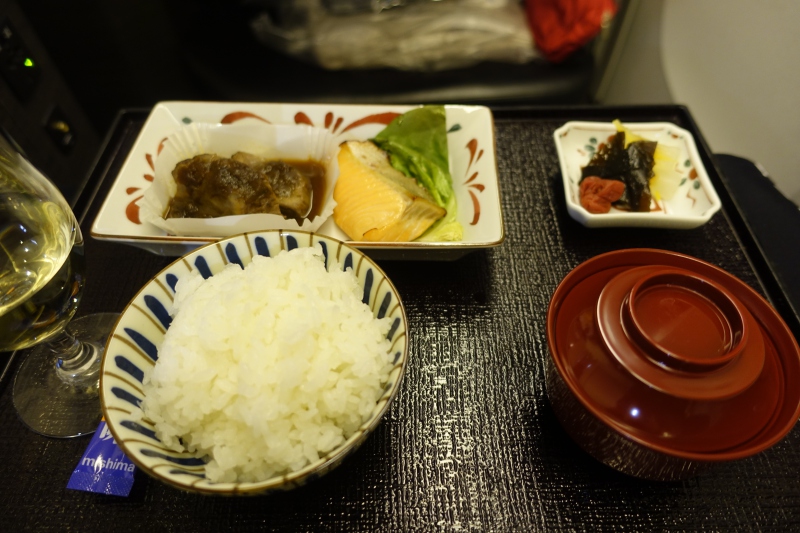 Since I don't care much for Asian desserts I'd chosen the mint profiteroles, and while these were a bit better the last dessert I'd had in JAL Business Class (which was frozen so hard it was impossible to eat at first) they were nothing special. I'd have been happier with a single Pierre Herme macaron, but unfortunately most airlines, even for first and business class, don't provide branded desserts.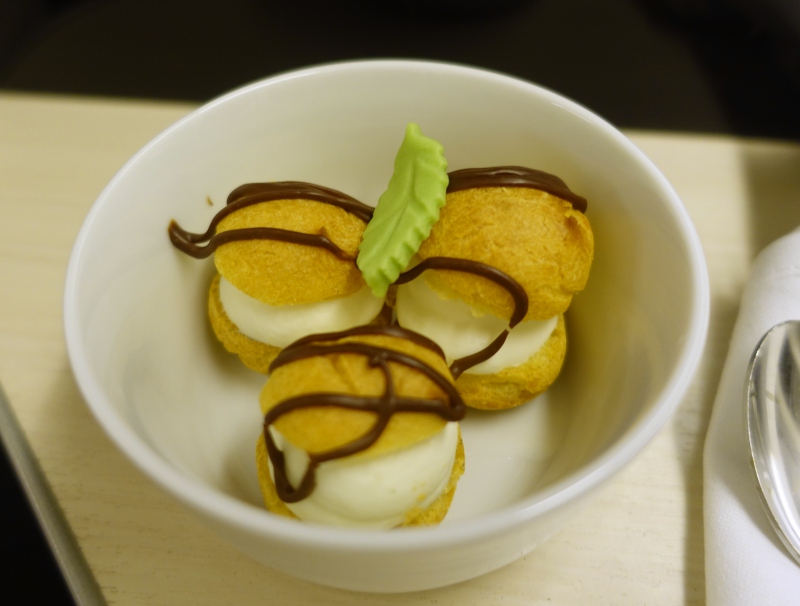 JAL Sky Suite Business Class Bed and Sleep Quality
A huge advantage of JAL Sky Suite Business Class is the airweave mattress pad. Remember to get it out of the overhead bin and place it on your fully flat bed, and then either put the duvet on top of it if the cabin is warm and you don't want a duvet over you, or use it sleeping bag style as I did, with one half on the mattress pad and the other half over me.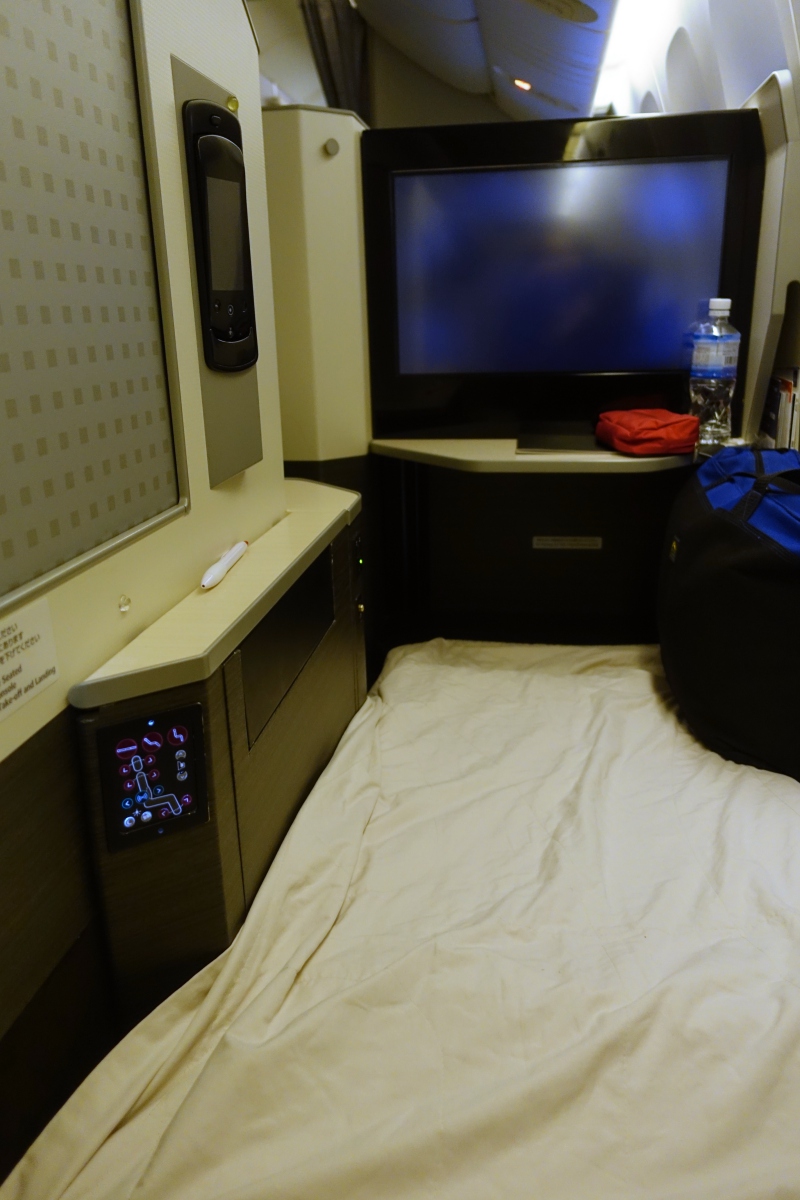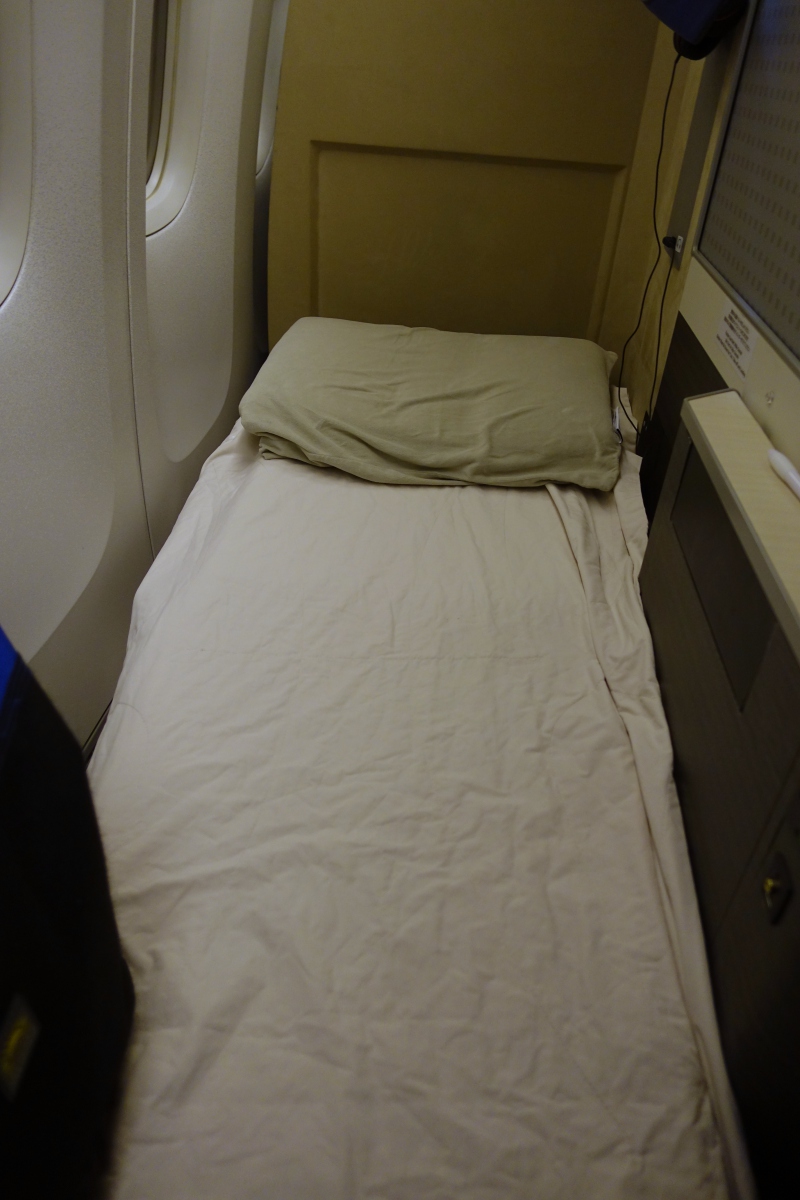 While the airweave mattress pad in Business Class isn't as thick as the one in First Class, which also offers a choice of a firm or soft sleep surface, it's fantastic that it's part of the business class offering since no other airline that I know of offers a mattress pad in business class. It makes a huge difference in terms of sleep comfort, and I got several hours of sleep before arriving at LAX.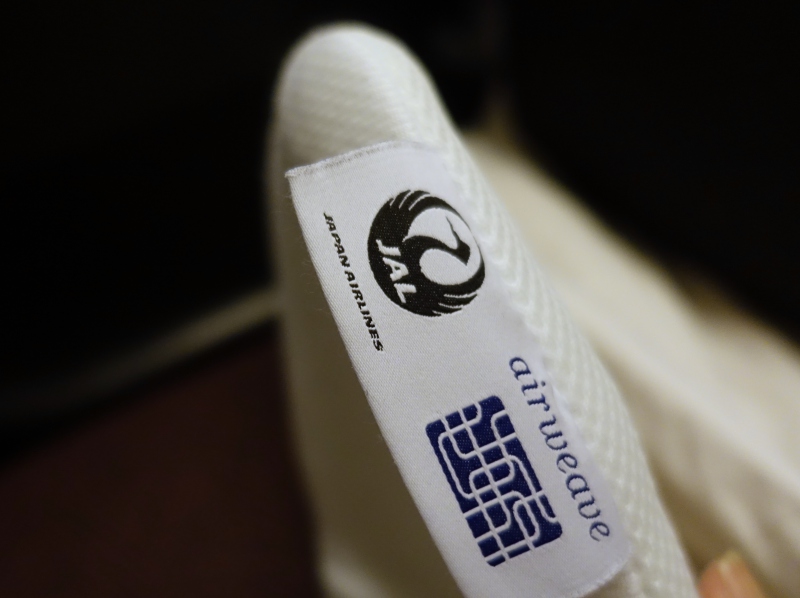 The Verdict
Japan Airlines Sky Suite Business Class remains my favorite business class product, particularly its very private window seats. While narrow, I'll take a narrow business class seat any day if it's this private and comes with an airweave mattress pad for greater sleep comfort. I also appreciated the slippers, and while I scarcely watched anything on this relatively short flight, the large 23 inch screen will be appreciated by passengers who are more avid IFE users.
I also enjoyed the seasonal delicacies part of the meal, and thought the presentation was excellent for a business class meal. I only wished the flight had been longer so I could have slept more and also tried some of the options from the Anytime Menu, such as the takoyaki, one of my favorite street foods in Japan.
If you've flown JAL Sky Suite Business Class recently, what was your experience?
Recommended Posts
Japan Airlines 777-300ER Business Class Sky Suite Review
Review: Japan Airlines JAL 767-300ER Business Class
JAL First Class Lounge Tokyo Narita Review
Review: Japan Airlines First Class 777-300ER
JAL Awards Now Bookable with Alaska Miles
The World's 6 Best First Class Airline Experiences
Need Award Booking Help? Our fee is as low as $75 per ticket if you book your hotel through us.
If you enjoyed this, join 200,000+ readers: please follow TravelSort on Twitter or  like us on Facebook to be alerted to new posts. 
Become a TravelSort Client and Book Luxury Hotels with Virtuoso or Four Seasons Preferred Partner Benefits!