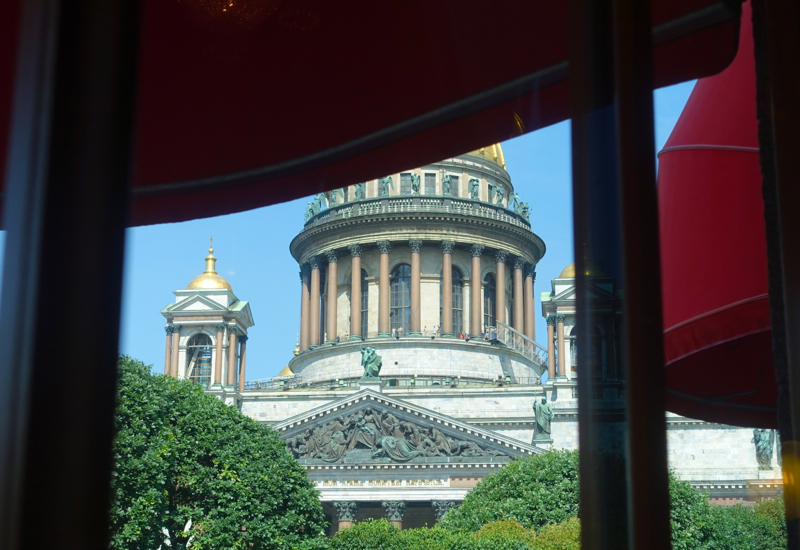 Hotel Astoria in St. Petersburg, Russia is a Rocco Forte hotel originally built in 1911. It was well known as the best hotel in the city during World War II, and Hitler planned to hold his victory dinner there, after taking control of the city—needless to say (and thankfully) that dinner never happened. Visiting St. Petersburg, Russia? See our 10 Travel Tips for St Petersburg, Russia and our posts tagged St. Petersburg.
TravelSort Clients enjoy these Virtuoso or Sir Rocco's Knights benefits at Hotel Astoria, St. Petersburg:
Upgrade on arrival, subject to availability
Daily full breakfast, for up to two in room guests
$100 USD Equivalent Food & Beverage credit, to be utilized during stay (not combinable, not valid on room rate, no cash value if not redeemed in full)
Early check-in/late check-out, subject to availability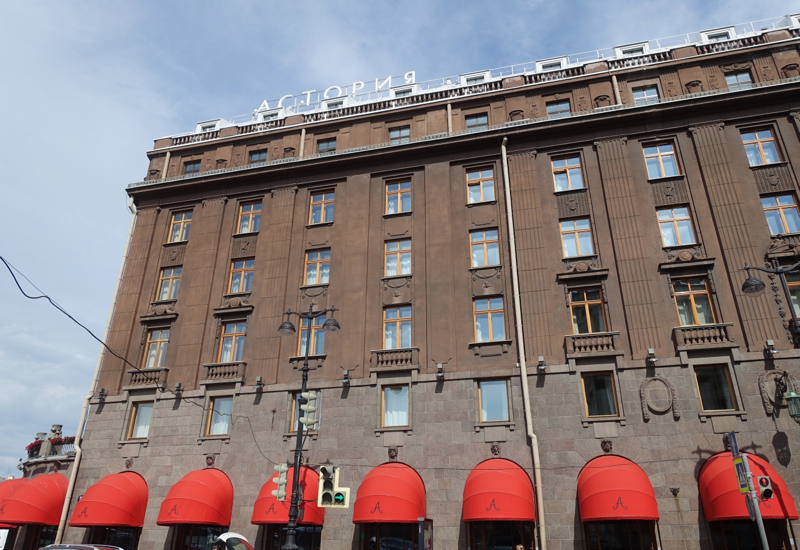 Hotel Astoria Location and Check-In
Hotel Astoria is located at 39 Bolshaya Morskaya Street, with a view of St. Isaacs Cathedral from its entrance as well as from some of its rooms and suites. The closest metro station is Admiralteyskaya, about an 8 minute walk from the hotel, and St. Petesburg's main street, Nevsky Prospect, is also a short walk away.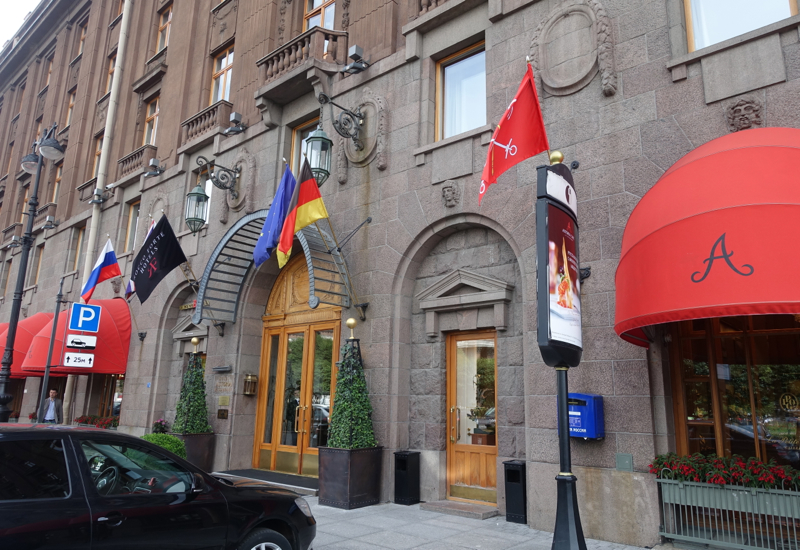 Unlike Moscow, St. Petersburg doesn't have an express rail link to the airport, so we arranged a private transfer through the hotel. The driver took my roll-on, leaving me my heavier shoulder bag, and didn't take into account my son's slower pace as he walked quickly toward the vehicle, but at least the ride was comfortable.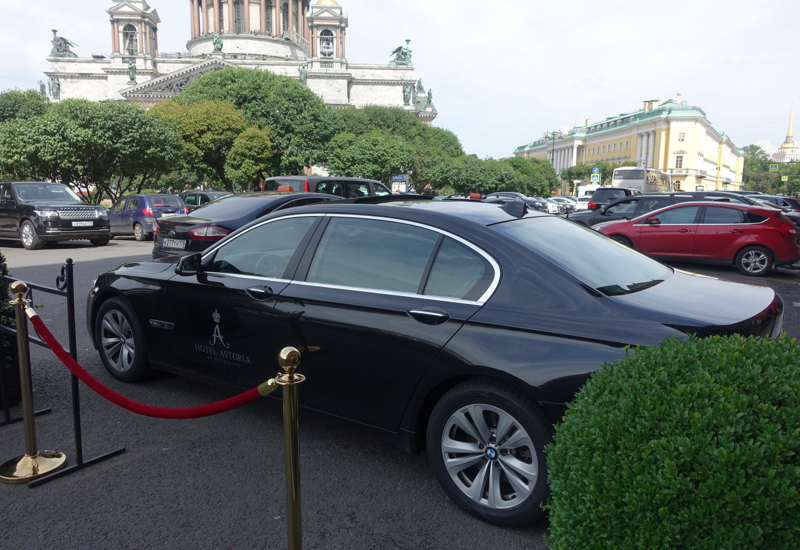 The check-in staff was friendly and spoke English perfectly, and we soon had the keys to our Classic Room.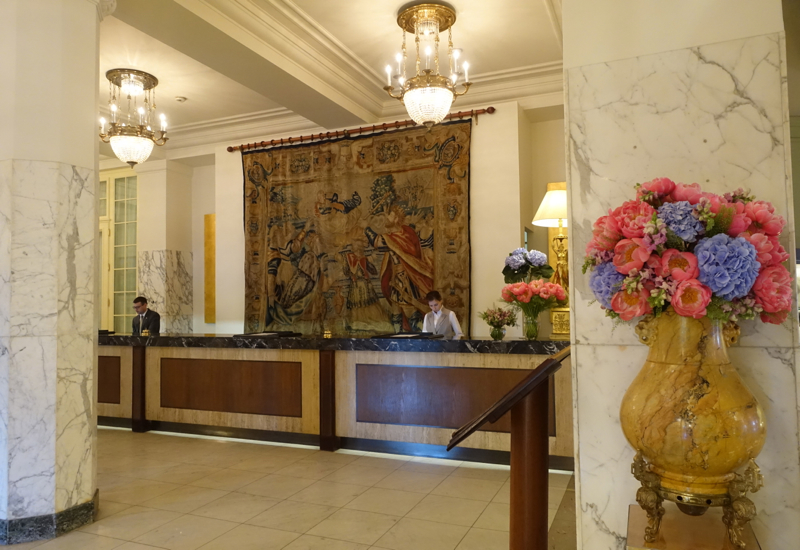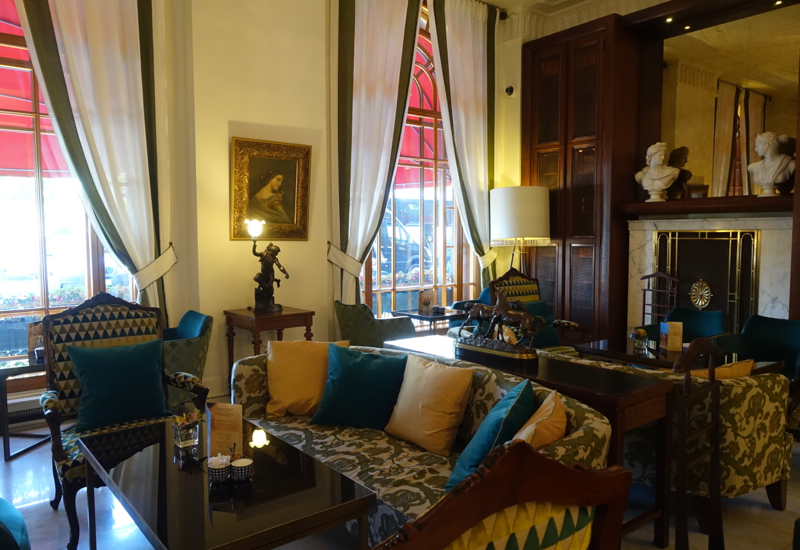 Hotel Astoria Classic Room
Our initial room was #430, on the 4th floor. It faced the interior courtyard, so it was quiet, but also rather dark even with the curtains open.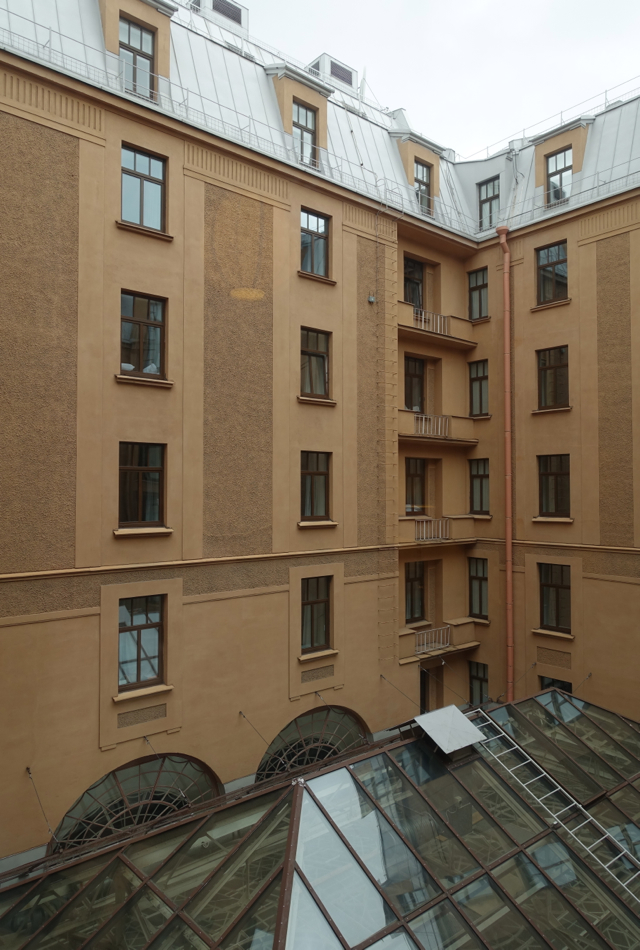 What I really didn't like, however, was the smell, of stale cigarette smoke. I should have tried to switch rooms then and there, but we were tired from traveling and wanted to have a shower, get dinner and sleep, so we did end up staying there that night, which I later regretted.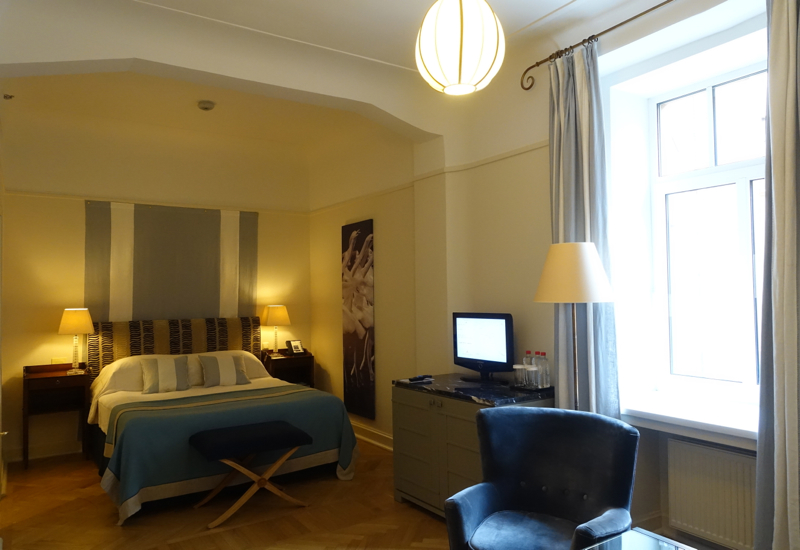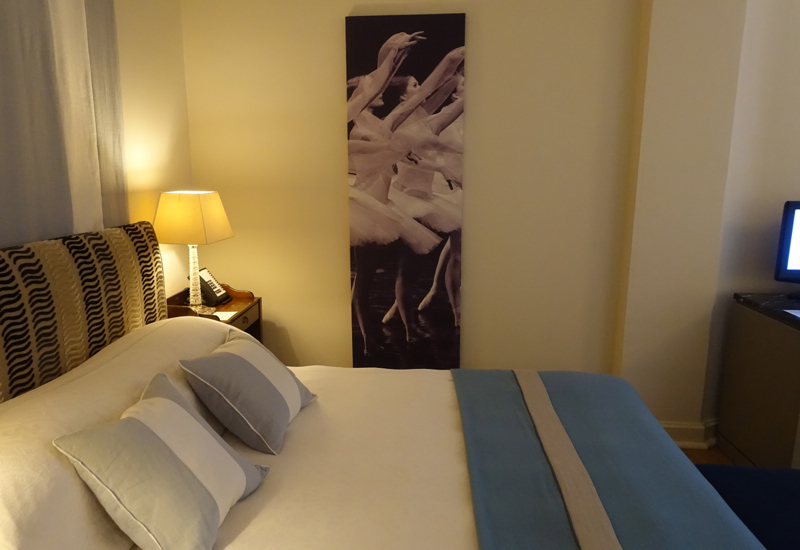 There was a nice fruit plate as well as chocolate truffles, as welcome amenities. The chocolates in particular were excellent and are made in-house.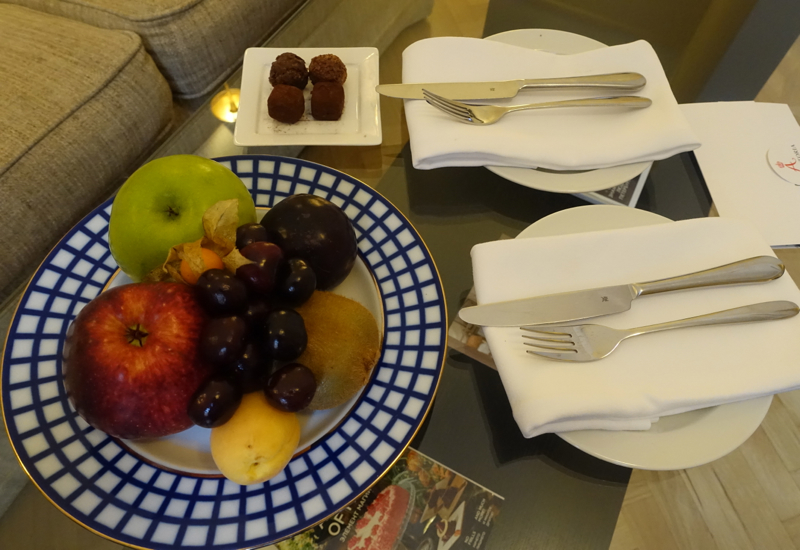 I also liked the fancy design of the water bottles. While tap water quality has improved since my first visit to St. Petersburg in 1992, it still is best to only drink bottled water and to not request ice unless you're sure it has been made with bottled water.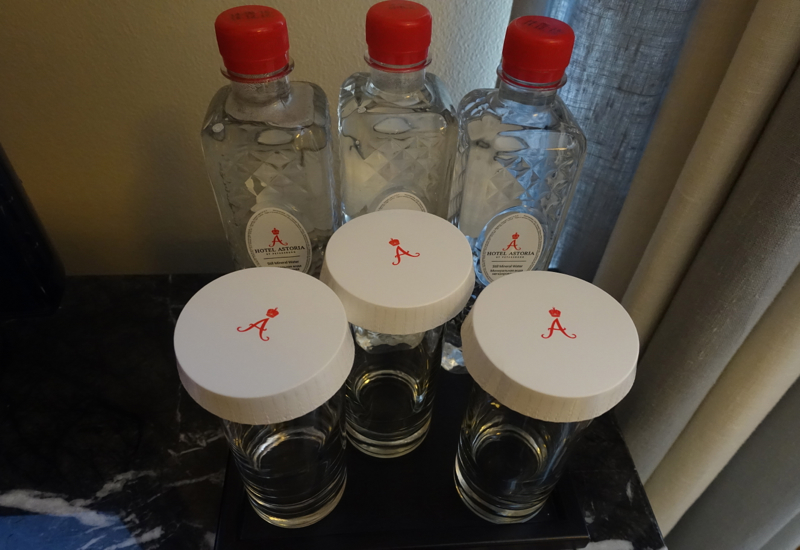 We never use the hotel mini bar, but it was stocked with the usual suspects–juice, water, soda, Red Bull, and of course Russian vodka: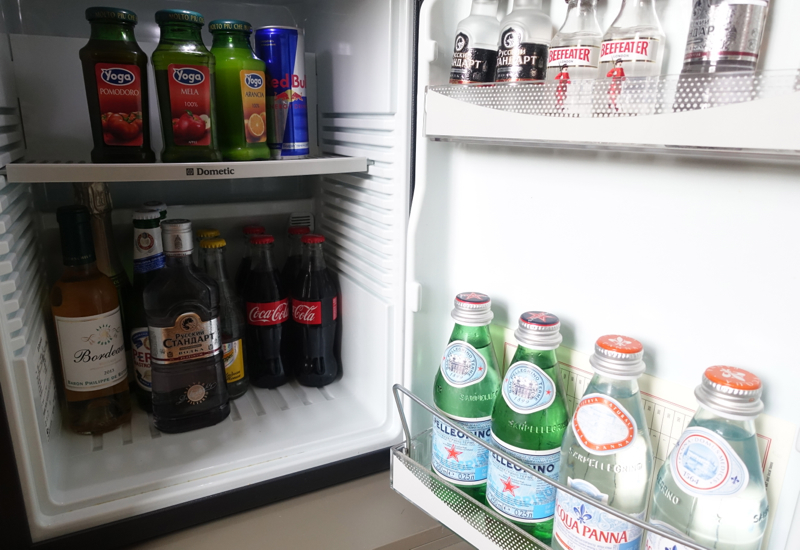 Russians, similar to most Asians, always take off their shoes by the doorway and use slippers, or "tapochki" when inside the house or apartment, so slippers were placed just inside the doorway on a shoe rack.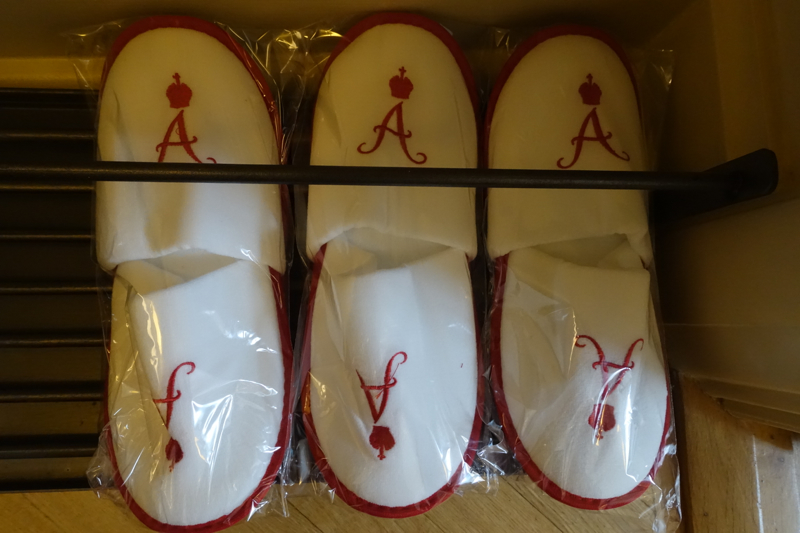 Classic Rooms are typically 25 square meters or 269 square feet, so quite small, although our first room did have a sofa and coffee table as well as a small desk.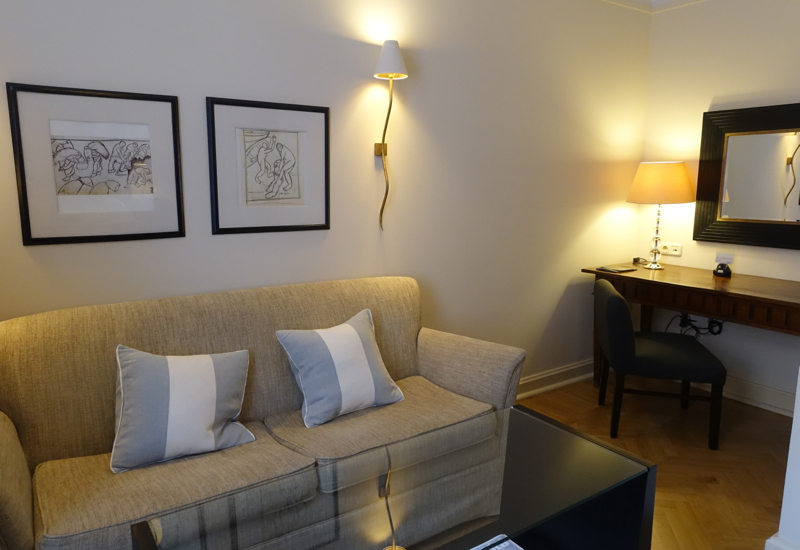 Classic Room bathrooms have a single sink and vanity, brightened with a flower: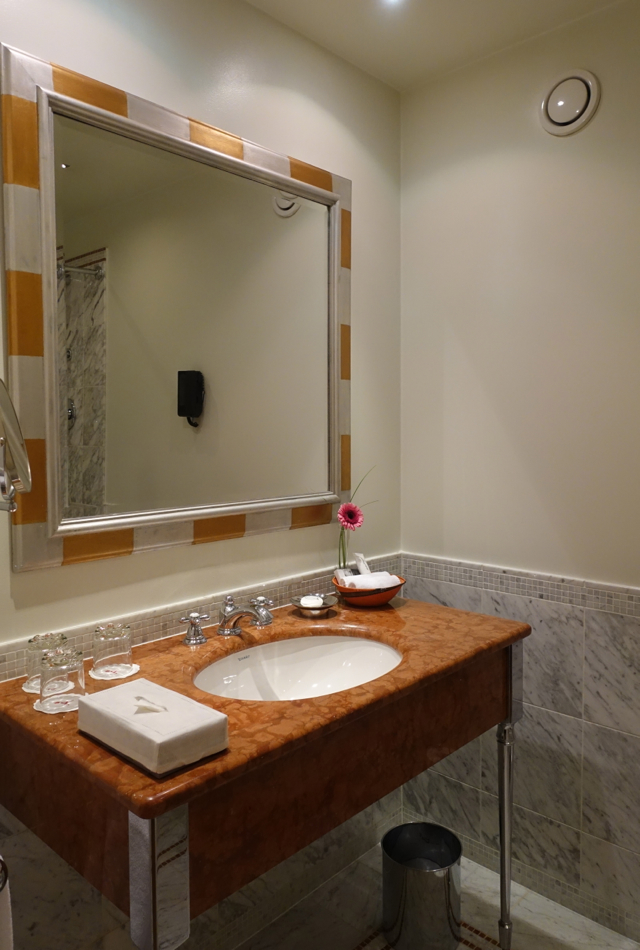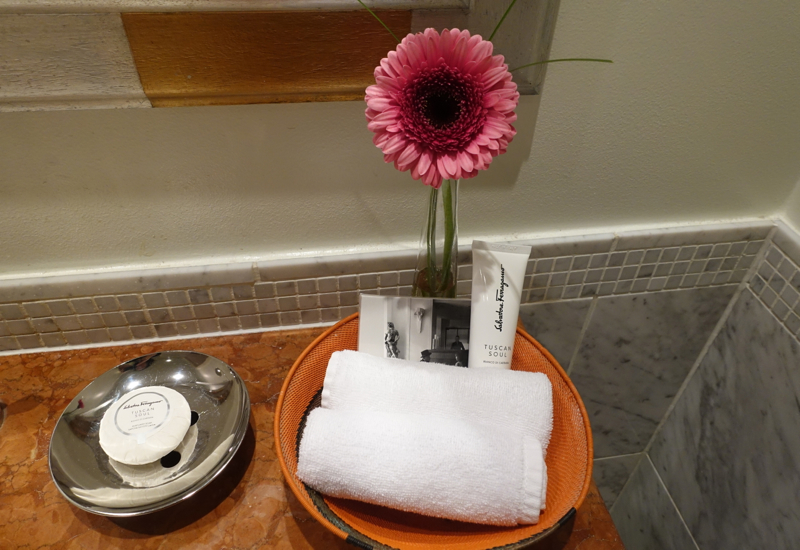 There is a bathtub and shower combo, likely due to the space constraints of this historical hotel.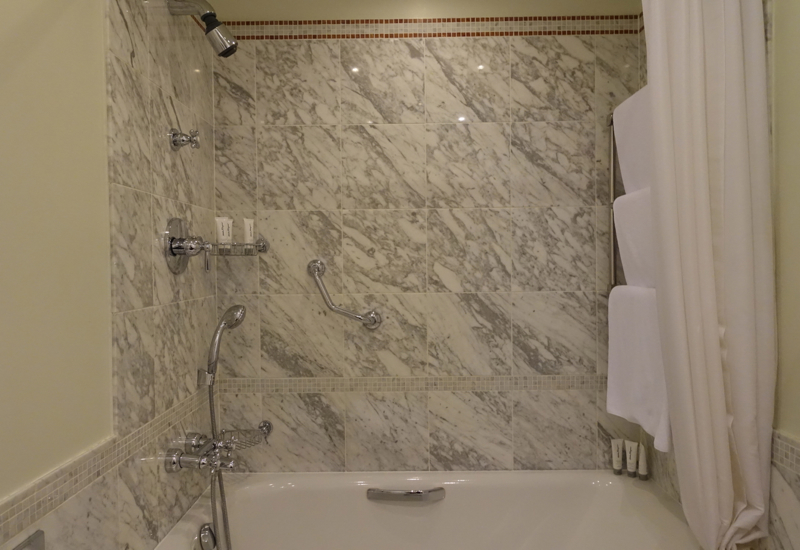 Bathrobes reflect the Hotel Astoria's white and red color scheme: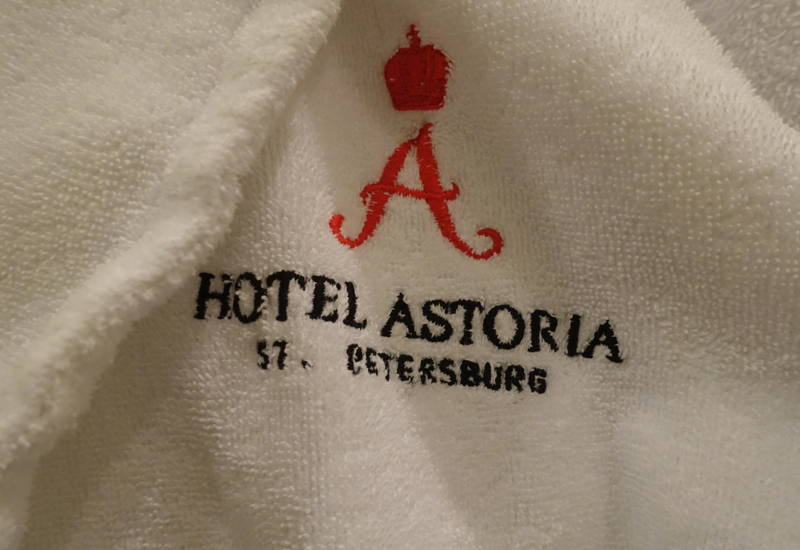 Bath products are Tuscan Soul by Salvatore Ferragamo, which we also enjoyed in the Ferragamo luxury hotels the Portrait Firenze in Florence and Portrait Roma in Rome.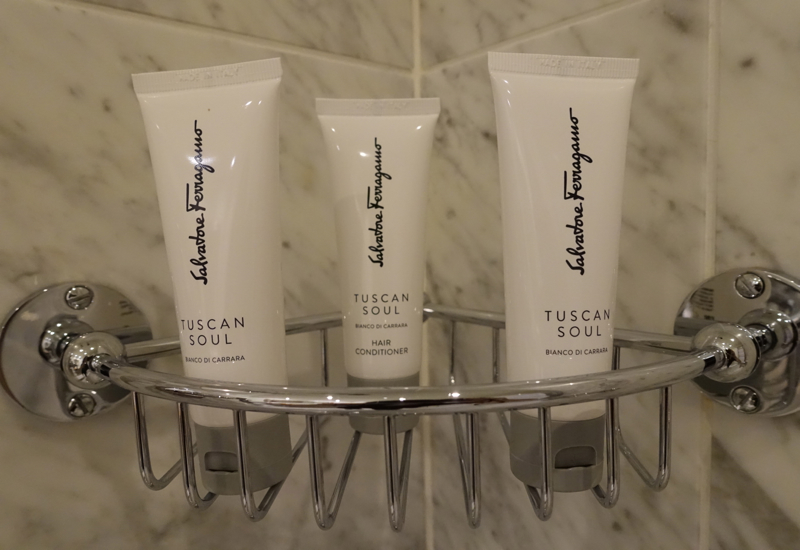 The next day, after explaining the awful cigarette odor in our room, we were able to move to another Classic Room, this time on the 6th floor. This was a much better room, and it did make me wonder why we weren't put in this room to begin with. There was no smell, the room was exterior facing so it enjoyed better natural light, and it even had a partial view of St. Isaac's Cathedral.
Astoria Cafe Breakfast and Dining
I'll cover breakfast and dining at Astoria Cafe in a separate post.
The Verdict
Because of Hotel Astoria's storied history, many older Russians in St. Petersburg consider it the best hotel in the city, and it does enjoy a great location near St. Isaacs Cathedral and also offers some lovely suites. My stay in an entry level Classic Room was less impressive however: the first room I was in reeked of stale cigarette smoke, despite this ostensibly being a non-smoking hotel, and the room should never have been given to a guest.
The next Classic Room I was given was much better: no smell, and its 6th floor location even had a partial view of St. Isaacs Cathedral. While the reception staff was responsive and caring, I would have expected a better service recovery after being given a room reeking of smoke, for example some kind of upgrade for the second room, but none was offered. And since this was just my own personal stay and not a client stay, I wasn't going to press the issue.
Rates are typically lower at the Hotel Astoria compared to the Four Seasons St. Petersburg, so it could be a good option for budget constrained clients; however, I would recommend the Four Seasons St. Petersburg for its better service (including housekeeping and room quality assurance) as well as fantastic rooms with balconies right across from St. Isaacs Cathedral, particularly if this may be your only visit to St. Petersburg, Russia.
Related Posts
Volkonsky Bakery Cafe (Пекарня «Волконский») St Petersburg, Russia Menu and Review
Review: Four Seasons St Petersburg, Russia
Review of Cat Cafe: Great Georgian Food in St Petersburg, Russia
Review: Four Seasons St. Petersburg Breakfast and Dining
Disclosure: We booked our stay at a travel professional rate. The views expressed in this post are my own.
Need Award Booking Help? Our fee is as low as $75 per ticket if you book your hotel or cruise with us.
If you enjoyed this, join 200,000+ readers: please follow TravelSort on Twitter or like us on Facebook to be alerted to new posts.
Become a TravelSort Client and Book 5-star hotels with Virtuoso Perks and Four Seasons Preferred Partner Benefits