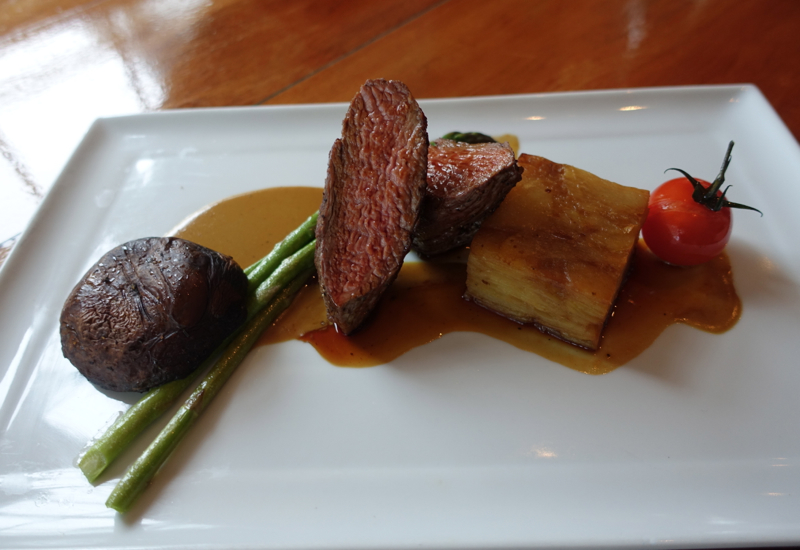 This Review of Gables Restaurant in Russell, New Zealand is of New Zealand's oldest restaurant, and is part of a New Zealand trip report, including luxury hotel and lodge stays in the Bay of Islands, Christchurch and Queenstown. For the prior posts, please see:
Review: Sofitel Auckland Viaduct Harbour, New Zealand
Review: Eagles Nest, Bay of Islands, New Zealand
The Gables Restaurant Location
The Gables Restaurant is located at 19 The Strand in Russell, facing the harbor. It was easy to find parking a short ways away, although we were glad we grabbed an umbrella, since it was raining the evening we visited.
The Scene
We'd made reservations in advance for the three of us for an early dinner, at 6pm, so there was only one other table seated when we arrived. By the time we left, there were a few additional tables seated in the main dining room, as well as new guests in the bar area. The restaurant interior is beautifully and tastefully done in polished wood, which I wasn't necessarily expecting, given that in addition to being New Zealand's oldest restaurant, The Gables was once a bordello.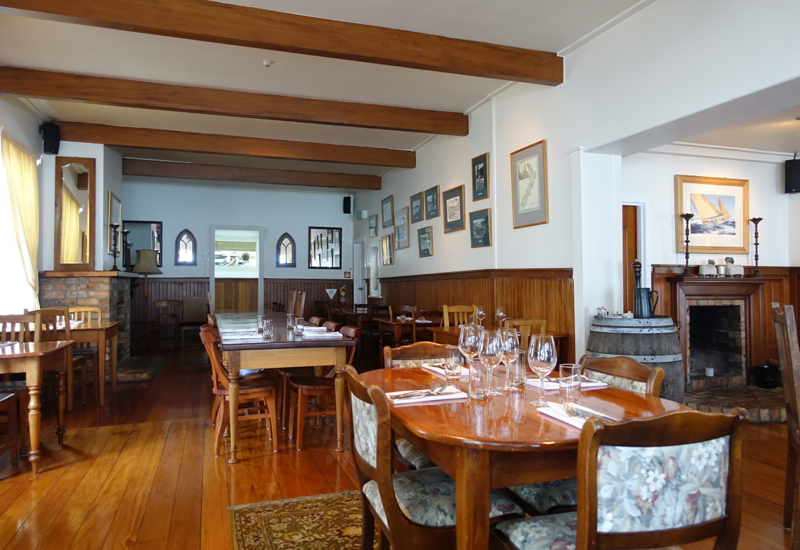 The Gables Restaurant Menu and Food
The Gables dinner menu is a curated selection of dishes with most ingredients locally sourced and simply prepared. Our friendly server provided us the menu and was happy to give his recommendations when we asked.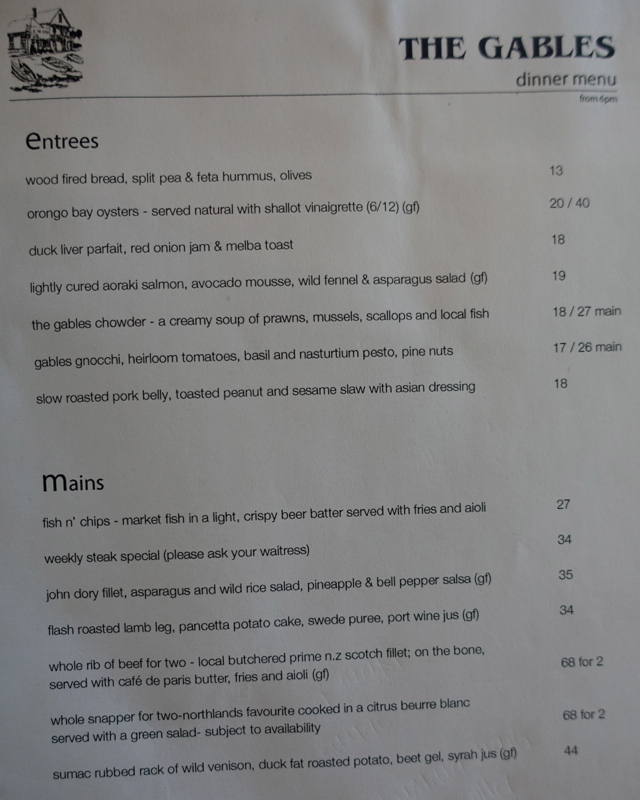 We decided to start with an appetizer of wood fired bread with split pea and hummus, which the three of us made short work of. While it would be great if this was a complimentary starter, all of us love warm bread so much there was no question of not ordering this or something like it to start off with, and it was well worth the $9 (NZD $13).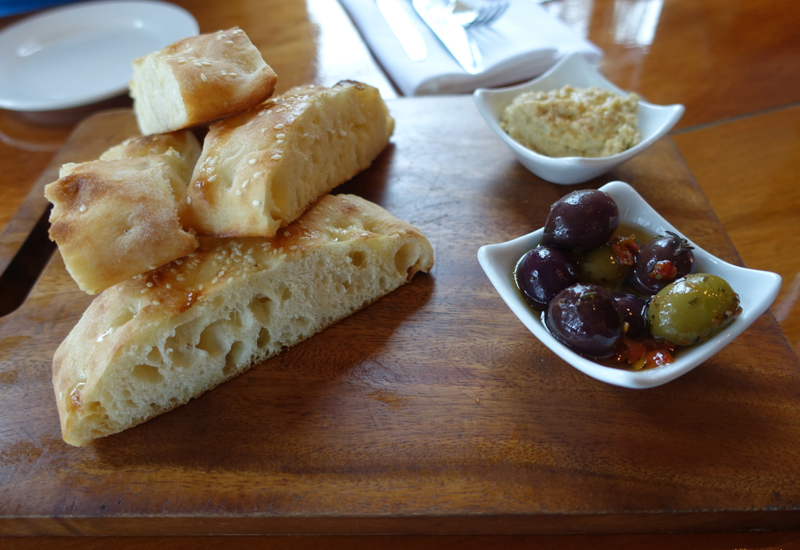 We were also brought a delicious amuse bouche shot glass of seafood soup, which was delicious and warming.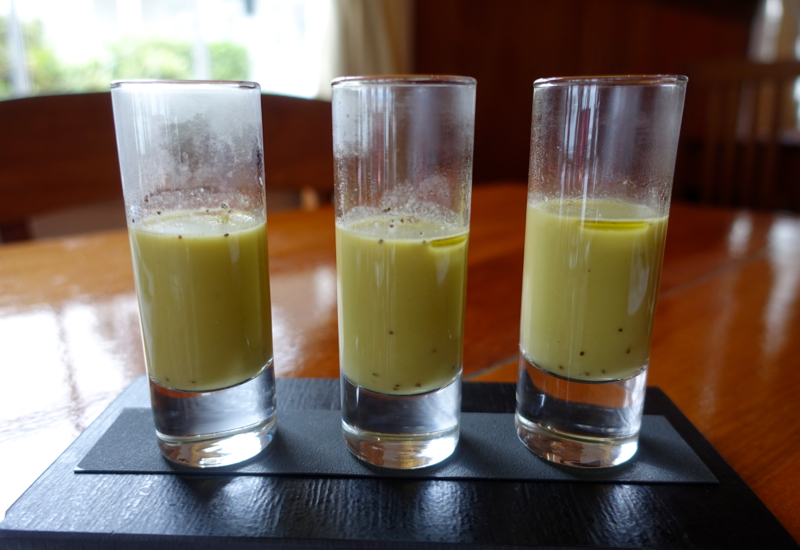 My husband opted for a local beer, and I chose a glass of shiraz, both of which were nice pours for the price, and went well with our respective dinners.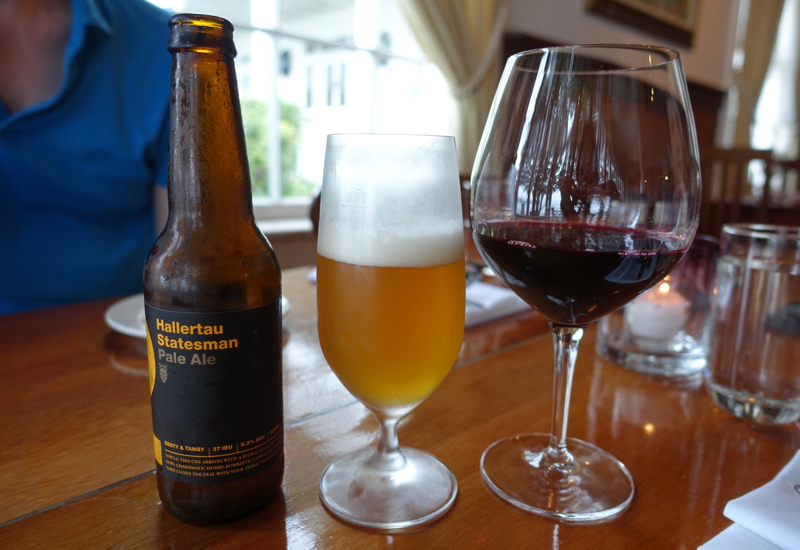 Our son ordered the steak special, which came with a tasty potato gratin, asparagus and tomato. He enjoyed it, although couldn't finish the entire portion, so we took it home with us for dinner the next day (easy to heat up, thanks to the full kitchen at Eagles Nest).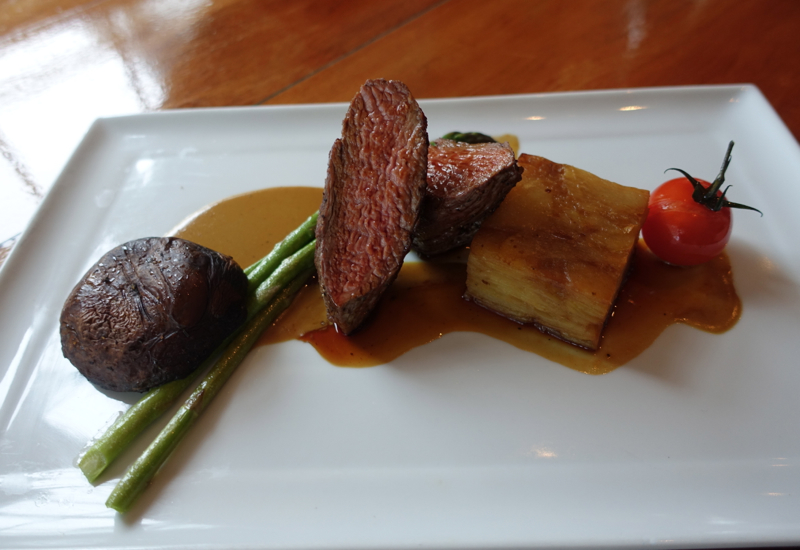 My wild venison was perfectly prepared medium rare, with a delicious beet and syrah sauce that complemented it well, and duck fat roasted potato and spinach: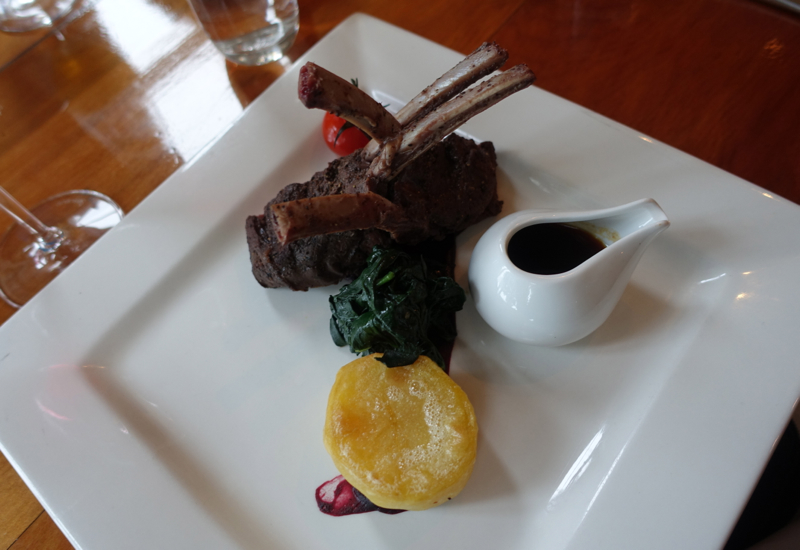 And my husband really enjoyed his fish and chips, which featured very light and crisp beer batter and creamy aioli dip. He pronounced it one of the best he's had.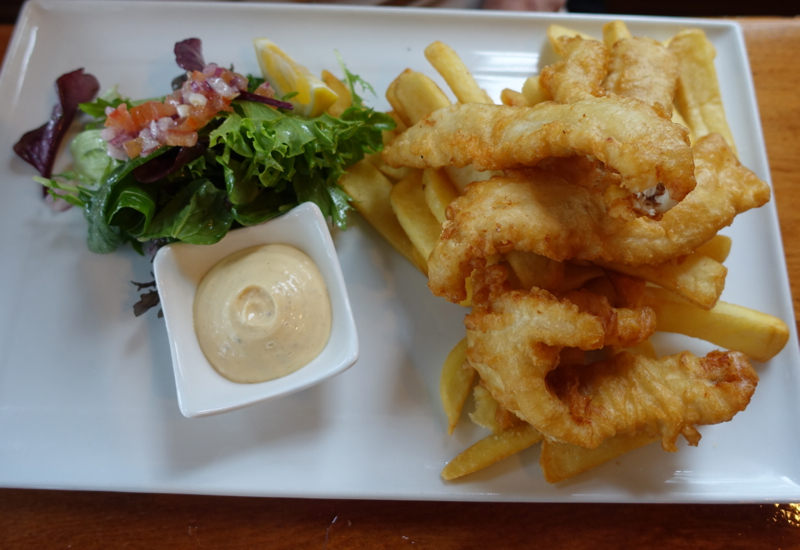 The Verdict
Several clients who have stayed at Eagles Nest enjoyed The Gables, and based on our dishes, we thought it was excellent, both in the quality of the food and the superb service. My son inadvertently knocked over his water glass, and our server was kind and completely unflappable, quickly helping clean up the water without any fuss.
While we were there on a rather rainy evening, on clear days and evenings there's outdoor waterfront seating that would be lovely to take in the view.
If you've dined at The Gables Restaurant in Russell, what was your experience?
Related Posts
Review: Eagles Nest, Bay of Islands, New Zealand
Best New Zealand Luxury Lodges
Need Award Booking Help? Our fee is as low as $75 per ticket if you book your hotel or cruise with us.
If you enjoyed this, join 200,000+ readers: please follow TravelSort on Twitter or like us on Facebook to be alerted to new posts.
Become a TravelSort Client and Book Your Hotel with Virtuoso or Four Seasons Preferred VIP Amenities!