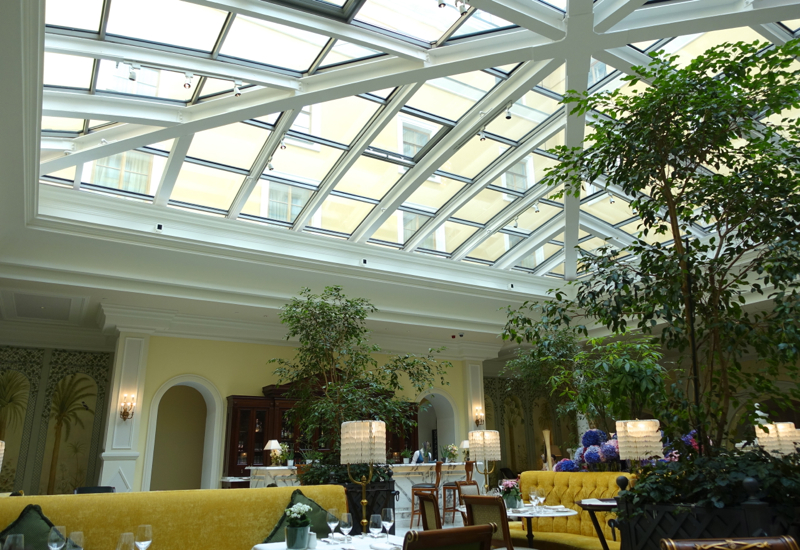 This Four Seasons St. Petersburg Breakfast and Dining Review is part of a trip report including Vienna and luxury hotels and dining in Moscow and St. Petersburg, Russia. Four Seasons Preferred Partner guests enjoy a complimentary delicious breakfast buffet daily for up to two guests per room, and the hotel offers some of the best dining in St. Petersburg.
Visiting Russia? See all our posts tagged Russia. For the previous posts please see:
Review: Sofitel Vienna Stephansdom
Labstelle Wien Vienna Restaurant Review
Review: Ararat Park Hyatt Moscow
Moscow Metro Tour with Happy Moscow Tours
Review: Peterhof Fountains and Gardens Near St. Petersburg, Russia
Review: L'Europe Restaurant and Dining at Grand Hotel Europe, St. Petersburg, Russia
Review: Four Seasons St Petersburg, Russia
Four Seasons Lion Palace St. Petersburg Restaurants
Four Seasons St. Petersburg offers 3 restaurants and Xander Bar, as well as in-room dining.
The Tea Lounge is the focal point of the hotel, under a glass-roofed atrium, and serves breakfast daily starting at 7am, with all day dining available until 8pm
Percorso Italian Restaurant serves lunch and dinner daily 1pm until midnight
Sintoho serves Asian cuisine nightly from 4pm until midnight
Xander Bar, named after Tsar Alexander I, the monarch who reigned during the time of the Lion Palace's construction, is a cosy place for drinks and zakuski (Russian for light snacks and appetizers), and is open daily from 4pm until 2am
Breakfast at the Tea Lounge
The airy Tea Lounge is a beautiful setting for breakfast, with natural light streaming in from the glass-roofed atrium and fresh flowers on the tables. We couldn't resist the buffet breakfast both days, with its extensive offerings of fresh fruit, breads, pastries, yogurt, caviar with accompaniments, and hot items such as roast pork, eggs, potatoes, etc. For smaller appetites, there's also an a la carte menu, and you're able to select one of the cooked to order entrees as part of the breakfast buffet.
These were the highlights of our breakfasts at the Tea Lounge:
1. Russian Syrniki with Fresh Berries and Housemade Jam
I love pancakes in general, and Russian syrniki in particular–they're made of tvorog (farmer's cheese) which is similar to fresh ricotta, but drier. Syrniki are lightly fried, and that crispy exterior and moist sweet cheese interior is ethereal when prepared well, and the version at Four Seasons St. Petersburg was perfect. They were even prettily plated with a variety of fresh berries.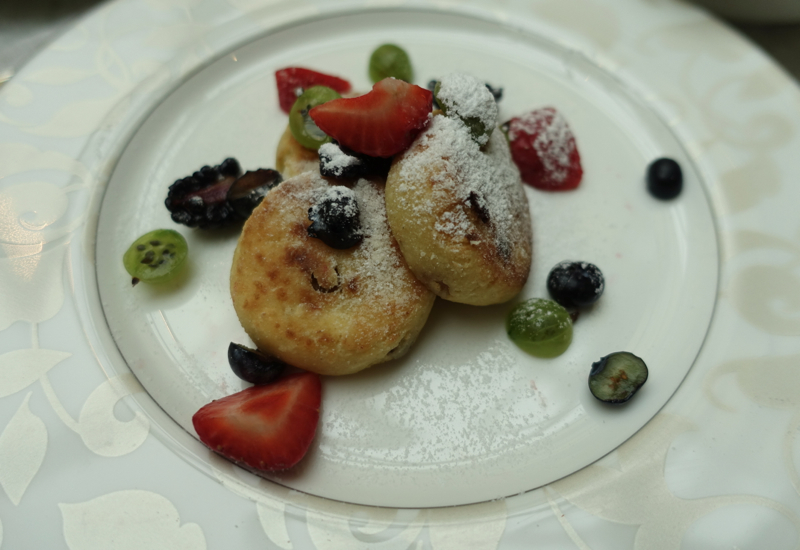 While the syrniki didn't come with jam, they were even better with some of the jams on offer, including cowberry.
2. Blini with Caviar and Smoked Salmon
I enjoyed the roast pork and bacon from the hot buffet, but my favorite savory dish was blini with caviar and smoked salmon–better than the version at the Grand Hotel Europe.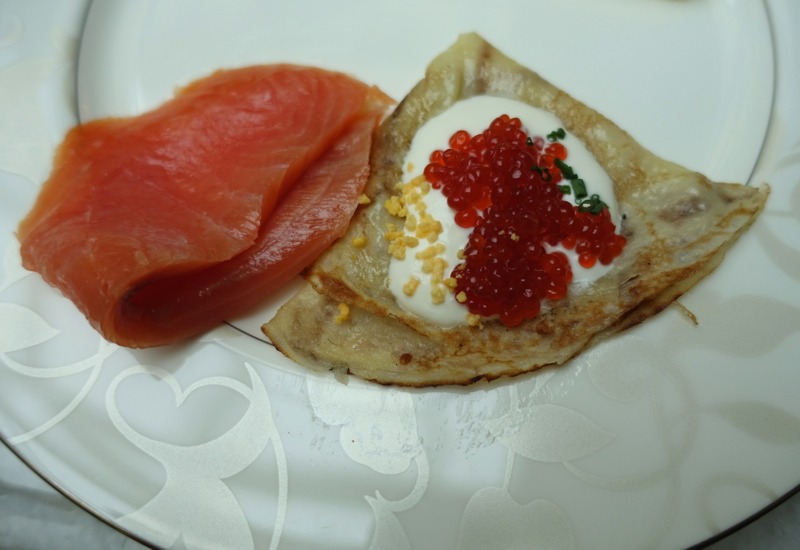 3. Housemade Granola
There isn't actually granola as part of the breakfast buffet–it's only on the a la carte menu–but our server generously offered to check with the kitchen and brought me a generous serving. And I have to say, this is probably the best granola I've had at a hotel–so good with the locally made yogurt, below.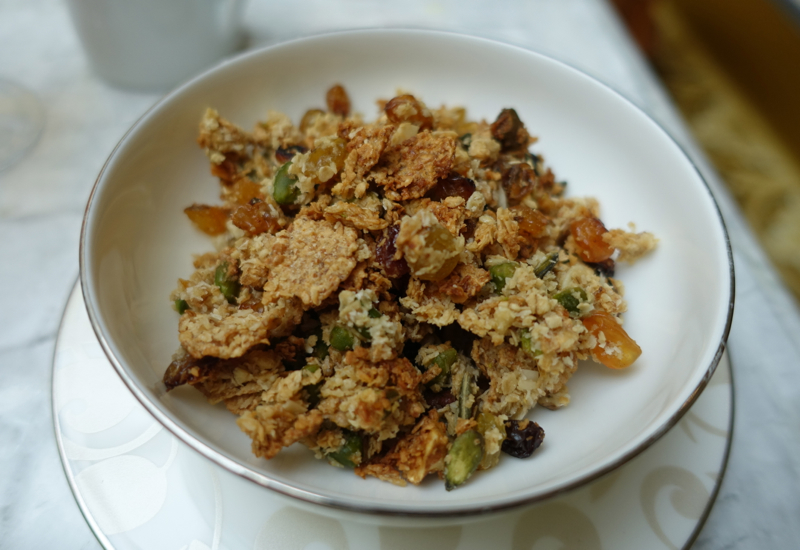 4. Decadent Hot Chocolate
I'm a recovering chocoholic, and hot cocoa or milk chocolate doesn't do anything for me–I crave dark chocolate, and that means real melted chocolate when I order hot chocolate. This is rather hard to get outside of France, but fortunately Four Seasons St. Petersburg serves the real thing–decadent dark hot chocolate that is practically a meal in itself–yum!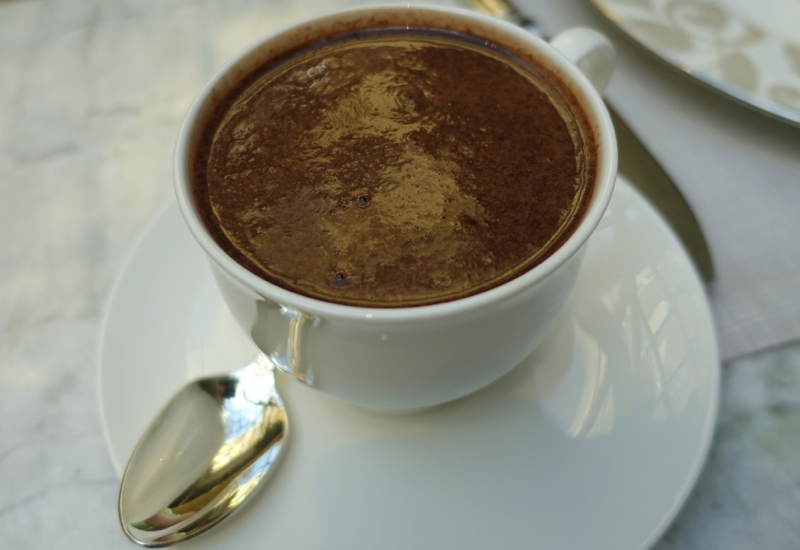 5. Local Artisanal Yogurt
The quality of a breakfast is often reflected in the quality of yogurt served, so I was thrilled to see artisanal yogurt from a Moscow-based yogurt company. It was so much fresher tasting than Danone or other yogurt varieties.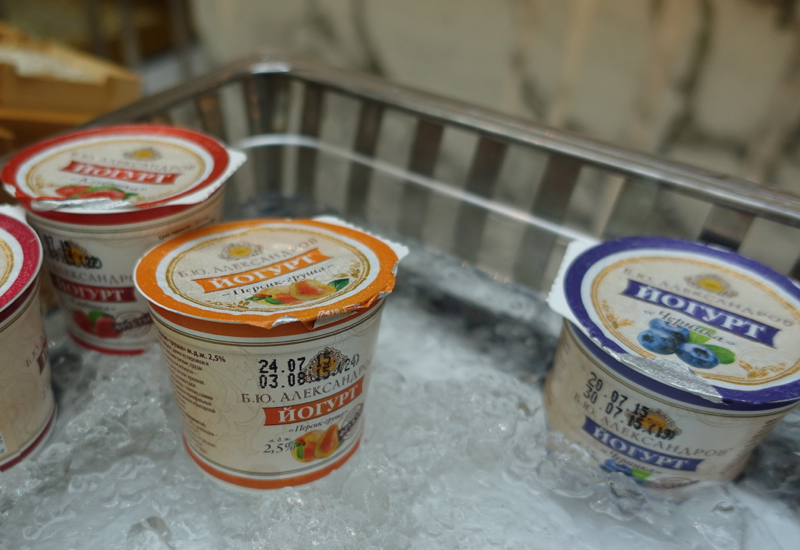 6. Fresh Squeezed Juice
There was a choice of fresh squeezed juices that our server offered to us, so I chose a mixture of orange and grapefruit juice–a great way to awaken tastebuds in the morning.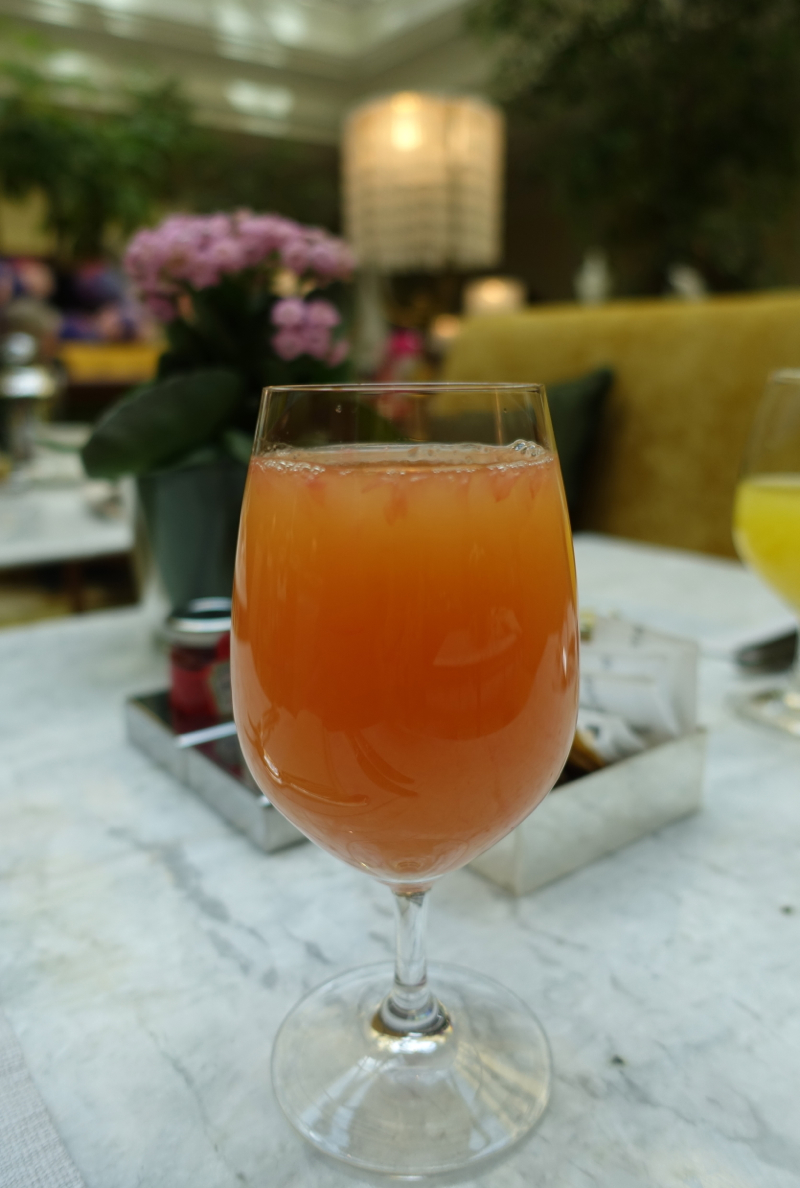 Dinner at Percorso
We had a light dinner at Percorso one evening, since my son was craving Italian. There are several dining rooms, and we opted for one of the less formal ones: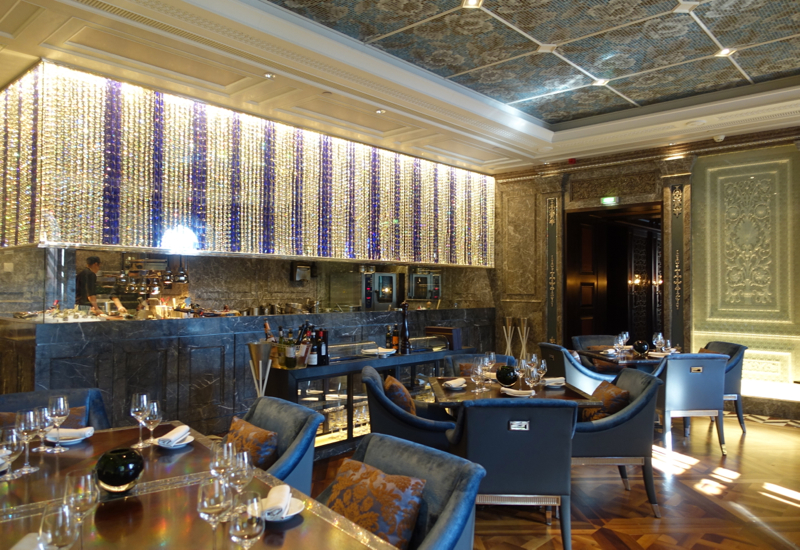 For a more formal experience, here's another dining room at Percorso: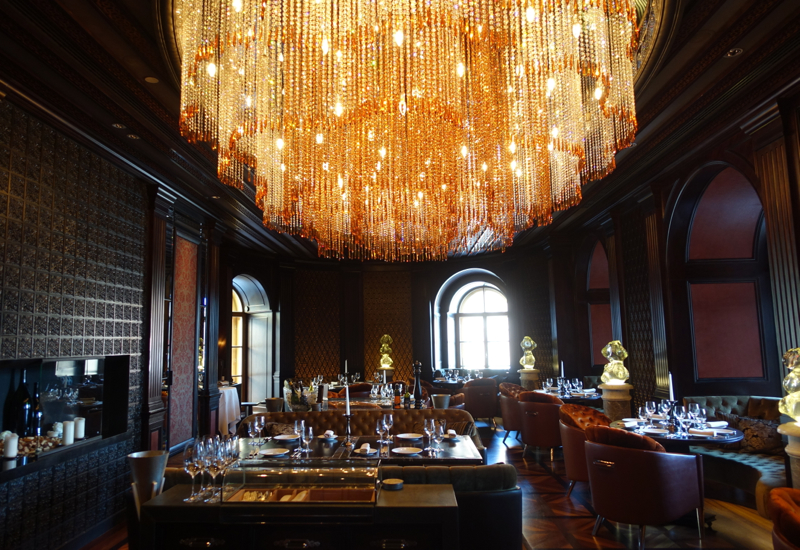 There were some wonderfully tempting options on the menu, so it's a shame we weren't hungrier, having had a rather filling lunch earlier in the day.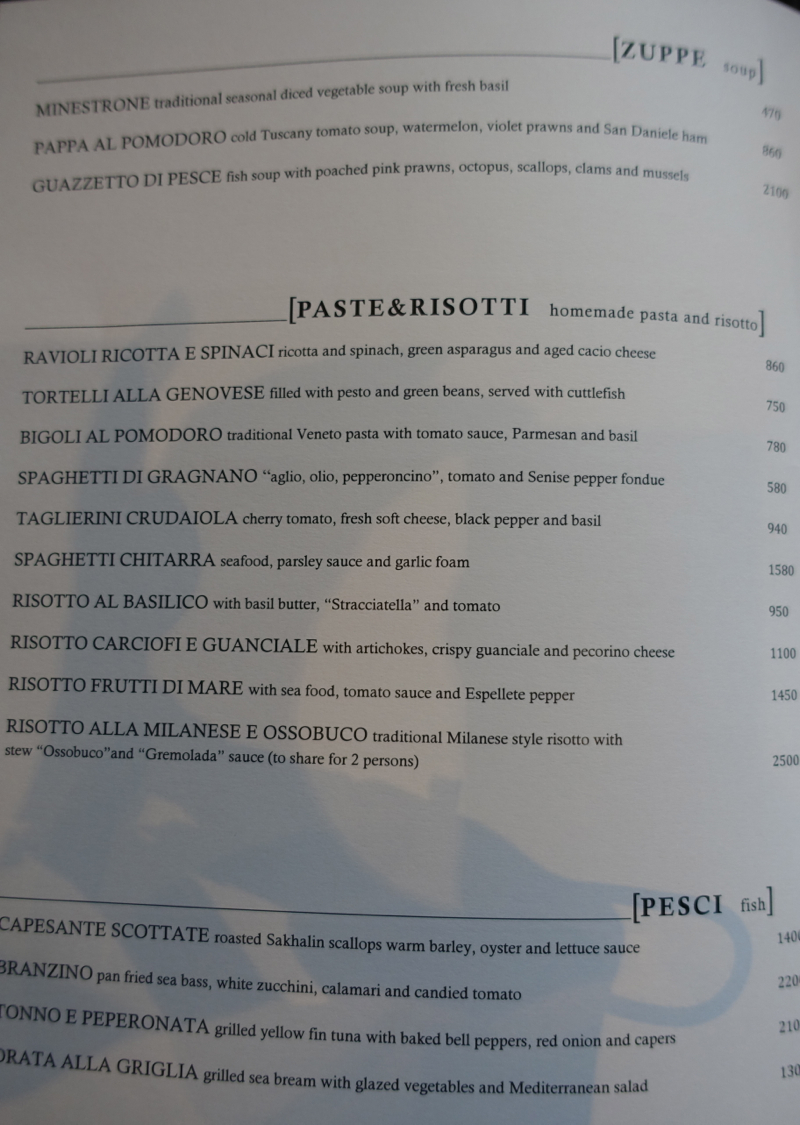 A kids' menu included plenty of choices as well, both for smaller and bigger kids: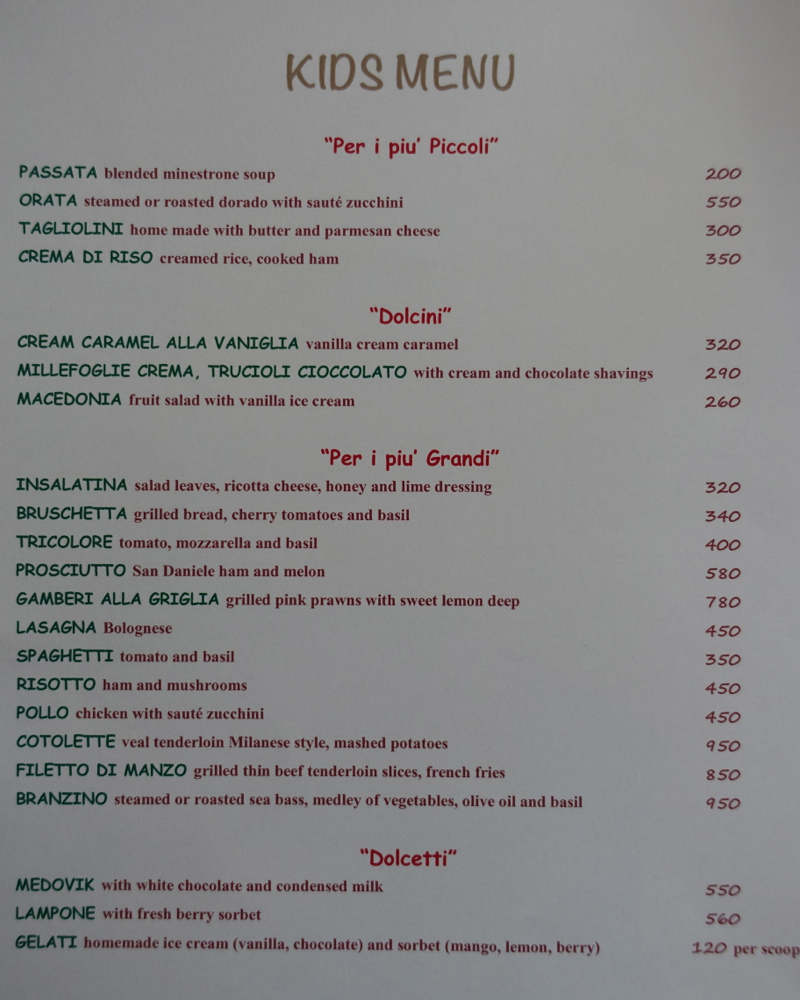 We started off with fresh bread, of which my son preferred the crunch bread sticks and I liked the foccacia.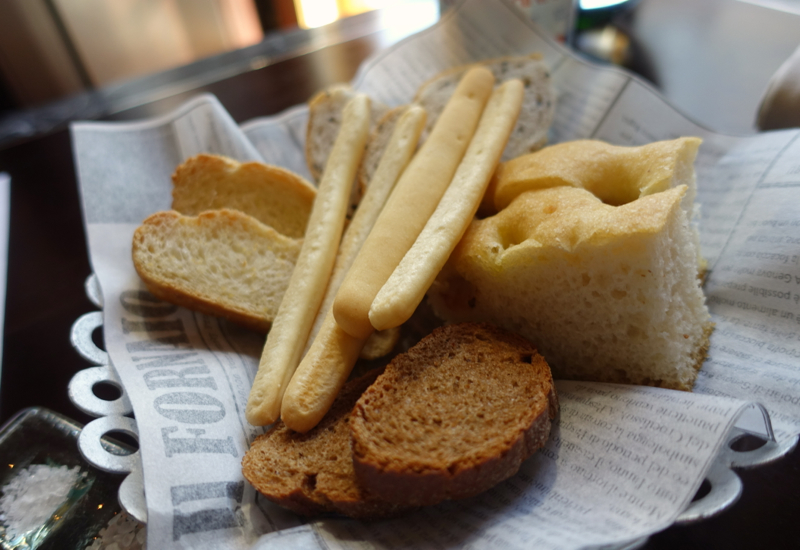 Although Italians eat pasta as a first course, not a main dish, I chose the Spaghetti Chitarra with seafood as my main dish. The deliciously fresh seafood was accented with garlic foam. Typically I'm not a fan of foam in anything I eat, but it worked well here, adding a boost of flavor to the dish.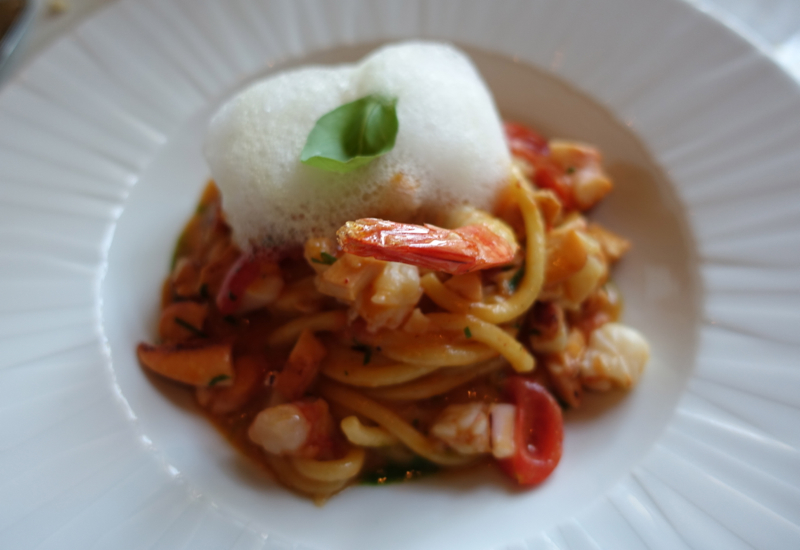 My son enjoyed his simple spaghetti with tomato sauce and basil (well, except the basil, which he handed to me) and was tickled to see the parmesan cheese freshly grated over it in front of him: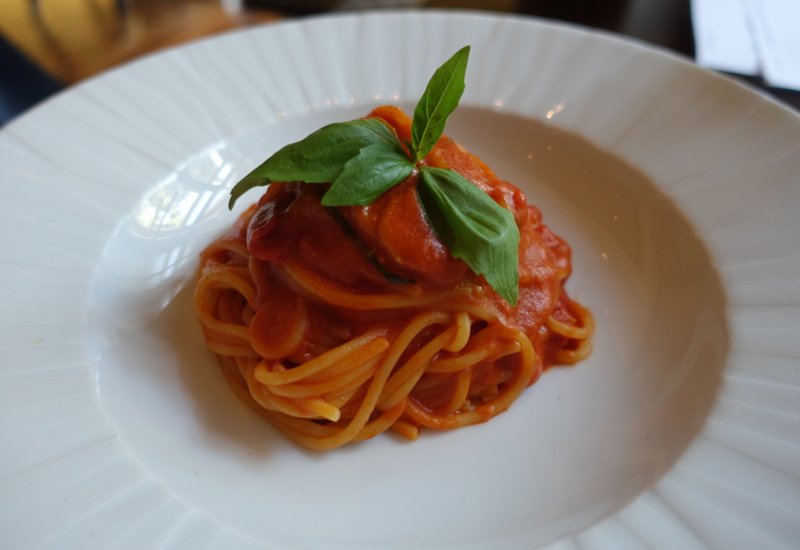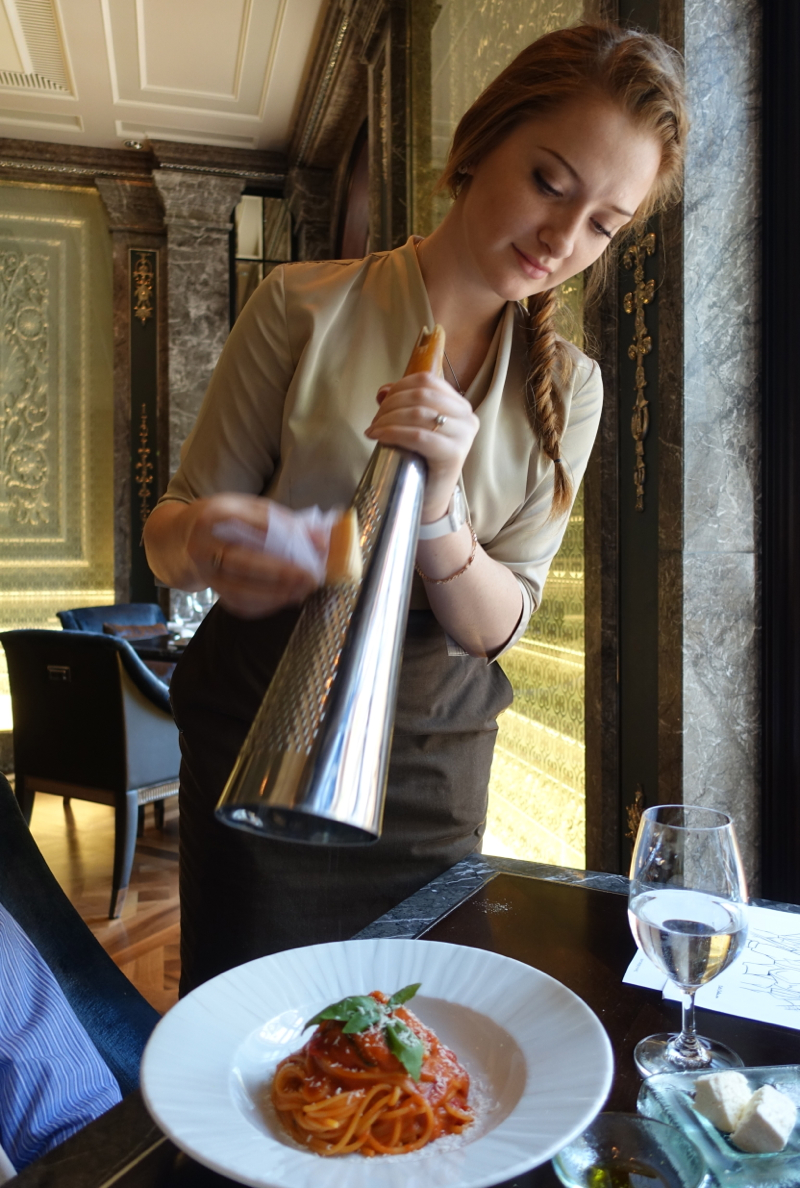 Percorso's chefs treated us to dessert, and the standout was this deconstructed Tiramisu. I'm not even a fan of regular tiramisu, always finding the end result too cloying and mushy, but this version was superlative. I hope it's still available when I return–and yes, we will definitely be returning to Four Seasons St. Petersburg–the hotel is that good.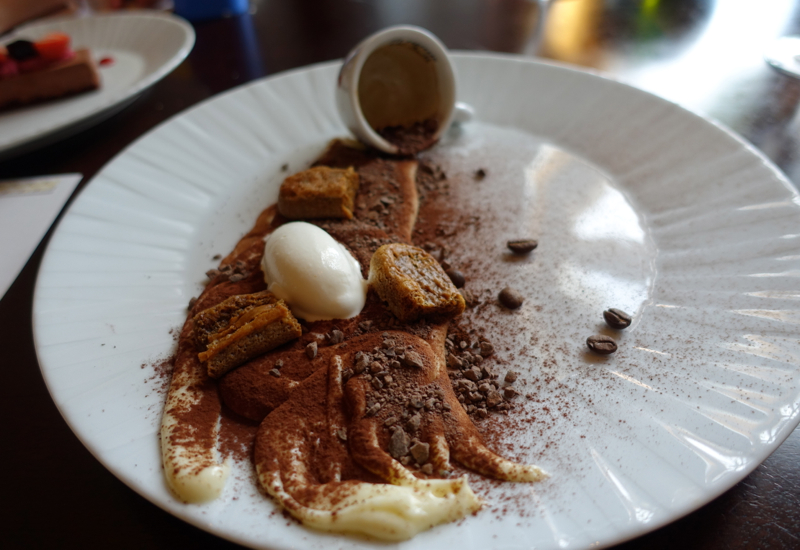 The chocolate mousse cake with cherries and berries wasn't as memorable for me, but my son loved it, and it's a good thing, because I didn't really want to share the tiramisu with him–both for selfish reasons and because I needed him to get to sleep and not be up all night due to the espresso 🙂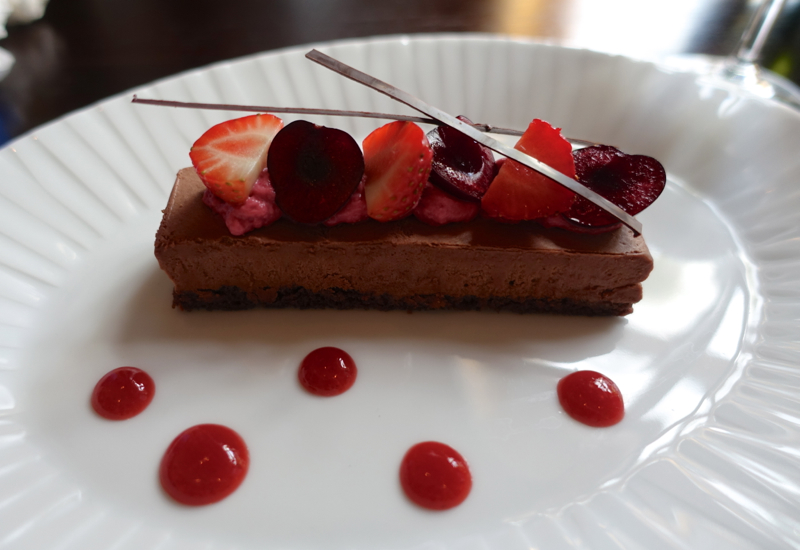 The Verdict
We both really enjoyed our breakfasts and dinner at Four Seasons St. Petersburg–superb cuisine that was clearly attracting well-heeled local professionals, in addition to foreign guests at the hotel. Service was attentive, and our servers and the chefs went above and beyond by requesting an item not normally on the buffet at breakfast, and creating some special desserts for us at Percorso.
Related Posts
Review: Four Seasons St Petersburg, Russia
Review: Belmond Grand Hotel Europe, St. Petersburg Russia
Review: Peterhof Fountains and Gardens Near St. Petersburg, Russia
Devil's Advocate: Russia Travel Deals as Ruble Falls?
Disclosure: We received a complimentary stay and daily breakfast at Four Seasons St. Petersburg. The views expressed in this post are mine.
Need Award Booking Help? Our fee is as low as $75 per ticket if you book your hotel or cruise with us.
If you enjoyed this, join 200,000+ readers: please follow TravelSort on Twitter or like us on Facebook to be alerted to new posts.
Become a TravelSort Client and Book 5-star hotels with Virtuoso Perks and Four Seasons Preferred Partner Benefits