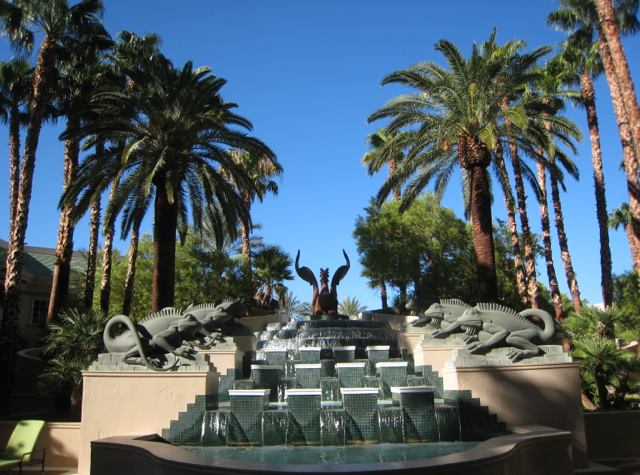 This Four Seasons Las Vegas Review is one of several Las Vegas restaurant and hotel reviews. Other posts in this trip report include:
Encore at Wynn Las Vegas Review
Las Vegas Virtuoso Deal That May Not Last
L'Atelier de Joel Robuchon Las Vegas Review
The Signature at MGM Grand Review
TravelSort Clients receive these Four Seasons Preferred Partner benefits when booking the Four Seasons Las Vegas:
Daily full American breakfast for two people per bedroom, served through In-Room Dining or in the hotel restaurant (including buffets)
Spa credit of USD100 once during stay (not applicable to products)
Upgrade of one category, based on availability at time of check-in (excluding signature suites and villas)
Complimentary high-speed Internet access for all guest room and suite bookings
Four Seasons Las Vegas Location, Check-in and Lobby
The Four Seasons Las Vegas is at the South end of the strip, at 3960 South Las Vegas Boulevard. It occupies the top floors of the Mandalay Bay: floors 35 to 39. As a hotel atop a hotel, you have the best of both worlds: access to the Mandalay Bay pool and facilities, but also the peaceful, smoke-free oasis of the Four Seasons, whose pool is exclusively open to Four Seasons guests.
After my third day at Virtuoso Week, I took a quick 7 minute taxi from The Bellagio to the Four Seasons Las Vegas. I was greeted and offered help by the doormen, but I was traveling lightly, so declined. There was no wait at reception, and I was able to check-in with a friendly associate who explained all the Four Seasons Preferred Partner benefits, and was kind enough to upgrade me to an Executive Suite from the Superior Room I had booked. Normally upgrades are one category, so it was very nice of the hotel to upgrade me several categories.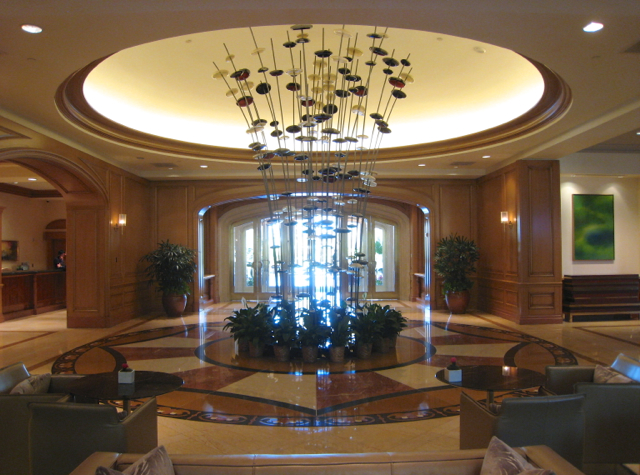 Four Seasons Executive Suite
The Four Seasons Executive Suite is over 800 square feet, so even larger than the Panoramic View Suite I stayed in at The Encore. The living room was spacious and still fresh looking, following the renovation that was completed at the end of 2012.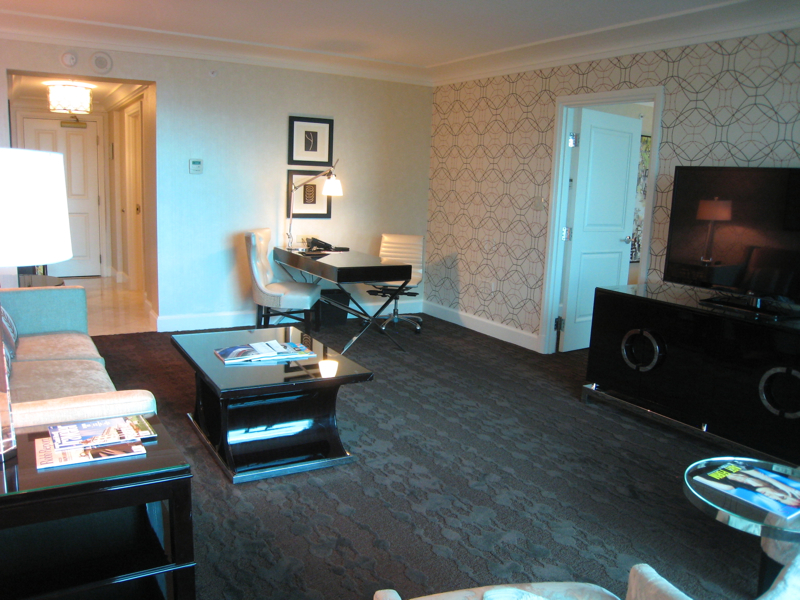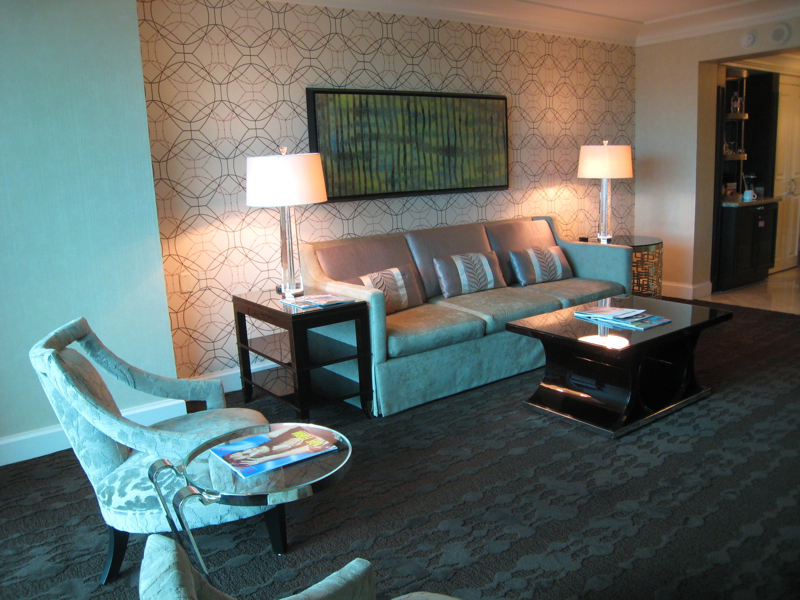 The 1 bedroom aspect of the Four Seasons Executive Suite also works much better for families, since the kids can sleep in complete darkness on the sofa bed in the living room, while you get work done or watch a movie in the bedroom. As always, I love the Four Seasons bed–I consistently get a great night's sleep on it, and it's one of my two favorites in the business, along with the Sofitel bed.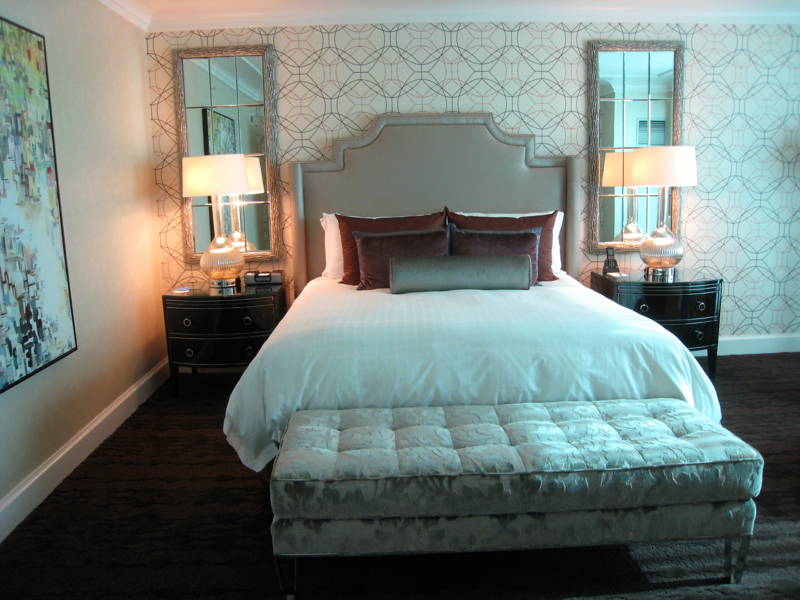 The bathroom includes a deep soaking tub and separate glass enclosed shower. The two aspects I didn't care for are that there's only one vanity (no his and hers sinks) and the shower head seemed a bit low. It worked perfectly fine for me, but it wouldn't have worked as well for my 6'5 husband.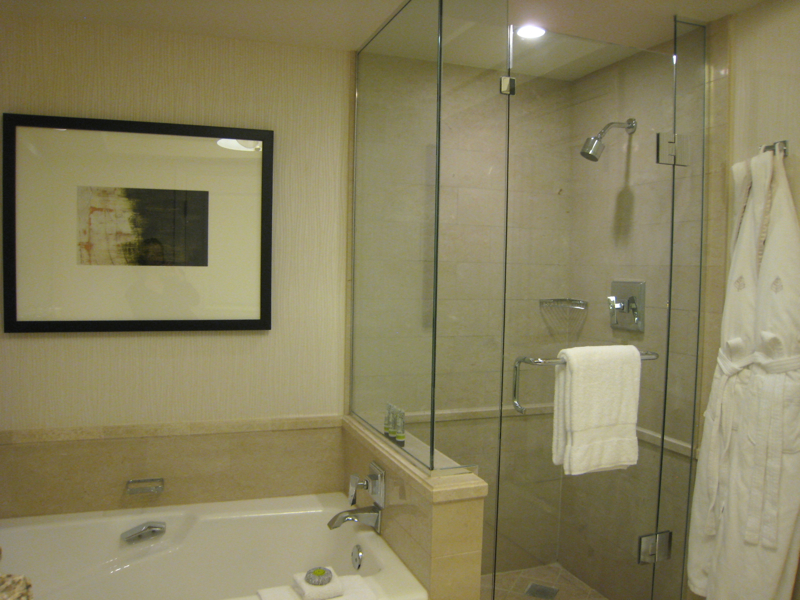 Bath products are by Etro: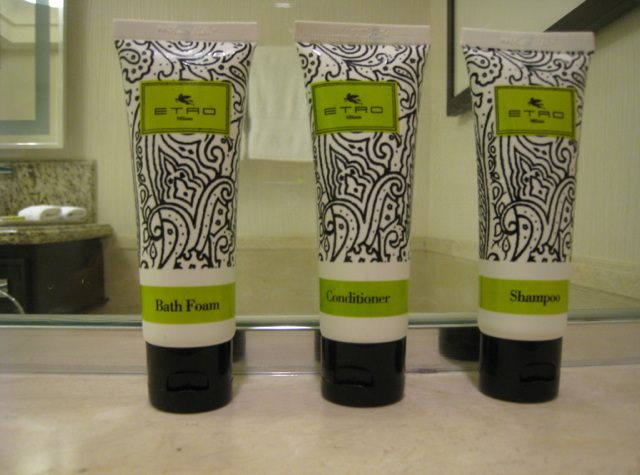 There's an honor bar and complimentary Keurig coffee. I really would like to see the Keurig upgraded to a Nespresso machine, however.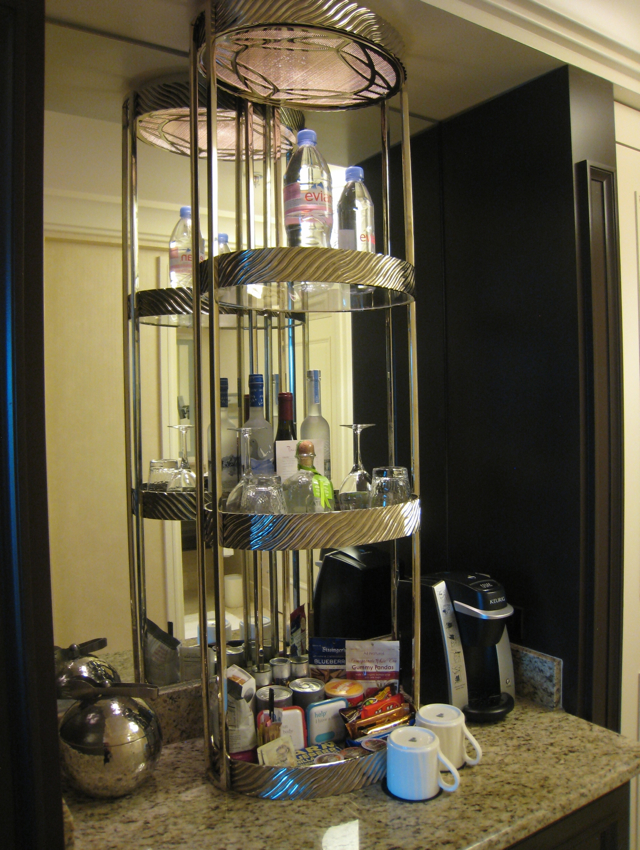 Although the Executive Suite faces the desert, not the Strip, it was still a pretty night view with the scattered lights:
The Spa
I'm not a regular spa goer, although I do appreciate an excellent therapeutic massage and will periodically get a pedicure. Since one of the Four Seasons Preferred Partner benefits is a $100 spa services credit, I made an advance appointment at The Spa for a Kimberly Perry Organic Pedicure, utilizing organic mint and ginger.
Normally you should try to get there at least 10-15 minutes before your treatment, but I only managed to get there 5 minutes before, which wasn't a problem, since there was next to nothing to fill out for a pedicure. I just had time to snap a quick picture of the spa waiting area and to help myself to a lovely cup of White Lion Citron Green organic tea before my friendly therapist came to collect me.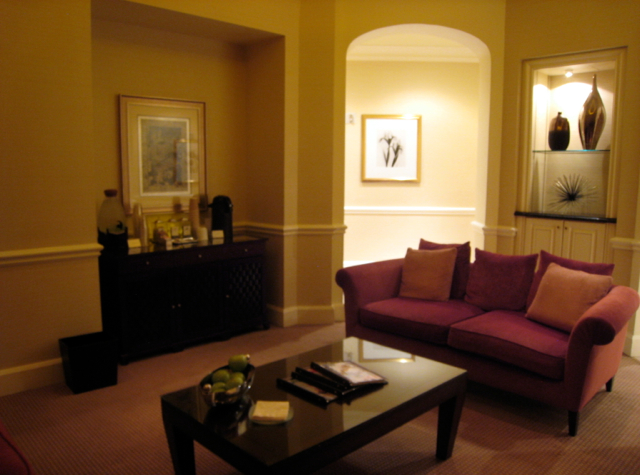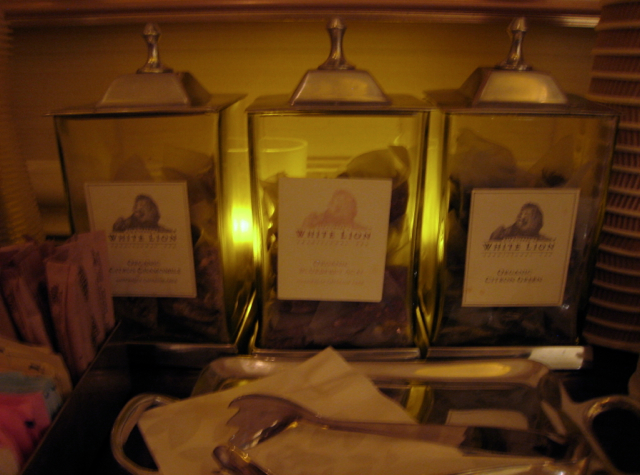 There are individual rooms even for pedicures, unlike, say, your normal nail salon, which made it all the more relaxing. I was happy there was a massage chair, since when I had a pedicure last year at The Mandarin Oriental Las Vegas, that was something I missed–no massage chair.
Both my nail therapist and the pedicure she gave me were superb–I could nearly have fallen asleep, which normally only happens with a really great massage (although possibly the 250 meetings I'd had in 3 days helped). I did, as usual, bring my own polish, and even 3 weeks later my nails still look great–no chipping.
The only thing I'd change would be to provide some newspapers and other reading material in addition to People Magazine, Self, etc. But of course it's easy to bring your own, which is what I should have done.
Outdoor Swimming Pool
While I didn't have time to go for a swim, the outdoor pool looked inviting and was never crowded, unlike a lot of other Las Vegas hotel pools.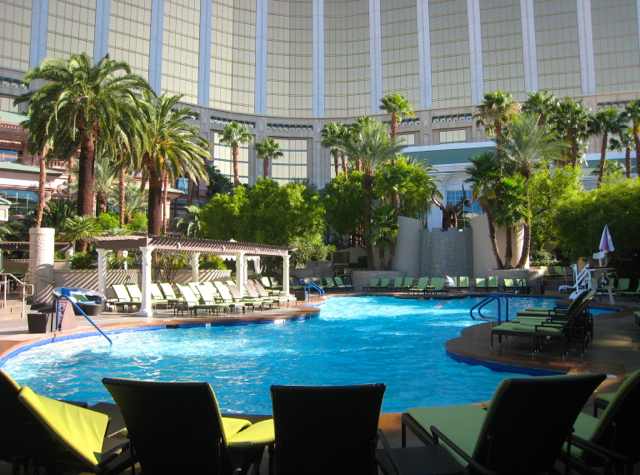 Just behind the pool is this fountain–young kids will get a kick out of the dragon and lizards that decorate it: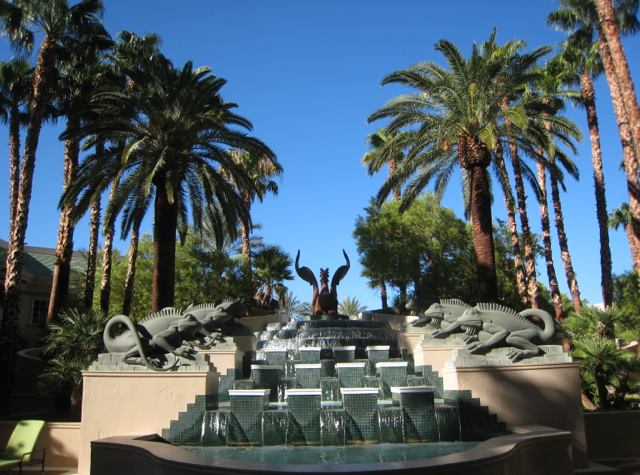 Complimentary Breakfast at Verandah Restaurant
A good reason to book the Four Seasons Las Vegas and all other Four Seasons with Four Seasons Preferred Partner benefits is that a full breakfast is always included, not just a continental breakfast. Since I hadn't had dinner the night before, apart from a couple apples, I made good use of this.
Verandah Restaurant is located on the lobby level, at the far end. From the elevator to the rooms, you'll pass the Spa, walk through the lobby at the entrance, and continue on until you see the Verandah entrance.
A cheerful hostess asked if I'd prefer outside or inside, and since I'd dined outside last time, I opted for an inside table this time. There were just a few other guests, since it was quite early morning.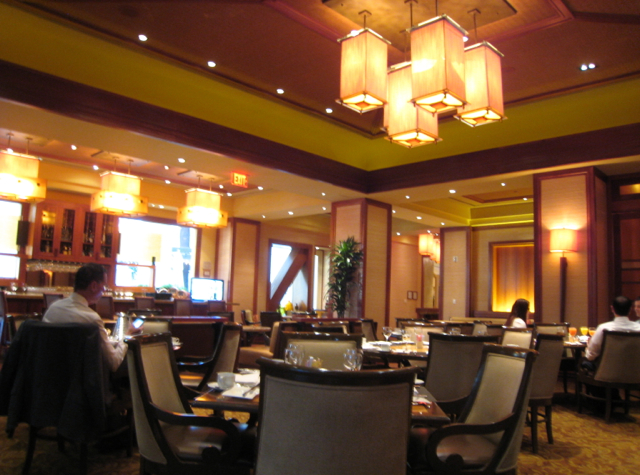 The breakfast menu included several set options, such as an Antioxidant Healthy Start with oatmeal, blueberry nonfat yogurt with granola, blueberry-carrot-zucchini muffin, and seasonal fruits and berries, but I wanted an egg dish and asked for recommendations. My server suggested the Eggs Benedict, made with polenta instead of the usual English muffin, so I ordered that.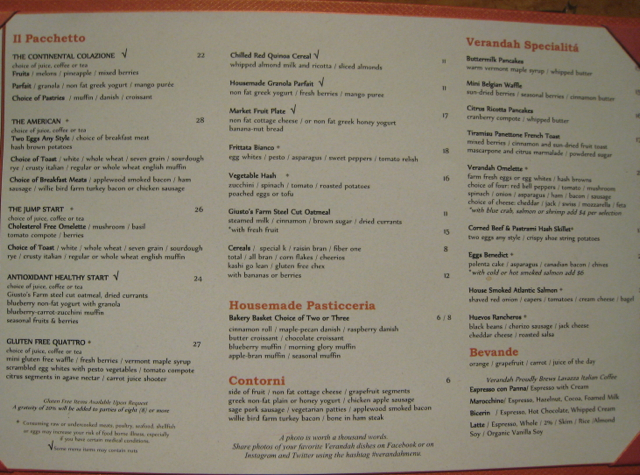 Usually I'm not much of an Eggs Benedict fan, in part since I don't care for English muffins, but I really enjoyed this polenta version, with the sweet corn flavor of the polenta, heartiness of the canadian bacon, and the silky hollandaise over the eggs. The asparagus was perfectly cooked, and a nice twist.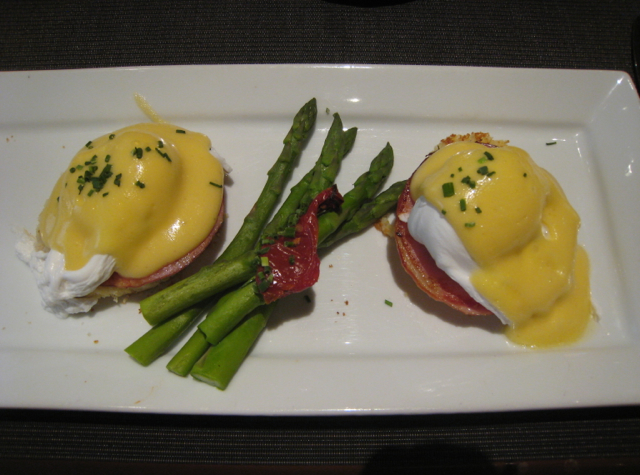 I also ordered the yogurt parfait, intrigued by the mango puree. It came with granola, greek yogurt and fresh berries and was delicious. The Park Hyatt New York needs a similar addition to its breakfast menu.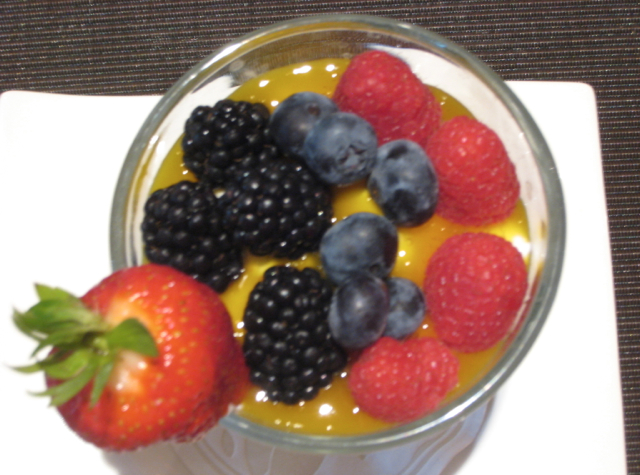 The Verdict
The Four Seasons Las Vegas is the perfect antidote to the smoke filled casinos in Las Vegas–a calm, smoke-free haven where you can relax and rejuvenate, whether from a whirlwind of business meetings or from a late night out on the town. This would also be my first choice if I was to bring my family to Las Vegas.
While the spa isn't showy at all, I was pleasantly impressed with my treatment and its longevity. And Verandah, while no L'Atelier de Joel Robuchon, delivers a delicious and hearty breakfast, entirely complimentary if booked with Four Seasons Preferred Partner benefits. The crowning touch? A complimentary ride to Las Vegas airport, thanks to the house car service.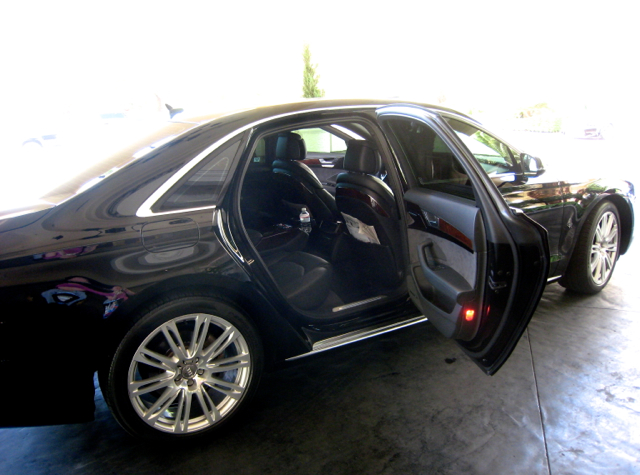 If you've stayed at the Four Seasons Las Vegas booked with FSPP benefits, what was your experience?