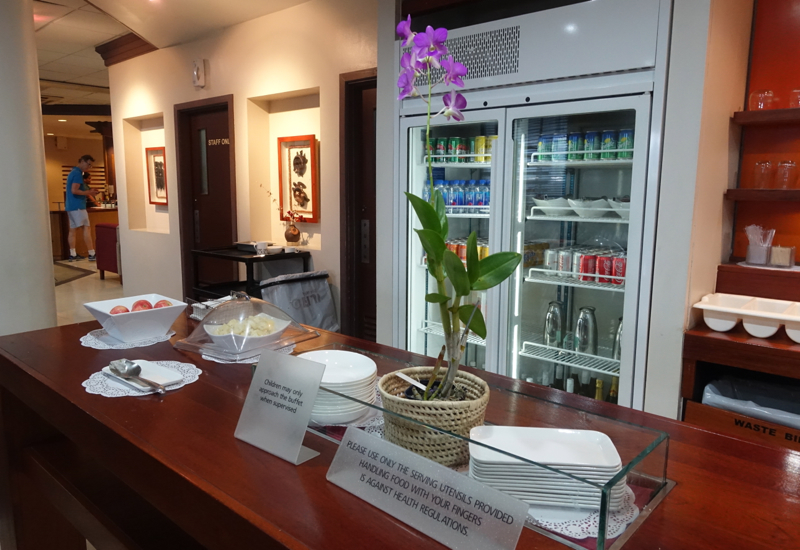 This Fiji Airways Tabua Club Lounge, Nadi Airport Review is from a Fiji trip report. For more on Fiji stay and our Air New Zealand flights to Fiji, please see these posts:
Air New Zealand Auckland Airport New Koru Lounge Review
Review: Air New Zealand Business Premier 777-200
Review: Sofitel Fiji Resort & Spa
Chantara Thai Restaurant Review and Menu, Fiji
Sofitel Fiji Restaurants and Menu Review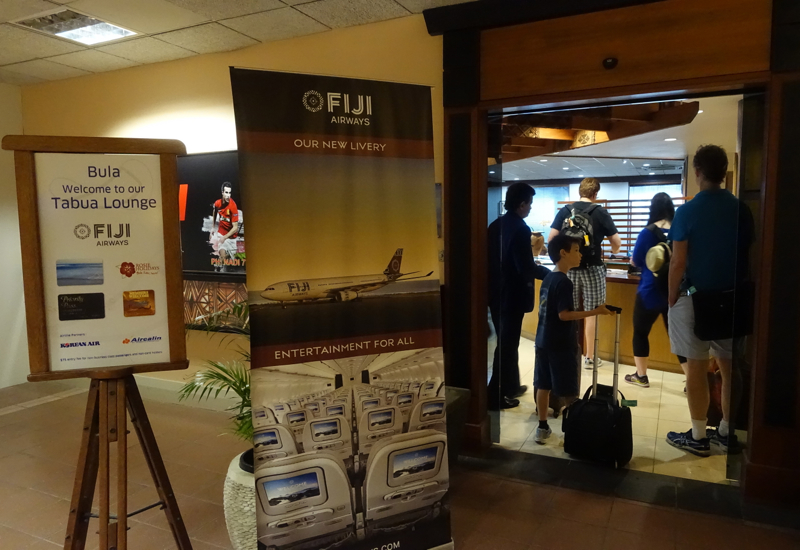 Fiji Airways Tabua Lounge, Nadi Airport Location, Hours and Access Policy
The Fiji Airways Tabua Club Lounge is located airside on the ground floor of Nadi Airport, after security. The lounge is open 3 hours before Fiji Airways flights, but closes other times of the day when there are no Fiji Airways flights. Here's who has access:
Fiji Airways Business Class passengers (one guest allowed, must be traveling on the same flight)
Qantas Business Class passengers (one guest allowed, must be traveling on the same flight)
Qantas Frequent Flyer Gold, Platinum, Platinum One and Chairmans Lounge traveling on a Fiji Airways or Qantas flight (one guest allowed, must be traveling on the same flight)
Fiji Airways Tabua Club members on a Fiji Airways flight or Fiji Airways codeshare (no free guest allowed)
Fiji Airways Tabua Club members on all other, non-Fiji Airways coded flights: $25 for the member, discounted guest passes available for $50 per person
Priority Pass cardholders
Passengers of all other airlines, any class of travel: $75 per person, payable at reception
Children under 3 are granted complimentary entry with an adult, but children 3 and over are treated as adult guests.
Qantas Club paid members are NOT granted complimentary access to the lounge, but may pay for access.
Fiji Airways Tabua Club Lounge, Nadi Airport Amenities
The Fiji Airways Tabua Club unfortunately is sorely lacking when it comes to one of the most crucial things for any traveler: power ports to charge phones, tablets and laptops. The few power outlets by every other set of window chairs were already taken by existing guests, so it was a good thing my laptop had been charged at the hotel so that I could get some work done. The WiFi was usable, although not as fast as at the Sofitel Fiji.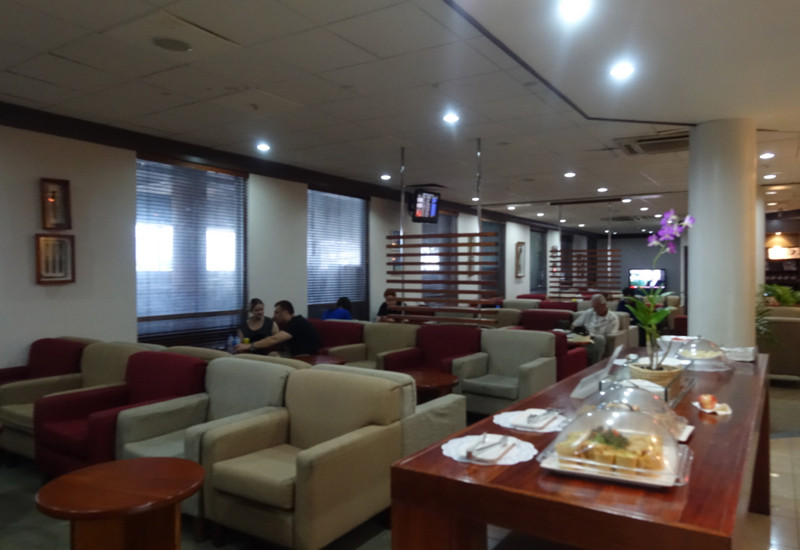 The bathroom is basic, but does have a shower, which is handy given the long flight for travelers returning to the U.S.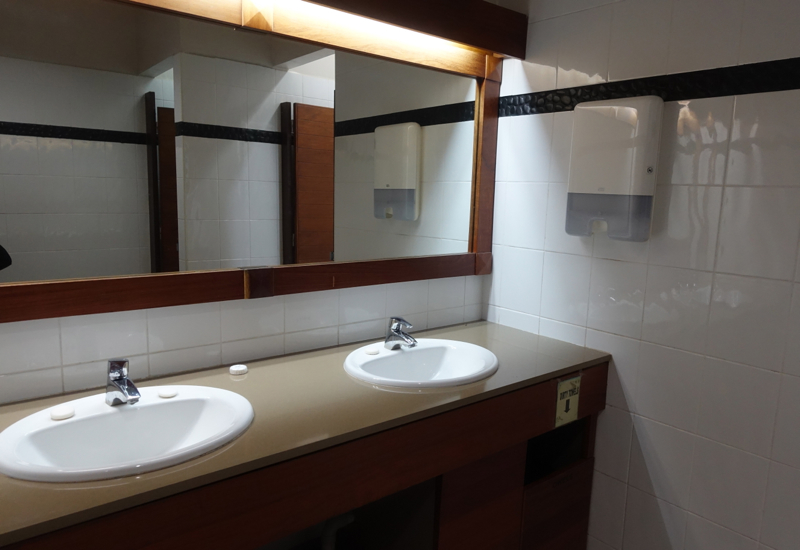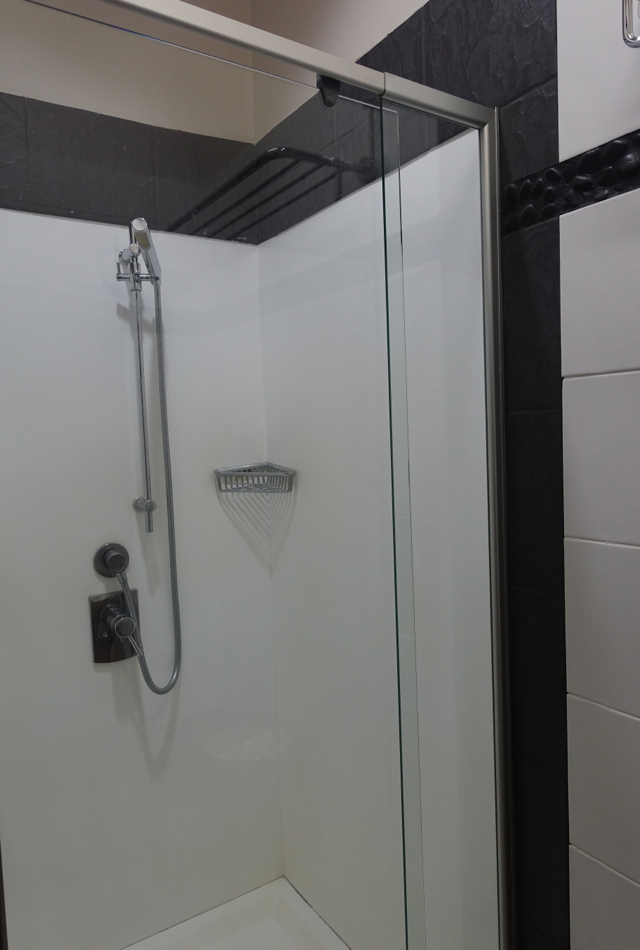 Bath products were orange blossom scented: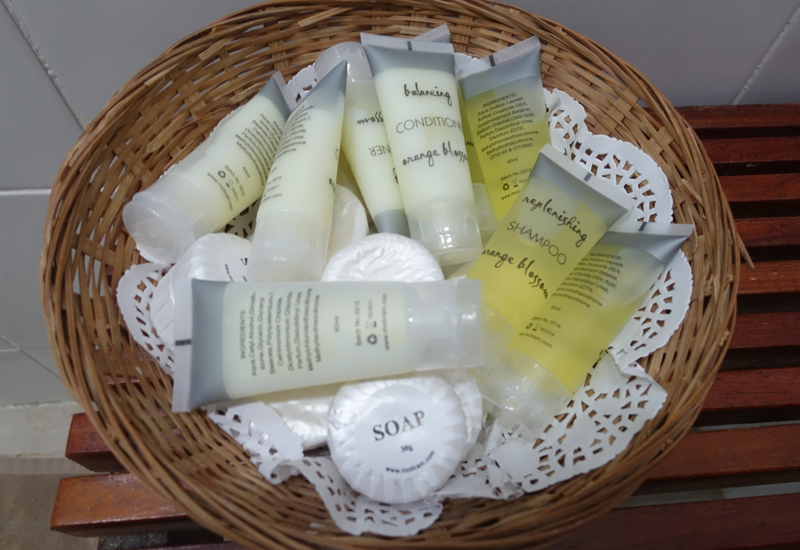 Fiji Airways Tabua Club Lounge, Nadi Airport Food
We sat in the four seats by the spirits and wines that were on offer, which included Jack Daniels Whisky, Bombay Sapphire Gin, Absolute Vodka, Johnny Walker Black Label Whisky, Courvoisier, and red wine.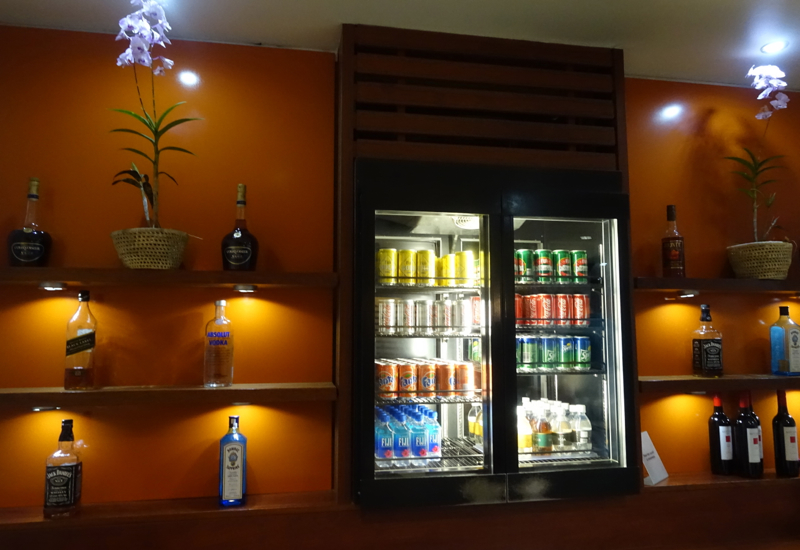 Chilled drinks included Fiji Water (of course!), juices, Coca-Cola, Sprite, Fanta, and Fiji Gold Beer.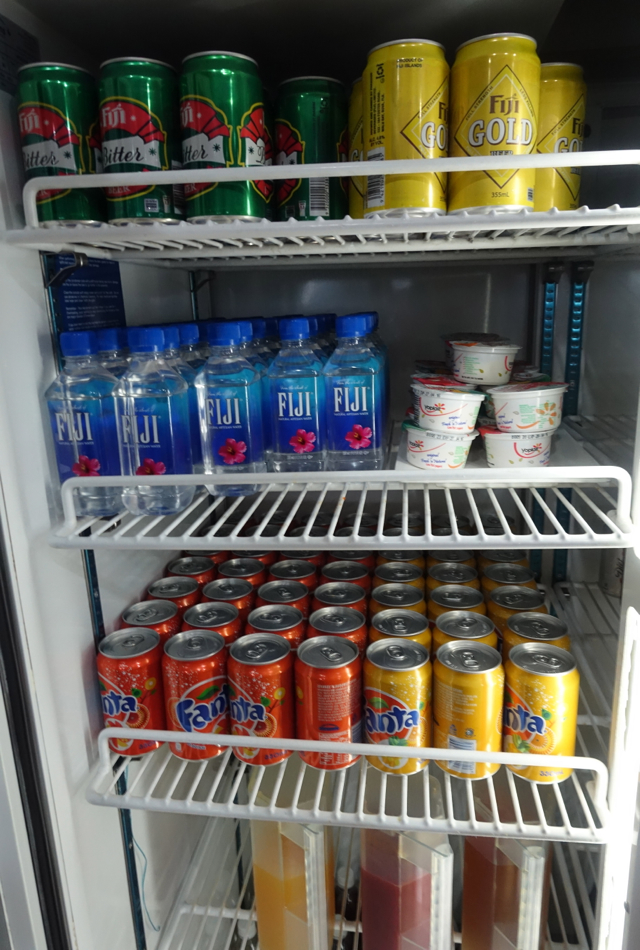 There was also some cut fresh fruit: pineapple, watermelon and kiwi.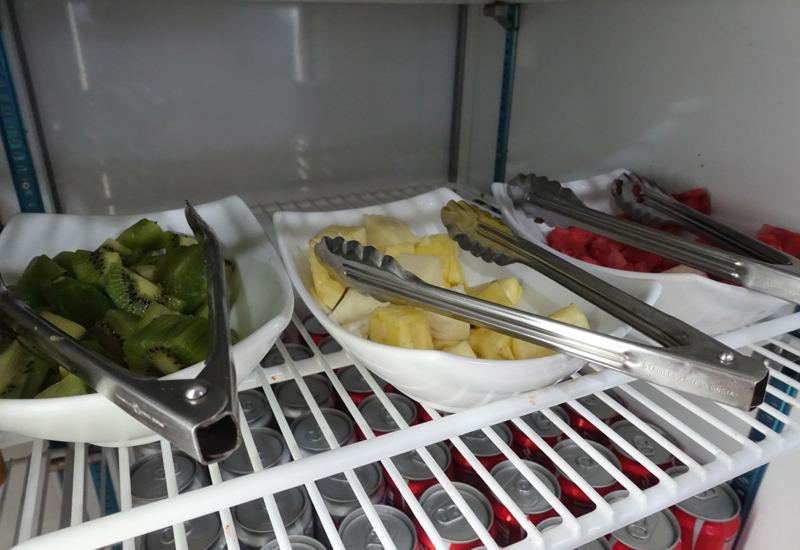 What we ended up eating the most of was Yoplait yogurt–the mango yogurt was especially tasty. Generally Yoplait yogurt in the U.S. is plain awful, but yogurt is one of those things that varies from country to country, and this Fiji-made Yoplait was actually quite good.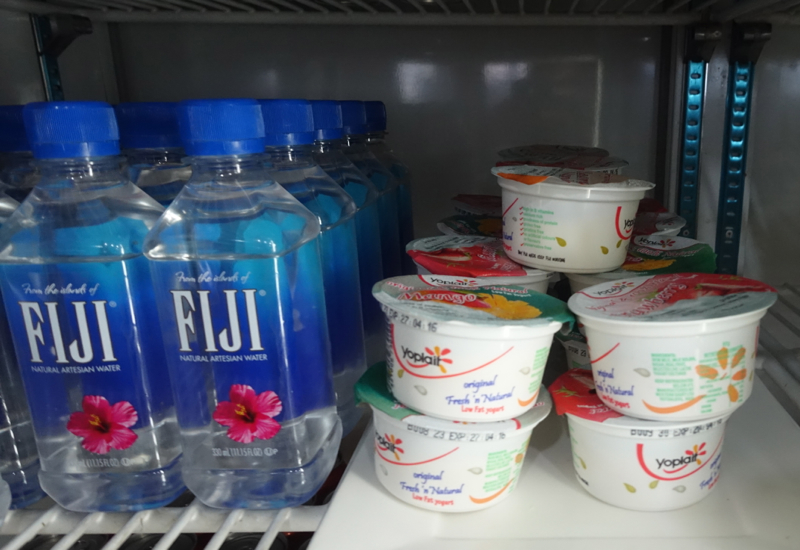 The buffet selection when we first arrived included sandwiches, wraps and salad.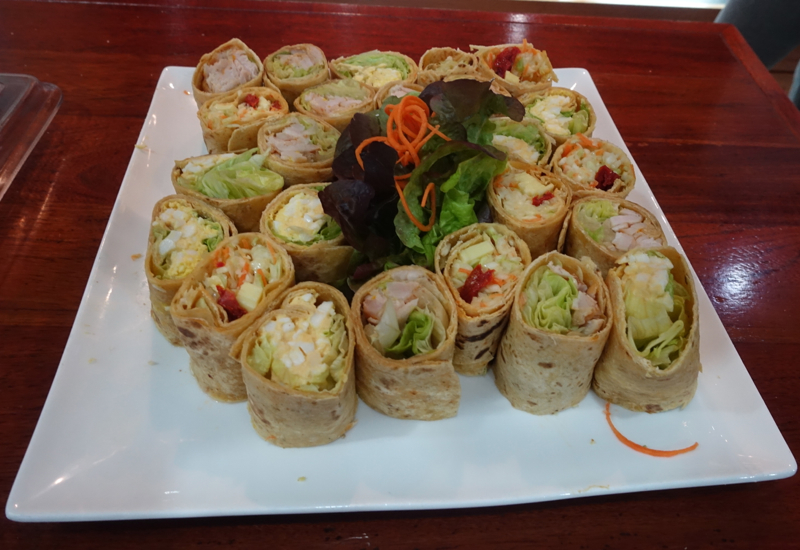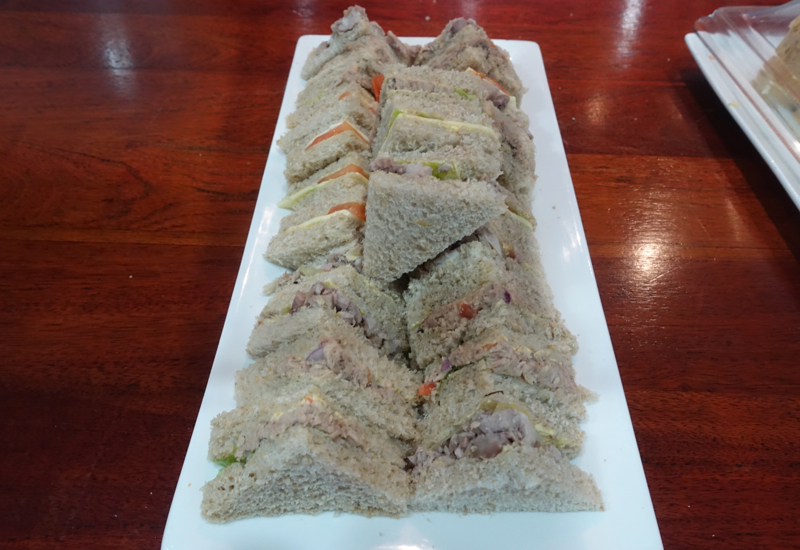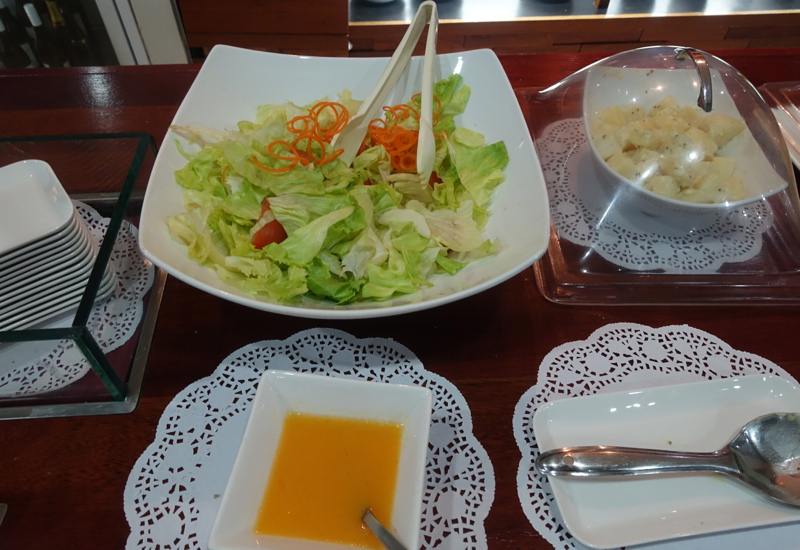 Later, about an hour before our flight, some hot rice and marinated pork skewers were also added to the buffet. I tried the pork and it was very tasty for lounge food.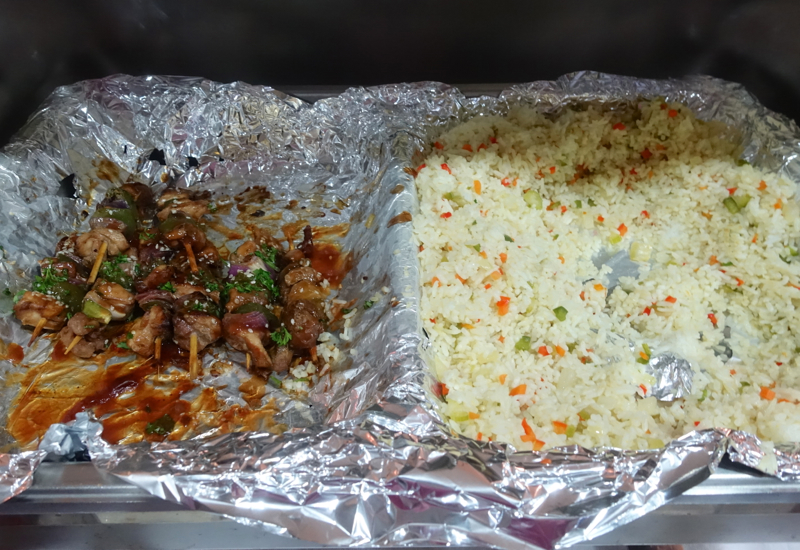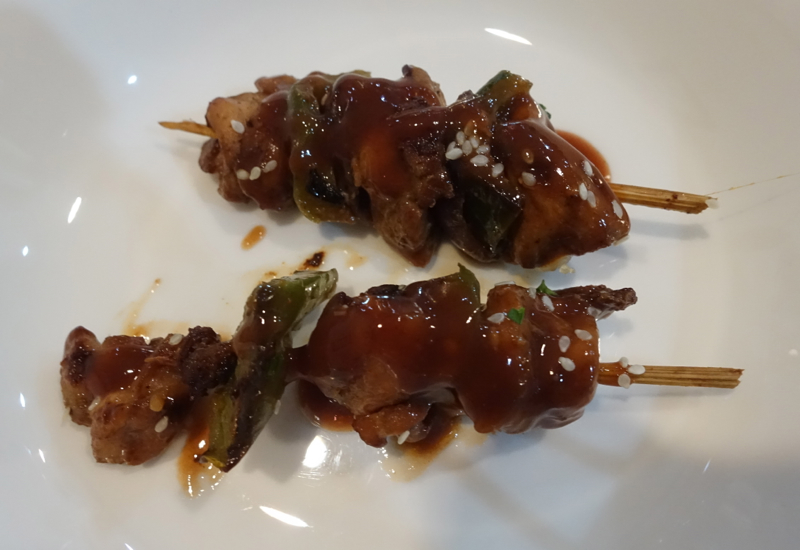 I didn't have any coffee or tea, but the provided tea is by Dilmah.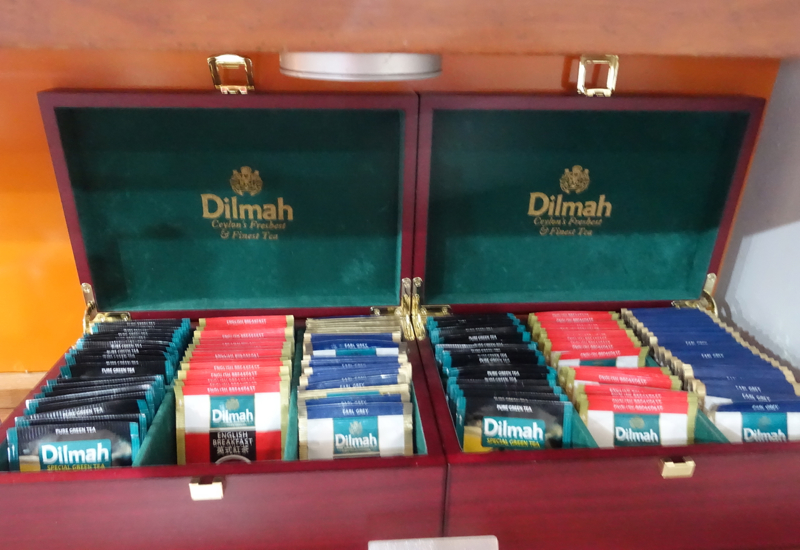 The Verdict
Under normal circumstances we would not have gone out of our way to arrive early to spend extra time in the Fiji Airways Tabua Club Lounge, although it was a good thing our hotel had organized a bus that got us to the airport 10 hours before our original flight time, since our flight ending up departing 7 hours early, to avoid the brunt of the storm coming in.
Given how small Nadi Airport is, the Tabua Club Lounge is what you'd expect in terms of lounge size, with the food and drink you'd expect plus a little bonus in terms of a hot food item, at least if you're there in the afternoon as we were.
The WiFi is decent, but what the lounge really needs is more power outlets. The staff member at reception was very kind, offering to charge my computer at an outlet at reception, but the lack of public power outlets is an oversight for a business class lounge.
If you've visited the Fiji Airways Tabua Lounge in Nadi Airport, what was your experience?
Related Posts