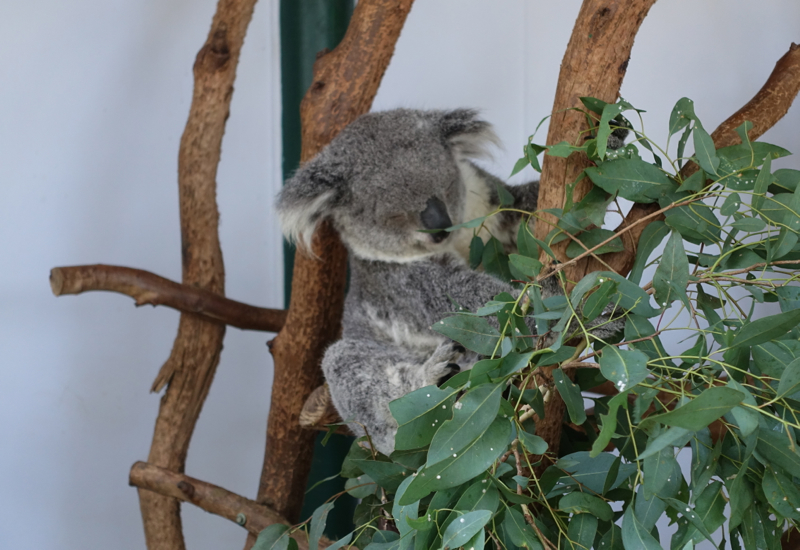 This Featherdale Wildlife Park Review is from our visit on a recent trip to Sydney, Australia. For the prior Australia-related posts, including Etihad First Apartment to Sydney and Qantas First Class to Melbourne, please see:
Review: Qantas First Class A380 London to Dubai
Review: Emirates First Class Lounge Dubai DXB
Review: Qantas First Class A380 Dubai to Melbourne, Australia
Review: Etihad Business Class Lounge Abu Dhabi
Review: Etihad A380 First Class Apartment Abu Dhabi to Sydney
Review: Qantas International Business Class Lounge, Melbourne MEL
Review: Shangri-La Sydney and Horizon Club
Review: Park Hyatt Sydney Opera Deluxe Room
Social Brew Cafe Sydney Review
Featherdale Wildlife Park Location, Hours and Ticket Cost
Featherdale Wildlife Park is at 217-229 Kildare Road in Doonside, NWS, about a 1 hour drive from downtown Sydney. It's open 9am-5pm daily, except Christmas Day. Ticket prices at time of writing are:
Adult: $29.50
Child 3-15: $16
Student: $23
Senior: $20.50
Family of 2 adults and 2 children: $83
Family of 2 adults and 1 child: $69
Family of 1 adult and 2 children: $56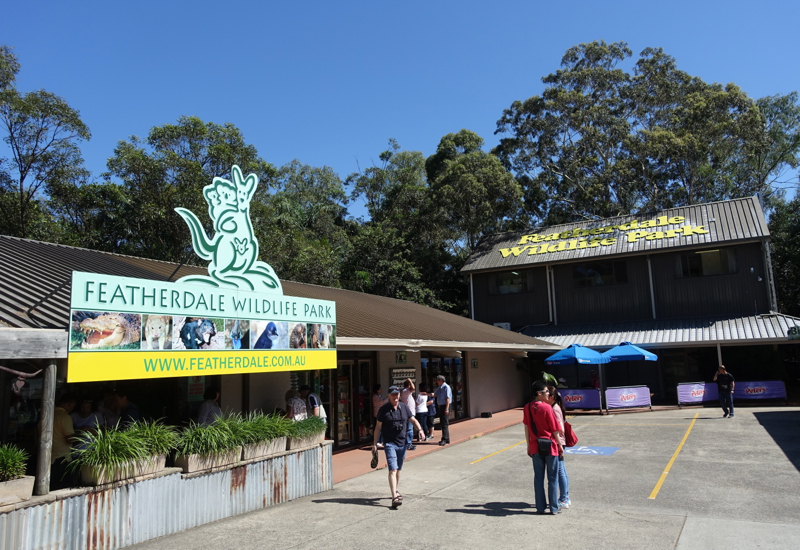 Featherdale Wildlife Park Highlights
Originally we weren't going to visit Featherdale during our one full day in Sydney, mainly because we usually don't like to visit zoos, but when our son started asking about seeing kangaroos and koala bears, we decided to visit. It's not as if he was going to see them anywhere else that day in and around Sydney or the beaches, and Featherdale is compact enough that just 60-90 minutes is sufficient for most visitors.
Here are our highlights from our visit:
1. Finding an Escaped Kangaroo
Sometimes the best things are the unexpected ones, and that was true at Featherdale, where in addition to the kangaroos in enclosures and the few that were out in the feeding area, there was a young kangaroo who had hopped out of his enclosure and was contentedly munching grass along the path: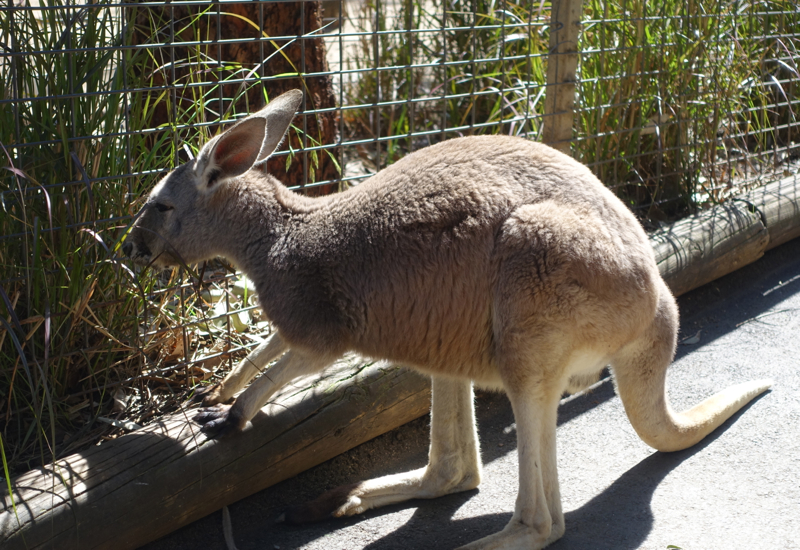 A keeper was alerted and did catch him and bring him back, much to the kangaroo's dismay, although it was good at least to see that the keepers seemed genuinely affectionate towards and caring of the animals in their charge.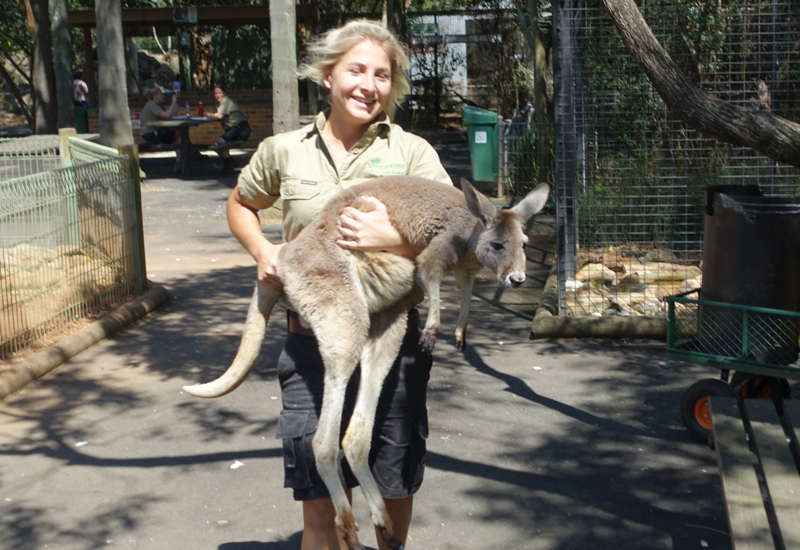 2. Petting a Wallaby
We don't have any furry pets at home which would be hard given our travel and also cruel to the animal given the way NYC is, so our son was delighted to pet a wallaby and pretend, if briefly, to have a cuddly pet.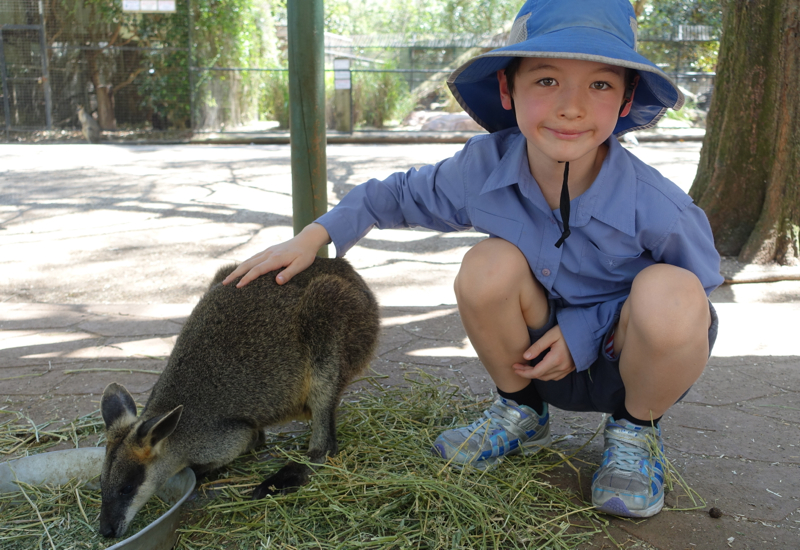 3. Koala Bears
Speaking of cuddly, we also enjoyed seeing the koalas, although we didn't join the line to take our picture with one. This one is typical, given that it was sleeping–they sleep 18-20 hours a day, mainly because it requires substantial energy to digest their low nutrition diet of Eucalyptus leaves, so sleeping is the best way to conserve energy. Koalas aren't actually bears–they're marsupials, akin to kangaroos, and their young are also known as joeys, maturing in a pouch.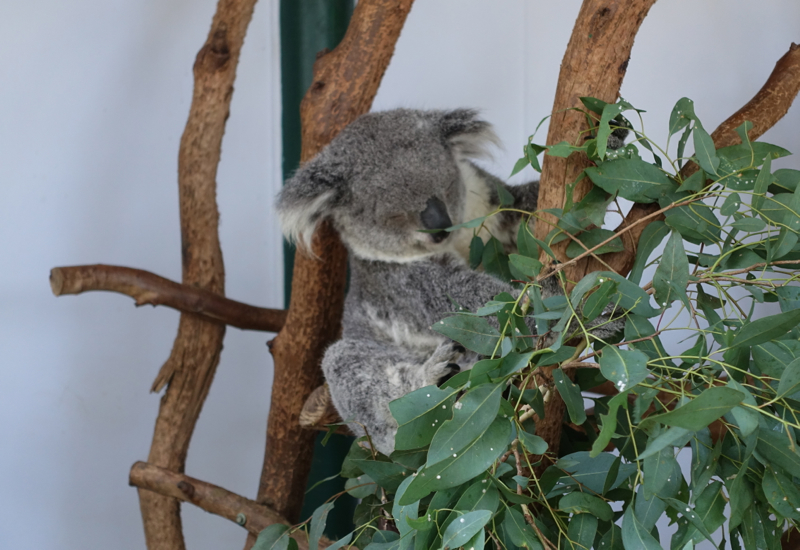 4. Crocodile Feeding
Although it's not for the squeamish, it was fascinating to watch the crocodile being fed a dead chicken–it actually jumped in the air to get it. This particular crocodile couldn't be paired with any other crocodile–it was once put with a female one but ate her.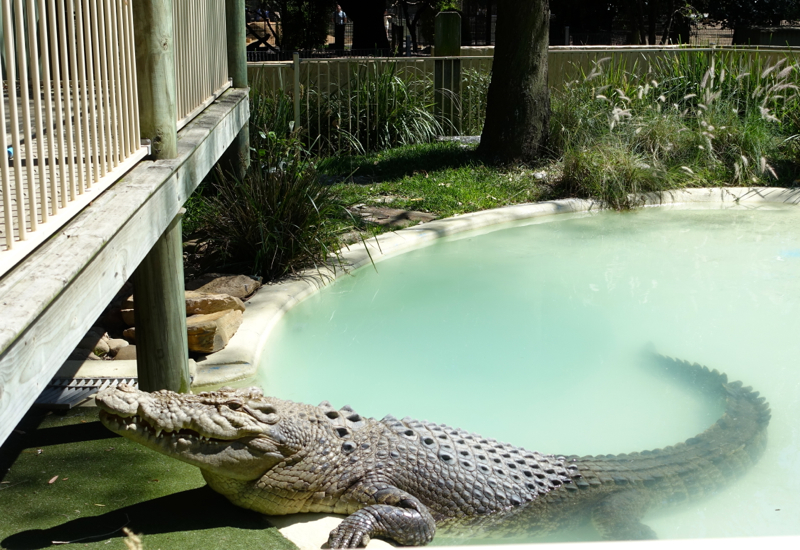 5. Southern Cassowary
I'd never heard of the Southern Cassowary, which can be as tall as 5-6 feet and is the heaviest of all the Australian birds, but it's certainly striking looking. Its natural habitat is tropical rainforest, the eggs are incubated solely by the male bird, and the bird is very wary of humans–with good reason. Sadly, the Southern Cassowary is threatened by extinction due to habitat loss.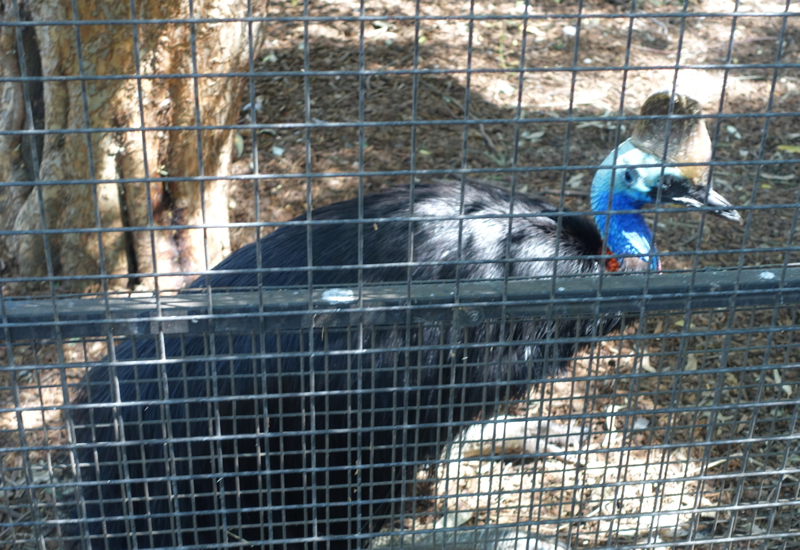 6. Ghost Bats
Ghost bats, so named because of their white or silvery color, are also vulnerable and threatened by extinction. Our eyes had to adjust to the darkness when viewing them in the bat cave exhibit.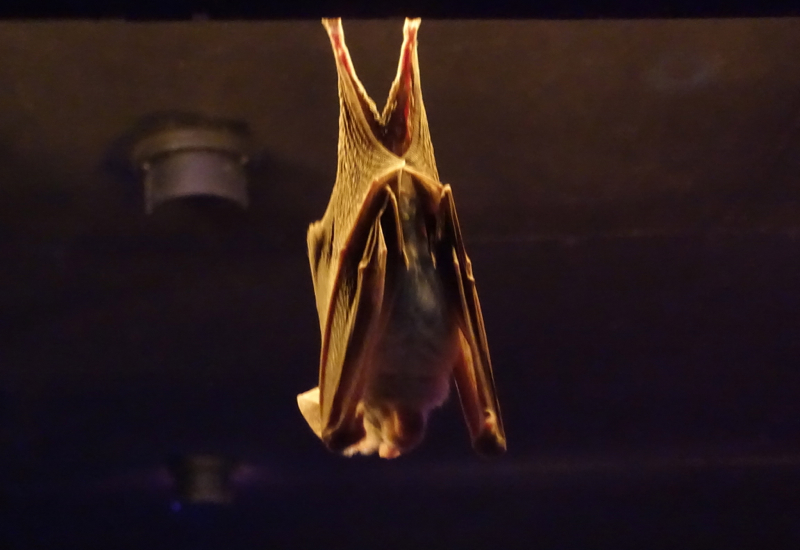 7. Emu
None of us had ever seen an emu in person, and while we were wary, thinking they were as bad tempered as ostriches, our guide assured us that they were not–that they were curious rather than ornery–and even fed them some grass. Unlike many of the other animals in Featherdale, emus are locally abundant and are not endangered. I loved that male emus are responsible for all parental duties, including egg incubation 🙂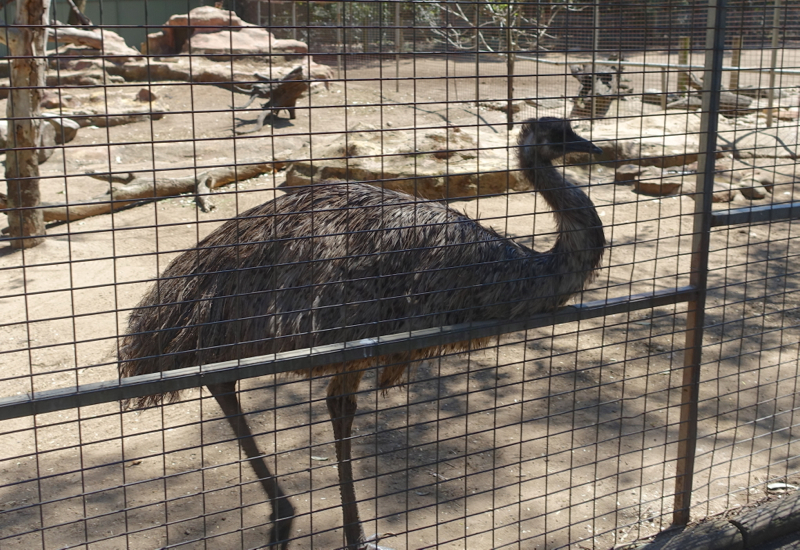 8. Measuring Up vs. a Kangaroo and Emu
It was fun to measure the munchkin against the height of adult kangaroos and emus–he has some growing to do!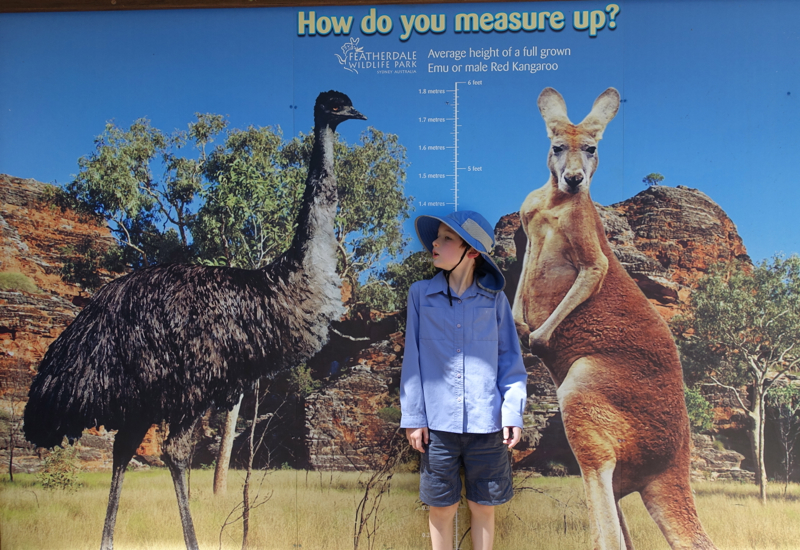 If you've visited Featherdale Wildlife Park, what was your experience?
Related Posts
Review: Park Hyatt Sydney Opera Deluxe Room
Virtuoso Review: Shangri-La Sydney and Horizon Club
Social Brew Cafe Sydney Review
Review: Etihad A380 First Class Apartment Abu Dhabi to Sydney
Virtuoso Hotels: Bookings with Upgrades, Complimentary Breakfast and VIP Perks
Need Award Booking Help? Our fee is as low as $75 per ticket if you book your hotel or cruise with us.
If you enjoyed this, join 200,000+ readers: please follow TravelSort on Twitter or like us on Facebook to be alerted to new posts.
Become a TravelSort Client and Book luxury hotels with Virtuoso or Four Seasons Preferred Partner Amenities!