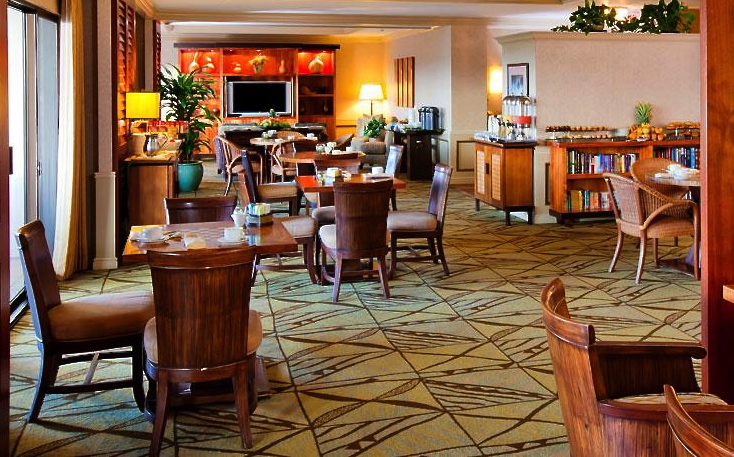 Is the Fairmont Orchid Gold Floor worth it? This review of the Fairmont Orchid Gold Floor Club Lounge will hopefully help you decide if the Fairmont Gold price premium is worth it, compared to booking a regular room with Virtuoso benefits.
TravelSort Clients may book the Fairmont Orchid with Virtuoso benefits (paid stays only) including:
Upgrade on arrival, subject to availability
Daily Buffet breakfast, for up to two in room guests, served in the restaurant
Two Fun & Sun Activity Passes

Use of the following equipment is included in the pass. Mask, Snorkels, Fins; Boogie Boards; Soft-top surf boards; personal floats; one and two person kayaks; stand-up paddle boards. 50% off Tennis Clinics.

Early check-in/late check-out, subject to availability
Visiting Hawaii? This post is part of a trip report on the Big Island of Hawaii and Maui, including stays at the Four Seasons Hualalai and Four Seasons Maui at Wailea.
For prior posts in this trip report, please see:
Alaska Airlines First Class Review
Alaska Airlines Board Room Seattle Lounge Review
Alaska Airlines First Class to Hawaii
Hyatt Place Waikiki Beach Review
Andaz Maui at Wailea Suite Review
Ka'ana Kitchen Review and Andaz Maui at Wailea Dining
Mama's Fish House Review in Paia, Maui
Four Seasons Resort Maui at Wailea Review
Breakfast at DUO at Four Seasons Maui at Wailea
Hawaii Volcano Treehouse Review
Hawaii Volcanoes National Park Review
Kilauea Lodge Restaurant Review
Punalu'u Black Sand Beach Photo Tour
Four Seasons Resort Hualalai Review: Best Luxury Hotel in Hawaii
'ULU Ocean Grill Review and Four Seasons Hualalai Dining
Manta Ray Night Dive with Kona Diving Company
Beach Tree Hualalai Menu and Restaurant Review
The Fairmont Orchid Gold Floor is the hotel's club floor, located on the 6th floor of the North Tower, and the hotel notes that it offers these amenities:
Private check-in
Private lounge exclusive for Gold guests
Healthy continental breakfast in lounge served between 6:30 a.m.-10:00 a.m.
Afternoon tea served between 3:00 p.m.-4:00 p.m.
Afternoon canapés & honor bar served between 5:00 p.m. and 7:00 p.m.
Complimentary mineral water, soft drinks, coffee, espresso drinks and selection of teas
Dedicated Fairmont Gold Manager
Complimentary newspapers and personalized wake-up calls
Computer access in lounge with high-speed Internet

Selection of DVDs, CD,books and games to enjoy at your leisure
We were checked in at the Gold Floor Lounge, and it was a friendly and efficient check-in, definitely nicer than waiting in the frequent lines I saw at the front desk. Of course, the regular check-in at Hualalai is considerably better, including a lei, cool towel, drinks, and fresh pineapple while comfortably seated in the hotel lobby.
Fairmont Orchid Gold Floor Evening Hors d'Oeuvres
The munchkin and I missed the afternoon tea, but we were in time for the early evening hors d'oeuvres served between 5pm – 7pm. The evening spread is on the right, with a few indoor tables on the left, as well as 4 outdoor tables on the balcony. I was surprised at how small the lounge is, and it can feel quite crowded at times, although fortunately we only once had to wait briefly for an associate to clear a table for us. There's a good view of the resort from the lanai, although not a good one of the ocean, due to the position of the lounge.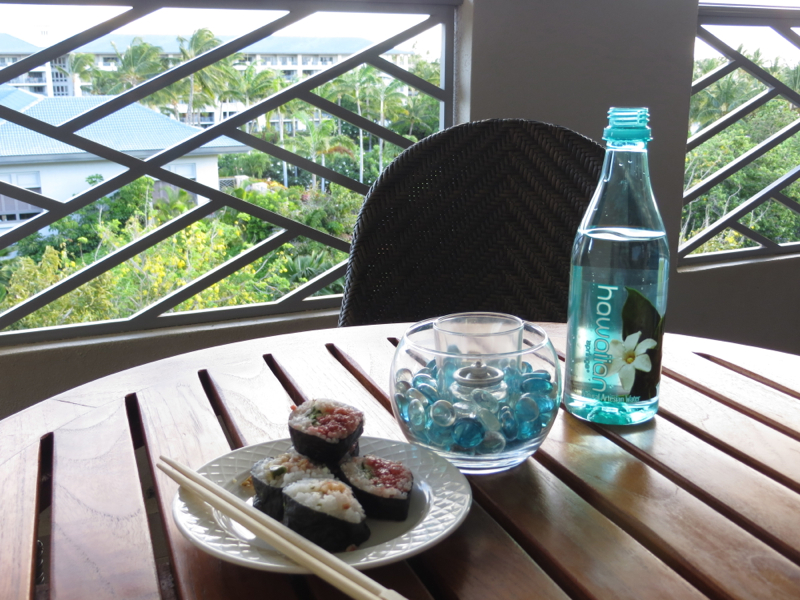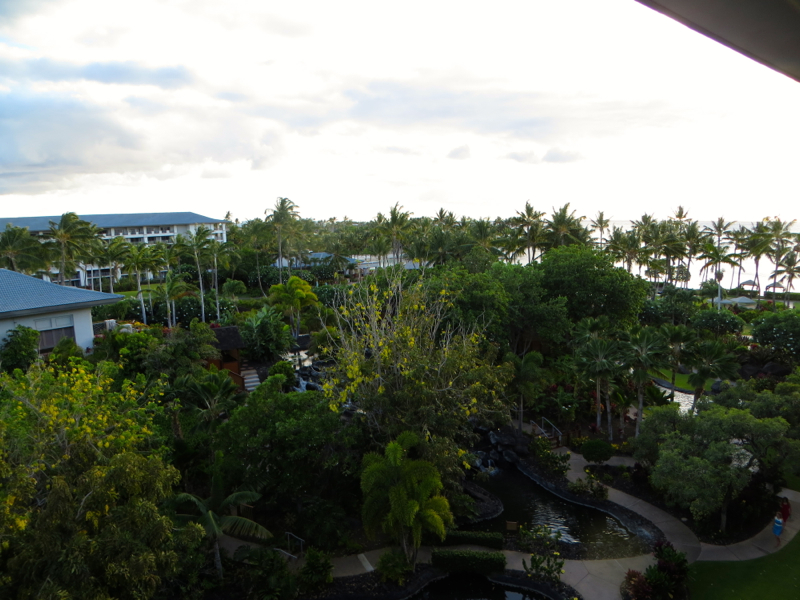 Here's the menu for the evening we were there, although I actually only noticed it when we were getting ready to leave.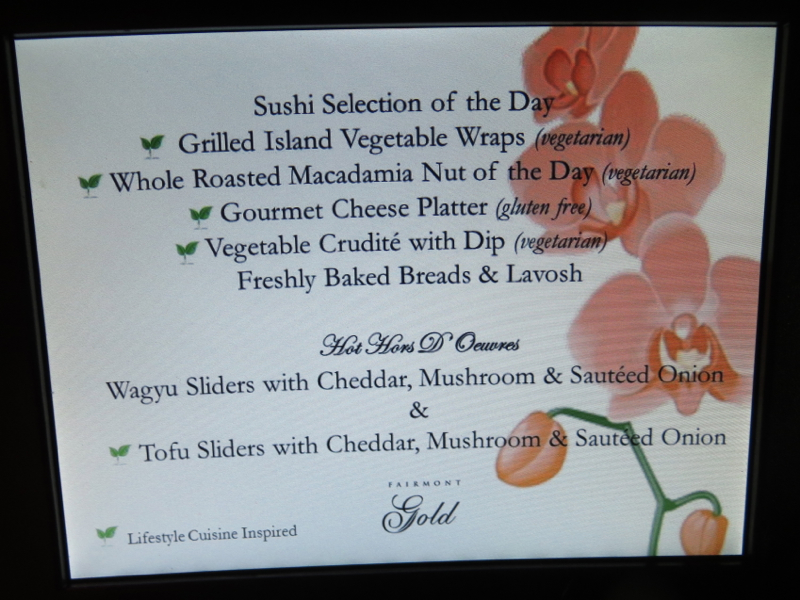 The appetizers were nicely presented on several trays, with a Bird of Paradise accenting them: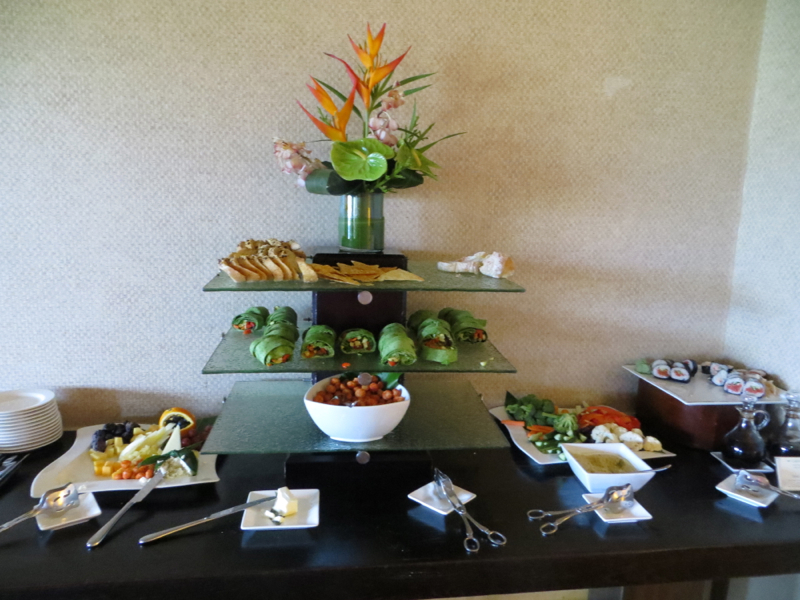 In terms of quality and taste, however, they left something to be desired. Think supermarket quality spicy tuna sushi, with gummy rice: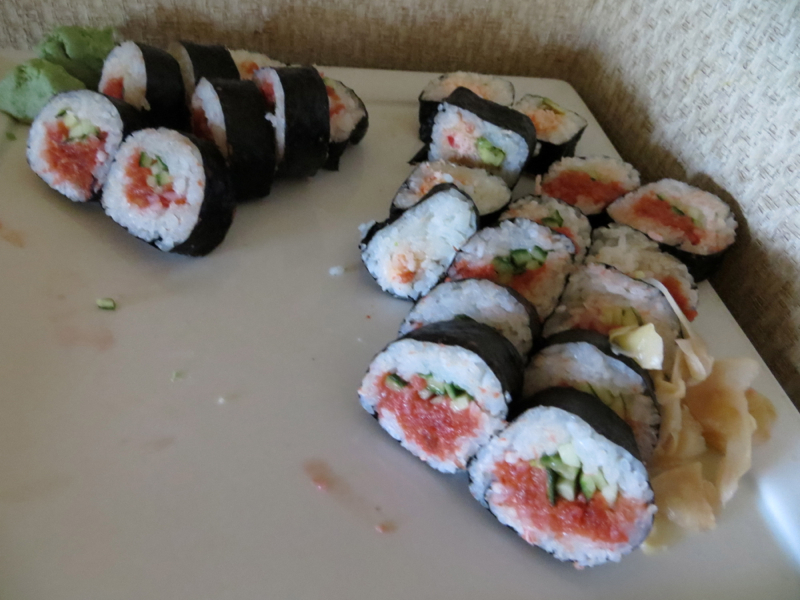 The Wagyu beef burger was very overcooked, although the munchkin didn't mind, as he was quite hungry: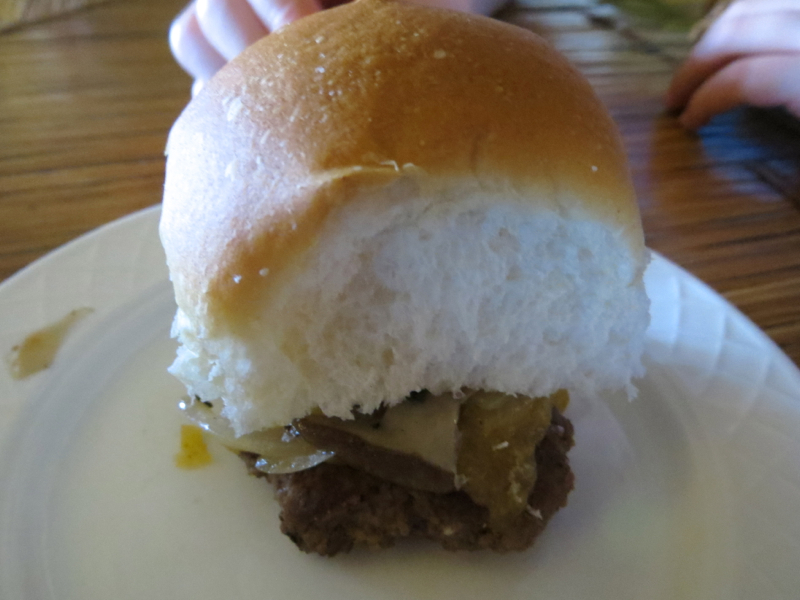 While not vegetarian myself, I was happy to see vegetarian choices for guests who are. There were grilled vegetable wraps, which was probably one of the best choices, together with the cheese plate. There were also fresh vegetables and dip.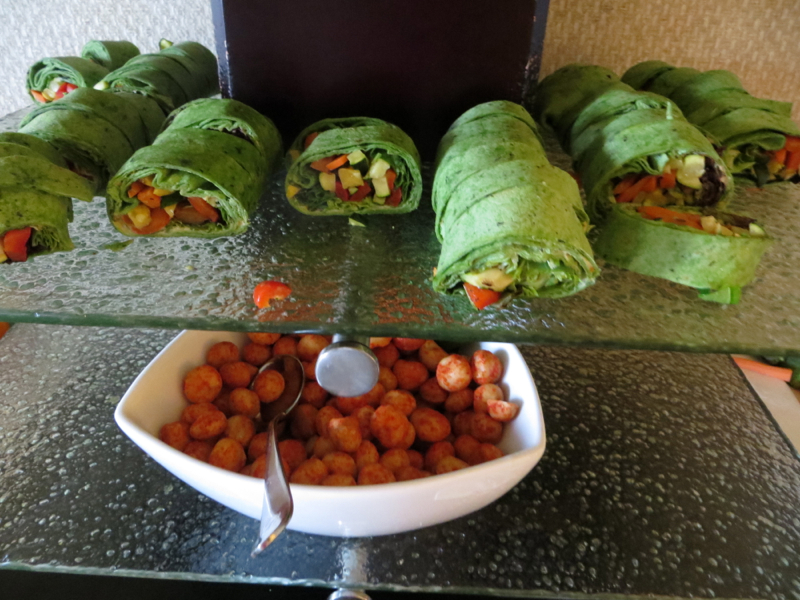 The cheese plate included the standard cheddar and swiss cheese cubes, but it was good to also see Manchego and goat cheese.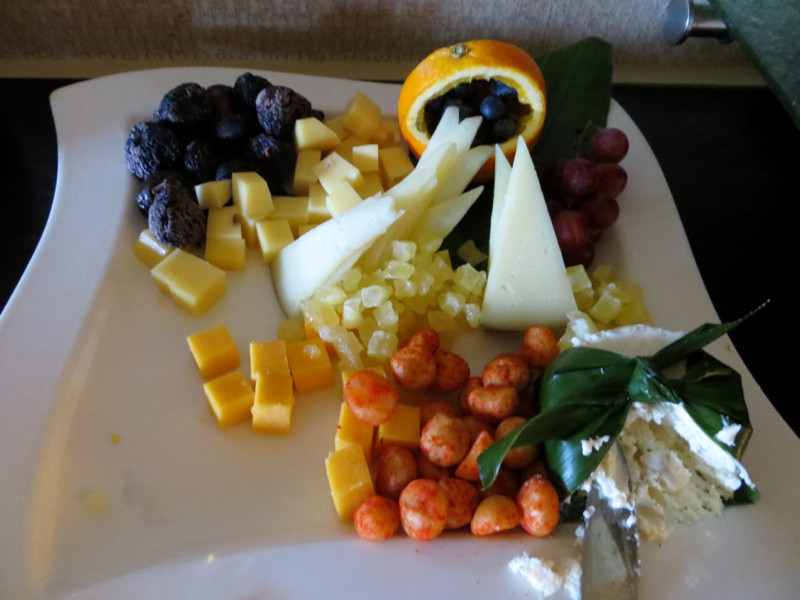 There was no dessert to speak of, just a platter of unremarkable cookies: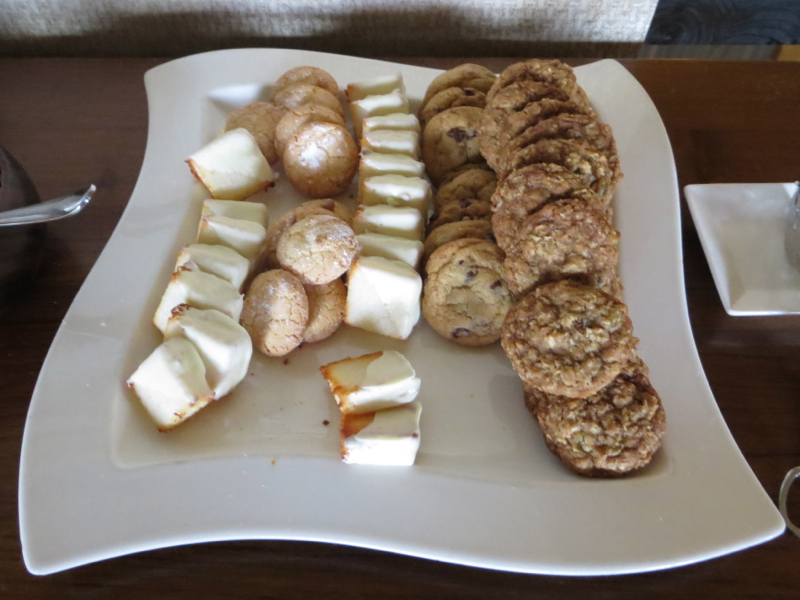 Note that there's an honor bar–no complimentary alcohol is served in the Fairmont Gold Floor lounge, so that could be an important factor if you're considering whether it's worth paying the premium for the Gold Floor.
Fairmont Orchid Gold Floor Breakfast
Note that if you booked with Virtuoso benefits, you can enjoy buffet breakfast in the Orchid Court Restaurant. The Gold Floor offers a continental breakfast with more limited choices, but in a more serene environment.
Both the munchkin and I were happy with the fresh breakfast fruits on offer, which included papaya, fresh pineapple, berries, watermelon and other melon. I was especially happy to see the fresh berries (also offered at Hualalai) since these are often not offered as part of buffets at Hawaii hotels due to how expensive it is to fly them into Hawaii. And of course local papaya is a great way to start the day as well.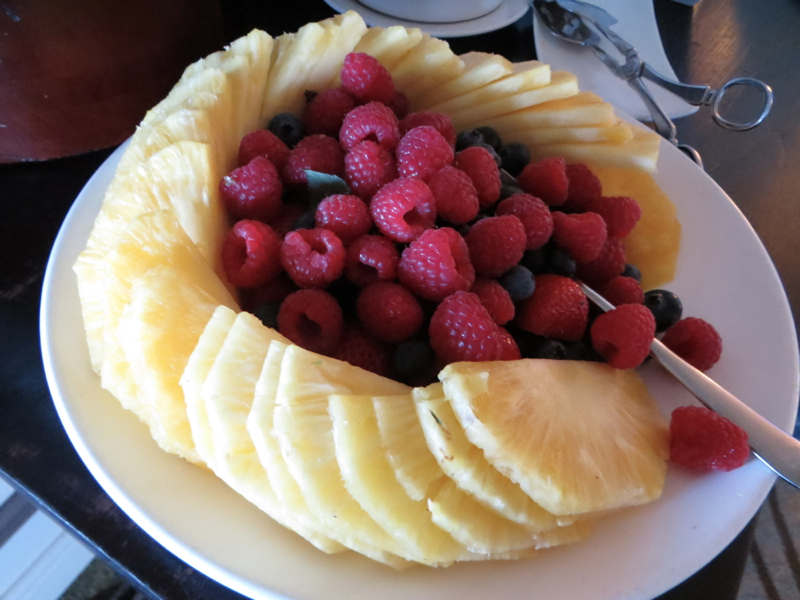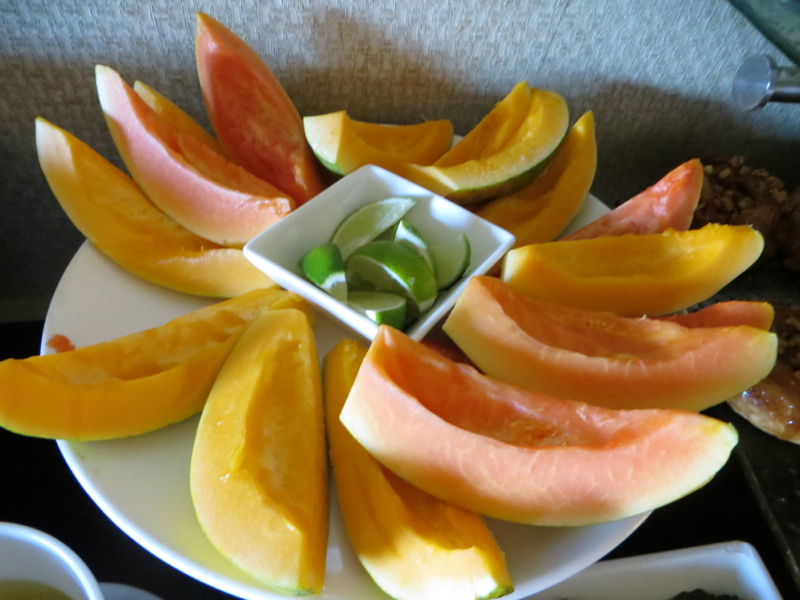 The scrambled eggs were fine (and at least not inedibly runny, as at the Park Hyatt Paris Vendome) but nothing to write home about.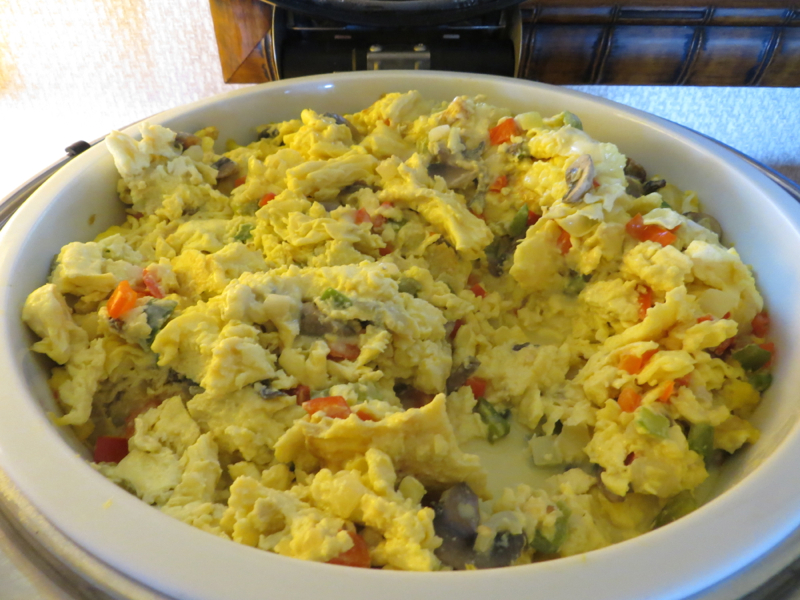 It was a similar story with the fruit juices, boxed cereals, museli and yogurt: all standard breakfast fare, but nothing to write home about. I do wish hotels at this price point would upgrade their yogurt offering to something better than Yoplait.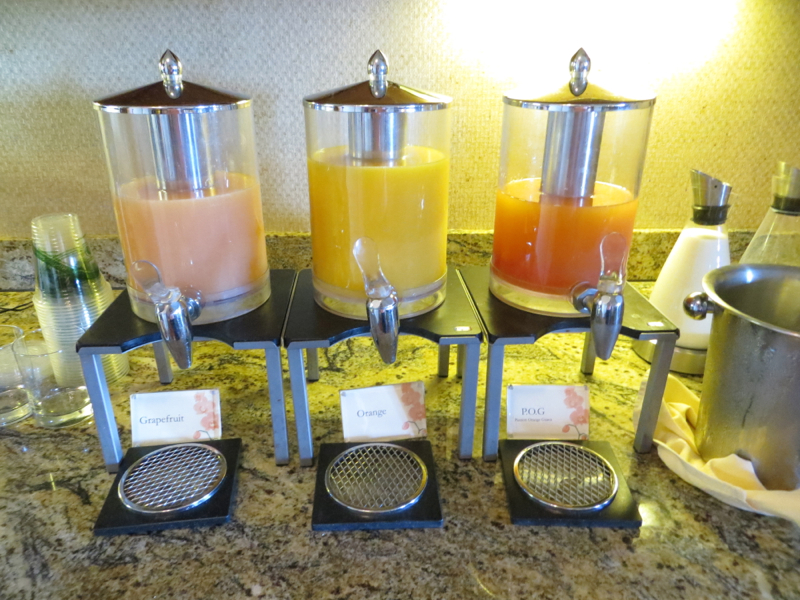 The highlight for me, apart from the fresh berries, were macadamia nut sticky buns–these were excellent, and I highly recommend them. Perfect with a cappuccino, which you can request.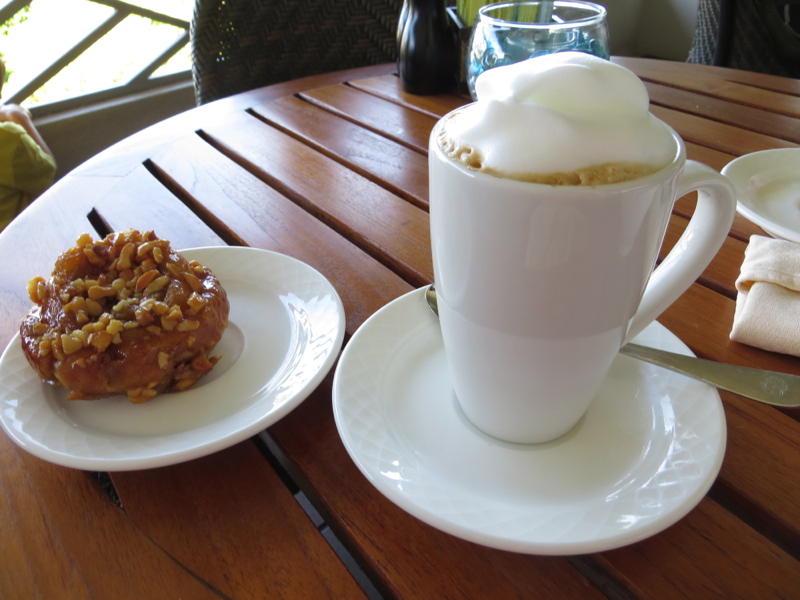 How Much More is Fairmont Orchid Gold Floor?
It really varies, depending on the time of year. During peak holiday season, expect to pay $400 more for a Fairmont Gold Floor room over a regular room (e.g. $819 + tax per night for a Fairmont Gold Garden View Room vs. $419 + tax per night for a regular Fairmont Garden View Room), which in my view, simply isn't worth it. Other times of the year, the price difference can be closer to $200, which could be worth it for a family, although I personally wouldn't pay even that difference for a couple based on my experience, particularly if already getting breakfast included as a Virtuoso benefit.
The Verdict
U.S. domestic club lounges such as Fairmont Gold Floor are much more limited in their offerings than the best international hotel club lounges, so it's unfair to compare them to the Grand Club at the Grand Hyatt Hong Kong, for example, let alone the Four Seasons Hong Kong Executive Lounge.
That said, I do think it's fair to compare Fairmont Gold Floor to other U.S. domestic club lounges that you pay for, for example Ritz-Carlton Club Lounges, since even Fairmont elites don't receive complimentary upgrades to the Fairmont Gold floor. And while most Ritz-Carlton Club Lounges have declined somewhat in their quality of offerings over the years, I still definitely preferred our experience at the Ritz-Carlton Denver Club Lounge to the Fairmont Orchid Gold Level Lounge. Not only were there more choices at each meal, the quality was better, wine and alcoholic drinks are included, the lounge offered more seating, and service was more professional and proactive.
If you've stayed on the Fairmont Orchid Gold Level floor, what was your experience?
Related Posts
Chase Fairmont Visa with Annual Fee Waived First Year
Four Seasons Resort Hualalai Review: Best Luxury Hotel in Hawaii
Review: Manta Ray Night Dive with Kona Diving Company
Honeymoon in Hawaii: Which Island and Which Hotels?
Disclosure: I paid for our stay at the Fairmont Orchid at a travel professional rate.
Need Award Booking Help? Our fee is as low as $75 per ticket if you book your hotel or cruise through us.
If you enjoyed this, join 150,000+ readers: please follow TravelSort on Twitter or like us on Facebook to be alerted to new posts.
Become a TravelSort Client and Book 5-Star Hotels with Virtuoso or Four Seasons Preferred Partner Amenities!