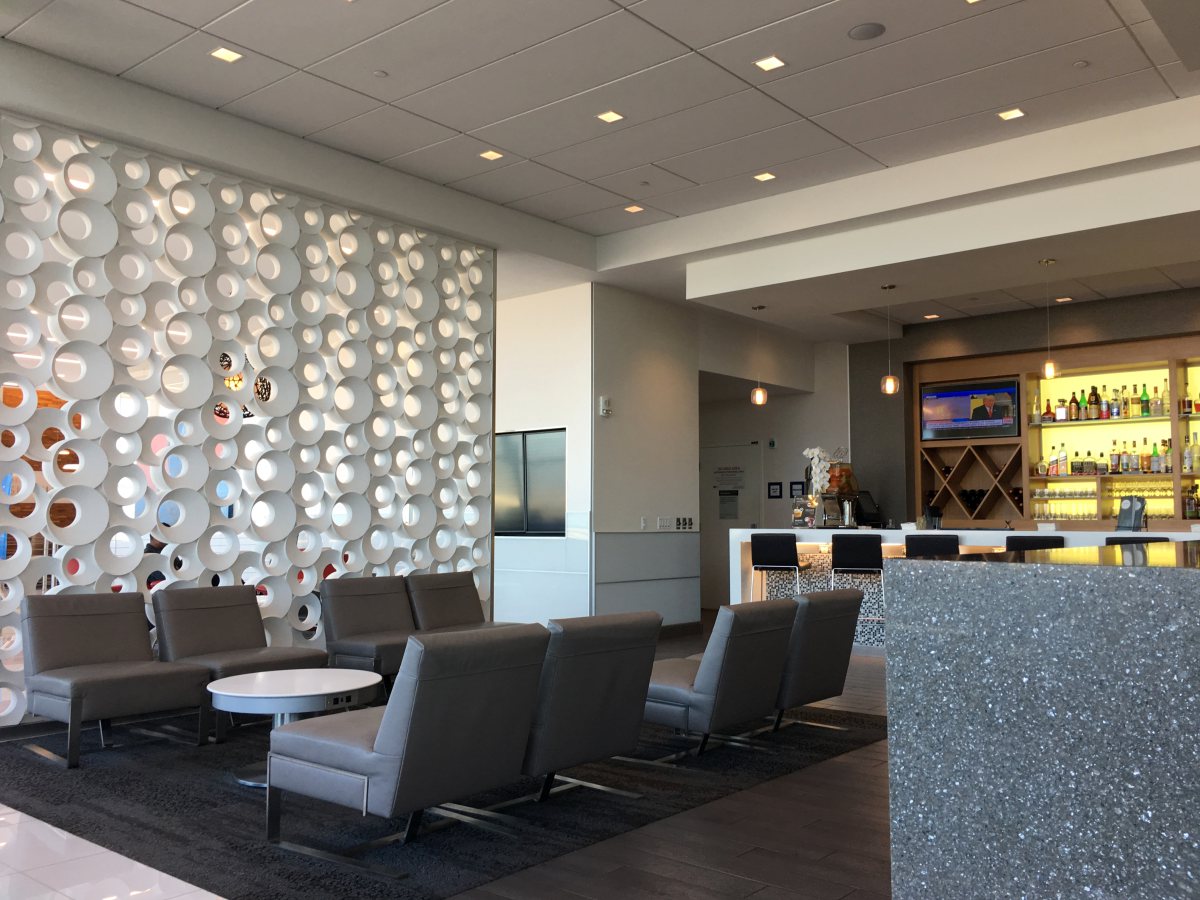 This Review of Delta's Sky Club at San Francisco SFO is from my recent 2017 visit, on the same day as my visit to the Delta Sky Club at LAX T3. The Delta Sky Club in San Francisco is much larger than its small LAX T3 Sky Club, and more akin to the Delta Sky Club in Seattle that I also visited earlier this year.
Delta Sky Club San Francisco SFO Lounge Location, Hours and Access 
The Delta Sky Club at San Francisco is located in Terminal 1, Concourse C, near Gate 41. While the entrance is on the same concourse level as the gates, you take the elevator up to the lounge itself. The lounge is open daily from 5am to 12am.
These passengers have access to the Delta Sky Club:
Delta Sky Club Members. Individual Delta Sky Club members may pay for up to two guests or spouse/domestic partner and children under 21. Delta SkyClub Executive members may bring in, free of charge, two guests or spouse/domestic partner and children under 21, and pay for additional guests.
AMEX Platinum card members, when traveling on a same day Delta operated flight. Complimentary access is for AMEX Platinum member only, although may pay for entry for up to two guests.
Delta Reserve card members traveling on a Delta operated flight.
Virgin Australia/Velocity VIP Platinum card, Platinum card or Gold card members traveling on a flight operated by Delta or Virgin Australia.
Delta One or SkyTeam Premium Cabin Passengers traveling in Delta One on an international Delta flight or a domestic Delta flight connecting to/from a same-day international Delta flight in Delta One or travel in international First/Business Class on a SkyTeam-operated flight (must be confirmed in first/business class for the international flight segment)
SkyTeam Elite Plus (including Delta Diamond, Platinum or Gold Medallion Members) traveling in any cabin on a SkyTeam international flight or a SkyTeam domestic flight connecting to or from a same-day international flight (includes same-day travel on a Delta domestic flight connecting to an international Delta—or any other SkyTeam partner—flight).
Diamond Medallion members receive complimentary individual membership and access.
At time of writing, for those eligible to pay for guests, the cost is $29 per paid guest. A day pass costs $59.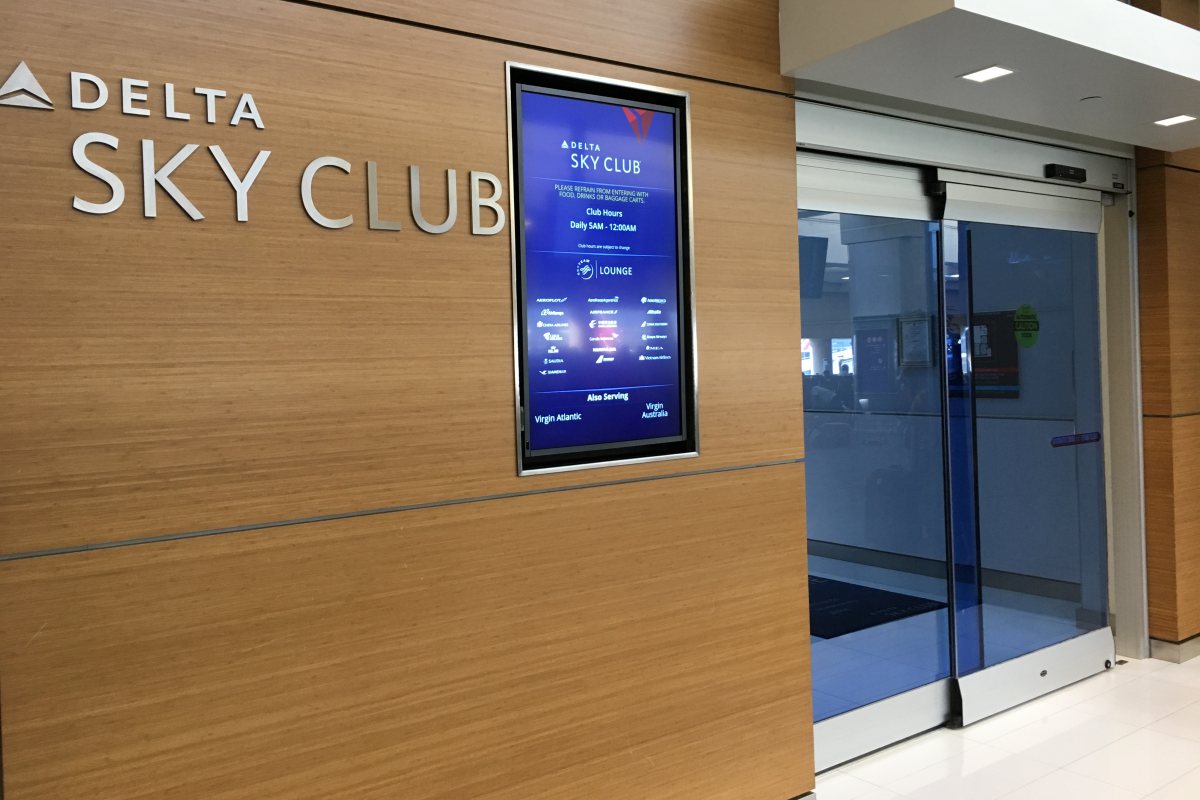 Delta Sky Club San Francisco SFO Amenities
After providing my AMEX Platinum card and Delta boarding pass (I'd just gotten off a Delta flight, and that is fine; all you need is a same day boarding pass, you can visit the lounge after the flight), I took the elevator upstairs. At the time I entered, there was no one staffing reception, but there was a great view of the tarmac.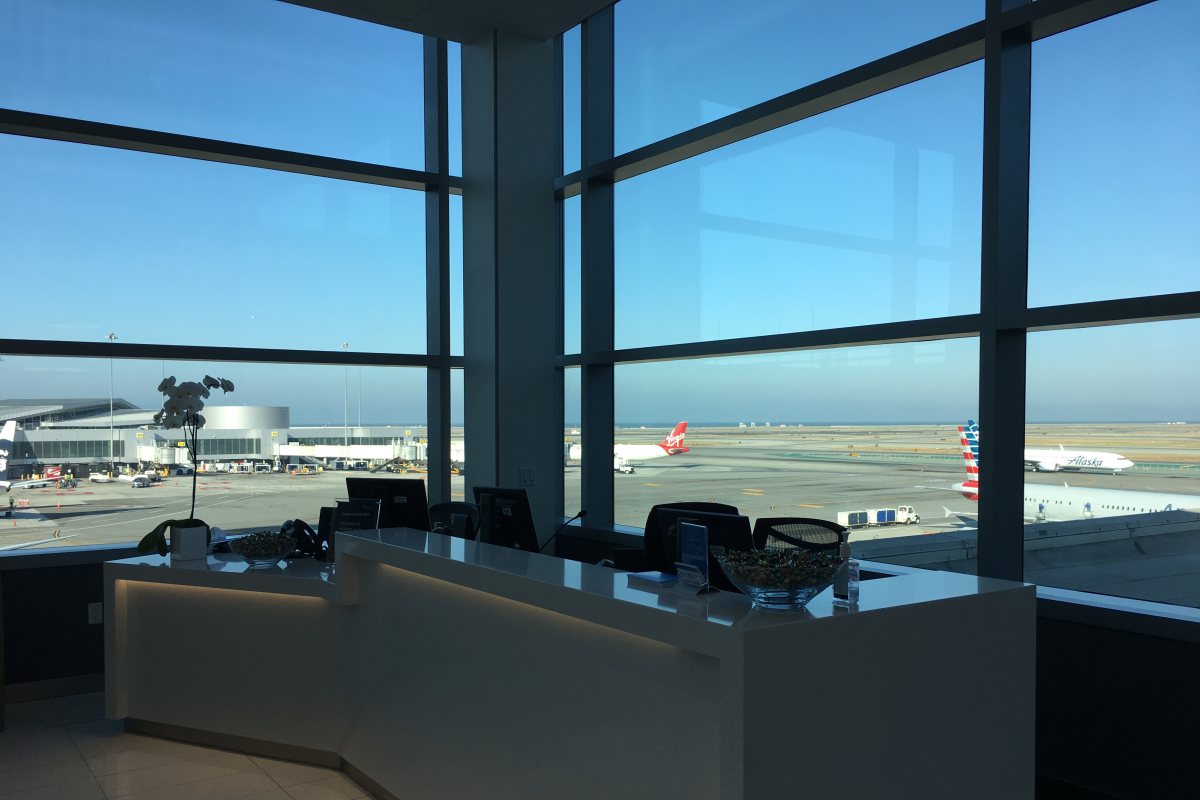 The lounge itself is large, with plenty of seating. There are some high backed chairs that offer more privacy, by the windows, and also regular arm chairs at the other end of the room. I liked the high ceilings and modern design, but most of all I loved that the lounge wasn't super crowded, the way AMEX Centurion Lounges are.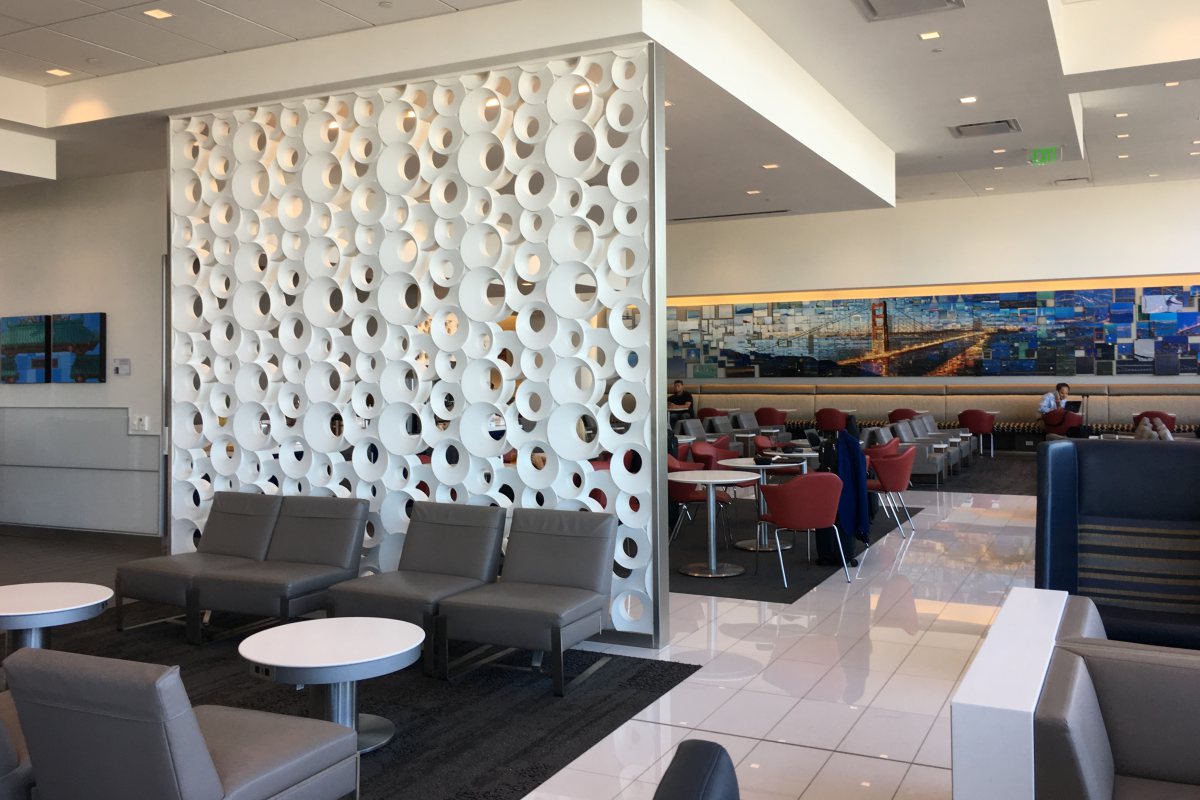 WiFi was quite fast, and I got some work done. There was a work space type area.
Personally though, I preferred the areas with natural light and views of the tarmac. Best of all was that there were power outlets thoughtfully built into tables and chairs, so there wasn't the hunt for power outlets before deciding where to sit, as there often is in lounges.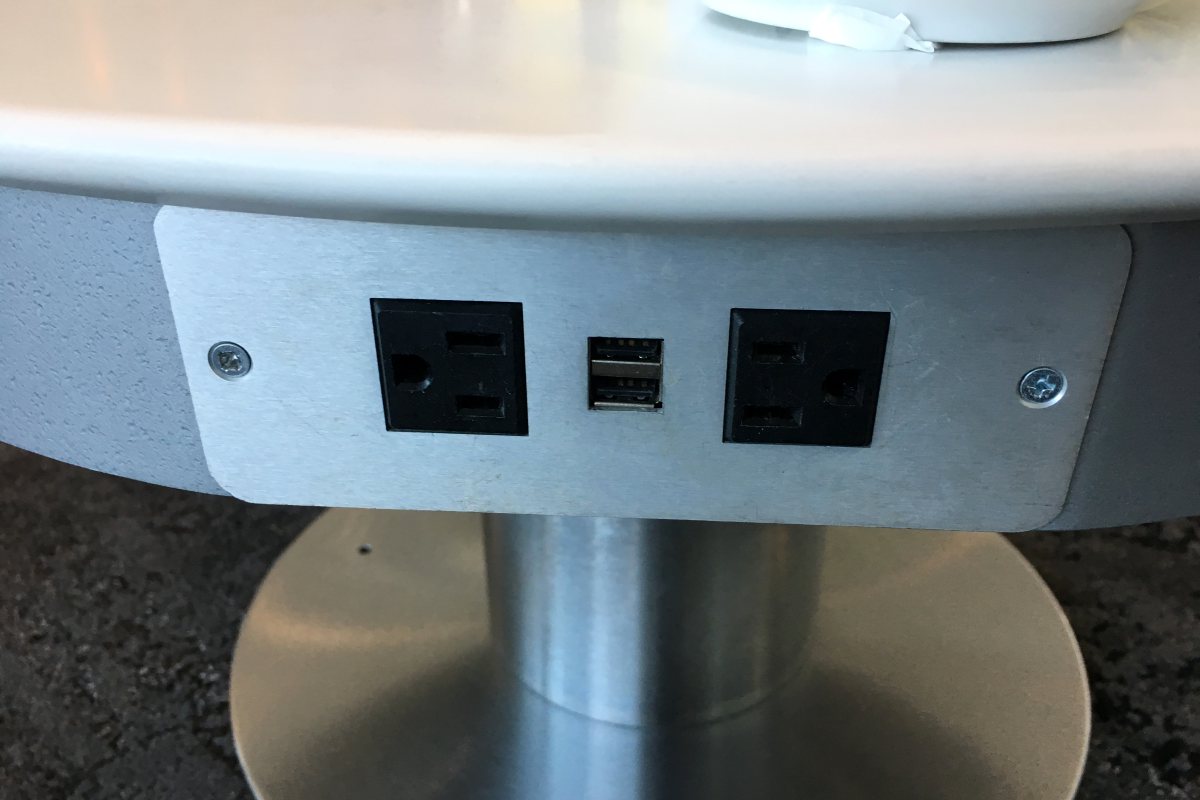 Unlike the Delta Sky Club at LAX Terminal 3, the Delta Sky Club at SFO has shower rooms, and you can request access at the reception desk upstairs. This is unlike the Delta Sky Club Seattle, where shower room access is arranged by the spa reception, because the SFO lounge does not have a spa.
The shower room itself is very similar to the one at the Delta Sky Club Seattle, with red decor, Malin & Goetz bath products, and Westin Heavenly Towels.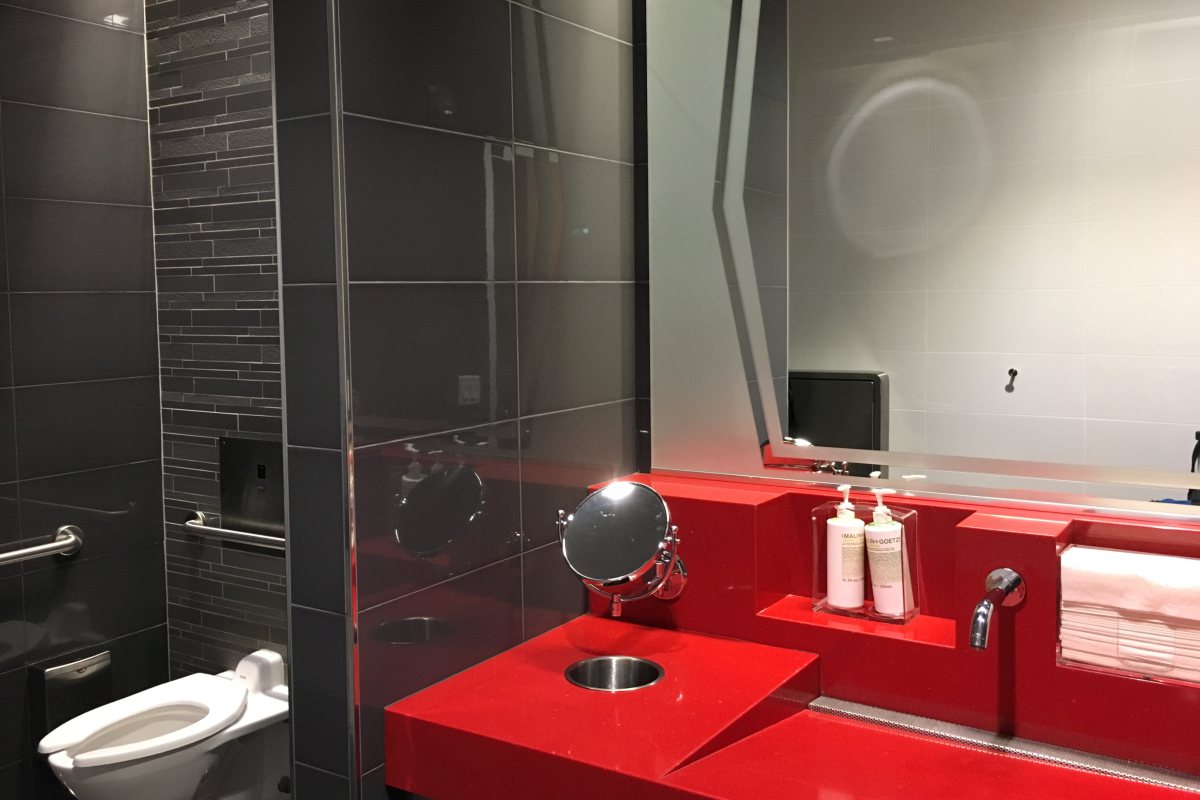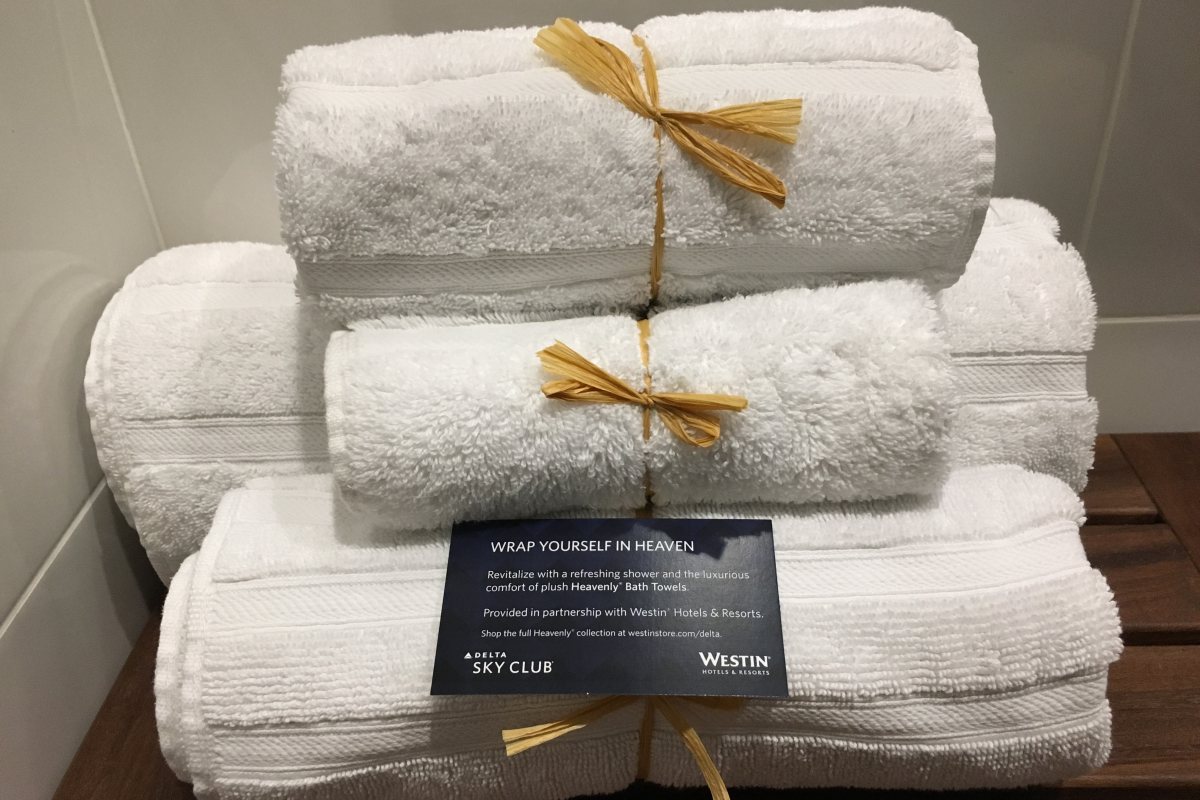 Here's a YouTube video of the Delta Sky Club SFO. Subscribe to TravelSort on YouTube to be alerted to future videos:
Delta Sky Club San Francisco SFO Food 
The food buffet here wasn't as good as at the Delta Sky Club Seattle, but it was still much better than you'll find (at least in terms of complimentary food) at other domestic airline lounges, such as United Clubs and American Admirals Clubs. As at the other Delta Sky Clubs I've visited, there were good, fresh salad options and crudites: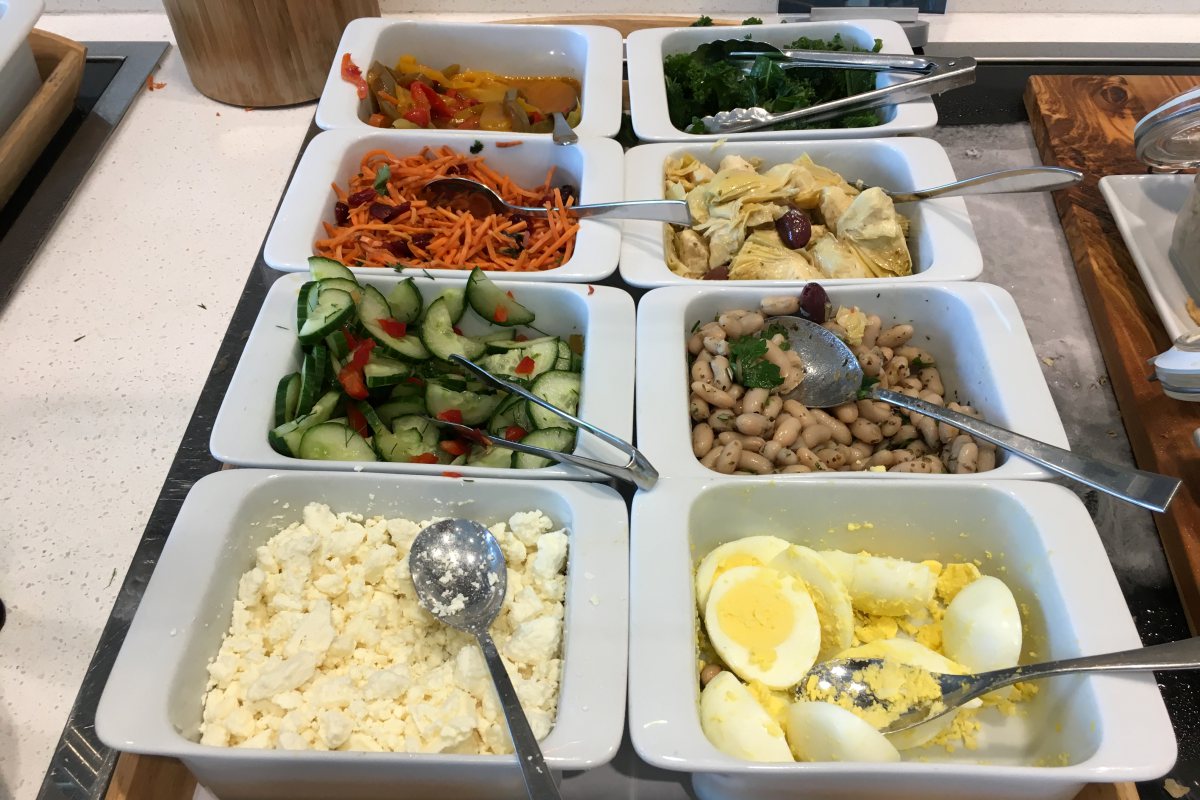 There were also a couple of types of hot soup, and the chowder was ok, although not as good as in Seattle.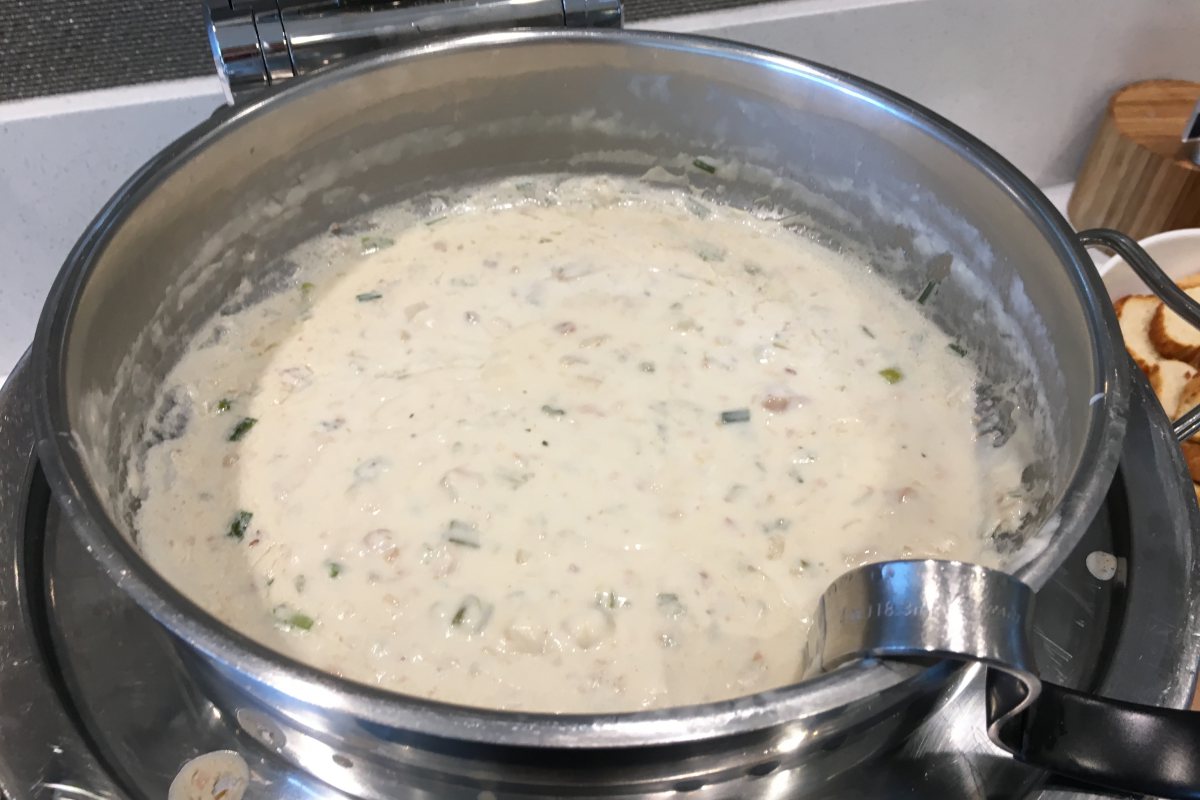 Bread rolls, crackers, cheese and hummus were also on offer: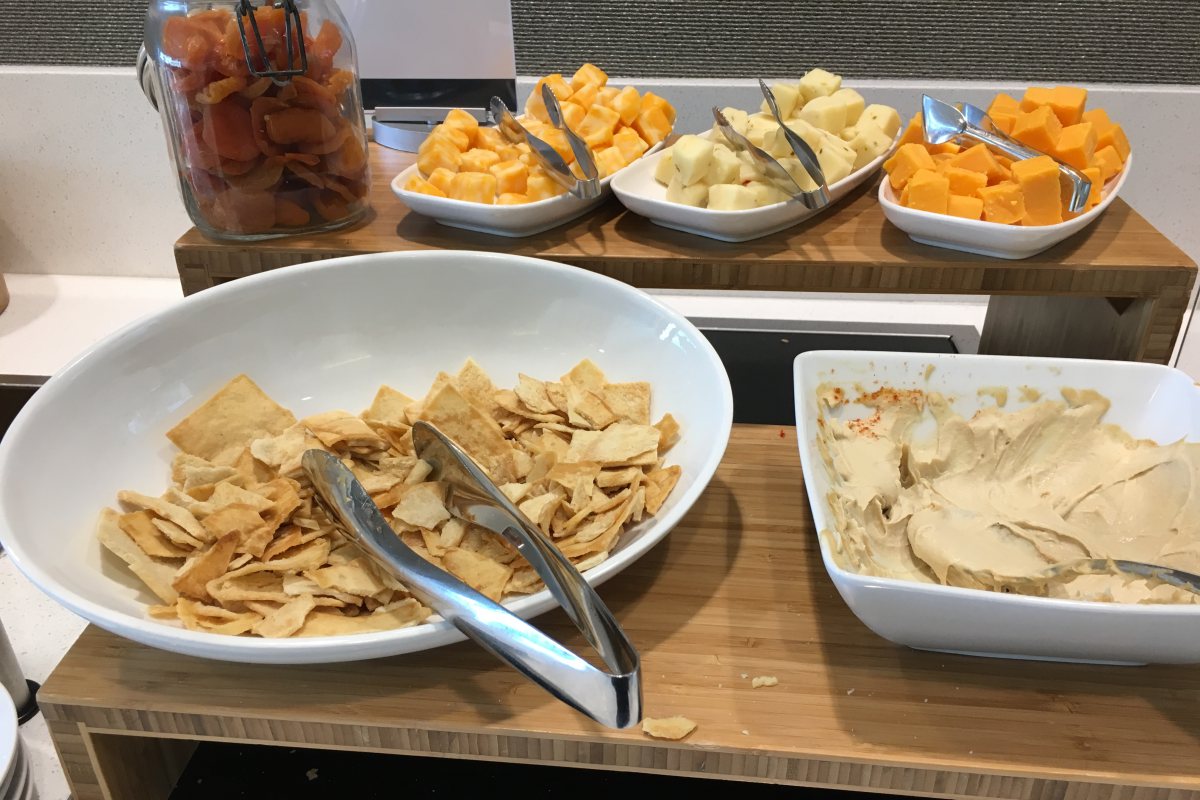 And hot dishes included a chicken and rice pilaf and a vegetarian pearl couscous dish: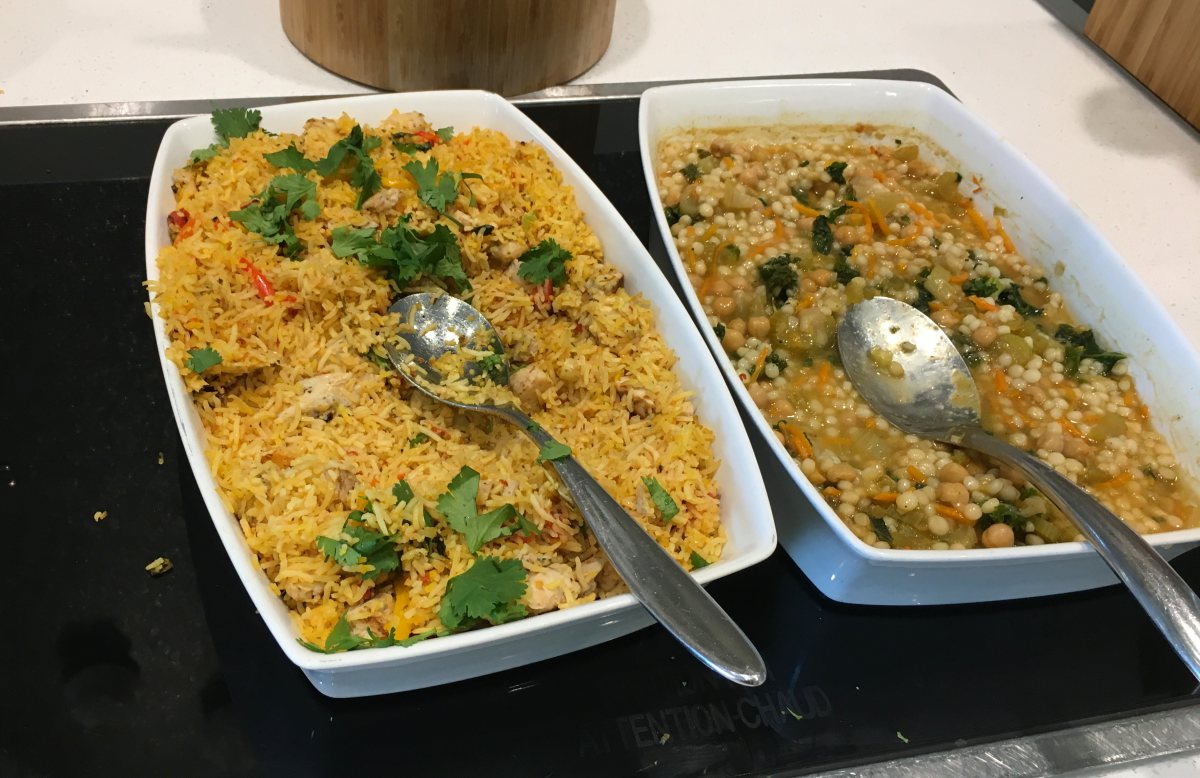 There are several complimentary wines on offer at the bar, and I had a passable Sauvignon Blanc.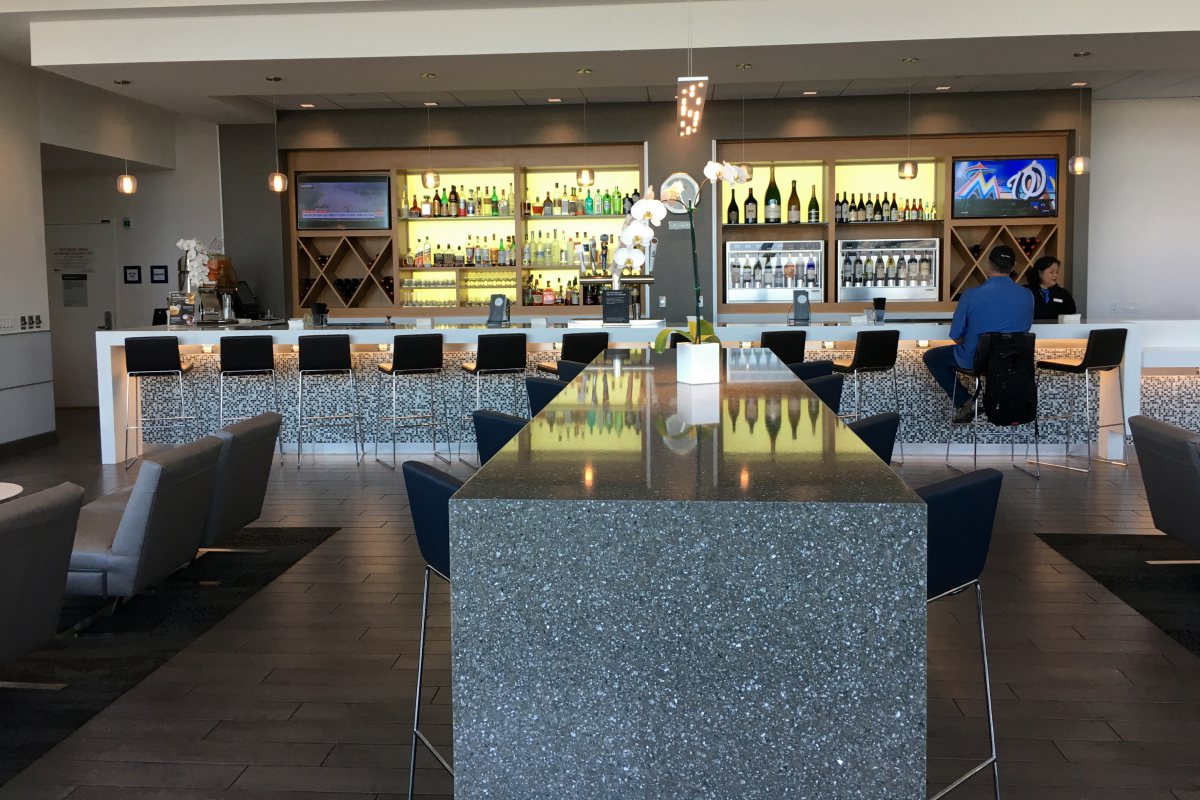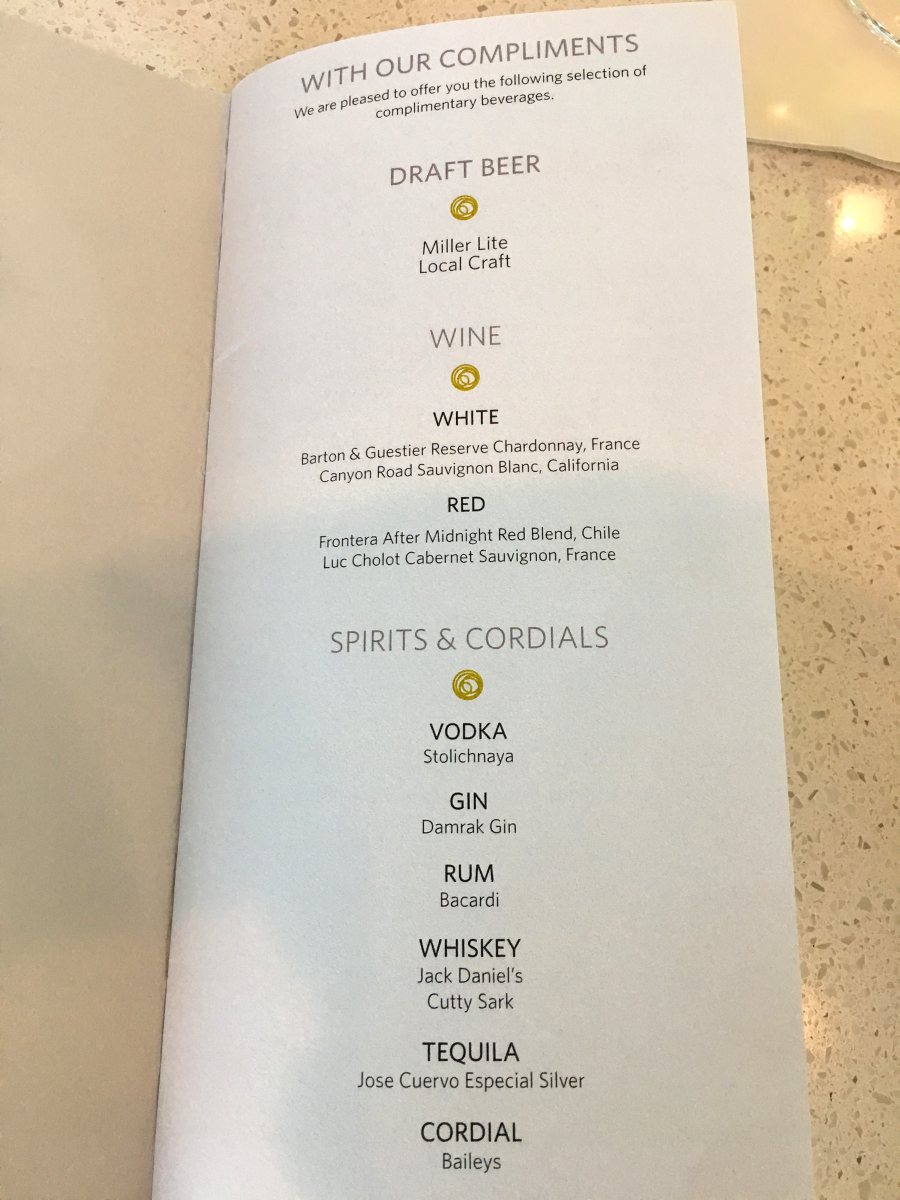 The Verdict
While I certainly am not anxious to start flying more domestically on any U.S. airline, including Delta, I'm starting to understand why some flyers are more loyal to Delta than I'd have ever thought justified, given the horrible value of Delta SkyMiles. Delta Sky Clubs are easily the best U.S. airline lounge I've been in, and as I mentioned above, I'd prefer them to AMEX Centurion lounges if I could get into them without flying Delta and if I could bring my family in complimentary (which I can't, given my access is via the AMEX Platinum).
If you've been to the Delta Sky Club at San Francisco SFO, what was your experience?
Recommended Posts
Delta Sky Club Seattle Lounge 2017 Review
Delta Sky Club Lounge Access for Guests and Kids?
Flying Delta? "We're Gonna Be in a Viral Clip!"
Airline Requirements for Flying with Emotional Support Animals
Redeem Korean Air SkyPass Miles Online for Partner Awards (But Not Emirates)
If you enjoyed this, join 200,000+ readers: follow TravelSort on Twitter or like us on Facebook to be alerted to new posts.
Subscribe to TravelSort on YouTube and TravelSort on Instagram for travel inspiration.
Become a TravelSort Client and Book 5-Star Hotels with Virtuoso or Four Seasons Preferred Partner Benefits