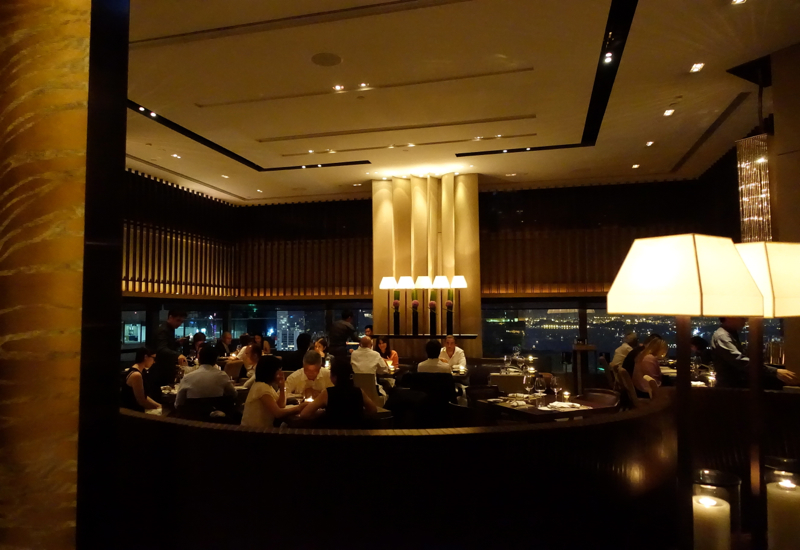 This review of Cafe Gray Deluxe at The Upper House is part of a round the world trip report including first class and business class flights, luxury hotel stays in London and Asia, and restaurant reviews.
For the prior posts, please see:
Review: British Airways Concorde Room Lounge NYC JFK Terminal 7
Review: British Airways Business Class on the 747-400 JFK-LHR
Best Seats in British Airways New First Class 747-400
Review: British Airways Arrivals Lounge in LHR and Heathrow Express to London
Launceston Place London Restaurant Review
London Tips: British Museum with Kids
Review: Rivea at Bulgari London Hotel
Review: British Airways First Class Lounge London Heathrow Terminal 3
Qantas First Class A380 Review London to Dubai
Review: Atmosphere Lounge at the Burj Khalifa Dubai
Armani Hotel Dubai Photos and Virtuoso Client Review
Dubai Fountain by Burj Khalifa Photos and Video
Review: British Airways Galleries Lounge in Dubai (DXB)
Cathay Pacific Business Class Review A330-300
Review: Lung King Heen at Four Seasons Hong Kong
Review: The Upper House Hong Kong
Cafe Gray Deluxe is helmed by Chef Gray Kunz, known for heading Lespinasse at the St. Regis Hotel, where he earned four stars from the New York Times' Ruth Reichl. Born in Singapore and raised in Switzerland, Kunz is equally at home with Asian ingredients and flavors as with exacting European culinary techniques, and the dinner menu in particular reflects this range.
Getting to Cafe Gray Deluxe at The Upper House
The Upper House, just a few minutes' walk from the Admiralty MTR Station, occupies the 38th-49th floors of a building designed by Andre Fu. Cafe Gray Deluxe is on the 49th floor, with superb city and harbor views. Across the elevator bank from Cafe Gray Deluxe is a cozy lounge, perfect for an after-dinner nightcap, although since I had work to do and my son to put to bed I didn't have a chance to enjoy it. Perhaps next time…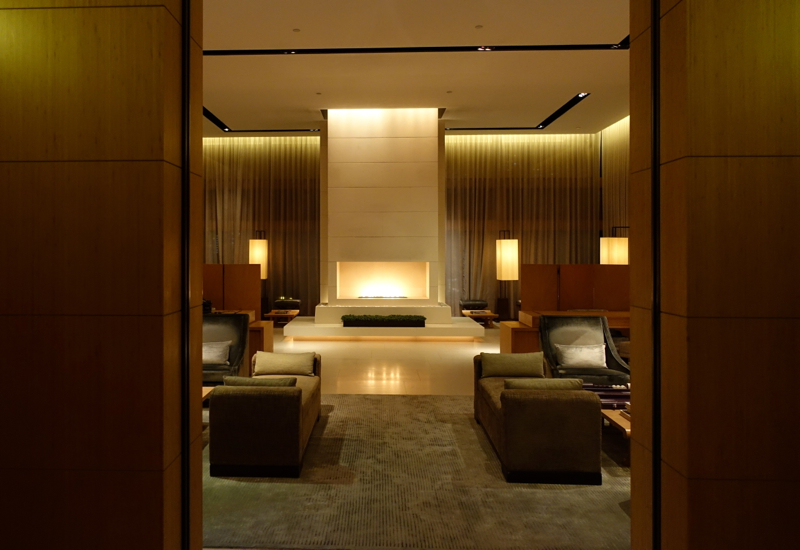 The Scene
We reserved for a 7pm dinner, and there were already a number of couples and business people seated at neighboring tables in Cafe Gray Deluxe. I had specifically requested a window table to be able to enjoy the laser show at 8pm. We were seated at a window table, but not one of the ones with good harbor views, so that was a bit disappointing. In any case, at least for the night we were there, it was difficult to actually see the laser show even from the windows closer to the harbor. We did walk over to those windows at 8pm for a couple photos, however.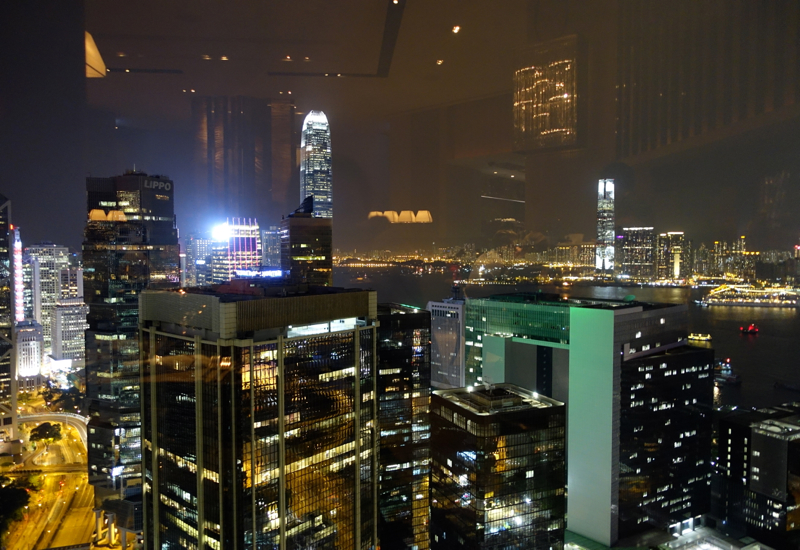 Cafe Gray Menu and Food
There were a number of intriguing choices on the menu, ranging from Lemonade Marinated Hamachi as a starter to Baharat Spice Crusted Australian Lamb Chop and Braised Shoulder Tagine among the mains.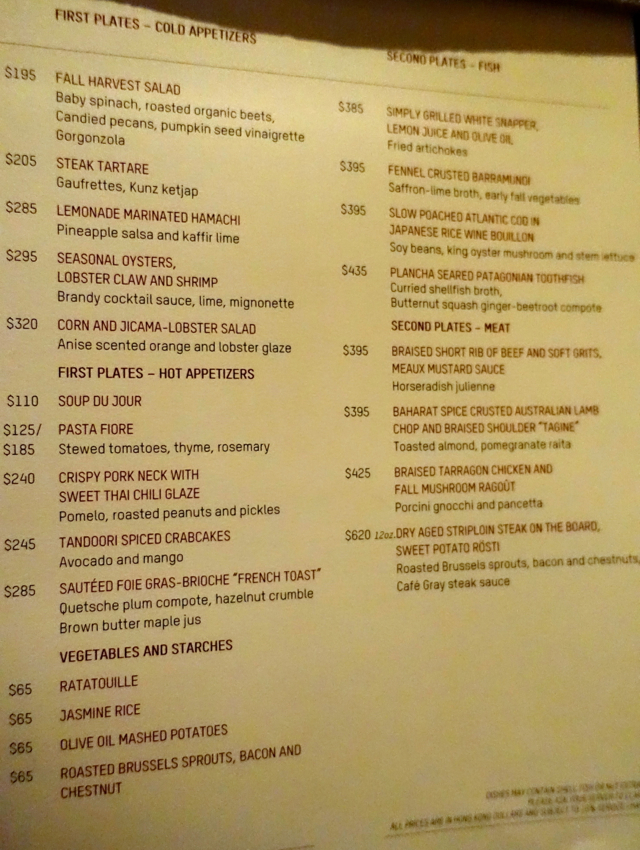 My son was given a Kids' Menu, with more straightforward kid favorites, and surprisingly, given that his favorite Macaroni and Cheese was on the menu, he opted instead for The Upper House Mini Black Angus Burger. Then again, he hadn't had quite as much dim sum as I'd had for lunch…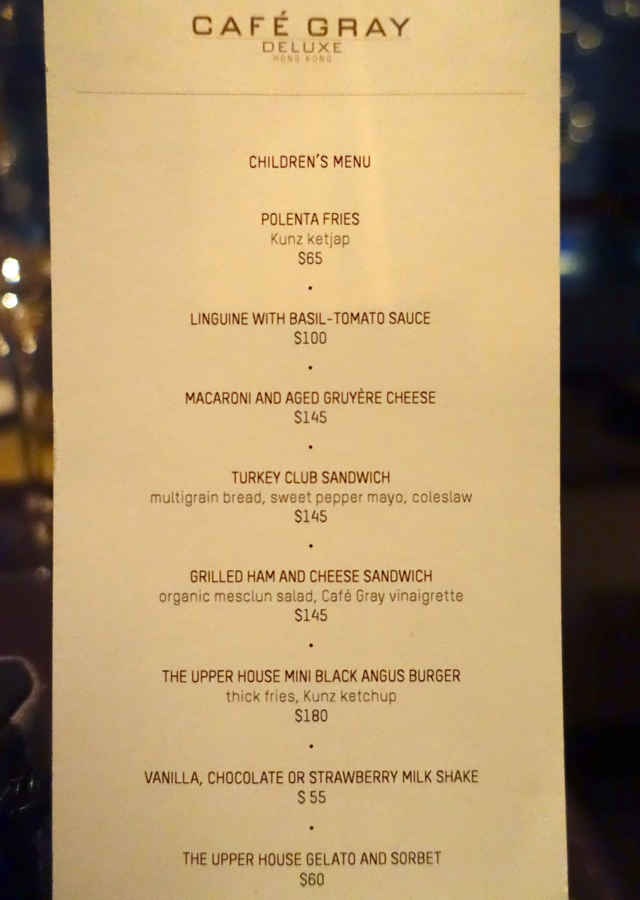 In light of our dim sum feast earlier that day, however, I opted for simply the Tandoori Spiced Crabcakes and a side dish of Roasted Brussels Sprouts.
Our server started us off with some delicious warm house baked bread, which quickly became an integral part of our meal.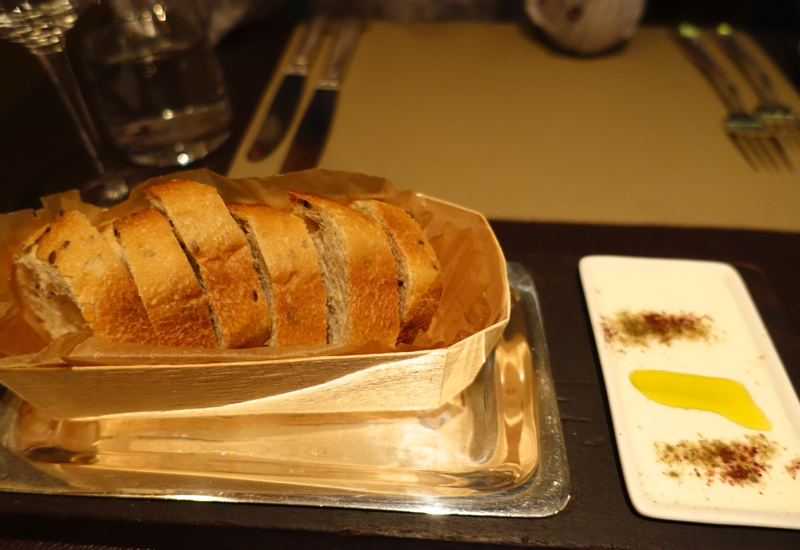 He was also kind enough to bring us some amuse bouche size tastes of some of the house specialties, including that aforementioned Lemonade Marinated Hamachi with Pineapple Salsa and Kaffir Lime (fantastic–if it's on the menu, order it), Corn, Jicama and Lobster Salad (also very good) and one other amuse bouche.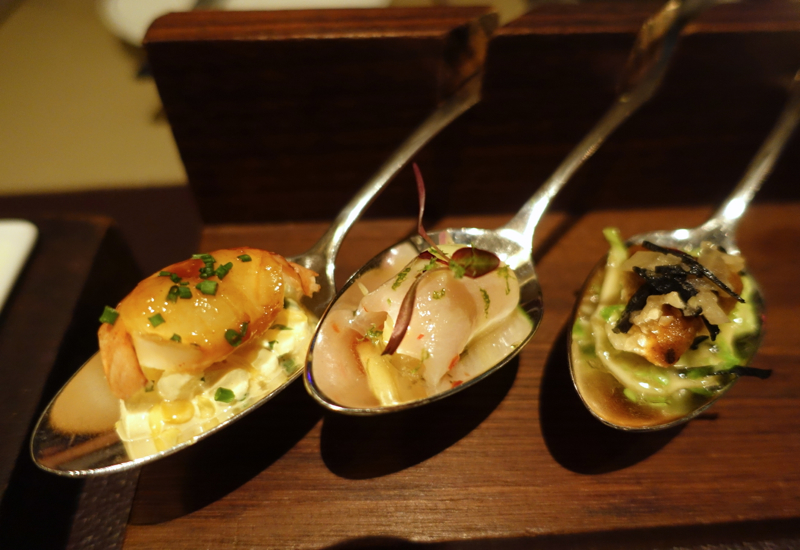 The munchkin loved his burger when it arrived, and it looked to me like a regular size portion. That ended up being a good thing, because he pretty much devoured all of it. His only complaint was that the salad came with salad dressing, which he hasn't learned to like yet–I usually end up giving him plain salad at home, and had forgotten to ask for the dressing to be left off.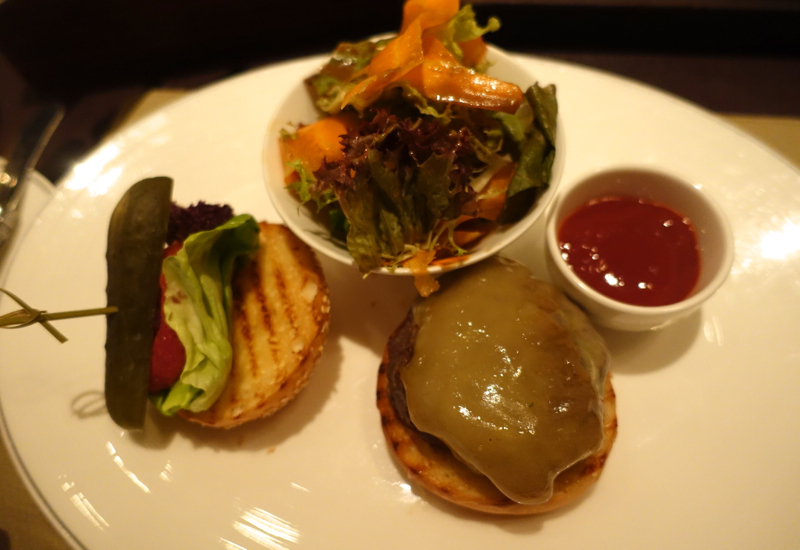 Instead, for a vegetable, he ate some of my side dish of Roasted Brussels Sprouts with Bacon and Chestnut. The flavors married perfectly and the brussels sprouts had a nice smoky char to them–definitely a great fall dish.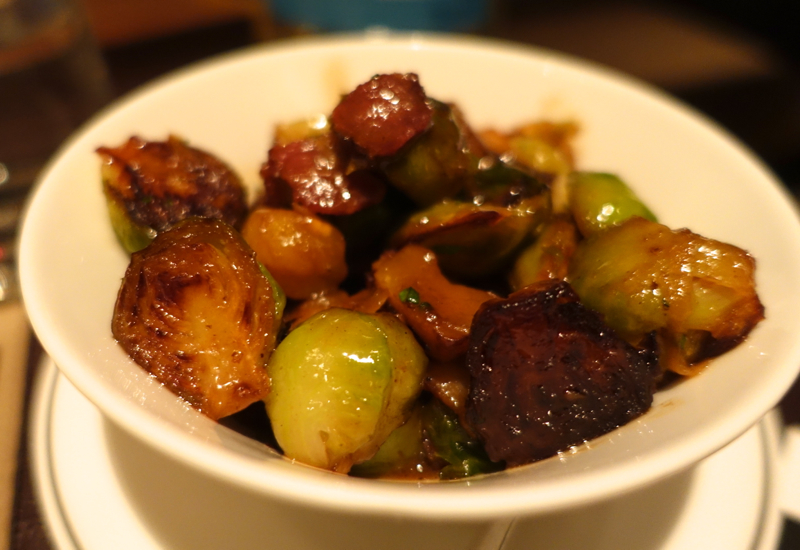 My second favorite taste of the night, after the Lemonade Marinated Hamachi, was that of the Tandoori Spiced Crabcakes with avocado and mango. As I anticpated, the crabcakes were full of delicious, sweet crab, with just the right dusting of tandoori spice, and plated artistically on a brush stroke of avocado puree with some avocado salsa atop.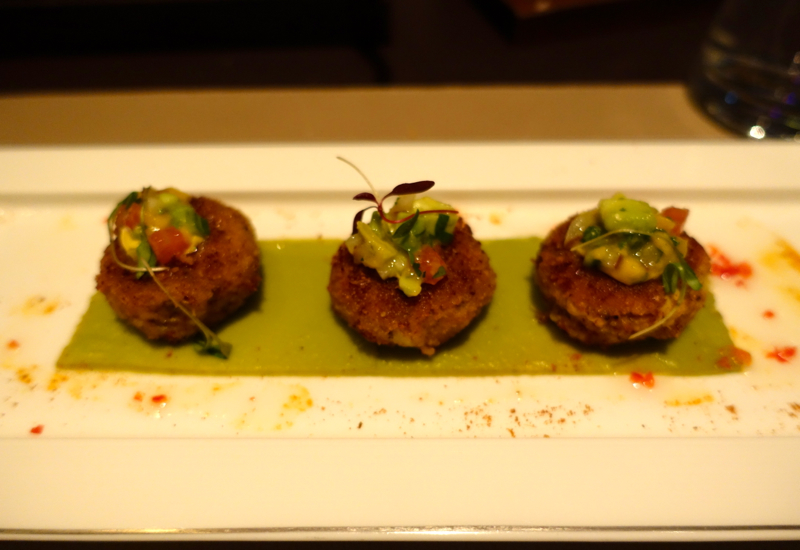 It took some time for my son to polish off most of his burger, and by that point it was getting late and close to his bedtime. There were a couple of interesting options on the dessert menu, and if I'd been dining more leisurely with my husband, I would have liked to have tried the hazelnut souffle or perhaps the dark chocolate key lime tart, since my husband enjoys key lime.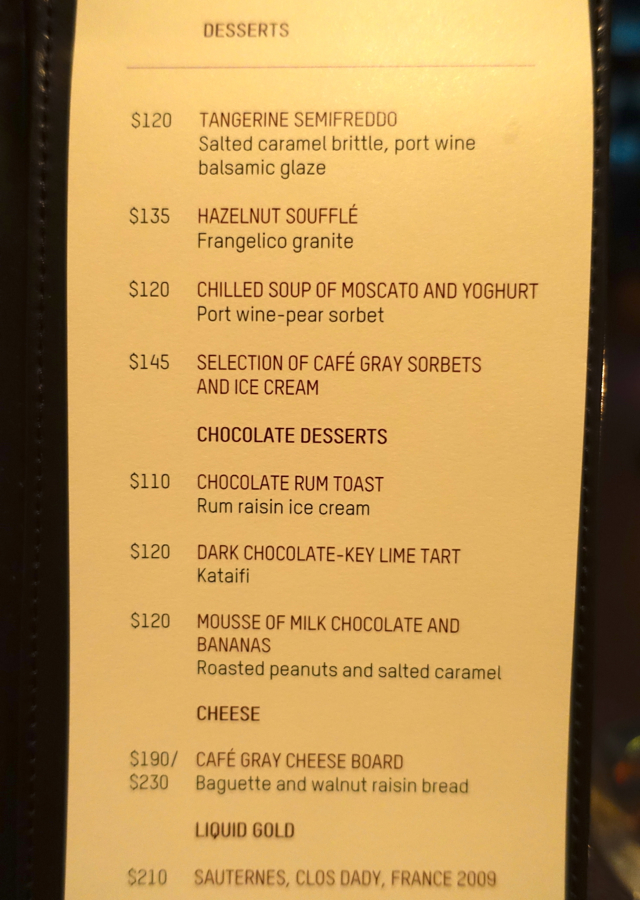 Instead, we decided to try the selection of Cafe Gray sorbets and ice creams, as it wouldn't require the 25 minutes baking time that the souffle takes.
Pre-dessert, we were served generous bowls of dark chocolate and milk chocolate chunks. The munchkin's eyes widened at all the chocolate placed in front of us, so I served us each a couple chunks. Good quality, as to be expected, but personally I would have preferred Amedei chocolates as served in Qantas First Class, or housemade mignardises or macarons.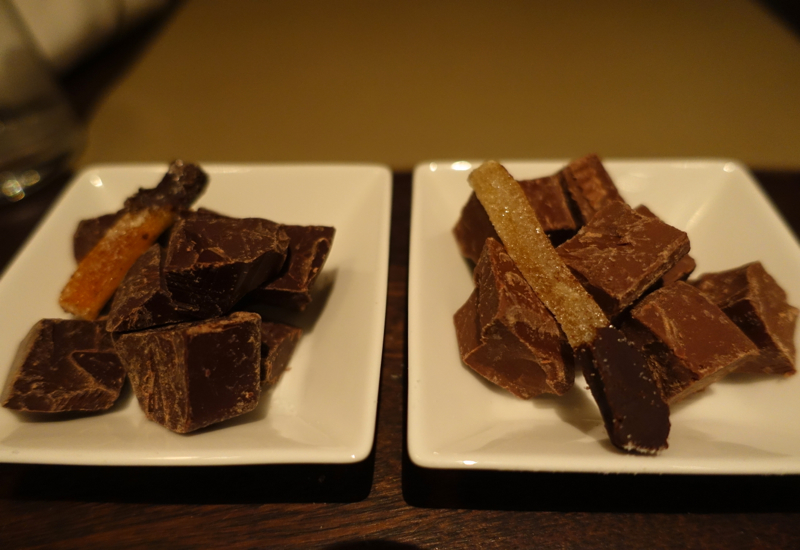 The housemade ice creams and sorbets were presented beautifully. My favorites were the raspberry sorbet and chocolate ice cream, while the munchkin most enjoyed the vanilla bean ice cream and pear sorbet.
The Service
My emailed request for a reservation was responded to quickly, our service in the restaurant was impeccable, and afterwards, when I inquired about an early room service breakfast, that was quickly taken care of as well. The main quibble I had was with our table placement, but at the end of the day it really didn't matter much, since the laser show wasn't that visible. It would have also been nice if our server could have told us about the dessert souffle as a menu option at the outset, given the lengthy time for it to bake.
The Verdict
While my first choice for a meal in Hong Kong is dim sum for brunch or lunch, Cafe Gray is a perfect choice for drinks at the bar or a romantic dinner. I loved the many appetizer and small plate choices, and had I been hungrier, the seafood and savory meat main dishes also looked tempting. While my son was the only child there when we dined for dinner, I appreciated that there was a dedicated kids' menu, which I wouldn't have assumed there would be, given that The Upper House, as a sleek design hotel, tends to attract fewer families than, say, The Four Seasons Hong Kong. In short–top notch food and service, and recommended when you're seeking a special dinner with creative international dishes in a beautiful and intimate setting, and not dim sum or traditional Cantonese cuisine.
If you've dined at Cafe Gray at The Upper House, what was your experience?
Related Posts
Review: The Upper House Hong Kong
Cathay Pacific First Class Review NYC JFK to Hong Kong
Tin Lung Heen Hong Kong Dim Sum Review
Disclosure: I paid for our meal at Cafe Gray Deluxe.
Need Award Booking Help? Our fee is as low as $75 per ticket if you book your hotel through us.
If you enjoyed this, join 150,000+ readers: please follow TravelSort on Twitter or like us on Facebook to be alerted to new posts.
Become a TravelSort Client and Book 5-Star Hotels with Virtuoso or Four Seasons Preferred Partner Amenities!