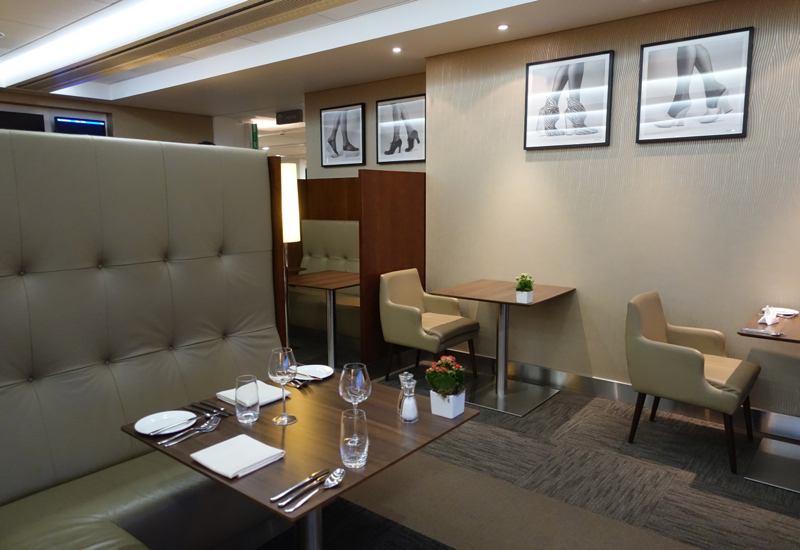 This British Airways First Class Lounge Review at London Heathrow T3 is part of a trip report covering luxury travel in London, Dubai, Hong Kong and more, including first class and business class flights, luxury hotel stays in London and Asia, and restaurant reviews. For the prior posts, please see:
Review: British Airways Concorde Room Lounge NYC JFK Terminal 7
Review: British Airways Business Class on the 747-400 JFK-LHR
Best Seats in British Airways New First Class 747-400
Review: British Airways Arrivals Lounge in LHR and Heathrow Express to London
Launceston Place London Restaurant Review
London Tips: British Museum with Kids
Review: Rivea at Bulgari London Hotel
Previously, we've flown British Airways First Class from London and had access to the British Airways Concorde Room at London Heathrow Terminal 5. This time, we were flying Qantas First Class from LHR Terminal 3, so instead we accessed the British Airways First Class Lounge in LHR T3.
Location, Hours and Access to British Airways First Class Lounge at London Heathrow Terminal 3
The British Airways Galleries First Class Lounge in Terminal 3 is located in Zone F, and is open daily from 5am until the last departure of the night (so no overnight sleeping in the lounge).
First Class Lounge access is for passengers traveling in First Class on British Airways or a oneworld airline such as Qantas or Japan Airlines, and oneworld Emerald elite frequent flyers. You check-in on the left for access to the First Class Lounge. For business class passengers, access to the Galleries Lounge is straight ahead.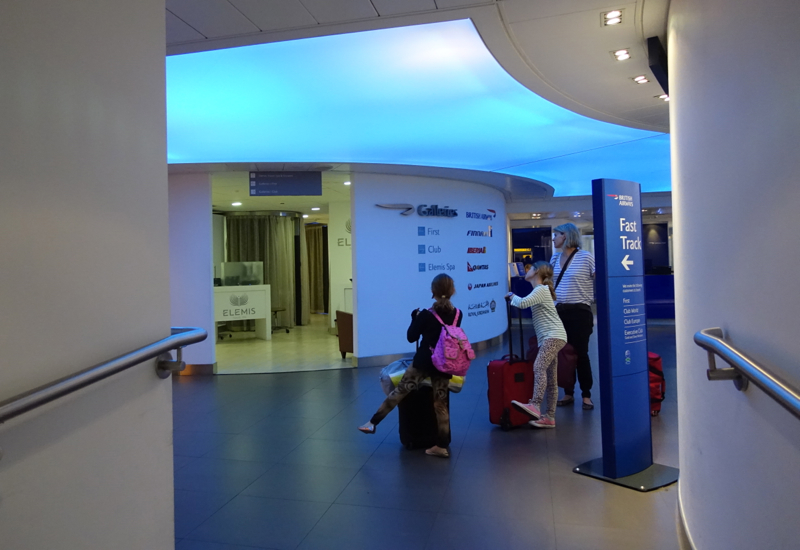 British Airways First Class Lounge LHR T3 Amenities
The British Airways First Class Lounge in T3 offers the usual international lounge amenities: business center, WiFi, buffet dining, bar, self-serve espresso bar, showers, and also pre-flight dining with cooked to order items for those who want to sleep on their flight.
There are no nap rooms, let alone cabanas, as there are in the Concorde Room, just the usual seating, but the left side of the lounge with the business center and other seating was not terribly crowded when we were there in the early evening.
Don't expect any kind of Elemis spa treatment, since there apparently hasn't been a working Elemis spa here in awhile, according to the lounge reception staff that checked us in.
British Airways First Class Lounge Food, Drink and Pre-Flight Dining
The first thing you see upon entering the British Airways First Class Lounge is the Champagne Bar. It seemed to see remarkably little use (I never saw anyone seated there during our two hours in the lounge) although it was arguably the prettiest part of the lounge.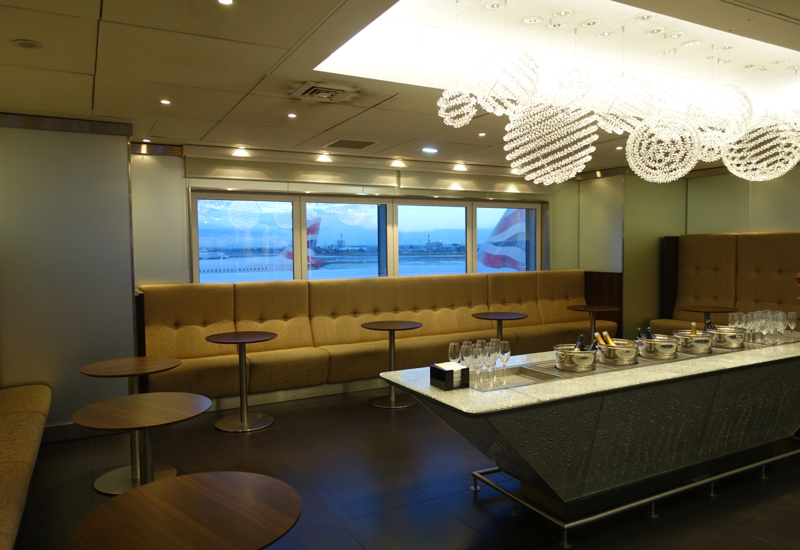 When facing the Champagne Bar, the business center and one seating area is to the left (usually the least crowded, since there's no food in that part of the lounge).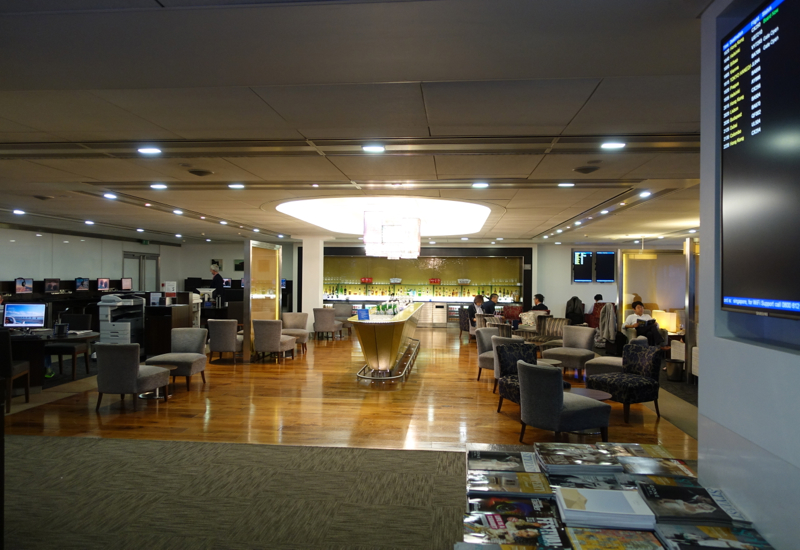 To the right, there's a self-serve espresso bar similar to what you find in most British Airways Galleries lounges: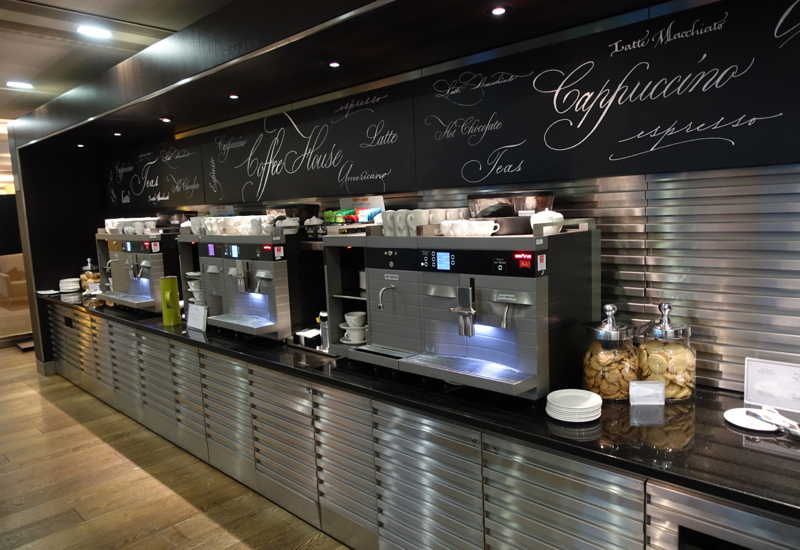 After passing the espresso bar you come to another seating area and the buffet. There was a salad bar, various hot items such as savory tarts and quiche, salmon patties, cold cuts, and cheese selection. Since my son was already hungry, he had some quiche, salmon patty and salad.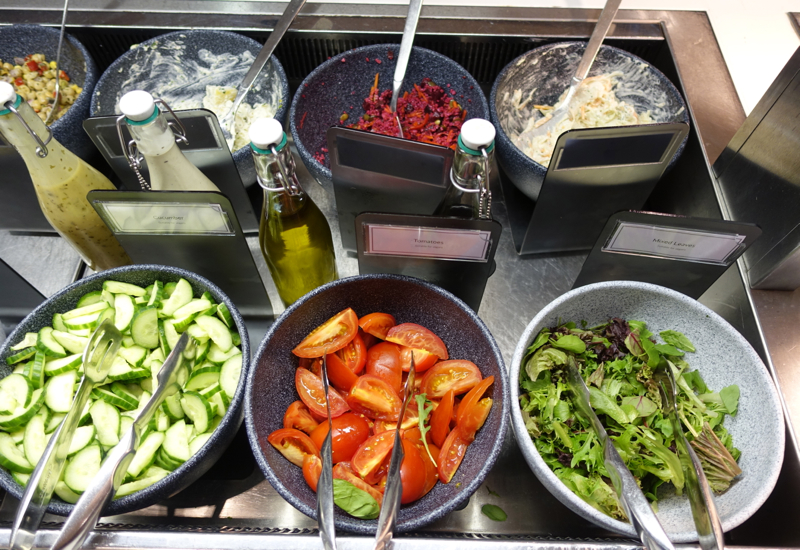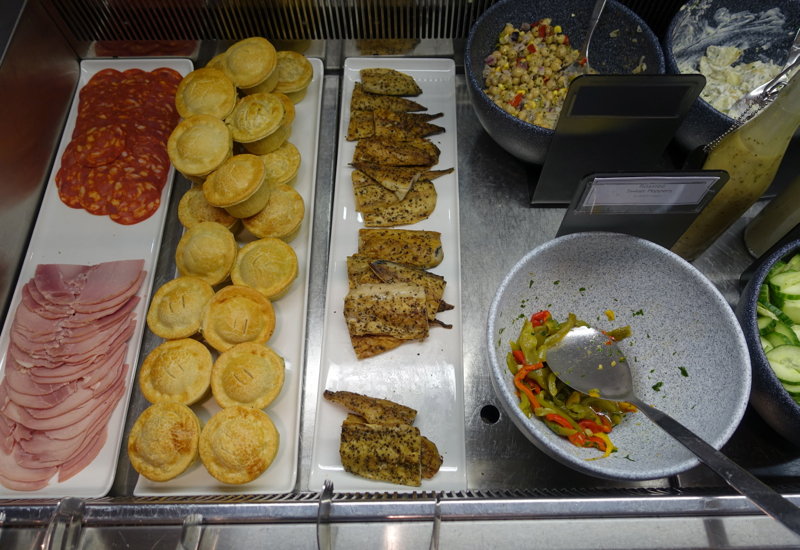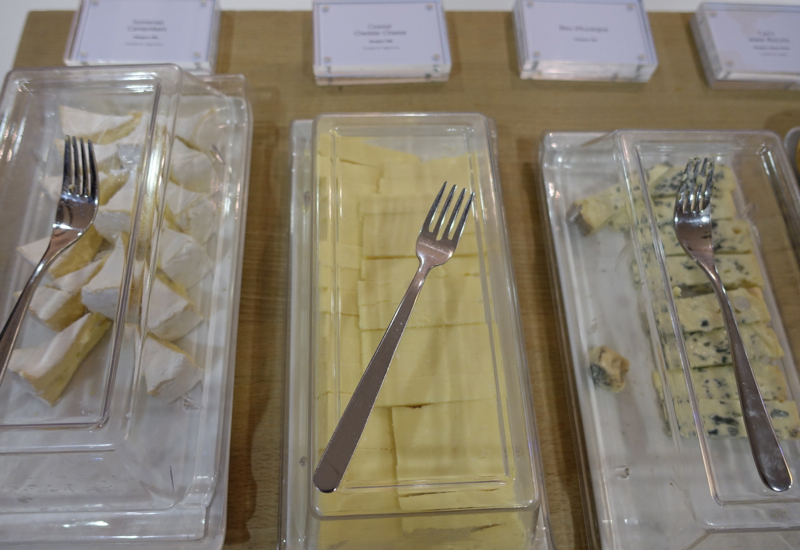 There were also a couple of desserts, chocolate profiteroles and lemon cheesecake, although neither looked that appetizing to me: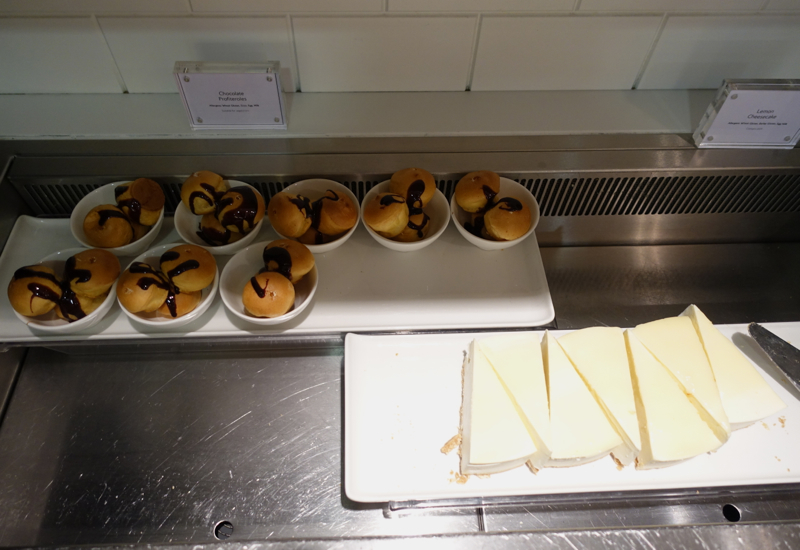 Pre-Flight dining begins at 6:30pm, so we were seated for that. The seating features several tables around the perimeter, but since we were among the first to be seated, we were able to sit in one of the booths, with a great view of the tarmac: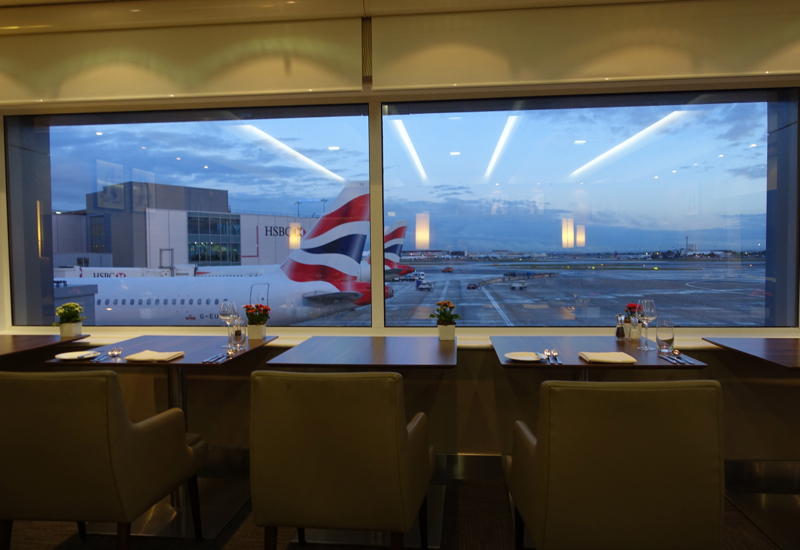 The menu items were very basic–this isn't the Concorde Room, after all: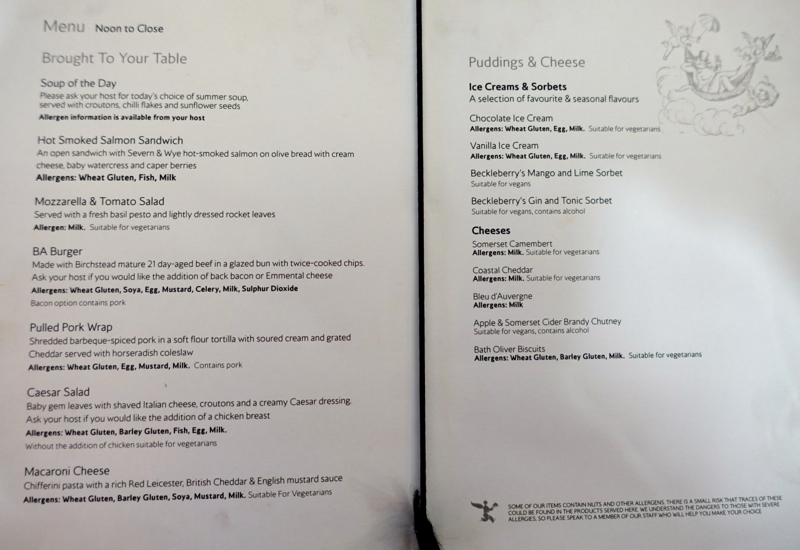 The munchkin ordered his favorite macaroni and cheese, and that was clearly the best of the two dinner items we tried. Personally I prefer Trader Joe's macaroni over this version, but it was decent.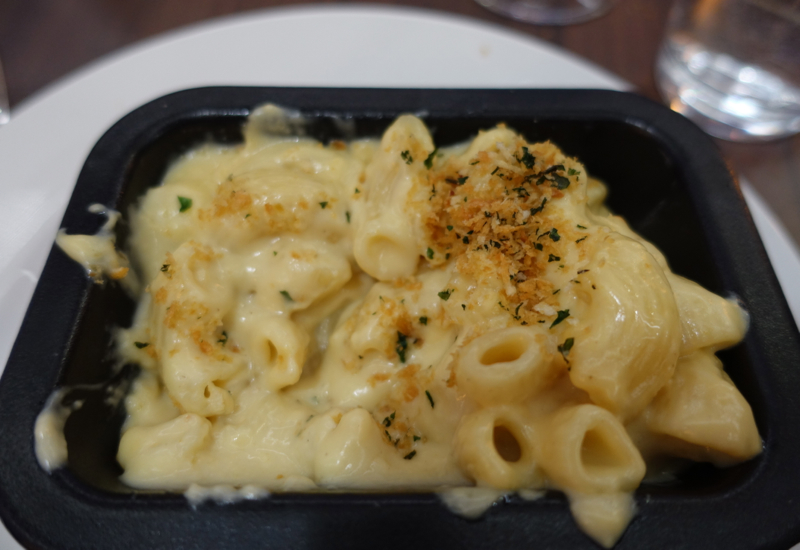 I was curious to see whether the burger would be as bad as it was in the British Airways Concorde Room, or if somehow the terrible burger I'd had there was a one-off, so I ordered the burger. Clearly I'm a glutton for punishment, because it was every bit as bad, if not worse. Poor quality meat, spiced weirdly, and tough and overcooked. I can honestly say I've never had a worse burger than in the British Airways First Class Lounge and the Concorde Room. Strongly *not* recommended.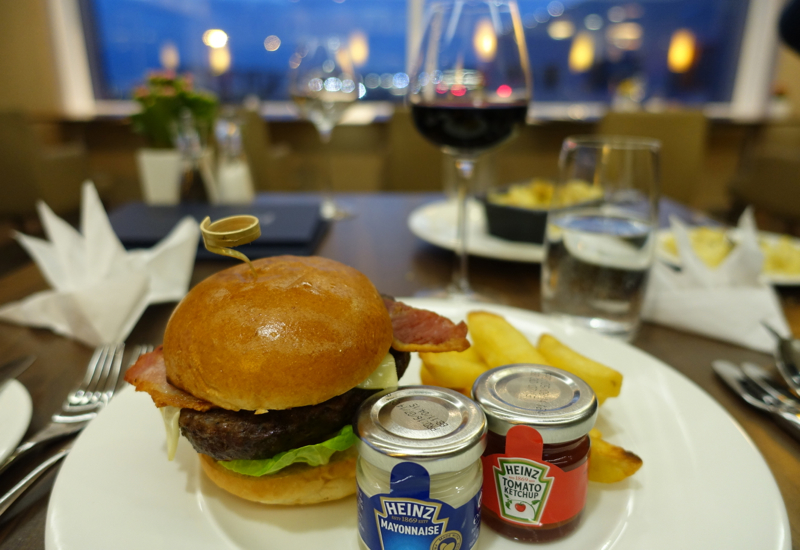 It was disappointing not to have more choices for dessert, so we simply ordered the mango lime sorbet, and that was the best thing I ate in the lounge, even though I've definitely had better mango sorbets.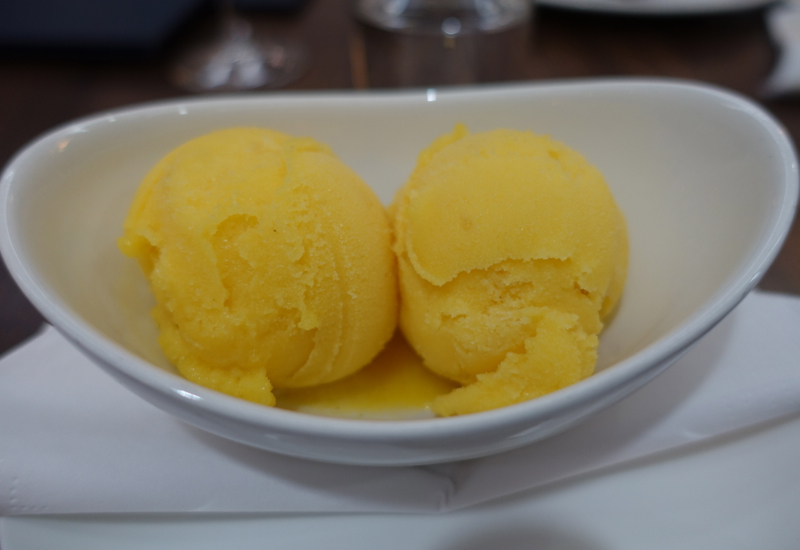 The Verdict
The British Airways First Class Lounge in London Heathrow Terminal 3 was perfectly fine for getting some work done, since WiFi worked well enough for my purposes, but it was one of the more underwhelming international airport lounges I've been in from a dining perspective, particularly when we'd had such a recent stellar experience at the British Airways Concorde Room in JFK for pre-flight dining. Particularly if you're flying Qantas First Class, I recommend eating little to nothing in the British Airways Lounge, as catering on board Qantas is far, far better.
If you've been to the British Airways First Class Lounge in London Heathrow Terminal 3 and had the pre-flight supper or tried the buffet, what was your experience?
Related Posts
British Airways Concorde Room and Cabana Heathrow Review
Review: British Airways Arrivals Lounge in LHR and Heathrow Express to London
British Airways Galleries Lounge New York JFK Review
British Airways Avios Best Deals
How to Maximize the British Airways Companion Ticket
Need Award Booking Help? Our fee is as low as $75 per ticket if you book your hotel through us.
If you enjoyed this, join 150,000+ readers: please follow TravelSort on Twitter or like us on Facebook to be alerted to new posts.
Become a TravelSort Client and Book Luxury Hotels with Virtuoso or Preferred Partner Amenities!