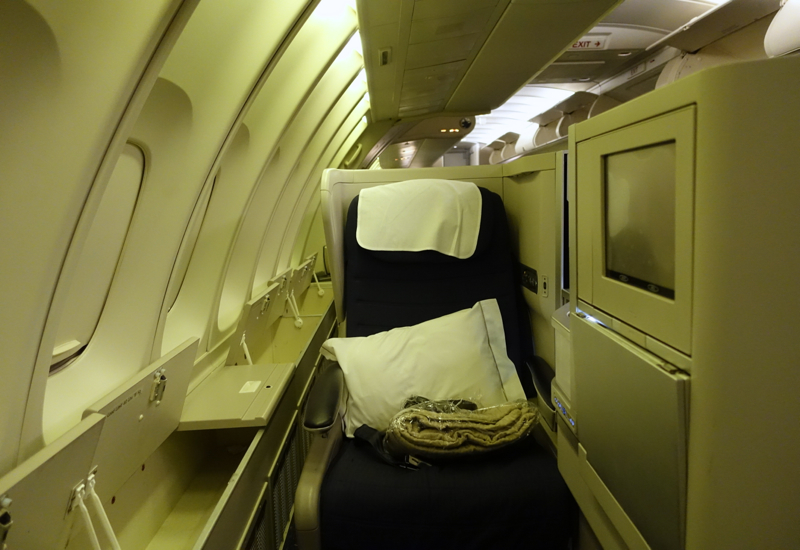 British Airways Club World Business Class on the 747-400 is far from a cutting edge product as business class seats go, but Club World has had a reliably fully flat bed business class seat for 15 years, since 1999, which counts for something. After all, Lufthansa Business Class, Air France Business Class and KLM Business Class until fairly recently all had angled flat business class products even on long haul international flights.
Since the last time I flew British Airways Club World was before TravelSort, during my consulting days, I figured a review was in order. This is part of a mini round the world trip report including first class and business class flights, luxury hotel stays in London and Asia, and restaurant reviews.
For the prior post, please see:
Review: British Airways Concorde Room Lounge NYC JFK Terminal 7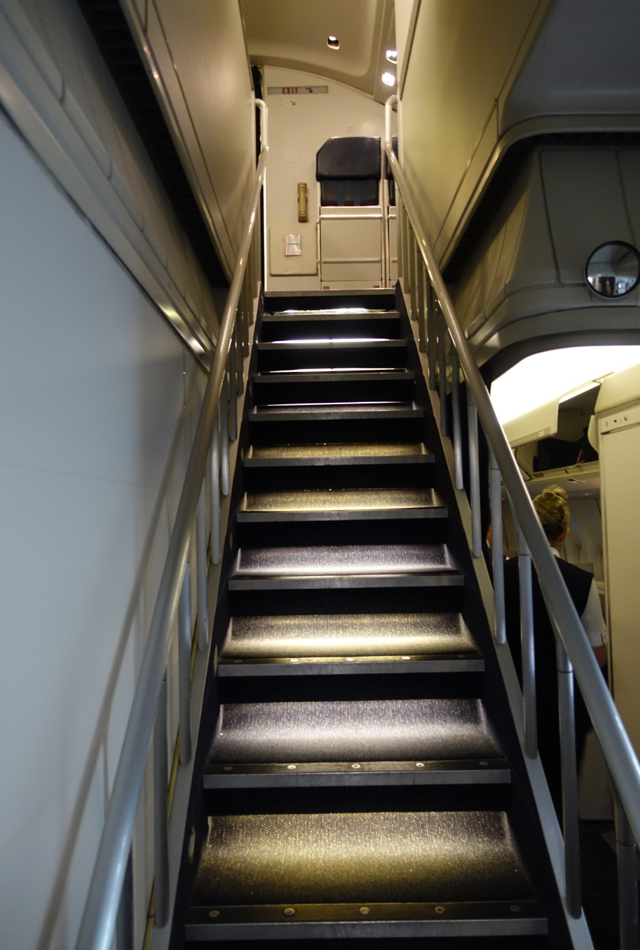 British Airways Club World Business Class Seat Selection
I gave the munchkin my British Airways New First Class seat and got him settled (he was even sleeping by take-off) then took my seat on the upper deck, in seat 64A. Now, one of my least favorite things about British Airways Business Class is that there is no free advance seat assignment–you have to pay in order to select your seat in advance.
Personally, I have a strong preference for the Upper Deck of the 747, because it tends to be more private and quieter, hence better for sleeping. I was willing to pay the ~$120, using part of a bonus for the Barclaycard Arrival Plus World Elite MasterCard, such that I was able to get it for free via a statement credit for the purchase (see Barclaycard Arrival Plus World Elite MasterCard: Top 10 Tips to Maximize Rewards from the 40,000 Bonus).
In addition to the Upper Deck, I also prefer Club World window seats, because they're more private, not subject to aisle foot traffic, and have extra storage space via cubbies along the wall. Many folks like 62A and 62K, but those exit row seats are generally not available to prebook. So instead, I reserved 64A, the first window seat on the left as you enter the upper deck, and was happy with my choice.
Here's British Airways' Upper Deck on the 747: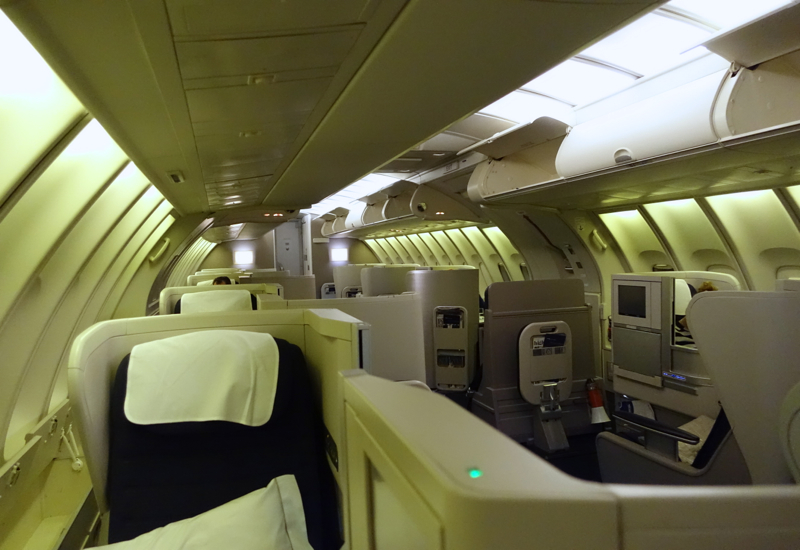 And here's the view from Seat 64A: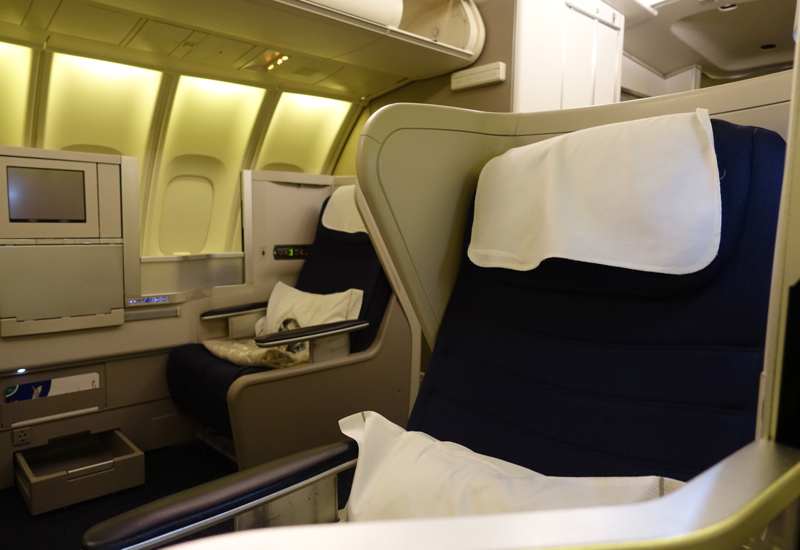 British Airways Club World Seat
The Club World business class seat is fairly narrow, at 20 inches, and either faces in the direction of travel or in the reverse. If it bothers you to not be facing the direction of travel or if you definitely want a window seat, I would recommend paying to get an advance seat assignment, otherwise there may be little to choose from when the free seat selection opens with online check-in 24 hours prior to departure.
Seat controls are basic and intuitive: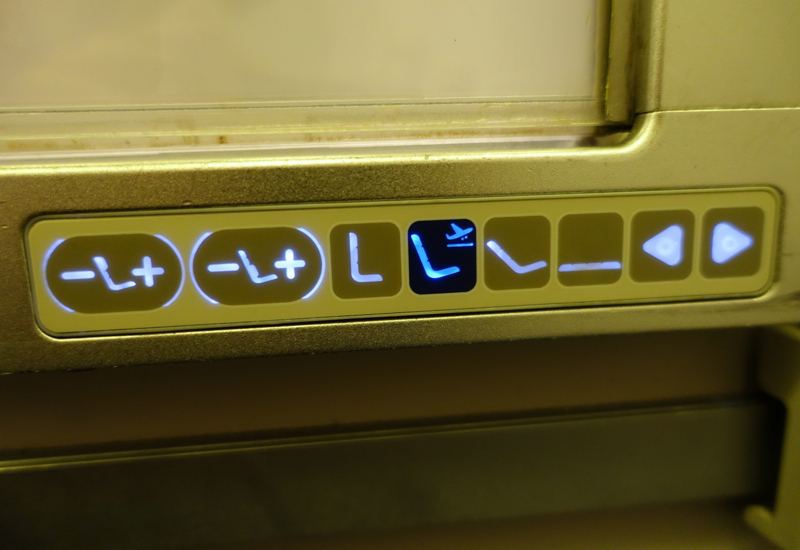 One thing I don't care for is the ottoman, which, due to its design of folding up, is inherently less stable than those that are fixed in place such as Cathay Pacific. This meant that a couple times I had the issue of finding the end of my bed sagging, as the ottoman got out of position–probably because other passengers in the past didn't heed the instruction not to sit on it. In my view, a clear design flaw, making for a less stable bed, especially for taller/heavier passengers.
Elemis Amenities Kit
I can remember the days when the Club World amenity kit was a nice Molton Brown affair more akin to the current British Airways First Class amenity kit, but that's long gone. Instead, there was a little blue fabric bag with Elemis amenities, as well a toothbrush and toothpaste, ear plugs, socks and a sleep mask. Nothing high end, but all the essentials.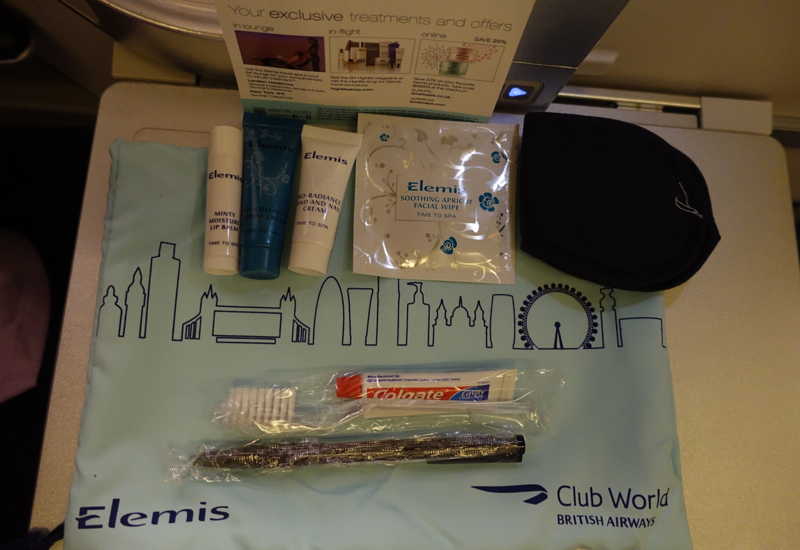 Club World Menu and Food
Since we'd had a surprisingly tasty dinner in the British Airways Concorde First Class Lounge, I didn't have anything from the supper menu, apart from the dessert, which is generally the highlight of British Airways meals anyway.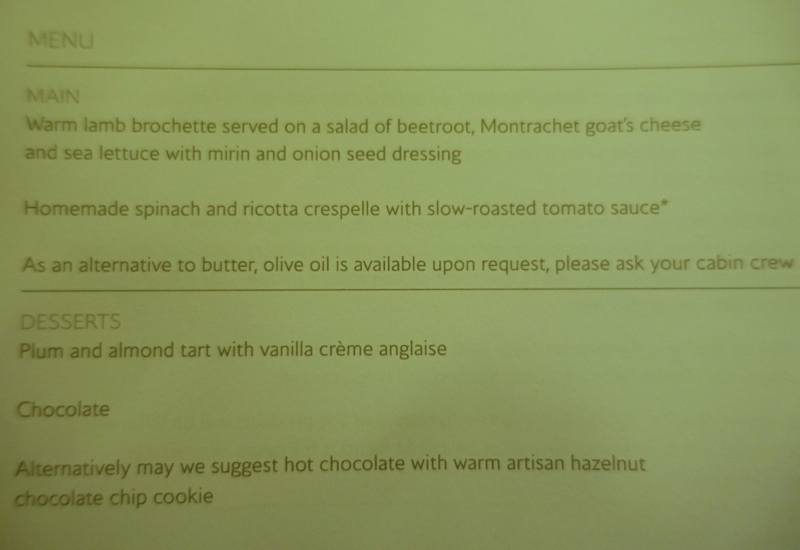 And sure enough, while not super gourmet, the almond plum tart with vanilla creme anglaise was delicious. I also requested a mug of hot chocolate, which was ok, but not worth ordering again.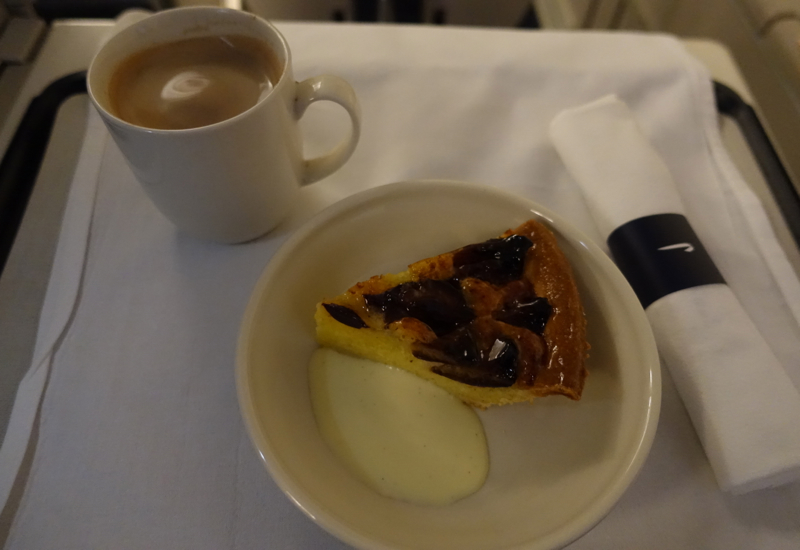 At the outset of the flight, along with the dinner menu and Elemis amenity kit, the Club World flight attendants handed everyone a breakfast card, with three options. You could have breakfast on board, pre-selecting what you'd like; opt for a continental style "breakfast to go;" or forego breakfast altogether in favor of sleep and breakfast instead at the British Airways Arrivals Lounge.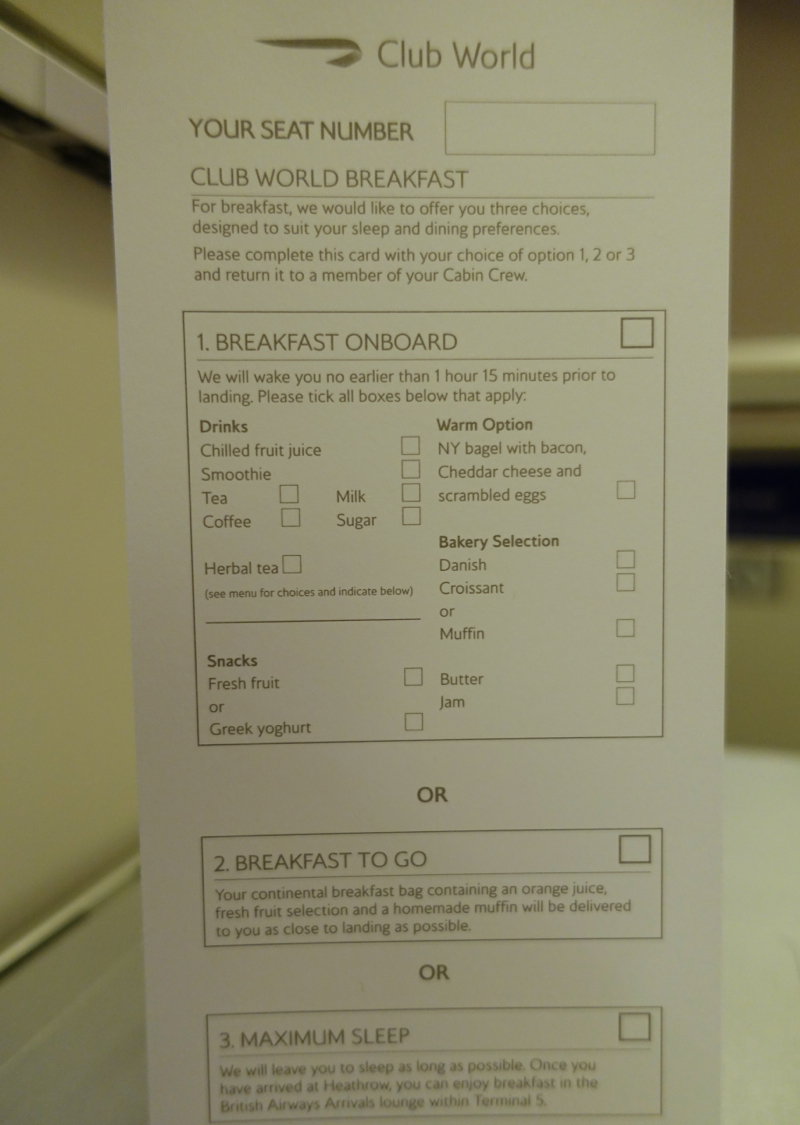 I decided to see what the in-flight breakfast quality was like, so I gave my breakfast card to one of the flight attendants before I went to bed. About an hour before landing we were served breakfast. You're supposed to choose between the fruit and yogurt and I'd checked both, so I was only given fruit. It was mainly melon, however, which I don't care for, so I asked if I could be given a yogurt. The flight attendant I asked was worried they might have run out, but was happy to check for me, and came back beaming with a yogurt, which I appreciated.
The yogurt was my favorite part of the meal, but I will say that the NY Bagel with Scrambled Eggs, Bacon and Cheddar was decent, and certainly a ton better than the processed breakfast sandwich I encountered on our United First Class flight from Hawaii to NYC.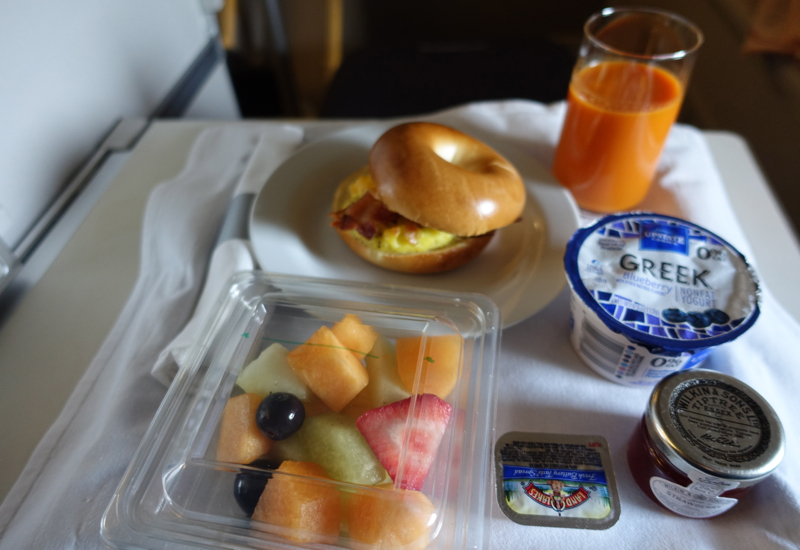 Sleep Quality
Each Club World seat comes with a pillow and a duvet, which I used instead as a mattress pad, since the cabin wasn't cool and I didn't need it as a blanket.
I managed to get about 4 hours of sleep, which is good for me on a short transatlantic flight. The Club World bed is 6 feet, at 72 inches long, so I had no problems fitting on it.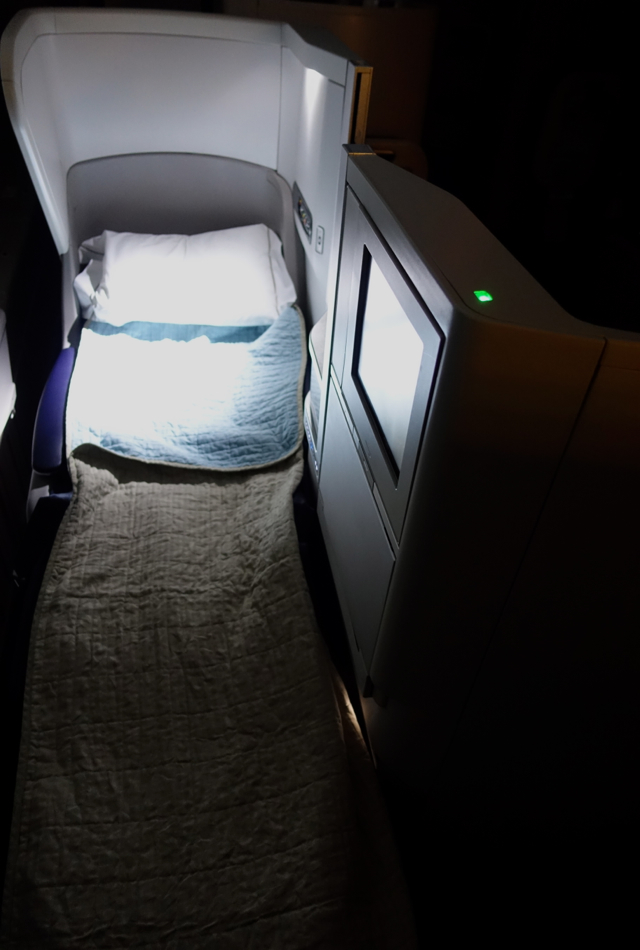 The Verdict
British Airways Club World Business Class has been surpassed by products such as Singapore Business Class, Cathay Pacific Business Class, JAL Business Class and others. Many have noted the awkwardness of the "yin/yang" configuration whereby you see your neighbor when the privacy screen isn't up, and the ungraceful "hop" you may end up doing from the window seat to access the aisle if your neighbor has his/her bed fully extended.
That said, for shorter international flights into London such as JFK-LHR, British Airways Business Class is perfectly fine, if not great. It's often the best nonstop business class award option into London with availability (albeit with high fuel surcharges), since many times there's no award availability on American's new business class on the 777-300ER doesn't offer saver award availability.
Temper your expectations and just focus on a flat surface to sleep on, a decent menu usually strongest in the cheese and dessert area, and often good service by European standards (great service by U.S. airline standards).
If you've flown British Airways Club World Business Class on the 747 upper deck recently, what was your experience?
Related Posts
Review: British Airways Concorde Room Lounge NYC JFK Terminal 7
British Airways Galleries Lounge New York JFK Review
British Airways Avios Best Deals
How to Maximize the British Airways Companion Ticket
Need Award Booking Help? Our fee is as low as $75 per ticket if you book your hotel through us.
If you enjoyed this, join 200,000+ readers: please follow TravelSort on Twitter or like us on Facebook to be alerted to new posts.
Become a TravelSort Client and Book 5-Star Hotels with Virtuoso or Four Seasons Preferred Partner Amenities!