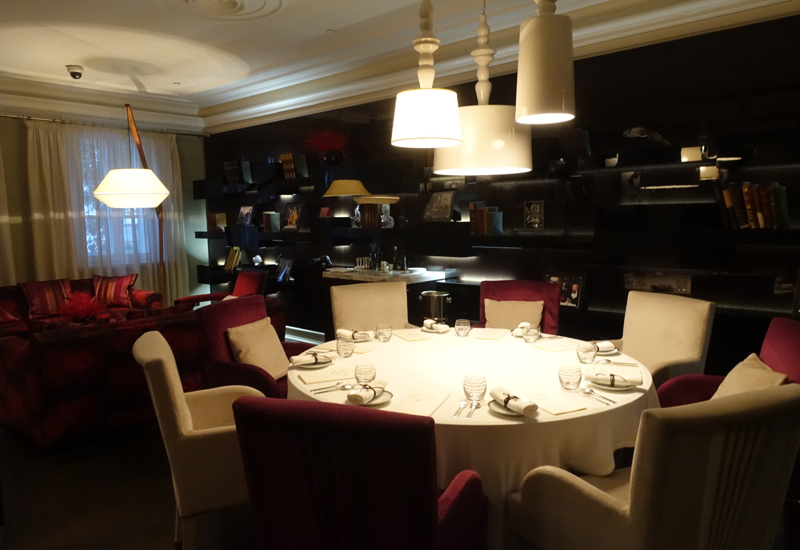 This Review of Anatoly Komm by Raff House is part of a new Russia trip report on Moscow and St. Petersburg. Anatoly Komm is the only Russian chef to have had a restaurant listed in the Michelin Guide (the former Green, in Geneva) and had a restaurant (the former Varvary in Moscow) listed in the World's Best 50 Restaurants.
Naturally, when a couple of my TravelSort Clients dined at both White Rabbit and Anatoly Komm at Raff House and told me that Anatoly Komm at Raff House was not only better than White Rabbit but one of their favorite meals even among the many Michelin star restaurants they have dined at, my interest was piqued and I made a point of rearranging our Moscow stay to be able to dine there.
Visiting Russia? See all of our posts tagged Russia.
Prior posts include:
Review: Hotel Astoria St. Petersburg, Russia
Review: Astoria Cafe, St. Petersburg, Russia
Vkus Est (Taste to Eat) Review, St. Petersburg, Russia
Summer Garden (Летний сад), St. Petersburg, Russia Review
Duo Gastrobar Review, St. Petersburg, Russia
Mansarda St. Petersburg Restaurant Review
Ararat Park Hyatt Moscow Review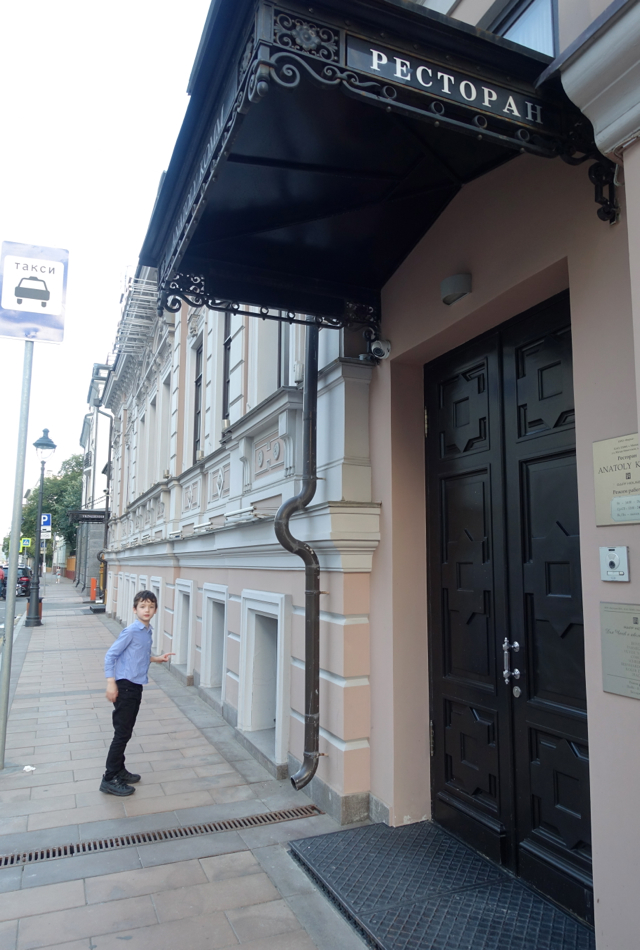 Anatoly Komm at Raff House Location and Hours
Anatoly Komm at Raff House is located at Malaya Nikitskaya ulitsa 25, in Moscow, in a residential area of Moscow near the Spanish Embassy; for this reason, we took a taxi from the Park Hyatt Moscow to get there. If arriving by metro, the closest metro station is Barrikadnaya, about an 11 minute walk away. Or if walking from Pushkinskaya metro station, it's about a 20 minute walk.
Note that Anatoly Komm at Raff House is closed on Sundays and Mondays. It's open 2pm-midnight Tuesdays, and 12noon to midnight Wednesdays to Saturdays.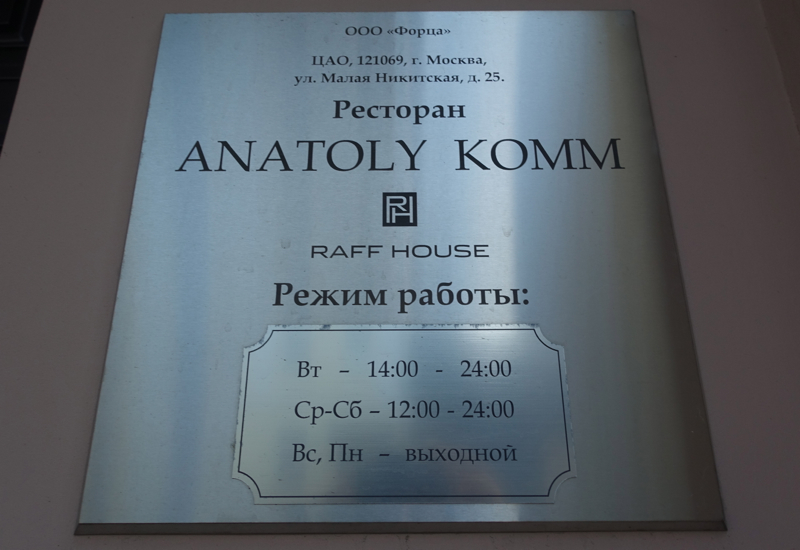 The Scene
We'd reserved for an early 6:30pm dinner. I hadn't specifically mentioned my dining companion was my 8 year old son, but, as at other fine dining and Michelin star restaurants, no one batted an eye, and we were led through the foyer, with its high ceilings and rather formal decor and through an elegant bar area to an intimate and understated dining room.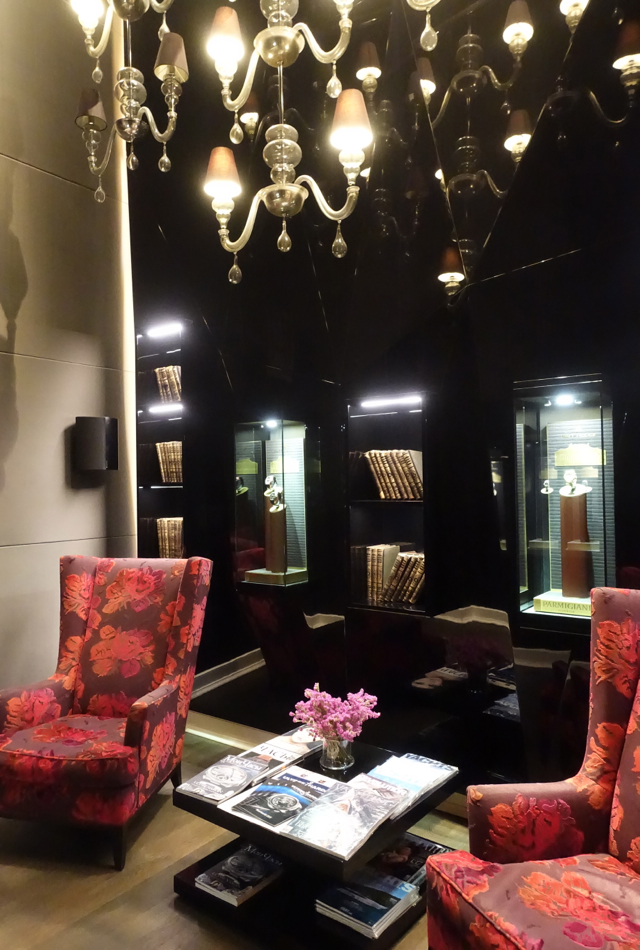 There were 4-5 tables for couples in the dining room, and another table behind us where presently a group of 5 friends, all women, enjoyed a dinner together. The couple that were originally seated next to us seemed a bit put out by dining next to us (just as there are anti-dog or anti-cat people, there are anti-kid people, no matter how well behaved your child may be), so once another couple at the other end of the room departed, they asked to be reseated.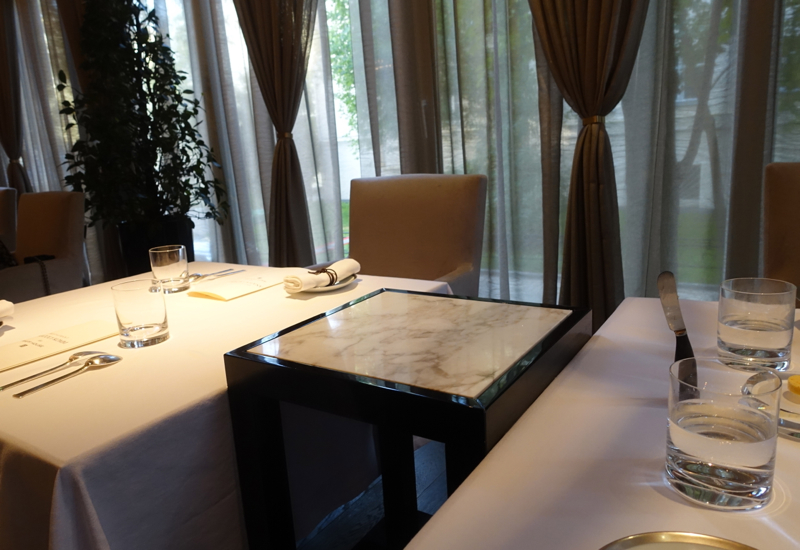 Anatoly Komm at Raff House Menu and Food
I'd seen in an interview with Anatoly Komm that, rather than force guests at Anatoly Komm at Raff House into a tasting menu, he purposely set out to create an exclusively a la carte menu from which guests could assemble their own gastronomic event, so the menu is entirely a la carte. This suited us perfectly, although if anything, with all the delicious ingredient choices, it was difficult to decide. Note that the dishes are arranged from smallest portion sizes at the top to largest at the bottom.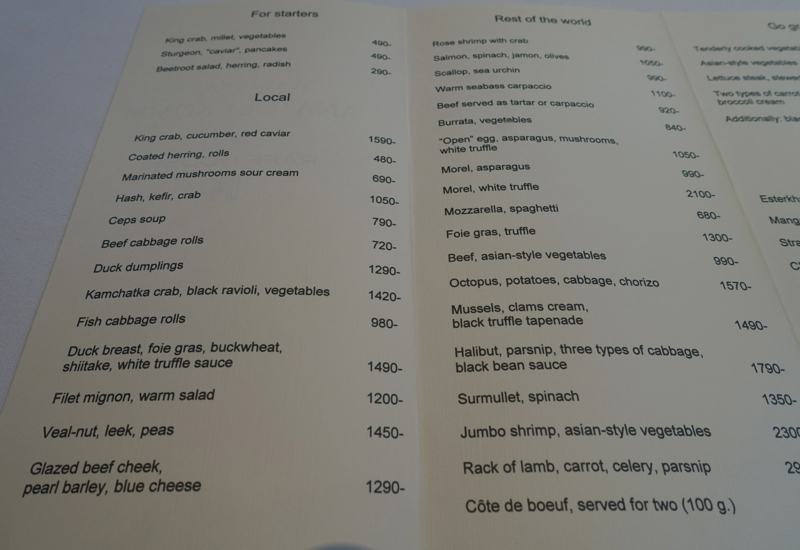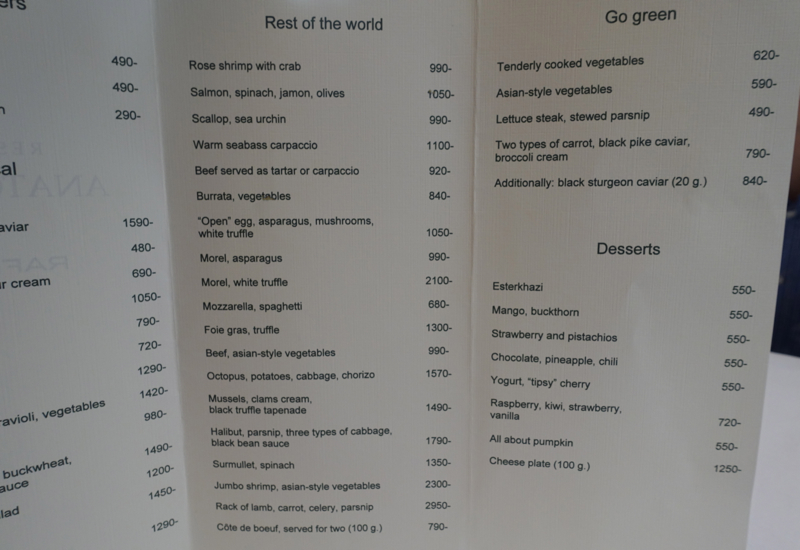 Komm's intent with his Raff House venture is a restaurant of the 1 Michelin star standard and pricing, rather than the 3 Michelin star level of his former Varvary Restaurant. Nevertheless, the amuse bouche, of a kind of vegetable puree and a "sushi" of beet with dipping sauce was inventive and very tasty (although my son, still not a fan of beets, donated his beet roll to me).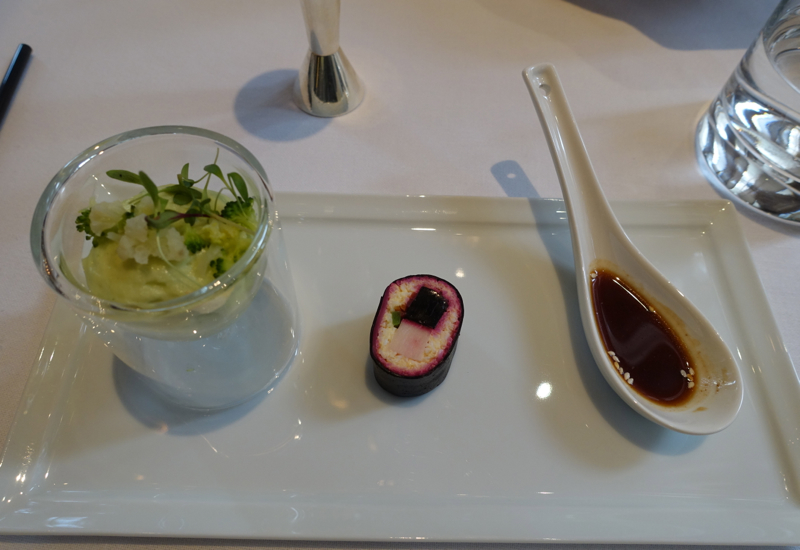 Bread was likewise on the simple side: fresh white and rye bread, with sundried tomato butter: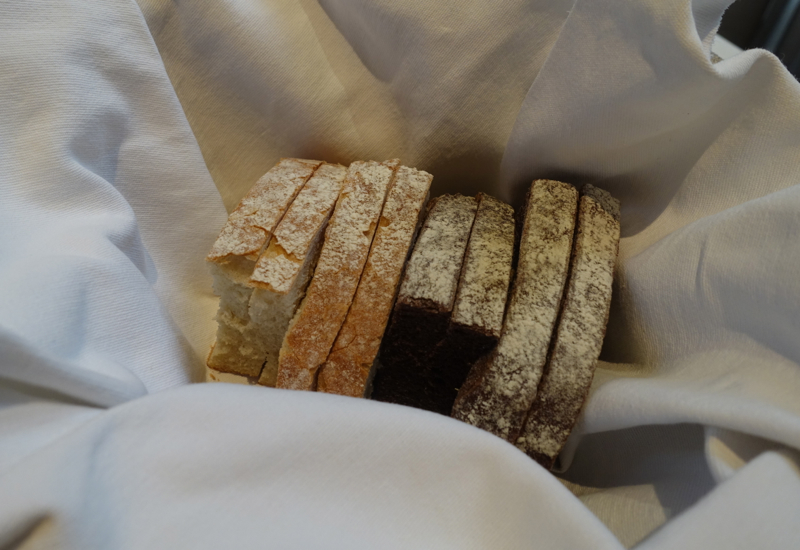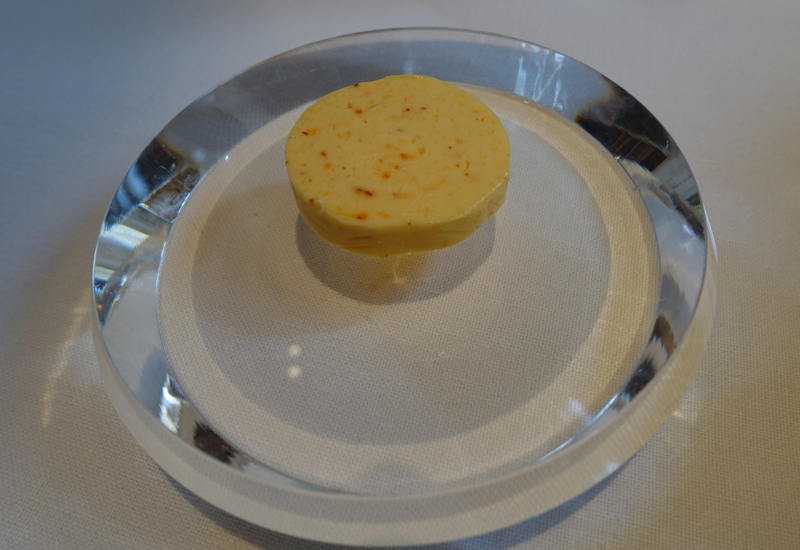 There was a rather long wait for our dishes to arrive, but it was worth it. The first was a dish simply described as King Crab, Cucumber and Red Caviar, and the King Crab was incorporated into a kind of "ice cream" then adorned with red caviar and finely diced cucumber and sweet corn to add textural contrast. Incredibly refreshing on a warm summer day, and Michelin star worthy. My son also enjoyed it, after regarding it a little dubiously.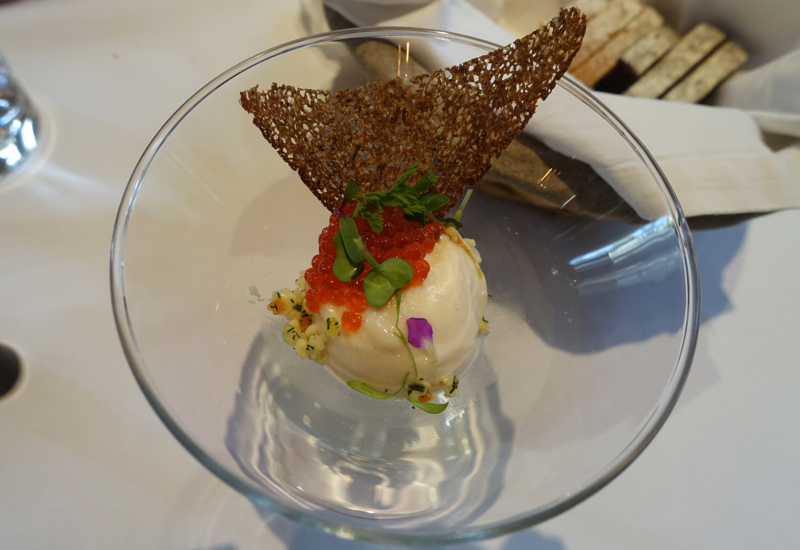 For his main dish, we ordered Duck Pelmeni, which came with 7 large plump duck filled dumplings in a delicious broth. These are definitely the best pelmeni I've ever tasted, and were so tasty, with such a great umami flavor, I thought there was foie gras in them, even though the server checked with the kitchen and confirmed that there isn't.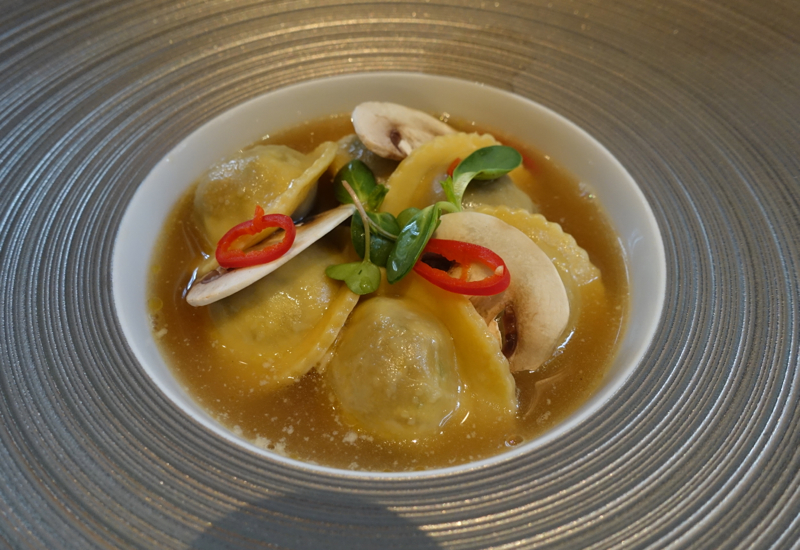 The next dish was my favorite of the evening: Scallops with Sea Urchin. While there are plenty of sushi places in Moscow, I've never dared to order uni, or sea urchin, in any of them, partly out of concern for how fresh the sea urchin would be. But Anatoly Komm's team unsurprisingly has great suppliers–this is hands down the best sea urchin dish I've ever had, and tasted as if everything had just been plucked from the sea. If you enjoy scallops and sea urchin, this is a must order.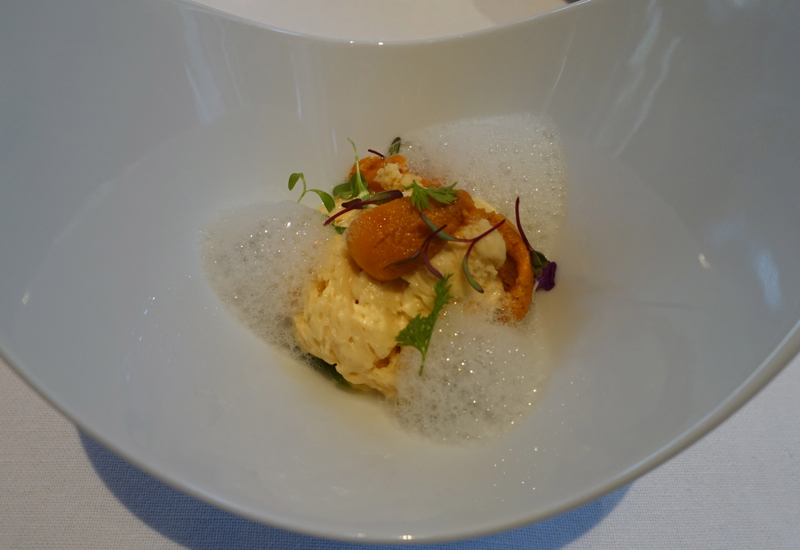 For the sake of variety, I also ordered the Glazed Beef Cheek with Pearl Barley and Blue Cheese. This dish is perfect if for some reason you can't or don't eat seafood or would like a hearty, straightforward meat dish. The beef cheek was succulent and tender, and the pearl barley in blue cheese sauce provided the perfect al dente accompaniment, the strong flavor of the blue cheese a nice foil to the richness of the glazed meat.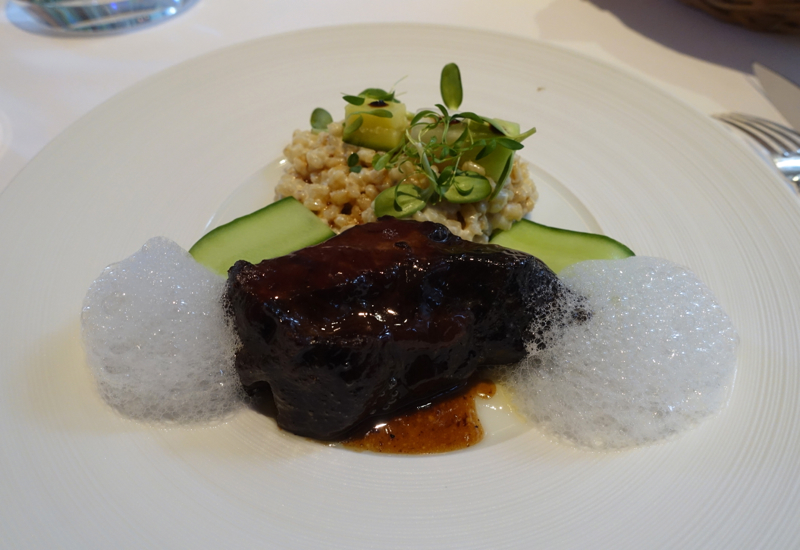 Up to this point our meal, apart from a bit of a long wait between our amuse bouche and our ordered dishes, had been pretty perfect. The pre-dessert of raspberry mousse, however, was very forgettable. A housemade fruit sorbet would have been better.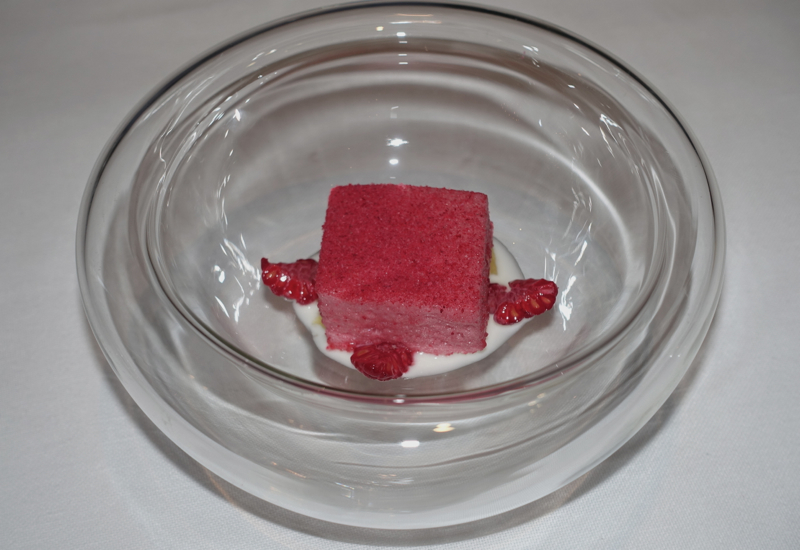 And while my son's dessert, a Strawberry and Pistachio one with macerated strawberries, pistachios, strawberry sorbet and foam was refreshing, it was nothing to write home about either.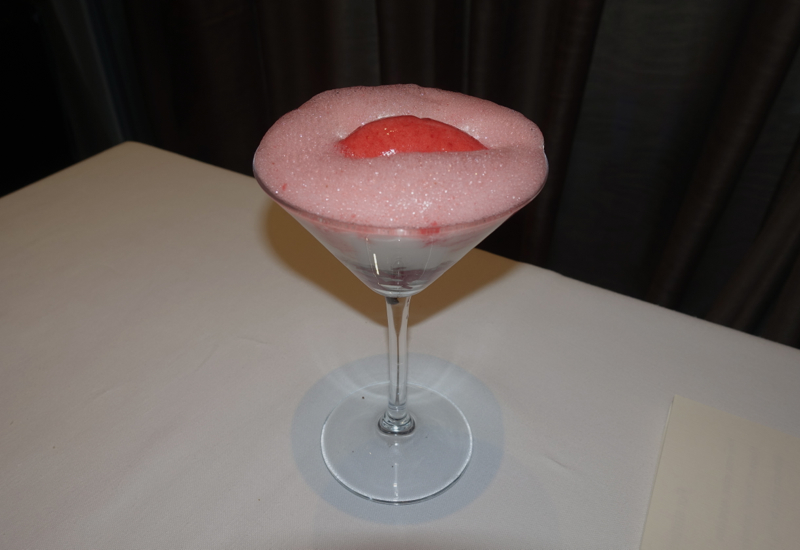 More interesting was the dessert "All About Pumpkin," which included pumpkin sorbet, some pumpkin cheesecake, gingerbread crumbs, a crisp cookie, cubes of pumpkin and pistachios. But I'd venture that I still make better tasting pumpkin desserts than this, although of course the restaurant wins in the presentation department.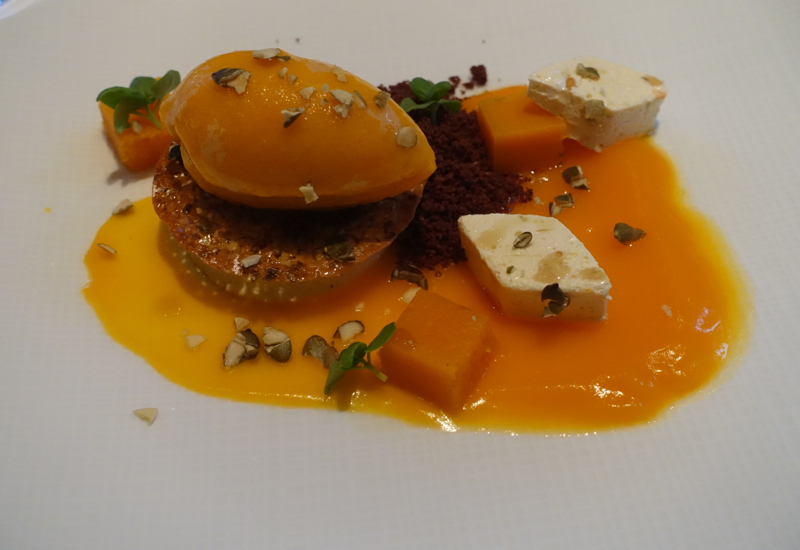 The Verdict
Moscow has plenty of very good restaurants with a diverse range of cuisines, but for those wanting a Michelin star worthy meal, Anatoly Komm should be at the top of the list, at least for its savory dishes; personally I wouldn't save room for dessert here. Service was very professional; our first server was a little formal and aloof, but for the latter part of the meal we had a very friendly and warm server, who was also happy to share his recommendations for additional dishes to try next time.
And the beauty of his Anatoly Komm at Raff House venture is that it's a very reasonably priced meal given the quality of the cuisine: for our meal of 4 dishes (including ones containing King Crab and Scallops with Sea Urchin) plus 2 desserts we paid the ruble equivalent of $88, not including tip (which should be left in cash, in rubles). The meal was so good, I'm tempted to spend another night in Moscow next year, just to try other dishes from the menu, even though my original plan was just to transit Moscow.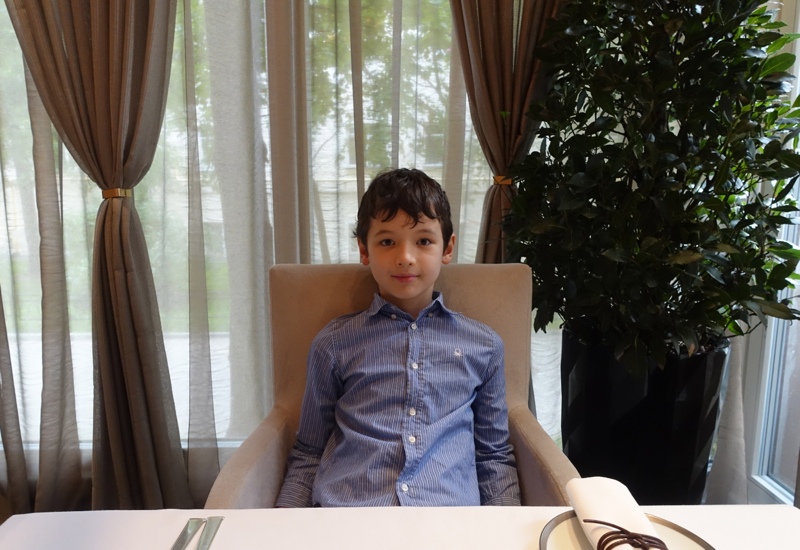 If you've dined at Anatoly Komm at Raff House, what was your experience?
Related Posts
Moscow Metro Tour with Happy Moscow Tours
Getting Around Moscow by Metro: Top 10 Tips
Disclosure: We paid for our own meal at Anatoly Komm at Raff House.
Need Award Booking Help? Our fee is as low as $75 per ticket if you book your hotel or cruise with us.
If you enjoyed this, join 200,000+ readers: please follow TravelSort on Twitter or like us on Facebook to be alerted to new posts.
Become a TravelSort Client and Book 5-star hotels with Virtuoso Perks and Four Seasons Preferred Partner Benefits