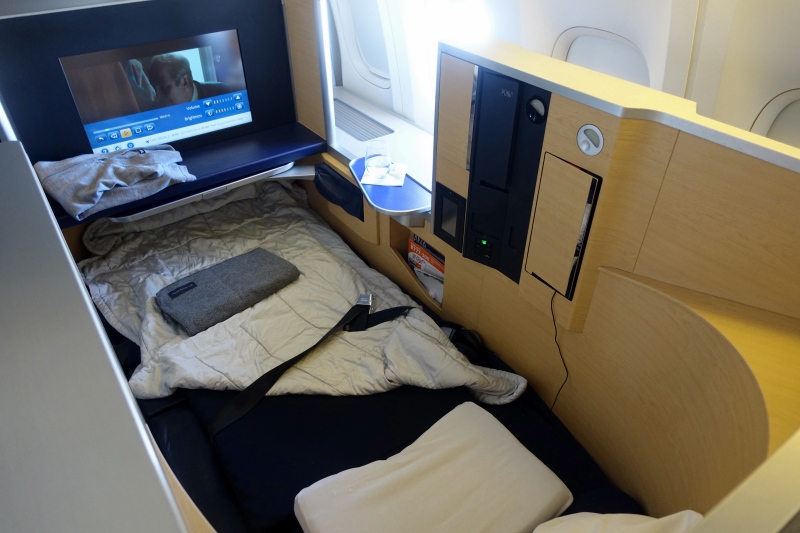 This ANA First Class 777 Review for a New York JFK to Tokyo Narita flight is part of a new trip report including Tokyo luxury hotels, restaurants and sushi bars. Having previously enjoyed JAL First Class, we were looking forward to trying JAL's key Japanese competitor, ANA. ANA, even though it's in Star Alliance, departs out of New York JFK's Terminal 7, so it uses the British Airways First Class Lounge, which unfortunately is far from impressive. See Review: British Airways First Class Lounge New York JFK Terminal 7
ANA First Class Cabin and Seat Selection on the 777-300ER
ANA's First Class cabin on the 777-300ER offers 8 open suites in a 1-2-1 configuration across 2 rows.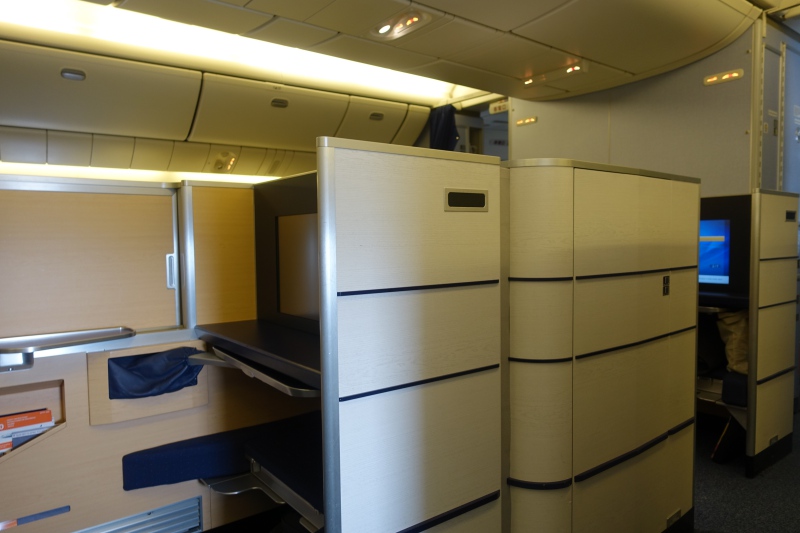 As usual, I recommend the second row seats for those concerned about potential light and noise interference from the galley, although on the plane we were on the curtains helped with the light issue, and fortunately neither of the two bathrooms is right by the seats.
Since we both wanted window seats, we opted for 1K and 2K, and my son was in 2K.
ANA 777-300ER First Class Seat Map, Courtesy SeatGuru
ANA First Class Seat, 777-300ER
ANA First Class seats are 33 inches across, similar to JAL First Class, although the full bed length is a couple inches shorter, at 76 inches long, so this could be an issue for tall passengers.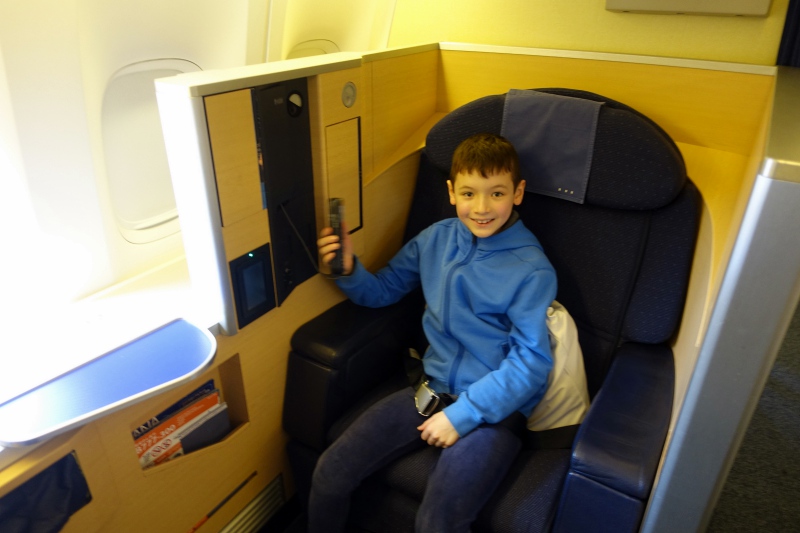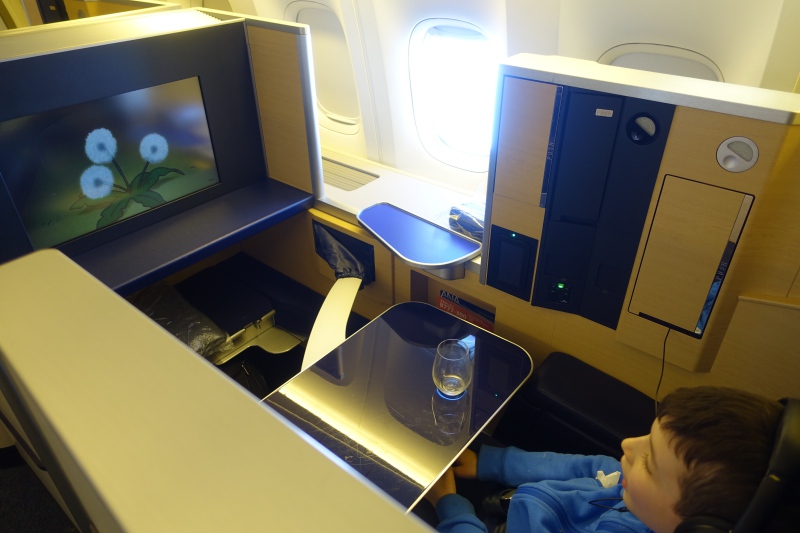 Although these are open suites, there's a good deal of privacy given the way the seat is set back, and the relatively small opening. For the middle seats, if the passengers are not traveling together, the privacy screen is kept in place; see for example Suite 2G: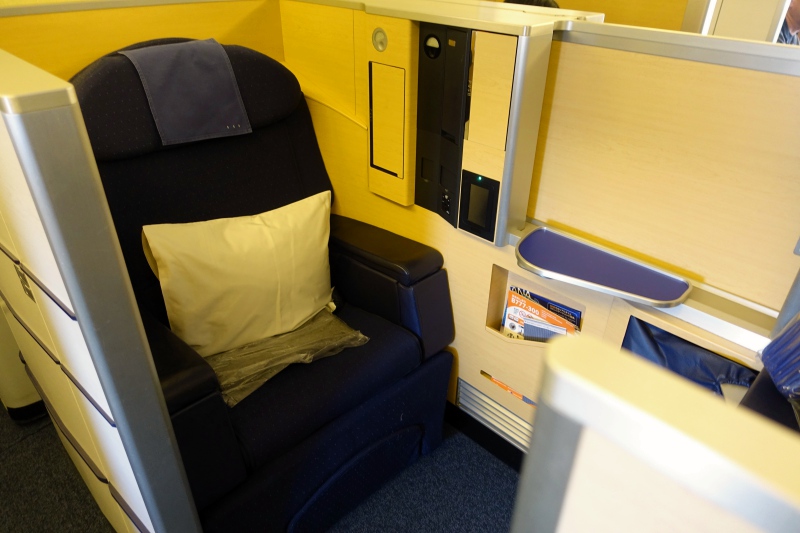 The seat controls are touch screen and easy to use. You can press stop at any point to control the degree to which the seat reclines.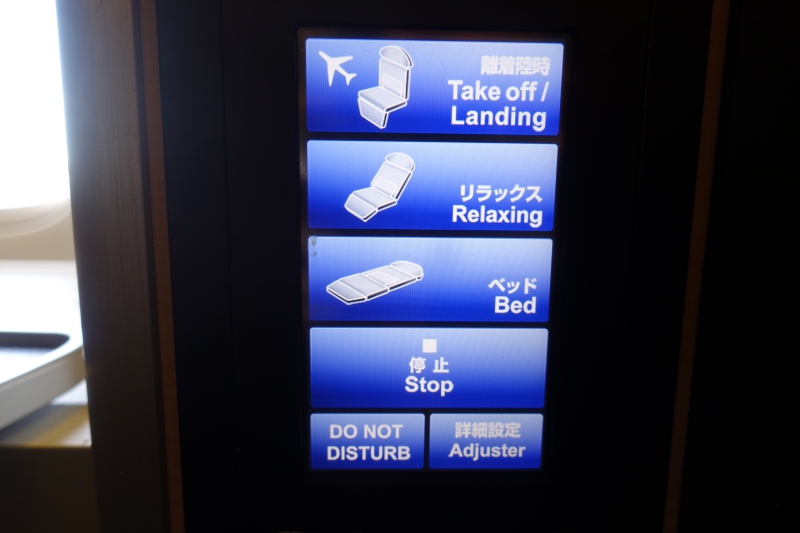 There's a small phone storage compartment (my left, in seat 1K), and I also found it convenient to have a mirror on the inside of one of the compartments on the right.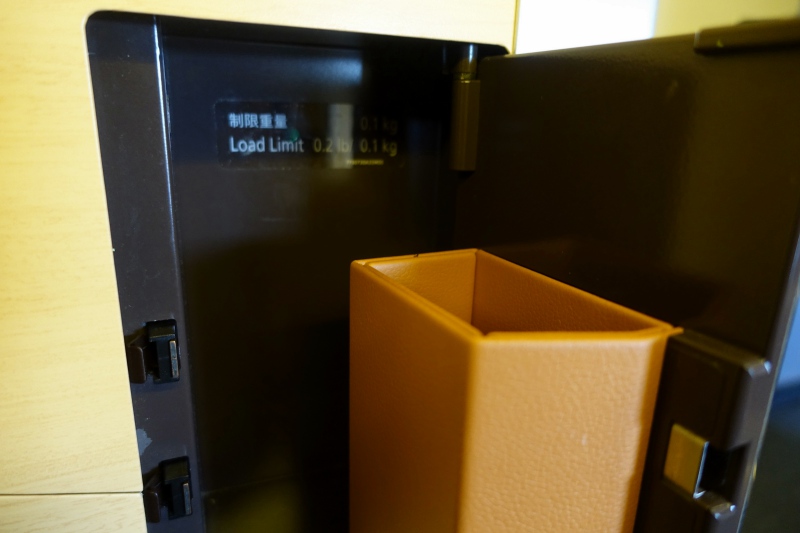 The IFE controls were easy for my son to use, although personally I found it a bit cumbersome to turn the IFE screen off completely, as the slightest movement when putting the IFE controls back seemed to turn the screen back on.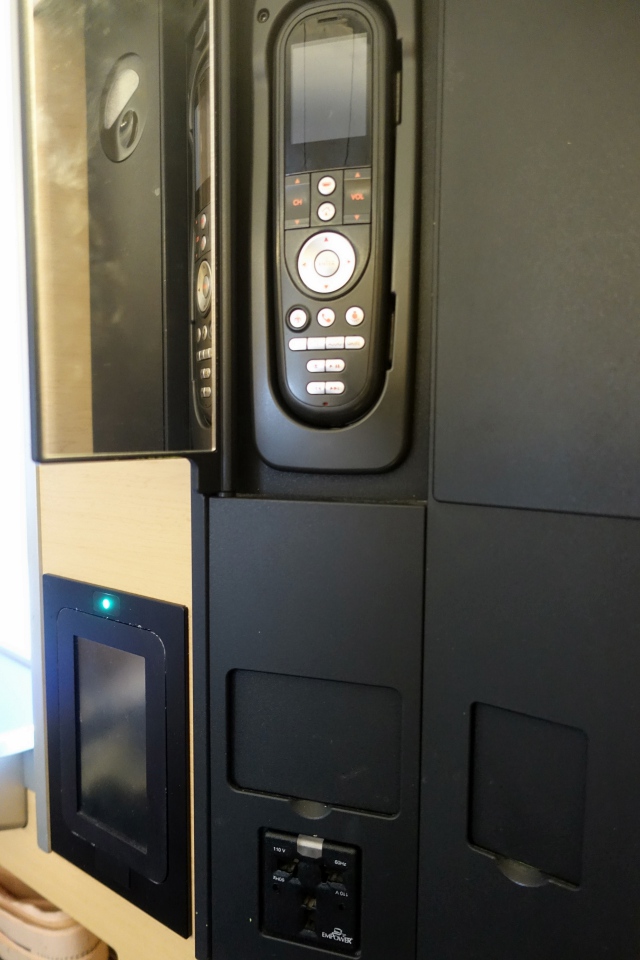 Headphones are by Sony, and worked well with clear sound.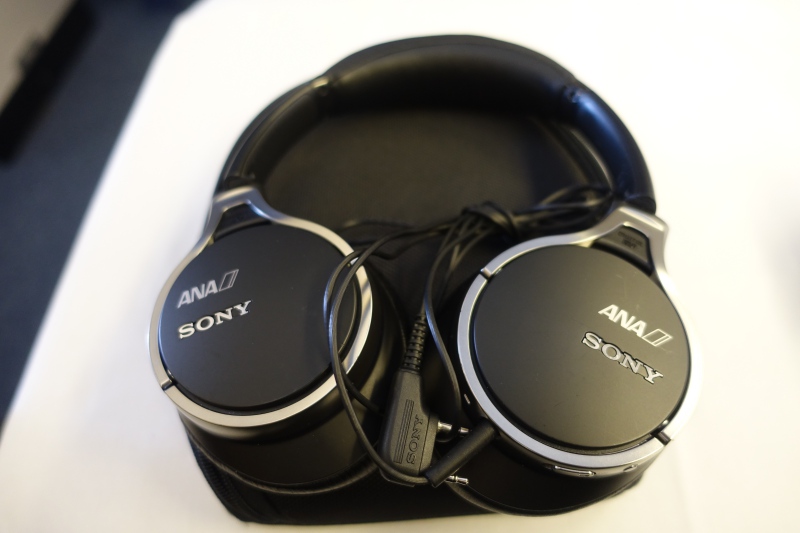 There's a narrow coat closet on the outside of each suite for you to hang a jacket up.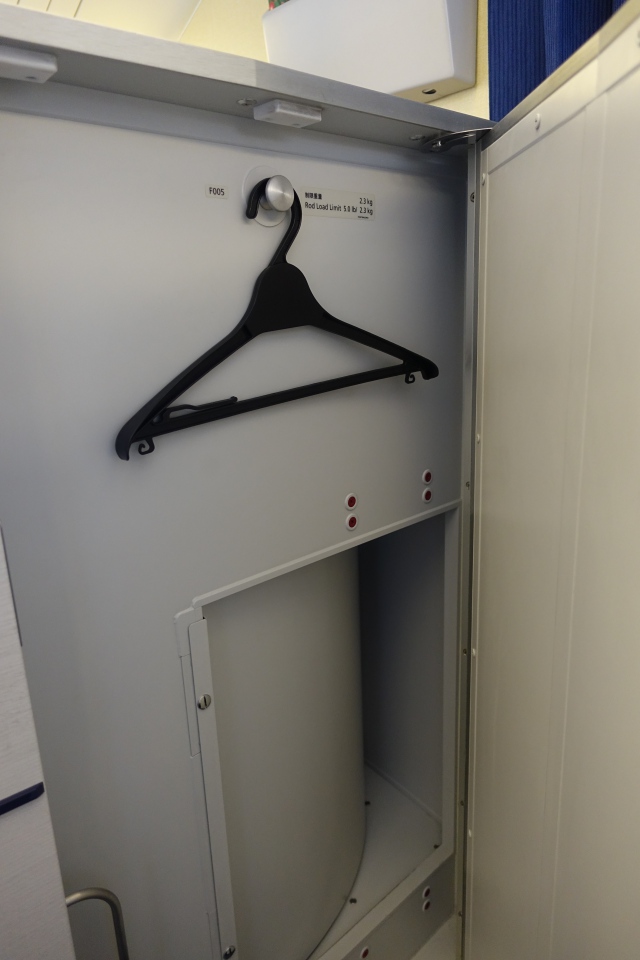 ANA First Class Pajamas, Amenity Kit and Slippers
At first I thought the sweater below was part of the pajama set, but it seemed to be a separate gift. Instead, there was another package, inexplicably with a large set of pajamas, which was odd since neither my son nor I are size large. I asked for a smaller set and was given a medium size, which honestly was still too large, but I didn't want to open up a third set of pajamas, since I assume opened pairs are simply thrown away. The pajamas were soft and I kept them, despite their slightly large size, given how comfortable they are.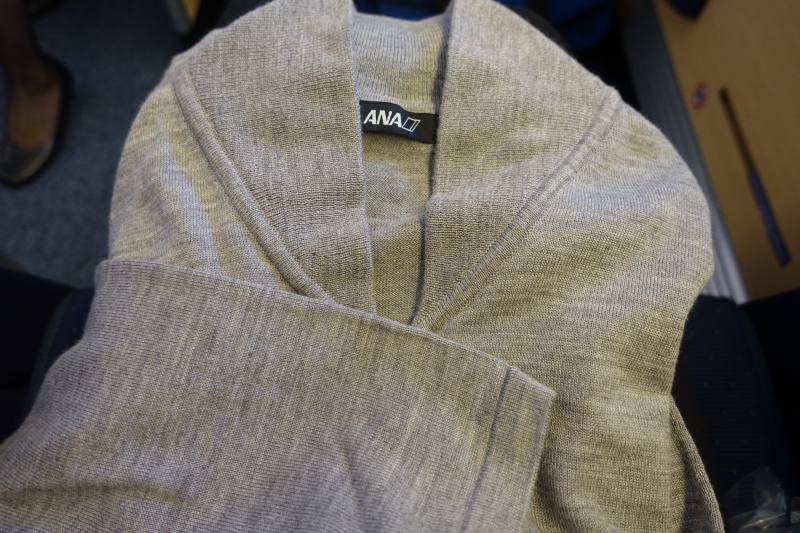 The sleep mask unfortunately didn't have the fully adjustable straps that Lufthansa First Class, Cathay Pacific First Class, and other first class sleep masks offer.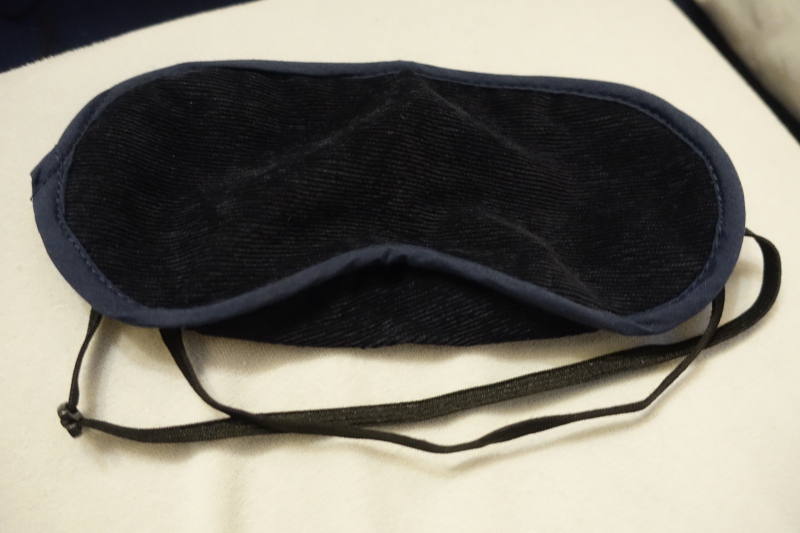 Slippers are blue, in keeping with ANA's colors.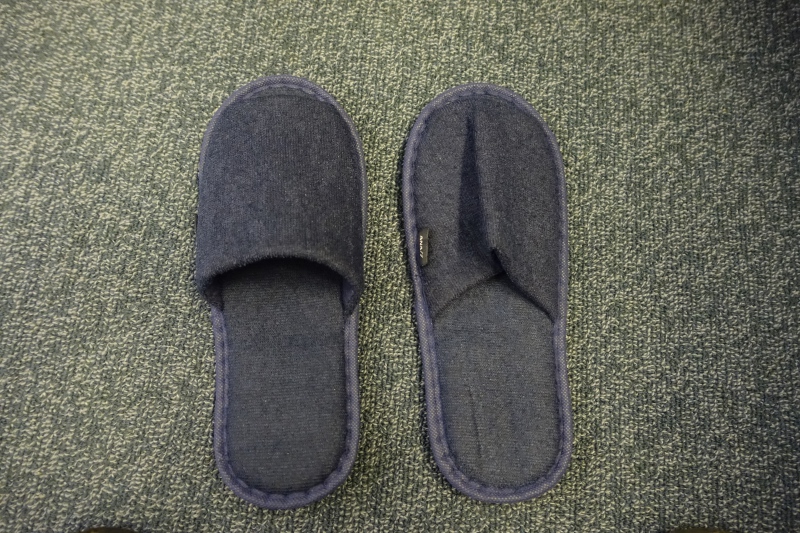 The amenity kit was a cute plastic Samsonite case, with skincare products by The Ginza, which I wasn't familiar with, but worked well, at least the moisturizer, which I tried.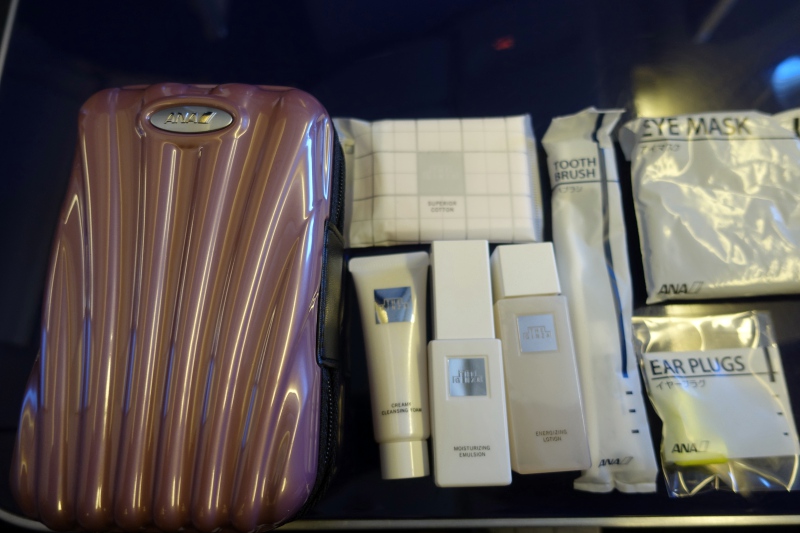 ANA First Class Menu and Food
Prior to take-off I was offered orange juice or champagne, and I chose orange juice.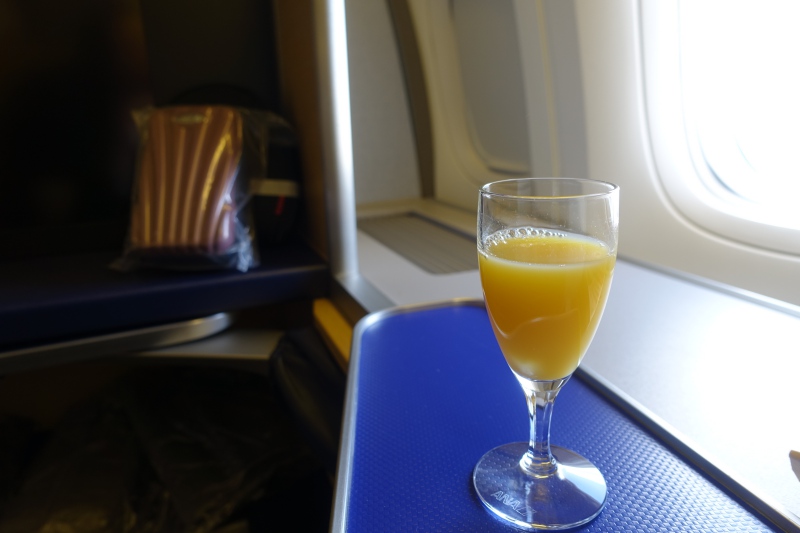 After take-off we were given an oshiburi hot towel to refresh with, and the menu. I initially made the mistake of looking at the wrong menu, from Tokyo Narita to New York JFK, instead of the reverse. I naturally chose the Japanese menu, although noticed that the Japanese passenger across from me chose the Western menu, presumably as she's going home to plenty of great Japanese food.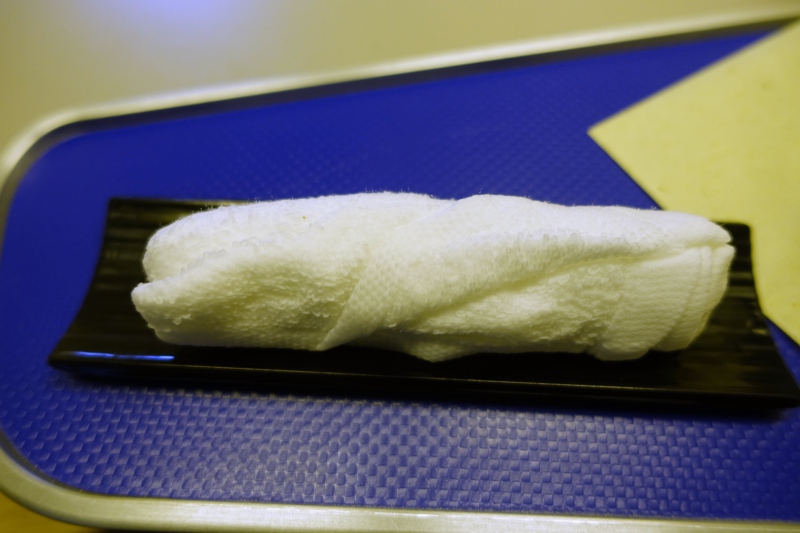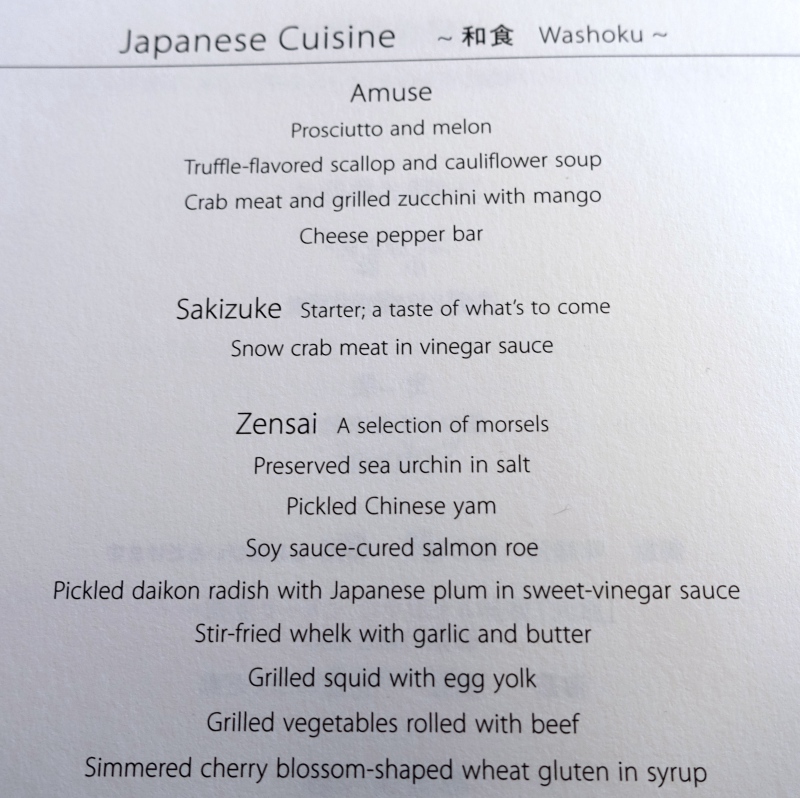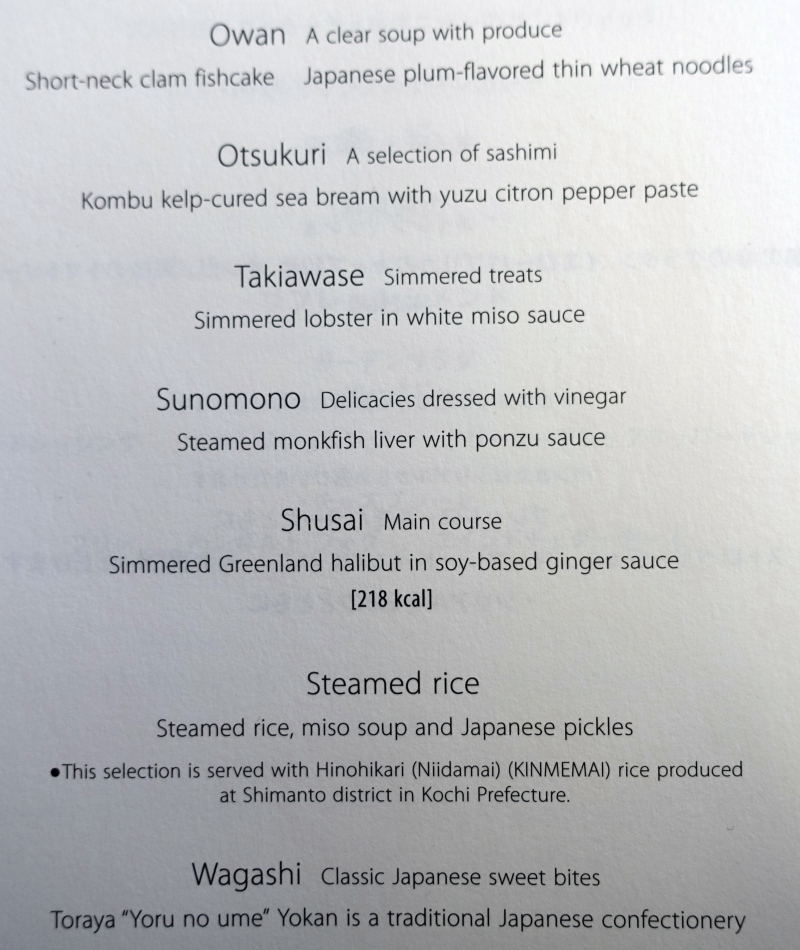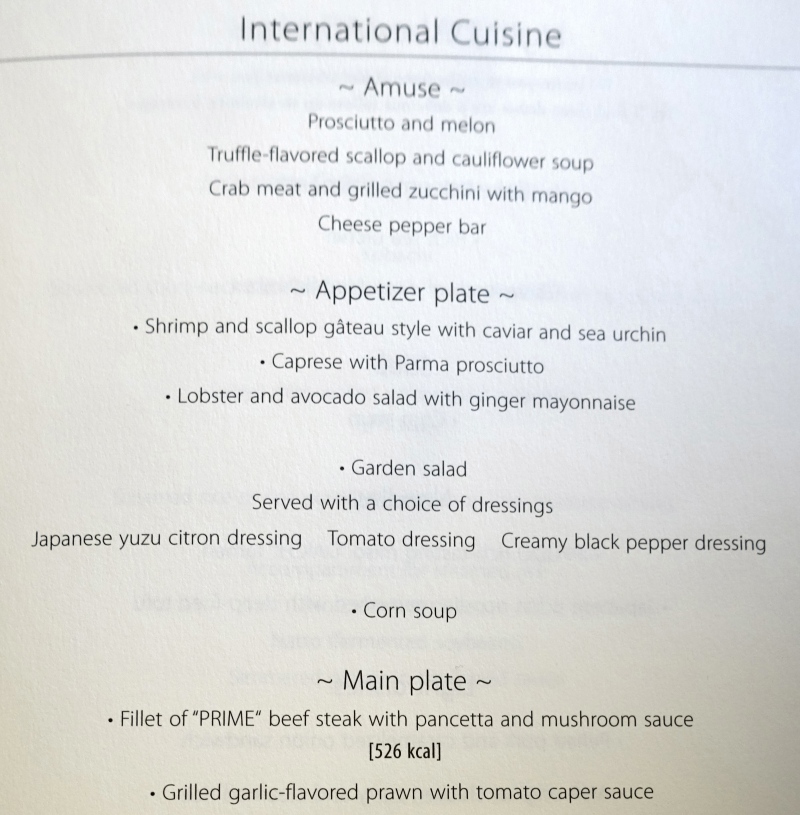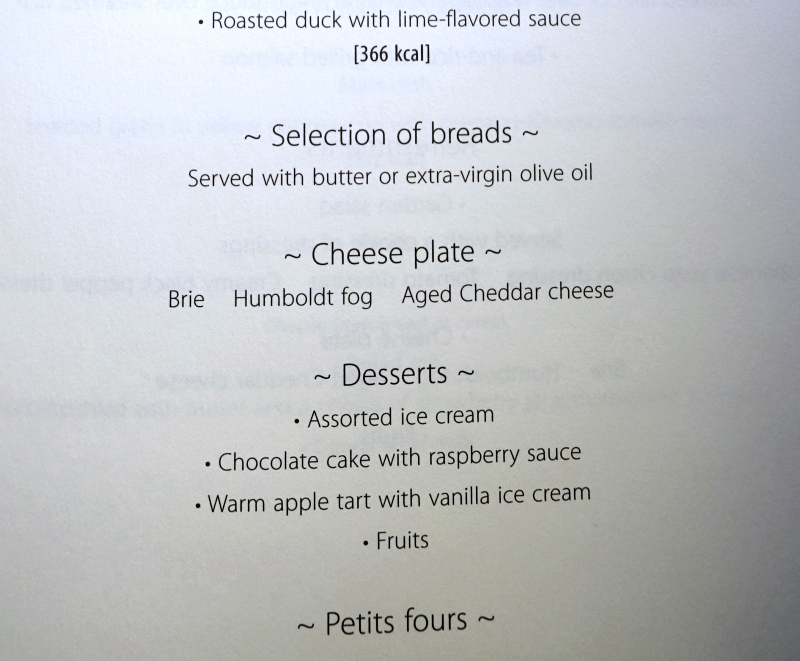 There were also a number of light dish selections for later on in our ~14 hour flight.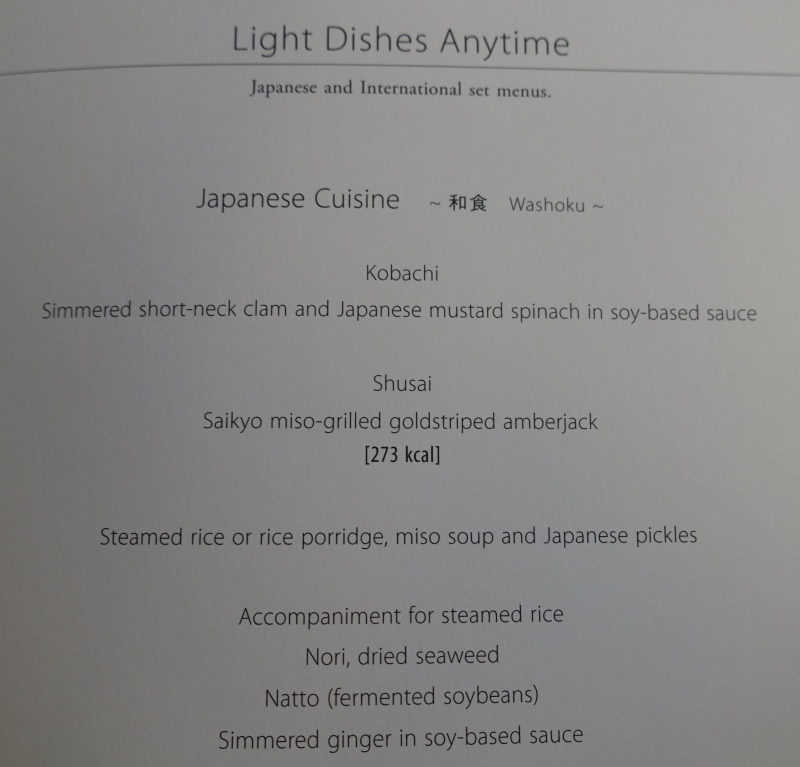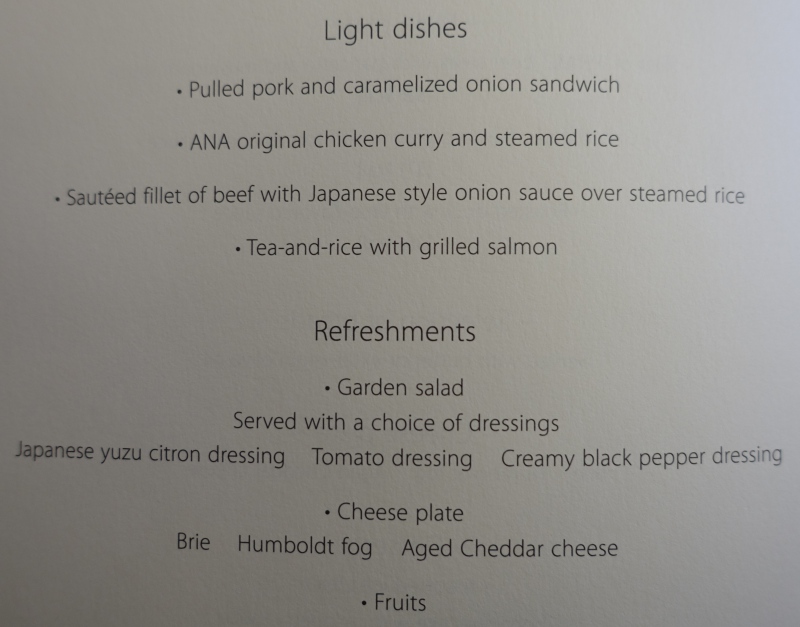 Our amuse bouche was delicious, especially the truffled scallop and cauliflower soup and the crab meat with zuchhini and mango.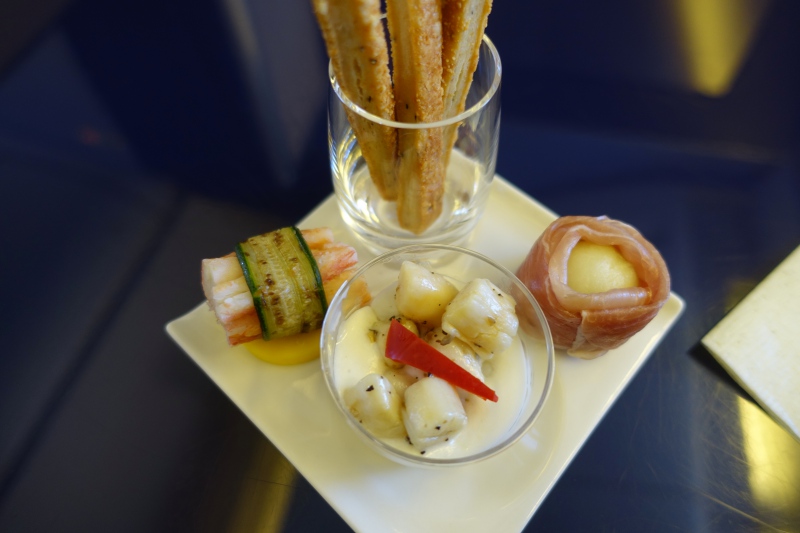 I rarely drink champagne, but decided to indulge in a little Krug to accompany the amuse bouche and appetizers.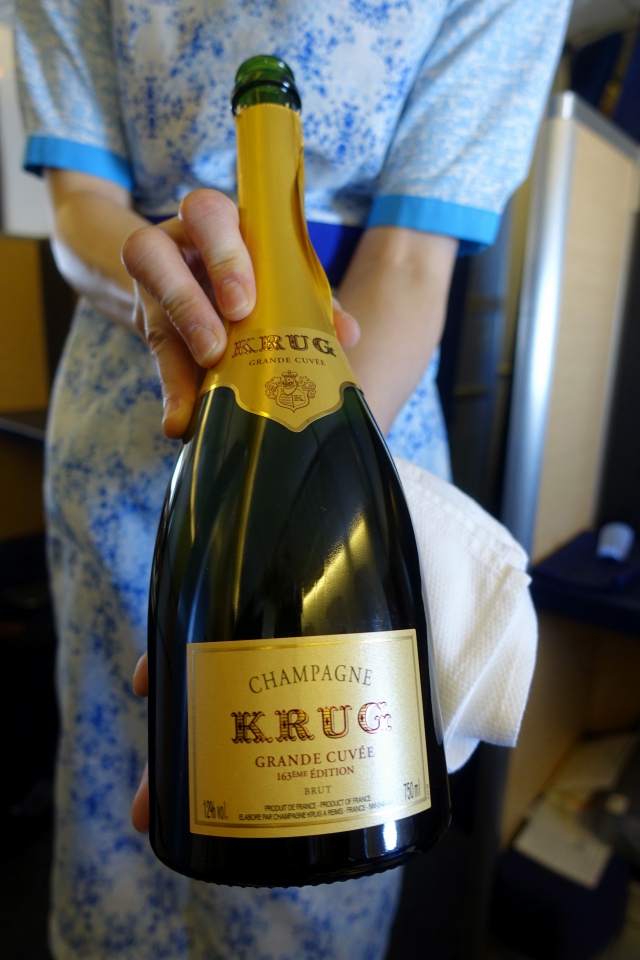 Next was a Sakizuke (starter) of snow crab, also delicious.
From the Zensai (selection of morsels) I enjoyed the sea urchin, although not particularly the Chinese yam, and I thought the other bites were also so-so.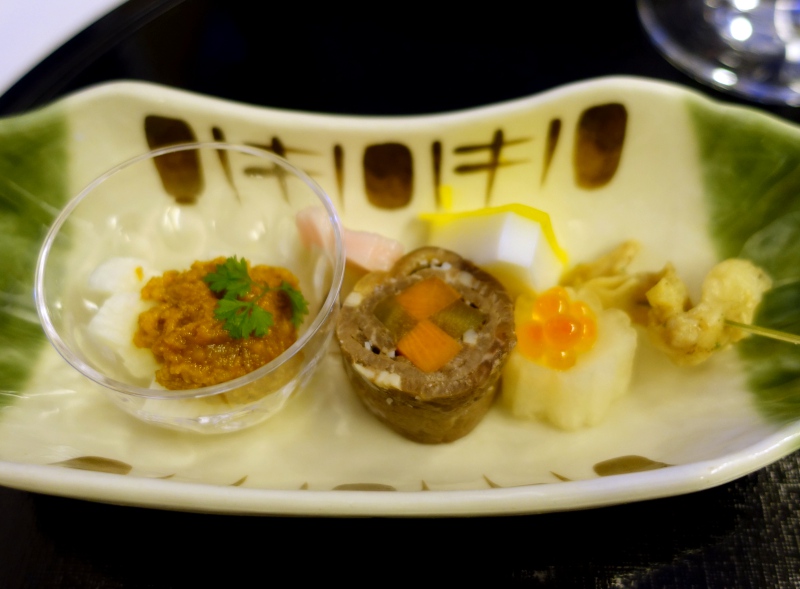 The Owan clear soup, as simple as it appeared, hit the spot, with the subtle broth and tasty clam fishcake plus pretty plum-flavored noodles.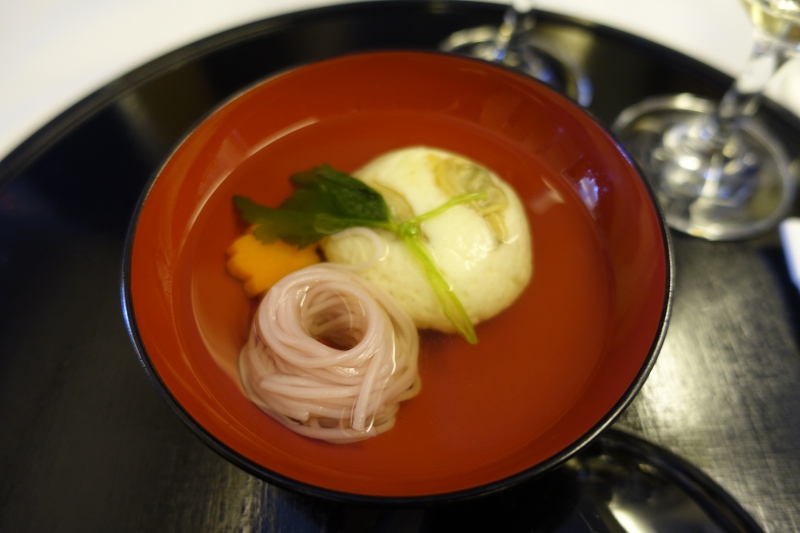 One of my two favorite parts of the meal was the Otsukuri selection of sashimi, with kombu (kelp)-cured sea bream. I offered some to my son, who was having a kid's meal, and he really enjoyed it as well.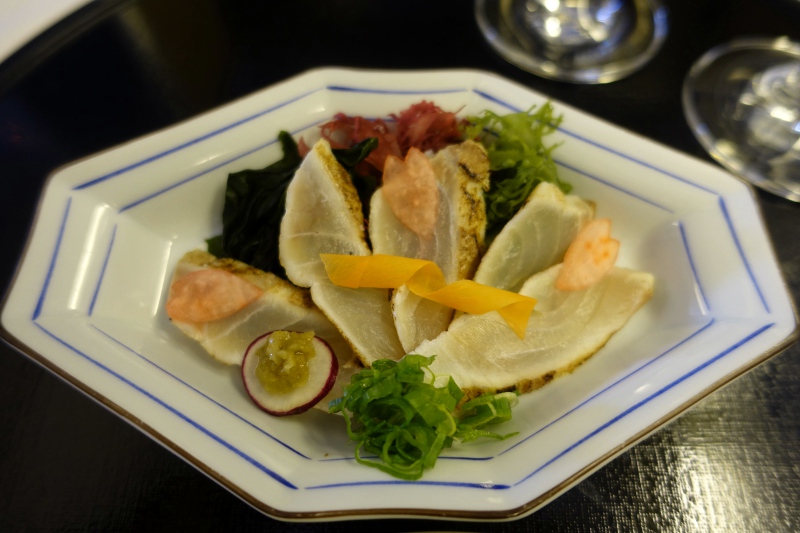 The main dish was Simmered Greenland Halibut in Soy-Ginger Sauce, and as simple a dish as it appeared, it was fantastic–meltingly tender fish, some of the best cooked fish I've ever had on a flight.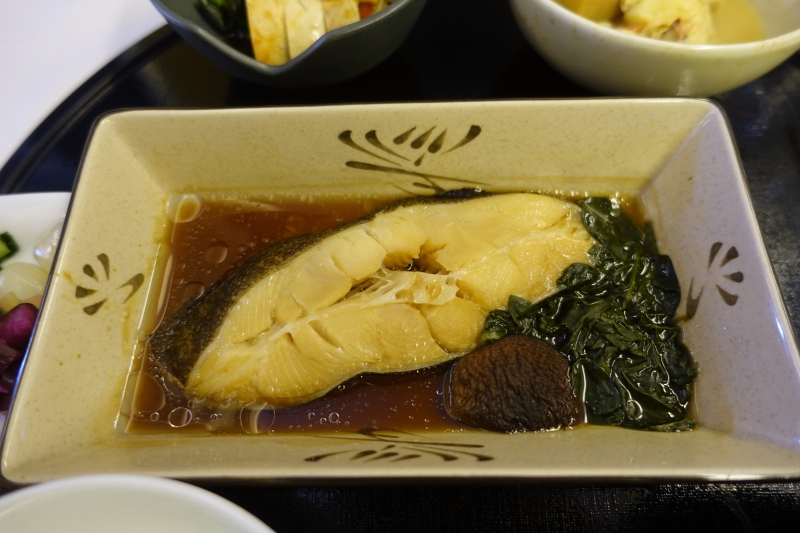 The small dishes accompanying it were Simmered Lobster in White Miso Sauce, which was very tasty if slightly overcooked: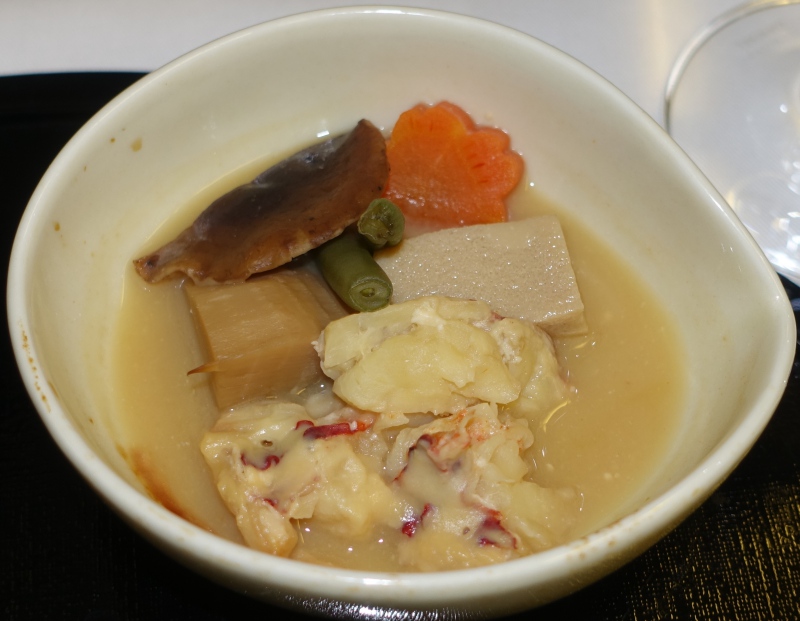 The Sunomono of Steamed Monkfish Liver with Ponzu sauce was good but not great. And of course steamed rice and miso rounded out this feast.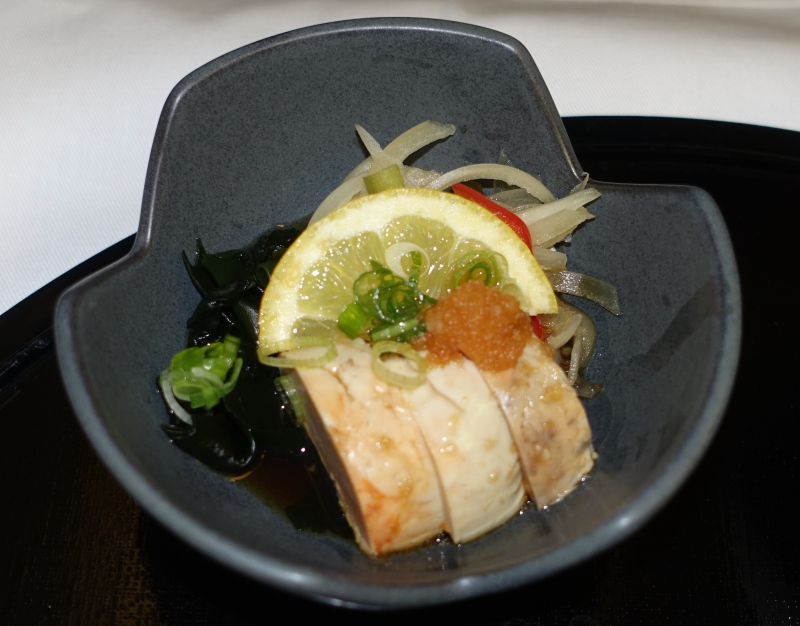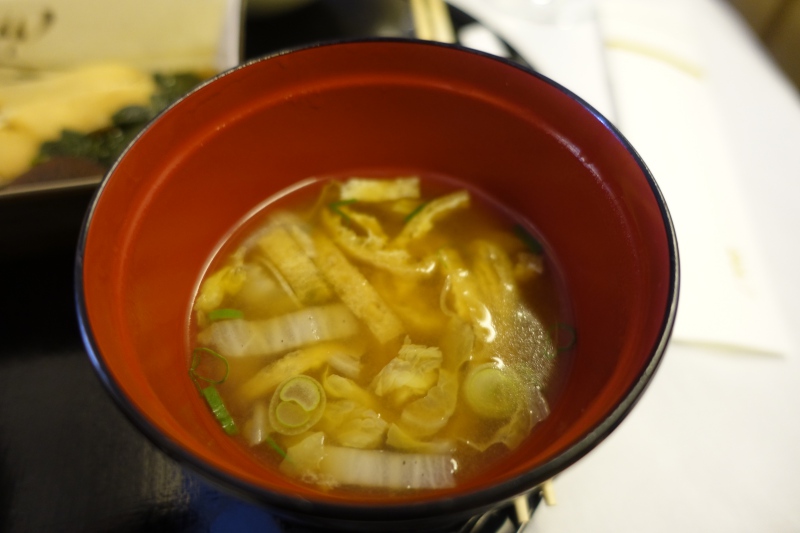 In lieu of the Japanese Wagashi sweet I opted for a dessert from the International menu: Apple Tart with Ice Cream and raspberry coulis. This was ok but nothing special, and I wouldn't necessarily waste calories on it.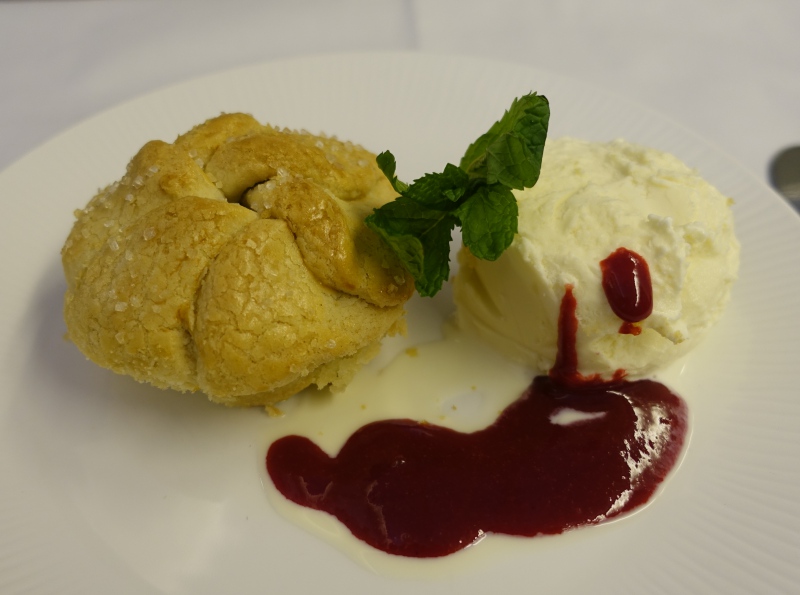 ANA First Class Bed and Sleep Quality
Since we were on a daytime flight, it wasn't quite as important to me to sleep for much of the flight, even though I did want to be sure that my son got some sleep, as otherwise he'd be exhausted when we arrived in Tokyo, even before reaching the hotel.
Fortunately, ANA uses a nice thick foam mattress pad that is better than all other first class products I've slept on except for Singapore Suites and JAL First Class and JAL Business Class. It's not exactly memory foam, but is still very comfortable.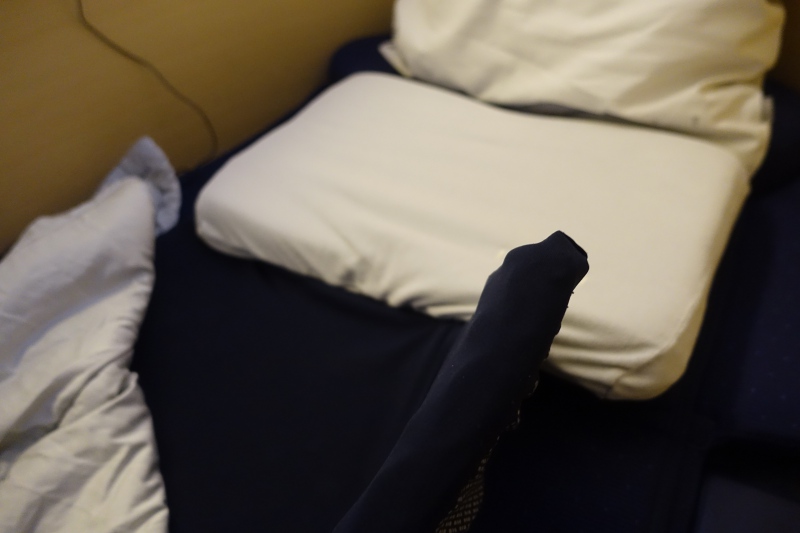 There was also a tempurpedic-like ergonomic pillow which I didn't use since I don't use such thick pillows, but is perfect if you like Tempurpedic pillows.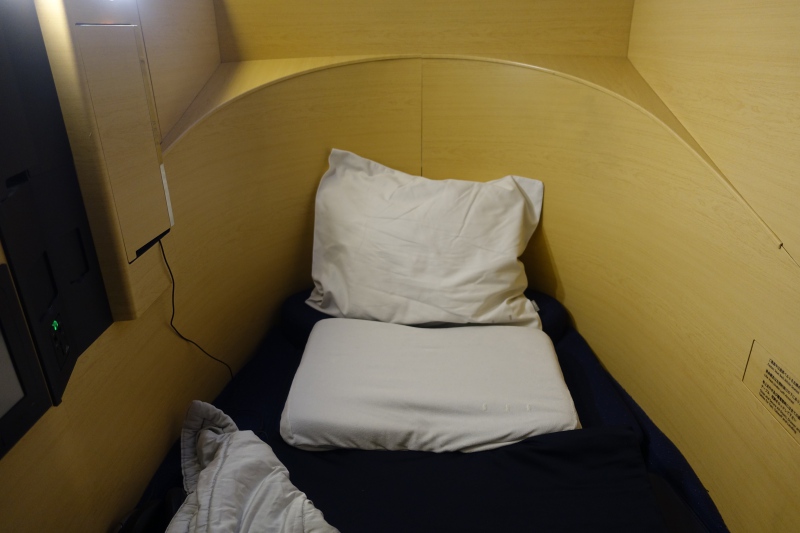 Our cabin crew proactively offered to make my bed when I changed into pajamas after the meal, and offered to make my son's bed when he went to brush teeth.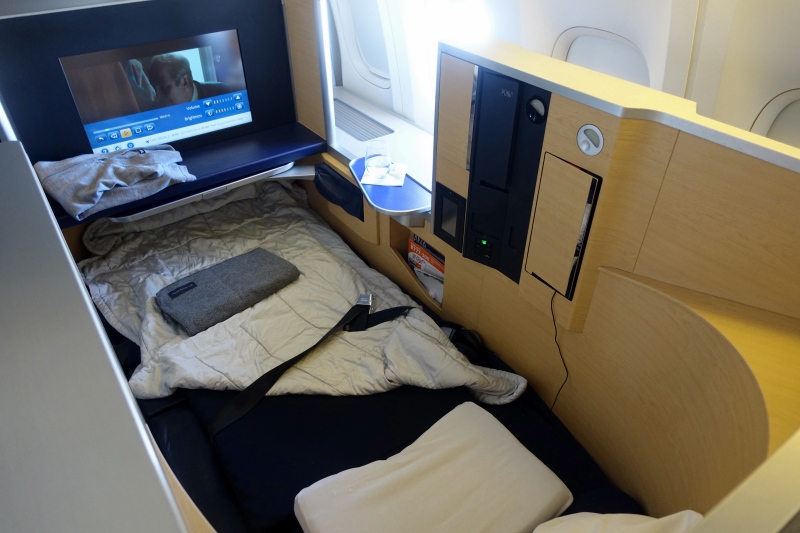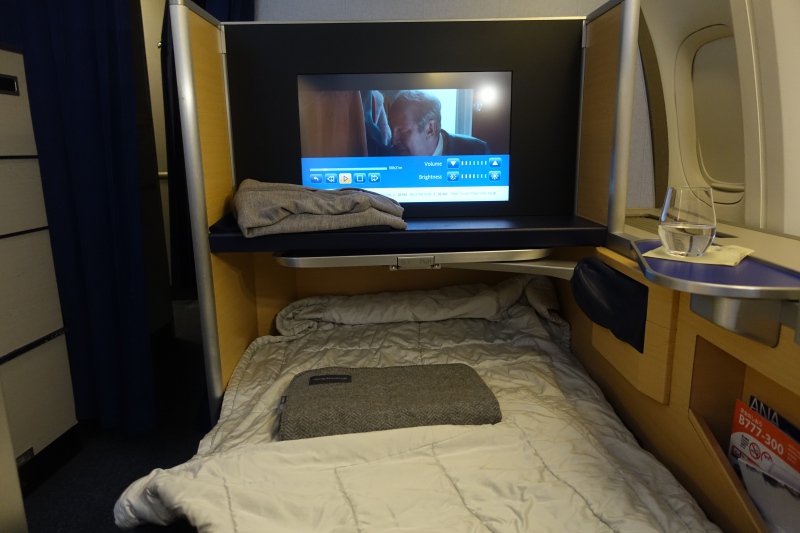 Thanks to the comfortable bed and quiet cabin, my son slept for a good 5 hours before I eventually woke him to have a light meal before our descent into Tokyo. I didn't sleep as well, but it was more my issue of not generally sleeping well on planes, and not a discredit to the bed, which is one of the most comfortable products sleep-wise in my experience.
The Verdict
While I wish ANA used a better first class lounge at JFK, I really enjoyed the flight itself, particularly the bed comfort, excellent Japanese cuisine, kind and polite cabin crew, and quiet and comfortable cabin. I've been on other flights that were simply too warm for comfortable sleeping, but that was not the case here–the cabin was cool and a good temperature for sleeping, neither too warm nor too chilly. I'm not a huge IFE user, but watched part of a Swedish film, "A Man Called Ove," that I'd been wanting to watch, and my son was happy with the selection of kids' cartoons and games. The bathrooms were the usual small size, but what I appreciated is that a flight attendant seemingly cleaned it after each passenger use, as it was always immaculate and the toilet paper folded.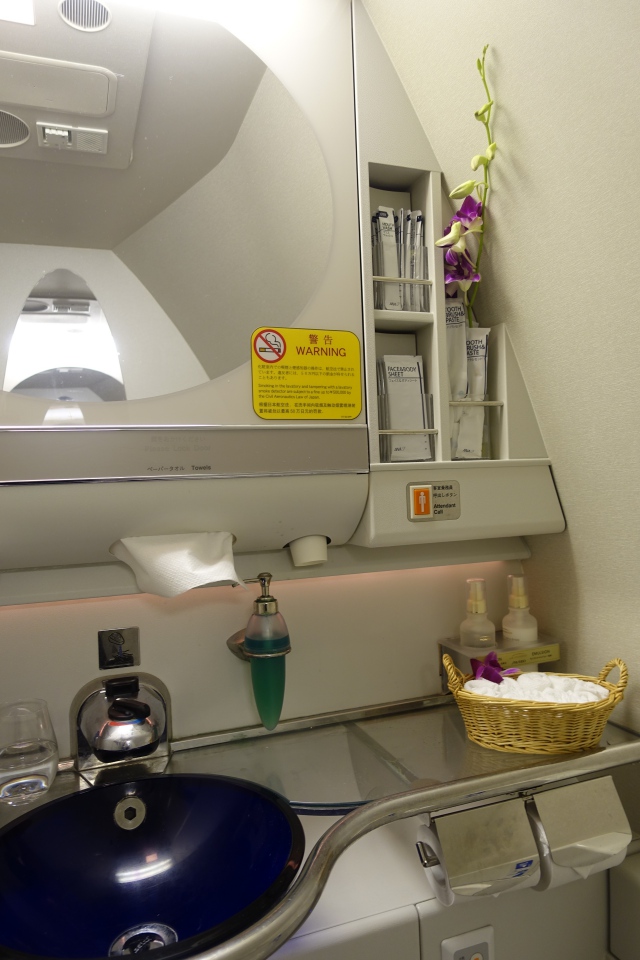 There were just a few detractors. The bed, as I've noted, may not be long enough if you're tall.  While I enjoyed the amuse bouche trio main course and some of the appetizers, some of the appetizers looked better (or cuter) than they tasted. And the Western apple tart dessert was very forgettable. Finally, when I tried to purchase an hour of WiFi about 2 hours before landing, it didn't work, although this is a 3rd party provider and not ANA's own WiFi service.
If you've flown ANA First Class recently, what was your experience?
Recommended Posts
Review: Japan Airlines First Class 777-300ER
Review: Japan Airlines JAL First Class Lounge Tokyo Narita
Cathay Pacific First Class Review, Hong Kong to LAX
Pokemon Fan? Stay at the Peninsula Tokyo for a Unique Pokemon Experience
Need Award Booking Help? Our fee is as low as $75 per ticket if you book your hotel through us.
If you enjoyed this, join 200,000+ readers: please follow TravelSort on Twitter or  like us on Facebook to be alerted to new posts. 
Become a TravelSort Client and Book 5-Star Hotels with Virtuoso or Four Seasons Preferred Partner Amenities!