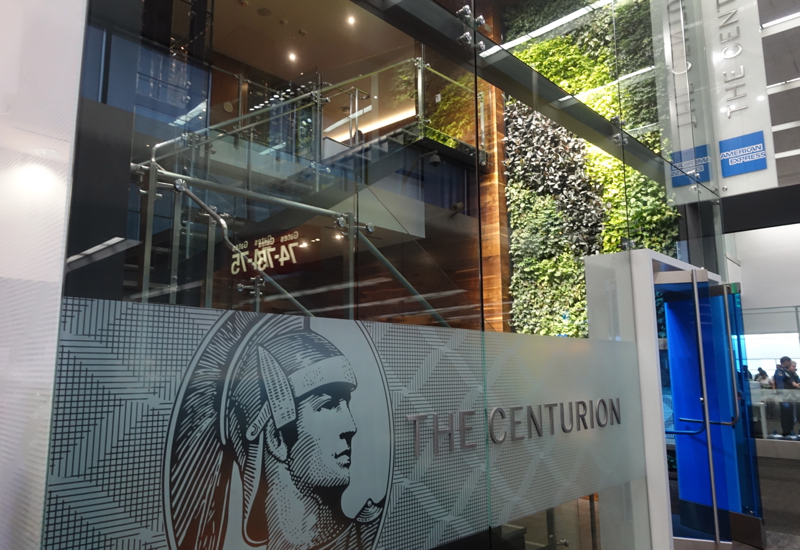 This AMEX Centurion Lounge at San Francisco Airport SFO Review is one of several AMEX Centurion Lounge reviews, including the AMEX Centurion Lounge in Las Vegas, the AMEX Centurion Lounge in New York LaGuardia, and the AMEX Centurion Studio in Seattle.
See all of our airport lounge reviews.
AMEX Centurion Lounge SFO Location, Access and Hours
The AMEX Centurion Lounge at San Francisco Airport, SFO is located in Terminal 3 near Gate 74. Even if you're not departing from Terminal 3, you can typically clear security at T3 to access the lounge (if you have enough time to clear security for both Terminal 3 and the terminal you're departing from) by mentioning to the TSA agents that you want to access the Centurion Lounge in Terminal 3, and presenting your same day boarding pass. It's naturally helpful if you have Global Entry / TSA PreCheck to expedite security both at Terminal 3 and your departure terminal.
The AMEX Centurion Lounge in San Francisco is open 5am-11pm daily.
As with other AMEX Centurion Lounges, you enjoy complimentary access to the lounge if you hold a valid AMEX Platinum or Centurion card, have a boarding pass for same day travel, and provide a government-issued ID.
Other AMEX card members can also access the lounge, subject to space availability, by paying $50 and presenting their AMEX card, same day boarding pass and government issued ID.
AMEX Platinum and Centurion members may bring up to two guests or their immediate family members (spouse or domestic partner and children under 18) into the lounge with them as complimentary guests.
If you purchase a lounge day pass for $50, you may bring in children under 18 as complimentary guests, but you must pay $50 per person for all adult guests (including your spouse/partner).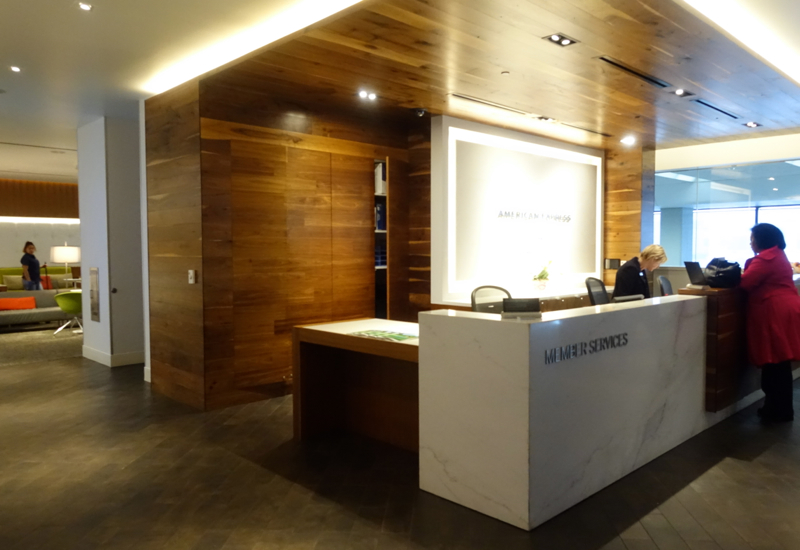 AMEX Centurion Lounge SFO Amenities and Seating
The AMEX Centurion Lounge at SFO was quite crowded during our morning visit, especially in the dining area, which you access by taking a left after reception, since everyone was trying to grab some breakfast.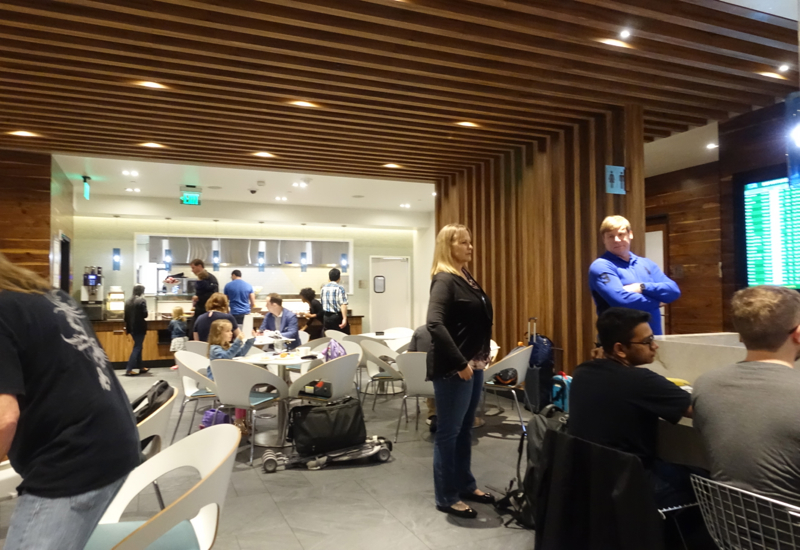 The seating area right by the reception offered the news on a flat screen TV, and again was occupied during most of our visit: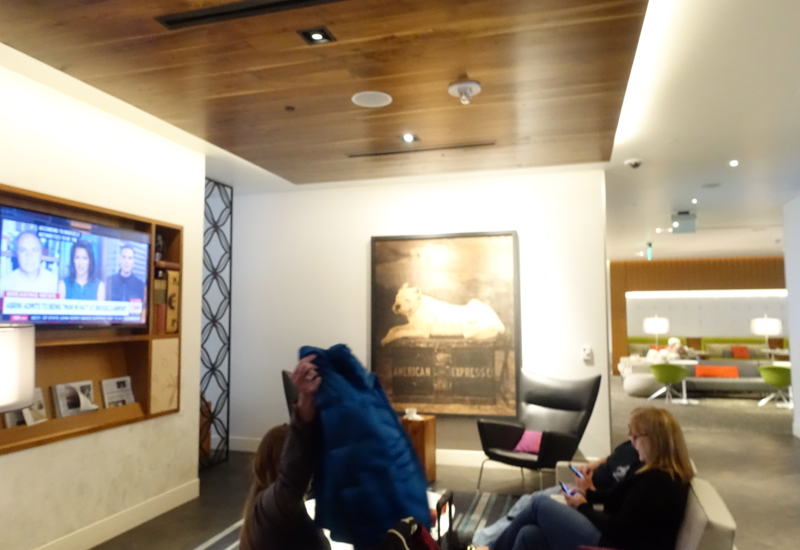 Even when we walked across to the other main lounge space, only a couple seats at the large communal table were available: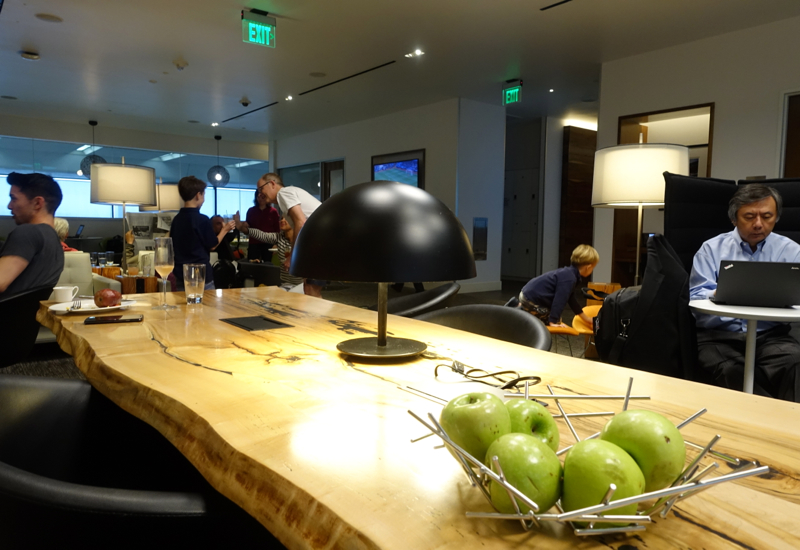 Fortunately, the WiFi worked well enough for my Skype calls and some file uploading. You receive a WiFi password on a blue business card, when checking into the lounge.
There were also a couple of large Apple computer monitors and a printer available just behind the communal table, in case you need to print something out.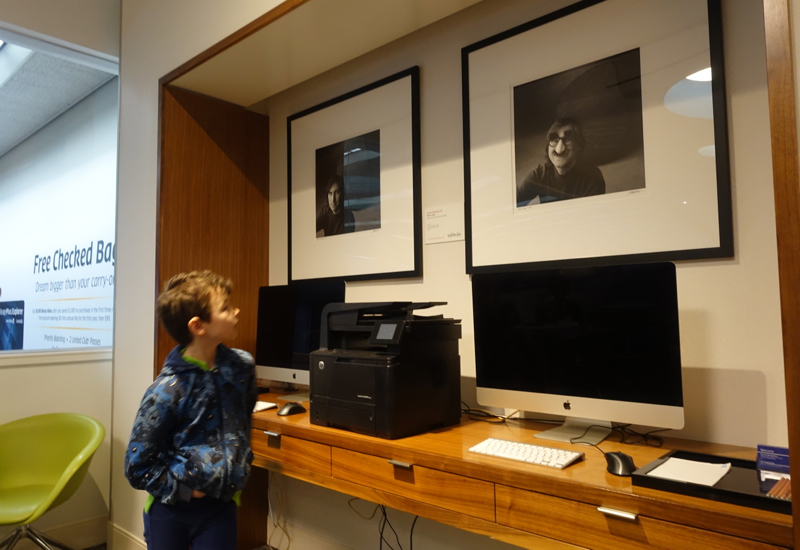 There is a shower suite, but it was occupied during our visit, so I don't have photos of it. The bathroom was clean and featured L'Occitane Verveine hand soap and moisturizer, as is usual for The Centurion Lounge.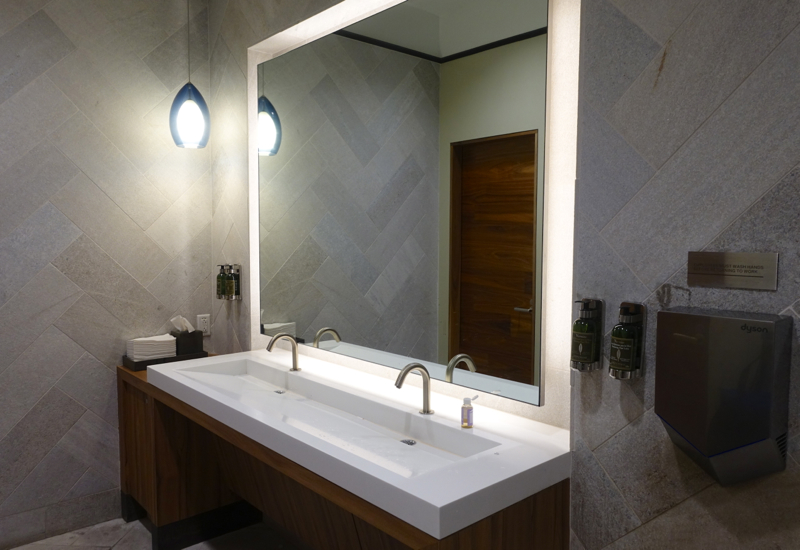 AMEX Centurion Lounge San Francisco SFO Food and Drinks
During our morning visit the Centurion Lounge was offering breakfast, which is served 6-11am. It's buffet style, served from an open kitchen, and the kitchen staff were hard pressed to keep refilling everything given the many hungry lounge guests.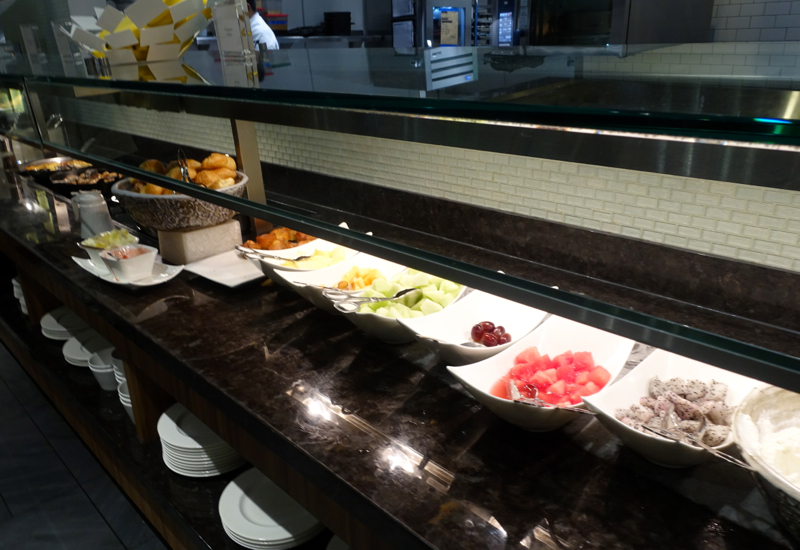 My favorite item was an egg frittata with mushrooms, although my son didn't want any, given his odd aversion to mushrooms.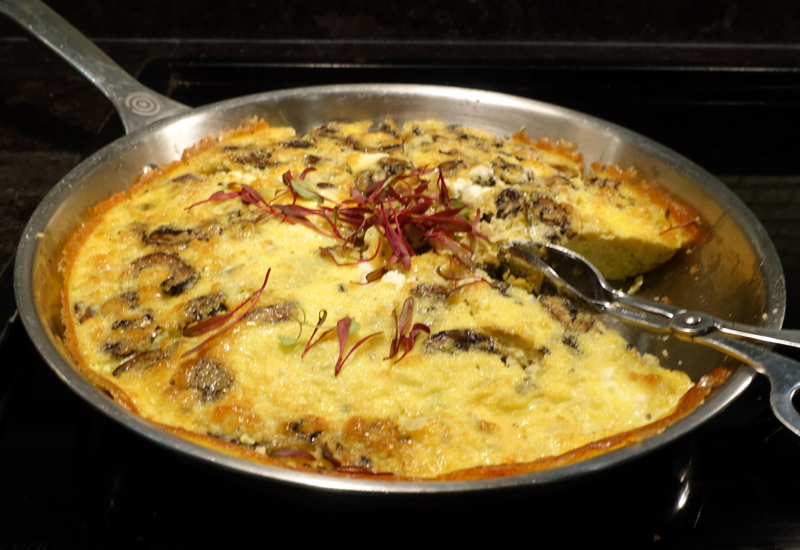 There were also breakfast sausages (which my son did enjoy) and waffles (another winner with him):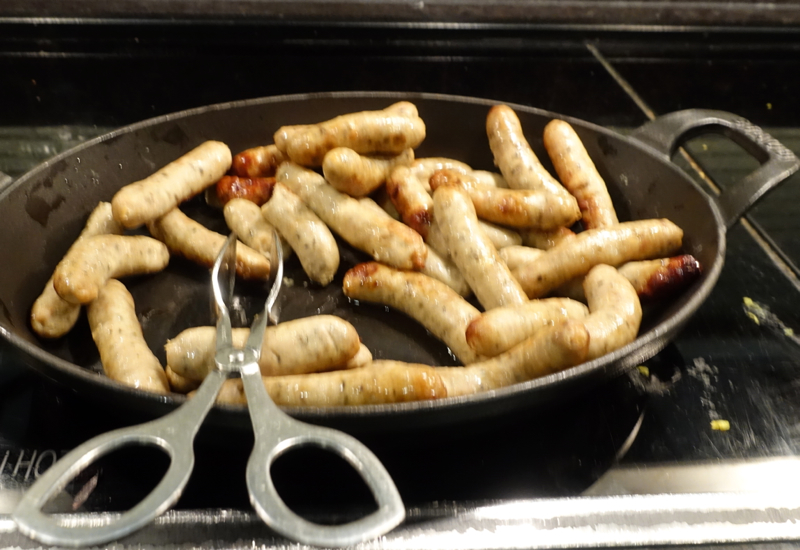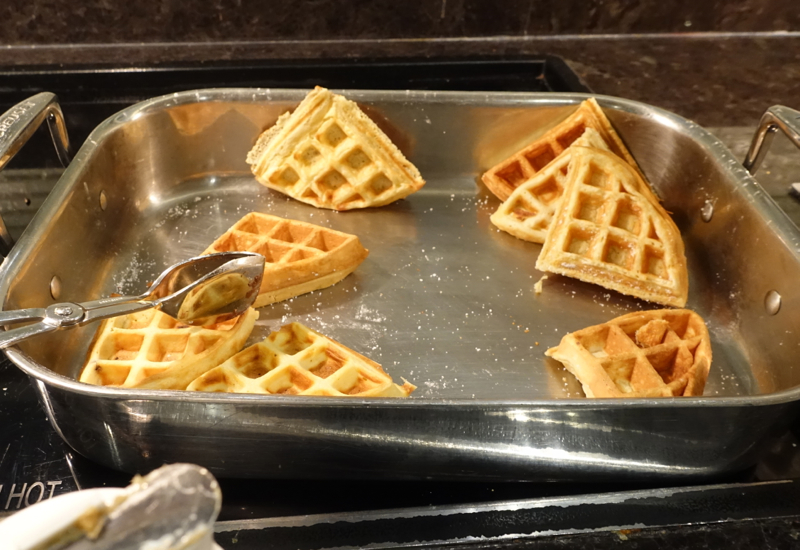 Fresh fruit included watermelon, honeydew, cantaloupe and pineapple: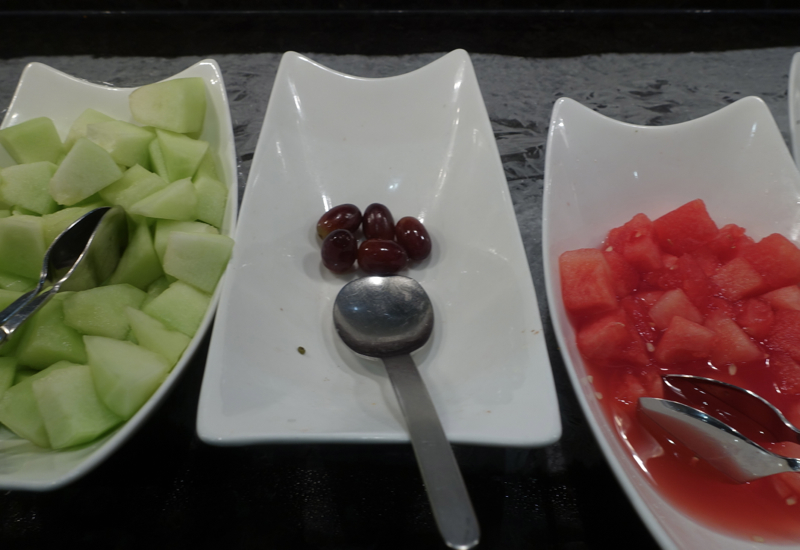 There was even some dragonfruit by the big bowl of Greek yogurt: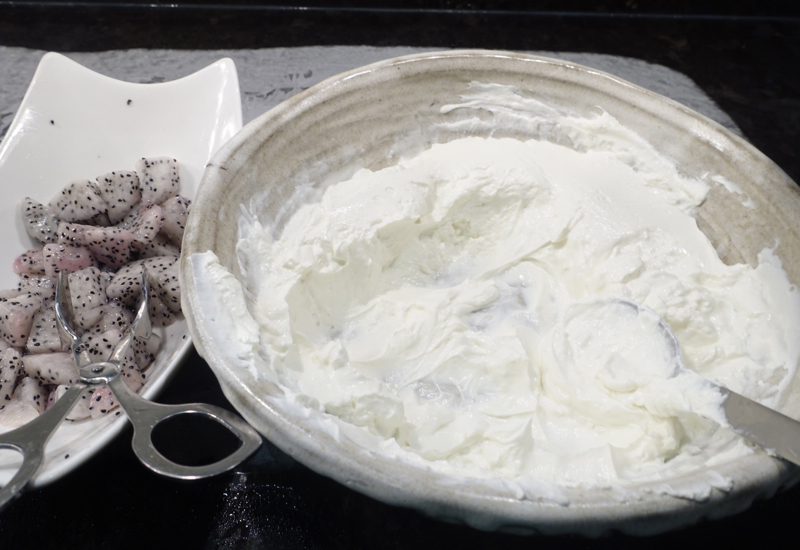 There wasn't any fruit yogurt, so I mixed some jam in with the Greek yogurt before adding some crunchy granola on top for a DIY parfait.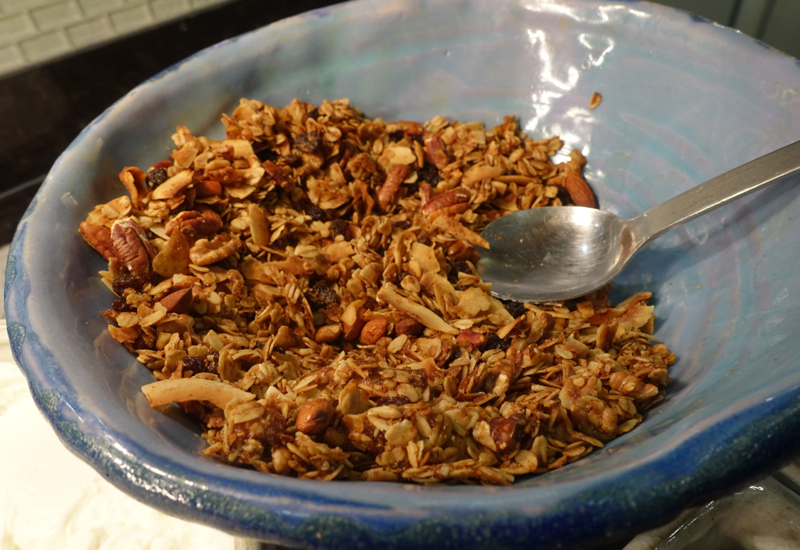 The croissants and muffins didn't really tempt me, perhaps because we'd managed to treat ourselves to some awesome eclairs from Tartine Bakery the prior evening.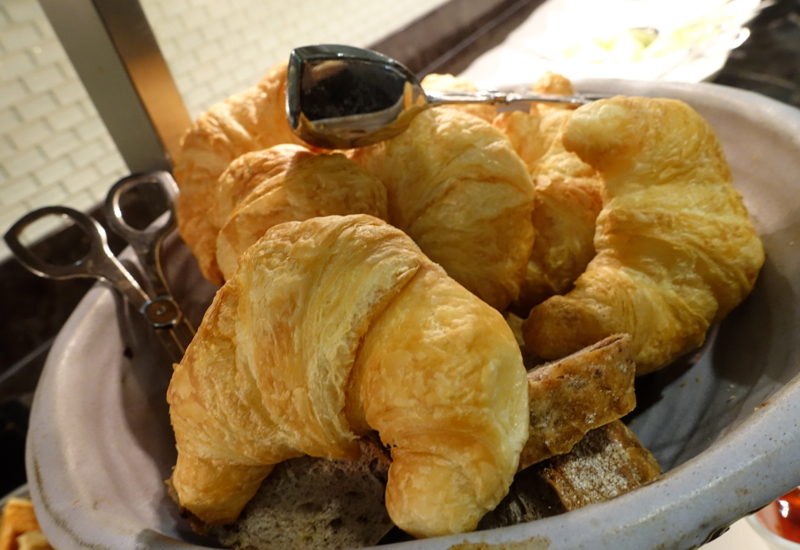 There was an Espresso machine as well as brewed coffee. There was also self-serve orange juice and water in an obscure corner of the dining room.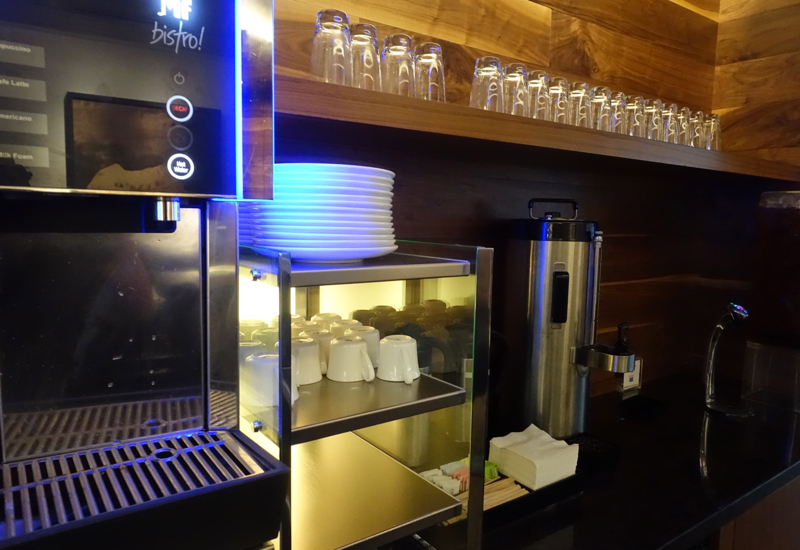 While it was way too early for me to even consider wine, there was quite a wine bottle display: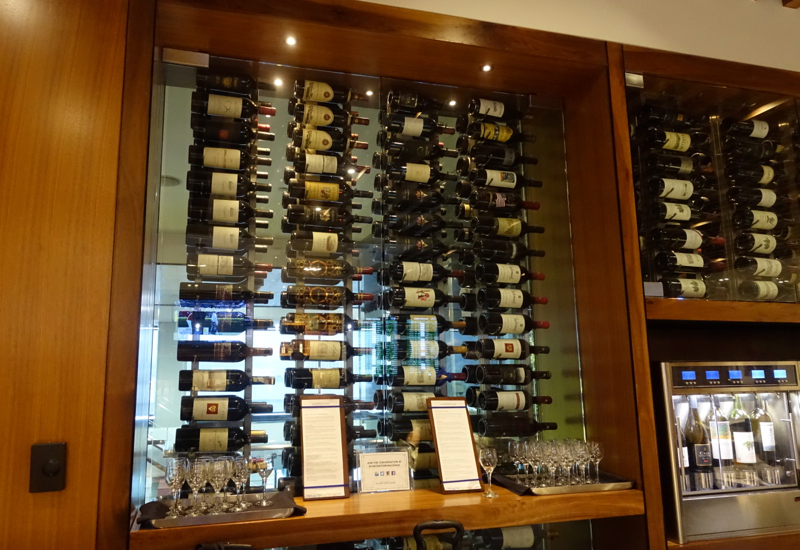 And for oenophiles, here are the wine lists, from which you can do a white wine or red wine tasting: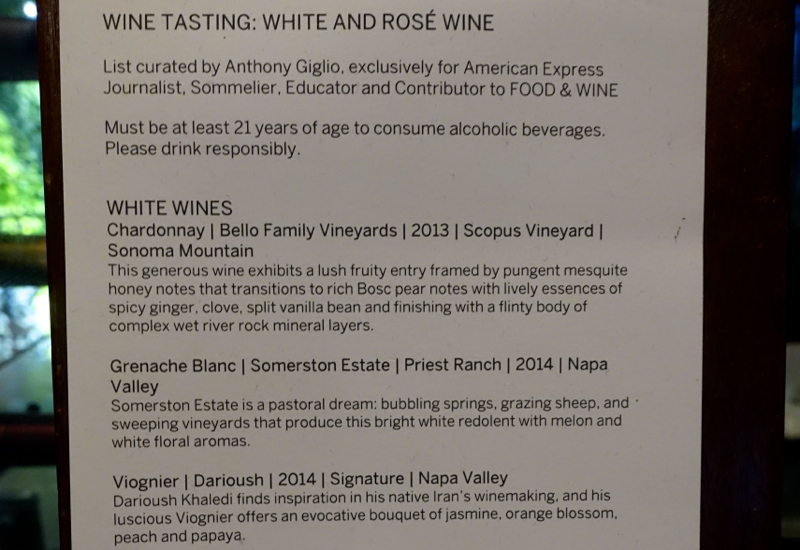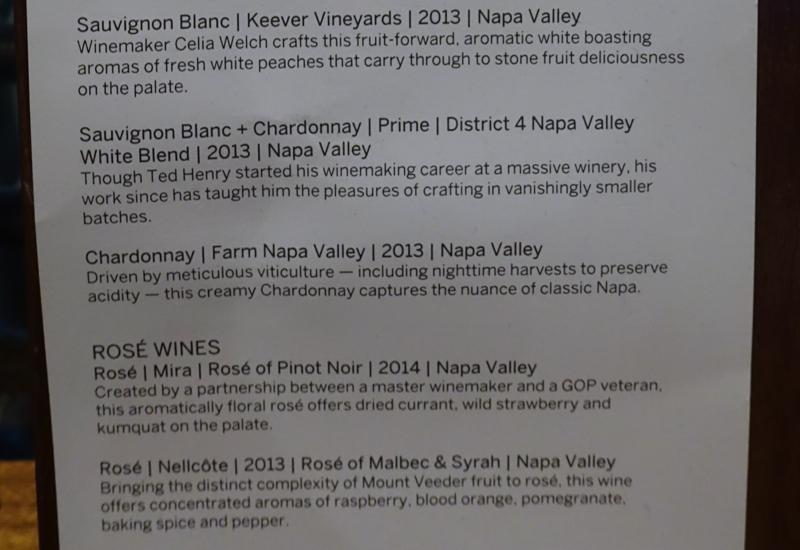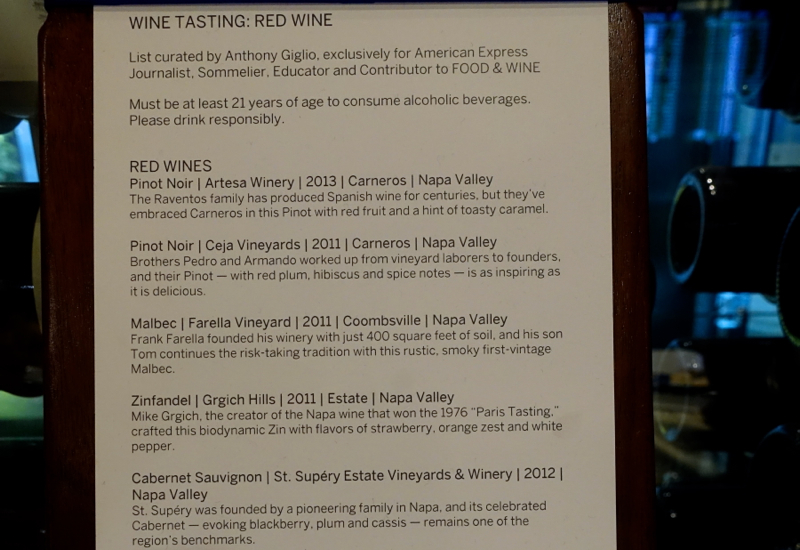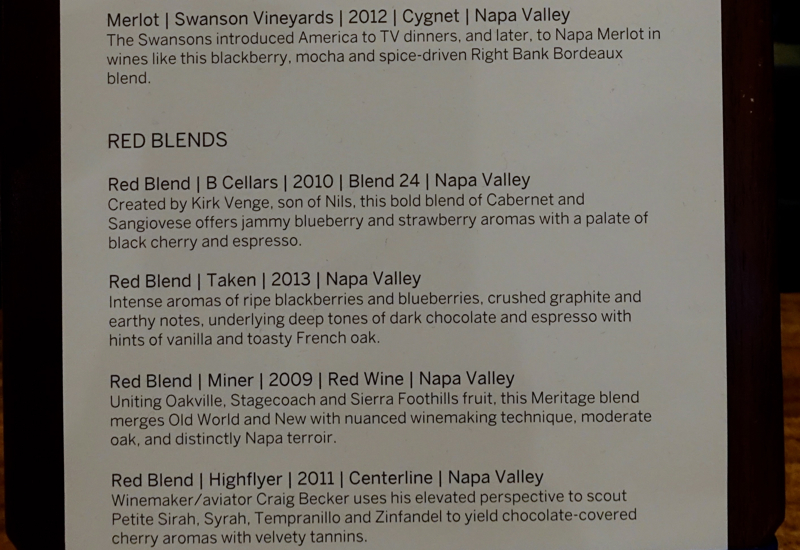 The Verdict
It's a testament to how popular the AMEX Centurion lounges are that, no matter which AMEX Centurion Lounge I visit or what time I visit, they are always crowded. While I would have loved for the lounge to have been less crowded, it was still a good experience and worth the hassle in our case of clearing security, then exiting and clearing security for Terminal 2, which we were departing out of. Breakfast offerings weren't anything to write home about, but the mushroom frittata and granola were very good. I also appreciate the generally more polite service in AMEX Centurion lounges than in most U.S. domestic lounges.
A key offering in the San Francisco lounge, perfectly fitting for the gateway to California wine country, is the wine selection. I'll have to try a wine tasting and savory lunch/dinner offerings on a future visit.
If you've recently visited the AMEX Centurion Lounge in San Francisco Airport, what was your experience?
Related Posts
Review: AMEX Centurion Lounge in New York LaGuardia
Review: AMEX Centurion Lounge in Las Vegas
Review: AMEX Centurion Studio in Seattle
Hyatt Regency San Francisco Airport SFO Hotel Review
Review: Loews Regency San Francisco
Need Award Booking Help? Our fee is as low as $75 per ticket if you book your hotel or cruise with TravelSort.
If you enjoyed this, join 200,000+ readers: please follow TravelSort on Twitter or like us on Facebook to be alerted to new posts.
Become a TravelSort Client and Book 5-Star Hotels with Virtuoso or Preferred Partner Benefits