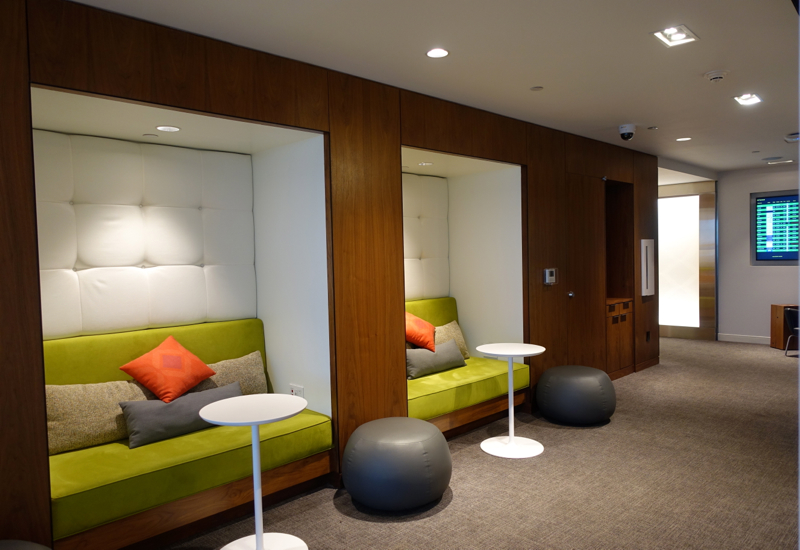 This review of the AMEX Centurion Lounge at New York's LaGuardia Airport (LGA) is from a recent June 2015 visit, after a flight back into NYC. Previously, I've visited the AMEX Centurion Lounge in Las Vegas Airport (LAS), and I've also written an AMEX Centurion Studio in Seattle Airport (SEA) Review.
Location, Hours and Access to the AMEX Centurion Lounge at New York LaGuardia Airport (LGA)
Unlike most airport lounges, the AMEX Centurion Lounge at New York LaGuardia is located landside, pre-security, between Concourse B and Concourse C on the 3rd floor. Follow the signs, and arrive at this pillar in front of the elevators, which will take you to the 3rd floor.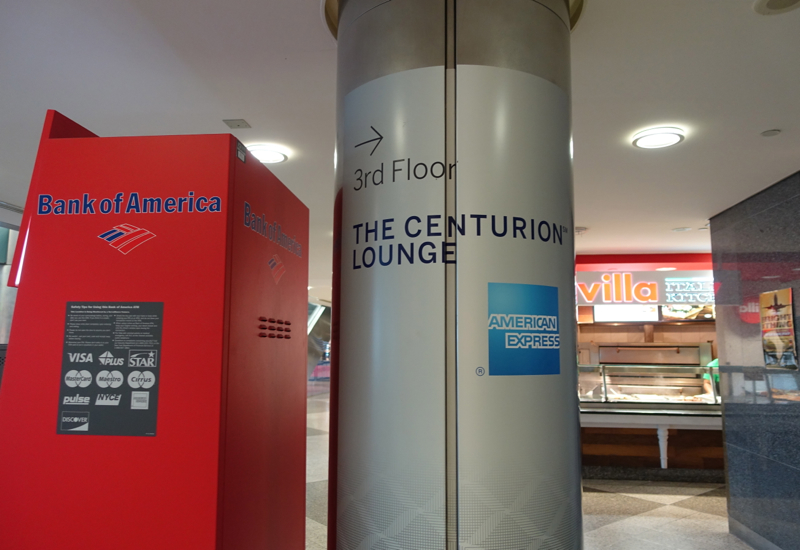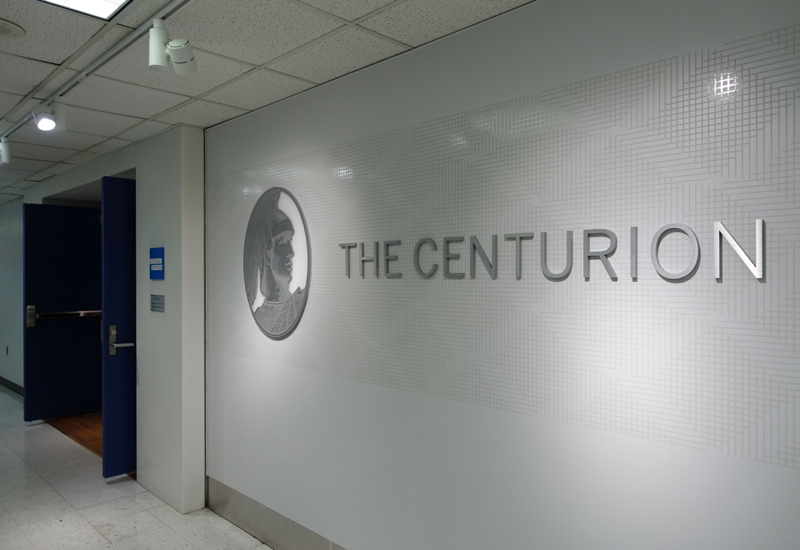 The lounge is open 5:30am-8pm Sunday – Friday, and 5:30am-6:30pm on Saturdays.
Access to the Centurion Lounge is complimentary if you have an active AMEX Centurion card or AMEX Platinum card, and you must have a confirmed reservation for same-day travel on any airline, plus produce a government-issued ID to enter. If you are eligible for complimentary access, your spouse or domestic partner and children under 18 (or up to two guests) may accompany you, on a complimentary basis.
If you have an AMEX card but it is not a Centurion or Platinum card, you can pay $50 per adult to enter the lounge, subject to lounge capacity constraints. If you pay for a one-day pass, your children under 18 may accompany you at no extra charge.
Don't worry if you only have your boarding pass on your mobile device, as I did, and if it doesn't seem to come up due to the poor cell phone reception in the lounge (at least at the time of my visit). The associate was apologetic about the terrible cell phone reception and just asked me to produce my AMEX Platinum card and driver's licenses, and waved me in.
AMEX Centurion Lounge New York LGA Amenities and Seating
Seating decor was identical to that at the Centurion Lounge in Las Vegas, just more limited since the New York lounge is smaller. After checking in, most head down the corridor to the right to access the dining area and bar.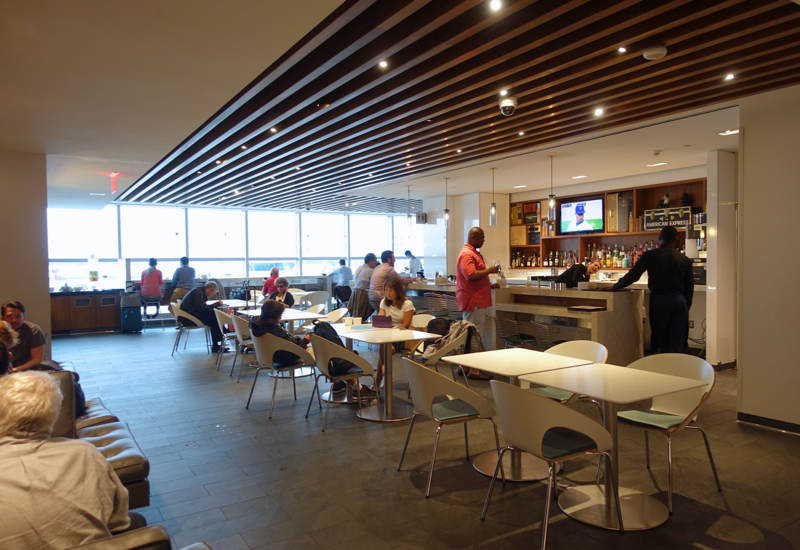 If you prefer a quieter environment, a better bet are the seating alcoves that you'll come to if you proeed straight ahead past reception, or the communal table in the "study"-like area there.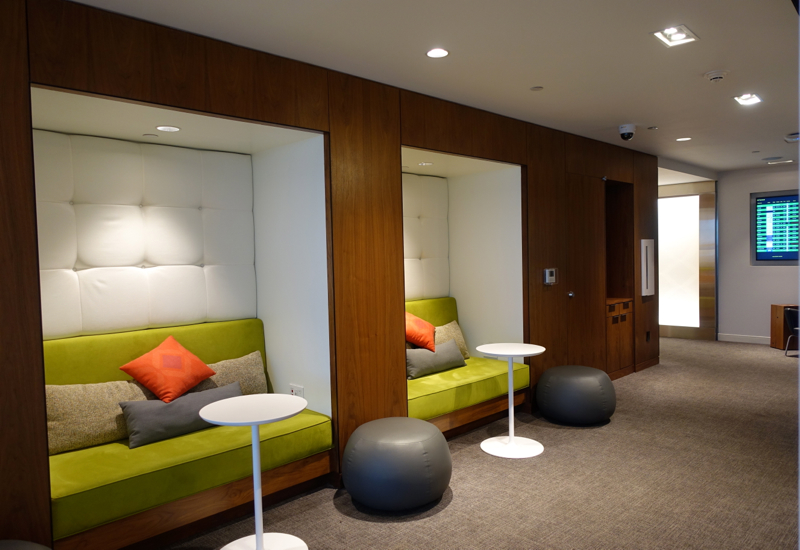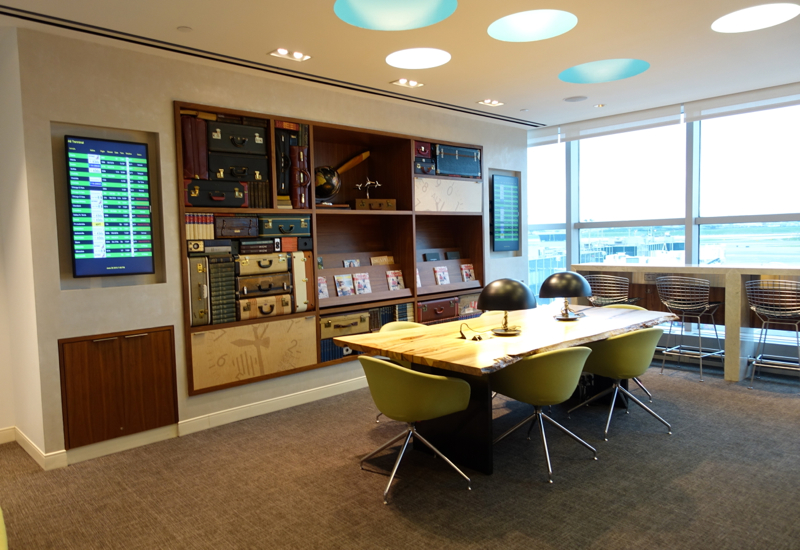 Note that this Centurion Lounge does not offer a shower, only a regular bathroom. Hand wash and body lotion are L'Occitane though, just as at other Centurion Lounges, so this is a nice touch.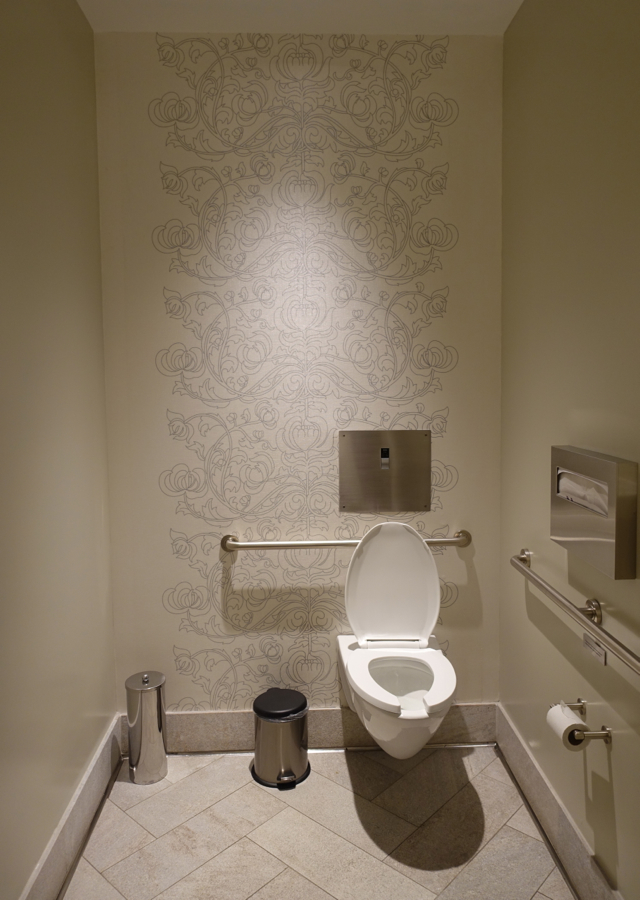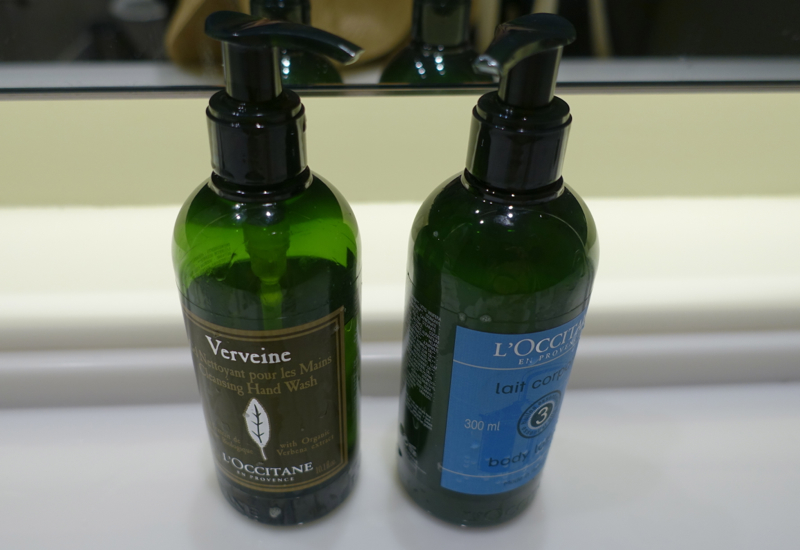 AMEX Centurion Lounge New York LGA Lounge Food and Drinks
I arrived about 45 minutes before closing, so there were dinner offerings and it was nearing last call for drinks. Note that the bar tender stops making drinks at 7:30pm, so don't arrive a few minutes before 8pm and expect to enjoy a cocktail or glass of wine. The cocktail list is quite extensive, although given my poor experience with the cocktails at the Las Vegas Centurion Lounge I didn't try any.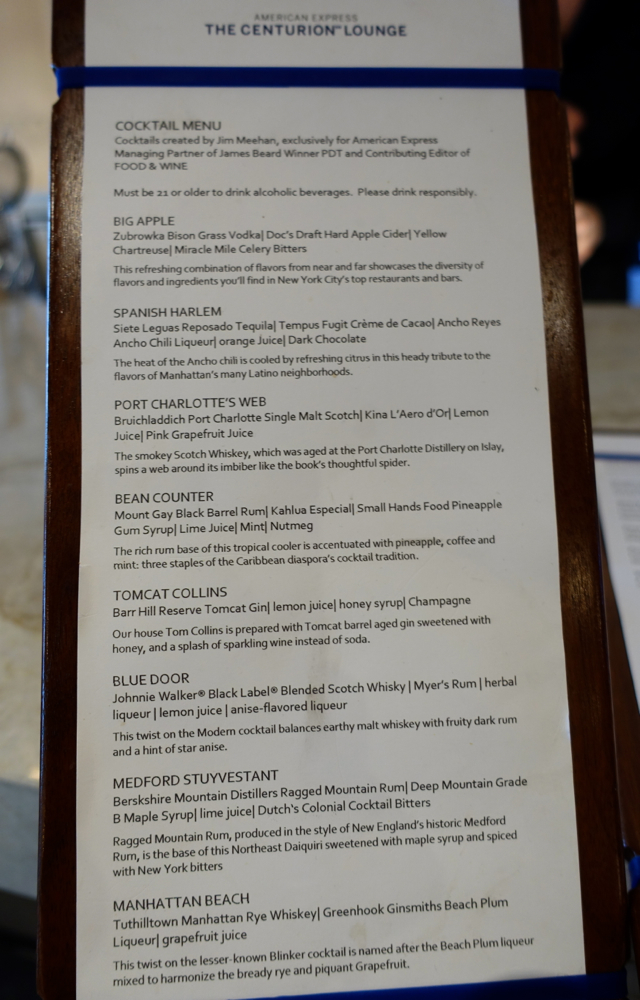 The wine list lacked any of my usual favorites (no Cabernet Sauvignon or Sonoma Zinfandels) so I opted for a Pinot Grigio, which was unremarkable and not as good as the ones I get from Trader Joe's.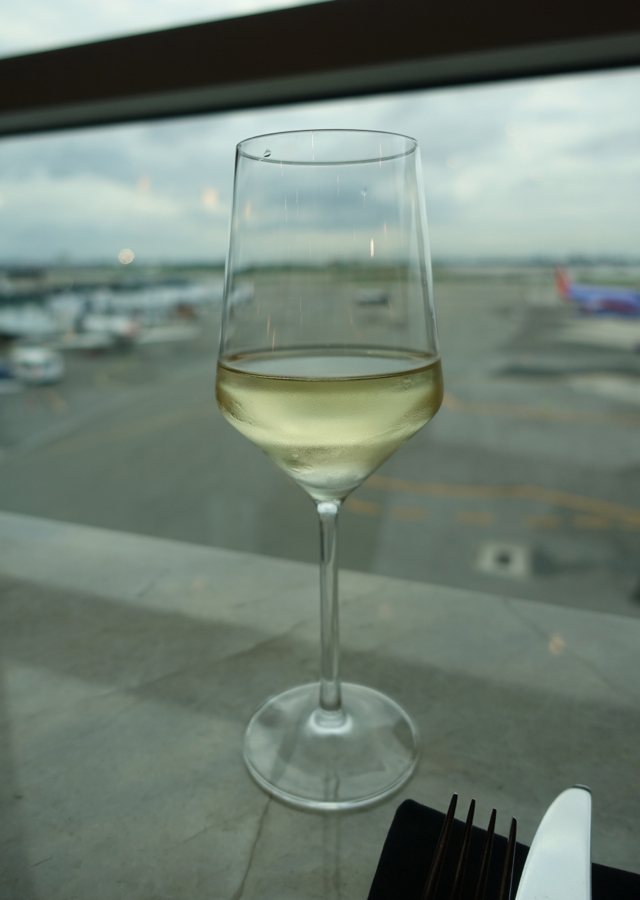 The hot part of the buffet was missing the main dish, so I waited about 7 minutes for it to be replenished. It was some very tasty crispy fried lemongrass chicken, and it was at its best since it had been freshly made, although of course I would have preferred not to have to wait for it.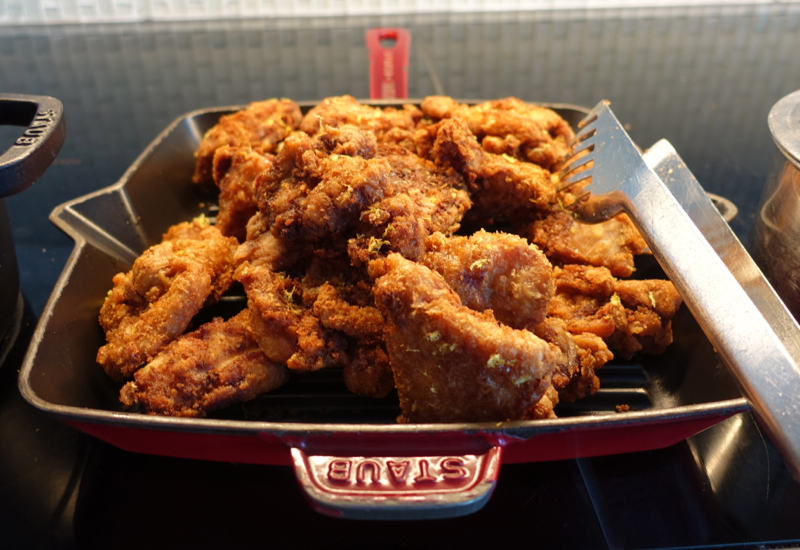 I accompanied it with some roasted sweet potatoes, which were also good, and a side of avocado and chili.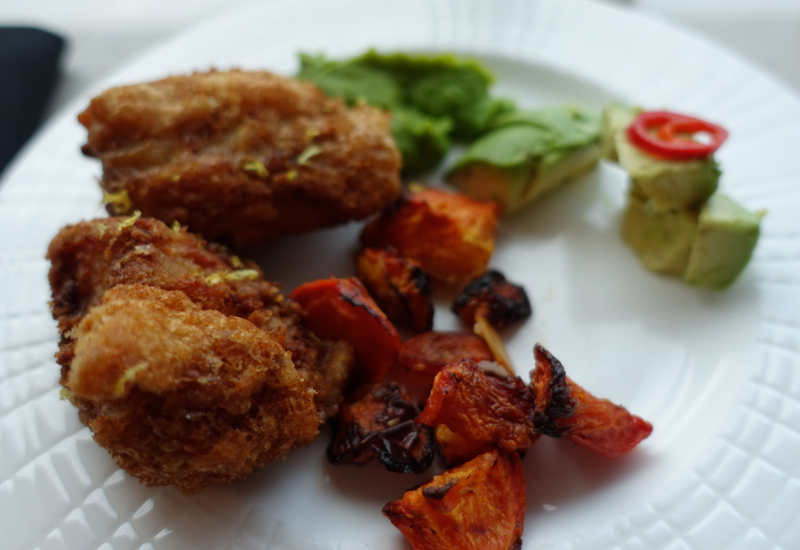 There were also some cold veggies available: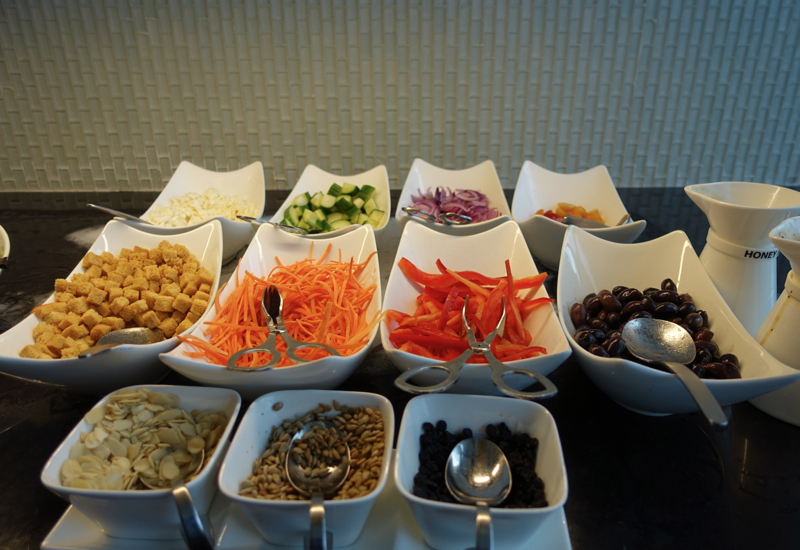 Dessert, as at the Las Vegas Centurion Lounge, was simple and straightforward: oatmeal raisin cookies and chocolate brownies. The brownies in particular are nice and moist.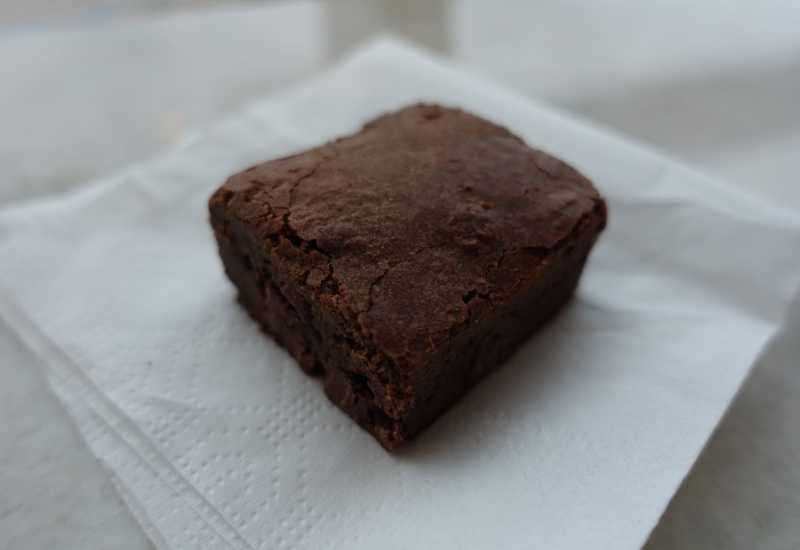 The Verdict
I rarely fly out of or into New York LaGuardia, since even though it's quite close to Manhattan, I hate not having a public transit option for when road traffic is bad. But if you do regularly find yourself in LaGuardia, the Centurion Lounge is easily the best option. Just be sure to leave enough time for security if you visit before a departing flight. Would I pay $50 for lounge access? No way. But it's a nice side perk of the 150K AMEX Business Platinum Card Bonus Offer. I just wish there was one at JFK, although with all the different JFK terminals and aggravation that would ensue from having the Centurion Lounge at one terminal but not the others, I understand why AMEX decided to put the NYC Centurion Lounge at LGA.
Related Posts
Review: AMEX Centurion Lounge, Las Vegas
Cancel AMEX But Keep Membership Rewards Points?
AMEX Points to Airline Miles Online Transfer: Your or Authorized Users' Accounts Only
Virtuoso Hotels: Bookings with Upgrades, Complimentary Breakfast and VIP Perks
Need Award Booking Help? Our fee is as low as $75 per ticket if you book your hotel or cruise with TravelSort.
If you enjoyed this, join 200,000+ readers: please follow TravelSort on Twitter or like us on Facebook to be alerted to new posts.
Become a TravelSort Client and Book 5-Star Hotels with Virtuoso or Preferred Partner Benefits