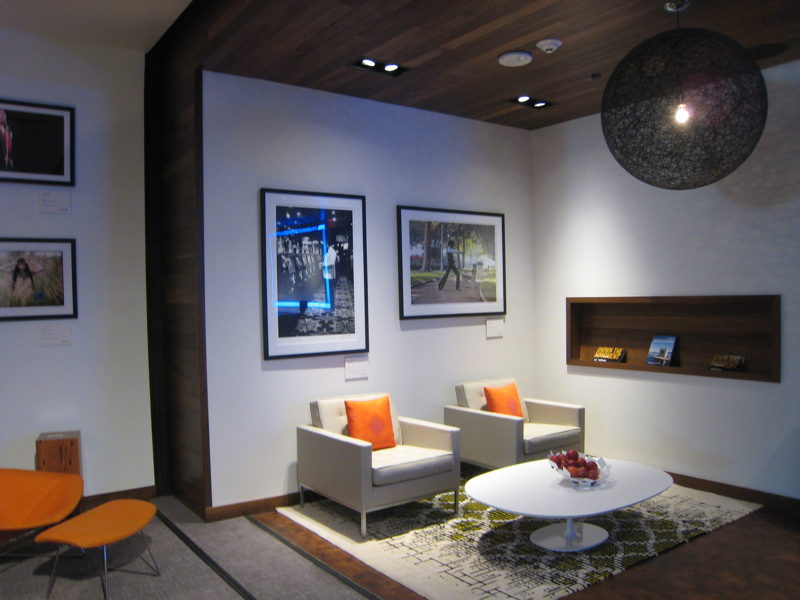 This AMEX Centurion Lounge in Las Vegas Review is one of several Las Vegas restaurant and hotel reviews. Also see our AMEX Centurion Lounge in New York LaGuardia Review and Review of the AMEX Centurion Studio in Seattle Airport.
Other posts in this Las Vegas trip report include:
Encore at Wynn Las Vegas Review
Las Vegas Virtuoso Deal That May Not Last
L'Atelier de Joel Robuchon Las Vegas Review
The Signature at MGM Grand Review
Four Seasons Las Vegas with Four Seasons Preferred Partner Benefits
American Express Centurion Lounge Access and Hours
American Express Centurion Lounge access is complimentary if you hold an AMEX Centurion or AMEX Platinum card, and you may bring in your immediate family members (or two guests) for no charge. Otherwise, with any other American Express card, it's $50, which is valid only for you and for your accompanying children under 18 years of age.
The AMEX Centurion Lounge at Las Vegas has the longest hours: 5am – 12am. The Dallas location is 5:30am – 10pm, and New York LaGuardia is open 6am – 8pm.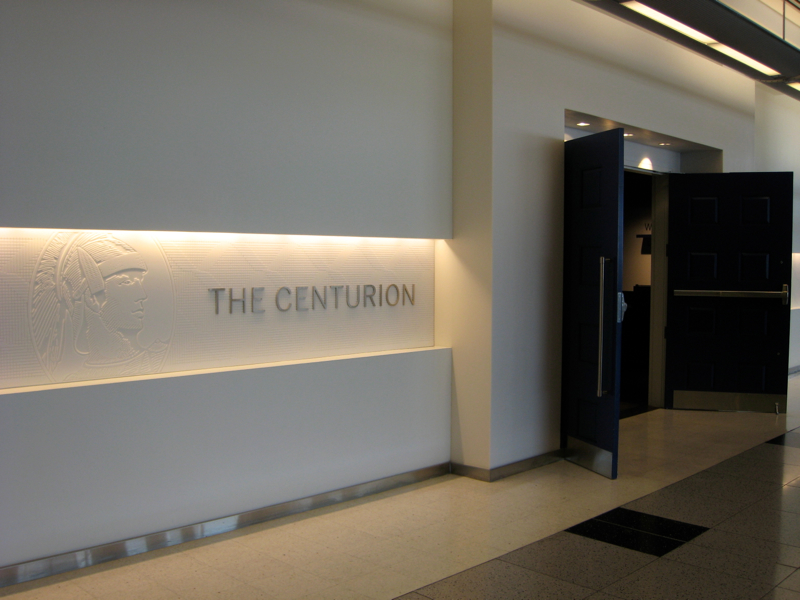 American Express Centurion Lounge, Las Vegas Location and Check-In
The AMEX Centurion Lounge in Las Vegas is located in Concourse D, across from Gate D1. You can get there from Terminal 1 and Terminal 3; since I was flying JetBlue from Terminal 3, I simply took the underground train that links Terminal 3 and Concourse D; it took under 10 minutes from the lounge to my gate.
American Express Centurion Lounge Amenities
Shower Suite: One of the amenities I miss most at U.S. domestic lounges vs. good international lounges is a shower room, and fortunately, the AMEX Centurion Lounge in Las Vegas (although not New York LaGuardia) has a shower suite, available on a first come, first served basis.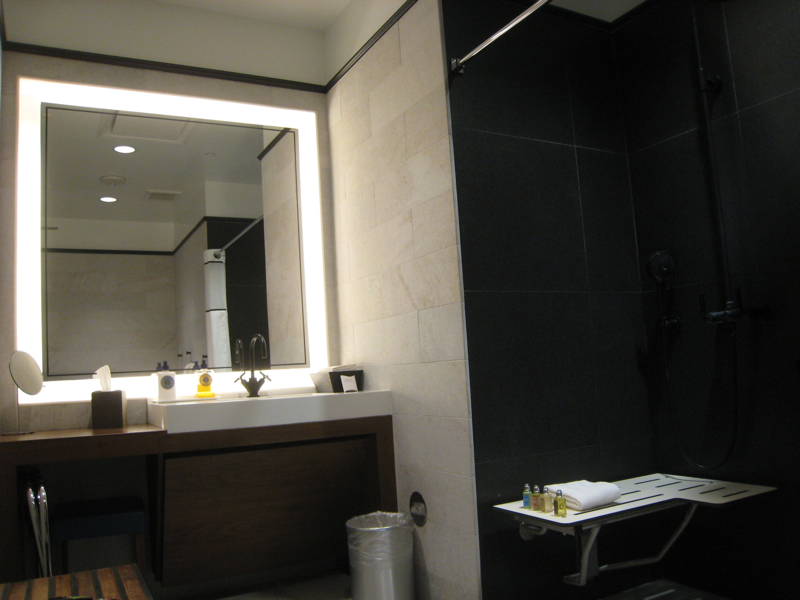 It's designed to be accessible, so design takes a backseat to functionality, but I was happy to see L'Occitane bath products: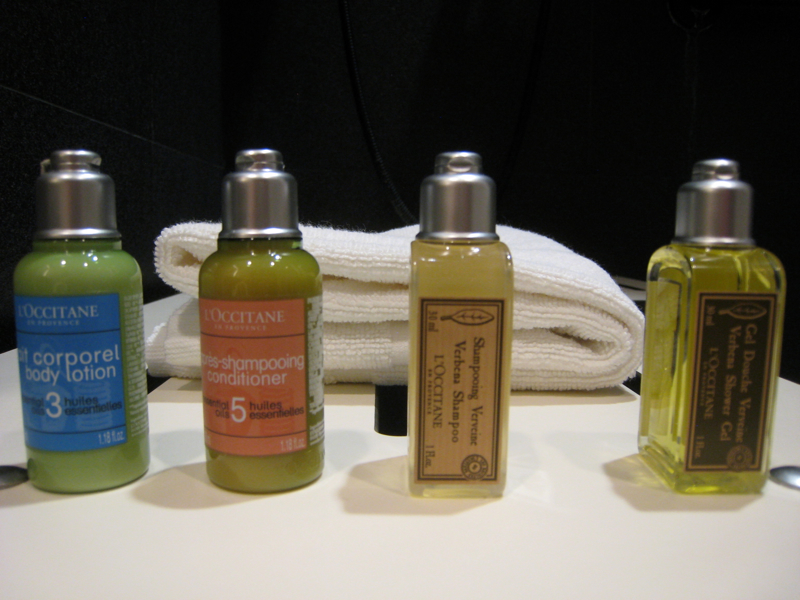 Family Room / Kids' Play Room: While I was in Las Vegas for work, sans munchkin, Las Vegas is very much a family destination these days and I saw plenty of families during my stay. It's great that the Las Vegas AMEX Centurion Lounge recognizes the need to accommodate families and kids with a playroom, and a shame that the newest AMEX Centurion Lounge a New York LaGuardia does NOT have a family room (although the Dallas location does).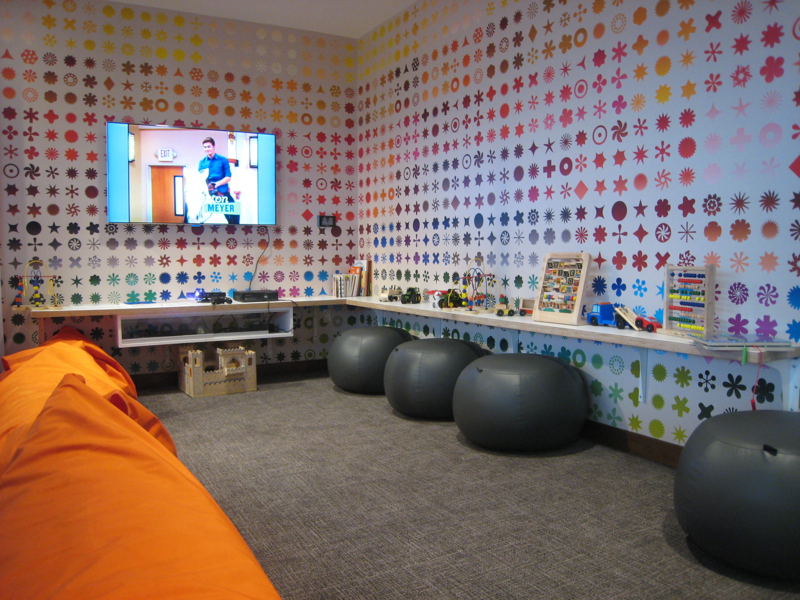 Work Spaces / WiFi: One of the biggest pet peeves many travelers have with airports is that there never seem to be enough electrical outlets by the gate to recharge devices. The Centurion Lounge has quite a few work spaces and alcoves with power outlets, so unless the lounge is packed, you should have no problem finding a seat near a power outlet. The WiFi was ok, although not anywhere near as fast as I'd have liked–it was significantly slower than the WiFi in all the hotels I stayed at, let alone my WiFi at home. Come on, AMEX–get the WiFi right, and worry about the food after that.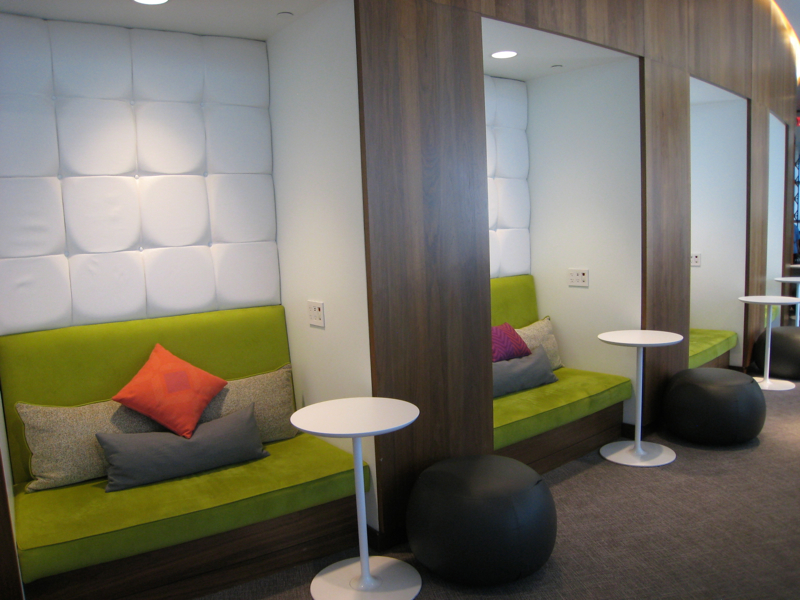 American Express Centurion Lounge Menu and Food
Much has been made of the American Express Centurion food, and I get it–U.S. domestic lounge offerings are abysmal. Bruised fruit, pretzels and Tillamook cheese, anyone? But I honestly was not too impressed. The best things I ate were some pieces of fresh fruit, the berries adorning the pancakes, and a brownie from the lunch spread that was being set out just as I left. The breakfast buffet had also been rather depleted of eggs when I was there, and the nearly empty tray sat out for some time.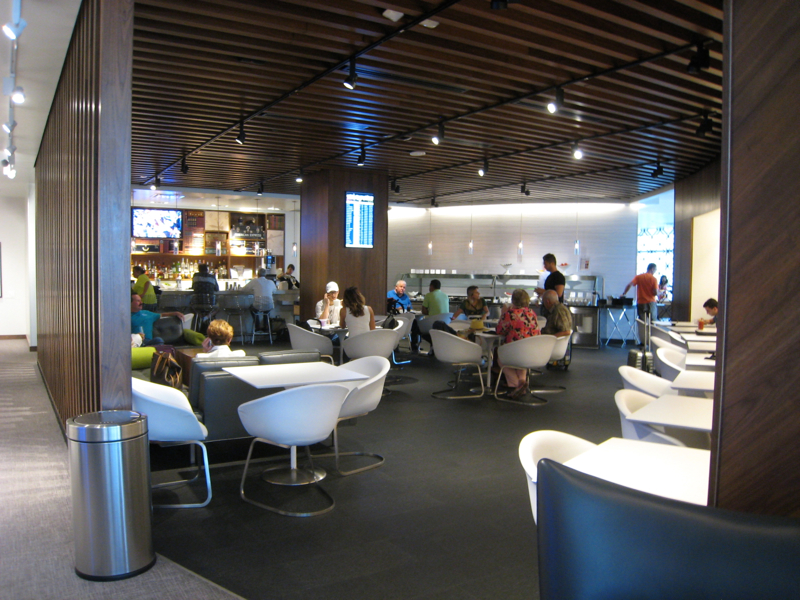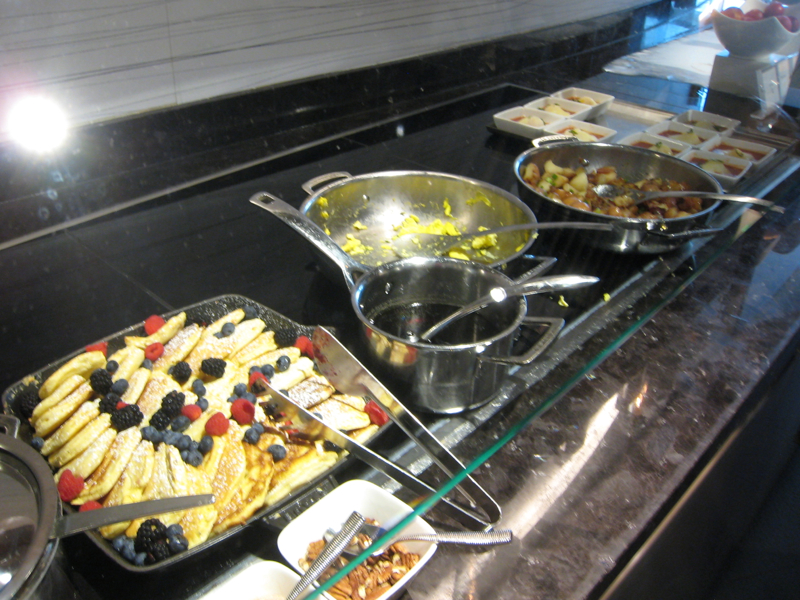 Perhaps breakfast is not the right meal to eat at the Centurion Lounge, but it sounded good on paper: Lemon Ricotta Pancakes with Fresh Berries sounded right up my alley, since I love ricotta pancakes and make them myself once in a blue moon when I have time. Well, these were the worst lemon ricotta pancakes I've had in a long time. Dry, overcooked and seemingly under the heat lamp for awhile. The berries were fine, however–hard to mess those up.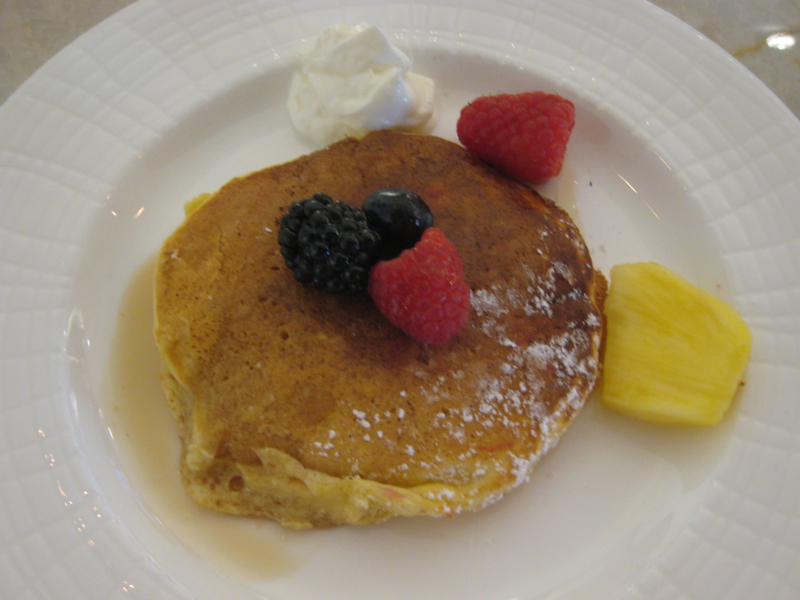 The Poached Eggs with Tomato and Basil weren't as bad as the pancakes, but they were just ok–nothing special about them.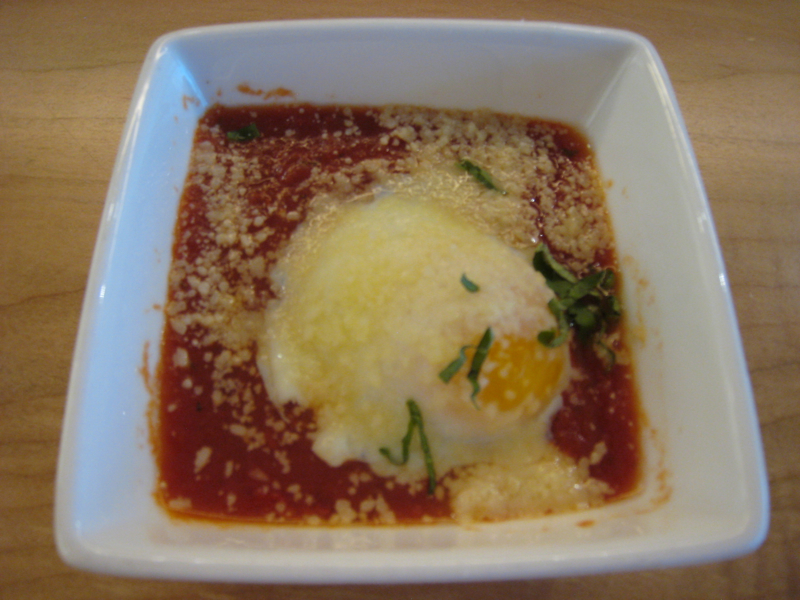 I'd already had a cappuccino at the Four Seasons Las Vegas, but there was a help yourself espresso machine: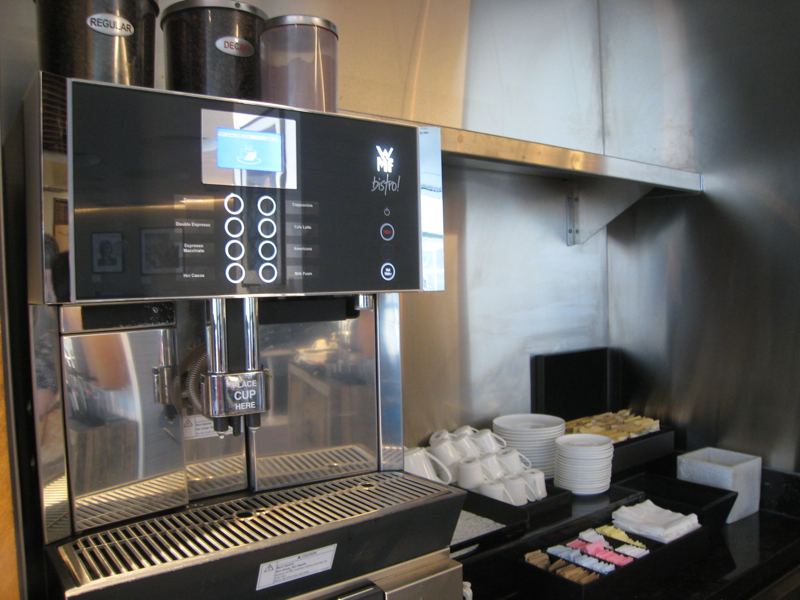 What I did like was that the tea was Mighty Leaf. There were only a few varieties, but I was very happy the lounge went with a quality brand for tea.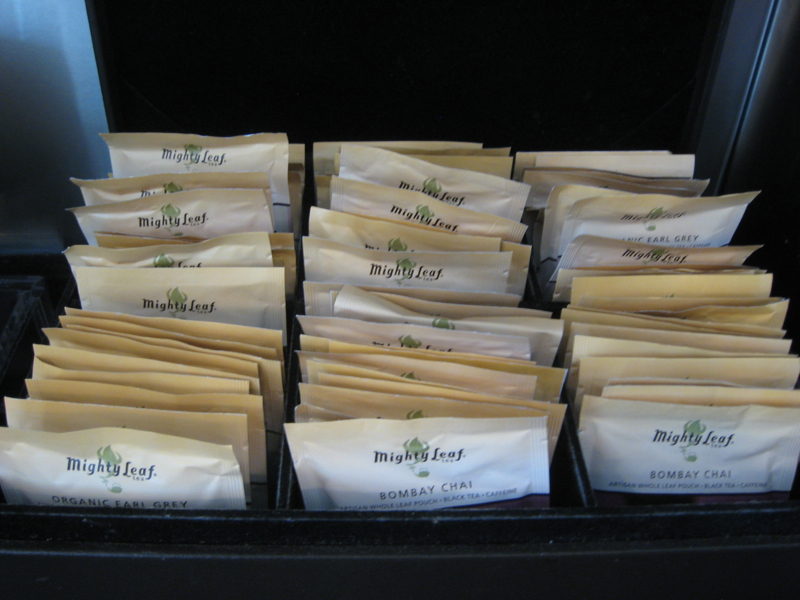 I enjoy a good cocktail once in awhile, so I decided to try the bar offerings. I mentioned I liked tart flavors, so the bartender, who struck me as curt bordering on rude, recommended the Gold Rush, with Bourbon, lemon and honey syrup. I didn't care for it and thought the flavors unbalanced, so I ordered an Airmail, with 10 Cane Rum, Domaine Chandon Brut, lime and honey syrup. While I thought that was better, I didn't finish it either. Perhaps I'm a bit spoiled with the truly innovative and great tasting cocktails at our favorite places in NYC, but if I visited again, I'd try the wine offerings instead.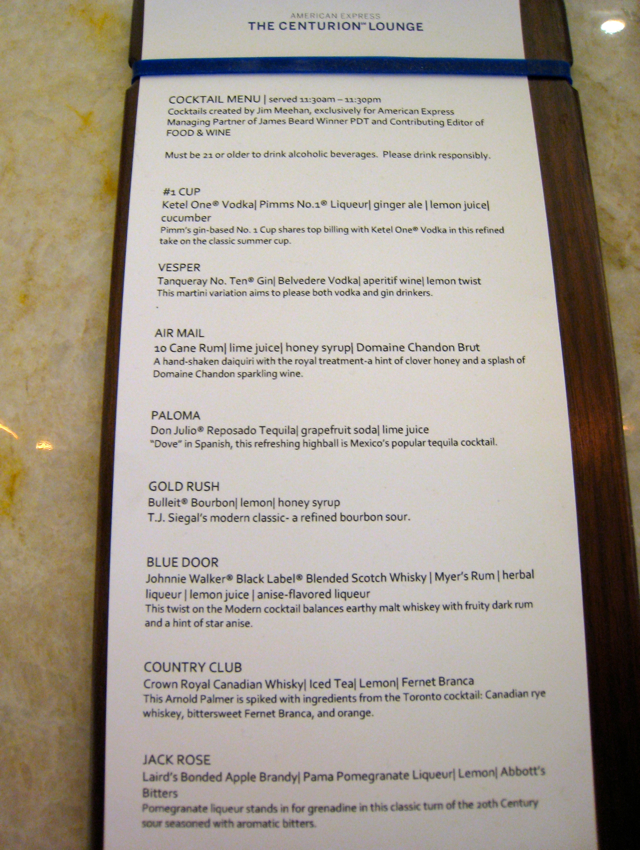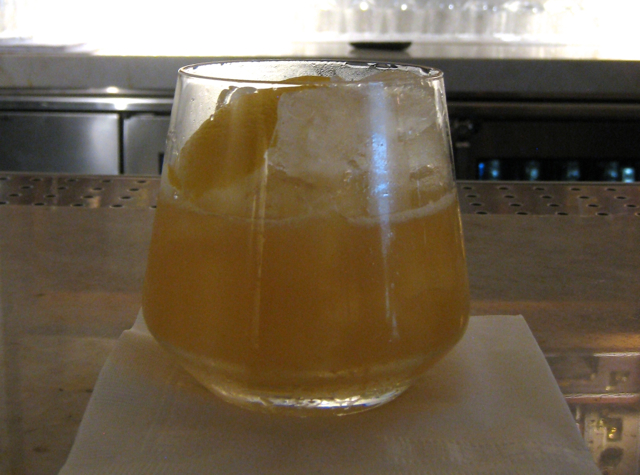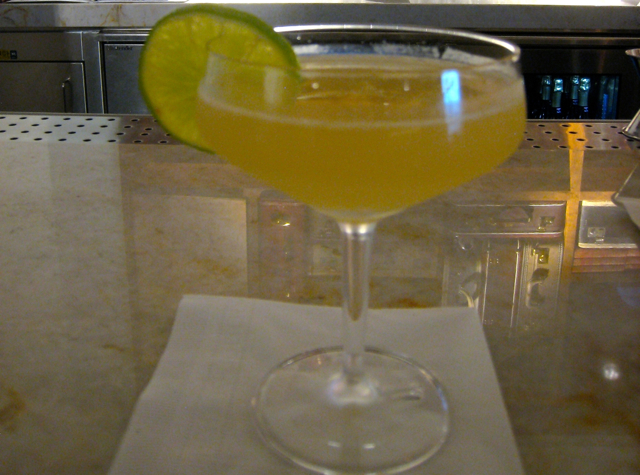 The Verdict
The American Express Centurion Lounge is clearly much better than US airlines' domestic airport lounges, although that's a very low hurdle to clear given the few amenities and minimal complimentary food and drink offerings of these lounges. At the AMEX Centurion Lounge in Las Vegas, I liked the overall space and decor, the fact that there was a shower room with L'Occitane amenities and a kids' playroom, the fresh fruit, the brownie, and the Mighty Leaf Tea. While it's great that the lounge offers better food offerings than any U.S. domestic airline lounge, I thought the taste and quality was quite mediocre for the things I tried. And while the associate at check-in was nice, I didn't think service from other staff was that good or friendly. And the WiFi *has* to be improved, unless what I experienced was an anomaly.
Is it worth having a Platinum and Centurion card for? Not unless you're based at one of the few places there's currently a lounge or fly to these airports often (Dallas, Las Vegas, New York LaGuardia) or one of the future locations (San Francisco, Miami). But if you happen to get a 100K or more targeted offer for an AMEX Platinum, the Centurion Lounges are certainly a nice perk during your first year–I would not recommend keeping the card beyond that, as it's all about the bonus. Was the Centurion Lounge worth $50, given that I currently only hold a no annual fee AMEX card? No, not for the time I was there, but it could be if you have several hours, since it's a more pleasant environment than the airport gates.
If you've visited the AMEX Centurion Lounge in Las Vegas, what was your experience?
Related Posts
150K AMEX Business Platinum Bonus Offer (Targeted)
Cancel AMEX But Keep Membership Rewards Points?
AMEX Points to Airline Miles Online Transfer: Your or Authorized Users' Accounts Only
Virtuoso Hotels: Bookings with Upgrades, Complimentary Breakfast and VIP Perks
Need Award Booking Help? Our fee is as low as $75 per ticket if you book your hotel or cruise with TravelSort.
If you enjoyed this, join 200,000+ readers: please follow TravelSort on Twitter or like us on Facebook to be alerted to new posts.
Become a TravelSort Client and Book the Four Seasons Las Vegas with Virtuoso Amenities!