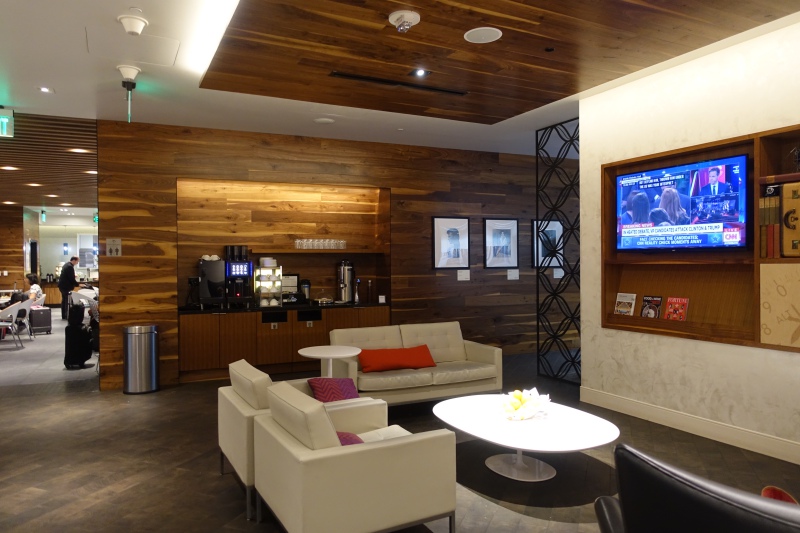 This AMEX Centurion Lounge at San Francisco Airport SFO Review is one of several AMEX Centurion Lounge reviews. See all of our airport lounge reviews.
It's also part of a recent Asia trip report that included Cathay Pacific First Class and stays in luxury hotels and resorts in Hong Kong and Vietnam. For prior posts, please see:
Review: The Centurion Lounge New York LaGuardia Airport (LGA)
Review: American Airlines Old A321 First Class with Recliner Seats
Qantas First Class Lounge Los Angeles LAX Review
Review: Cathay Pacific 777 First Class
Review: Cathay Pacific The Pier First Class Lounge, Hong Kong Airport
Review: Cathay Pacific The Wing First Class Lounge, Hong Kong Airport
Review: Cathay Pacific's Renovated The Pier Business Class Lounge, Hong Kong
Hotel Review: The Reverie Saigon, Ho Chi Minh City
Amanoi Restaurant Review and Menu
Yan Toh Heen Review Hong Kong, 2 Michelin Stars
Review: Ritz-Carlton Hong Kong Club Grand Victoria Harbour Room
Review: Ritz-Carlton Hong Kong Club Lounge
Cathay Pacific First Class Review, Hong Kong to LAX
American Express Centurion Lounge SFO Location, Access and Hours
The American Express Centurion Lounge at San Francisco Airport (SFO) is in Terminal 3 near Gate 74, after security. Even if you're not departing from Terminal 3, you can usually pass through security at T3 to access the lounge (if you have enough time to clear security for both Terminal 3 and the terminal you're departing from). It's useful if you have Global Entry or TSA PreCheck so as to be able to speed through security at Terminal 3 and at your departure terminal.
As at other AMEX Centurion Lounges, you enjoy complimentary access to the lounge if you hold a valid AMEX Platinum or Centurion card, have a boarding pass for same day travel, and provide a government-issued ID.
Other AMEX card members can also access the lounge, if space is available, by paying $50 and presenting their AMEX card, same day boarding pass and government issued ID.
AMEX Platinum and Centurion members may bring up to two guests or their immediate family members (spouse or domestic partner and children under 18) into the lounge with them as complimentary guests.
If you buy a lounge day pass for $50, you may bring in your children under 18 as complimentary guests, but you must pay $50 per person for all adult guests (including your spouse/partner).
The AMEX Centurion Lounge in San Francisco is open 5am-11pm daily.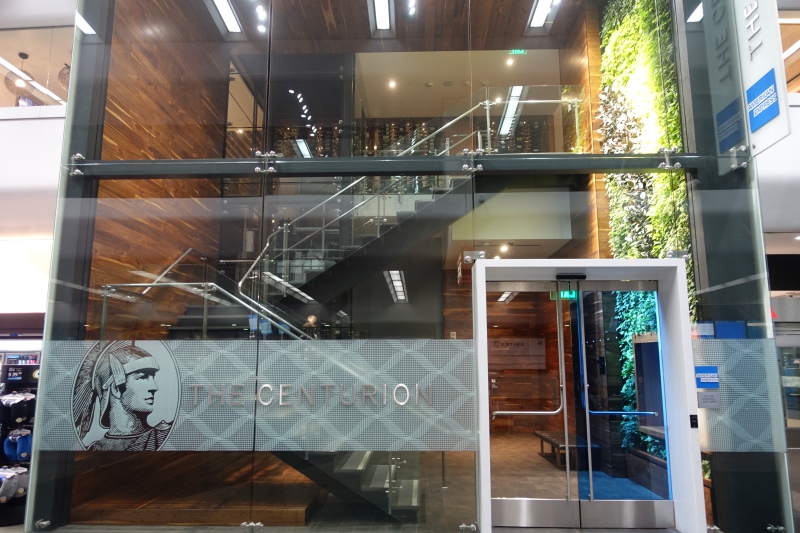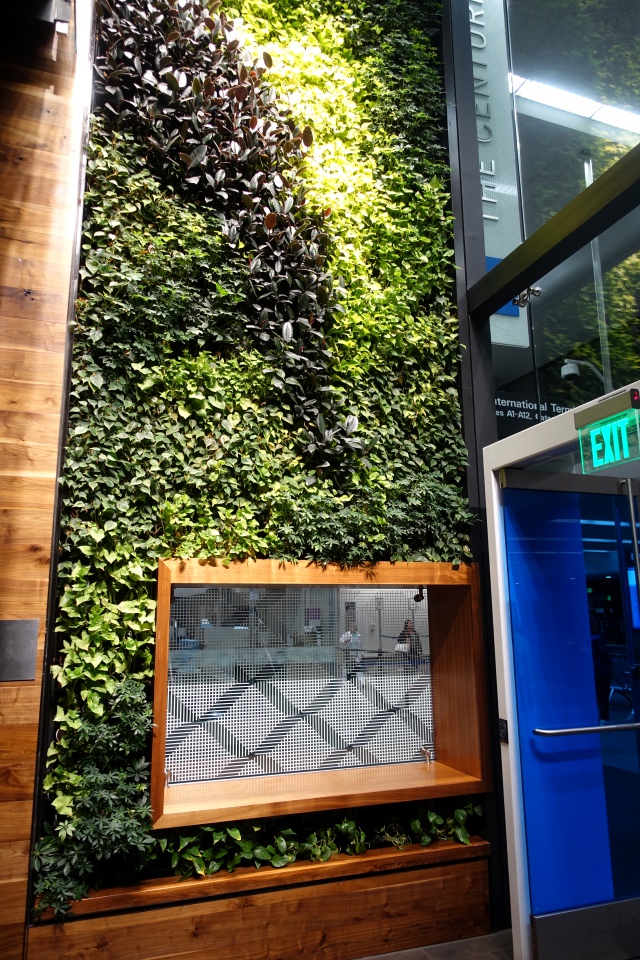 AMEX Centurion Lounge SFO Amenities and Seating
The AMEX Centurion Lounge at San Francisco SFO is one of the most popular and crowded Centurion Lounges I've been to, and one where seating is often at a premium. There are three main seating areas: some seating near reception, after you enter: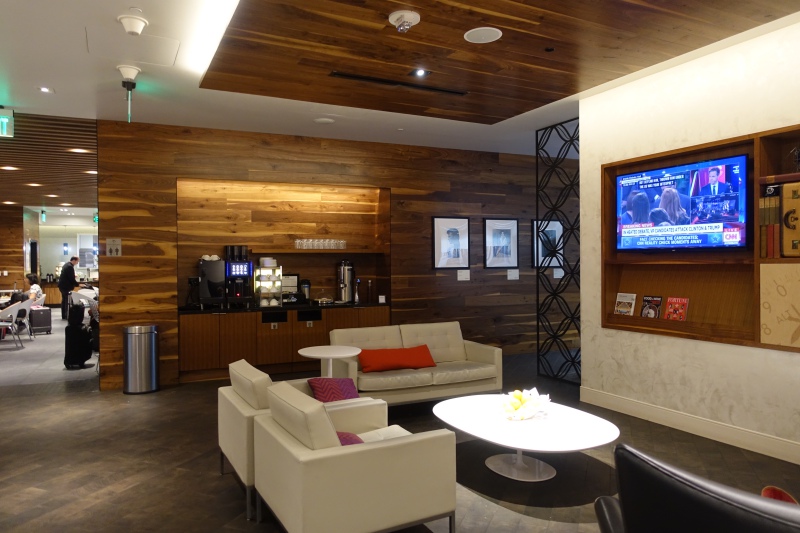 The seating in the main dining room is particularly crowded, so I've always ended up first sitting at the communal table, and only later sometimes being able to move to a table for two. The bar area is also popular.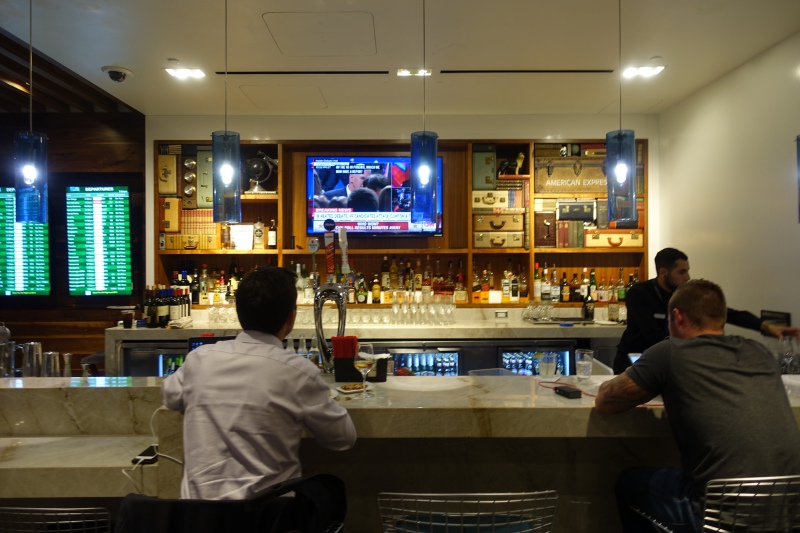 Most of the seating is in the work area, where there are some black lounge chairs as well as communal work tables.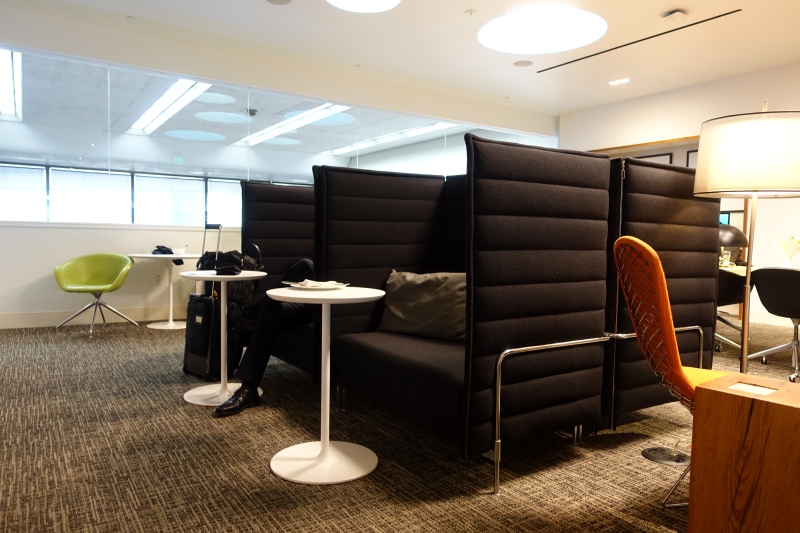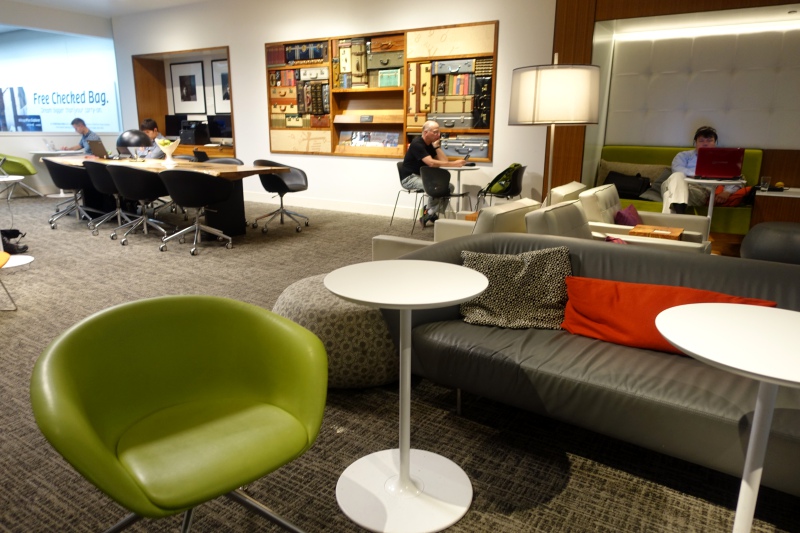 There are also 3 day beds near the shower room, a good bet if you need to lie down, although again, given the lounge's popularity, you may have to wait for one to become available.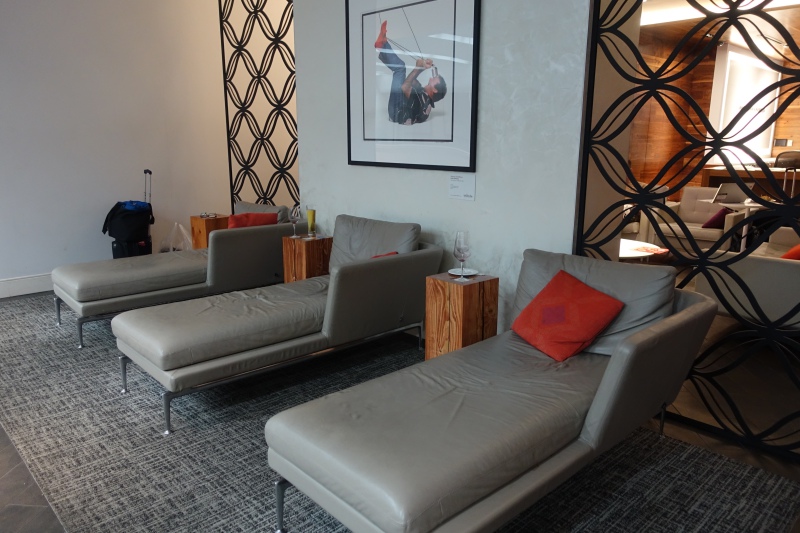 WiFi works quite well, and while not as fast as my home WiFi, it's been sufficient for email and for small file uploads. The password at the time of my visit was MemberSince.
The Centurion Lounge at SFO does have a shower room; you'll need to check with reception as to its availability. I was happy to be able to have a shower on this occasion, given that I'd traveled from Hong Kong via LAX earlier that day. There's a sink, toilet, and an accessible shower area: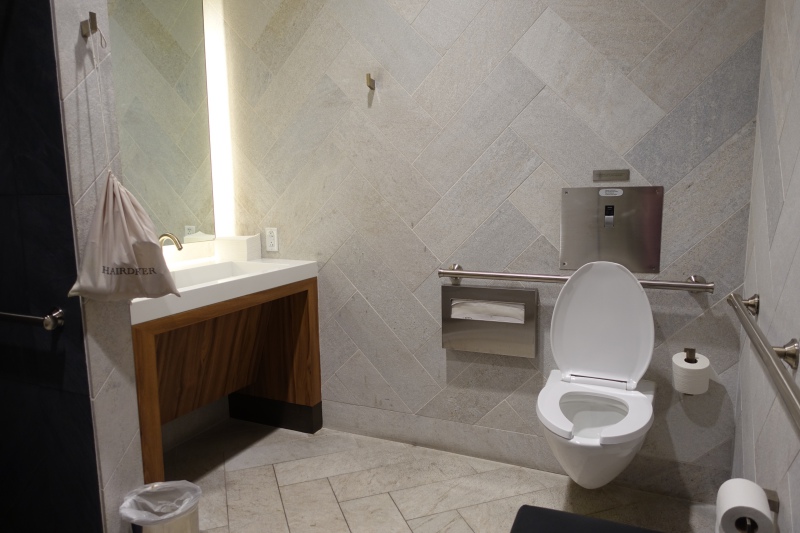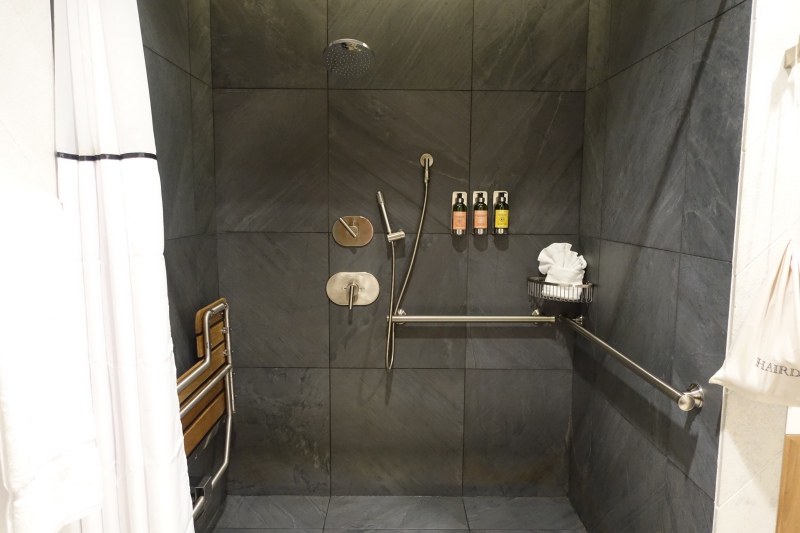 Bath products are L'Occitane, as at other AMEX Centurion Lounges.
AMEX Centurion Lounge San Francisco SFO Food and Drinks
On my previous visit to the Centurion Lounge at SFO I sampled the breakfast offerings; this time I was there in time for the dinner buffet. I tried the Grilled Chicken with Shaved Fennel, Tomato and Herbs, although I didn't actually see any tomato in the dish, which was quite plain. Better than the chicken, in my opinion, was the Roasted Cauliflower, Almond, Borwn Butter and Watercress, which made a very nice side dish (or main, if you're vegetarian).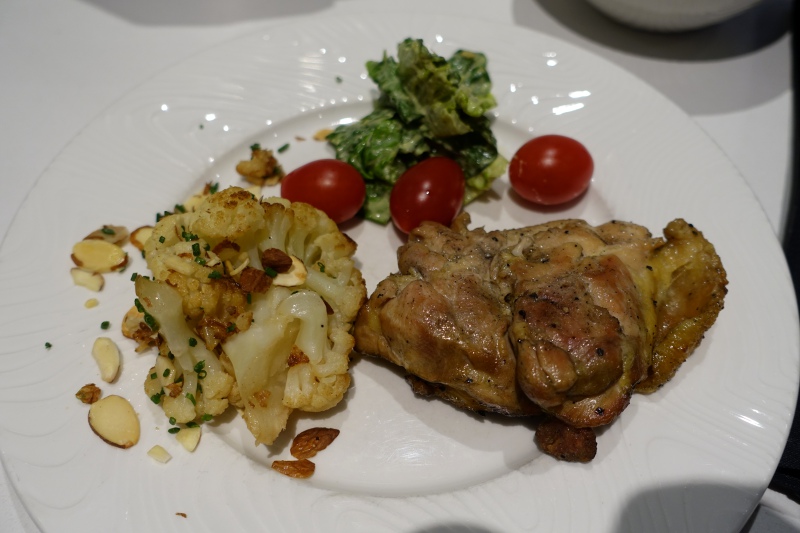 I didn't try the Braised Tofu and Seaweed, although it certainly looked healthy.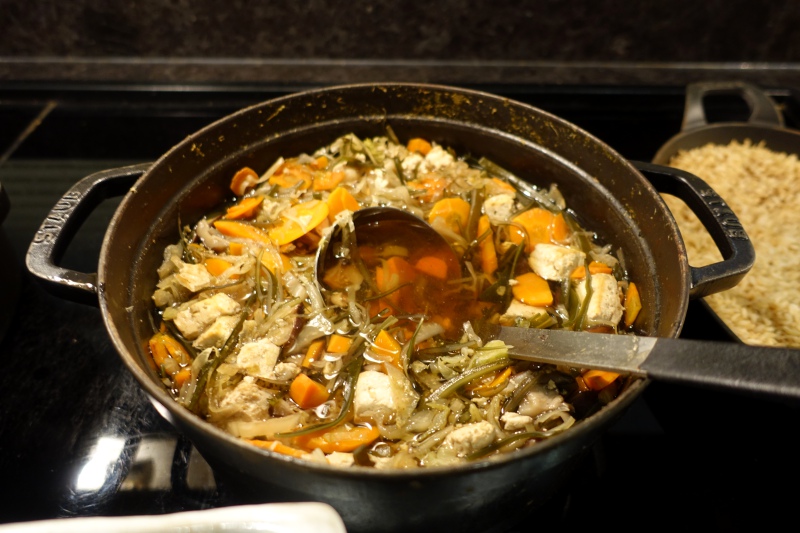 My favorite savory item was the Eggplant Miso Soup with Shiso and Sesame. This is the only dish that I would have wanted the recipe for.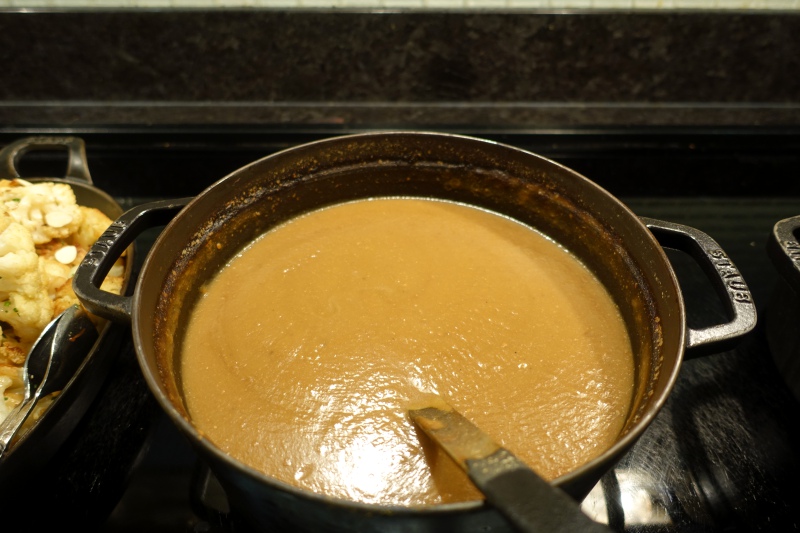 One great thing about the AMEX Centurion Lounge, at least for wine drinkers, is the chance to do a "wine tasting" from an automated wine dispenser with several white wine and red wine choices. Just ask the bartender for a wine tasting slip, which has a bar code that you scan, before being able to press a wine selection and receive a tasting portion.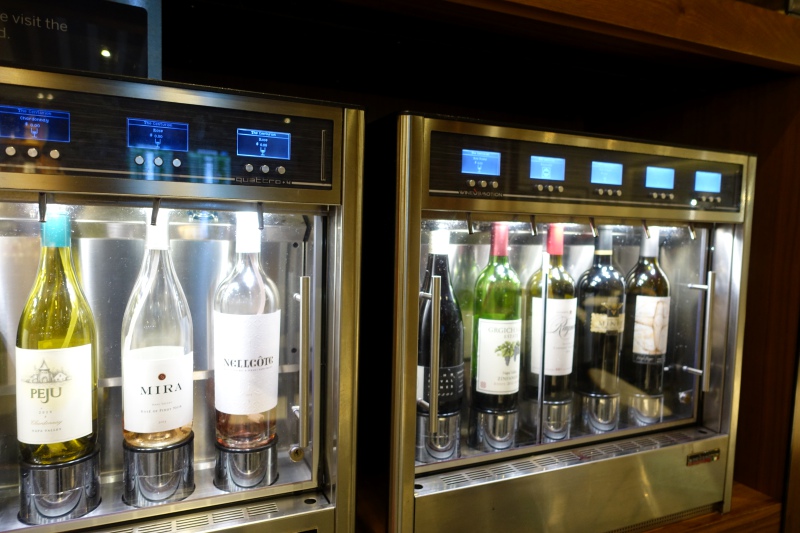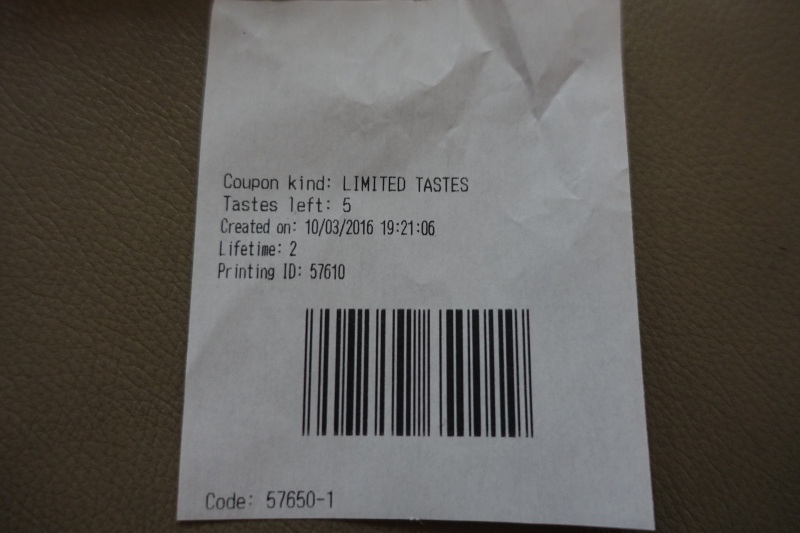 If you prefer cocktails to wine, there are also some creative cocktails offered. The only menu handy was stained, so excuse the poor quality of the menu!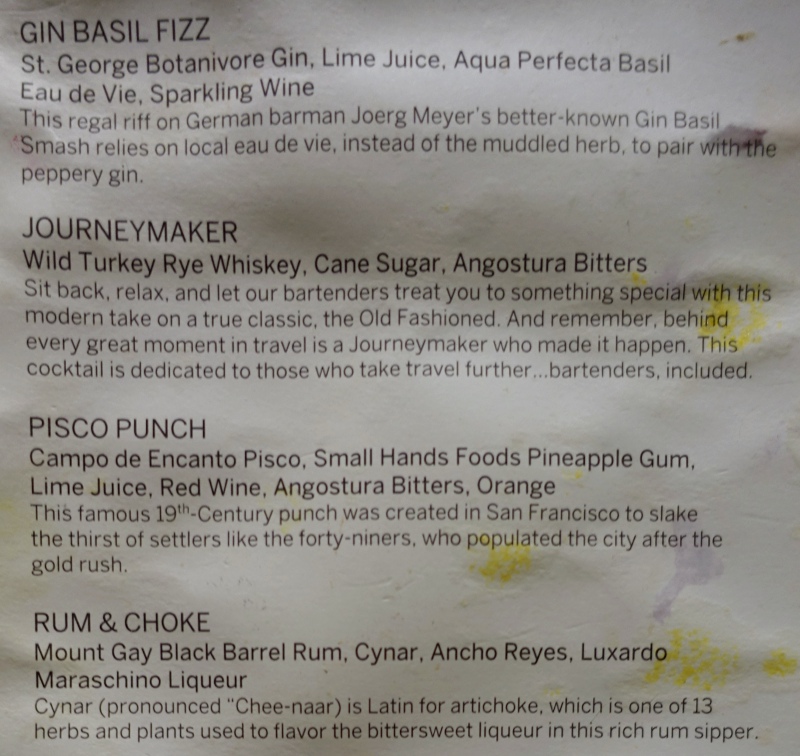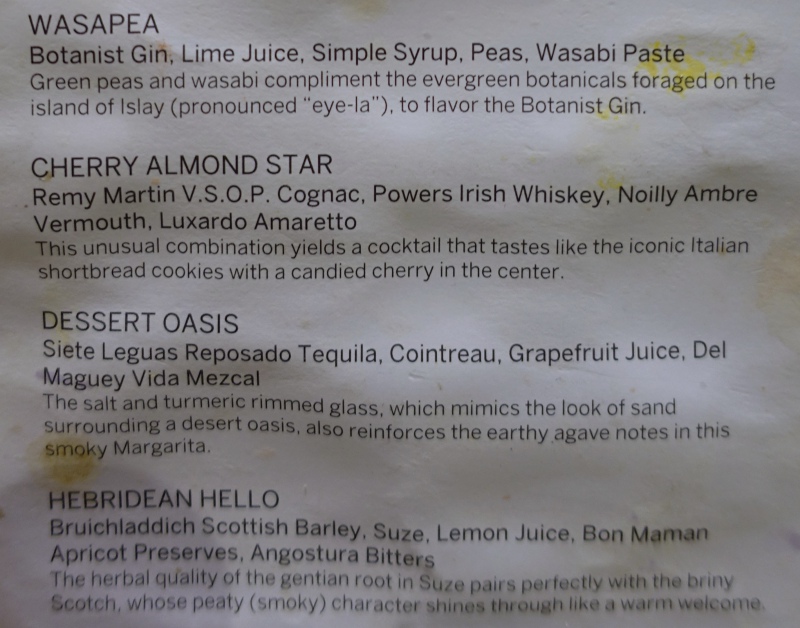 I like that AMEX Centurion Lounges always offer seasonal fresh fruit, which in this case were pears: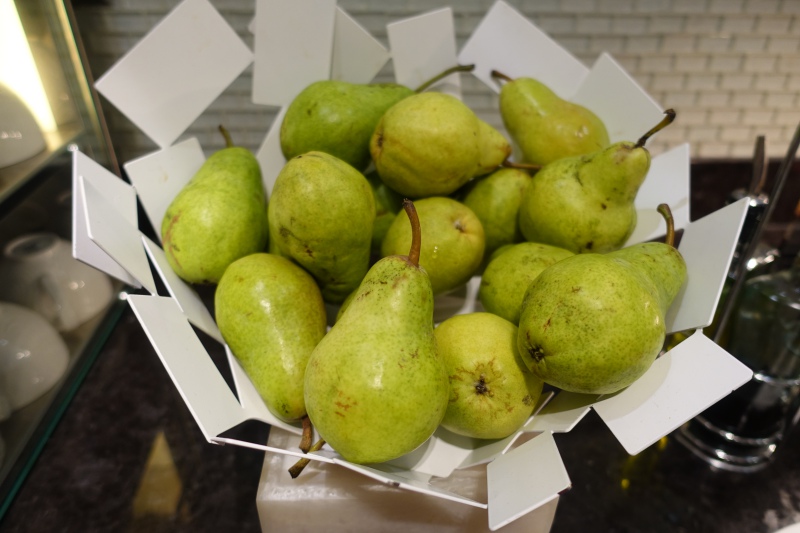 Dessert was Pumpkin Blondies, which were quite good: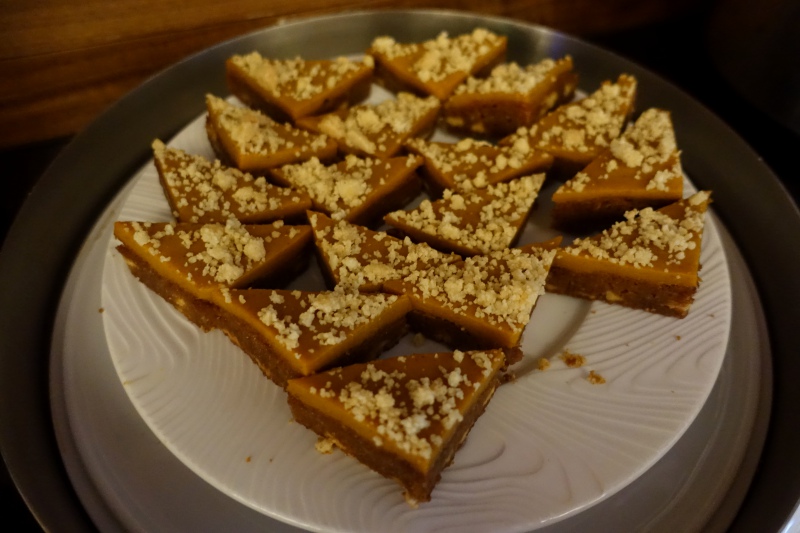 And on my way out, I noticed that these had changed to Lemon Bars: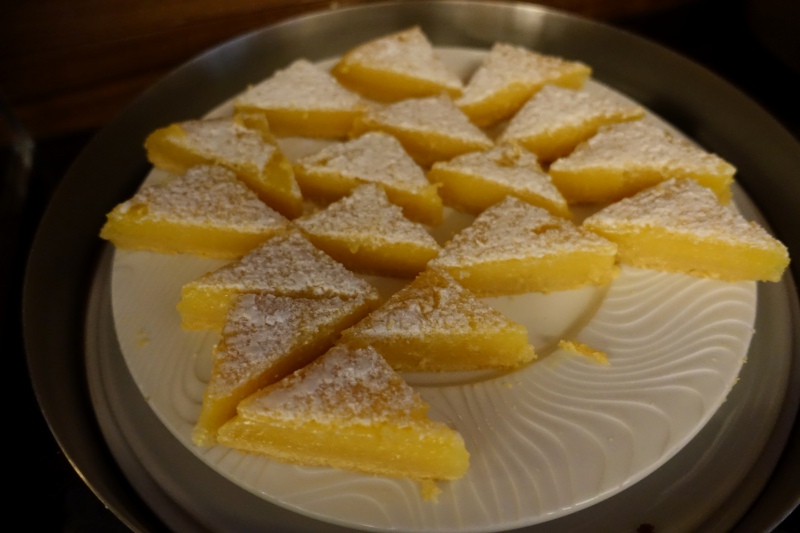 Unfortunately, it seems that the AMEX Centurion Lounges no longer use Mighty Leaf Tea, and have switched to Twinings, which I find disappointing–I definitely prefer Mightly Leaf teas to Twinings.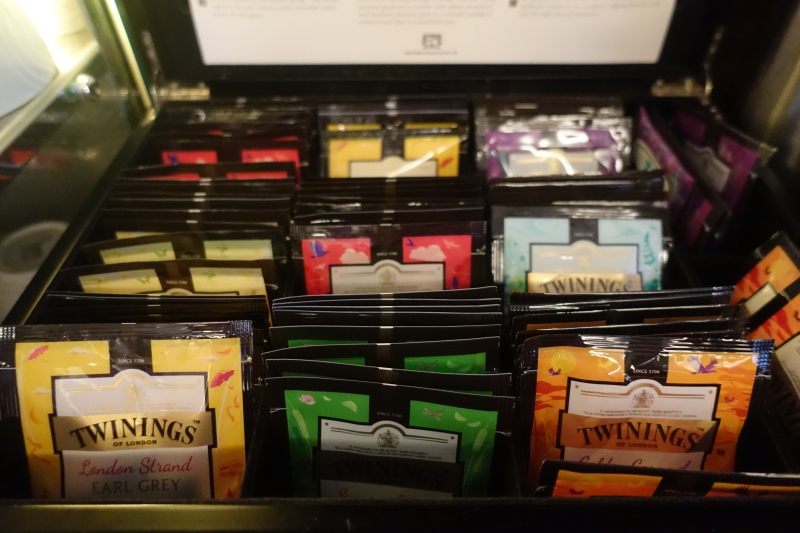 The Verdict
I enjoyed my visit to the AMEX Centurion Lounge at SFO even more than last time, not so much for the food (I've enjoyed more of the savory items at the smaller AMEX Centurion Lounge at LaGuardia Airport) but for the wine tasting, chance to refresh with a shower, and also some relaxation time on one of the day beds. The lounge is something of a victim of its own success, so I do wish it was bigger and offered more seating, but it's still by far my favorite domestic lounge at SFO.
Related Posts
Review: AMEX Centurion Lounge San Francisco Airport SFO
Review: AMEX Centurion Lounge Houston IAH
Review: AMEX Centurion Studio Seattle Airport SEA
Review: AMEX Centurion Lounge in New York LaGuardia
Review: AMEX Centurion Lounge in Las Vegas
Need Award Booking Help? Our fee is as low as $75 per ticket if you book your hotel or cruise with TravelSort.
If you enjoyed this, join 200,000+ readers: please follow TravelSort on Twitter or  like us on Facebook to be alerted to new posts. 
Become a TravelSort Client and Book 5-Star Hotels with Virtuoso or Four Seasons Preferred Partner Benefits