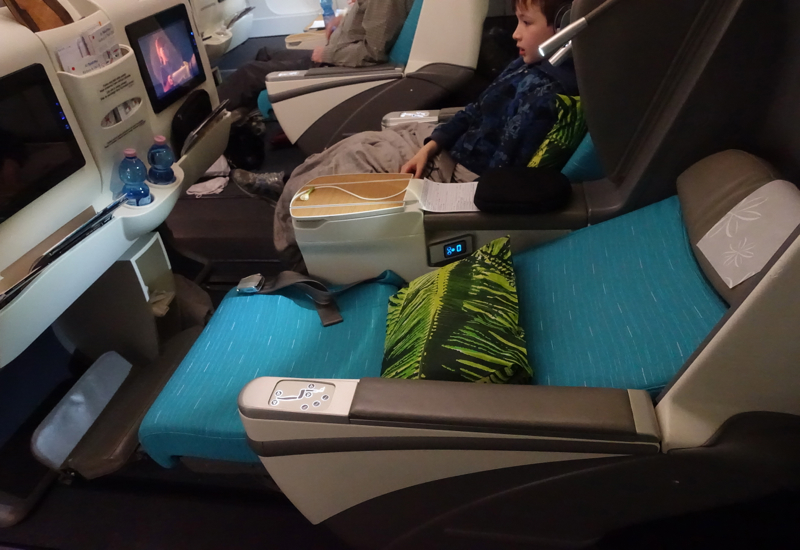 This Air Tahiti Nui Business Class Review from Los Angeles to Papeete is part of a new trip report on Bora Bora and Tahiti luxury resorts, dining and activities. For the prior posts, please see:
Review: American A321 Business Class New York to Los Angeles
Paradise! Can You Guess the Place?
Review: Residence Inn by Marriott LA
Review: Los Angeles International Lounge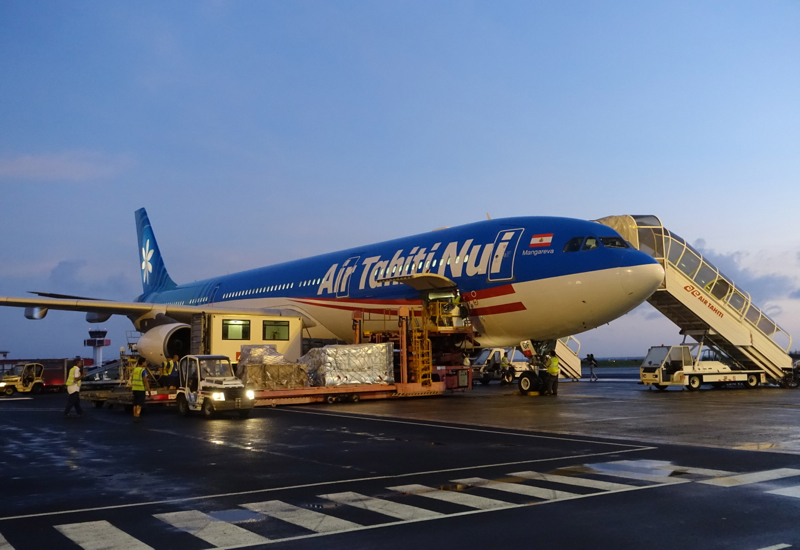 Air Tahiti Nui Business Class Cabin and Seat Selection
Air Tahiti Nui has 32 business class seats in a 2-2-2 configuration on its A340-300 aircraft which fly from Los Angeles LAX to Papeete PPT. Most couples will want one of the paired seats on the right or left, for example 2A and 2B, 2K and 2L, 3A and 3B, etc. I recommend avoiding the last row of seats in row 6, even though this is exactly where we ended up.
If you happen to be traveling solo, then you may well prefer one of the middle seats, D or E, because that way you definitely have direct aisle access and don't have to worry about either climbing over a sleeping seatmate, if you have a window seat, or conversely, having your seatmate disturbing you by climbing over you when you're sleeping. Particularly on night flights, I'd avoid the last row, 6D and 6E, and also the first row, 1D and 1E, due to the proximity to the lavatories and galleys and the resulting disturbance from light and noise.
Specifically, since it's not possible to Manage Your Booking online or select Air Tahiti Nui seats online, I called Air Tahiti Nui about 6 months prior to our trip and selected seats 2K and 2L for my son and me. Unfortunately, perhaps because this was an AAdvantage award booking and a full flight, Air Tahiti Nui didn't honor our seat assignments and unilaterally moved us to the worst seats in the cabin, 6D and 6E, and refused to give us back our previously assigned seats. So if you're using miles to book award seats, be sure to call regularly to ensure Air Tahiti Nui hasn't changed your seat assignments.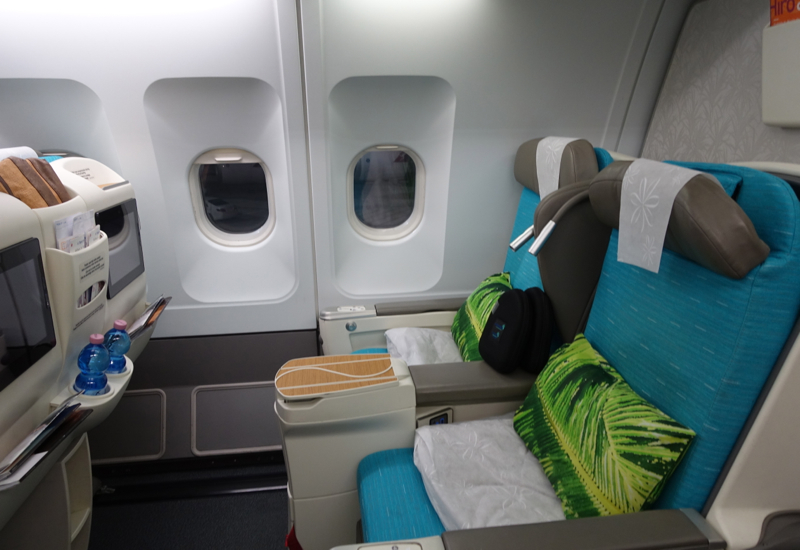 Air Tahiti Nui Business Class Seat
Air Tahiti Nui Business Class seats are NOT flat bed seats; they are angled flat with 154 degrees of incline. They are also on the narrow side for business class seats, with a width of just 20.5 inches.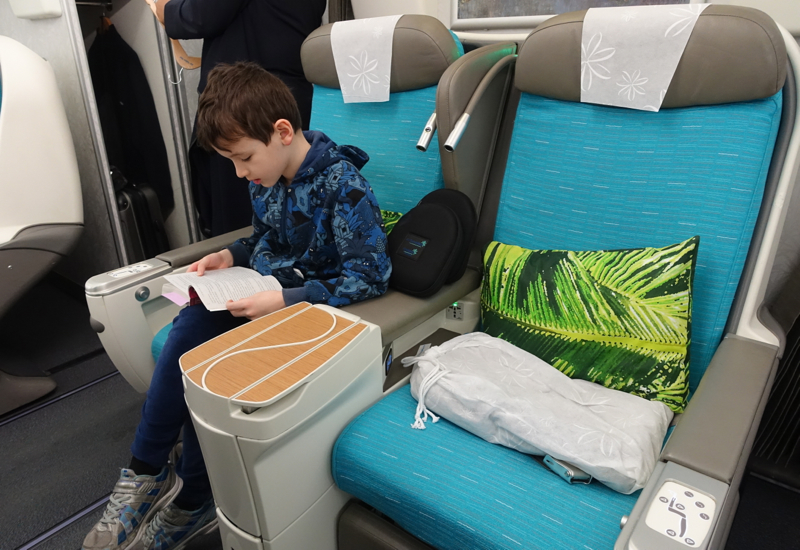 The seats do have ample leg room, however, so much so that another liability of having middle seats is that window/aisle passengers may try to cross over to the opposite side of the cabin by walking directly through your seat space.
The seat controls themselves are intuitive, with a take-off mode, lounge mode and bed mode: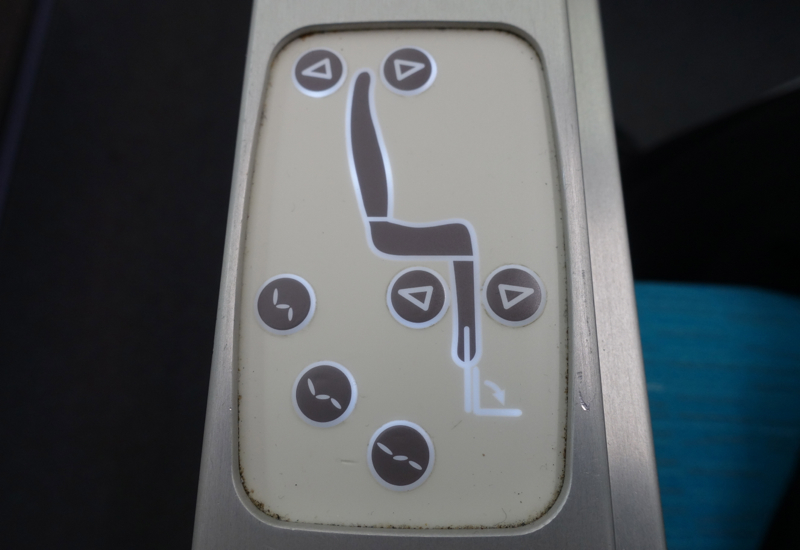 What was initially less intuitive was finding the overhead light control, which, along with the flight attendant call button, was underneath my left hand arm rest.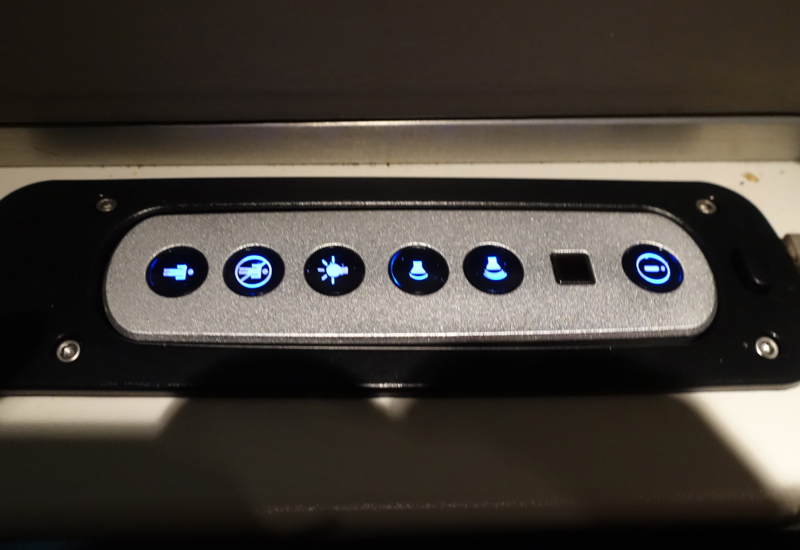 The other thing I didn't care for is that the tray table is only available in one length; it doesn't fold in half, so you either need to have the entire tray table out for a meal or have it stowed away so that you can exit your seat.
Air Tahiti Nui Business Class  Menu and Food
Once on board, we were offered a glass of rose champagne or orange juice. We chose orange juice, although it was from orange juice concentrate, as is typical.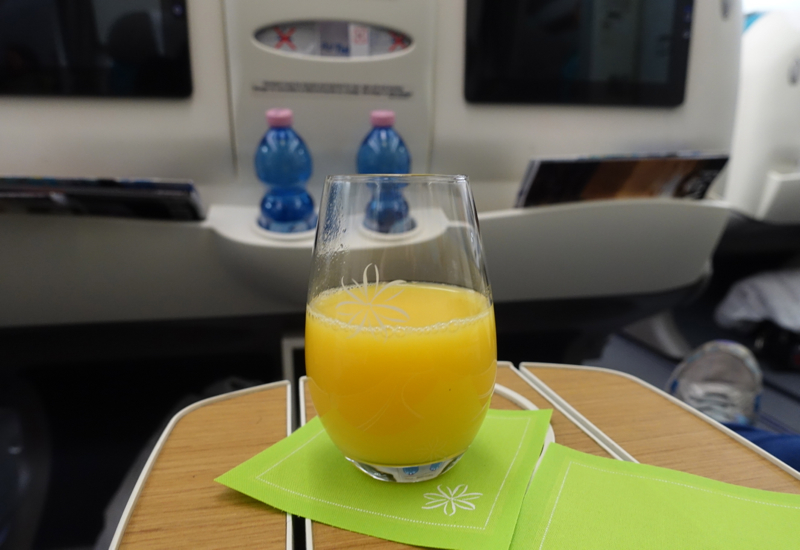 Since our flight left just before midnight, there was a simple cold meal offered that we did not partake of, since we mainly just wanted to get some rest. Here is the breakfast menu for our flight, which was served about 1.5 hours prior to landing in Papeete: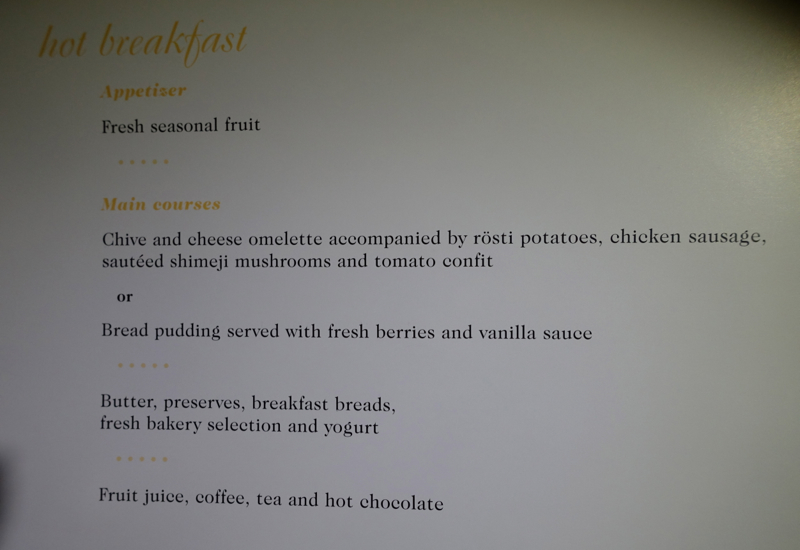 We started with a platter of fresh fruit: cantaloupe, pineapple, watermelon, a couple blueberries and a blackberry, and also a cup of Land O Lakes yoghurt, which I thought was some of the worst fruit yoghurt I've had in recent memory.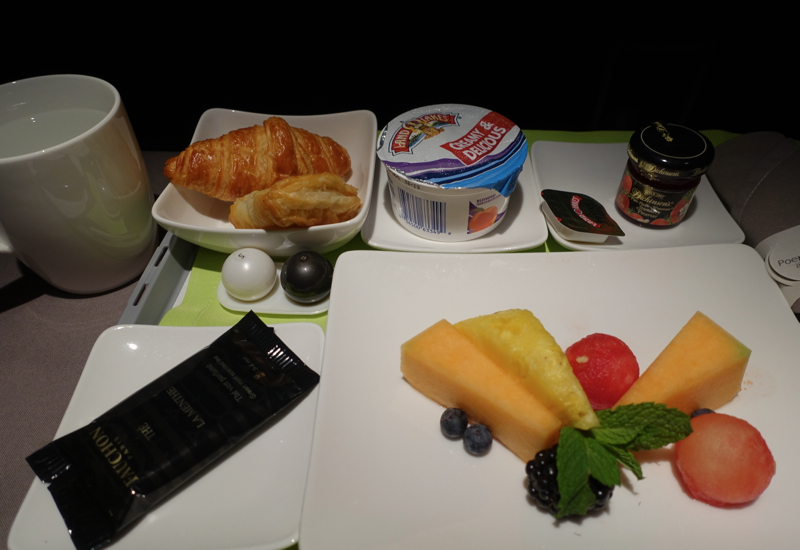 Flight attendants also offered a choice of pastry, from a selection that included croissants, pain au chocolat, and apple pastry. The mini chausson aux pommes was quite good. Unfortunately the jam was Dickinson's, which I dislike for its low fruit content, compared to better quality jams. My son ordered a hot chocolate, which was terrible. On the other hand, I was happy to see Fauchon tea, and the peppermint flavor I had was good, even though the water wasn't hot enough.
My omelet was unremarkable, but I did appreciate the mushrooms on the side, which were tasty and the highlight of the dish.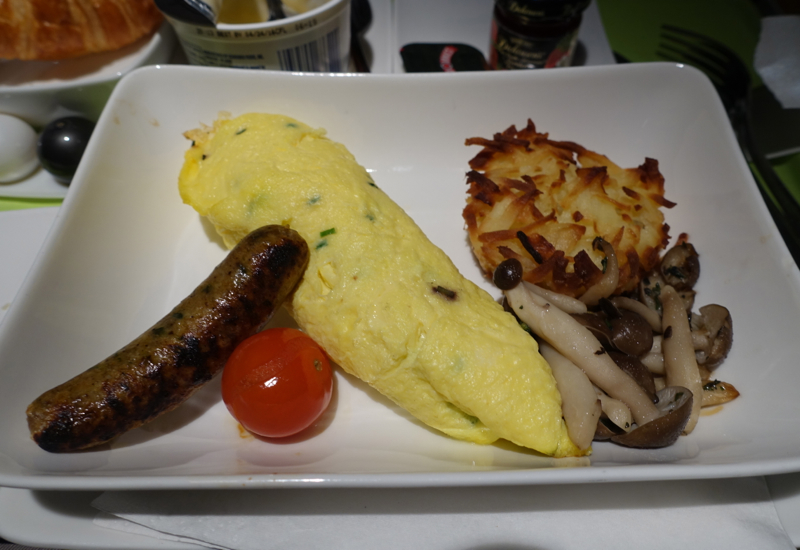 My son ordered the bread pudding, and it was quite good with the vanilla sauce and strawberry.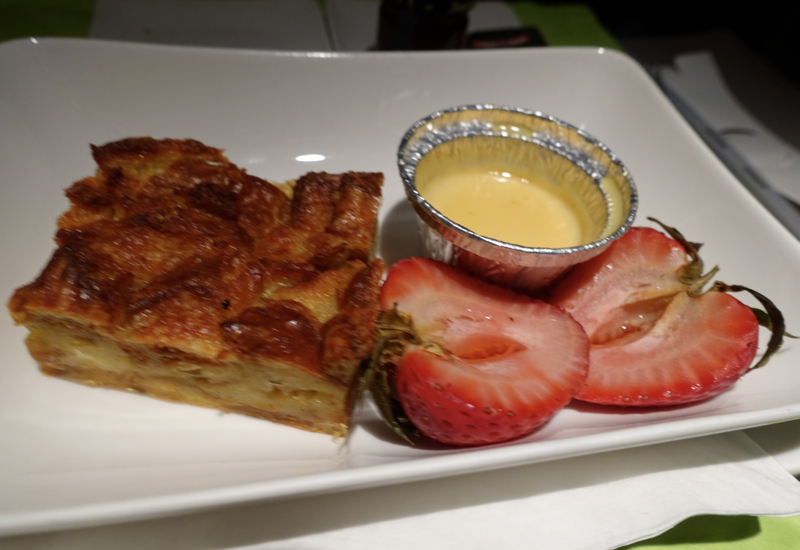 Air Tahiti Nui Business Class Amenity Kit 
Air Tahiti Nui's Business Class amenity kit has the basics, but no luxuries: ear plugs, sleep mask, toothbrush kit, socks and moisturizer in a rattan style bag.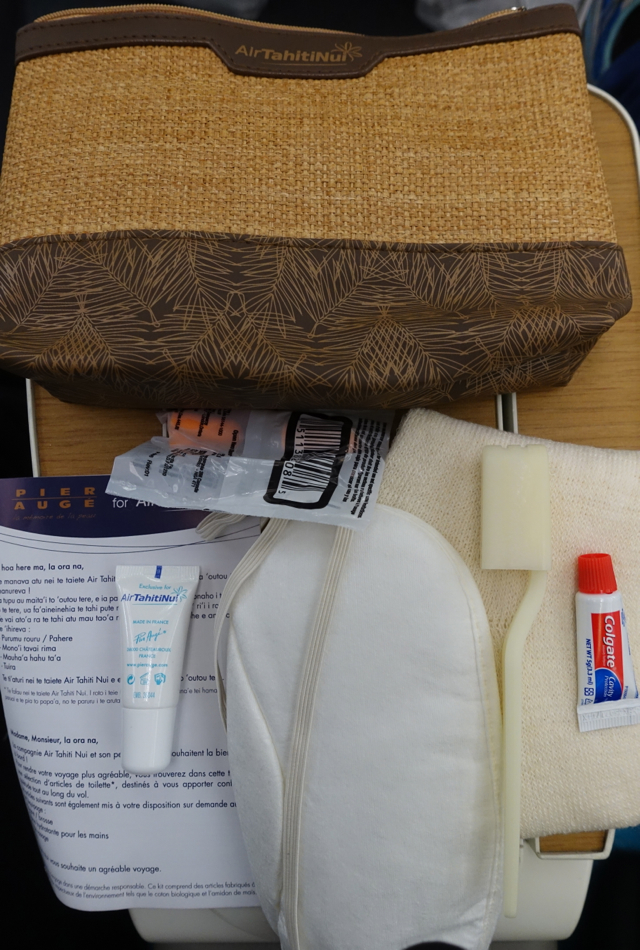 Air Tahiti Nui Business Class Bed and Sleep Quality 
It's no secret I hate angled business class seats, which I find next to impossible to get any sleep on. I also found it peculiar that the duvets provided were so short, even for an adult—they were kid sized. While my son was fortunately able to get some sleep, in spite of the noise and light pollution from the lavatories located near us, I got no sleep and just rested as well as I could.
I highly recommend not taking the overnight flight into Papeete if you're a light sleeper, as I am, and instead taking the afternoon flight and overnighting in Papeete so as to be able to get proper rest, which is what my husband did.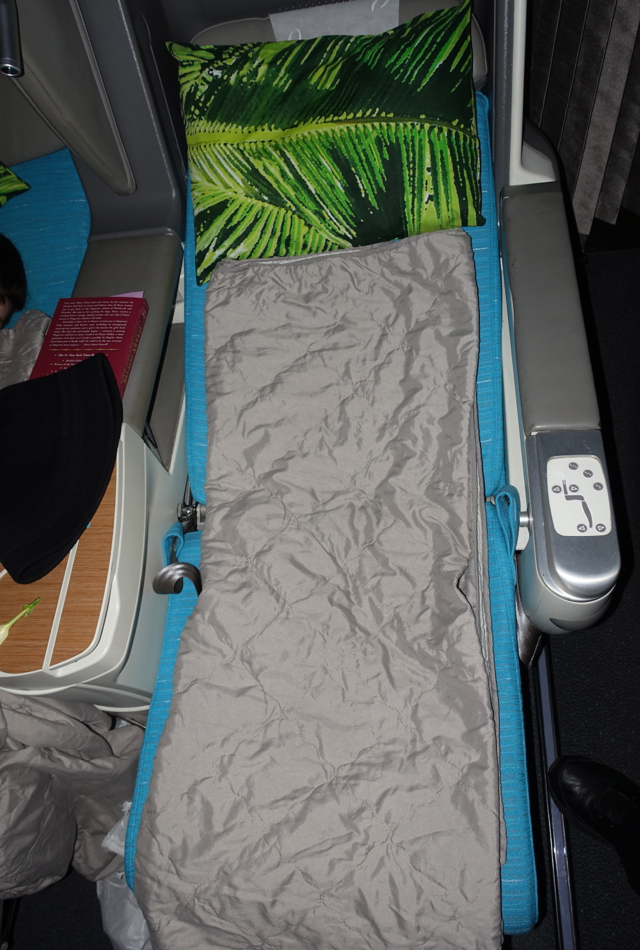 Air Tahiti Nui In-Flight Entertainment 
Even for me, someone who rarely watches anything on the IFE and mainly is searching for enough kid-friendly films to entertain my son for the flight, the Air Tahiti Nui IFE left quite a bit to be desired. There seemed to be fewer than 20 films total, and only 3 kids' films. On the upside, at least the IFE and headset worked for both of us, unlike our earlier American Airlines transcon flight from JFK to LAX. Don't expect in-seat electricity to power devices, as there isn't any.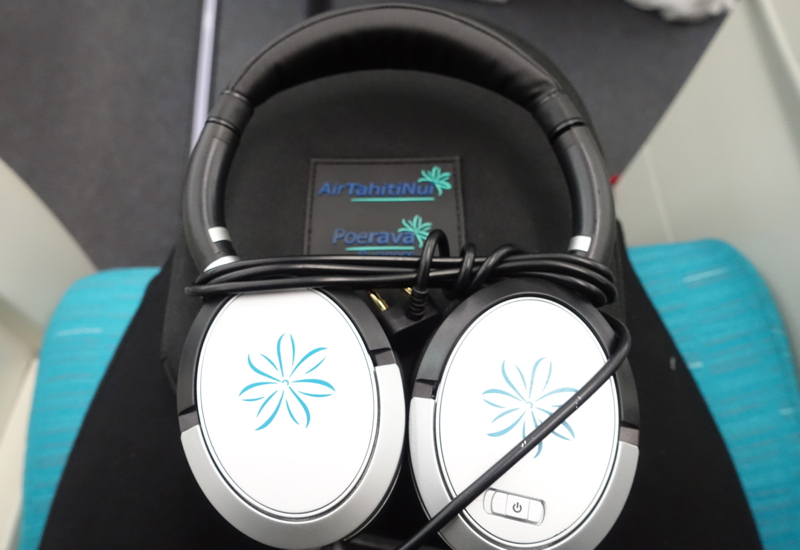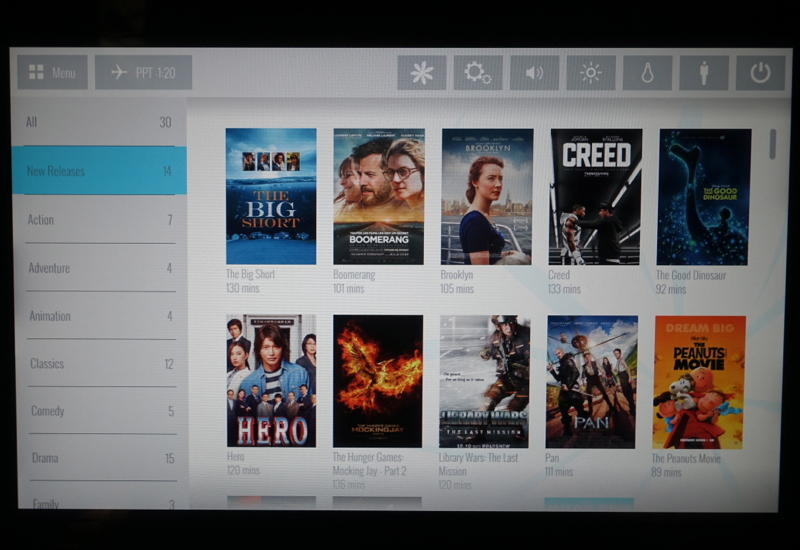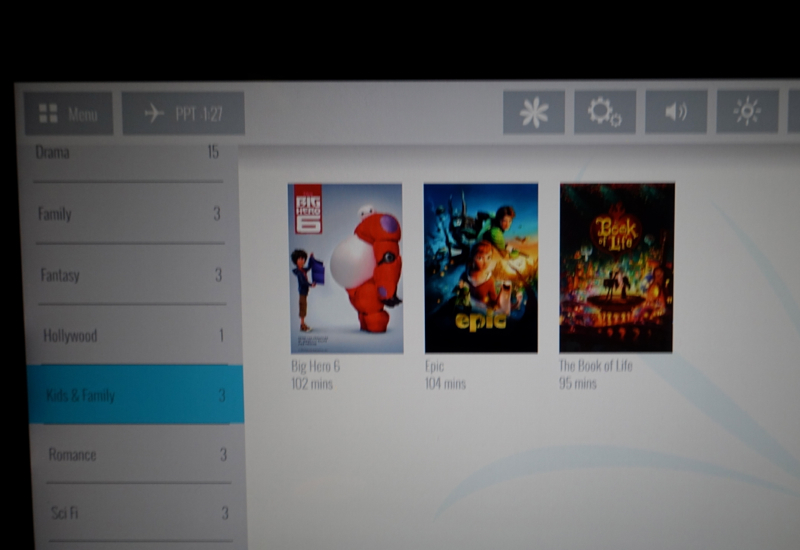 The Verdict
Our Air Tahiti Nui Business Class experience was fairly underwhelming, particularly since the window and aisle seats I'd carefully selected with Air Tahiti Nui directly were changed to the worst seats in the cabin, in the back, near the lavatories, resulting in my getting no sleep. The seats themselves are fine for lounging and daytime flights, but I found it impossible to sleep during our night flight, although my son, a sounder sleeper, slept several hours.
Food is about the quality I remember from economy flights in childhood, and the in flight entertainment is ok for the relatively short 7-8 hour flight from Los Angeles to Papeete, but insufficient if you were traveling from Europe. Service was friendly and professional, so no complaints there. We were even welcomed with a fragrant fresh tiare flower: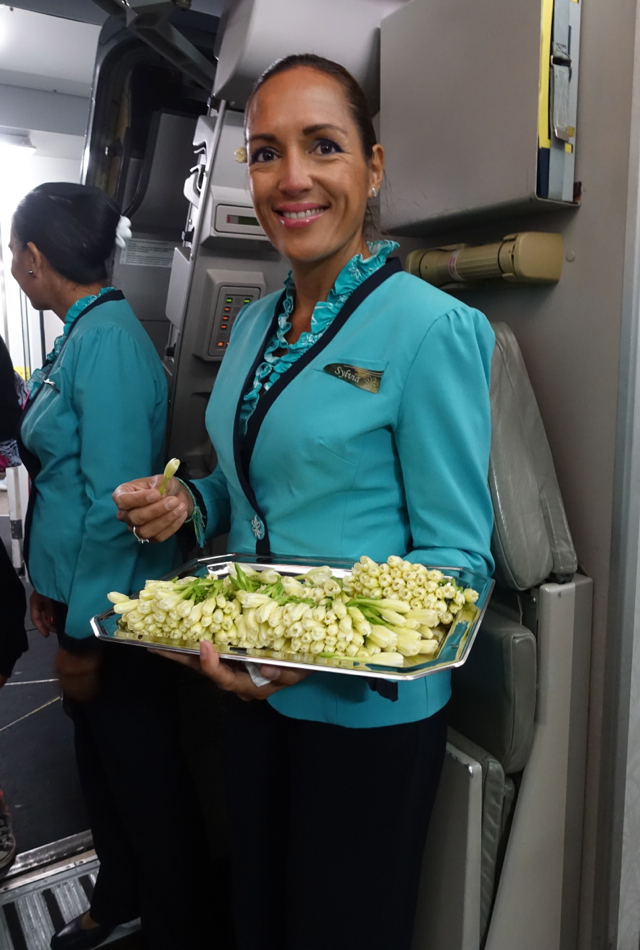 If you've flown Air Tahiti Nui Business Class, what was your experience?
Related Posts
Flat Bed Business Class to Tahiti and Bora Bora?
Top Things to Do in Bora Bora if You Don't Scuba Dive
Paradise! Can You Guess the Place?
Need Award Booking Help? Our fee is as low as $75 per ticket if you book your hotel through us.
If you enjoyed this, join 200,000+ readers: please follow TravelSort on Twitter or  like us on Facebook to be alerted to new posts. 
Become a TravelSort Client and Book Your Hotel with Virtuoso or Four Seasons Preferred Partner Amenities!