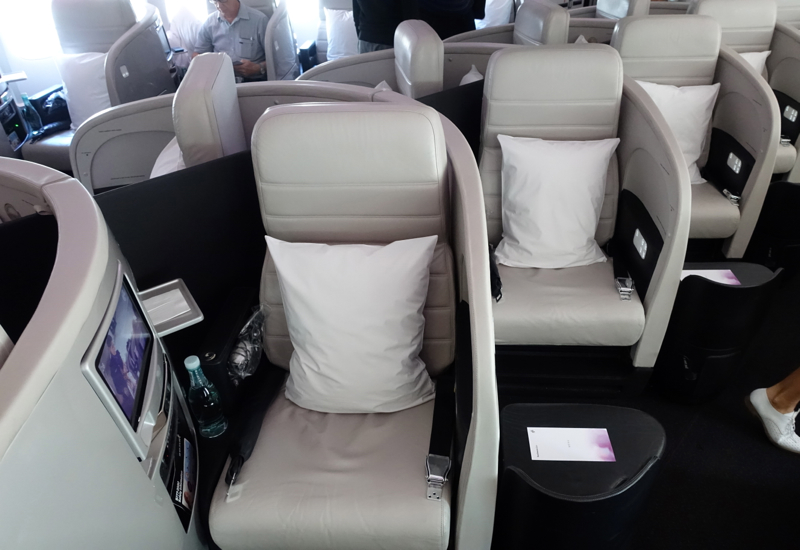 This Review of Air New Zealand Business Premier on the 777-300 is from a New Zealand trip report. For all our posts on New Zealand luxury lodges and dining, please see our posts tagged New Zealand.
For the prior posts, please see:
Air Tahiti Nui Business Class Review: Papeete to Auckland
Review: The Farm at Cape Kidnappers, Hawkes Bay, New Zealand
Elephant Hill Winery Restaurant Review, Hawke's Bay New Zealand
Best Place to See a Kiwi Bird in the Wild in New Zealand?
The Farm at Cape Kidnappers Dining and Restaurant Review
Air New Zealand Auckland Airport New Koru Lounge Review
Air New Zealand Business Premier Cabin
I recently flew Air New Zealand from Auckland to Nadi, Fiji, on an Air New Zealand 777-200ER. This has 26 business class seats in a 1-2-1 configuration, with the window seats angled away from the window toward the aisle, and the middle paired seats also angled toward the aisle.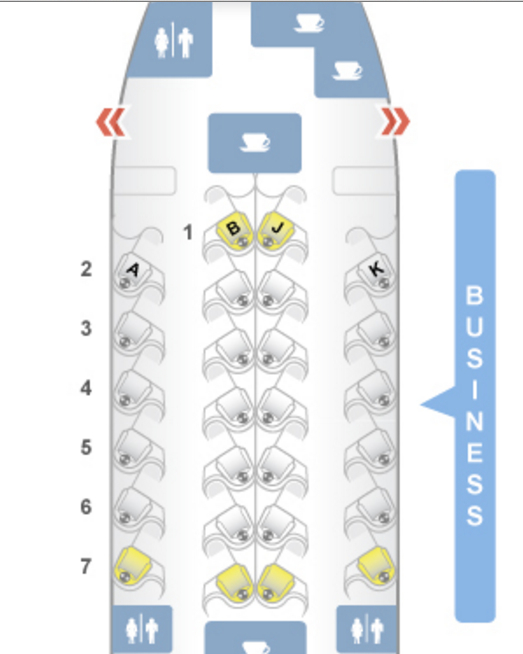 Air New Zealand 777-200ER Business Class Seat Map, Courtesy SeatGuru
My seat was 2A. I was somewhat disheveled that morning, but here's a photo of me in Seat 2A, and Seat 3A in back: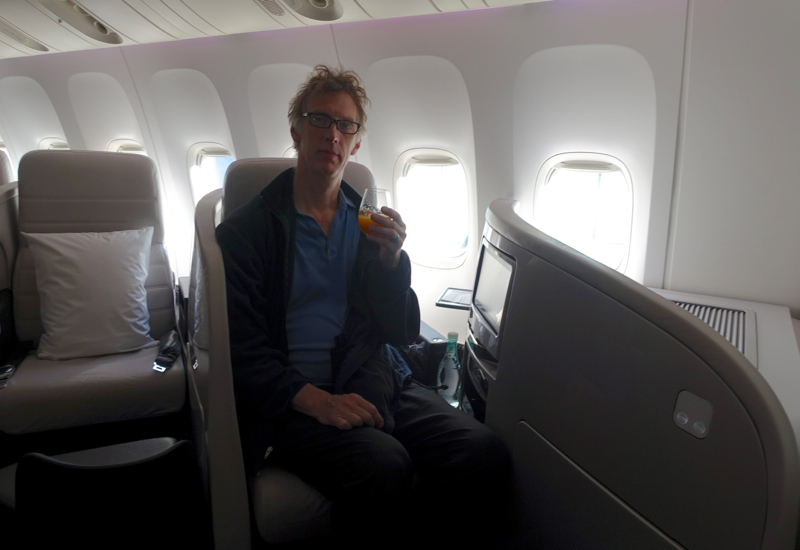 The business cabin was only about half full, and it was a morning flight, but that didn't stop all the Kiwis and Aussies in the cabin from choosing the complimentary glass of champagne over the orange juice.  I first had a glass of orange juice, which was fresh squeezed.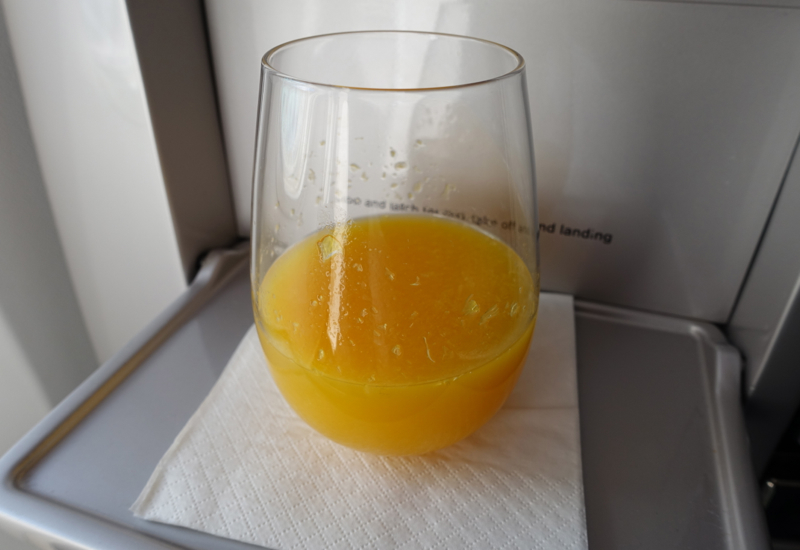 The flight attendant was an older gentleman who covered a lot of ground.  The passengers in the cabin wanted their glasses of champagne both before and immediately after takeoff, and he was able to graciously and efficiently serve everyone.  He offered to explain the seat controls (more on this below) and the IFE system.
Air New Zealand Business Premier Seat
So here's the thing: I did accept the offer to explain the seat controls: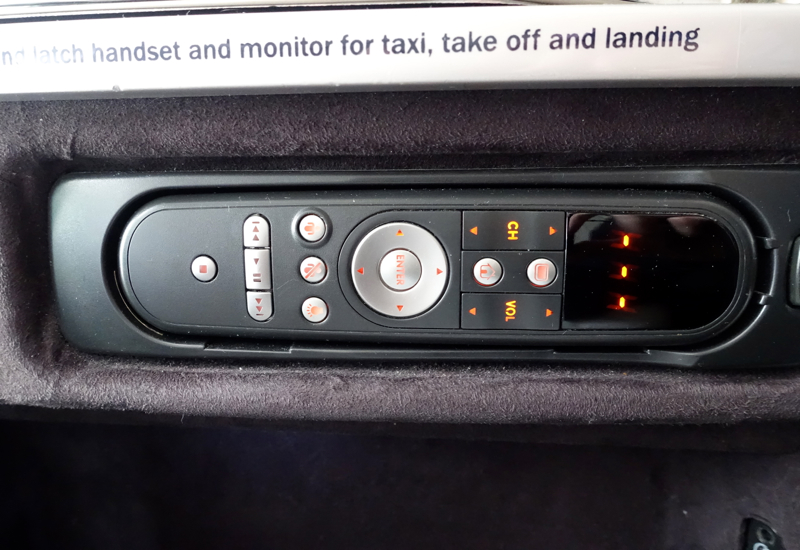 The flight attendant also showed me how to recline the seat from its take-off position.  It didn't recline very far, as you can see from this aerial photo of my seat.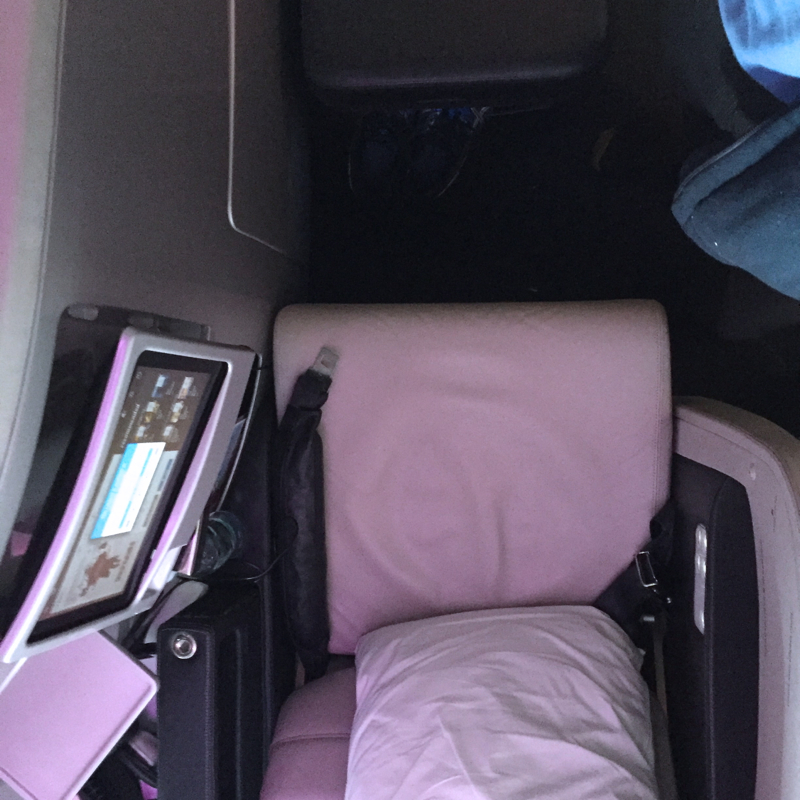 You can also see that the seat is not very far away from the footrest.  Here is a photo is my feet jammed up against it– as a result I couldn't really properly stretch out my legs.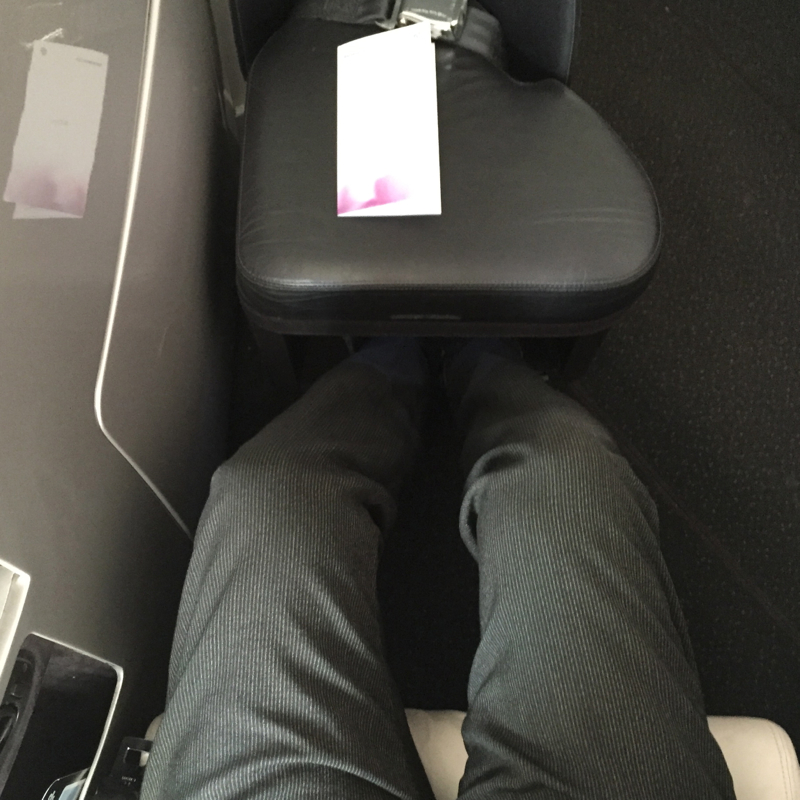 But because it was a short (3-hour) morning flight, I did not ask the attendant how in the world the seat could be folded down into a flatbed.  So I mistakenly assumed that the seat would not go farther down into flatbed position then the slight adjustment that I could make on my own to make the seat slightly recline.  The attendant is necessary to transform the seat into flatbed position — you can't do it on your own.
While the seat cushion of the seat was relatively comfortable, unfortunately the seat was contoured to fit someone of much smaller proportions than I: the back support zigged where I would have had it zag, and could not be adjusted.  So overall I had a very bad experience with this seat, and no experience of its ability to magically transform into a flatbed product.  I am told that the flat bed can accommodate someone who is up to 6 feet 7 inches tall, and comes with a memory foam top cover.  Alas.
Air New Zealand Business Premier Menu and Food
After my initial glass of orange juice, I decided it was time for some alcohol and requested a glass of Pinot Grigio, which came with a dish of delicious, spicy cashews.  The wine was also quite good.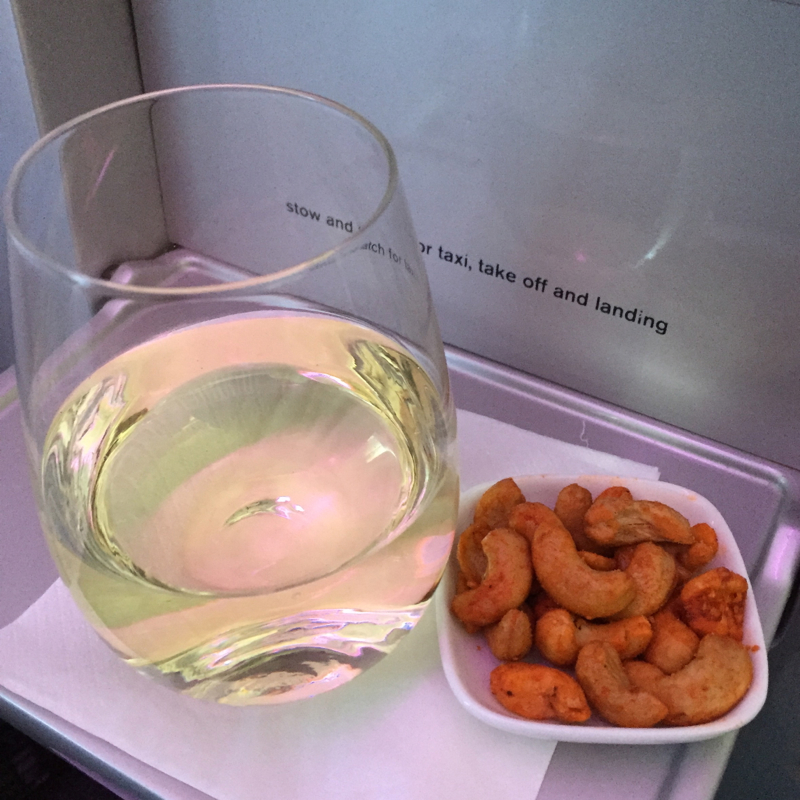 The menu featured two appetizer choices, the same 3 main dish choices offered in Premier Economy, and 3 dessert / cheese options.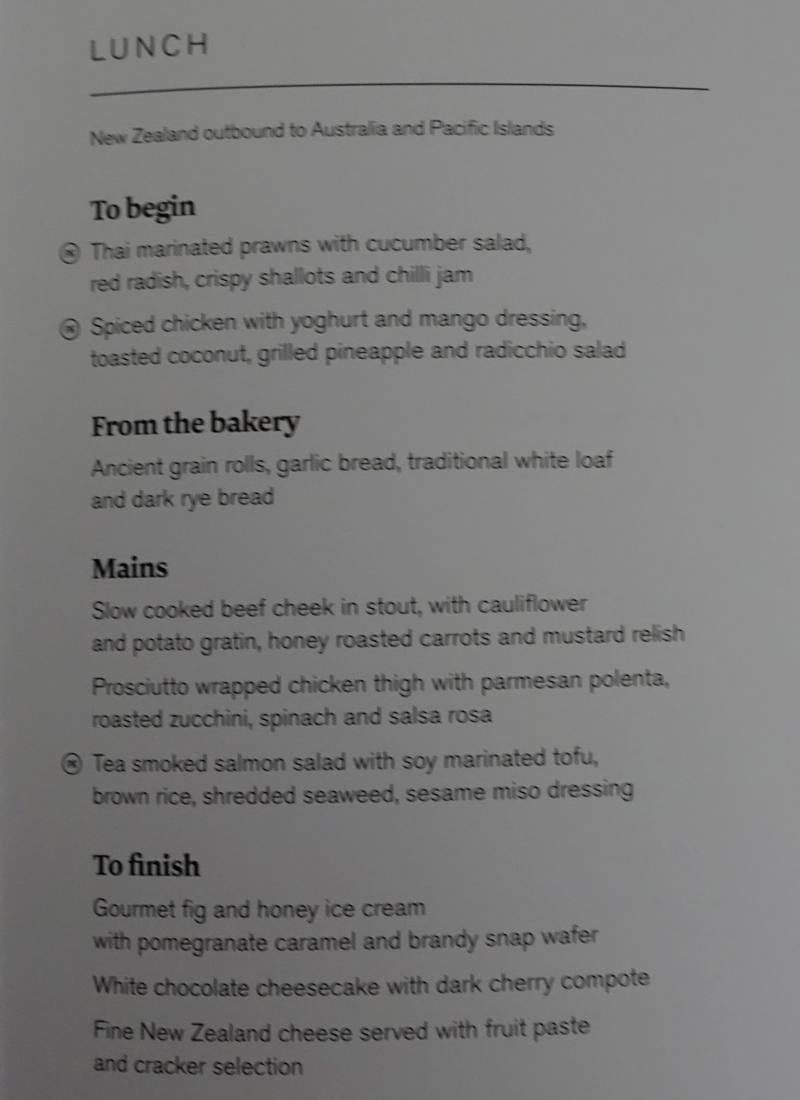 The appetizer was a prawn salad and bread roll.  Both were very good and the prawns were very fresh.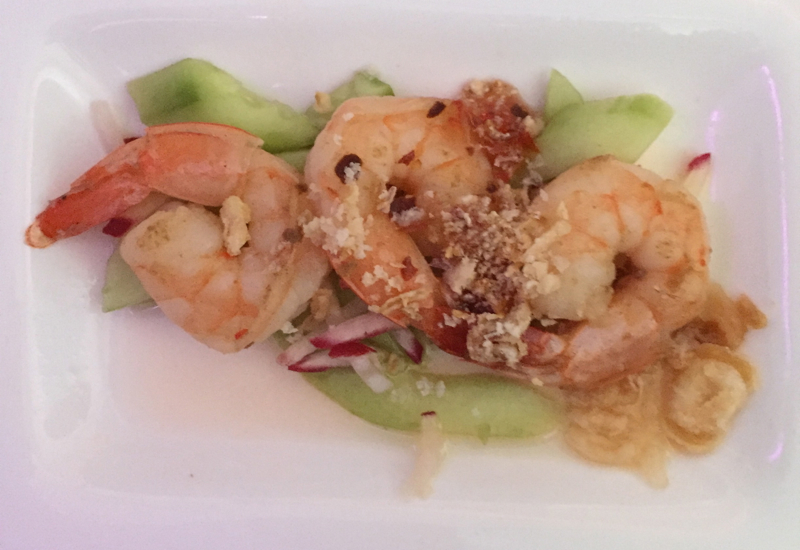 For my main course I ordered the smoked salmon over rice, with tofu.  The salmon tasted good but was a little too dry, and the rice and tofu were bland.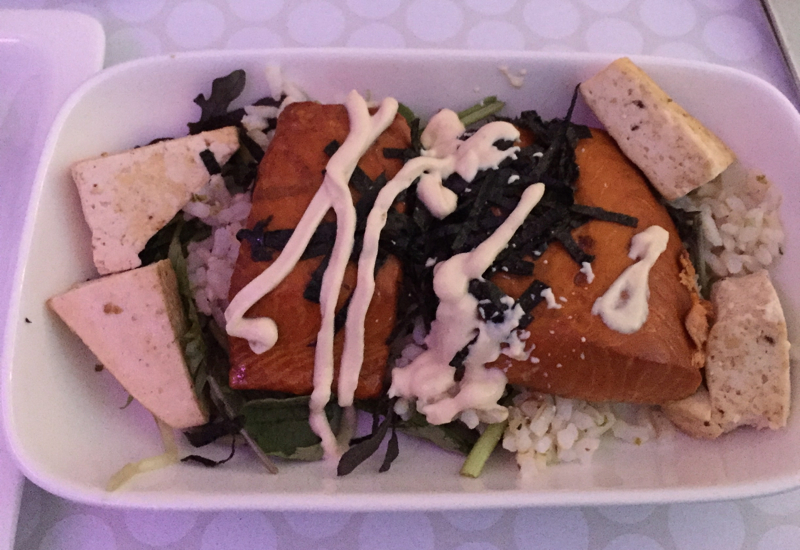 For dessert I had the cheesecake, which was downright yucky and tasted utterly artificial. Only the cherry sauce was passable.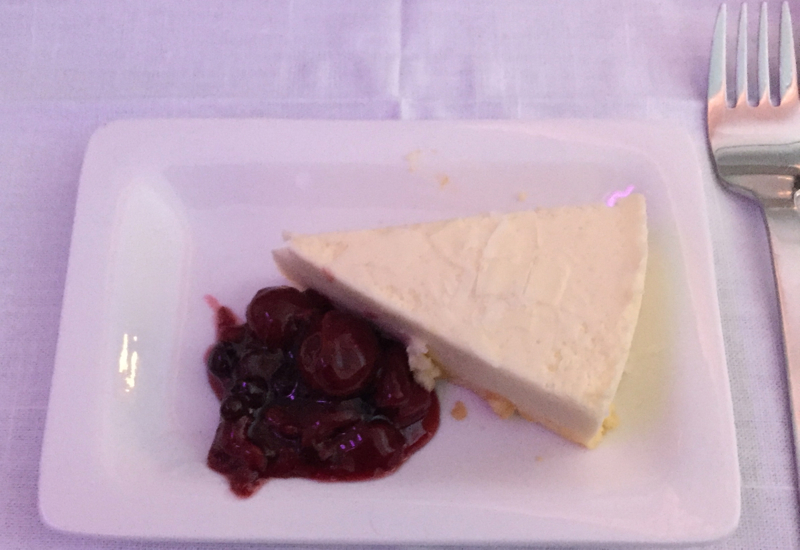 Air New Zealand Business Premier IFE
Here's the IFE welcome screen on boarding. While I didn't take photos, the Air New Zealand safety video was fun and well-made, featuring international surfers.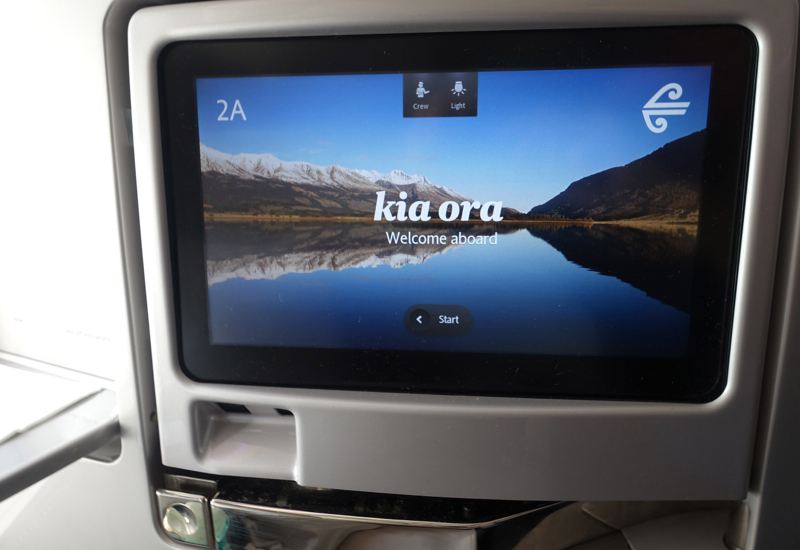 At first, I really loved the IFE and film selection.  There were many contemporary choices and new releases.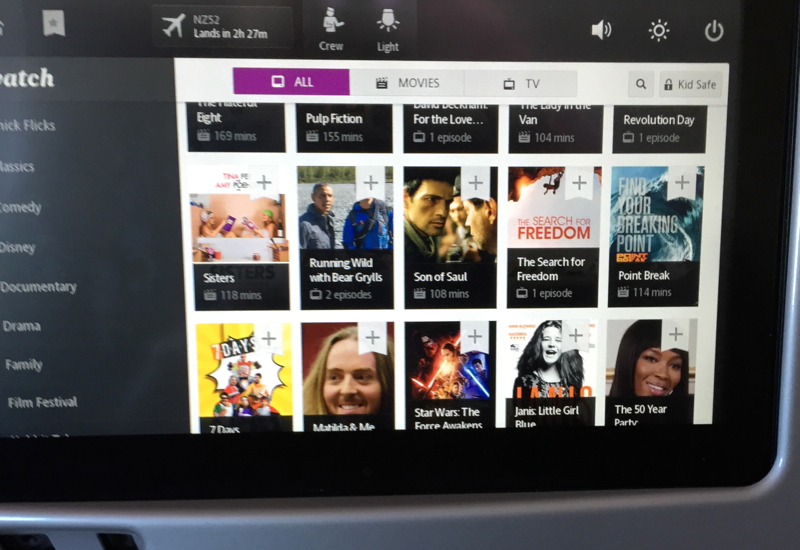 I wasn't sure which winter pastoral 19th century gore-fest to choose from (either The Revenant or The Hateful Eight), but I prefer my gore with some levity, so I opted for Tarantino.  But then halfway through the film (just before everyone shoots shooting each other) the IFE system broke down and I was unable to watch that film or any other.  After several failed attempts to re-boot my IFE, it was too late to be re-seated.  Bad.
The Verdict
I wanted to like this product.  And it is my fault for failing to ask the attendant how to change the seat into a flatbed.  But as a result of the badly-contoured seat, the mediocre food and malfunctioning IFE, I have to say the experience, even though short-lived, was one of my worst on a business or first-class product.
If you've flown Air New Zealand Business Premier, what was your experience?
Related Posts