Back in April I asked for your help in planning my upcoming travels using TravelSort's destination guides. I had two major back-to-back trips, spanning over 50,000 flown miles and four continents in a three week period. Suffice it to say I'm exhausted.
In cooperation with TravelSort we ran a contest to see who could provide me with the best travel tips, so this post is to share my experiences and announce the winner. The prize is an award consultation through my travel consulting service, PointsPros.com.
I did my best to sample all of the most popular answers, though in some cases that proved to be tough due to weather, delayed flights, short amounts of time at a destination, restaurants/attractions not being open when I was there, etc. Without further ado, here are the results:
For Singapore I asked: Where can I find the best satay in Singapore?
The most common recommendation, by far, was Lau Pa Sat, a Victorian market that dates back over 150 years. There's something exciting about Lau Pa Sat, even if you're not planning on eating. It's fun to just wander through, watch locals, and see how diverse Singaporean cuisine is thanks to the huge variety of food on display.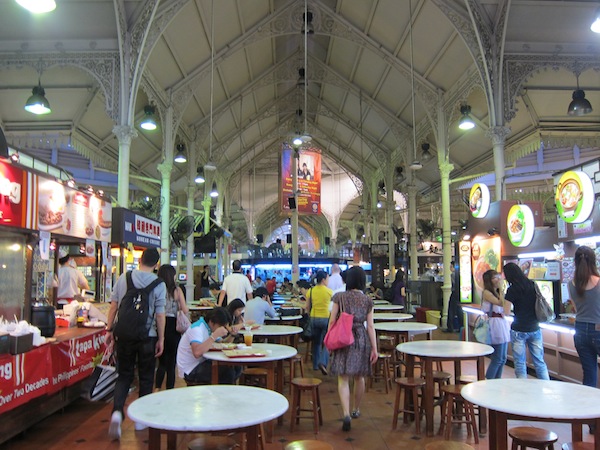 I had the good fortune of being accompanied by some local friends, so we spent quite a bit of time there. First we shared a pitcher of Tiger beer. I'm not much of a beer person, though Tiger was actually pretty good. Then we also shared some satay as an appetizer (since we were having dinner later). The satay at Lau Pa Sat was even better than aboard Singapore Airlines, which serves some great, authentic satay. Perhaps it was the overall ambiance of the market compared to an airplane, combined with the smells and freshness that made the food so good.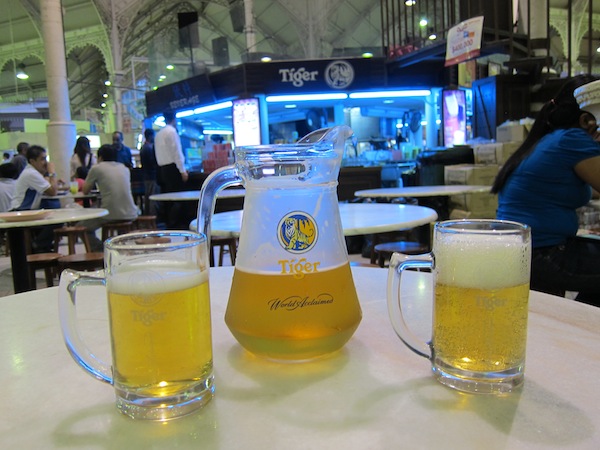 The nice thing about Lau Pa Sat is that it honestly has something for everyone. I'm usually intimidated by street food, though this is different. The food quality is much higher, and there are also more mainstream food options, for those of you that aren't into adventurous food.
For Kuala Lumpur I asked: Where can I find the best, most reasonably priced Malaysian cuisine in Kuala Lumpur?
While the answers were all over the place, the common theme was eating at a hawker stand or an outdoor food court/restaurant. Well, I more or less accomplished that. Both of the nights I was in Kuala Lumpur it was pouring rain, which limited the options somewhat. I ended up meeting a Malaysian friend at an outdoor food court of sorts serving Malaysian/Indian cuisine.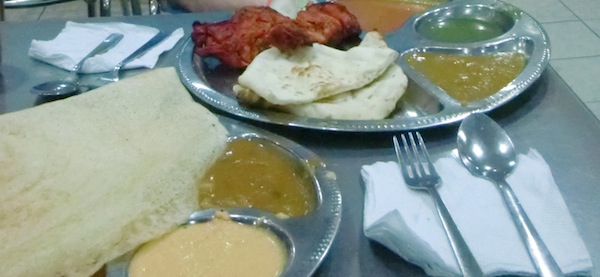 The food was delicious, and I especially liked what we were drinking, which was some sort of milky tea. To top it all off, the meal cost somewhere around $4USD total for both of us. I think that fits into the "reasonably priced" category!
For Sydney I asked: Which restaurant in Sydney features the best views of the Harbor?
The answers were once again all over the place, from fine dining at the Altitude Restaurant on the 36th floor of the Shangri-La, to a café at Circular Quay. Well, I had just gotten off of a Qantas Airbus 380 flight the night before, so for the sake of my waistline (and wallet) avoided any extravagant meals. Beyond that I only had a morning/afternoon in Sydney, so was dressed to sightsee and not to eat at a nice restaurant.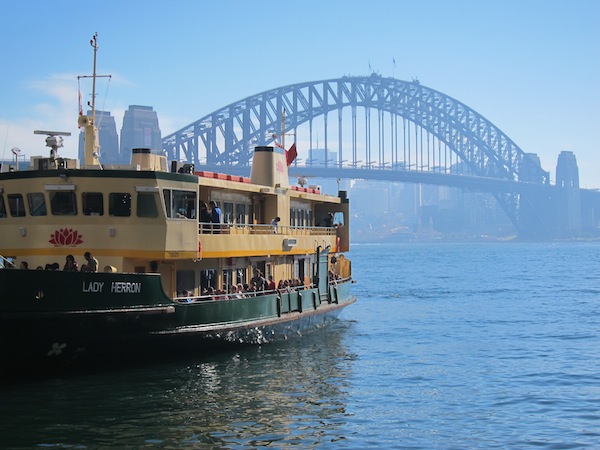 I ended up walking around Circular Quay several times, and in the end decided to pick the place that seemed the "busiest," which was City Extra, a 24-hour diner. The views were phenomenal, of both the bridge and the Opera House, and the area was action-packed, which made for nice people watching. I had fish and chips, which was delicious, and quite reasonably priced given the location (I paid something like $20AUD for fish and chips and a Diet Coke). I highly recommend the place.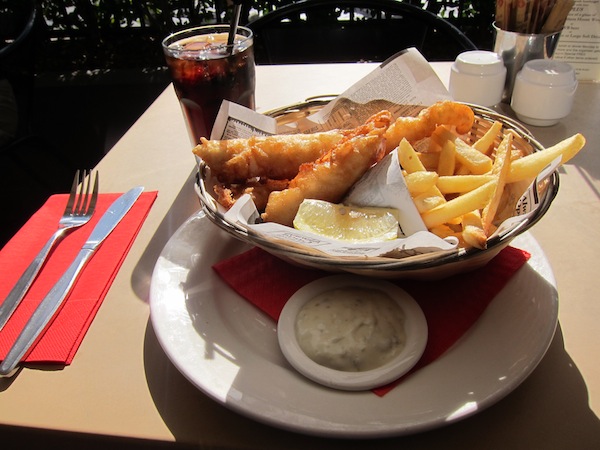 For Melbourne I asked: What should I definitely not miss while in Melbourne?
The suggestions for this ranged from watching a football game to visiting a bathroom with a view to visiting the Queen Victoria Market. I was in Melbourne for about two days and asked the concierge about attending a football game, though he said no major ones were on for those days.
I did however visit Queen Victoria Market, which is located at the corner of Victoria and Elizabeth Street. I've visited a lot of the world's most popular markets, from Stanley Market and the Ladies Market in Hong Kong to just about any market that pops up in Beijing or Shanghai. I would say this market is a bit closer to the Ferry Market in San Francisco in terms of the shopping experience. By that I mean you're not constantly being heckled to buy fake handbags at a "special price" or literally pulled into stalls. Instead there are all kinds of high quality stalls and shops, selling everything from fresh produce to souvenirs to just about anything else you could imagine.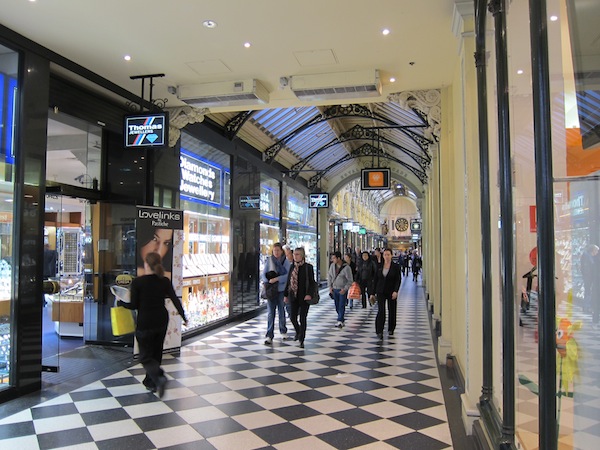 The market, much like the city, felt very European, which surprised me. I felt like I was in a city like Barcelona, minus the people. While Sydney is definitely more iconic of a city, it seemed to me that Melbourne would be a much nicer place to live.
For Paris I asked: What's the best place to have breakfast in Paris?
Yet again I had one full day in Paris, and the 15 suggestions I received were all over the place though had a common theme – croissants, pastries, and being outside. In the end I accomplished all three, though in a bit of a roundabout manner.
You see, my journey from Charles de Gaulle to my hotel took over four hours. I realized just how bad I am with directions and public transportation, especially when a city doesn't have a "grid" system and signage isn't in English. So as I started Googling these places, I realized there was no way in the world I'd find most of them, even with the concierge's help.
Here's the good news – I stayed at the Pavillon des Lettres hotel in Paris, an artsy 26 room hotel that couldn't have been more authentic. What I hadn't realized is that my room came with breakfast in their restaurant, which felt more like a host's dining room. I was jetlagged and arrived as they opened, and witnessed as one of the bakeries was delivering their croissants (including chocolate ones) and baguette. When I tasted it a few minutes later it was also clear that it was "fresh." So in that sense I think I can fairly say that I got my dose of "local" breakfast food.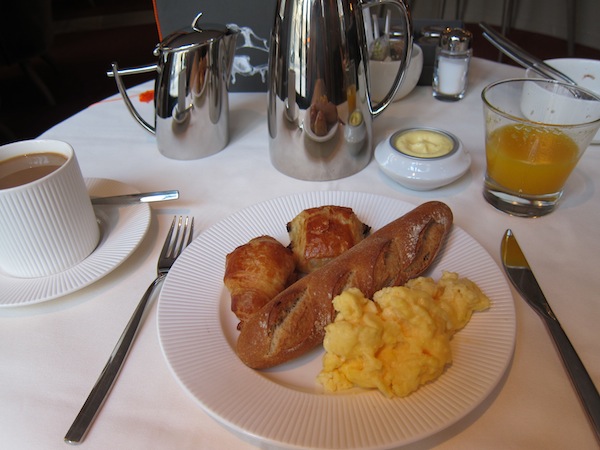 Since breakfast was included I instead had lunch with a friend in a street café not far from the Champs-Elysees. I had a salad with tomatoes and mozzarella, and it couldn't have been tastier.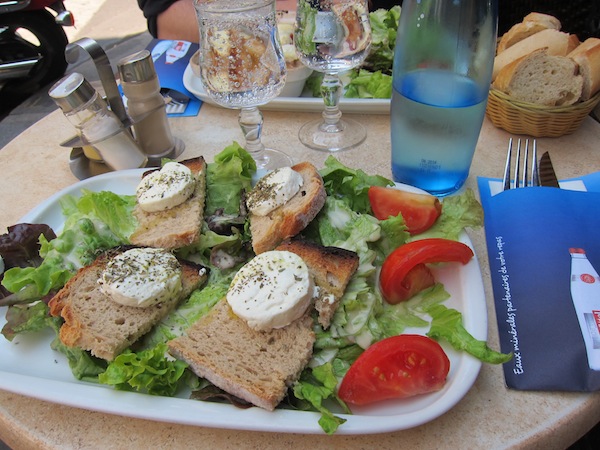 So hopefully I killed two birds with one stone in that instance, without breaking the bank.
Now as far as the winner goes… this is a tough one. The best I can do is choose a winner based on the popular suggestions I ended up visiting. There were several people that provided very thorough, excellent suggestions, though I didn't get to try them (like watching a football game in Melbourne, dining at the Shangri-La in Sydney, etc.). That being said, based on the most popular places I visited, the winner would have to be Sharon G. She suggested Lau Pa Sat in Singapore, the Queen Victoria Market in Melbourne, and pastries in Paris.
Thanks to everyone for their help! There are definitely some places I wouldn't have visited if it weren't for your suggestions.
Need Award Booking Help? Our fee is as low as $75 per ticket if you book your hotel through us.
If you enjoyed this, join 200,000+ readers: please follow TravelSort on Twitter or like us on Facebook to be alerted to new posts.
Become a TravelSort Client and Book Your Hotel with Virtuoso or Four Seasons Preferred VIP Amenities!