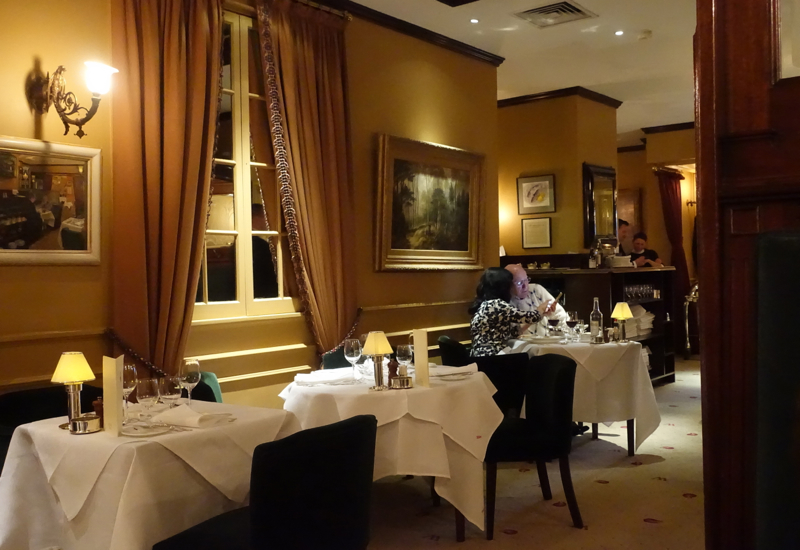 It's not every day you dine at a restaurant founded in the 1700s, but Wiltons Restaurant in London dates back to 1742, when shellfish monger George William Wilton initially started selling his oysters and shellfish close to London's Haymarket. The business thrived and was passed down through the Wilton family, changing locations as it expanded, until 1886, when the restaurant passed out of the family but retained the Wilton name.
One of the most colorful anecdotes in the restaurant's history came during World War II, when Mrs. Bessie Leal, who had acquired the restaurant, was talking with one of her regular customers, Mr Olaf Hambro, when a bomb landed near St. James' Church in Piccadilly, shaking Wiltons and also causing Bessie to decide she'd had enough of the bombings in London.
She undid her apron, told Mr Hambro that she no longer wished to live in London during wartime, and asked if he knew anyone who would be interested in acquiring the restaurant. He calmly replied that he didn't know anybody other than himself. Mrs. Leal was surprised and relieved, and at the end of his meal asked how he wished to proceed with acquiring Wiltons, to which Mr. Hambro asked her to add the restaurant to the bill.
Getting to Wiltons Restaurant, London
Wiltons is located at 55 Jermyn Street in Mayfair, a short walk from Green Park Tube Station (Piccadilly, Victoria and Jubilee lines) and about a 7 minute walk from Piccadilly Circus subway station (Bakerloo, Piccadilly lines). I chose the restaurant in part due to its convenient location, since we were staying at Brown's Hotel (a Rocco Forte hotel and Virtuoso member), just a 5 minute walk away.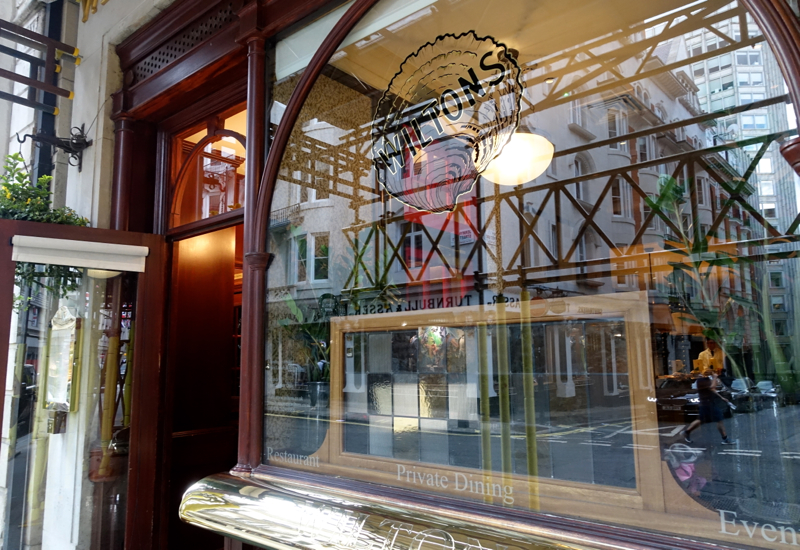 The Scene
We were at Wiltons for an early dinner on a weekend, and the restaurant was quite quiet, with just a few other tables of older couples. The restaurant is much busier during the week, with business lunches and dinners. We were seated in a cozy and private booth, which I appreciated (and likely the other couples appreciated too, since on an elegant night out many couples don't want to see kids, no matter how well behaved they may be).
Wiltons Dinner Menu and Food
As you'd expect for a London institution that started life as an oyster and shellfish market stall, Wiltons still specializes in seafood, although it does have a number of meat and vegetarian offerings as well.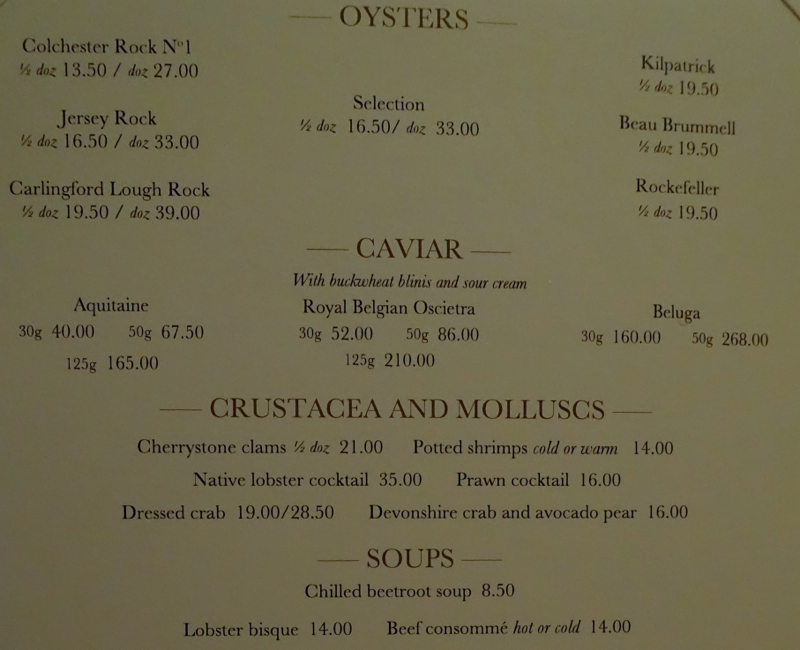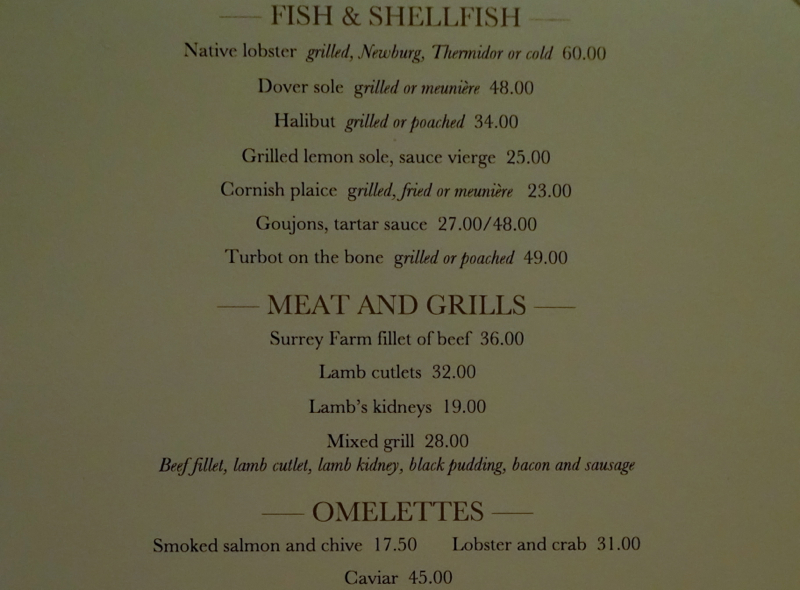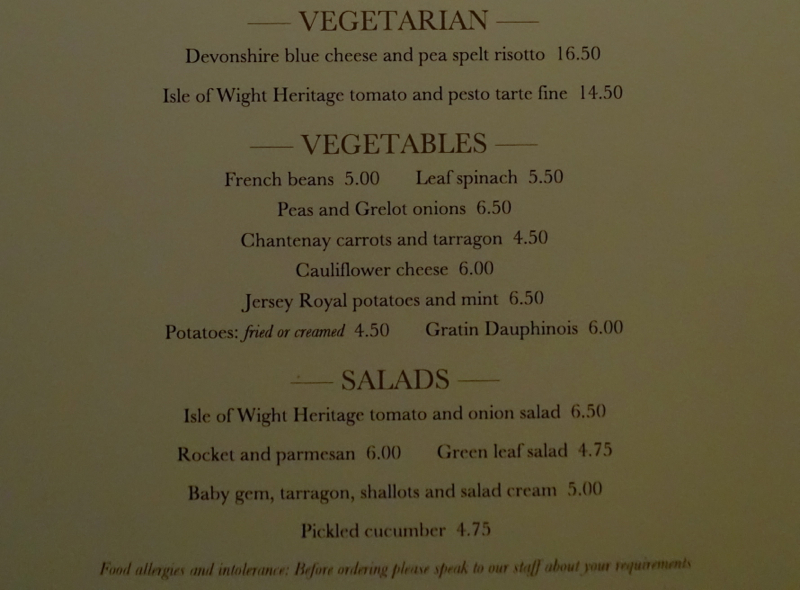 Our server, after offering us a choice of water and taking our order, brought a basket of bread and butter which was fresh but not exceptional.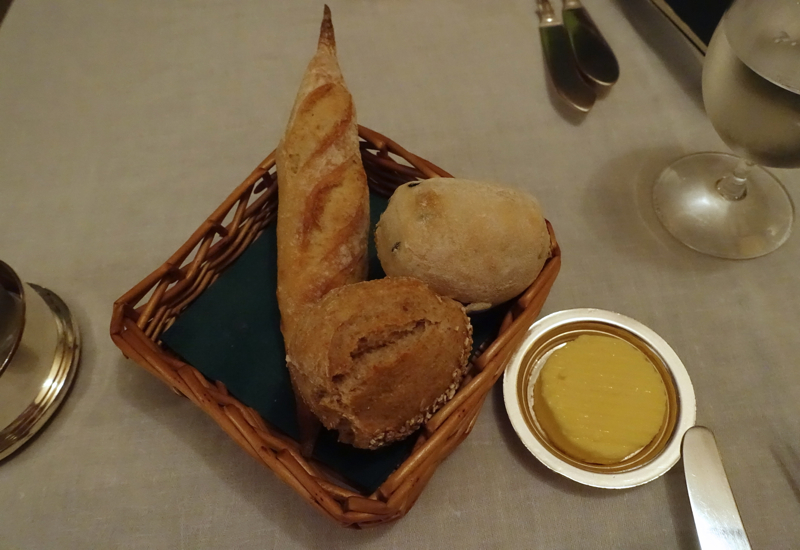 My favorite cooked dish of the evening was the Twice Baked Stilton Souffle. It's an appetizer sized portion and rich, but I loved the sharpness of the Stilton–it makes me wonder why more restaurants don't offer souffles with Stilton cheese (or perhaps blue cheese lovers are too much of a minority). Yet even my son loved it, and he refuses to eat blue cheese.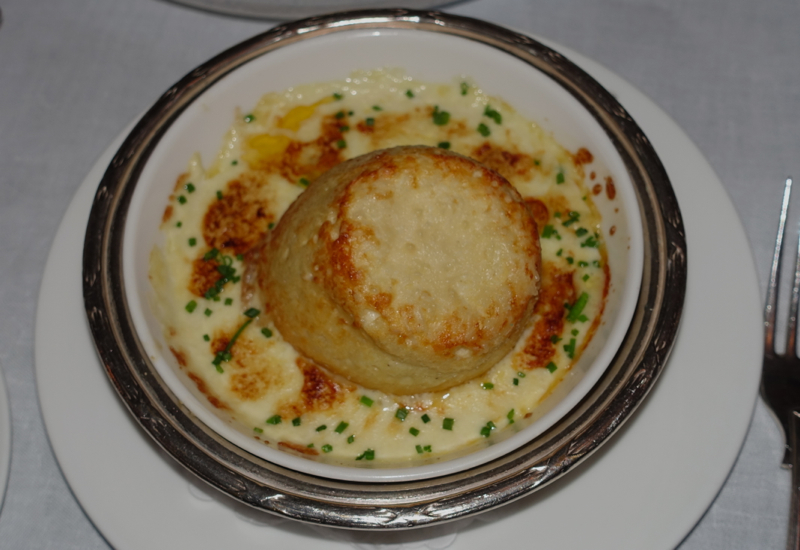 The Potted Shrimp was, on the other hand, one of the worst ordering choices I've ever made. I strongly suspect the problem is with me (since I'd never had Potted Shrimp, and I assume Wiltons makes a classic Potted Shrimp) but once was enough, for me anyway. It bears little resemblance to fresh shrimp, which I very much enjoy, and seemed just an oily, fishy mess served with some nearly burnt toast.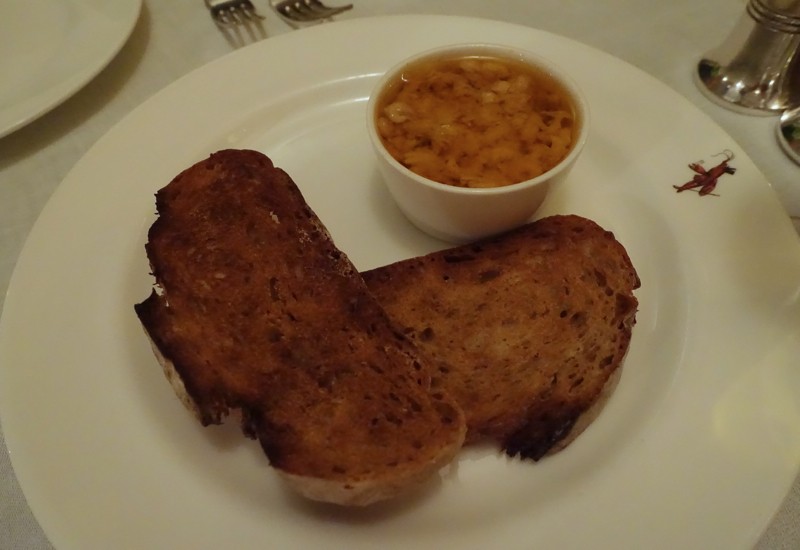 The Dressed Crab, fortunately, was simple, with super fresh, sweet crab and accompaniments. It's a good thing we ordered a main course sized portion, since my son and I both really enjoyed the dish.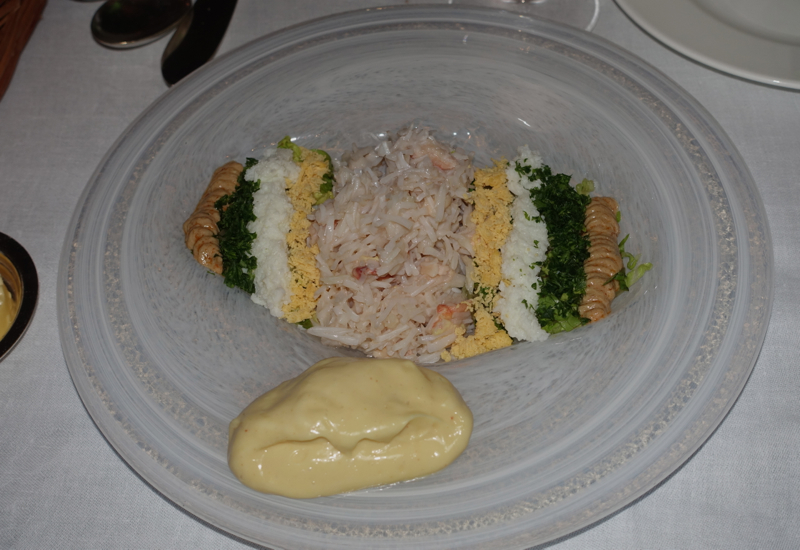 For a vegetable, I ordered carrots with tarragon, which was very reasonably priced at GBP 4.50.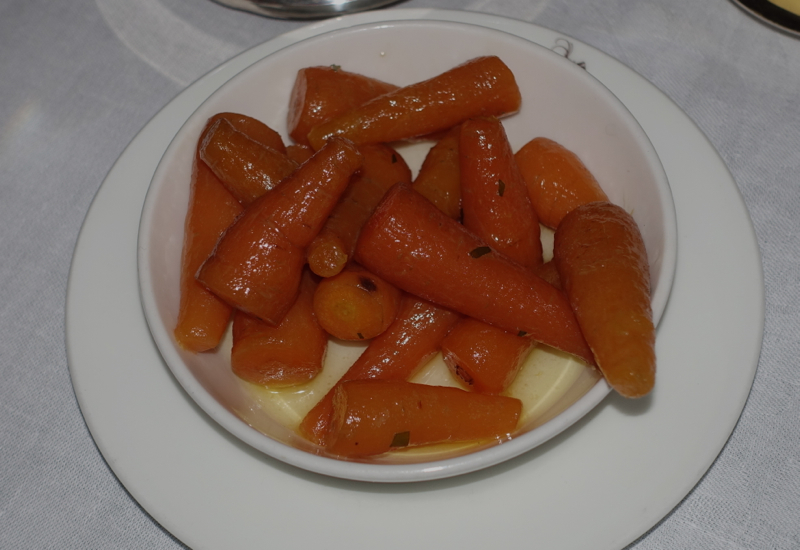 Since we were both a little hungry, we each ordered a dessert; my son chose vanilla ice cream and strawberry sorbet. The strawberry sorbet was refreshing, although not as intensely flavored as Berthillon sorbet in Paris.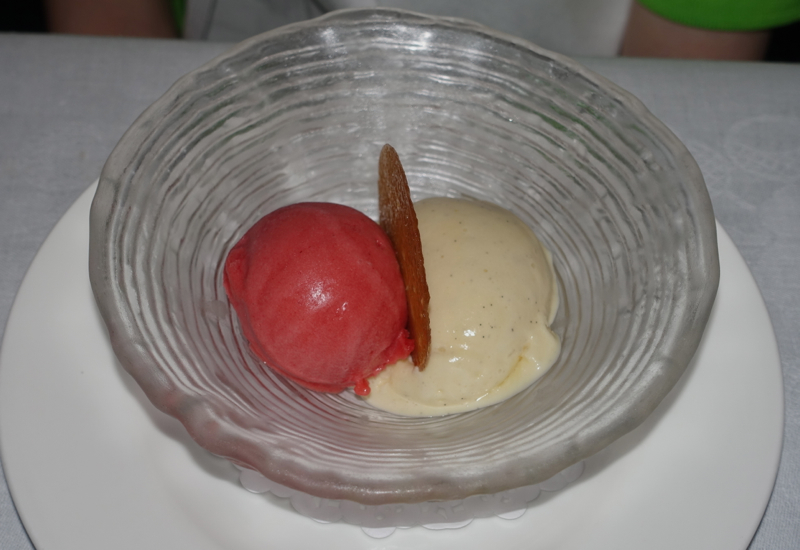 I'm a huge fan of Summer Pudding, which is one of the simplest desserts in terms of ingredients (berries, sugar, bread) but the essence of summer when made well, and accompanied by a dollop of cream. Wiltons' version was prettily presented, but it could have been a bit sweeter, which I never though I'd say, since I dislike overly sweet and cloying desserts. Yet this version was simply a bit too tart and flat tasting, it needed just a bit more sugar, perhaps a touch of salt, to bring out the flavor of the berries.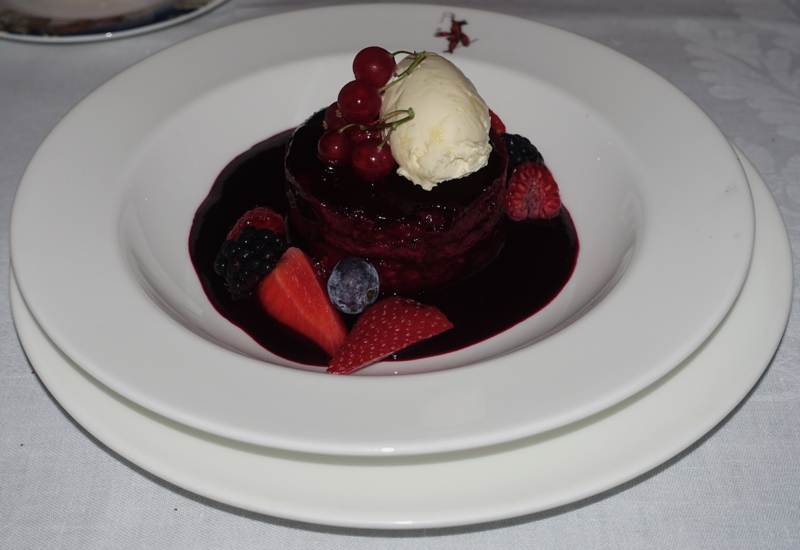 We were also brought a little plate of two fruit jellies / pate de fruits, a nice gesture, although I would have preferred some kind of chocolate after the tart fruit dessert.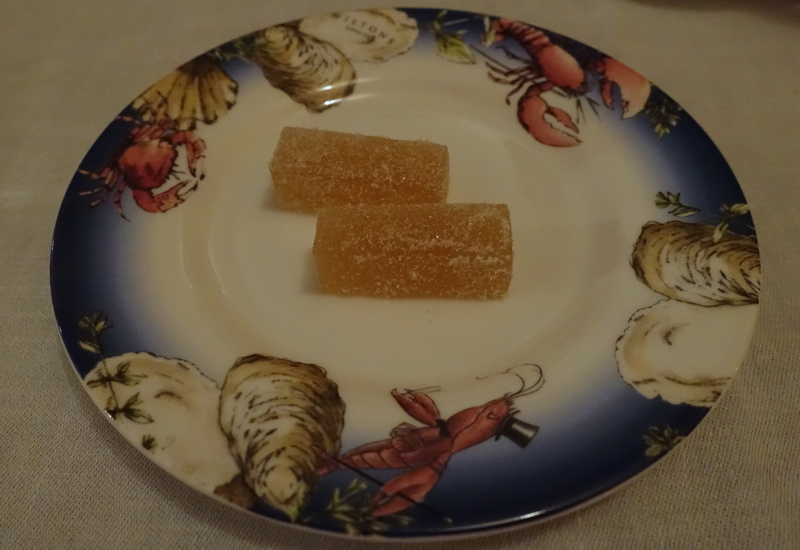 The Verdict
Service at Wiltons was excellent, and I appreciate being given a lovely and private booth. This is a good place to enjoy oysters, seafood, and British classics. I can highly recommend the Stilton Souffle as an appetizer, and the Dressed Crab as an appetizer or main (both portion sizes are available). I wouldn't recommend the Potted Shrimp, however, and have had a better summer pudding (flavor-wise) in British Airways First Class.
Perhaps we should have tried the Beef Wellington, which we saw on the trolley towards the end of our meal; our server apologetically noted that it wasn't ready at the time we were ordering, which is why we weren't offered it as a choice: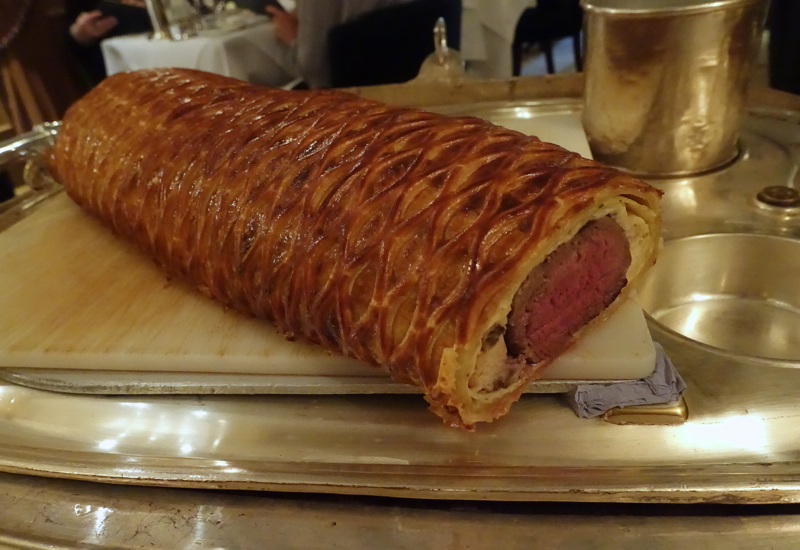 If you've dined at Wiltons at 55 Jerymyn Street, what was your experience?
Related Posts
Review: Brown's Hotel London West End
Review: The Milestone Hotel, London
Review: Cheneston's Restaurant, London
Review: London's Natural History Museum Dinosaur Exhibit
Disclosure: We paid for our own meal at Wiltons.
Need Award Booking Help? Our fee is as low as $75 per ticket if you book your hotel through us.
If you enjoyed this, join 200,000+ readers: please follow TravelSort on Twitter or like us on Facebook to be alerted to new posts.
Become a TravelSort Client and Book your Luxury Hotel with Virtuoso or Preferred Partner Benefits!