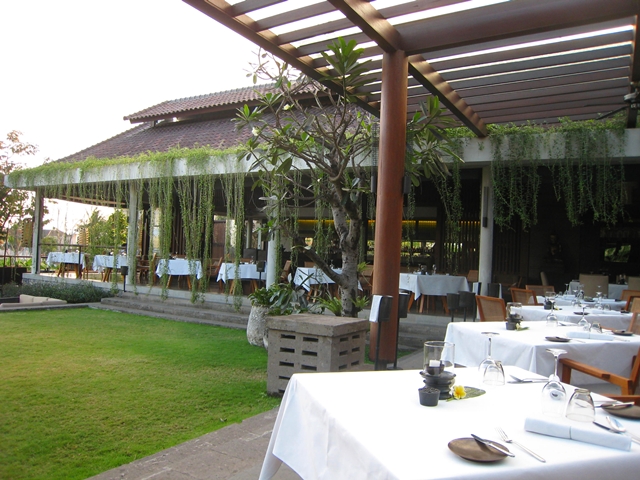 This restaurant review of Metis in Seminyak, Bali is part of a trip report including Cathay Pacific Business Class and First Class to Hong Kong and Bali, plus reviews of luxury hotels and food in Hong Kong and Bali. Prior posts include:
Review of British Airways Galleries Lounge at JFK Airport
Cathay Pacific Business Class Review: 777-300ER NYC to Hong Kong
Cathay Pacific First Class NYC-Hong Kong
Tim Ho Wan Review: Hong Kong's Best Dim Sum and Cheapest Michelin Star?
Mandarin Oriental Hong Kong Review
Cathay Pacific Business Class Review 747-400: Hong Kong to Bali
Ayana Resort and Spa Review-Club Level
Four Seasons Bali at Jimbaran Bay Review
Hotel Review: The Kayana in Seminyak, Bali
We only spent one night in Seminyak, and dinner at French restaurant Metis was the highlight. I'd heard of Metis as the successor to Cafe Warisan, the popular French restaurant of Chef Nicolas Tourneville, whose career also includes stints as a private chef in the UK, the French Embassy in Jakarta and the Head Chef to the French Embassy in Algeria. And as incongruous as fine French dining in Bali sounds, I was looking forward to our visit.
I was glad that The Kayana offered a complimentary drop off and pick up service, since even though Metis didn't look so far away on the map, it was a 7 minute drive and the lack of sidewalks wouldn't have made for a nice walk.
Since we had an early 5:30pm reservation we were among the first tables to be seated. I've seen some early reviews of Metis complain about the service, but we were graciously led to our table and seated, with a lovely view of the surrounding countryside. Given how busy much of Seminyak is, the peaceful setting is a lovely oasis.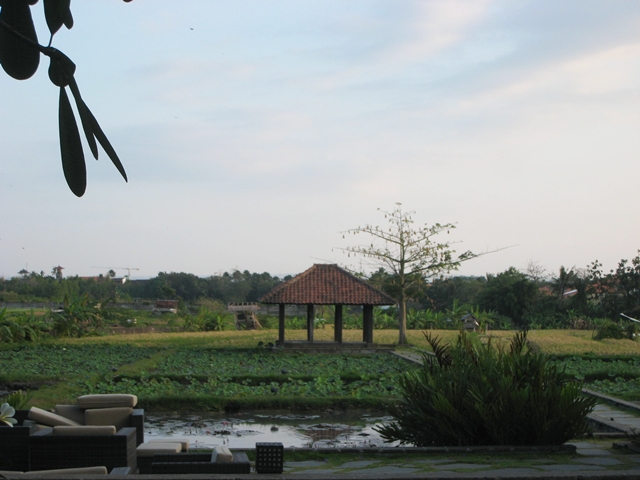 Perusing the extensive menu took some time, and it was hard to decide among all the delectable sounding choices. Here are the appetizer choices: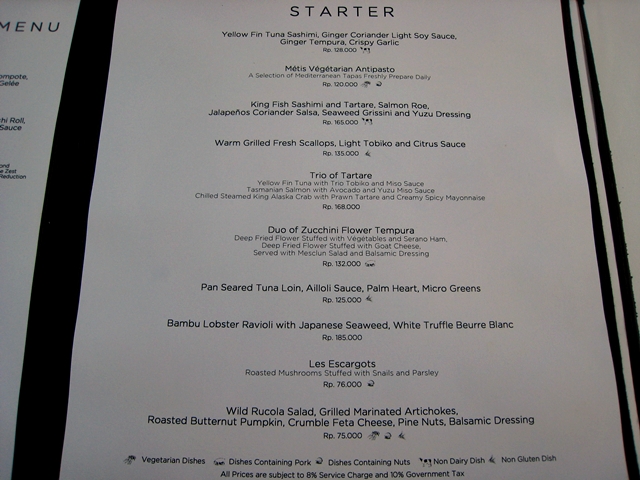 And the meat and poultry selections: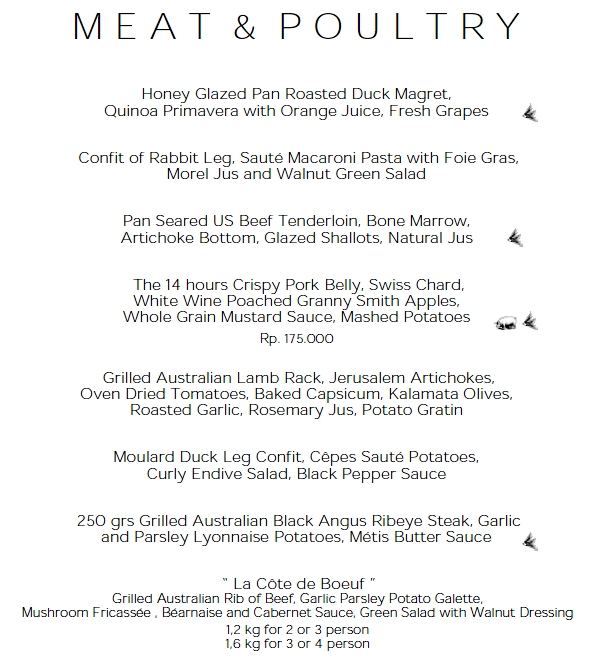 The only one that was very easy to decide on was for the munchkin, since as usual he asked hopefully "Do they have mac & cheese?" Did they ever–the macaroni cheese with foie gras and truffles that we ordered for him was the most decadent mac & cheese we'd ever tasted, and we couldn't resist sneaking several more bites. Unfortunately it seems to no longer be on the pasta menu, but I do see something similar, macaroni pasta with foie gras and morel jus as a side accompaniment to the Confit of Rabbit Leg, so you could order that as a substitute.
We also ordered Homemade Potato Gnocchi with Gorgonzola, which was fabulous–little pillows of dumplings, perfectly complemented with tanginess of the Gorgonzola cheese sauce. In retrospect, though, we should have either foregone this dish or ordered just one entree, as the rich nature of all these dishes meant we filled up quickly.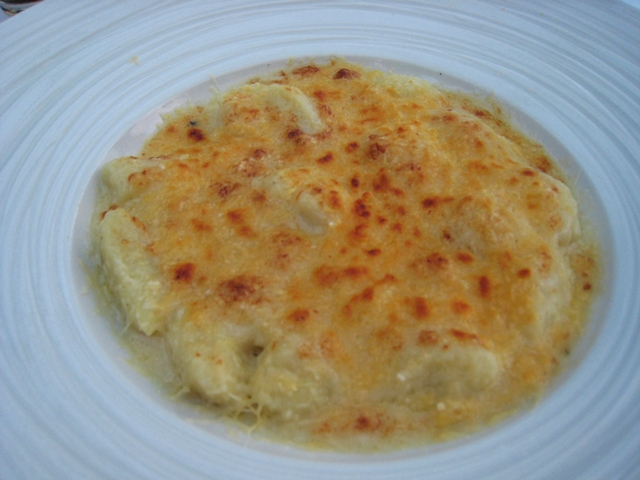 My husband settled on the 14 hours Crispy Pork Belly with Whole Grain Mustard Sauce and Mashed Potatoes. It was perfectly executed and as good as our favorite suckling pig from ABC Kitchen in New York.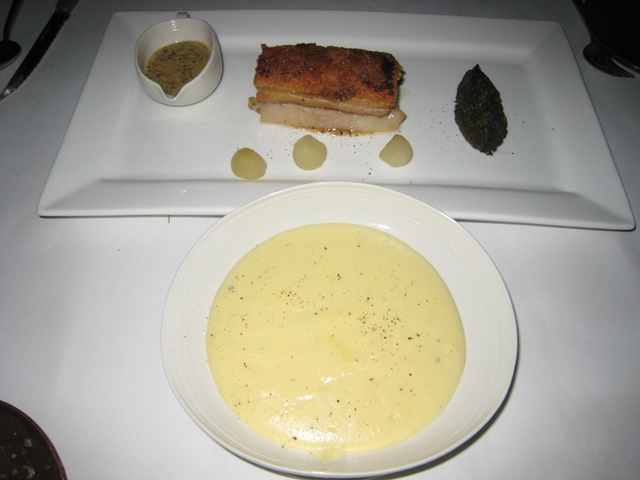 I opted for the Moulard Duck Leg Confit with Cepes Saute Potatoes, and loved it–hard not to like duck confit, and the cepes and potatoes brought me back to the time I helped gather wild mushrooms in northern Russia that went into a similar dish, sauteed with potatoes.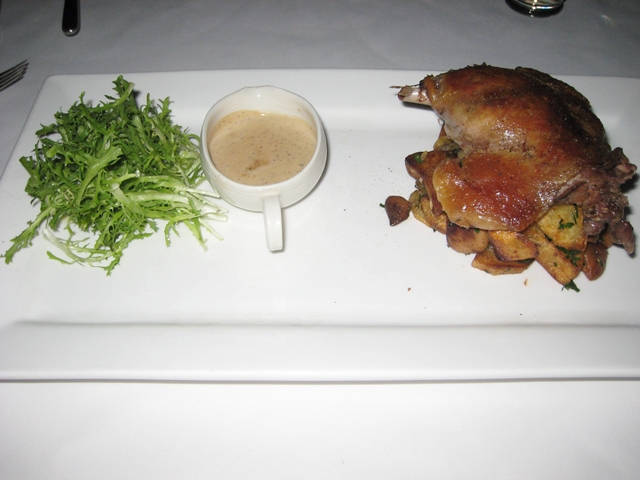 Even though we were all full at that point, we had already preordered a chocolate souffle, since it takes 25 minutes, and I still wanted a taste since past reviews have raved about the souffles here. There are also other delicious sounding dessert choices, however: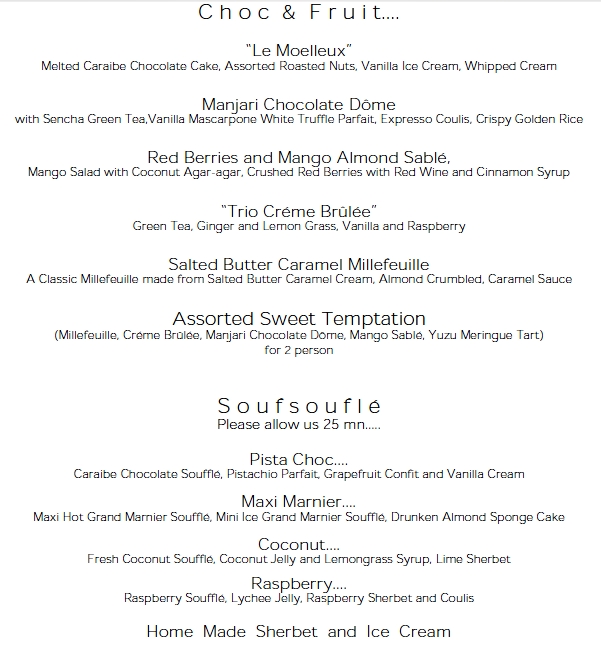 We took the munchkin for a wallk while waiting for the souffle–it was good to have a break anyway between the filling main courses and dessert–and when the souffle made its appearance and we'd had a first taste, we knew we'd made a good choice. I'm a huge fan of Valrhona Caraibe, the chocolate used, and the vanilla bean cream that we poured in further elevated it. The pistachio parfait on the side was just as popular, as we're all pistachio fans.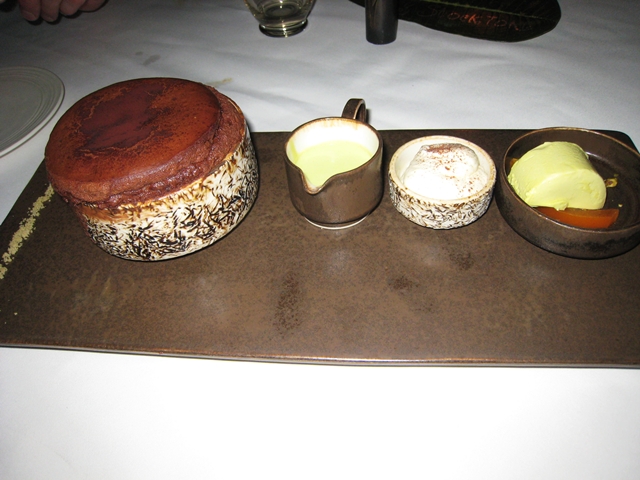 We used our Sapphire Preferred to pay, in order to get 2X points and no foreign transaction fees, but if we'd had enough of a balance on our AMEX Prepaid we would have used that, to get 5X points, also with no foreign transaction fees using refills bought with the Ink Bold.
The Verdict: In spite of my sleepless night due to the noise level at our villa at The Kayana Seminyak, our meal at Metis made our brief visit to Seminyak worth it. Though I'm not that keen on Seminyak, I'd go out of my way to dine at this restaurant again–it handily trumps most all French restaurants in New York in terms of the quality of the cuisine. Service on our visit was also friendly and professional. There was a bit of a wait for the souffle, but it lends itself to a leisurely dining experience. Just keep in mind that to take kids here, you'll need them to either really love food and eating (as the munchkin does) or be prepared to entertain them for awhile while waiting between courses.
Related Posts