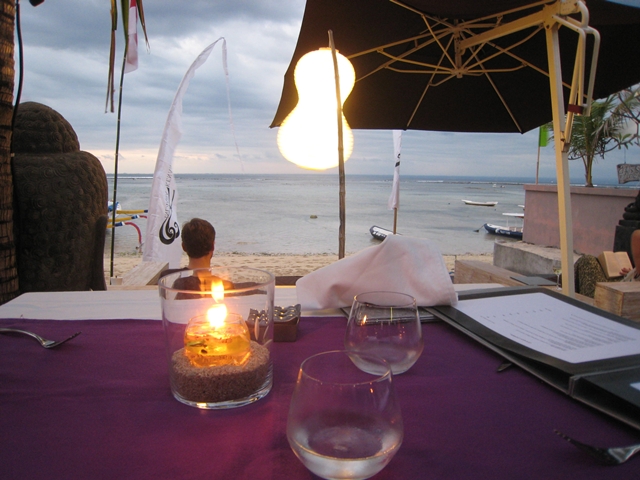 This restaurant review of Indiana Kenanga Restaurant on Nusa Lembongan near Bali is part of a trip report including Cathay Pacific Business Class and First Class to Hong Kong and Bali, plus reviews of luxury hotels and food in Hong Kong and Bali. Prior posts include:
Review of British Airways Galleries Lounge at JFK Airport
Cathay Pacific Business Class Review: 777-300ER NYC to Hong Kong
Cathay Pacific First Class NYC-Hong Kong
Tim Ho Wan Review: Hong Kong's Best Dim Sum and Cheapest Michelin Star?
Mandarin Oriental Hong Kong Review
Cathay Pacific Business Class Review 747-400: Hong Kong to Bali
Ayana Resort and Spa Review-Club Level
Four Seasons Bali at Jimbaran Bay Review
Hotel Review: The Kayana in Seminyak, Bali
Restaurant Review: Metis in Seminyak, Bali
Batu Karang Resort on Nusa Lembongan
I'd come across Indiana Kenanga while researching Nusa Lembongan, and knew we wanted to dine there one of our four nights. Then, once we'd arrived at Batu Karang, we struck up a conversation with an Australian mom and her daughter, who was about the munchkin's age, and the mom mentioned that Indiana was so good they'd eaten there twice. Well, that happened to us too! We dined there our second night, and it was so delicious we decided to dine their our fourth and last night as well.
As with Metis in Seminyak, Indiana Kenanga's Restaurant serves top-notch French cuisine. Chef Clement Fouquere hails from Central France and last worked at the 3 Michelin Star Le Bristol in Paris before following his second passion, surfing, to Bali and Nusa Lembongan. Whereas Metis is gloriously traditional, with its entire foie gras menu, duck confit, rich sauces and souffles, Indiana Kenanga is more French nouvelle cuisine, with a number of Asian (if not exactly Balinese) influences, lighter saucing, and casual elegance. Where else can you enjoy Michelin-level dining while wriggling your toes in the sand?
The restaurant offers pickup service from local hotels, which translated into a rickety truck with benches–not a problem, and all part of the charm of this laid-back island. It was only about an 8 minute ride, and then a wander along a stretch of dirt road to arrive at Indiana Kenanga Villas.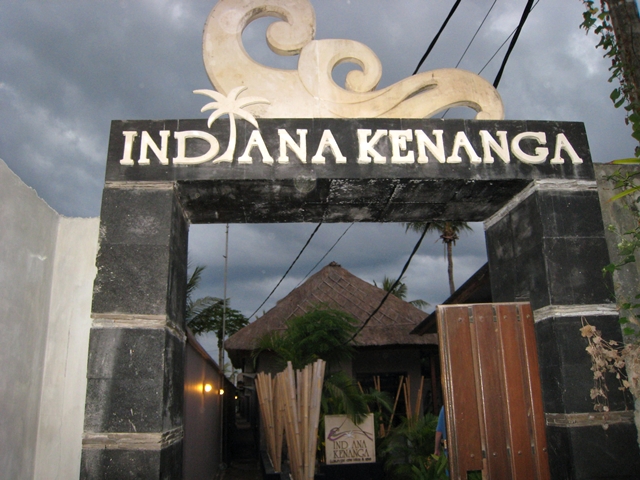 Stepping stones lead the way past villas to the pool area, then over the bridge to the restaurant.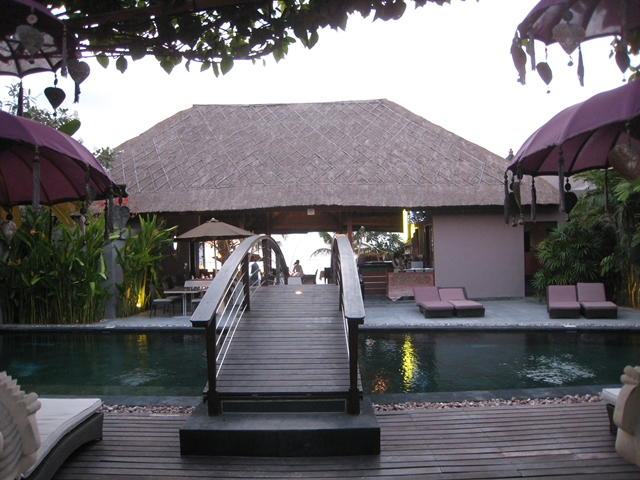 Both times we opted to sit at a table right in the sand, with a view of the beach. Our second time, we even caught the fleeting sunset.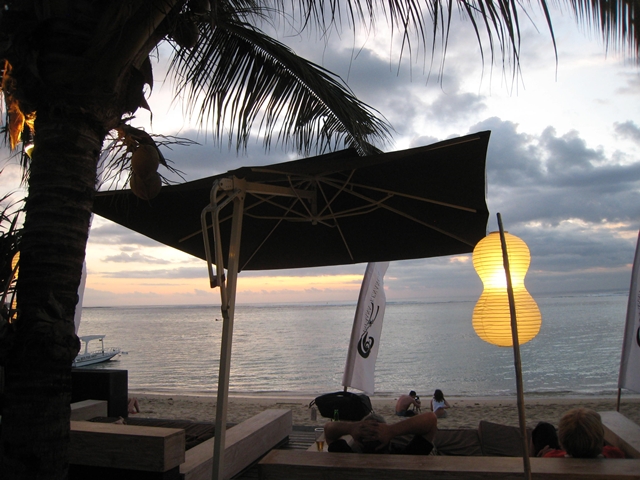 The menus offered a number of intriguing choices, without being overwhelming. Had the main courses not been so tempting, we would have tried more than one appetizer, as The Crab and Foie Gras also looked delicious.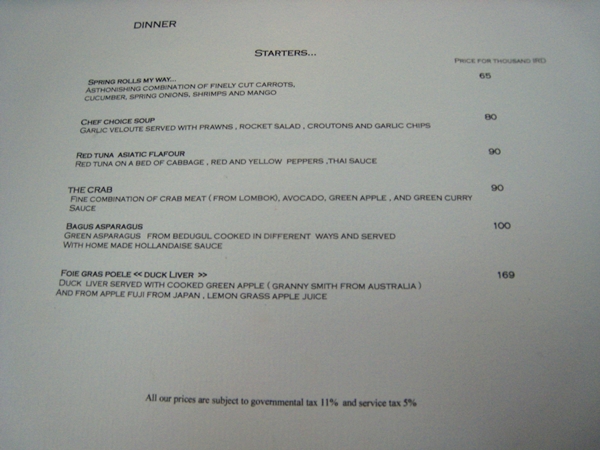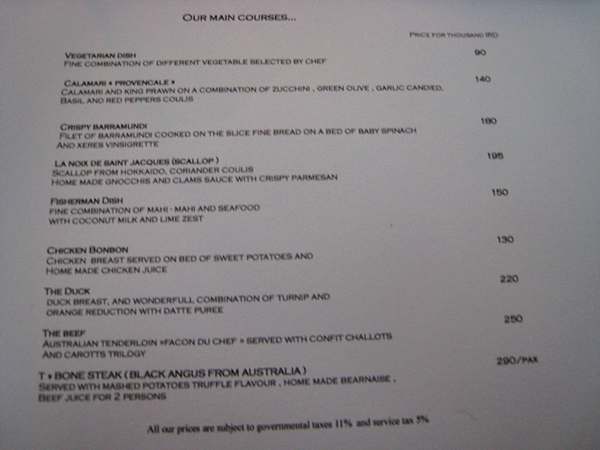 Our second time, although not our first, we were brought an amuse bouche-some delicious beef tenderloin with mango. My husband and I enjoyed it, but the munchkin was happiest with the warm, fresh bread that we were also served.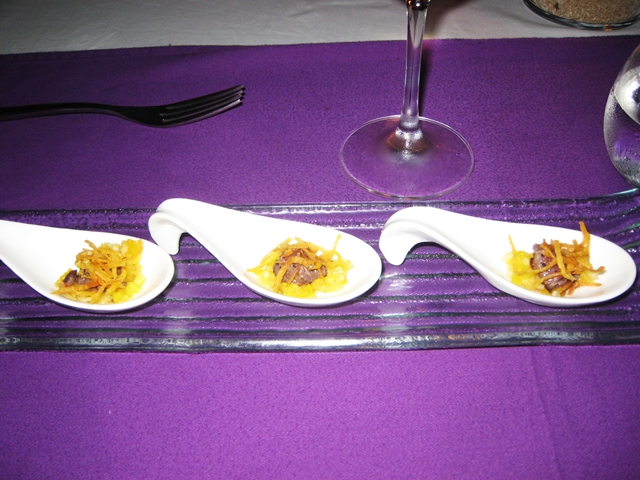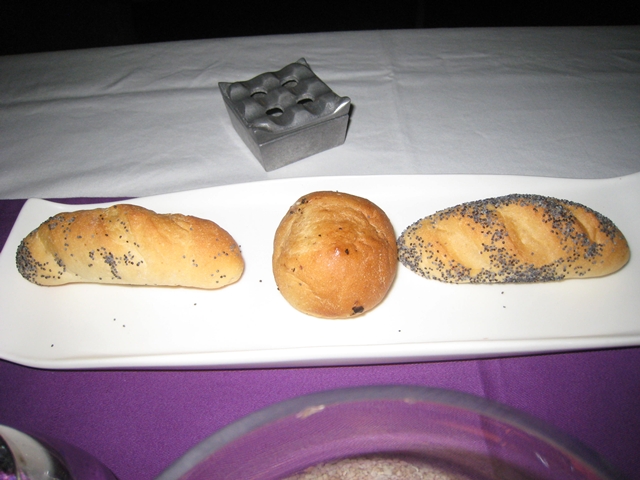 We only ordered one appetizer the first time, Spring Rolls My Way, which was similar to Vietnamese summer rolls, but even more delicious since the shrimp were paired with mango. The sweet chili sauce was no different than what you can pickup at the store, however.
Our server was kind enough to ensure that the munchkin's dish was prepared first, since he was pretty ravenous. We had ordered Chicken Bon Bon for him, and it really was the perfect kid dish, although also great comfort food for an adult as well. The chicken could have been from the farmer's market, it was so fresh and moist, and the buttery sweet potato puree had me stealing multiple bites (my excuse being that it also went really well with the duck!)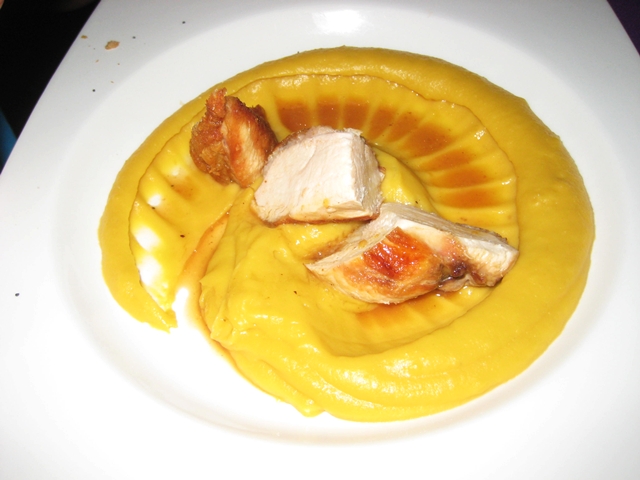 The mains are where Indiana really shone, particularly The Duck. Seared perfectly, the flavors really popped with this dish. If I hadn't known from reading the menu, I'd never have guessed that the accompaniment was turnip with an orange reduction. It provided just the right tangy flavor to offset the richness of the duck and the well-matched naturally sweet date puree.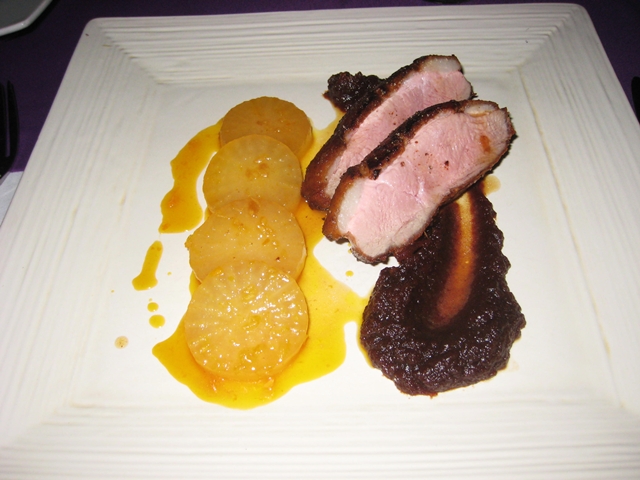 My husband's Crispy Barramundi may not look like much from the photo, but under the crunchy crust it was mildly sweet, similar to sea bass, and the perfect light dish atop baby spinach with a lemony vinaigrette.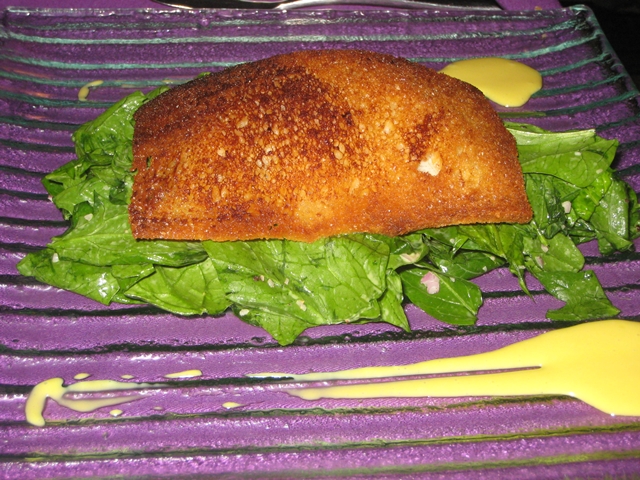 For our second dinner, the munchkin tried La Noix de Saint Jacques, with seared Hokkaido scallops and homemade gnocchi with clam sauce and crispy parmesan. Although we had him eat a couple scallops for protein, of course what he really loved were the gnocchi. They were perfect light pillows, as good or better than those at Metis.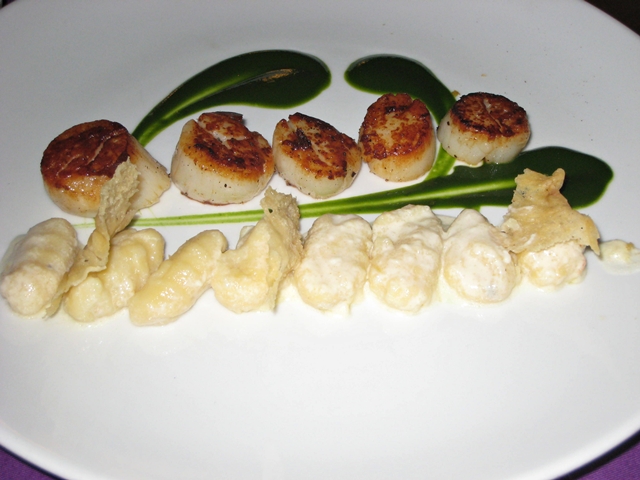 For my second dinner, I tried the Fisherman Dish. Although initially dismayed by the foam (I'm not a fan of molecular gastronomy) the incredible flavor of this dish, which married fresh coconut milk with coriander, and cumin, with fresh seared fish atop, quelled any reservations I had about the foam. My husband, who enjoyed the duck for his entree, nevertheless kept sneaking bites.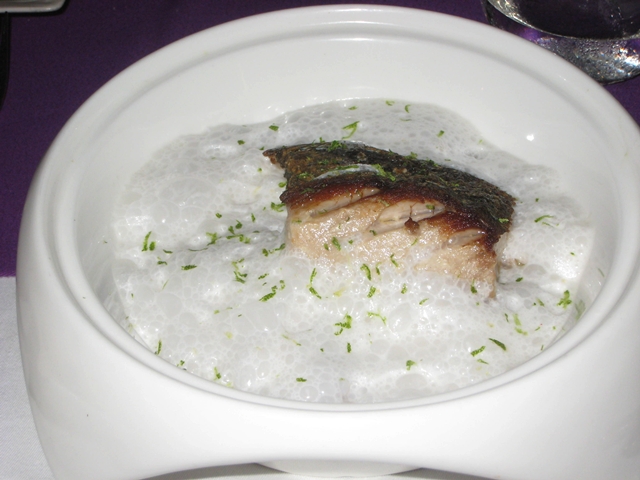 For dessert we enjoyed All About Chocolate (chocolate fondant with crispy biscuit and chocolate sorbet) which was very good, although not as good as the chocolate souffle at Metis.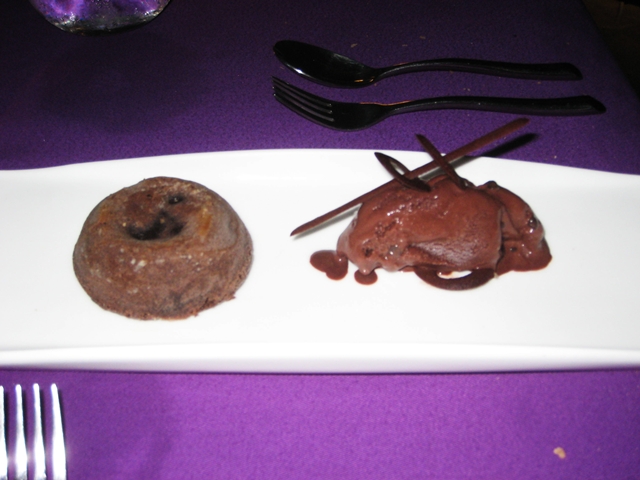 We used our Sapphire Preferred to pay, in order to get 2X points and no foreign transaction fees, but if we'd had enough of a balance on our AMEX Prepaid we would have used that, to get 5X points, also with no foreign transaction fees using refills bought with the Ink Bold.
The Verdict: It's no wonder the Australian family ate here twice or that we did as well–main courses were so incredibly satisfying, service was attentive and kind, and the setting wonderfully romantic. An absolute must-try on Nusa Lembongan–bet if you stay 4 nights you'll want to eat there at least twice too!
Related Posts