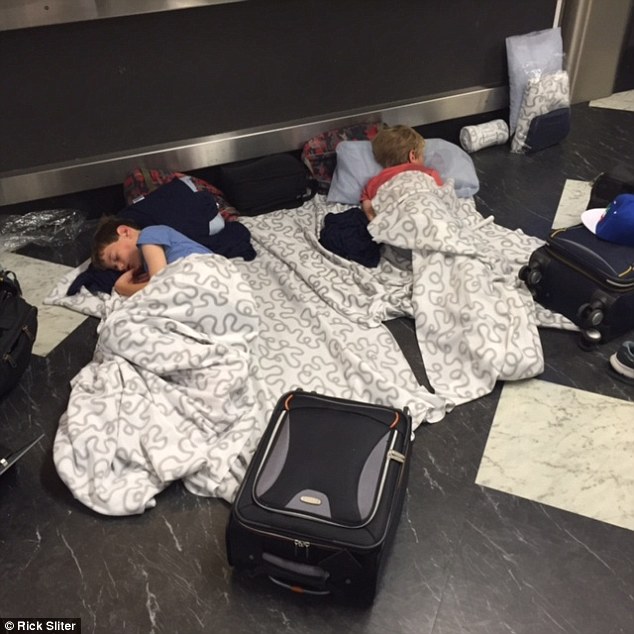 Is United liable for EC 261/2004 compensation for United Flight 971 from Rome to Chicago, which diverted to Belfast over an unruly passenger and stranded passengers in Belfast Airport for over 20 hours?
TravelSort reader Dawn writes:
"I was on United flight 971, traveling from Rome to Chicago, when the pilot decided to land us in Belfast, Ireland due to a disruptive passenger. Our flight was delayed for 24 hours and what made matters much worse is that we were forced to sleep on the cold, hard, dirty floor of the airport with nothing but a small blanket (maybe you saw this on the National News). There was no United Representation on the ground to keep us informed or experience our conditions. No food or toiletries for the first 7 hours (only bottled water which was actually provided by the janitorial staff of the Belfast airport).
United wrote us a letter apologizing for our "inconvenience" — which really shows their lack of understanding of the conditions we endured — sleeping on a cold, hard floor with only a small blanket and no information about what is going on is much more than an "inconvenience". United has offered to refund us less than a third of the original price of our tickets and offering a small $200 flight voucher. This does not seem like adequate compensation for what we endured.
Can we make a claim under EU 261/2004? I understand that United will argue that the disruptive passenger was beyond their control but United failed to provide Duty of Care and also did not send another crew to get us home from Belfast in a more timely matter. It could also be argued that United never should have let the disruptive passenger board the plane because he caused many problems before boarding the plane and the United gate crew was made aware of these problems and they still let him board the plane (in fact the problems at the gate may have even been more intense than the problems he caused on the plane.)
What would you suggest with this situation? I have already written a letter to the Customer Experience Vice President of United expressing my displeasure with their reference to our situation as an "inconvenience" and their gesture of such a small refund on our ticket and flight voucher (I know people who have gotten better compensation for being bumped from a flight). Please let me know if you have any advice for me and the other 279 people on United flight 971."
First off, my sympathy to Dawn and everyone else on United Flight 971–in addition to the frustration of a long delay in getting to Chicago, that night in Belfast Airport sounds terrible, and it's hard to believe that there weren't some smaller hotels and B&Bs that couldn't have housed most of the passengers, even if there wasn't enough space at larger hotels.
Let's dive into Dawn's queries, starting with the issue of the refund amount.
United Has Said It Will Refund the Cost of the Rome to Chicago Flight, Plus Provide a Travel Voucher or Miles
I'm not sure why United has only offered Dawn and her travel companion(s) less than a third of the original price of their tickets. If Dawn bought round trip tickets from Chicago to Rome, than United should be refunding half the cost of those tickets, in addition to providing the flight voucher. United is quoted as saying it is refunding passengers' Rome to Chicago flight, in addition to providing a choice of a travel voucher or miles in this Daily Mail article: "…We understand the inconvenience this causes our customers and will refund their Rome to Chicago flight as well as offer the choice of a travel certificate or miles for our MileagePlus loyalty program."
So at the very least, on a roundtrip ticket, Dawn should be receiving half the cost of her ticket back, in addition to the voucher. And if she prefers MileagePlus miles (which she well may, since that at least would help her to fly one of United's Star Alliance partners rather than a United operated flight) she should be able to switch to that from her travel voucher.
If the Airline Pays You EU Compensation, It May Deduct That Value from Other Compensation It Gives You
Per EC 261/2004 Article 12 on Further Compensation, "This Regulation shall apply without prejudice to a passenger's rights to further compensation. The compensation granted under this Regulation may be deducted from such compensation."
So this could potentially explain Dawn's lower refund amount for her ticket, but only if United has or is planning to issue her EUR 600 per ticket in EU compensation for the delay, and it certainly doesn't seem from Dawn's email that United has communicated anything of the sort to her yet.
Unruly Passengers Are Usually Deemed Security Risks and Not Covered by EC 261/2004
Here's the thing: security or safety issues that occur in-flight (such as a hijacking, birds flying into the engine, a passenger who becomes a security threat etc.) are considered an extraordinary circumstance and so exempt an airline from EC 261/2004 compensation.
But what about this case, where, per Dawn and other passengers, the disruptive passenger was already highly disruptive while at the gate area in Rome? Shouldn't United bear liability for letting him board since his disruptive tendencies were already on display?
I'm not an EC 261/2004 expert, but if an extraordinary circumstance is meant to cover events that "could not have been avoided even if all reasonable measures had been taken," a passenger who is already being disruptive in the gate area certainly seems avoidable, since he could have been denied boarding there in Rome, rather than incurring the costly diversion to Belfast and inconveniencing over 270 other passengers.
This may be a moot point for Dawn, since I'm assuming the refund of her Rome to Chicago flight is more than EUR 600, but if it's not, or in cases where the airline is not giving a refund for the flight in question, I would certainly make the case, when writing to the airline, that the passenger was already demonstrably disruptive and be as specific as possible about the disruption s/he was causing, what the gate staff were or were not doing, and try to corroborate it with printed accounts in the media from other passengers. For example, the same Daily Mail article quotes passenger Mike Rafferty as saying "Apparently, a man was acting strange – belligerent and enraged – in the boarding area and at least one United boarding agent warned him if he continued acting that way he would not be allowed to board…"
Crew Strikes Are an Extraordinary Circumstance, But Crew Time Outs?
Labor strikes are deemed an extraordinary circumstance that exempts an airline from having to pay EC 261/2004 compensation, but how about crew time outs? This likely turns on the specifics: a crew time out solely because of weather-related delays is arguably a consequence of an extraordinary circumstance and also treated as an extraordinary circumstance. But in this United example, the crew, per an account from another passenger, was late in being picked up from their hotel, delaying the flight departure from Belfast. If this is true (and it needs to be corroborated, since I don't have first-hand knowledge), then the flight crew's time out was caused by United's own operational mismanagement, and should definitely not count as an extraordinary circumstance.
United's Duty of Care
Even if an airline is off the hook for EC 261/2004, it still owes passengers a duty of care. The regulation stipulates that an airline must provide passengers free of charge:
Meals and refreshments in a reasonable relation to the waiting time
Hotel accommodation in cases where a stay of one or more nights becomes necessary
Transport between the airport and the hotel or place of accommodation
In this case, United claims that it couldn't find hotels to house all the passengers. In a situation such as this, I'd probably make my own accommodation and meal arrangements, save all receipts, and submit them to United for reimbursement, citing the Duty of Care provision. Even if United delays reimbursement or never reimburses, I'd rather get a good night's sleep, although I do realize that not everyone will take the risk of not being reimbursed.
I hope Dawn and the other passengers on United Flight 971 all receive reimbursement of their Rome to Chicago flights promptly, and that they're able to use their MileagePlus miles (if they choose that option) to fly a different carrier, not United, next time. What with this fiasco and the United Flight 958 Goose Bay diversion, United isn't an airline I'd be running to fly anytime soon.
If you were on United Flight 971 diverted to Belfast, what was your experience, and did you receive a full refund of your Rome to Chicago flight?
Related Posts